This month, Chanel released its trio of fall nail polish shades, Les Essentiels de Chanel. When I first saw their names – Frenzy, Suspicion, and Vertigo – my mind went instantly to Alfred Hitchcock. As cinemaphiles will immediately recognize, all three names are titles of movies from the Hitchcock oeuvre.
Vertigo is one of Hitchcock's best-known and most-admired films, starring James Stewart and Kim Novak. The plot is too convoluted to summarize here, but suffice it to say that it involves a murder disguised as suicide, an apparent Doppelganger, comings and goings at the San Juan Batista Mission, and a mysterious woman at the center of it all. Vertigo, in polish form, is a medium grey crème suffused with fine pinkish shimmer – a strange combination worthy of its enigmatic namesake.
Suspicion is one of Hitchcock's earlier films, a psychological thriller starring Cary Grant and Joan Fontaine. The plot features a handsome cad wooing a dowdy rich girl, who comes to suspect that the man of her dreams is plotting to kill her for her life insurance. Chanel's Suspicion is an intense, glossy hot pink crème. My best description of it is "Holt Renfrew pink" – all the Canadian fashionistas will know what I mean.
Frenzy was Hitchcock's penultimate film, featuring a fairly straight-forward serial killer plot. For some reason, I had a hard time assimilating the fact that this movie came out in 1972; I've always had the impression that Hitchcock was of a certain "era" if you will, and hadn't realized he was still making movies in the 70s. Somehow, hippies and Hitchcock just don't seem to go together. Frenzy, the polish, looks like a light greyish taupe crème reminiscent of the Deborah Lippmann shade that was super popular a few years ago, at the height of the greige fad. [It was the polish worn by Lady Gaga on the cover of Vanity Fair in September 2010.]
Because my skin tone does not get on well with pinks, I decided to skip Suspicion and only get the other two polishes.
How did they measure up in person?
Both Vertigo and Frenzy have the smooth-flowing, easy to handle formula, and glossy finish we've all come to expect from Chanel polishes. Disappointingly, the shimmer in Vertigo becomes almost imperceptible on the nail; you can catch a glimpse of it in sunlight, but you have to really look for it.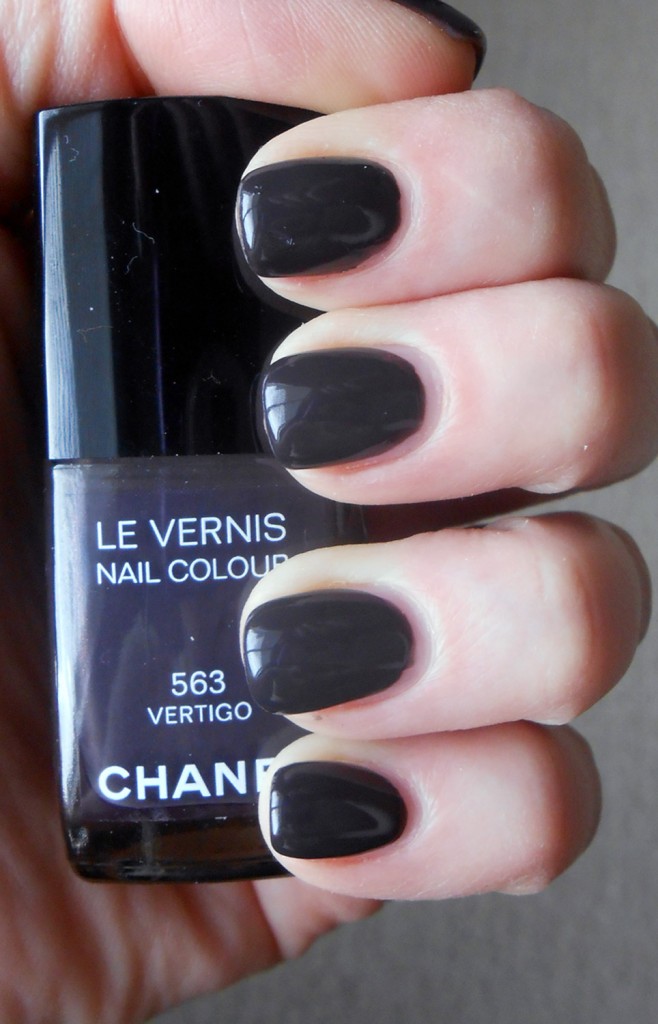 To prove to you that I didn't hallucinate it, here is a better bottle shot.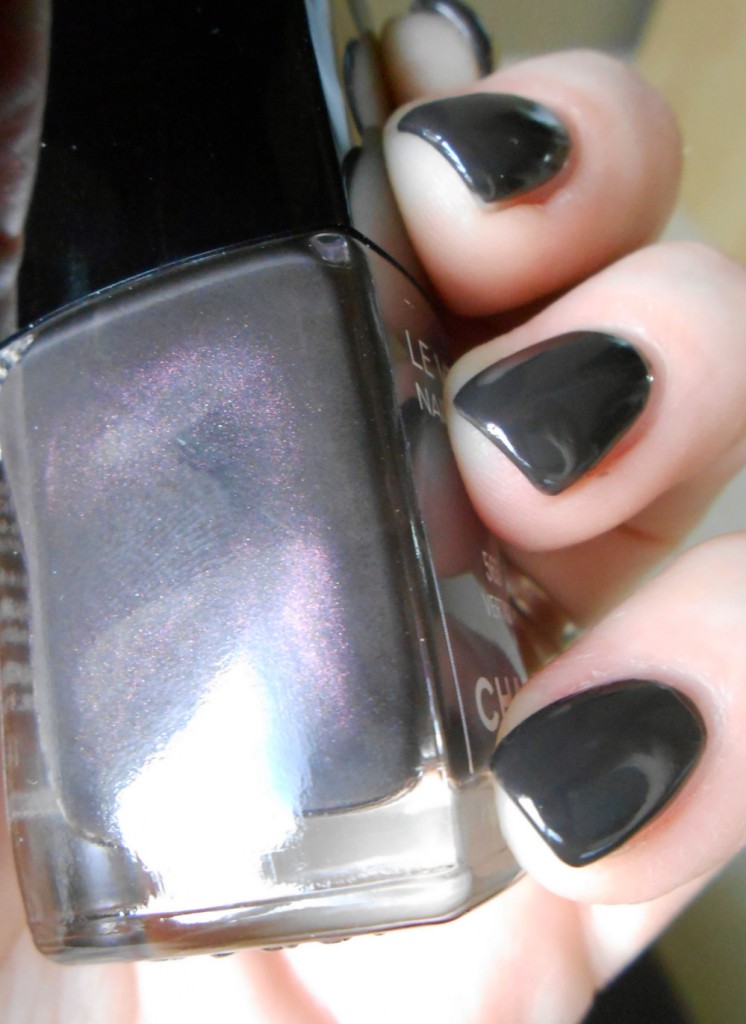 On the other hand, I was pleasantly surprised with Frenzy; on the nail, it's not grey at all. It's actually a lovely oatmeal colour – and take my word for it that it's gorgeous, since you've probably never heard the words "lovely" and "oatmeal" in the same sentence before. This "nude" polish is flattering on my cooler skin tone, but I think it would also suit warm-toned complexions as well. Perfect for "mannequin hands"!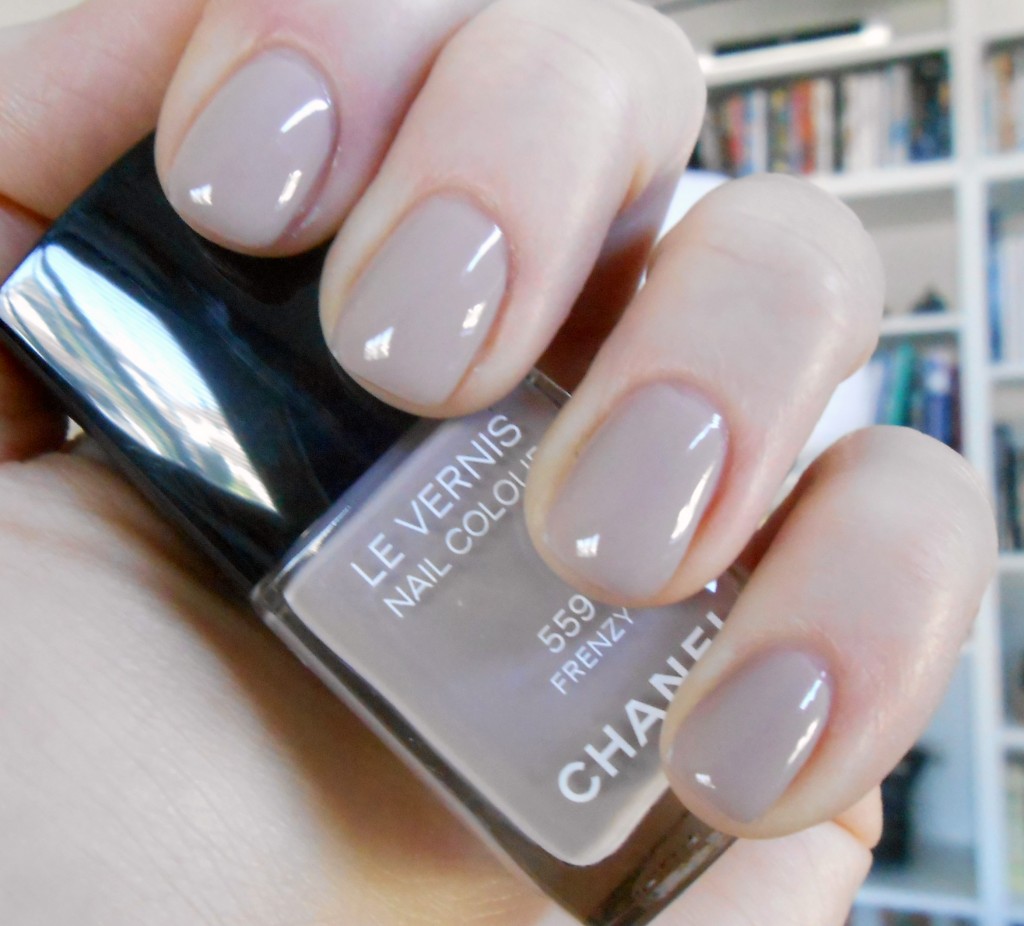 Of course, this wouldn't be a Chanel polish post without an "inspired by" outfit. Or two, in this case. Because both Vertigo and Frenzy are muted colours, I decided to pick a restrained palette of black and grey, and taupe and tan, respectively – but push for results that would be anything but blah.
First, Vertigo featuring an "opposites" pairing of restrained pencil skirt and va-va-voom bustier.
Second, Frenzy and a head-to-toe ode to beige. I love monochromatic looks that mix various shades in the same family.