The first week of the Remix Challenge went off without a hitch, although it's obviously early days. So far, shooting "on location" has proven to have some hazards – uninvited intruders, auto-focus issues, and lighting to name but a few – but I promise to persevere and hopefully bring you better quality shots in the future. The key is that I have been photographing the actual outfits I've been wearing, as opposed to the ones planned – and they are not always one and the same. I typically plan an entire week's outfits in advance, for the purpose of cutting down on my prep time each morning. Sometimes, though, an outfit will "look" better in my mind's eye than in reality, in which case last-minute tweaks are needed – or it's back to the drawing board entirely. Because I tend to coordinate my nail polish to my (planned) outfits, and paint my nails the night before, overhauling an outfit entire on the day of can be a bit of an inconvenience – it's so annoying to have clashing nail polish on! Yeah, I can be a total nit-picker.
Anyway, on to the week's outfits.
Sunday, September 16, 2012: family outing @ Devonian gardens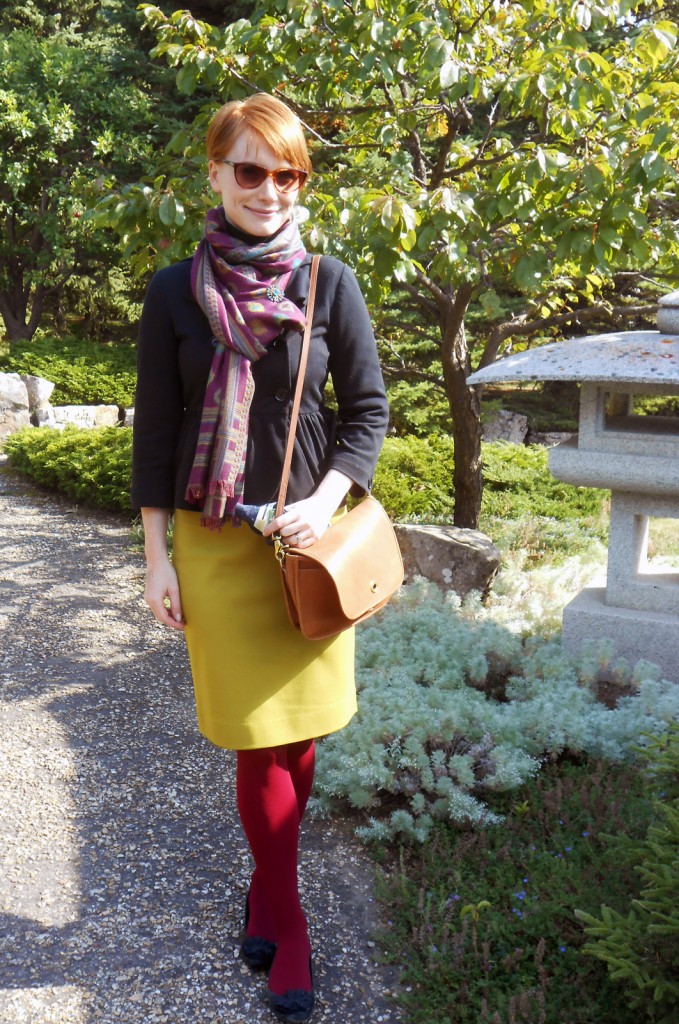 I had in mind a fall palette when I put together this outfit, but I didn't realize just how bright the chartreuse skirt would be in direct sunlight. And, boy, was it sunny! Blindingly bright skirt aside, this was a surprisingly comfy outfit (everything was stretchy) and perfect for a warm fall afternoon. No nail polish on this occasion – I had just taken off Butter London Black Knight.
Bonus photo time: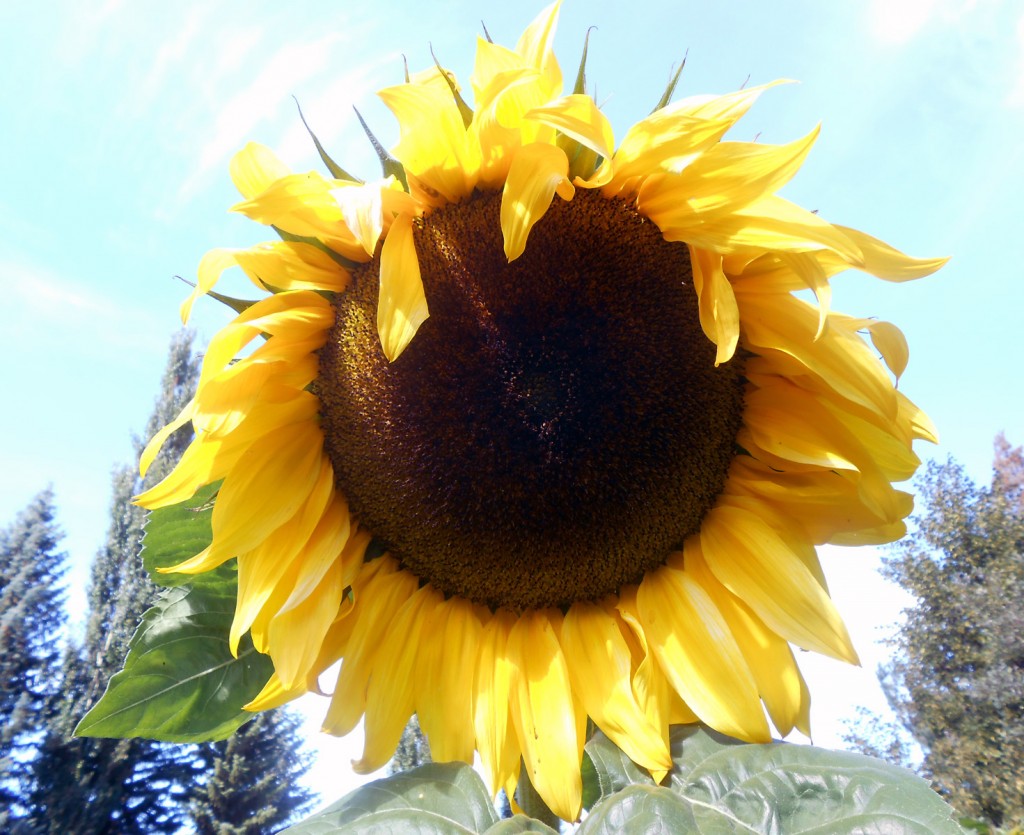 Monday, September 17, 2012: work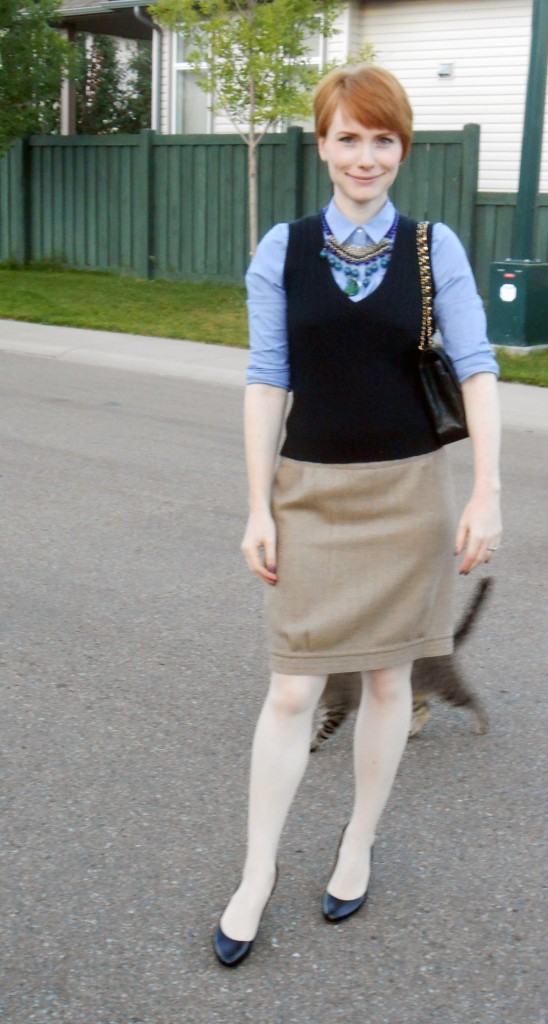 First attempt to take a photo outside, and I get photo-bombed by the neighbours' cat. Figures. I found this chambray shirt at My Favourite Aunt's, and it seemed like a steal for $12. Loved balancing its boyish vibe with a statement necklace. Got quite a few compliments on this outfit, so I guess the combo was a hit. I wore OPI Parlez Vous OPI, a dusty mauve polish, which seemed to suit the colour theme of the outfit.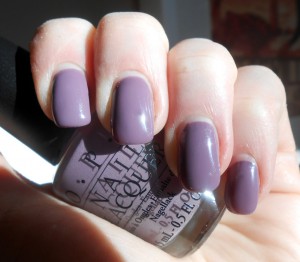 Tuesday, September 18, 2012: work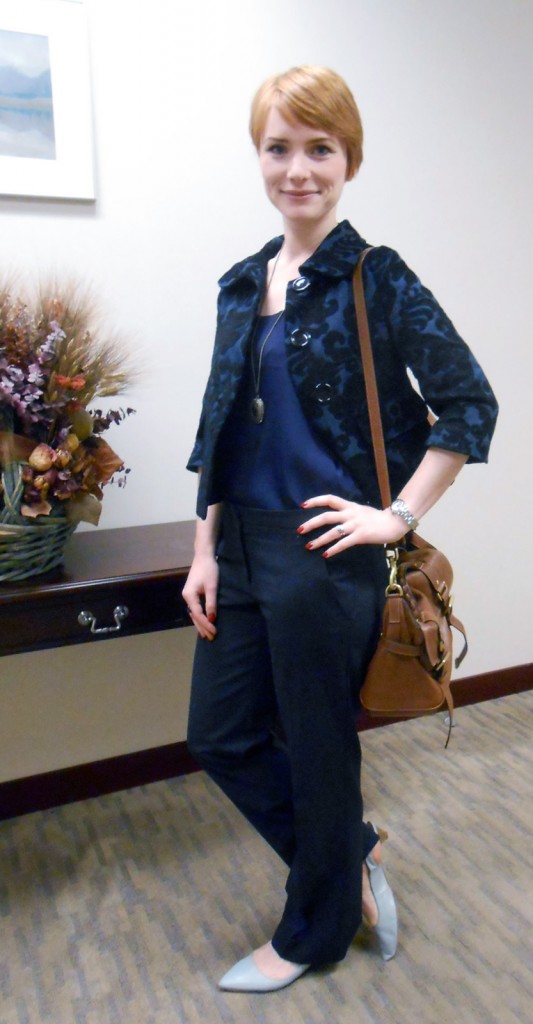 Navy, navy, navy. One thing I learned quickly is that pants with pockets cut on the side do not photograph well. The pockets inevitably gape, and add volume in the hip area. I swear, they are more flattering in person. My polish was Chanel Dragon.
Wednesday, September 19, 2012: work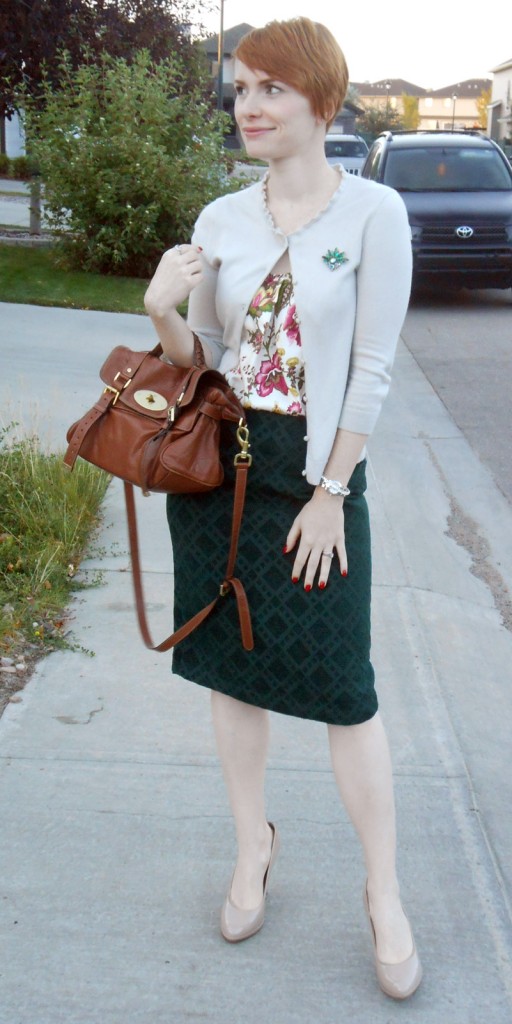 I went back and worth on this outfit quite a bit, but looking back on this photo, I'm glad I tried it. My favourite part was the brooch, a $5 find from Ibon (check out its new location on Calgary Trail south). I am still wearing Dragon, because I couldn't be bothered to change it. A burgundy polish might have been a better match, perhaps something like OPI DS Extravagance. Next time!
Thursday, September 20, 2012: work
My son turned 14 months! Incredible. Some days I still find it hard to believe I am somebody's mom.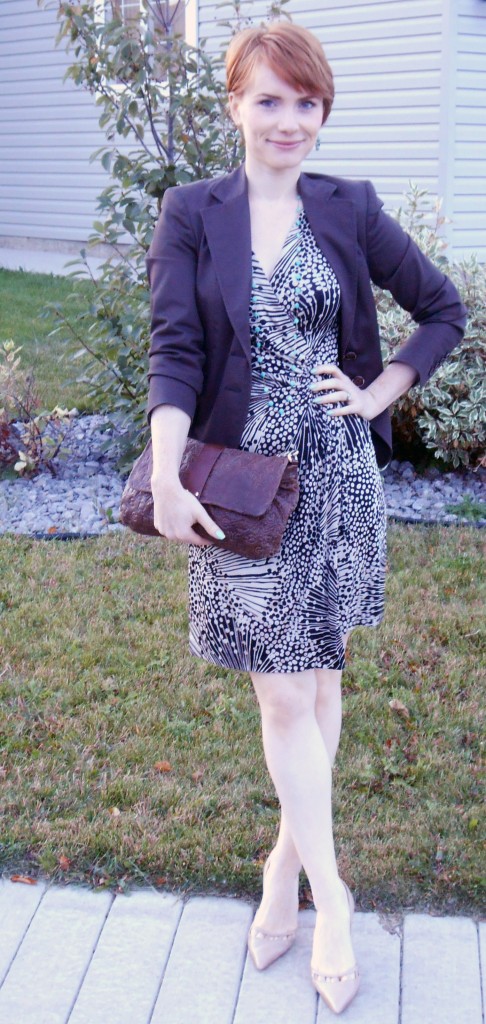 Moving on, I decided to pair my new Trina Turk dress with a jacket, thereby avoiding the need for an overcoat. Pale aqua accents provide a pop of colour. I almost wore the same nude Nine West pumps as the previous day, but decided at the last minute to give my feet a break and go with lower heels; still nude, still Nine West. My polish is OPI Hey, Get in Lime! – a lovely, soft, faded Tiffany blue.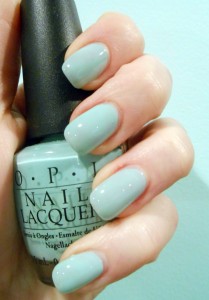 Friday, September 21, 2012: work-related function … or, just work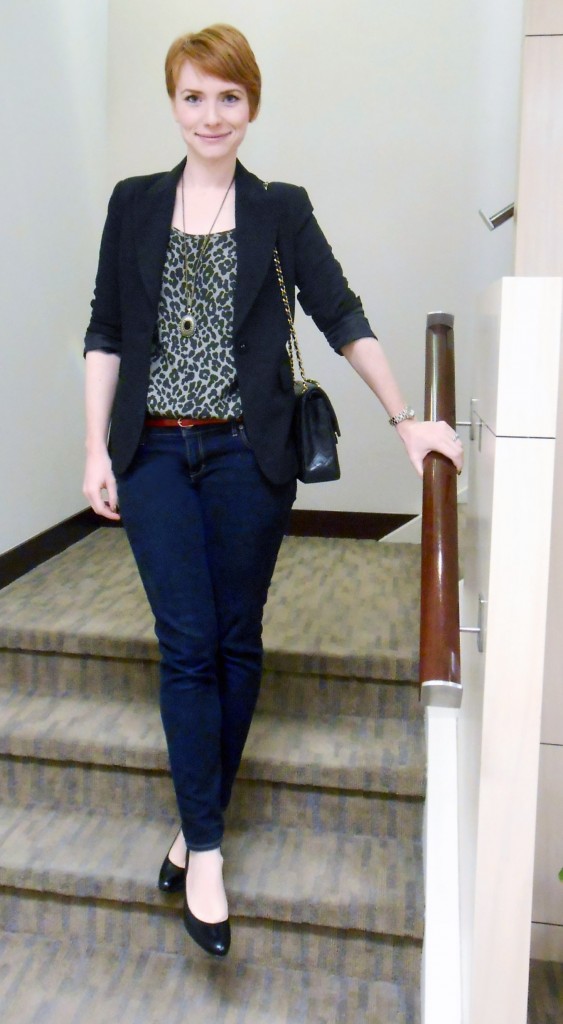 I was supposed to attend a work-related function on Friday night, but ended up feeling really under the weather and bailed. Still bummed out about it. My work outfit was based around the top I was going to wear at the function. The dress code for this (evening) event was "business attire", but there was no way I was going to wear a suit. I hate suits! I decided to go with separates (black pencil skirt would have been my choice), including a bit of a "wild" print. On my nails, I had Butter London Wallis.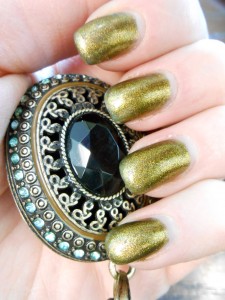 Saturday, September 22, 2012: birthday party
My BFF turned 30 (shh!) and I, along with other friends and family, helped her celebrate the big day in style. Still feeling under the weather, but there was no way I would miss this special occasion. To pep things up, I went with a fun mix of prints for my outfit – and pearls, for added effect.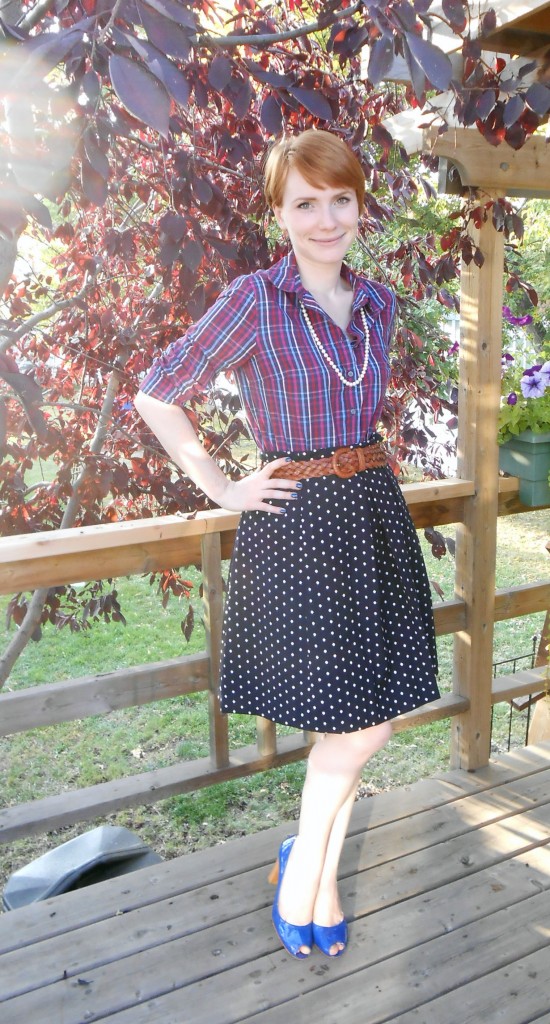 My polish was OPI DS Fantasy.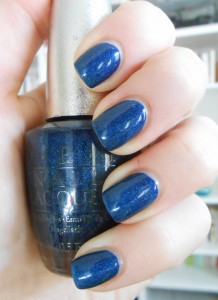 And so concluded my first week of the Remix Challenge. What do you think of my efforts so far? If you're playing along at home, how did it go for you? Stay tuned for week 2!!