OK, ixnay on the pizza place. I've been watching too much TV Tropia and reminiscing about the days when Ryan Reynolds had curly hair and better taste in blondes. Anyway, this post isn't a complete tease: there will be shoes, and a dress.
Believe it or not, I am still looking for a cream blouse; no luck yet. But I keep finding other things to buy – quelle surprise! Having said that, I actually didn't buy many of them. Instead, I've been enjoying getting reacquainted with my work wardrobe (which makes up about 80% of my closet) and focusing on updating my jewelry stash. In place of my usual showy, trendy pieces, I've found myself drawn to more delicate, discrete things. Most of them still qualify as costume jewelry, but of higher quality and, hopefully, greater durability. Although, I must confess that I had been secretly denigrating Winners sterling silver jewelry for a while (after one too many pieces starting turning black) and it turns out that my complaints were rather unfounded; a good scrub with a toothbrush and some toothpaste, and they all look as good as new again. Tip of the day there.
Anyway, back to the clothes. I had been holding my mom's Diane von Furstenberg wrap dress hostage on an "extended loan" basis for some time, and she finally put her foot down. Back went "my" lovely. As luck would have it, I had just bought a new pair of shoes to go along with that dress – nude patent leather Nine West shoes.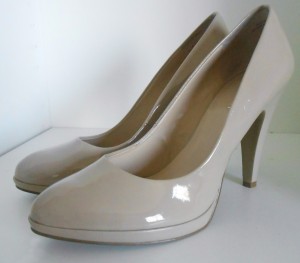 I'm kidding, of course. I would never buy a pair of shoes for just one outfit; even at 50% off, that's still silly. These pumps work with absolutely everything, and they make me look like one of those 7 foot tall Amazons. See?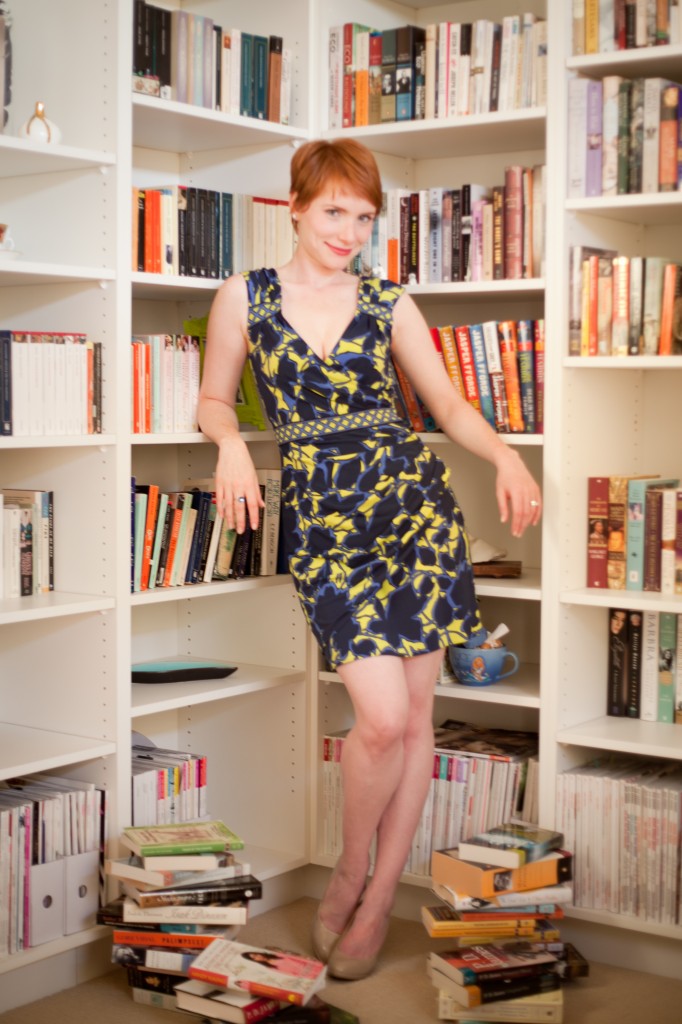 Courtesy of Rachel Foley Photography
I bought the Nine West shoes at Winners in what qualifies as a bit of a "bender" for me these days – two pairs of shoes in one day. The other pair was a grey suede Enzo Angiolini one with sky-high heels. Possibly some of the most comfortable shoes I own, thanks to the tall platform.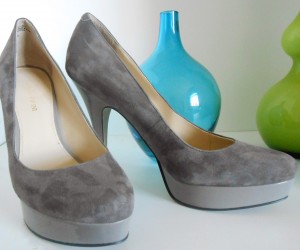 I love this colour because it's a brown-based, warm-toned mushroom grey, which works well with most neutrals (similar warm greys, navy, camel, black). Here are a couple of examples. Now that my feet are re-discovering the love part of their love-hate relationship with heels, this type of rounded-toe platform pump is my go-to footwear choice for days when I rock skirts or dresses at the office – in other words, most of the time. The style is pretty and ladylike, which are the adjectives that I think describe most of my wardrobe these days. [By way of contrast, pointy-toed pumps are waaay sexier. Which is not a bad thing, at all, but they definitely bring a different vibe to an outfit. Pairing them with a dress that's sweet and girly makes for a questionable combo, much like pickles and chocolate. Only some people can handle it with aplomb.] With that in mind, $140 for two pairs of shoes that are versatile, comfortable, and decent quality is a pretty good deal.
But my luck didn't stop there. Consignment store shopping has been a bit of a bust recently, but it redeemed itself somewhat when I came across this pretty Trina Turk wrap dress.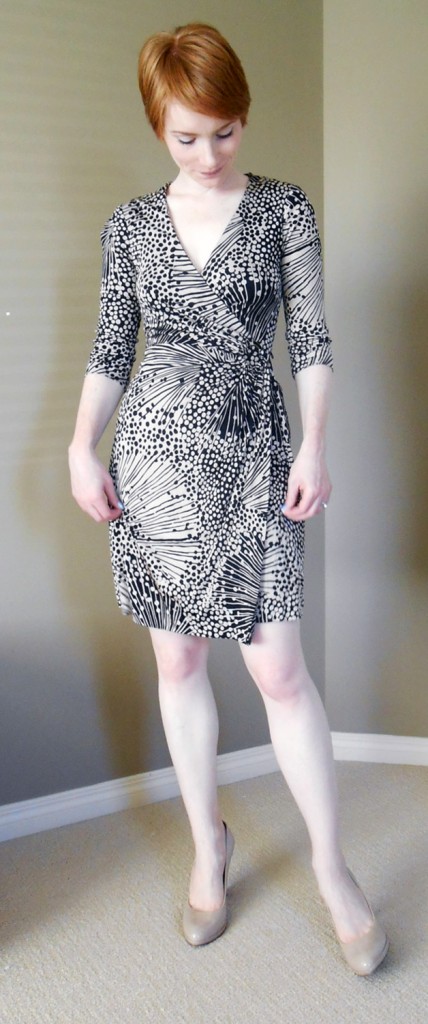 Although the print is different, overall feel is very similar to the DVF dress my mom repo-ed. Win! I really like the neutral colours of the dress, because they make the dress so easy to accessorize. Win again! Although, sadly, the fabric is not the amazing silk jersey of DVF dresses, it's still a decent rayon – and a steal for $20. Triple win! Trina Turk dresses usually run around $300, and the L.A.-based label is known for pretty, feminine pieces. If you're interested in trying it out for yourself, you may be in luck; Banana Republic was recently featuring a collaboration with Trina Turk, and you may still be able to find the pieces in stores now.
Going back to my original post title inspiration – if my new Nine West shoes are the Ryan Reynolds of this shopping episode, that would make my grey Enzos the, um, other guy, and my Trina Turk dress the girl (obviously). Do you see a resemblance?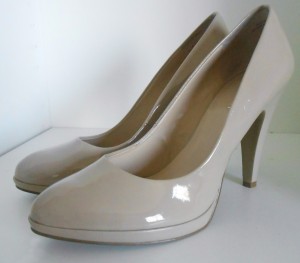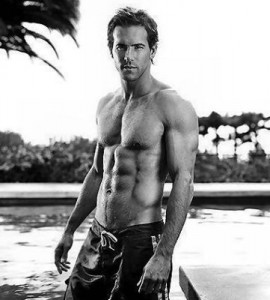 Definitely lust-worthy. [The shoes, that is. I'm more of a Jesse Eisenberg kinda gal.]