As in past years, Chanel's beauty guru, Peter Phillips, debuted three limited edition polishes for Fashion's Night Out, back in September. This year's trio, called Les Twinsets de Chanel, featured rich, fall-appropriate shades called Provocation, Infidele, and Delicatesse. I was able to have an in-person look at all three, and picked the first two for my ever-growing collection. Today, I bring you Infidele.
Of the three polishes in Les Twinsets (love that name!), Infidele was the one in which I was least interested, based on the promotional materials. First of all, it was described as a "pink", and I have a love-hate relationship with pink nail polish; I love it, but it mostly hates my skin tone. In photos, it didn't look promising. As it happens, the promos did not do it justice. In person, Chanel Infidele is a beautiful, deep rose-mauve – neither pink nor burgundy. It's Rose Confidentiel's brighter, rosier cousin, although the two colours are dissimilar enough to justify having both. For anyone who found Rose Confidentiel too "old lady"-like, Infidele is the answer.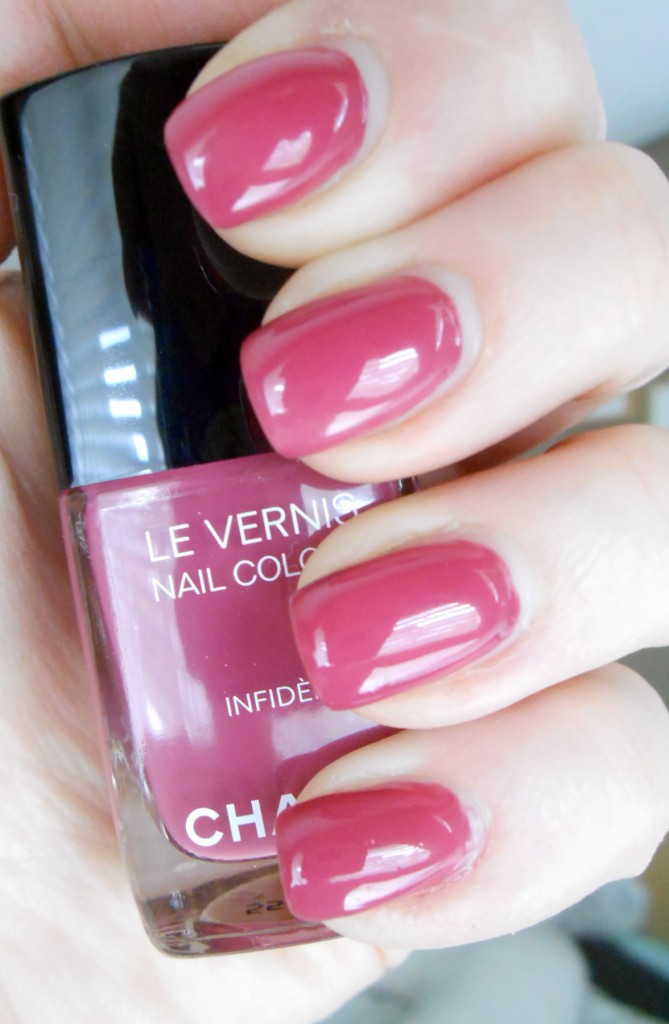 Application-wise, Chanel Infidele was a dream! The formula is simply perfection. One coat is all I applied in the photo above, and I like the delicate, blush-like finish. For more colour saturation, two coats would be just the ticket.
For my inspired outfit, I followed Infidele's romantic, feminine vibe and chose my new Ellen Tracy dress. I'm not generally a fan of 70s fashion, but I like the subtle nod to the era here. It's a floral print – again! – but in muted colours perfect for fall. In fact, this dress is ready-made for the cooler seasons, and great for layering – I can't wait to experiment with it in the Remix Challenge! I hated the fabric belt that came with the dress, so I substituted my H&M "knot" belt for a bit of "tough chic" contrast.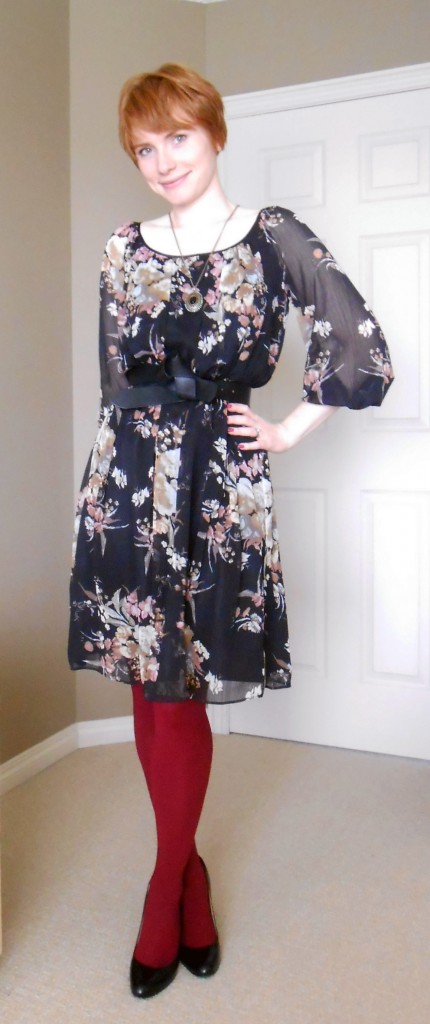 I found the dress in the clearance section at the Red Deer Winners, priced down to $44. A tad bit more than I would normally pay for a synthetic blend fabric, but the retro feel and mixing possibilities won me over. A word on the store, of which I'd heard many fables of overlooked treasures. I would put the Red Deer Winners on par with the Mayfield Common store in Edmonton – not terrible, but by no means a treasure trove. There is no "runway" section (so no big-name designer labels), and the accessory sections are on the weak side. If you happen to be making a pit stop in Red Deer, definitely check it out – but don't worry about going out of your way to visit it otherwise.