Sunday, October 14: errands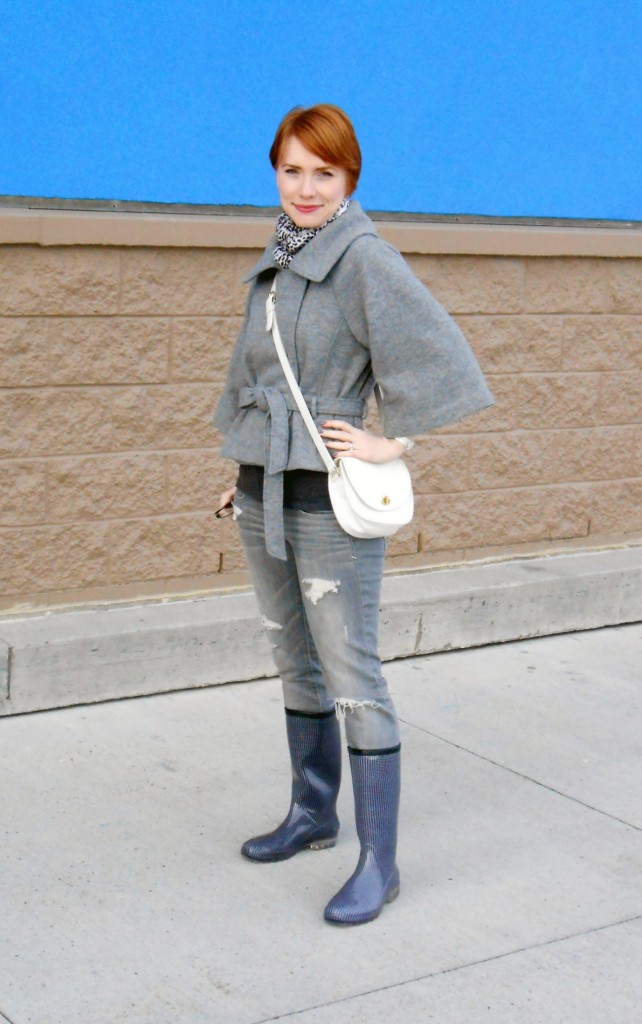 This is about as fashionable as my weekend errand-running outfits can get these days, with the weather being what it is. With that said, I think these rubber boots are pretty darn cute. In case you are wondering, this cape-like jacket does look familiar; it's an almost exact copy of the black version I wore last week (see Tuesday's outfit). The only exception: this one's a Joe Fresh coat, and the other was Club Monaco. Clearly, Joe Mimran was paying tribute to his own designs with this one.
Monday, October 15: work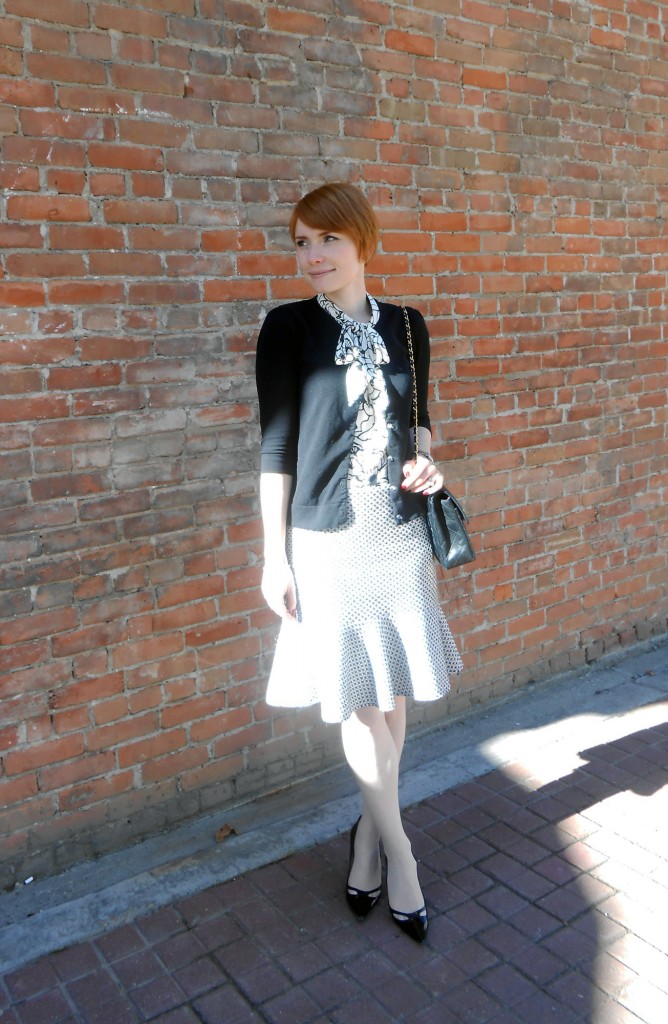 I liked this outfit a lot, and it's fitting that I wore it on a day when I had lunch at a chic watering spot with one of my favourite ladies. The skirt is part of a suit I almost never wear, because the heavier knit material makes the jacket feel bulky (and overly warm); however, the shape of the skirt works great with the feminine vibe of the blouse, and the patterns are a great match – same colours, but contrasting patterns.
I should also mention that I got a TON of compliments on my nail polish (OPI Smitten with Mittens) – perhaps the most ever! Sadly, it's a discontinued colour (though not outrageously priced on eBay).
Tuesday, October 16: work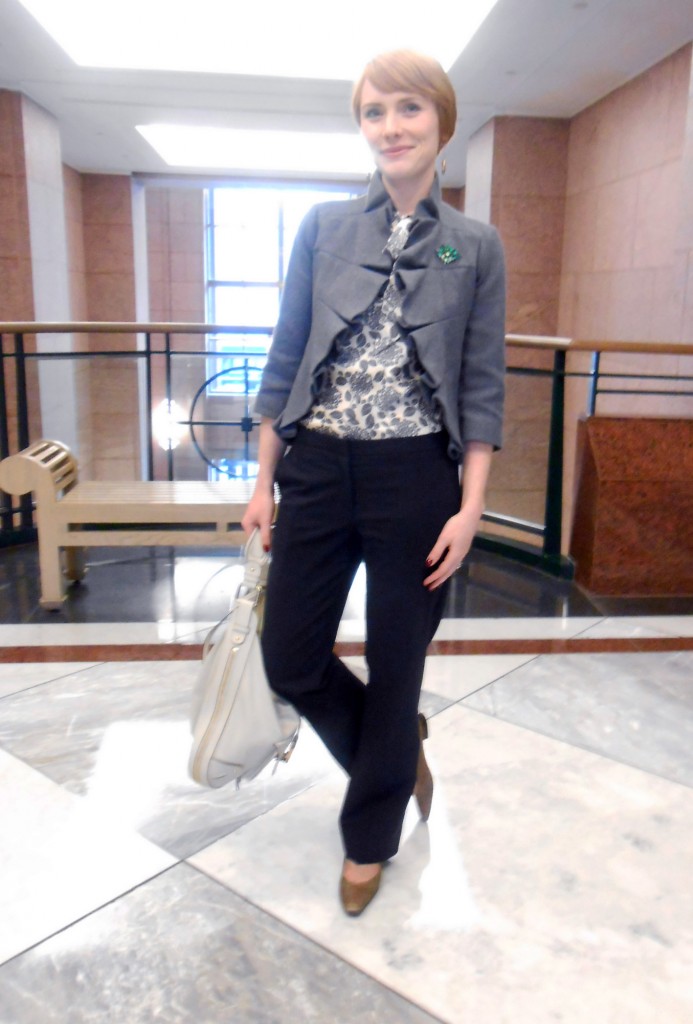 This Anthropologie jacket was a bit of an impulse buy, which I rarely wear because of its itchiness factor. Note to self: avoid boiled wool as much as possible. However, every time I do wear it, I am reminded about how much I love its silhouette. I also love the colour combo of navy and jade, which is rather underrated.
Wednesday, October 17: work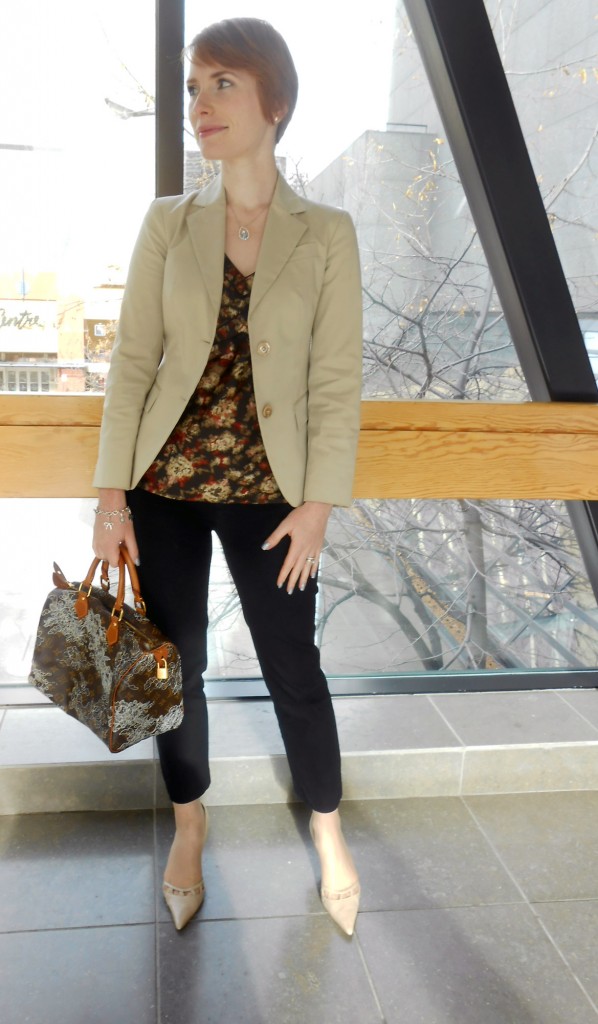 What is this, you say? Pants two days in a row? Sacrilege! Just trying to keep things fresh, that's all. I think the autumnal shades of this outfit work really well with the slight hint of contrasting colour (light blue) in my necklace and nails. Subtle, but perfectly harmonious.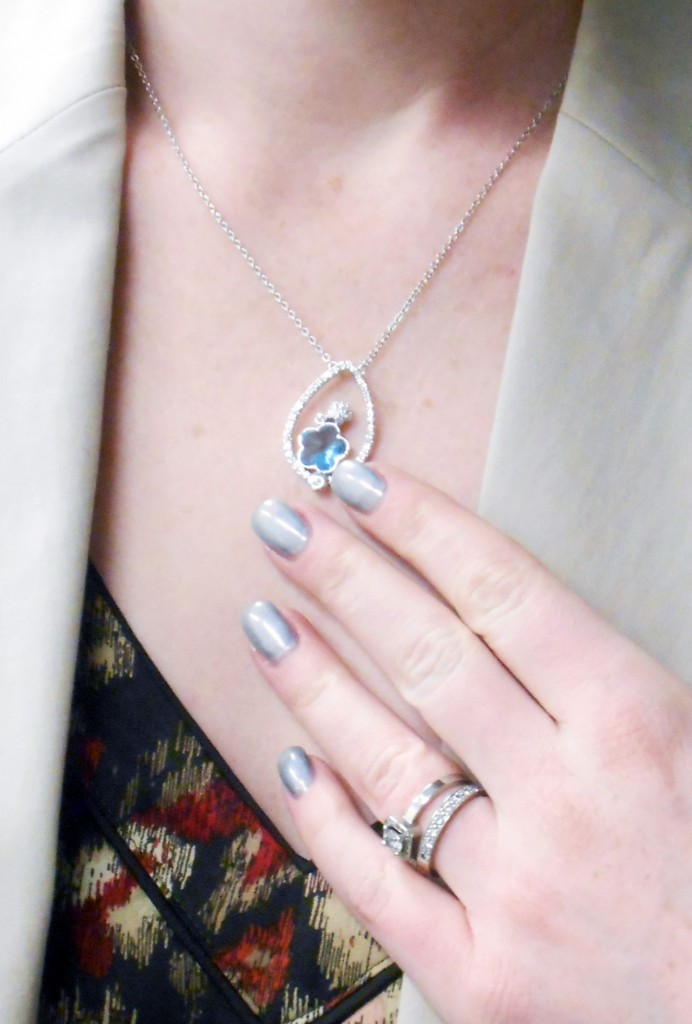 Thursday, October 18: work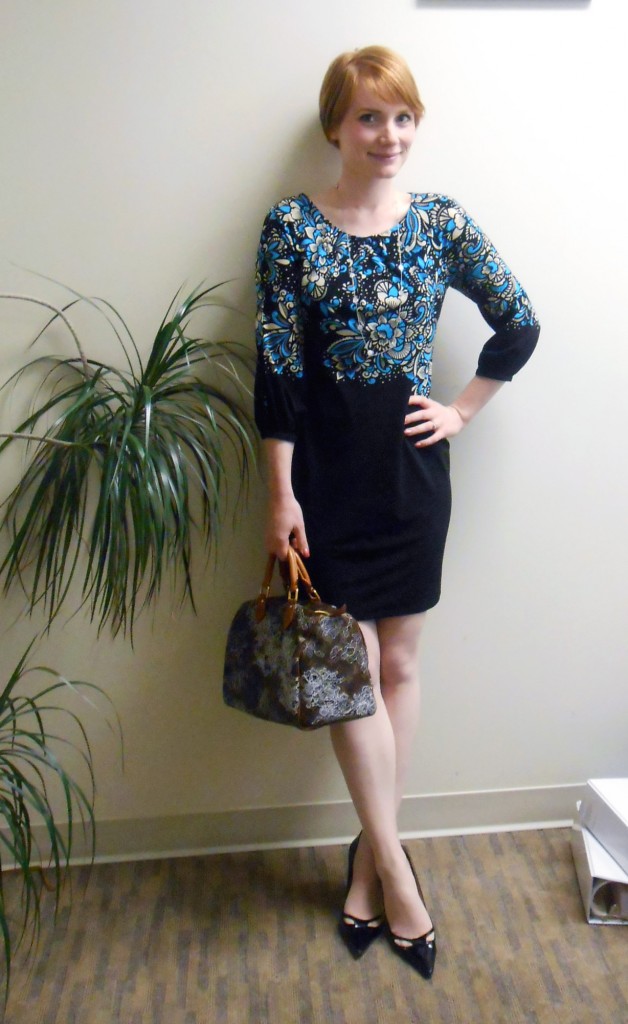 This dress has been through a lot – in and out of my "purge pile" for over a year now. It looks nice on its own, but it's not a piece that offers a lot of possibilities for remixing. It just … is. It also happens to be a little on the short side (for work), although that's balanced by the high neckline and long sleeves. On the plus side, I love the print. Oh, decisions, decisions! What do you think I should do with it: keep it or purge it?
Friday, October 19: work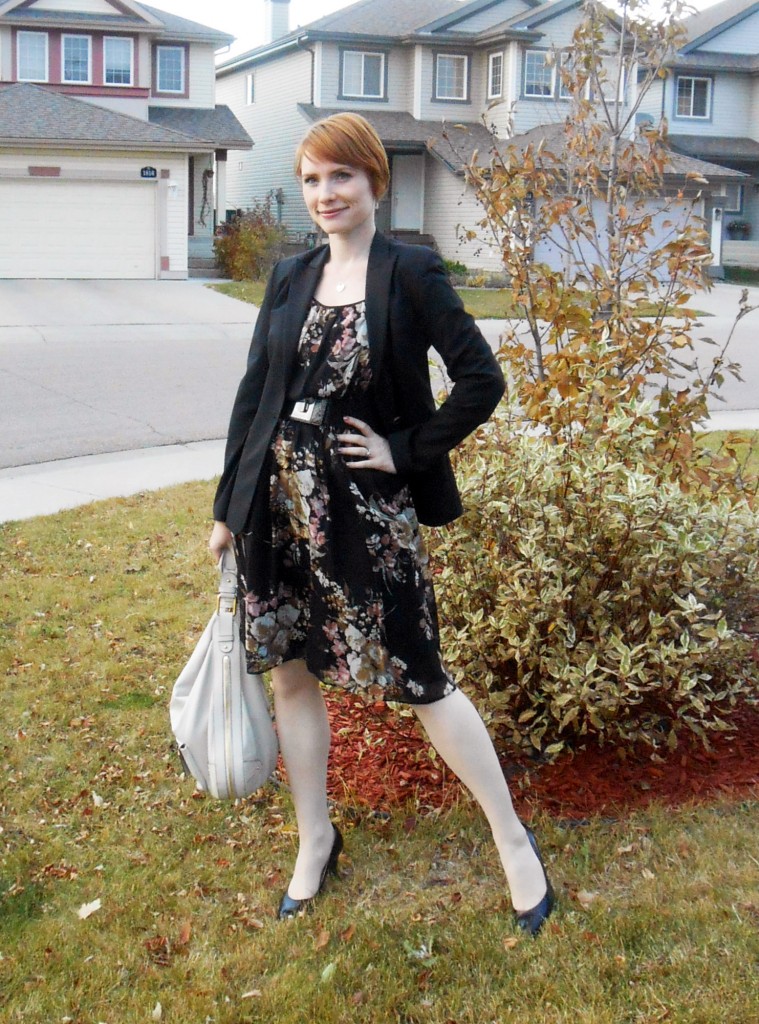 Because I had a client meeting today, my outfit was a notch above my usual "casual Friday" ensemble. I didn't want to go too far into "conservative suit" territory, though, so I compromised with a blazer and dress.
Saturday, October 20: errands and manicure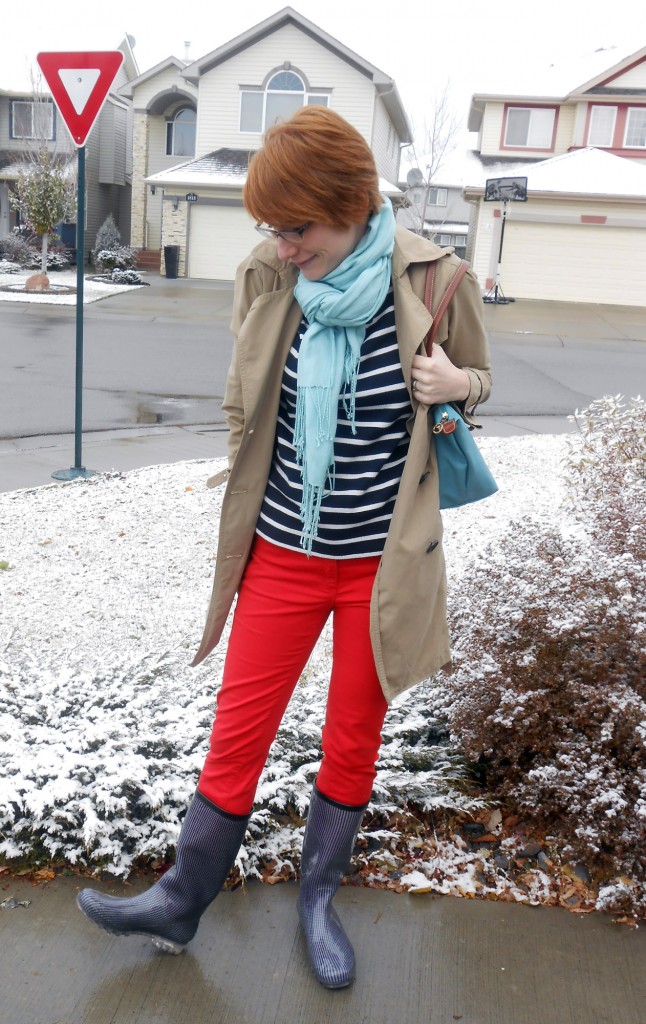 Can you believe that this was the next day? Yep, snow in October – gotta love Edmonton! On the plus side, Luka turned 15 months today! I think I will stop counting monthly "birthdays" when I start feeling like I have a grip on this whole motherhood thing. So, in about, oh, ten years? Fingers crossed.

In case you are curious, I get my nails "did" every 4 weeks, and it simply entails putting a layer of clear gel over my natural nails. I used to get a French manicure, but nowadays I forgo the white tips altogether. Since I wear nail polish almost every day, it seemed redundant to bother with them.
I must confess that I am having a hard time devising weekend outfits for the Remix Challenge, because most of my activities include either shopping (or the grocery store or mall variety) or the outdoors. In both cases, utility tends to trump fashion; plus, I am always wearing outerwear over every outfit. In other words, I rarely have a reason to dress up on weekends, and doing so simply for the sake of the challenge seems silly. Once the temperatures dive into "deep freeze" territory, I may have to switch to a 5-days-a-week schedule – assuming that the Remix Challenge is still ongoing!
On that note, wish me luck for next week!