Every so often, whenever I feel like I'm getting stuck in a style rut, I like to perform a ritual I call the "closet refresh" – kind of like an exorcism for all your terrible or unproductive clothing choices that are still hanging on, wreaking havoc on your style mojo. Some of the steps of the closet refresh are things I do on an on-going basis, but I think there is a benefit to going through all the motions, methodically, at least once or twice a year. Here are the four, easy steps to refreshing my closet (or yours).
Step 1: Purge
This sounds very drastic, but it's not. As a rule of thumb, anything that you haven't worn in the last year, anything with irreversible signs of wear and/or aging, and anything that is more than 5 lbs away from fitting properly, should go into a "working purge pile". Be really ruthless at this stage – you can re-consider items a little later on. [If you're not sentimental about clothes, you can skip the next step and just make your purging choices final from the beginning.] Put the pile away somewhere so that you don't have daily access to it. Don't look at it again for at least 3 months.
Then, take another look at the clothes in the pile and ask yourself: did you miss them? Were there any occasions, in those 3 months, when you were looking through your closet thinking "Man, I wish I had x!" If the answer is yes, don't just put the item back in your closet. Ask yourself another question: "Did I miss this particular iteration of x, or just its functionality?" In other words, is there something special about this particular black cardigan, or do I just need something of this kind (i.e. a cover-up option in black). If the particular item no longer works – because it's too old, doesn't fit, whatever the case may be – then keep it in the purge pile … and make a note that it is something you need to replace.
Once you have a "final" purge pile, divide it into things you can sell and things you can donate – extra money and good karma are both bonuses here. Things that don't sell (or which you don't have time to sell) can be put aside in a "clothing swap pile"; just make sure the pile resides somewhere other than your closet, taking up unnecessary room, and that you actually do hold (or attend) a clothing swap within the year. Otherwise, donate them. It ain't a purge if it doesn't ever leave your house!
Step 2: Mind the Gaps
In going through your closet as part the purge, keep a running list of key items that are missing (or need to be replaced now or shortly) from your wardrobe. "Key items" are wardrobe staples or basics, which you wear all the time or which form the foundation or a necessary component of your favourite outfits. A well-functioning wardrobe relies on these key items, so filling in the gaps as quickly as possible is important. With that said, unless it is a dire emergency (like, say, being down to the last pair of non-ripped pantyhose), I don't recommend buying things on the fly. The advantage of having a running tally of "gaps to be filled" means that you can be on the look-out for good deals on key items long before their replacement reaches that critical emergency stage. You know what they say – you can never find what you're looking for when you're looking for it (and if you do, it will cost you a lot of money).
Step 3: Expansion Plans
A closet refresh is not a simply an exercise in subtraction. The purge process is an necessary first step to give you a better sense of what's working (and what's not) and allow you more room to grow – in the right direction. In addition to replenishing missing pieces, the fun part of the closet refresh is plotting out how to strategically expand your wardrobe. The planning part is important, if you have even the slightest shopaholic tendencies, to avoid ending with a wallet-ful of maxed of cards, a closet-ful of clothes and nothing to wear.
Rather than just buying more of the same things, I recommend using this opportunity to try new things that enhance your style. Colours and patterns are an obvious route, and they're two of my favourite ways to update and spruce up my wardrobe. And there are choices out there for everyone – a whole rainbow of choices, to be cheesily precise. For some people, colour and patterns (or worse yet, a combination of both) can be scary. If you're not sure about what to look for, and how to put it together, here are some very simple tips.
You can wear any colour. Yes, it's true. You just might not be able to wear every colour close to your face/head, because some may make you look more washed out/flushed/unhealthy/zombie-like. With that said, some old-fashioned axioms are out of date; for example, red-heads can wear red, as well as pink. If you're not sure about wearing, say, a mustard yellow sweater, just put it on and look in the mirror. Focus on your face, not the sweater, and gauge your first reaction. If something just doesn't look right, chances are the colour is not flattering to your complexion. If you're not sure of your own objectivity, ask a (candid) friend. And don't forget – you can always try a mustard skirt instead.

Learn what colours complement each other. You can start here. 
If you want to mix colours and patterns, use the pattern as a guide to picking the complementary colour(s). The textile designers have already done all the hard work for you; all you have to do is follow the lead, by picking colours featured in the pattern. The colour doesn't have to match 100%, because the eye is great at tricking you that similar colours are identical, especially from a distance.

If you want to mix patterns, use their colour as a guide. Pick patterns from different categories (floral and polka dots; floral and geometric; etc.) and use their colour as a uniting theme. Solid-colour accessories, like belts, can be used to separate different prints and "anchor" them in the outfit.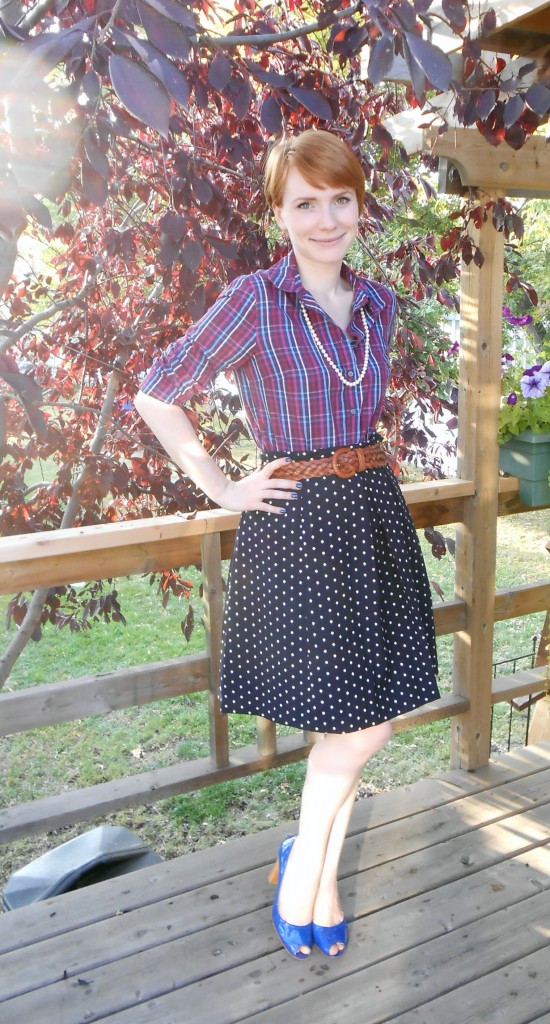 Step 4: Shop Smart
If you are familiar with this blog (or my articles at Timeless Finance), then you know I am the queen of frugal shopping. In my opinion, the key to frugality is about looking for the best quality that you can afford, and spending not a penny more than necessary for it. So, for me, shopping smart means (i) finding the best affordable quality possible; and (ii) only buying what works for you. I've written before about the "where" aspect of frugal shopping [link], so today I am going to focus on the "how".
The starting point is your signature style. If you're still in the beginning stages of developing a signature style, check out this post for ideas[link]. The next step is to use your signature style as a guide to discriminating shopping. No matter how cute an item might seem on the hanger or even in the changing room, don't lose sight of who you are in real life, outside of the changing room stall. If the item doesn't fit your style (and that includes your body type and your lifestyle), then pass on it.
I've said this before, but it bears repeating: never, ever buy something on the assumption that it "might fit some day". Chances are it won't, and even if it did, the item would just be taking up space in your closet in the meantime – space better devoted to things that flatter the body you have now.
Another thing to never, ever do is seek out or listen to the opinions of salespersons. No matter how friendly, keep in mind that they have only one goal: to get you to buy stuff. It's like asking a car salesman if he thinks you need a new car. Chances are that, unless he just sold you one five minutes ago, the answer will always be "yes". You'll get the same answer, 9 times out of 10, when you ask a salesperson if those pants look good on you.
One of the most useful tips I've ever come across is the Rule of Three. I wish I could take credit for it, but I didn't invent this and I don't know who did; whoever it was, he or she was a frugal genius. The premise is simple: if you can't think of at least 3 outfits, and 3 different occasions for a particular item you're thinking of buying, walk away. If you follow this rule, any new item you buy will suits your lifestyle, and work with what's already in your closet, thus avoiding the need to buy new "matching" accessories to make it work (avoiding the dreaded Diderot Effect).
And there you have it – a complete closet refresh in 4 easy steps.