With the Remix Challenge in full swing, I am proud to say that my shopping has been been kept to a relative minimum, without any pronounced deleterious effect on my general wardrobe satisfaction. Thinking up new outfits every day keeps me too busy to think about all the things I could be buying, and it makes me realize just how little I need them. But enough with the self-congratulatory talk. Let's recap the shopping damage, shall we?
When I was looking at the pieces I bought in the last little while, it struck me that they are a perfect example of hi-lo mixing. Although not bought with that intention, the three items work really well together, creating an outfit that costs under $100.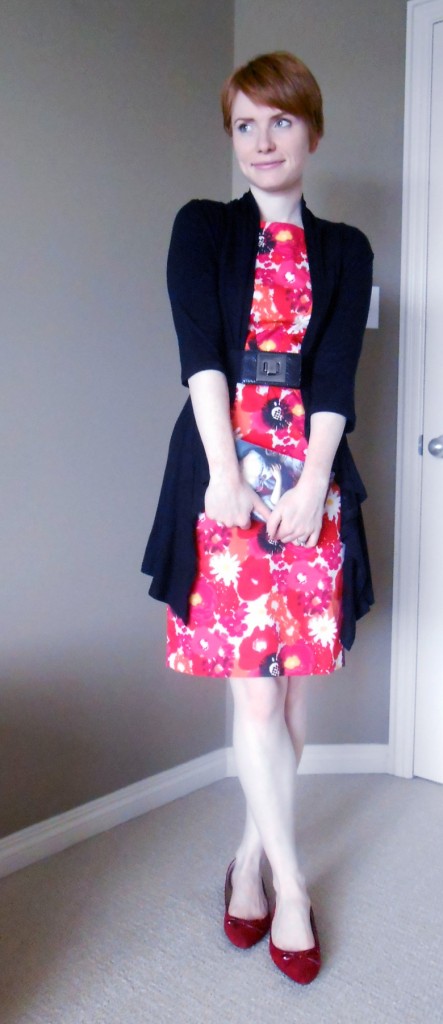 Here's how it breaks down.
The most expensive item was my new pair of red suede flats (Ellen Tracy via Winners). At $60, these were a splurge; however, it was a strategic splurge, insofar as I needed to replace my old pair of red flats, which I consider a wardrobe staple. Granted, my old pair was from Old Navy and cost under $10 but … just look at those bows!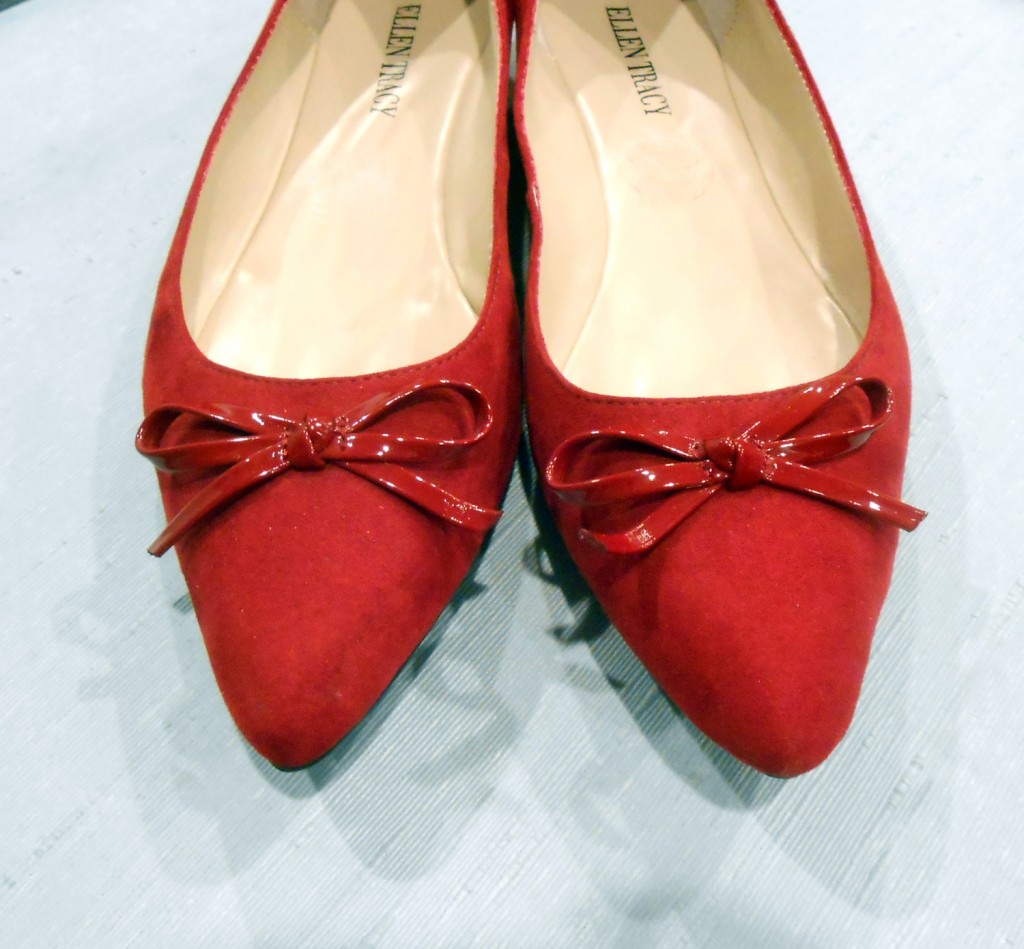 The least expensive item was the Club Monaco dress that cost $12 at Value Village. Florals – how could I resist? Plus, I don't have a lot of red and coral in my wardrobe, and it's a gap I mean to remedy. Although this is the epitome of a summer dress, I intend to transition it well into fall by pairing it with black tights and layering it under and over anything that works. Keep an eye out for it in the Remix Challenge!
The next most expensive item, though not by much, is the black shrug/cardigan (Point Zero via Winners). It cost $20 and it's incredibly comfortable and super versatile – two important criteria in my books. It looks great with dressier outfits, like the dress, but also with more casual ones, like jeans.
And, in case you were curious, the book I am holding is Sovereign Ladies: The Six Reigning Queens of England by Maureen Waller – a very engaging read if you're a history geek like me. I'm currently re-reading the chapter on Queen Victoria after finishing another biography, this time of the six daughters of George III of England; little Victoria, who was their niece, make an appearance in it, and reading about her childhood made me want to look at her whole reign again. I told you I was a history geek!
Don't forget to check out my column at Timeless Finance today for part I of a four-part series on building a basic work wardrobe!