Sunday, September 30: Sunday visit to grandparents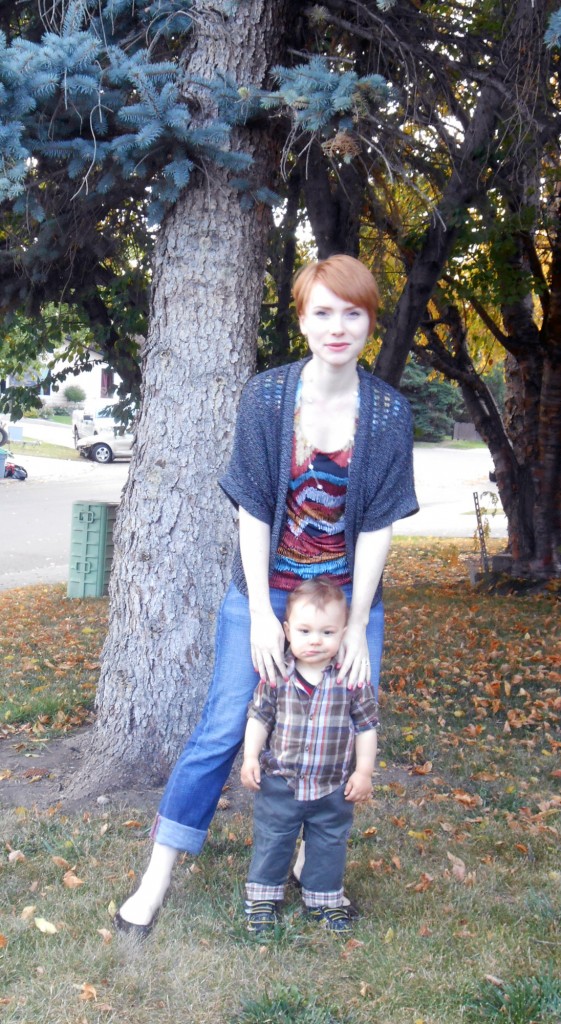 Much more auspicious than the previous Sunday, this was a day full of fun adventures, not least of all a visit to the grandparents' house. Luka wanted to get in on the action, until he realized that it meant nothing more exciting than taking photos. Blah!
Appropriately for the unseasonably warm weather, my nail polish was a summery, watermelon pink – China Glaze IDK. A quick note: my new point-and-click camera is driving me bananas. One of its many failings is the inability to take decent close-up photos – which means, no more nail shots. From now on, I will post the nail polish I am wearing in the outfit details (see pic). Sorry, peeps!
Monday, October 1: work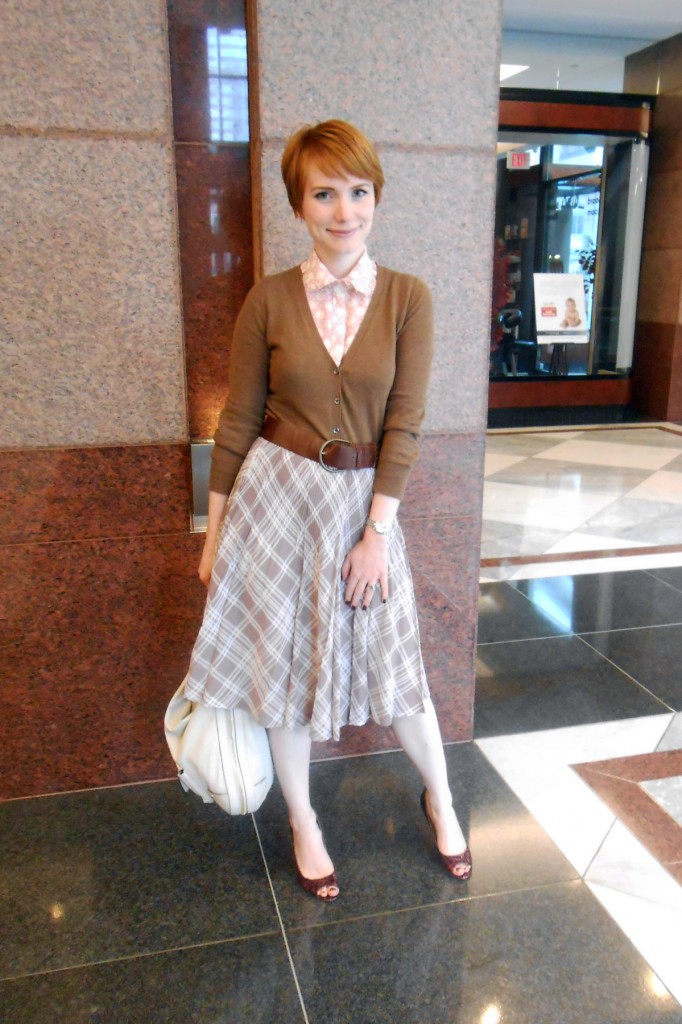 This was a totally thrown-together outfit and I'm still going back and forth on whether it was a success. I got a couple of compliments on it, but I feel like it could still benefit from some tweaking. This is the skirt that "needs" a cream blouse, which continues to elude me in my shopping quest. This was my "in the meantime" compromise – what do you think?
Tuesday, October 2: work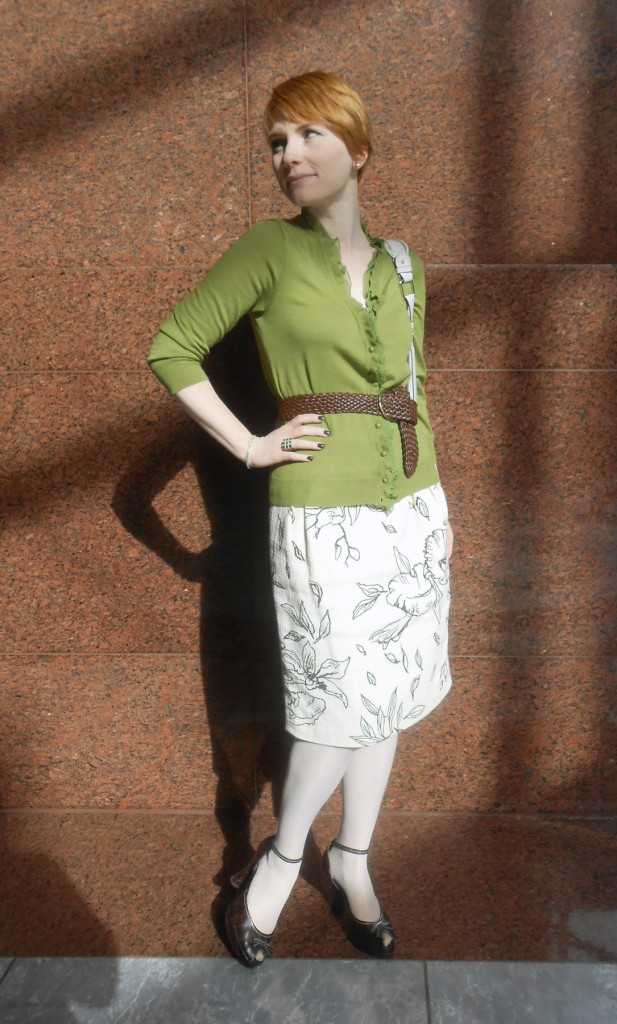 This was an outfit I had put together a while go, using one half of my Pink Tartan, vintage-inspired suit. I love this suit so much, but it feels a bit too retro for frequent wear – it's too much of a statement piece. The skirt, alone, is more manageable, and it also got me to wear a pair of platform shoes I re-discovered at the office. They were "loaned" to me ages ago by a dear friend, who seems to have forgotten about them in the meantime. Hehe! (Actually, considering she works two doors down from my office, I doubt that is the case; but she has been very gracious about extending the loan indefinitely. Lucky me!)
Wednesday, October 3: work and dinner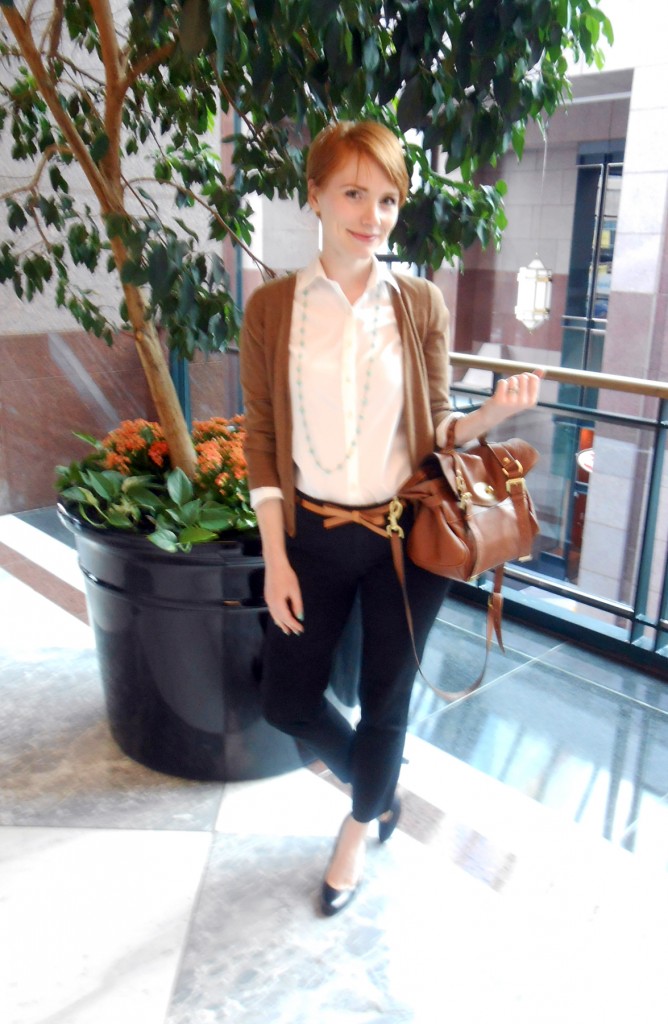 Wednesday was my husband's birthday, so we were supposed to drop off Luka at his grandparents' house and go out for dinner. When we got home from work, Luka was napping (not at his usual time, I might add) – and continued to nap for another hour and a half. Bye bye, dinner!  So, no date night for us.
[And I apologize for the blurry photo – darn cheapie camera!]
Thursday, October 4: work and dinner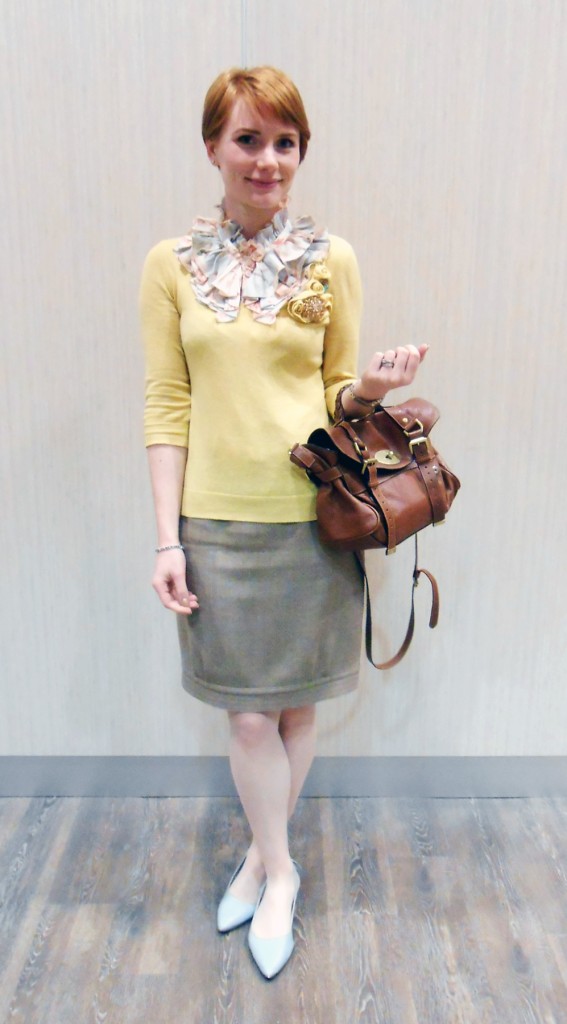 Back to the grind, this time with a more girly outfit – and you can't get any girlier than ruffles and florals. Initially, we had planned to re-schedule our date night, but we realized that there was just too much to do around the house, especially with a roadtrip planned for the weekend. Instead of dinner, we got some delicious Chinese take-out, and followed it up with a round of chores. Of, the glamorous life!
Here is a closer look at my accessories: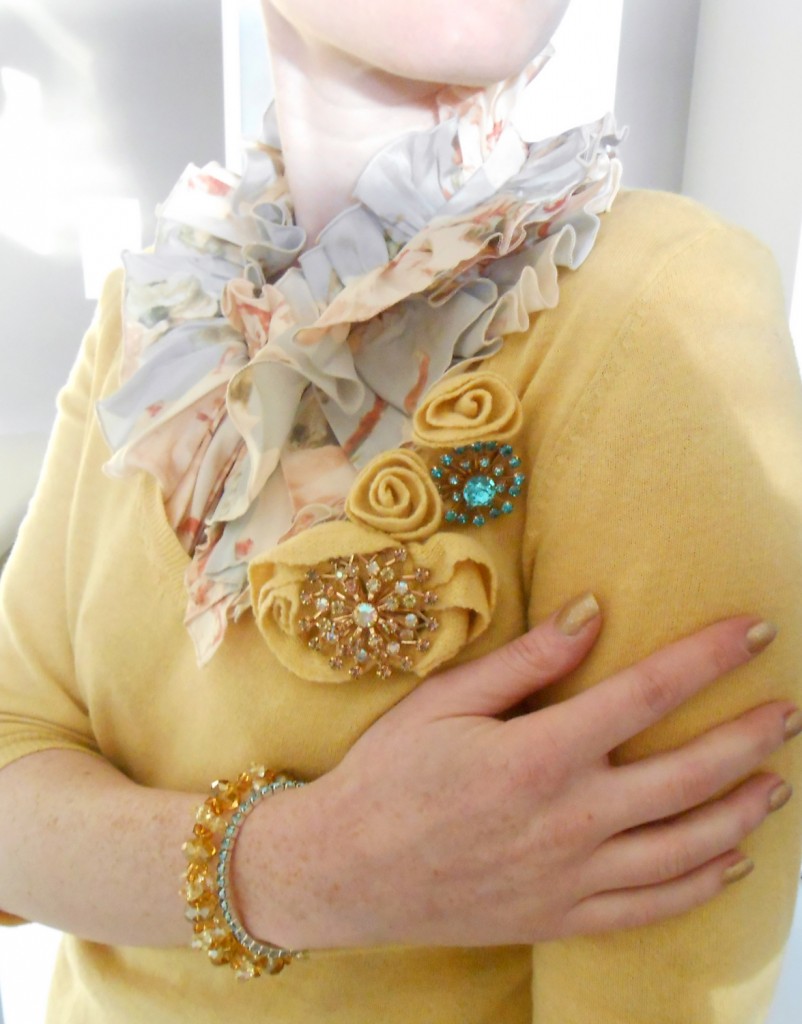 Friday, October 5: outing with the boy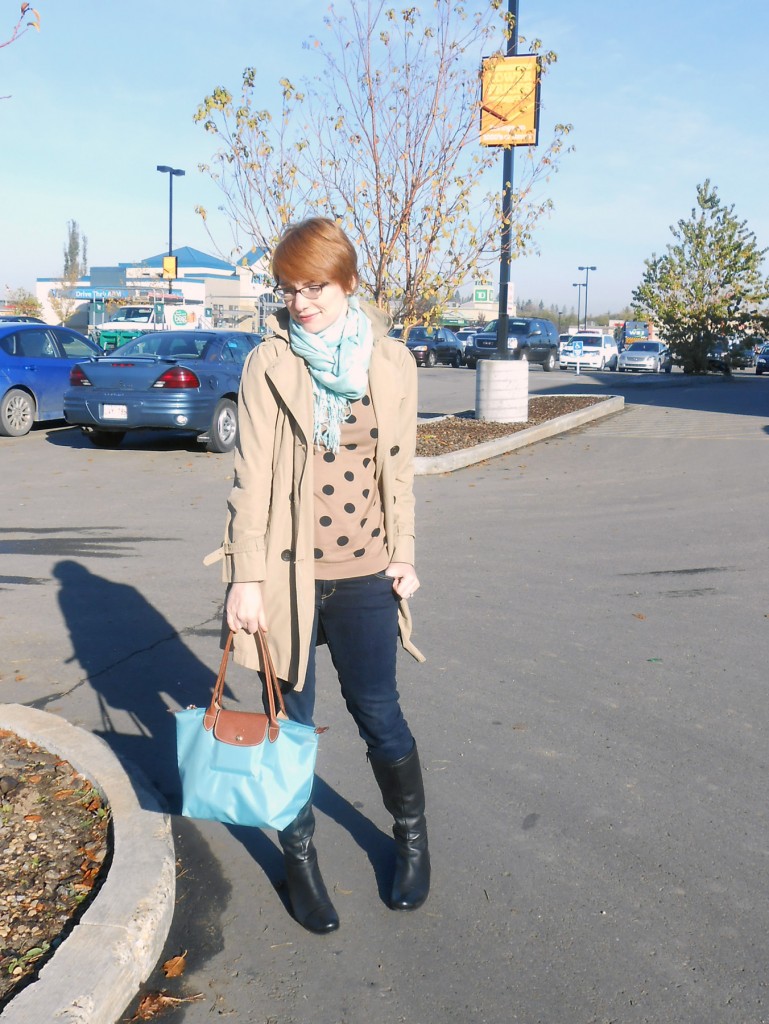 I had to stay home on Friday to watch Luka, so the whole day was pretty chill – well, at least as chill as it can get with a toddler whose alter ego is the Energizer Bunny. We made it out for a quick trip to the grocery store to stock up for our road trip.
Saturday, October 6: shopping & family fun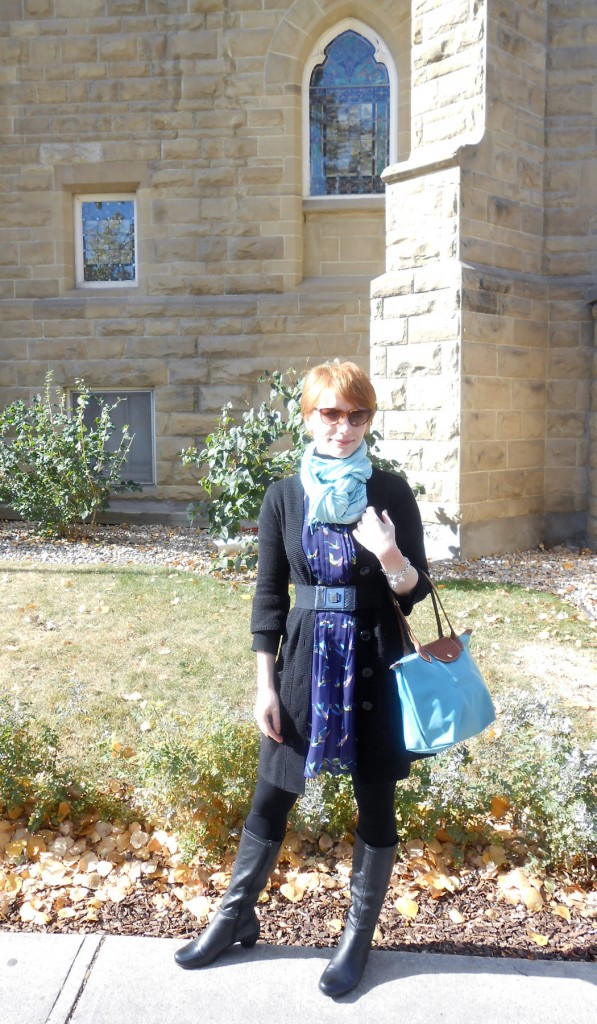 Late on Friday, we packed our little "tribe" (of 3) into the car and headed south to Calgary for a weekend of rest, mountains and lots of fun. We spent Saturday toodling around town and – I'm not going to lie – popping into a few stores along the way. [Sadly, Calgary shopping was disappointing this go-around.] For the record, I was still wearing the same polish since Thursday – a record 3 days in a row!
And that conclude my review of week 3 of the Remix Challenge. Share your thoughts in the comments!