I'm not gonna lie … May was a spend-y month. Luckily, I had some freelance writing income coming in, otherwise this would be one extra guilt-laden post. On the upside, I really – really – love the pieces I bought this month, and a few of them were things on my "must have one day" list. Even better, only one item was brand new and over $40, so I didn't cheat too flagrantly on my (already broken) New Year's resolution.
BCBG Leopard Print dress ($25, consignment)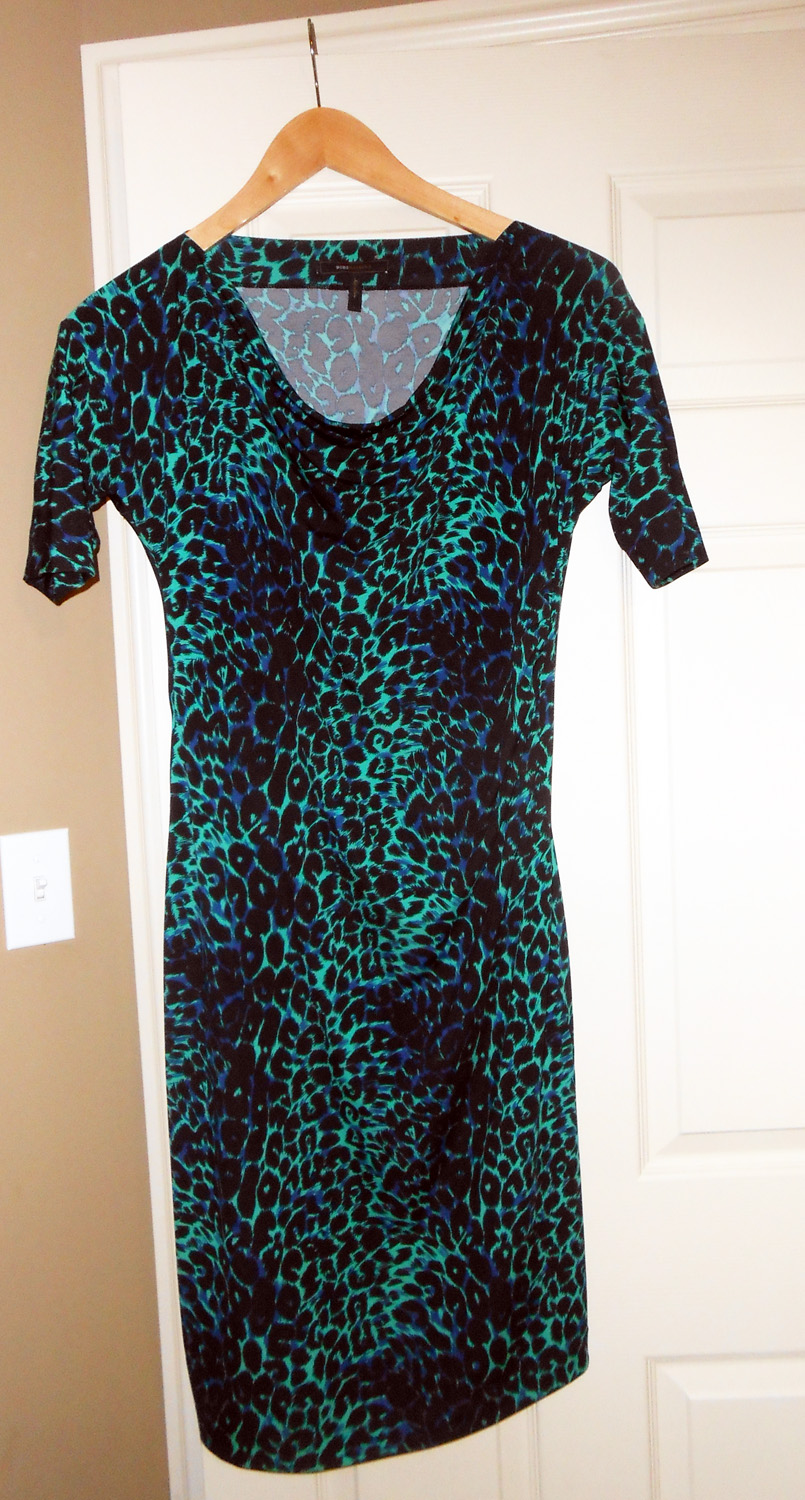 This is my favourite kind of maternity wear – stretchy but still stylish – so I couldn't resist, even though I already have a few of these "muumuus". This is a perfect example of a dress I probably wouldn't wear normally (it kinda begs for Spanx, which I refuse to wear), but it's flattering when pregnant. I'm a believer in flaunting the bump, not swathing it in yards of fabric.
American Apparel blouse ($20, consignment)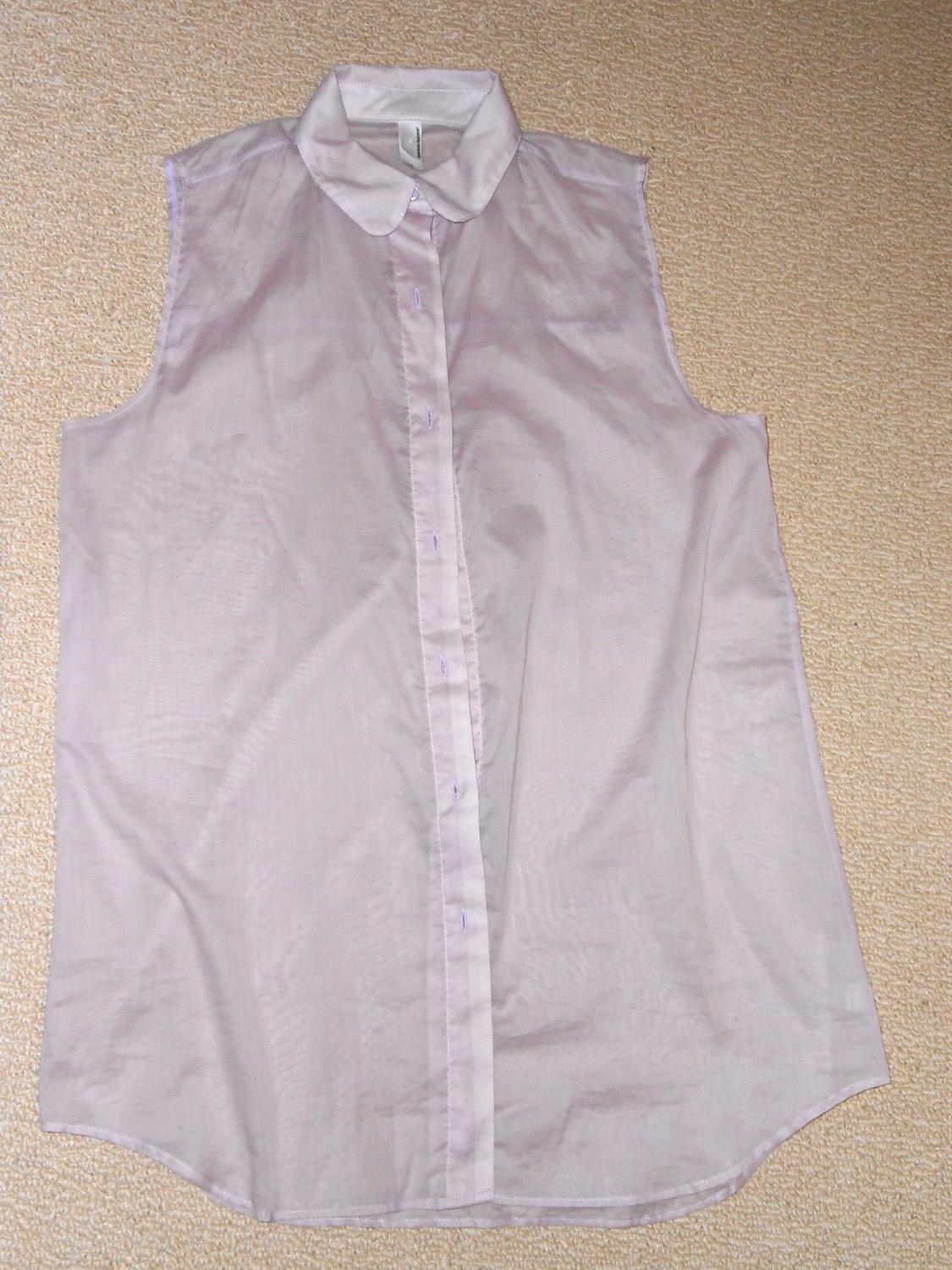 I bought this blouse because I figured that the soft lilac colour would be a great match for my pleated plaid skirt; I still haven't found a cream blouse that works, so this was my best bet. It has the added benefit of being extra long and loose (even though it's a size XS!), so it can be worn untucked, as a maternity top. It's also made in the U.S. (as opposed to a developing country) – a factor that's becoming more important to me these days. While, at some level, we all know that the conditions in which our "fast fashion" is manufactured are not great, it takes a tragedy like the factory collapse in Bangladesh to really bring home the impact.
J. Crew Factory Store loot ($86)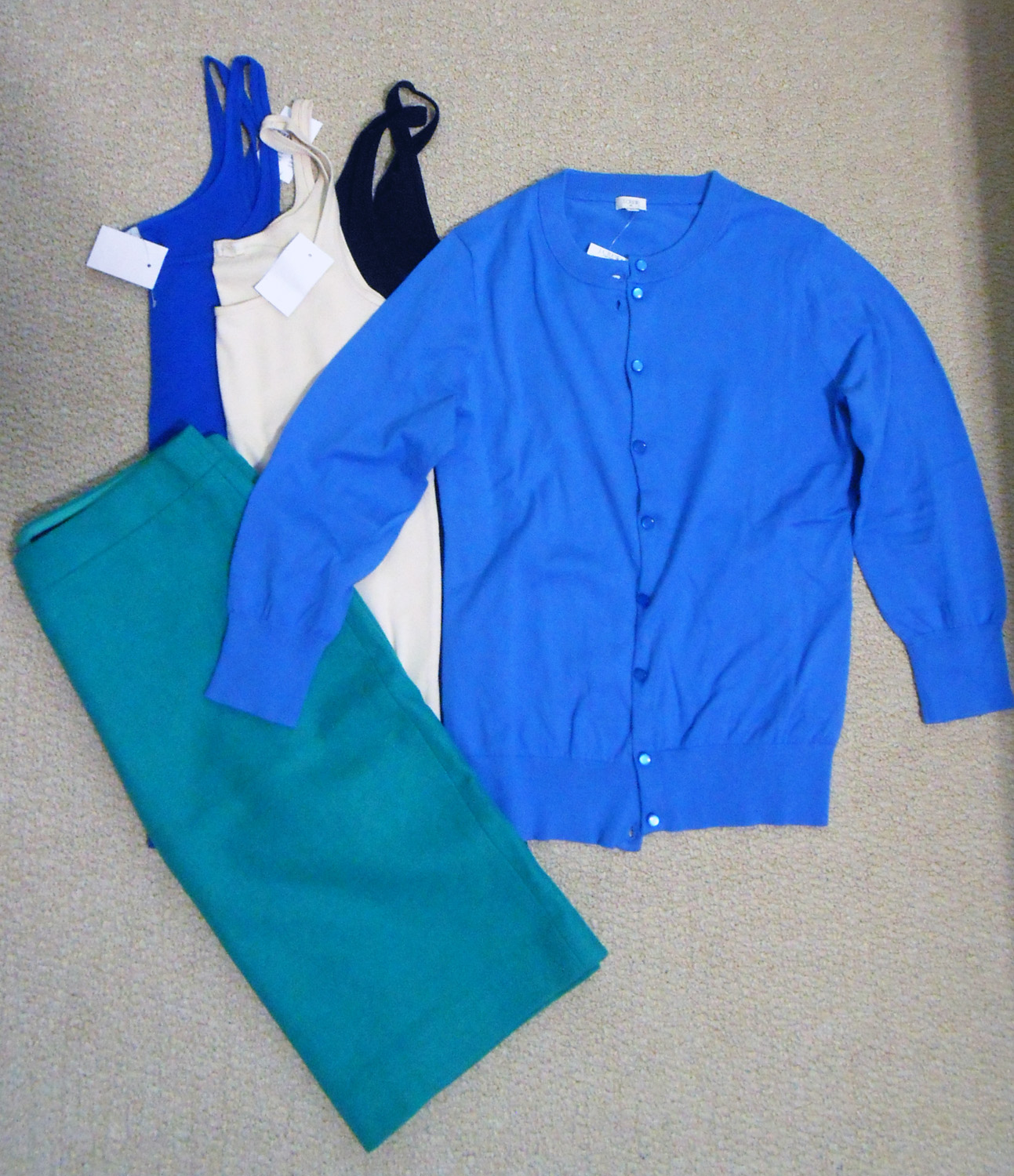 One of the few retail stores I still hit up fairly regularly is the J. Crew outlet. I like their basic pieces for quality and price, especially come sale time. This haul was a good case in point: I got three cotton tank tops, a cardigan, and a wool blend pencil skirt for around $85 during a "40% entire store" event. The tank tops are for layering under existing pieces; I bought them in a "large" so they are roomy and long – in other words, perfect maternity wear. They were only $12 each, and super soft. I expect that I will wear them a lot in the next 4 months, then transition them to "house/sleep wear".
I got the cardigan, even though it was on the pricier side ($36), because I have trouble finding decent cardigans second-hand, and mine tend to wear out faster than other pieces (which is perhaps why it's so hard to find them  second-hand). The colour – a lovely cornflower blue – was unusual, which was another bonus.
As for the skirt, I already have it …. in a different colour (purple). I really like the fit and quality, especially the fact that it's lined. Considering it only cost $12 – down from an original price tag of $105 – I figured I couldn't go wrong with a dupe.
Vintage Ferragamo Vara (Lillaz?) shoes ($100,including shipping, Etsy)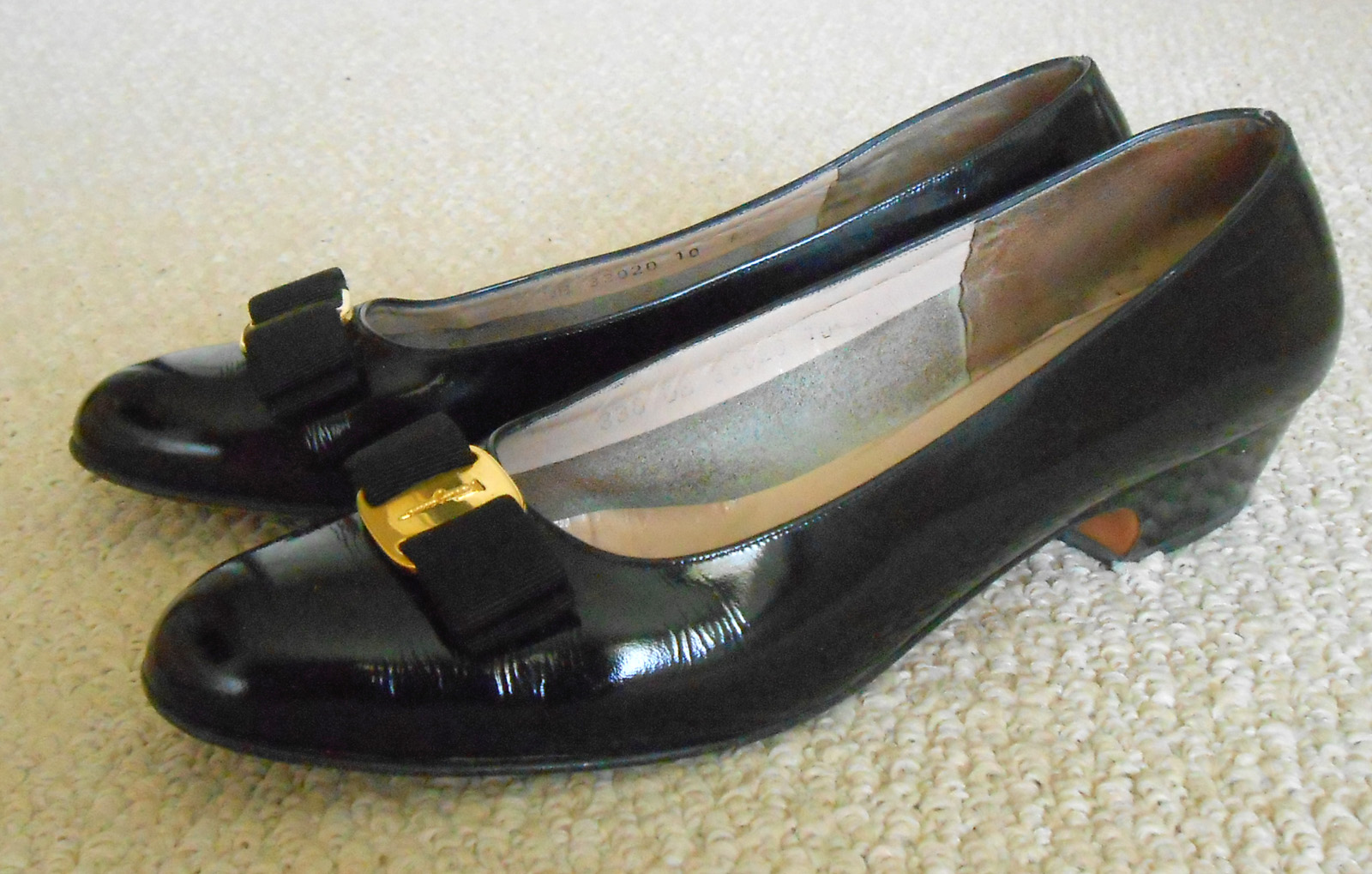 This might seem like a lot of money to spend on a pair of second-hand shoes, but hear me out. First, Ferragamo shoes are the absolute best – classic, understated, durable. These are shoes that will be around for decades (the Vara style goes back to the late 1970s). I adore the lady-like bow. Second, brand new Ferragamos cost well over $400. Third, this pair is in fantastic vintage condition (the exterior is mint). Fourth, my last pair of black flats (from Nine West) crapped out on me much sooner than expected, and I was left without what I think we can all agree is a pretty essential item in one's shoe closet.
Although these were listed as "Vara", I have a feeling they may actually be the Lillaz style – same shoe, but an older version. The only real difference appears to be the heel – this one is slightly shorter and less block-y than the current Vara. Either way, they are phenomenal. I wore them for a 5-hour shopping marathon while in Calgary, and they were very kind to my pregnant feet – and that's saying a lot. Quite literally, I have never put on anything more comfortable on my feet (and I include my beloved Taryn Rose flats in that comparison). The small heel gives just the right level of support, without making them feel like anything other than flats; the leather is so soft and supple – I probably couldn't get a blister from them if I tried! Honestly, I know I sound like a PR flunky but … these shoes are awesome!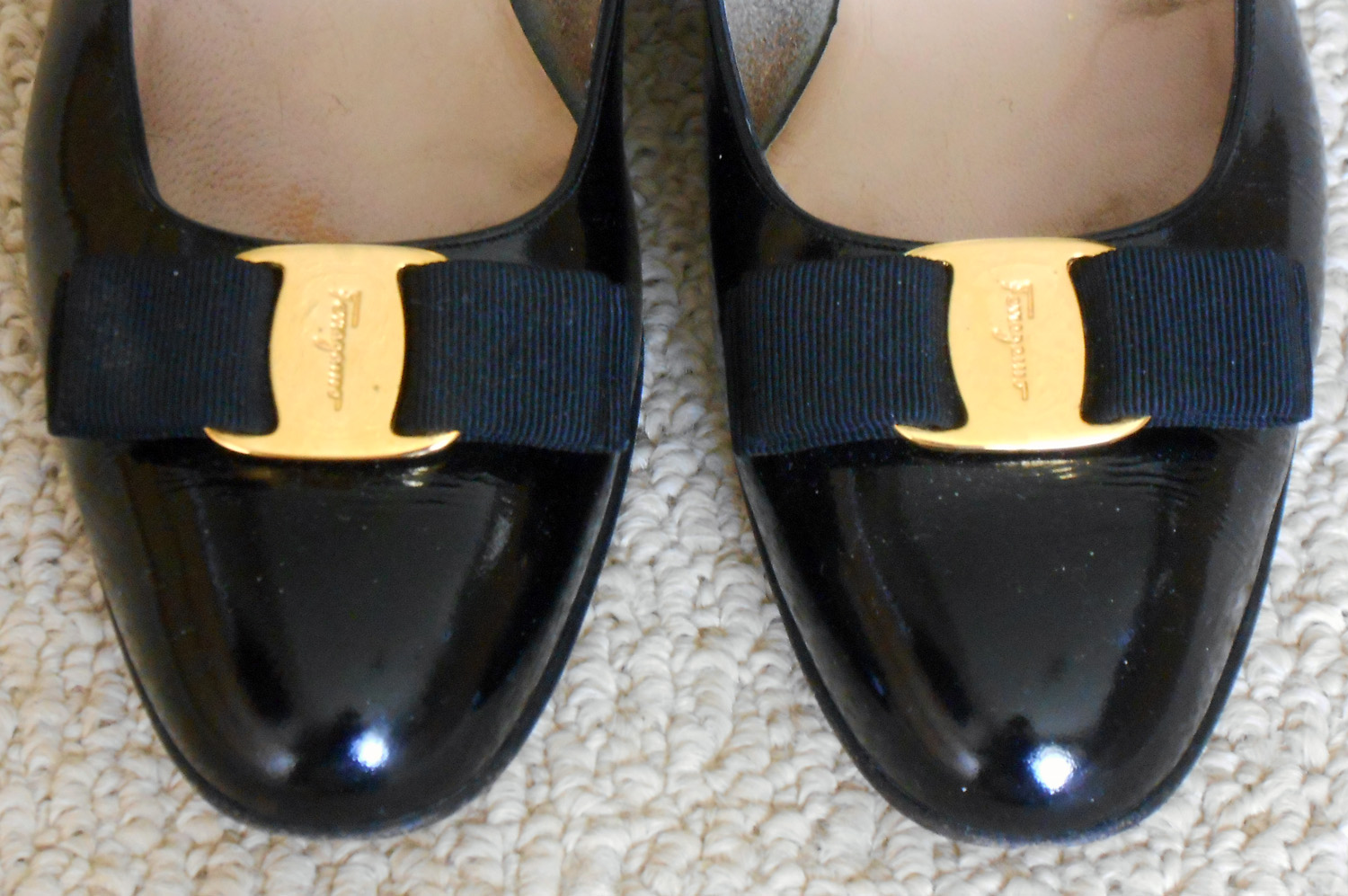 The defence rests its case.
J. Crew Everly pumps ($60, consignment)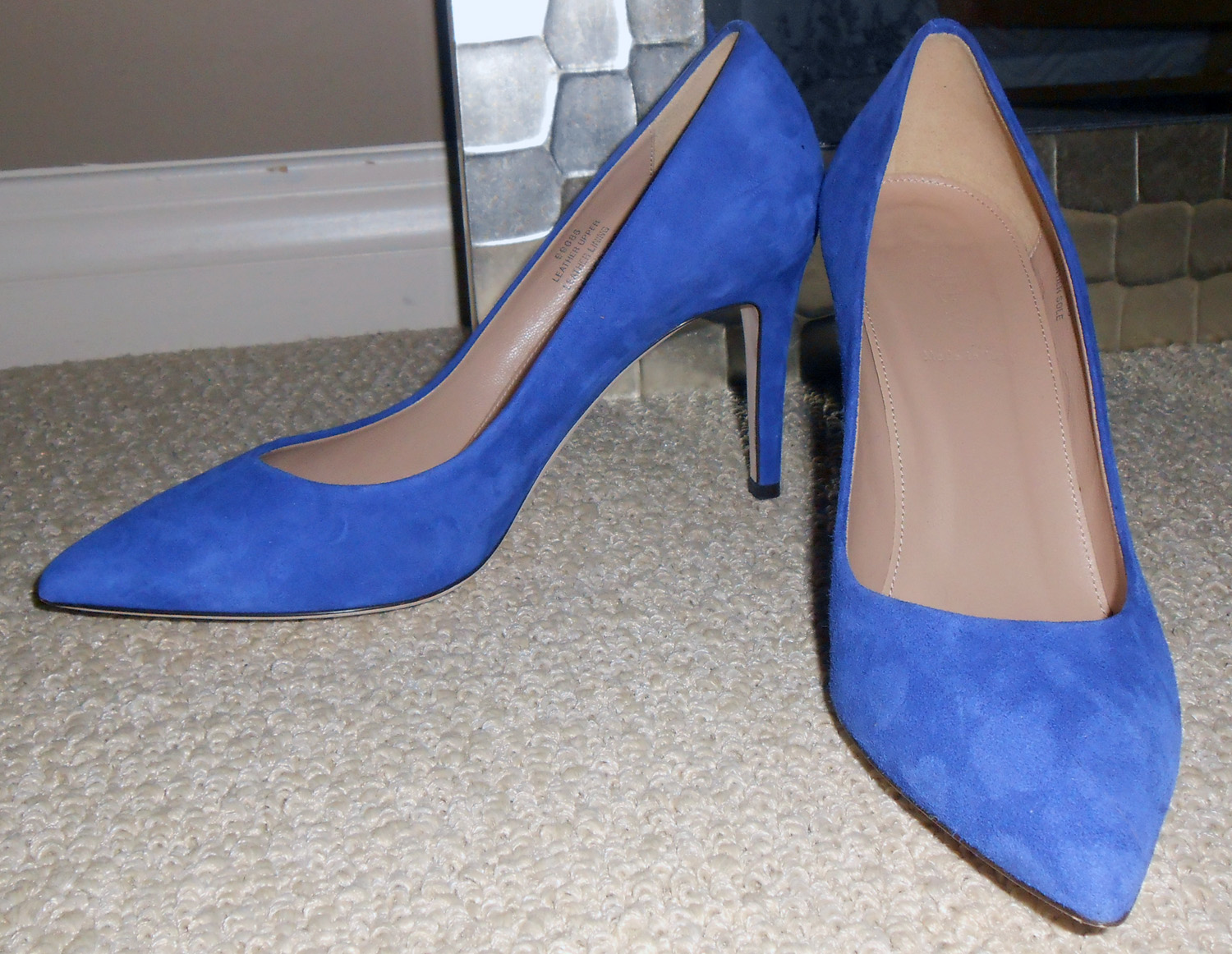 I am a sucker for cobalt blue accessories, and these pumps were brand spankin' new and pristine down to the soles – I couldn't resist. Sixty bucks is a bit more than what I'd normally pay for second-hand (although new) shoes, and for a non-designer pair. But, the label said "made in Italy" and I was willing to take a chance on the quality. Imagine my surprise when I Googled them later and found out that they retail for, wait for it, $288US! I will admit, that made me feel a bit better about the cost. I think they'll prove to be a solid wardrobe choice.
Vintage Cameo brooch ($25, including shipping, Etsy)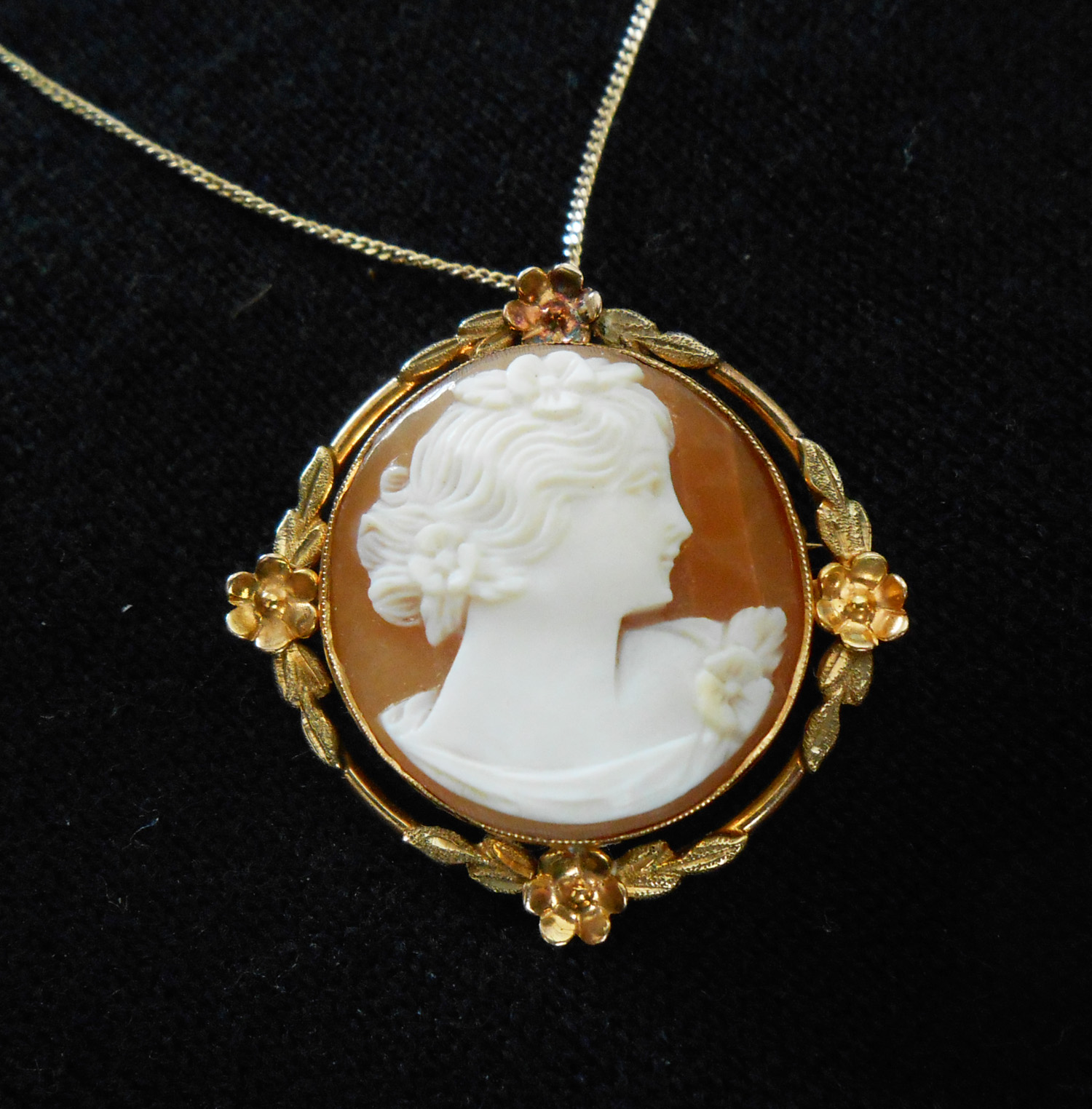 I've been wanting to find a cameo to add to my jewelry collection for ages. It took a surprisingly long time to find one I liked – there are a lot of, um, not so attractive cameo ladies out there. This one has the added bonus of working as a pendant as well (it has a hook in the back), so I am guaranteed to get double the use out of it.
Flea Market loot ($70)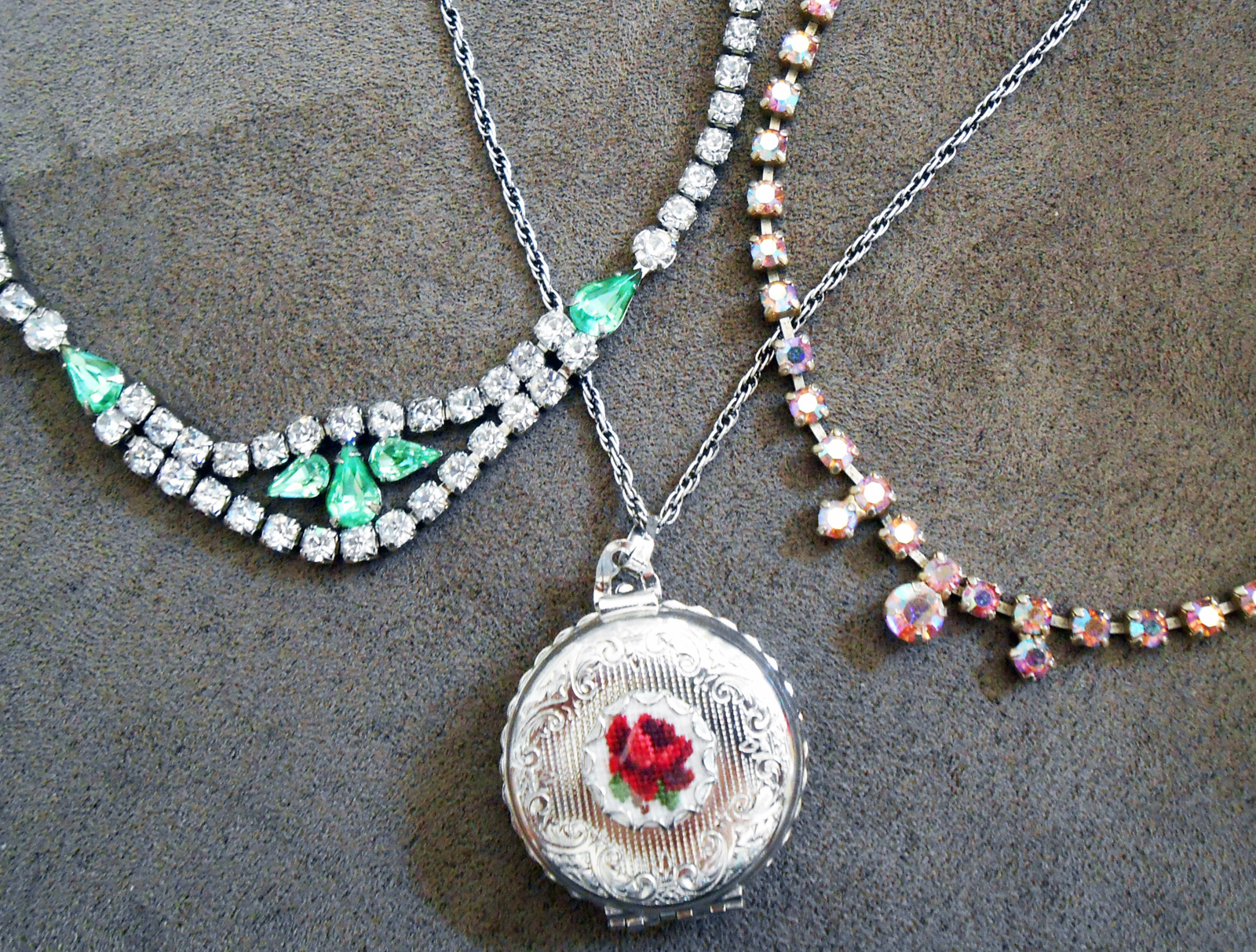 For my Mothers' Day "treat", I decided to go to the central flea market (near Kingsway) – which may seem like a strange choice of activity for the occasion, but I love me some "antiquing" time. The prices are, frankly, ridiculous given the venue; often times, they are higher than even the antique malls. I love the pieces I found this time, though I still feel like a I ended up overpaying a bit. The needlepoint locket is something I've been searching for recently, mostly on Etsy, and without much luck. I love needlepoint embroidery, and I've always wanted a locket – perfect combination. My plan for the other two necklaces is to layer them with existing pieces; they are quite delicate, so they will add a discrete flash of sparkle.
Vintage Rhinestone brooch ($28, including shipping, Etsy)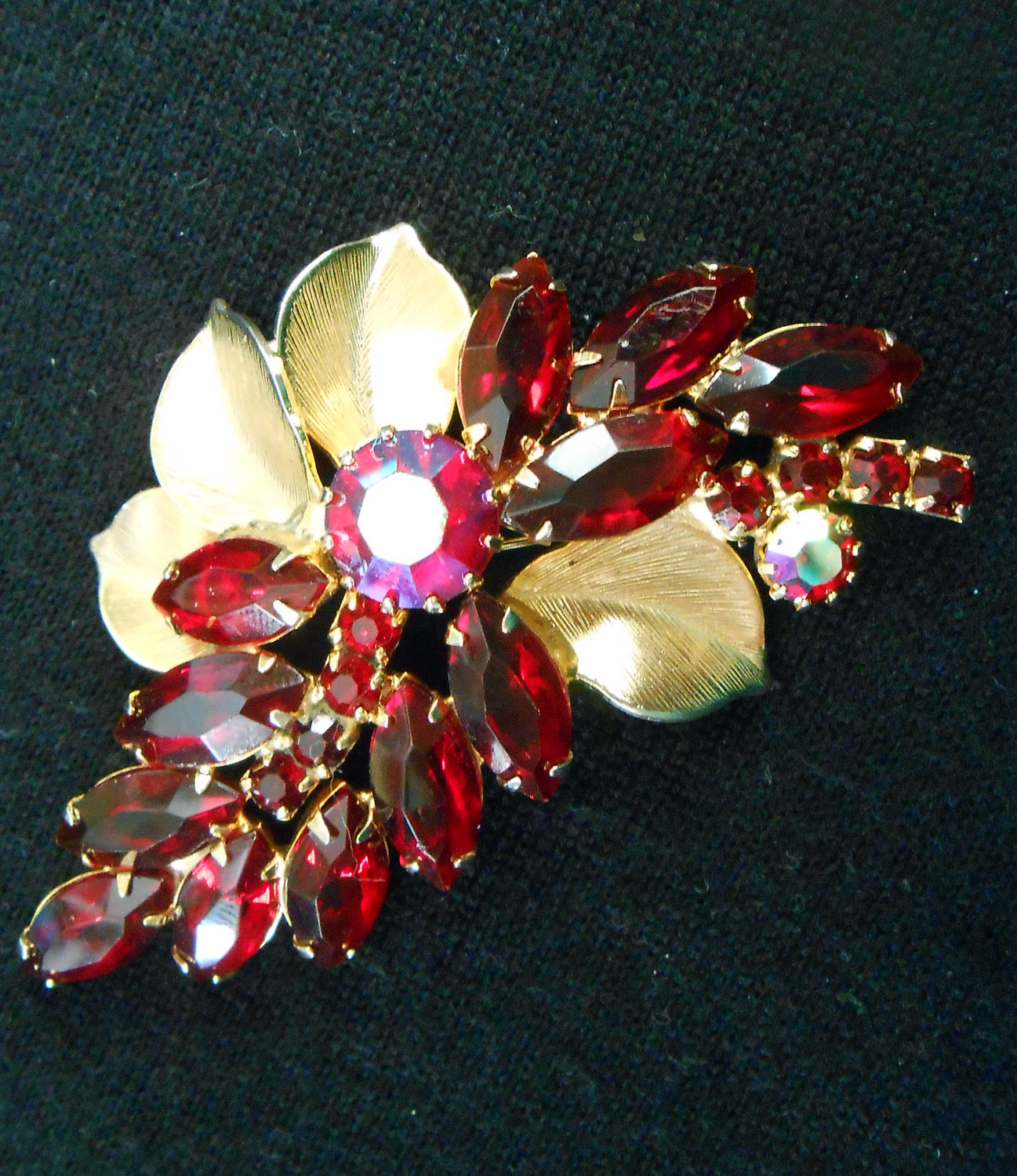 This was one of my last jewelry purchases last month, but took a while to arrive. I didn't have any red brooches in my arsenal, and figured it would be a good addition. As you know, I love using red as an accent colour. But I think I'm done buying sparkly things for a while now …
Vintage Coach Court bag ($104, including shipping, Etsy)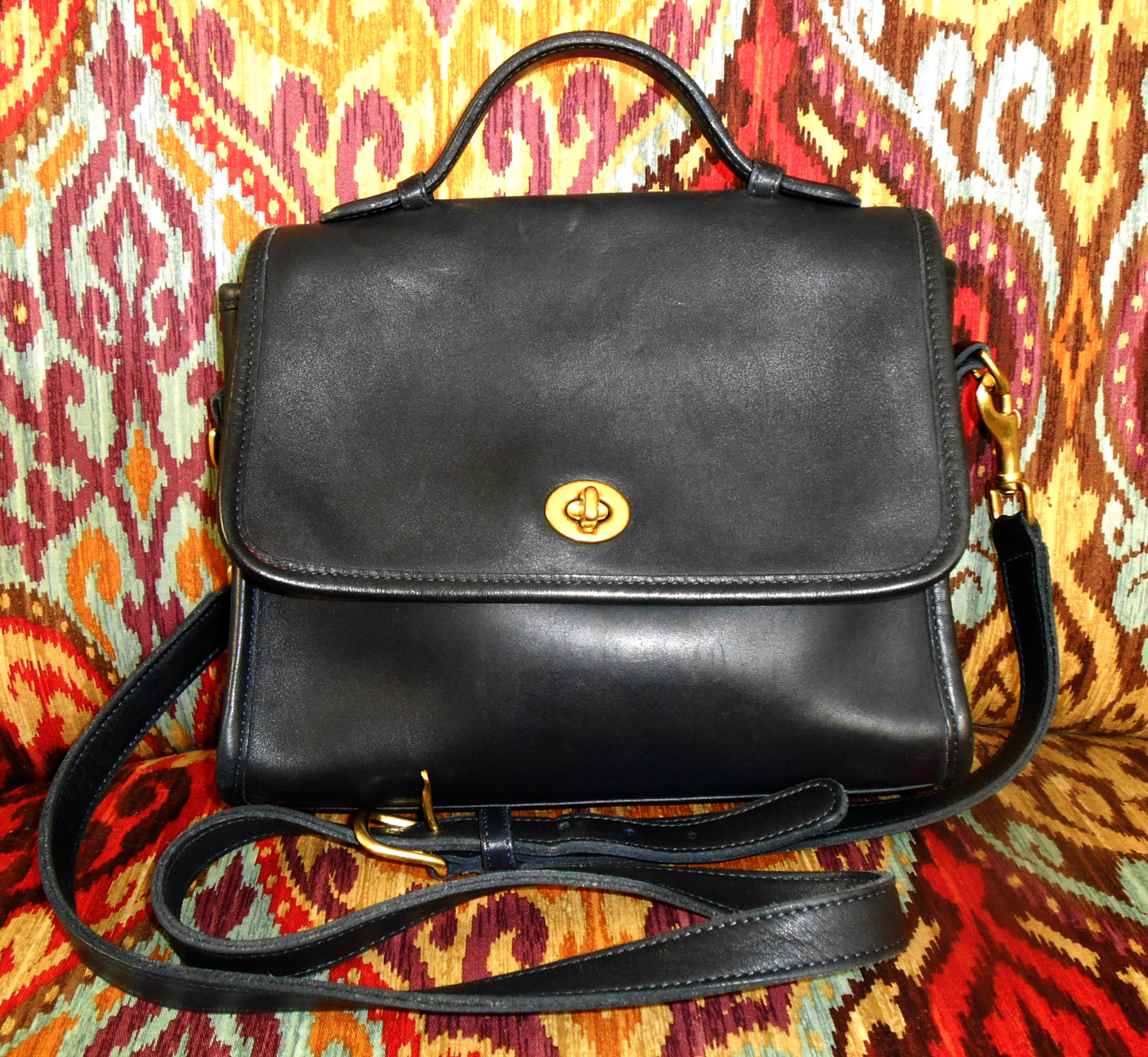 Ahhh, I remember the good old days when vintage Coach bags could be picked up on eBay for under $30! Not anymore. I think way more people have caught on to how amazing these bags are – in a completely different category than the brand's current offerings, quality-wise, in my opinion. Anyway, I have been lusting over the Court bag for a long time, and finally found one that wasn't too outrageously priced. I wanted to get it in black because my other black bag is my Chanel flap, which has been getting a lot of wear and needs a bit of a break now and then. [I am not a careful with my bags as I should be sometimes.] I love the classic, timeless look of the Court bag, and it really speaks to that part of my style-persona that adores anything prep.
Swarovski Tempo Antique ring ($80)
The Tempo Antique ring spoke to me as soon as I saw it, though it took a while to actually find it locally. I love my Marie ring (and all my Swarovski pieces) and have been very impressed with the quality. I like the modern, minimalist look of this one, as well as the minty green colour. It looks great worn alone, or layered with other rings I own. Love it!
And that's a wrap!