First week of … summer?!? Yes, folks, Edmonton got its first (and hopefully not last!) heat-wave of the year. Makes things more interesting – I almost cannot remember how to dress for anything above 0 degrees Celsius.
Saturday, May 4, 2013: Easter brunch & dinner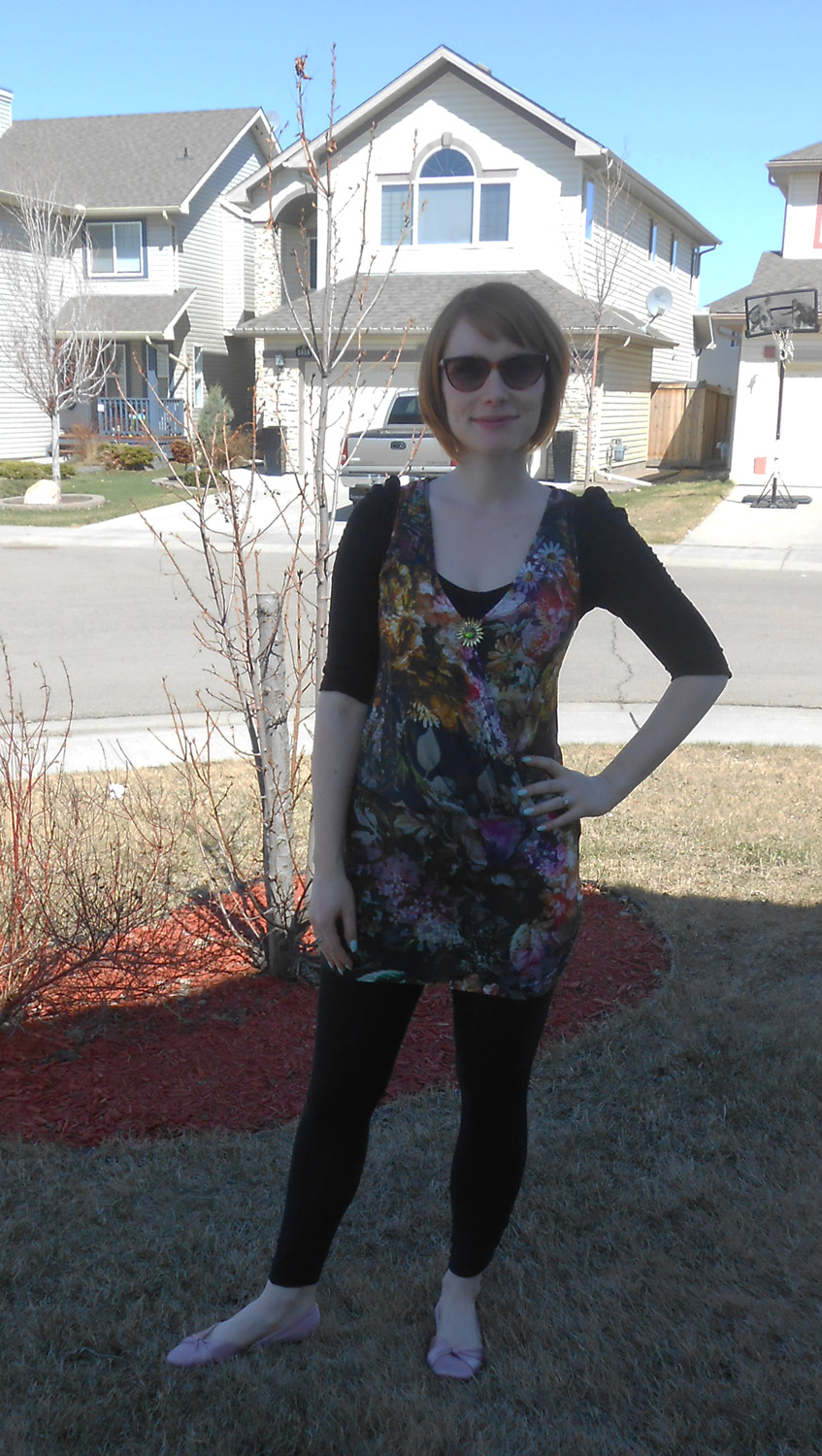 Both my family and in-laws celebrated Orthodox Easter last week, which meant that I had to abandon my usual jeans-and-old-tee weekend uniform. Well, sort of. Does leggings-and-a-tunic count as changing things up? In my book, florals are always brunch-appropriate. Incidentally, this was the first occasion when EVERYone started telling me how I had "suddenly" started to show. At first, I was happy to be officially past the "fat-or-pregnant" stage, but then I started getting a wee bit of a complex.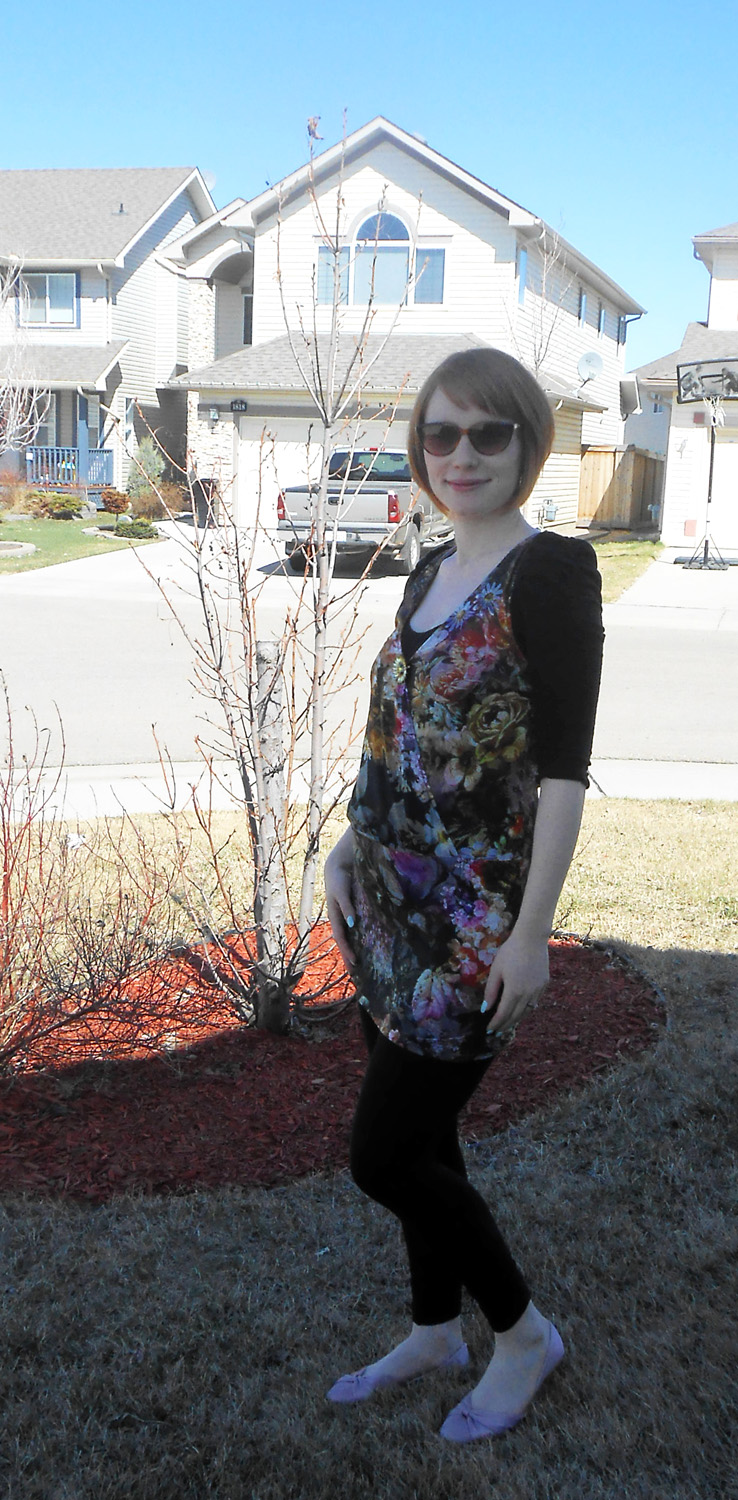 On further reflection, I think the difference lies in something more subtle – whether or not I am wearing panty-hose. Even though I avoid control-top nylons like the plague, even a minimal amount of spandex can really make a visual impact. At least, that is what I am telling myself …
Here is a closer look at my Easter manicure: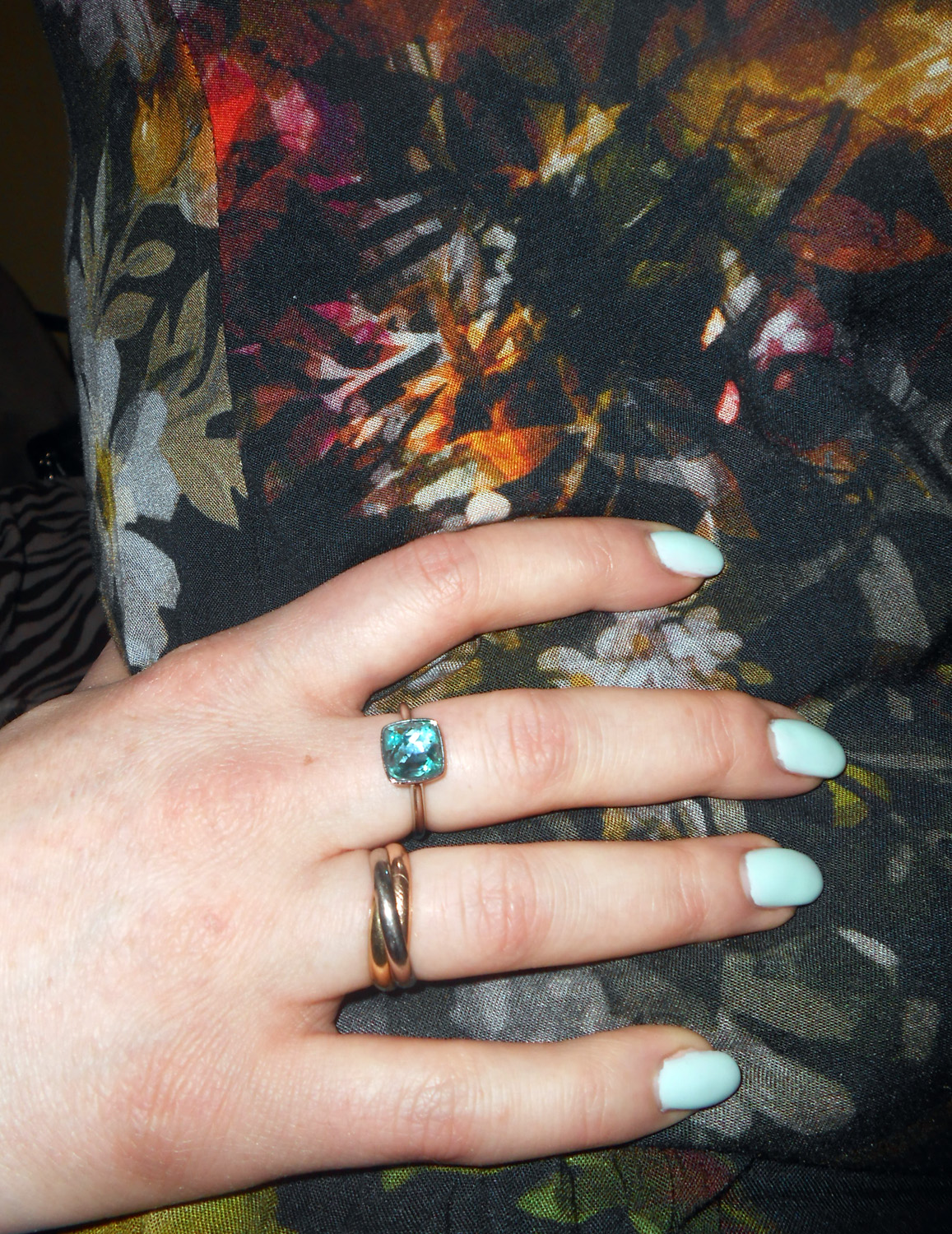 Monday, May 6, 2013: work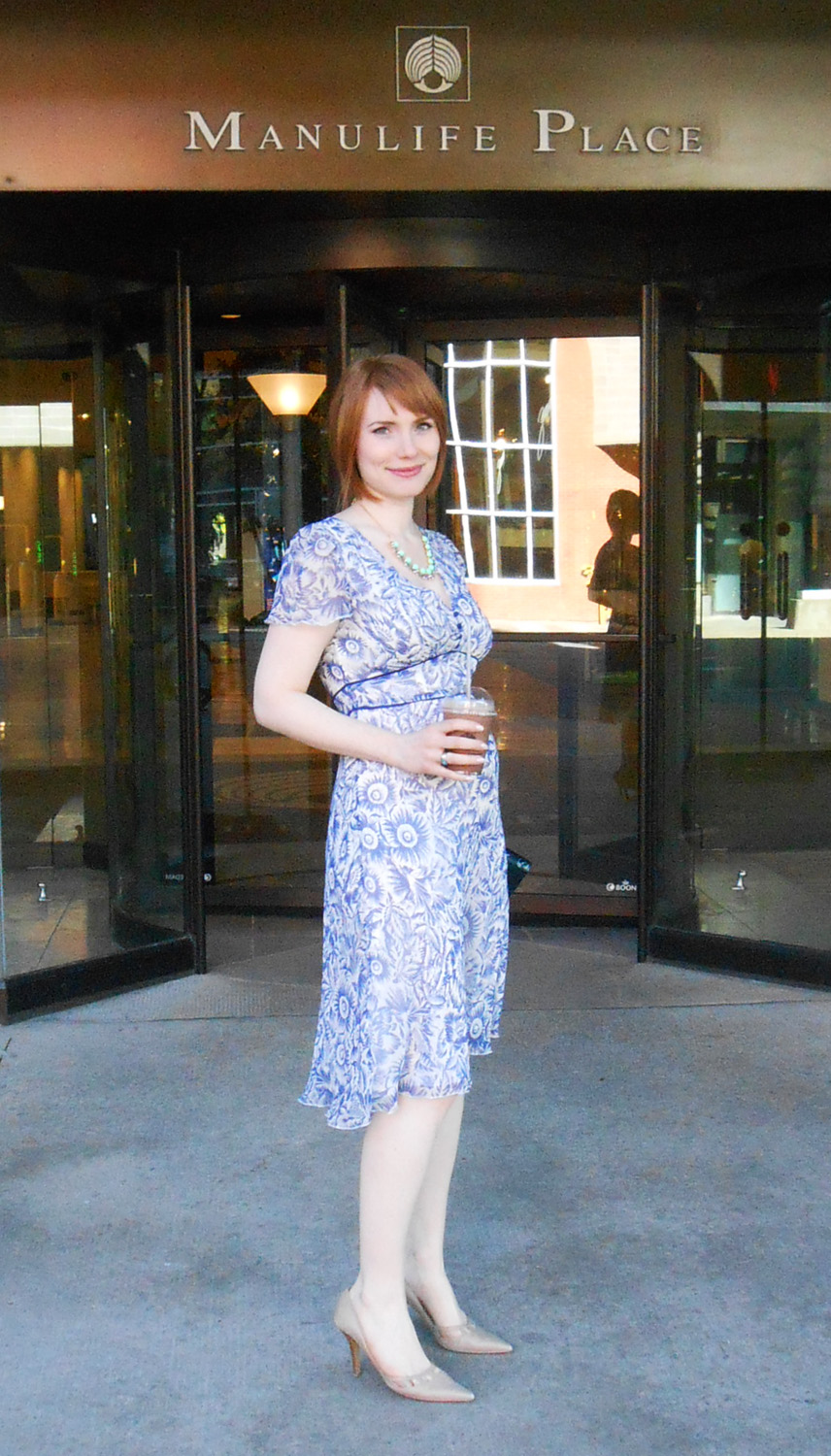 I have been trying to cycle through all my non-pregnancy dresses before I completely outgrow them. I am not crazy about this dress (it's a hand-me-down from my mom and I'm not sure if it's my style), but once I put it on I realized that the empire waist is actually perfect for right now. The dress is, ahem, roomy in the bust and flows away from the body below, so it perfectly accommodates my current shape. So I guess this will be going back into rotation and not on the "purge pile" … for now.
Tuesday, May 7, 2013: work

This dress-and-jacket combo was one of my favourite outfits from my last pregnancy. It is NOT what I actually wore on Tuesday, because it turns out that, well, things don't really fit the same, the second time around. So, I had to improvise a bit at the last minute: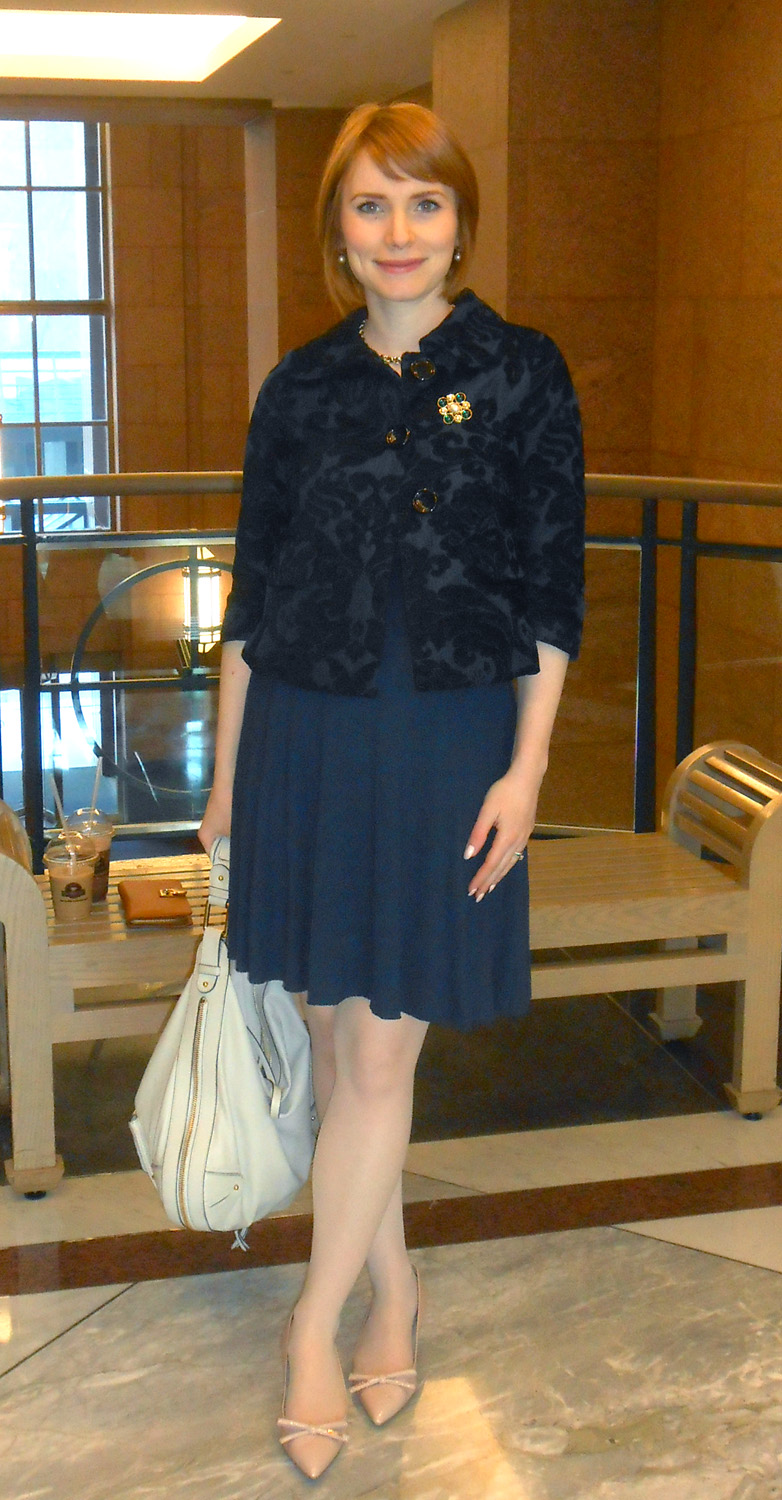 Here's a close-up of my jewelry: I love using green and gold to accent navy blue.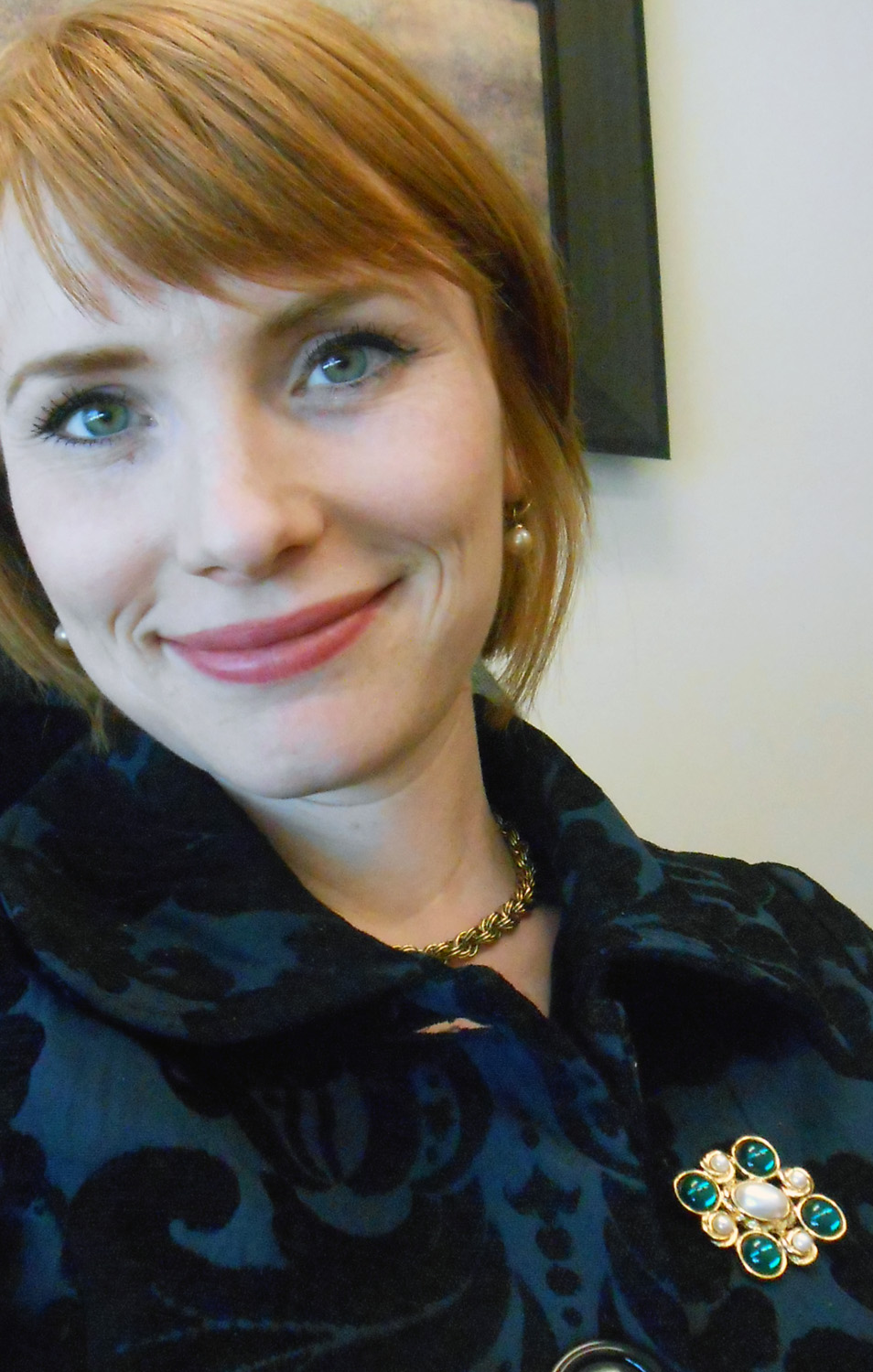 Wednesday, May 8, 2013: work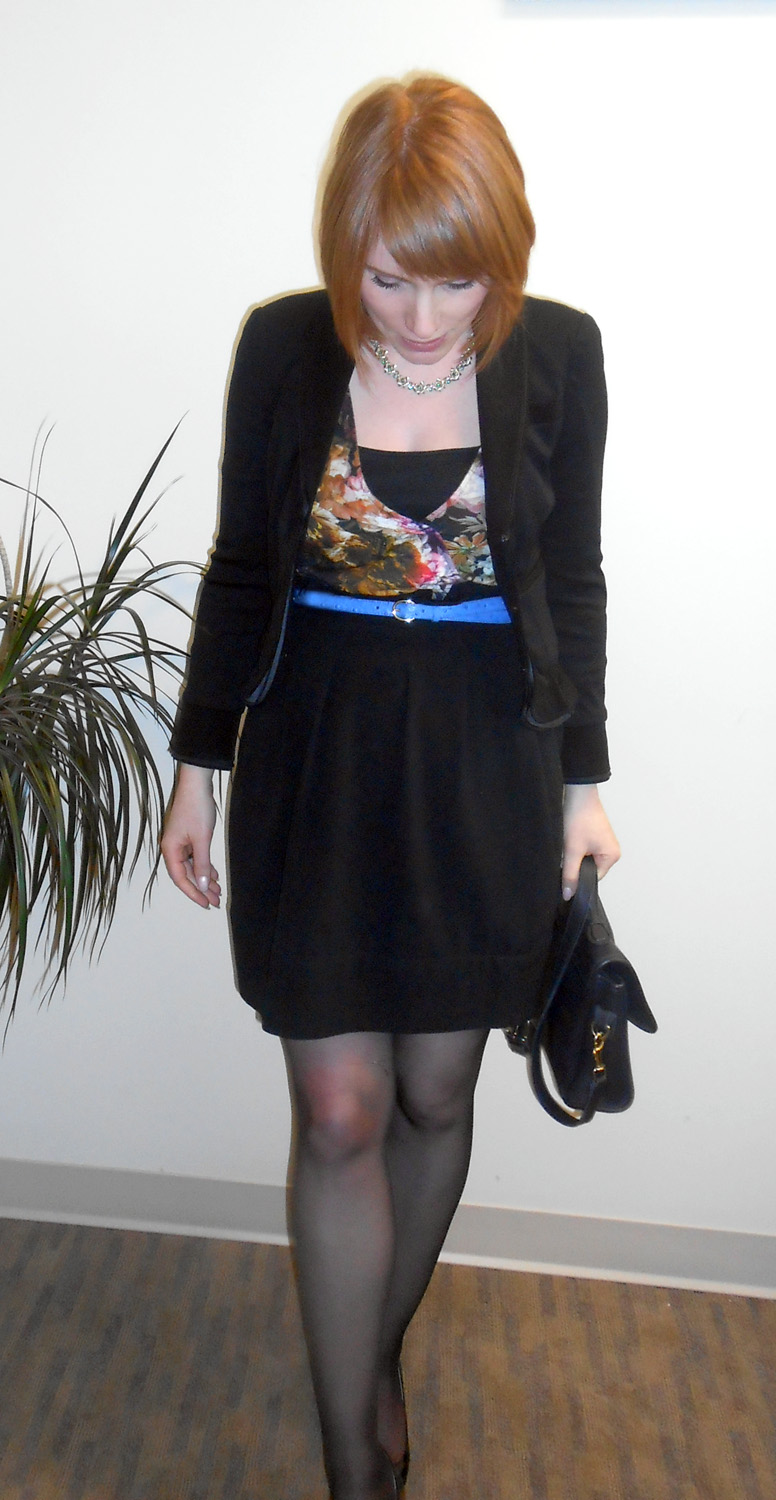 Oops, my feet are missing! [I was wearing boring black pumps anyway.] I love being able to sneak in a "casual" piece into my work wardrobe. I usually wear my floral Zara tunic with leggings (as you could see from Saturday's outfit), but it also works with my BCBG skirt; the extra volume of the skirt camouflages the length and bulk of the tunic.
Thursday, May 9, 2013: work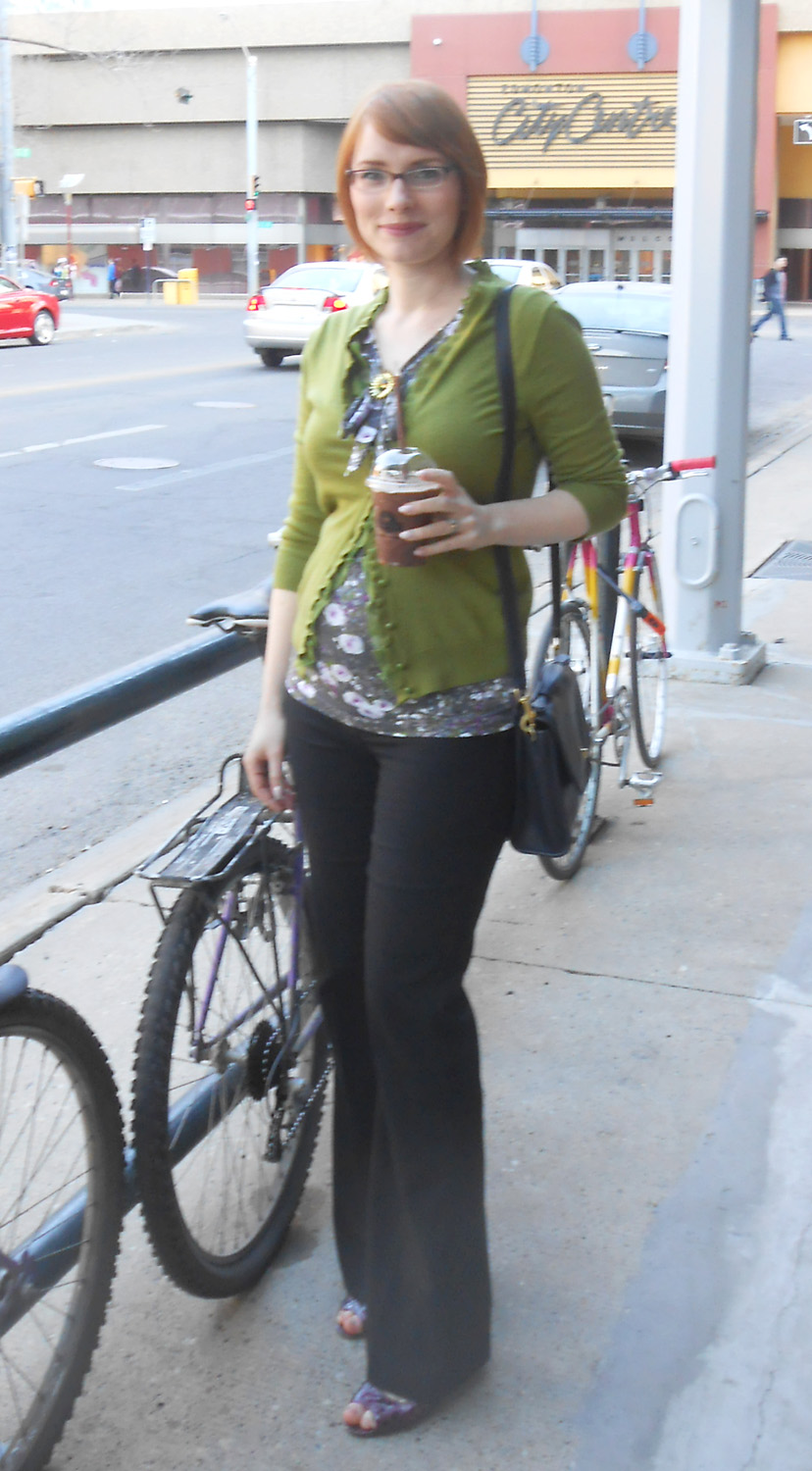 So, it looks like I am slightly addicted to Second Cup's frozen hot chocolate at the moment – it's the accessory du jour.
Anyway … "pants day" strikes again! I feel like this is becoming a running joke at BCRL. Anyway, this marks the second appearance of the Jacob top I bought last month; I couldn't wait to pair it with my olive green cardigan, and new rivoli rhinestone brooch. The colours are so complementary!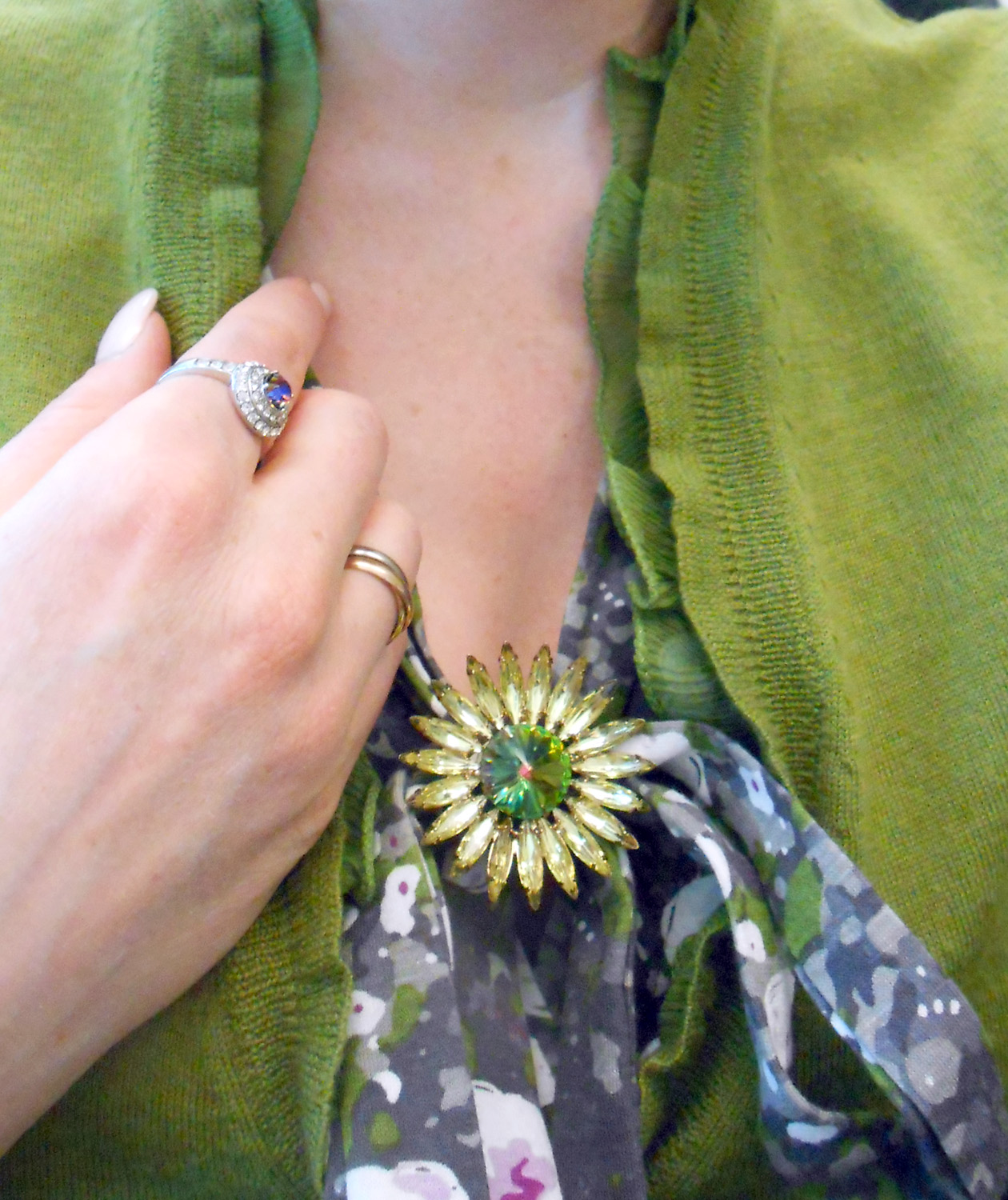 Friday, May 10, 2013: work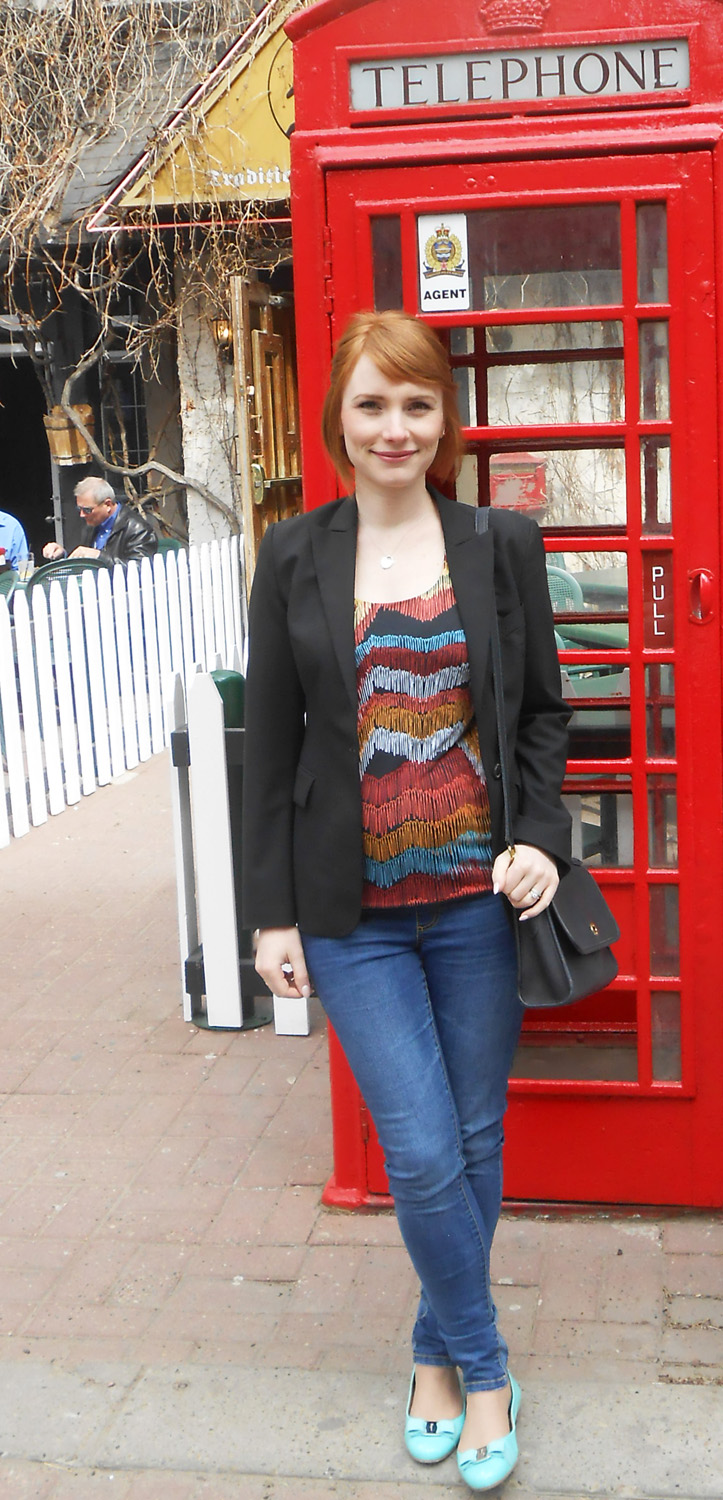 Casual Friday rarely makes for a ground-breaking outfit, and this is no exception. I wanted to get one last wear out of this top before it becomes too short for my new proportions. Saying a (temporary) goodbye to a "regular wardrobe" piece is always sad … it brings me one step closer to an exclusively maternity wardrobe (a much smaller, and less exciting, version of the former).
On the plus side, LUNCH DATE!!! Perfect excuse to nosh on something delicious.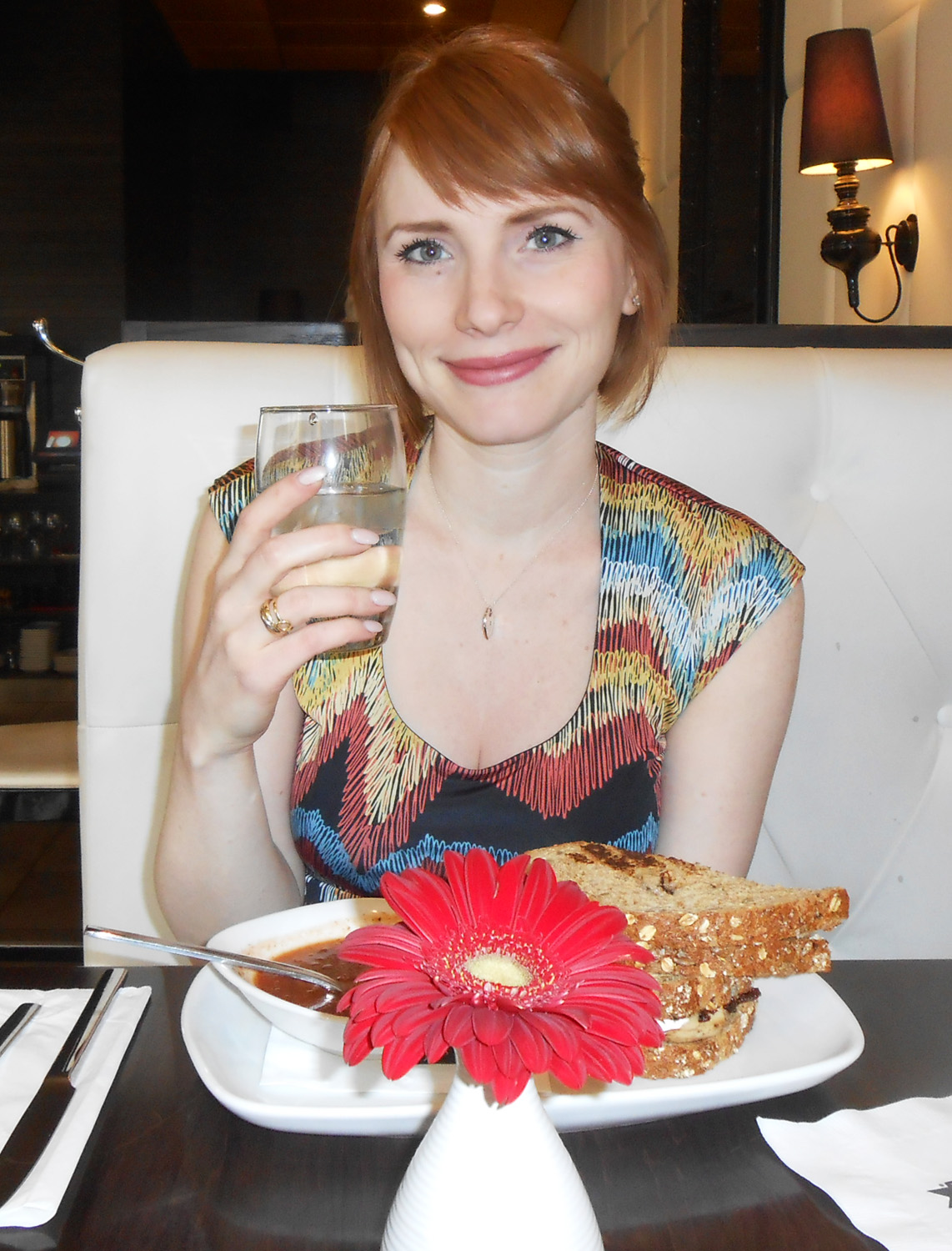 See you next time!