April didn't bring us many showers, unless you count a few snow storms, but it did bring me lots of sparkly things. Let's start with the more prosaic first, though.
My navy Hunter rubber boots ($90 at Costco) were actually purchased at the very end of March,just after I wrote my last update. Lesson learned – don't hit "publish" prematurely. You've already seen them, so there really isn't anything new to add, except to say that I have been wearing the heck out of them this past month (and giving my poor leather boots a much deserved break after 5+ months of snow). I did realize, somewhat to my chagrin, some time after buying them that Hunter boots are now made in China and that the quality is apparently no longer what it used to be. Nevertheless, I remain optimistic that I will be able to get my money's worth out of them for seasons to come.
I continued the trend of not buying a lot of clothes this month. The only article of clothing I got was this floral Jacob top ($15 at consignment). I wanted something comfy and stretchy, and I liked the (what else?) floral pattern. The colours will give me lots of options for accessorizing with pieces in my closet.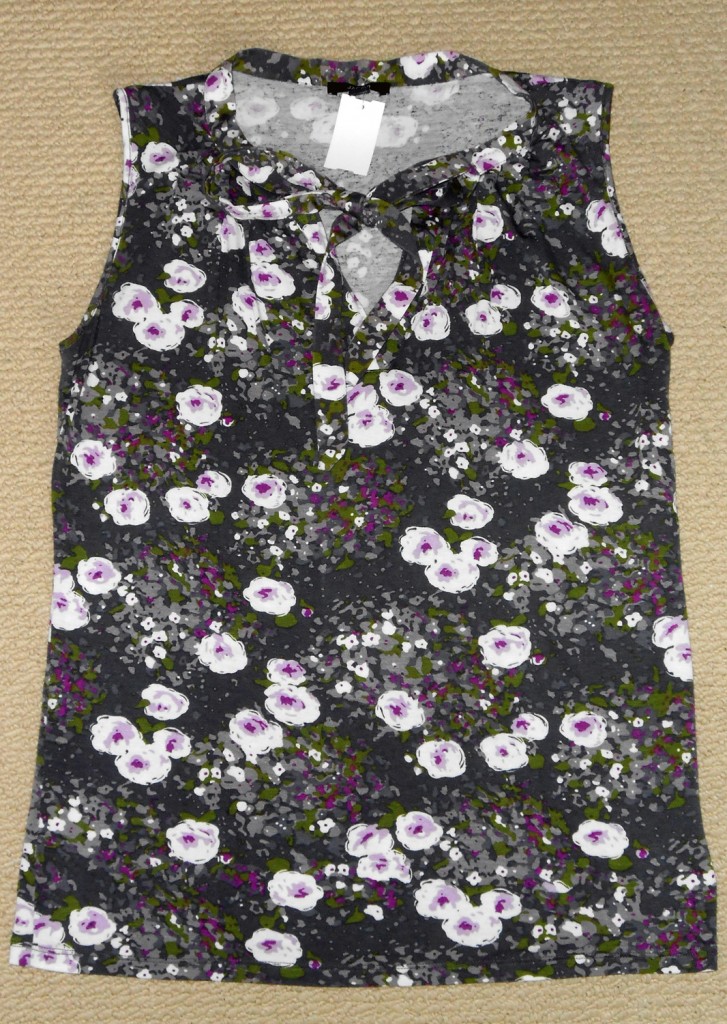 On to the sparkly stuff!! April was the month I finally caved, and got accounts on both eBay and Etsy – primarily so I can indulge my current passion for all things vintage, without being beholden to the local (over-priced) antique stores, or limited to the rather slim pickings at my usual thrift stores. There is SO much stuff there! I may have lost my head a little bit. First up, a gold-tone Coro necklace with a delicate floral design with blue-green rhinestones ($27, including shipping).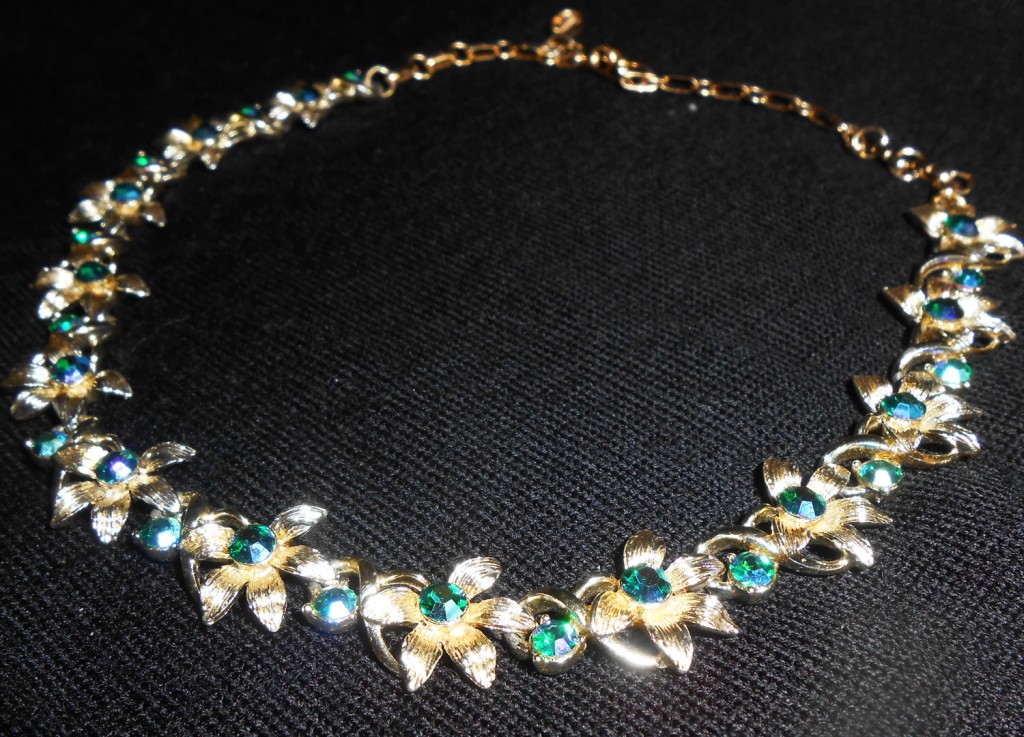 The next few photos are of a jewelry lot I was able to snag for a sweet price (probably because I was bidding on Easter Sunday, when most people had better things to do) – 2 brooches and 2 sets of clip-on earrings for $58 (shipping included). First up, blue rhinestones and (faux) pearl earrings; I'm not sure if I'll end up keeping these, or giving them to my mom, but they sure are sparkly!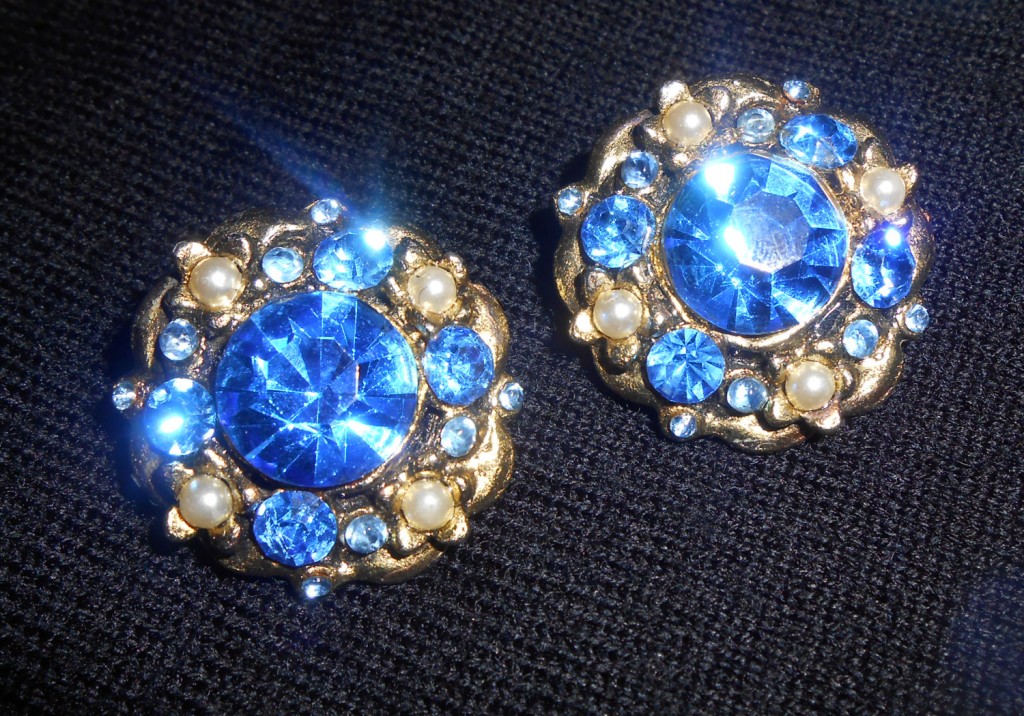 Next, a brooch featuring aqua rhinestones in a design that looks like a snowflake from far away, but is actually composed of tiny leaves (or flowers).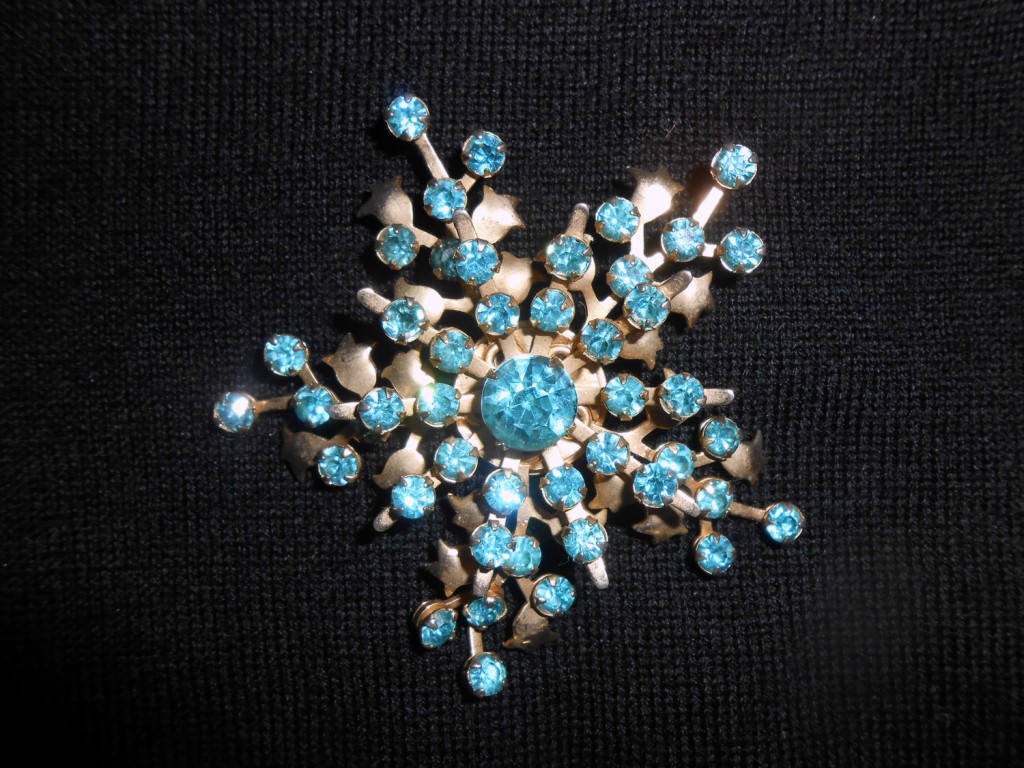 Finally, the piece de resistance: a brooch and earrings set that is blingy to the max.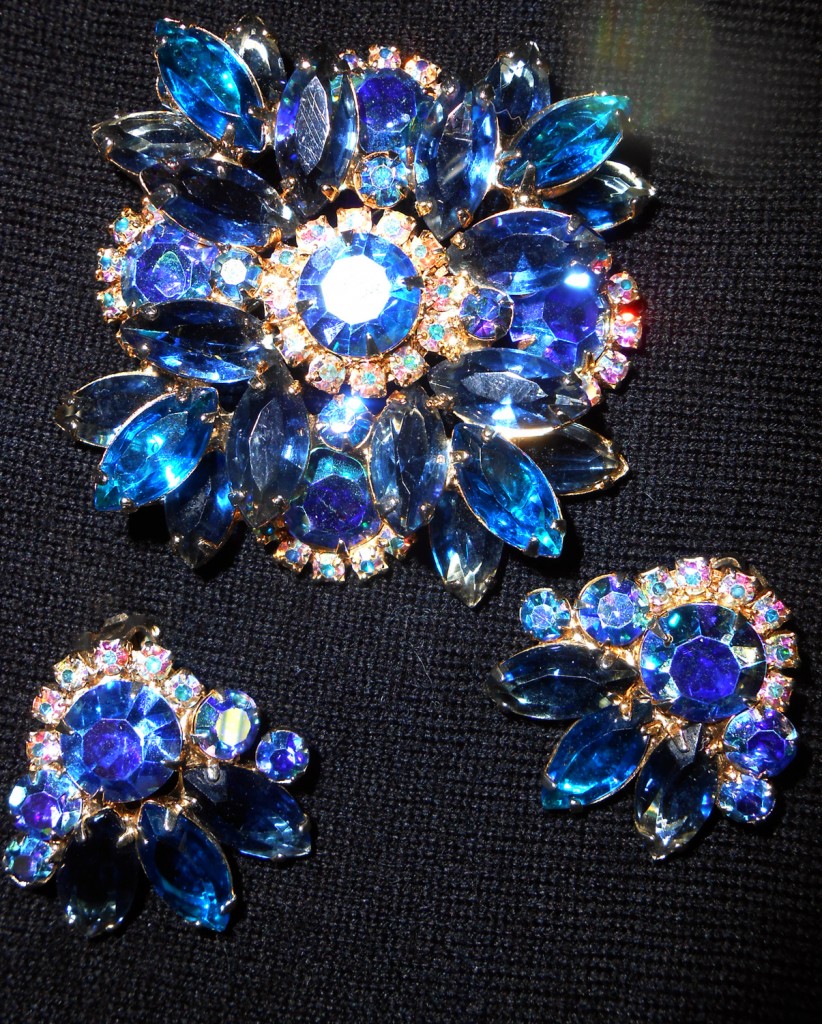 The brooch is probably familiar; I have already worn it. It also has a hook and can double-up as a pendant – I can't wait to try it for a different look. The earrings are a statement piece, for sure.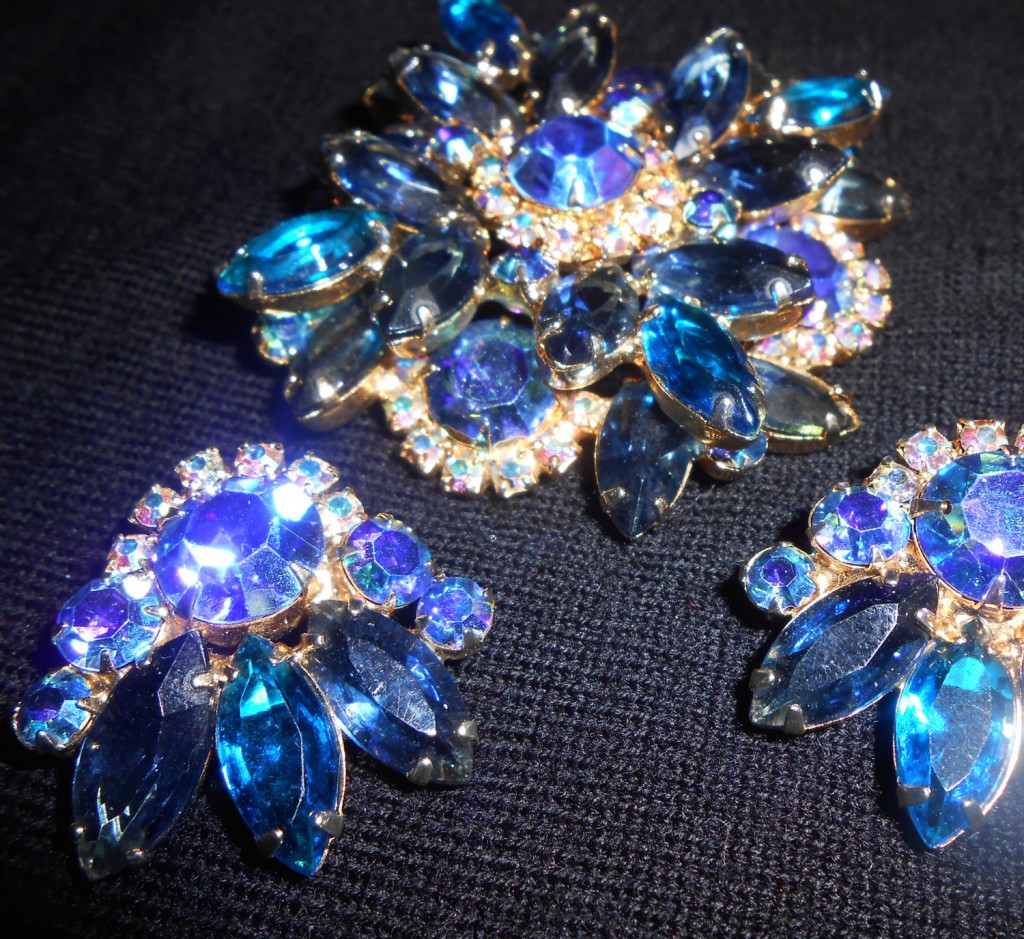 Speaking of statement pieces, this one was my most expensive purchase ($55, including shipping), but boy, do I love it: an Art Deco-inspired, green and clear rhinestone brooch that's simply gorgeous. I am loving deep emerald at the moment (I think it was Pantone's colour of the year either this year or last), and especially in accessories – it looks amazing with neutrals like black and navy.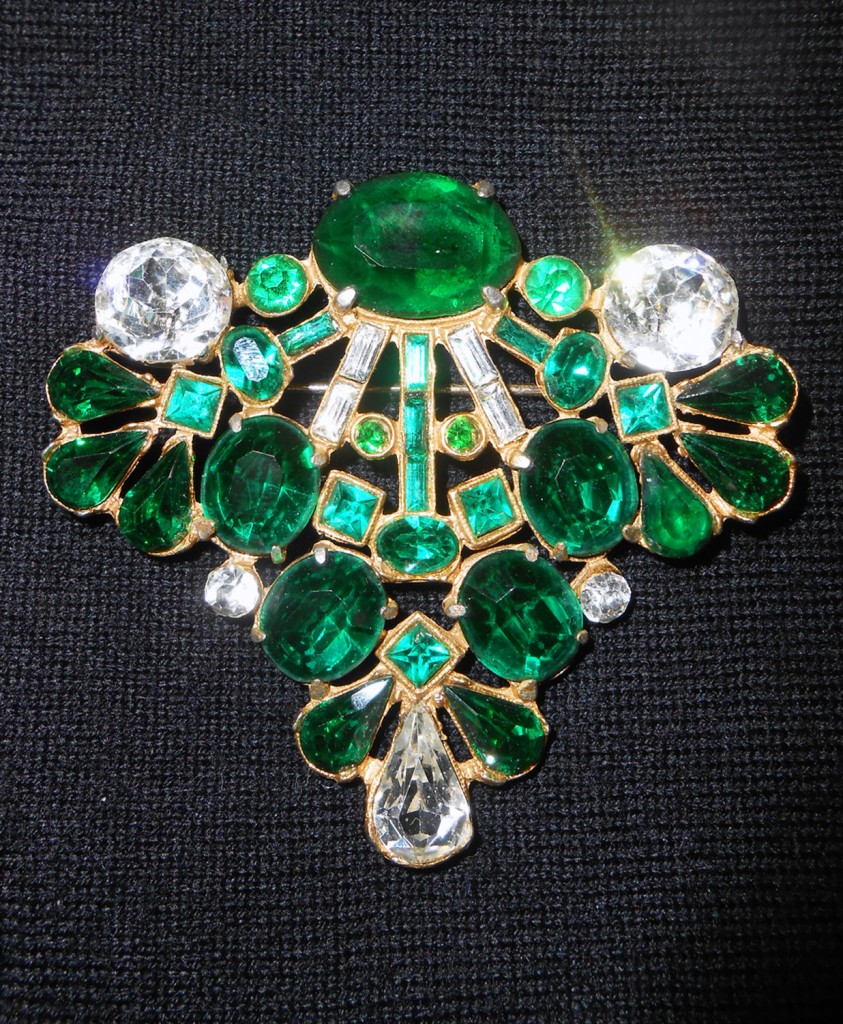 Last but not least, another brooch and earring set ($32, including shipping). In the course of my online browsing for vintage costume jewelry, I quickly became somewhat obsessed with so-called "watermelon" rhinestones – rhinestones that flash a rainbow of colours, depending on the angle. My dream now is to someday own a Schiaparelli piece featuring this type of rhinestone … but seeing as those start at $100 and up, I am content with this set for now.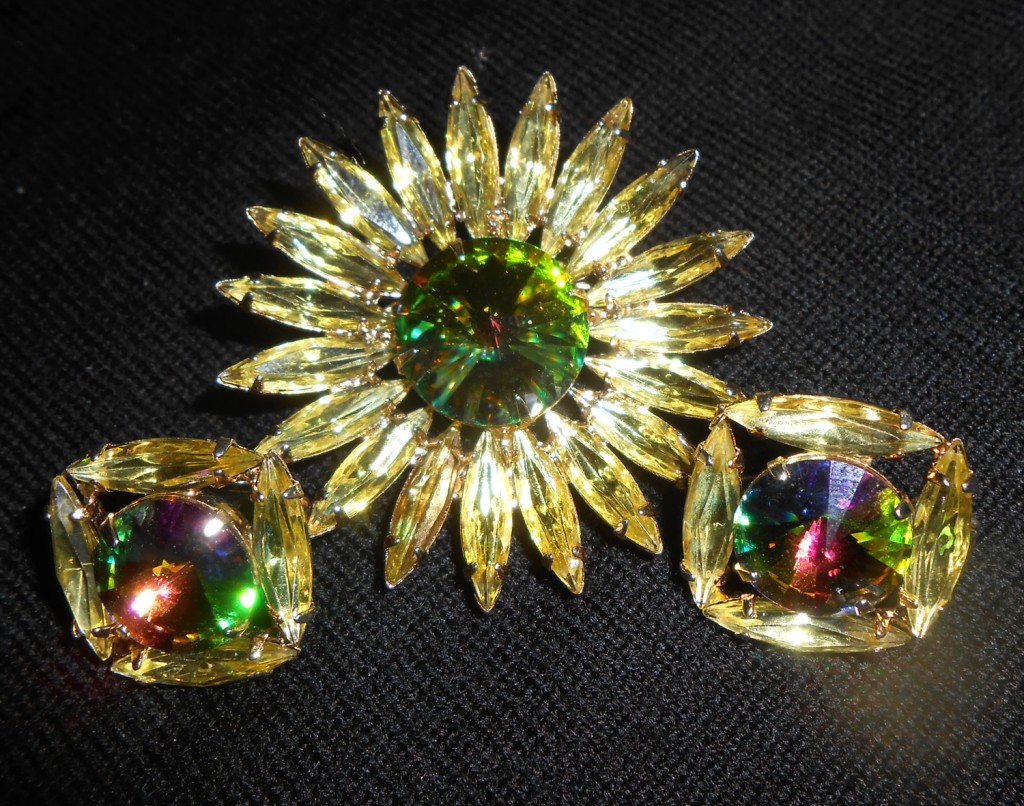 Here is another look, which really shows the colour-changing effect. These particular rhinestones are known as "rivoli"; they feature a starburst-like cut, and rather than being flat on top, are more pyramid-like and pointy.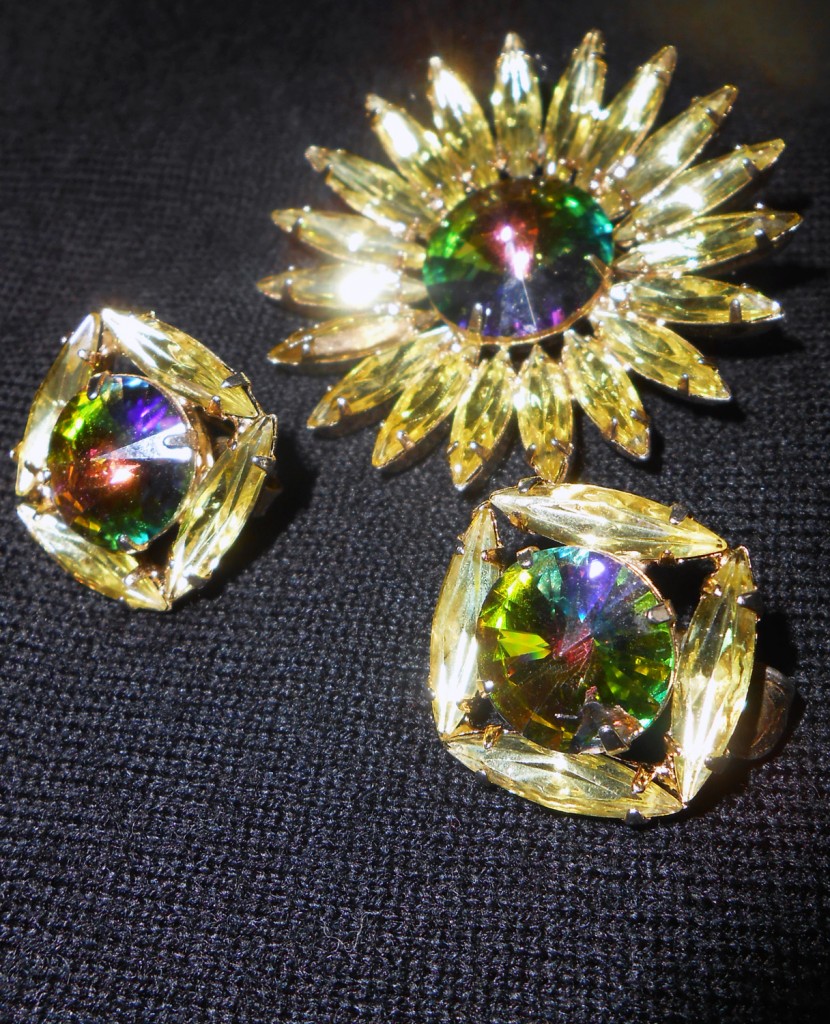 As you can tell, I had a blast shopping online in April – maybe a little too much of a blast. Hopefully, May will prove to be a more sober month … ah, who am I kidding? I'm sure you can expect more e-shopping adventures.