I'm not much of a beauty product junkie; the older I get, the fewer products I seem to use, and the more loyal I grow towards my tried-and-true favourites. I have my morning routine down to a science, and by necessity, it's a short ritual. [Getting ready for work with a curious, active toddler in attendance is a tricky maneuver.] So there is little opportunity (or time) for me to experiment with new products. Occasionally, though, I do get the urge to try something new … and every so often, I discover some new favourites. Here are a few of some recent discoveries.
Benefit Bad Gal Eyeliner
I have always been a fan of the "statement lashes" look – "go big, or go home" being my motto in this regard. That said, I have always struggled with eyeliner. I love a good "cat eye", but I seem to have two left hands (all thumbs) when it comes to creating the look on myself. Liquid eyeliner requires a steadier hand that I can muster. Eyeliner pencils never seen to give a sufficiently intense pigment. I used to settle for eyeshadow, applied wet with an angle brush.
Recently, on a whim, I decided to try a pricey alternative – Benefit's Bad Gal eyeliner pencil. As most of my beauty experiments are wont to be, this one was inspired by a Shoppers Drugmart points redemption event; I spend my points, and get to splurge on beauty items with some "free money". Guilt-free. At over $30 a pop, this ain't a cheap eyeliner pencil, for sure. But … I really like it.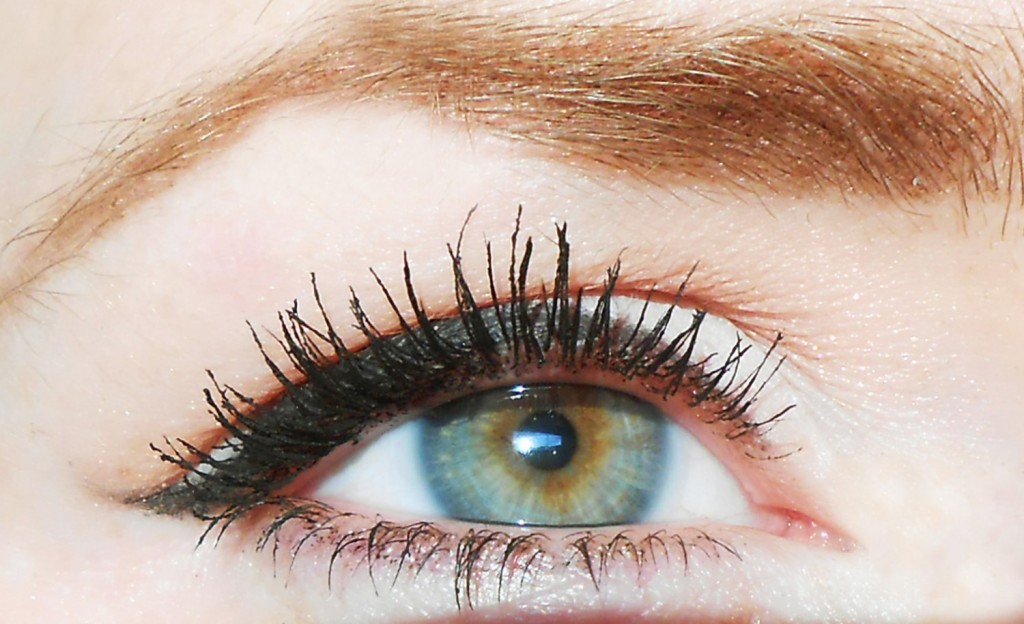 The line I can get is of medium thickness; overall, it's a bit of a mod look, but I like it. I could try to keep the pencil sharper for a thinner line, but I find it easier to handle and more fool-proof this way. The pencil is quite pigmented, and it doesn't fade on me as the day goes on.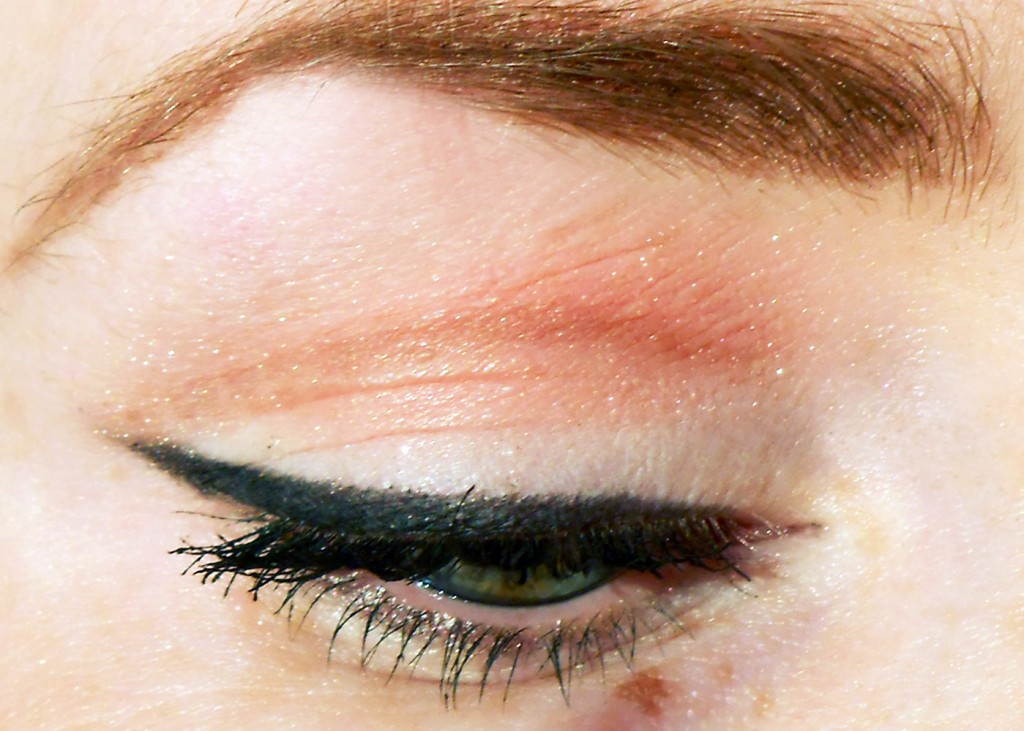 I definitely think I will buy this again – I'll just have to wait for the next Shoppers Drugmart points redemption event.
Clinique Chubby Sticks
Another one of my recent finds was Clinique Chubby Sticks. I am tired of lipglosses, and hate the feel of lipstick, so I was looking for something that was a step above a tinted lipbalm, but with similar application. Initially, I cheaped out and tried a drugstore version of the Chubby Stick; I hated it – it felt chalky and dry on my lips. So I decided to suck it up, and go for the real deal.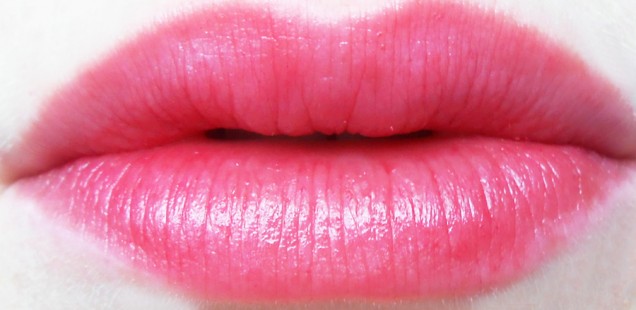 I love how easily it glides on, and how it feels on my lips. It doesn't really moisturize, per se, but it also doesn't dry out my lips. And I love the colour – a little more intense than a hint, but less in-your-face than lipstick. From now on, I plan to alternate between the Chubby Sticks, and my all-time favourite lip product, Clinique's Almost Lipstick in Black Honey. Of note, Chubby Sticks also come in a more intense flavour, as it were, for people who prefer a bit more pigment.
Benefit Coralista Blush
I have been wearing Stila's Convertible Color blush for almost two years now, and been quite happy with it. It's a rosy pink colour that works well with my skin's undertones. [I don't put much stock in the old adage that redheads shouldn't wear pink. Orange, yes, it can be tricky. Pink, not so much.] But I wanted to try a more subtle, sun-kissed look, and decided to try to find a good peachy blush.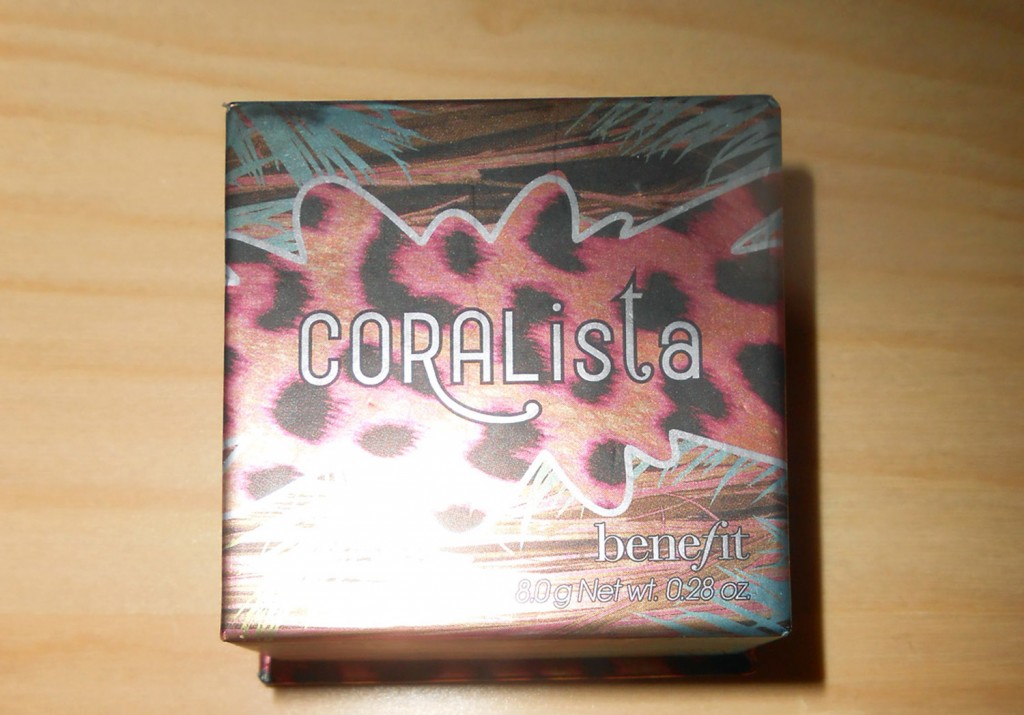 I heard that Benefit's Coralista blush came highly recommended by fellow pale-complexioned gals, so I decided to use some of my Shoppers points to try it out. And I am definitely happy I did. I love the natural, healthy glow that I get using Coralista – even in the dead of winter. At $35, the glow doesn't exactly come cheap, but it's better than a tanning addiction. A keeper, for sure!
EOS Lip balm
Speaking of products much needed in the Alberta winter season (6 months long, it seems), EOS lip balms have been a life- (or should I say lip-)saver. The packaging is really cute too.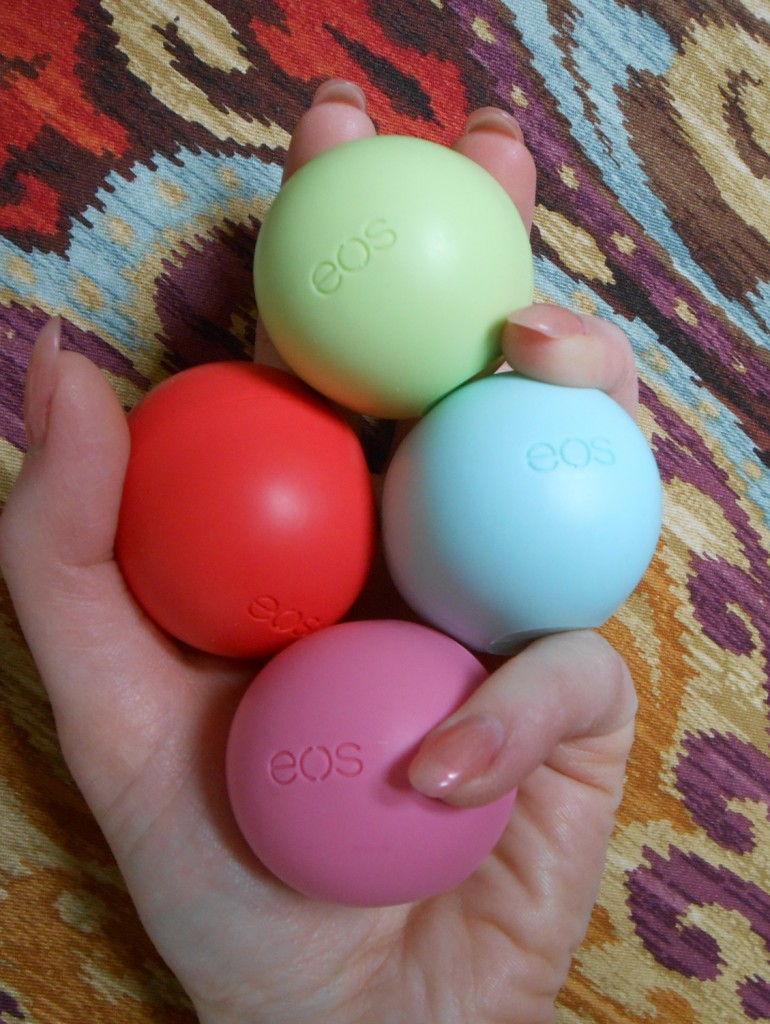 More importantly, these cuties moisturize like nobody's business. I try to stock up every time they show up at Costco (4 for $10), otherwise they can be pricey (up to $6 a pop). They do last quite a while, and smell delicious too. Love them!
Got any new favourite beauty products of your own? Share them in the comments!