Although I have full custody of the master bedroom walk-in closet, I am perennially having closet space issues. Rather than take it as a sign that I need to shop less (God forbid!), I take it as a sign that I need to come up with ever more inventive ways to maximize storage space.
Even more so than for clothes, I am obsessed with creative storage solutions for my jewelry. I firmly believe that the "out of sight, out of mind" principle applies, so I like having my bijoux visible at all times. In an ideal world, I would love to have a big enough closet to accommodate a large island-type cabinet, topped off with a glass-top display case for my sparkly goodies. Alas, in this world, I have a narrow shelf at my disposal. Four inches wide, to be precise. What is a girl to do?
A long time ago, I solved the problem of a necklace display by buying a cork-backed framed board, and hanging (some of ) my necklaces on pins. I also use the same board to pin my earrings on. That still left a huge wack of jewelry unaccounted for: rings, brooches, clip-on earrings, bracelets, chunkier necklaces. For a long time, I kept these things in various assorted bowls and boxes, which fell somewhat short on display panache. So recently, I did an overhaul of my jewelry shelf, with help from some pieces I randomly – and fortuitously – came across on my shopping peregrinations.
First, I put my Fenton milk glass bowls to use; one for chunky necklaces, one for brooches and clip-on earrings, and one for my make-up (not pictured). I would like to find at least one more, to contain some of the already-accumulating overflow.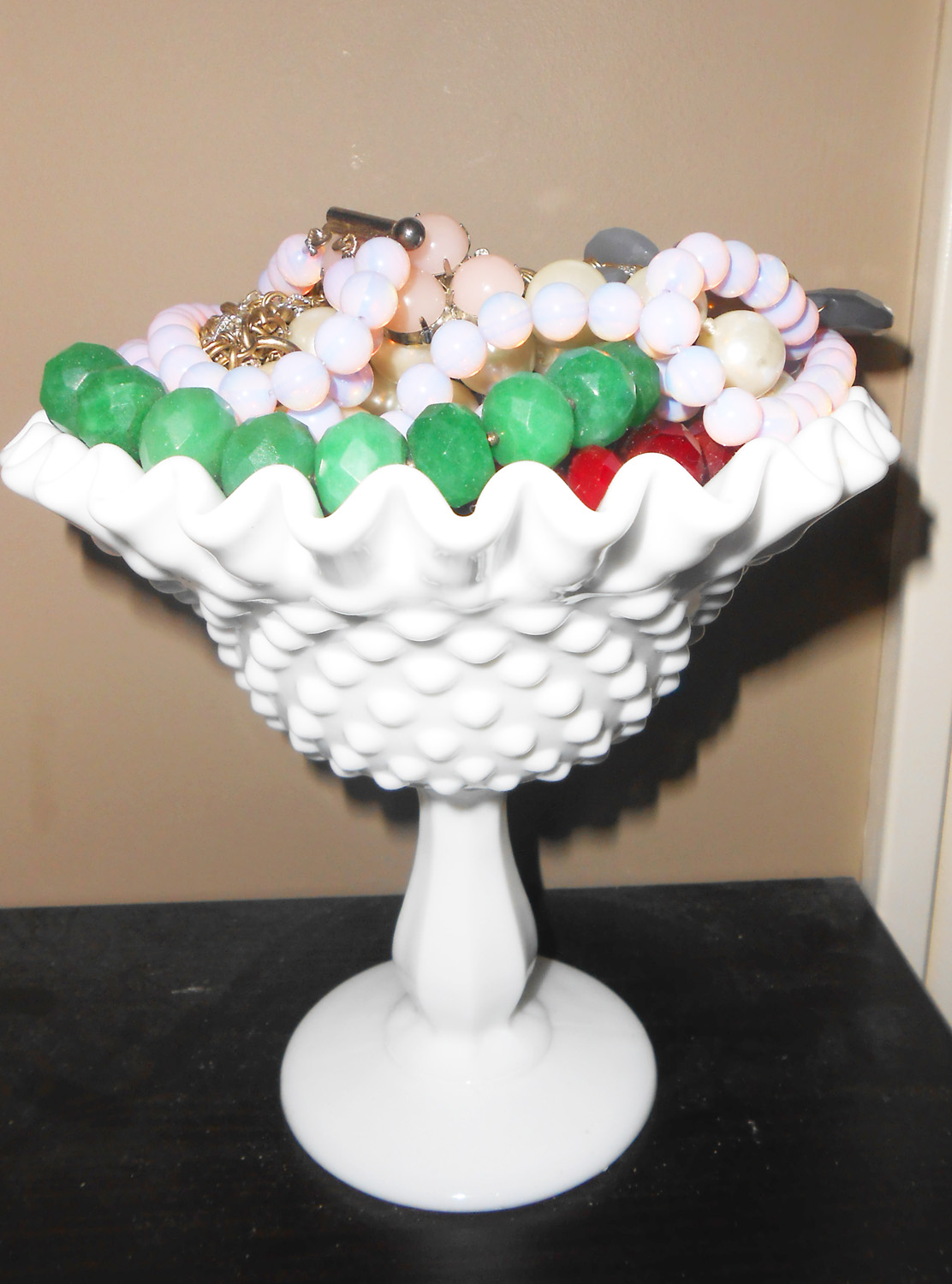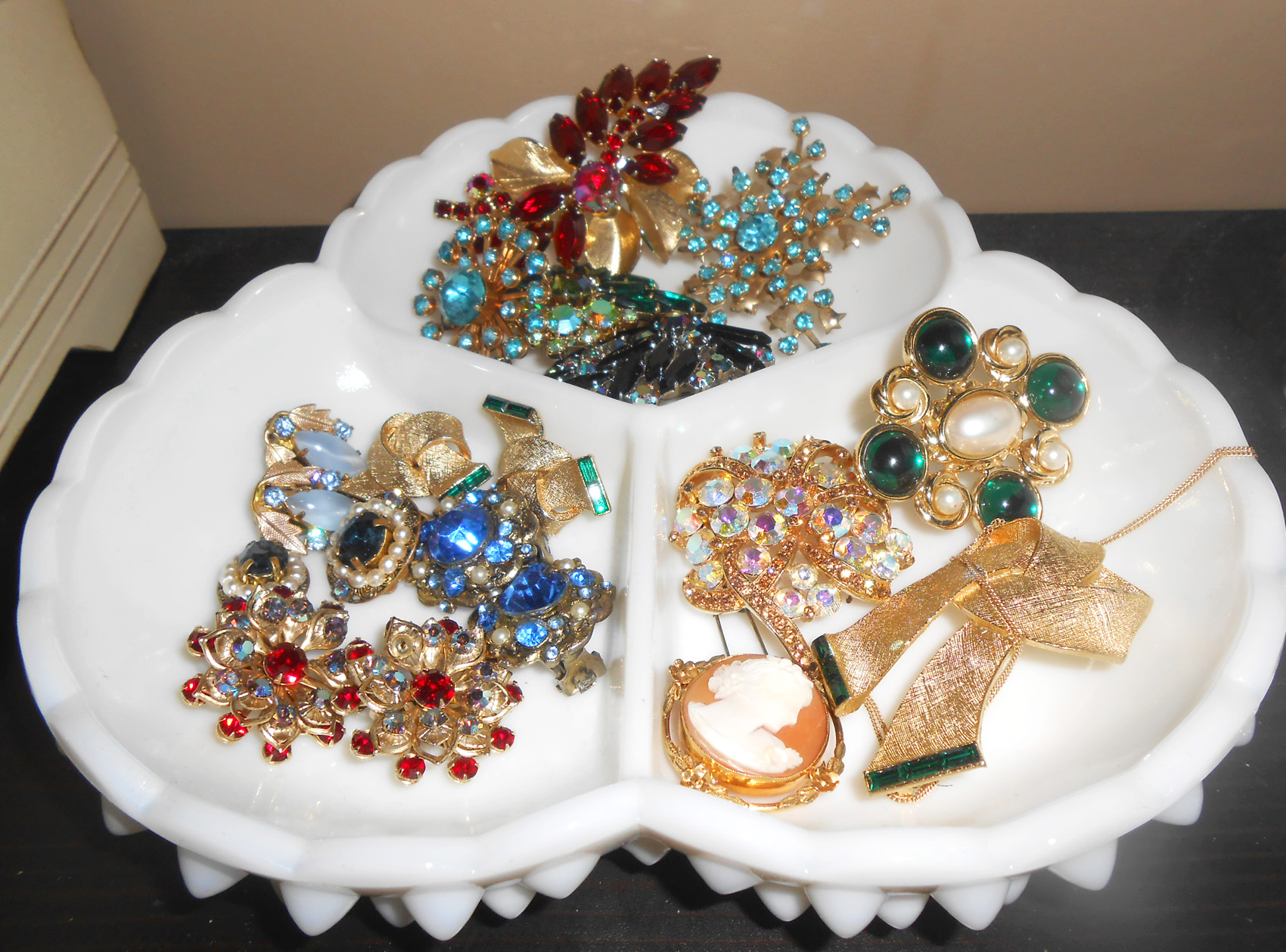 Next, I found a metal jewelry display at Winners with a somewhat rustic, antique-y vibe to it. The off-white paint helps to make it stand out against the wall and furniture colour, and it goes well with the other display items.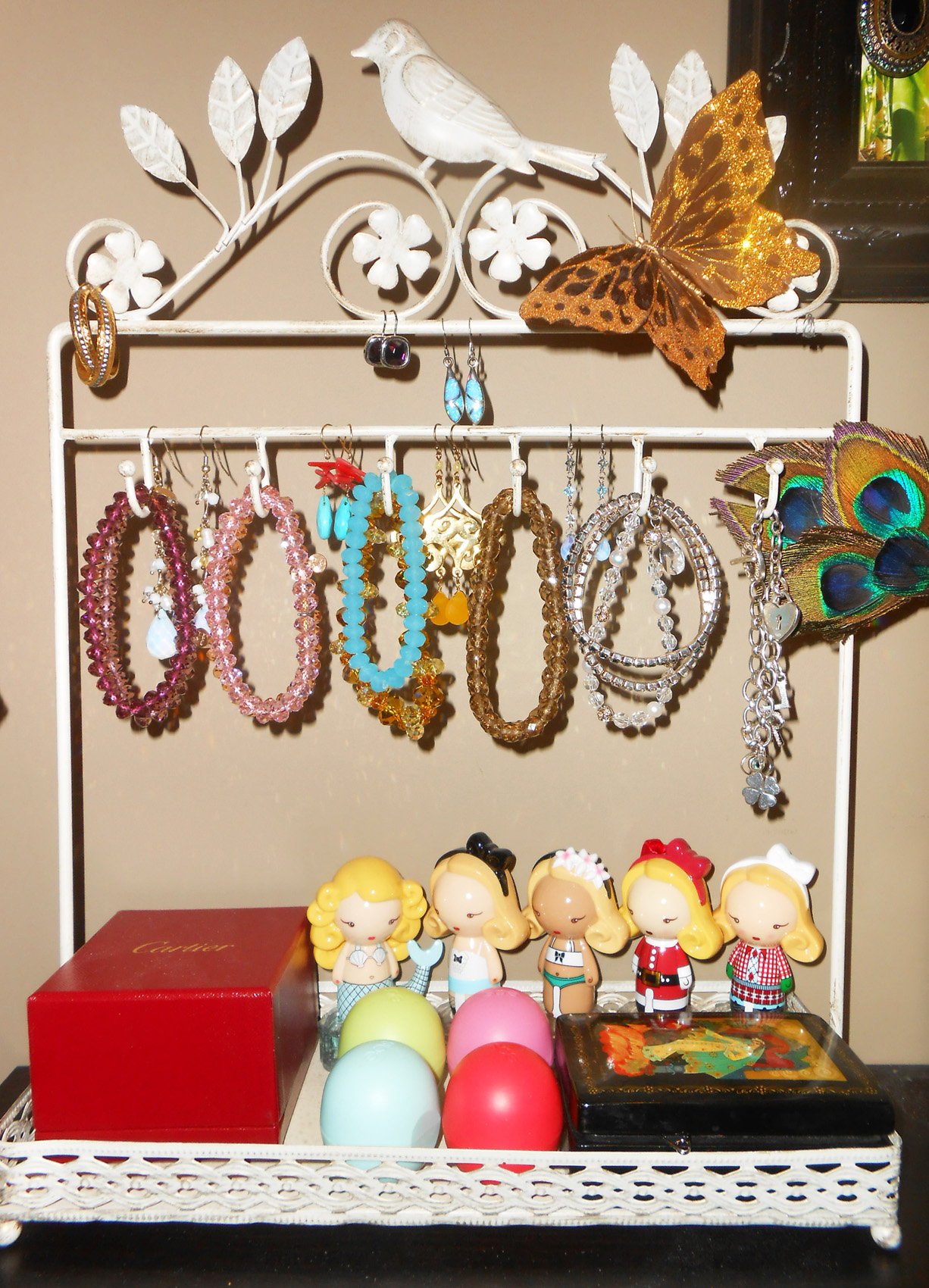 As a bonus, it has a little tray at the bottom, which is useful for storing my girly bits-'n-bobs. Last, but not least, I found a glass-top display case! True, it's small. But I love how it looks, especially the rough hewn burlap fabric used to upholster it – a nice contrast to the sparkliness inside.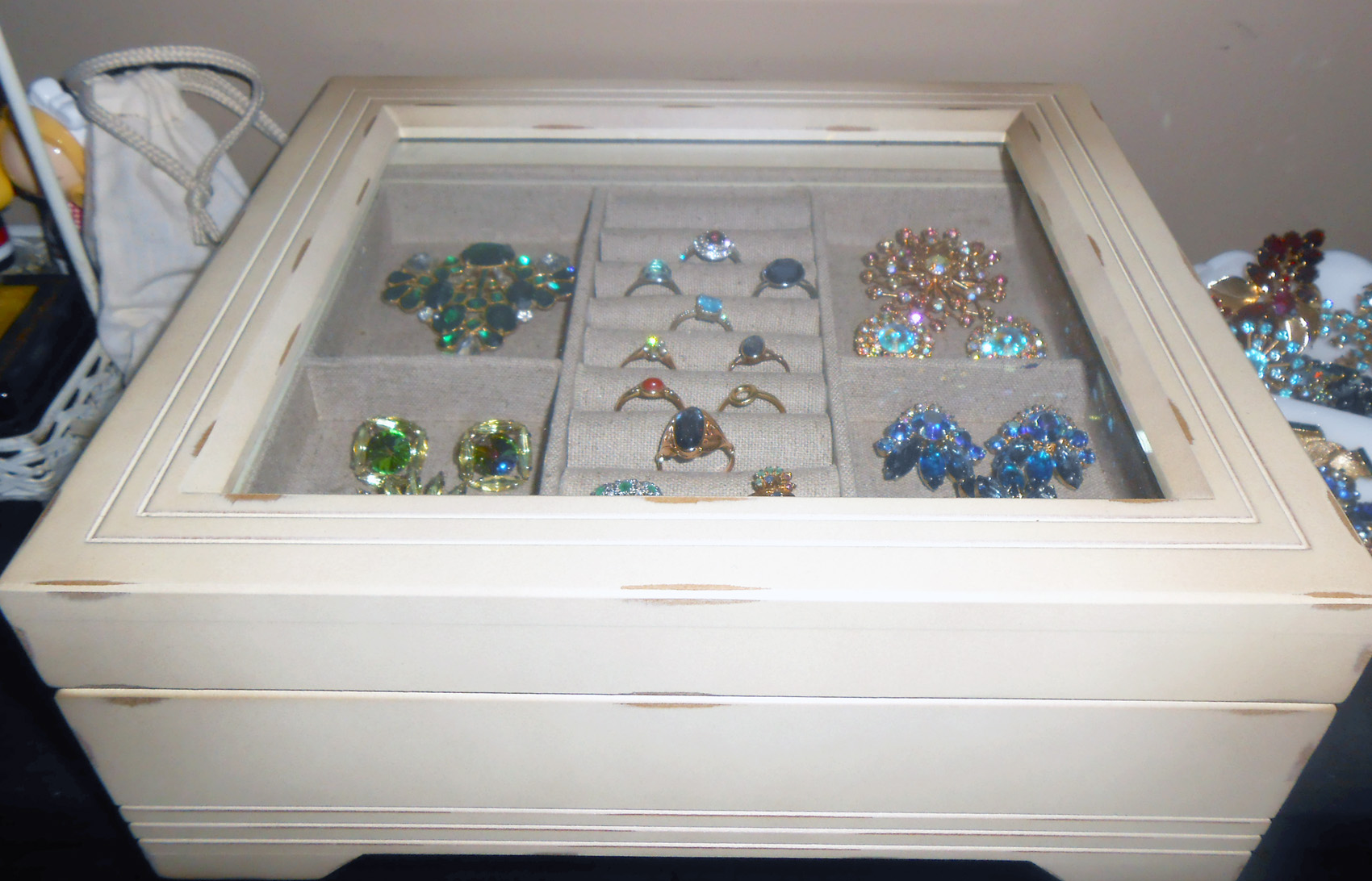 The first tray contains my rings, and some of my favourite vintage jewelry pieces.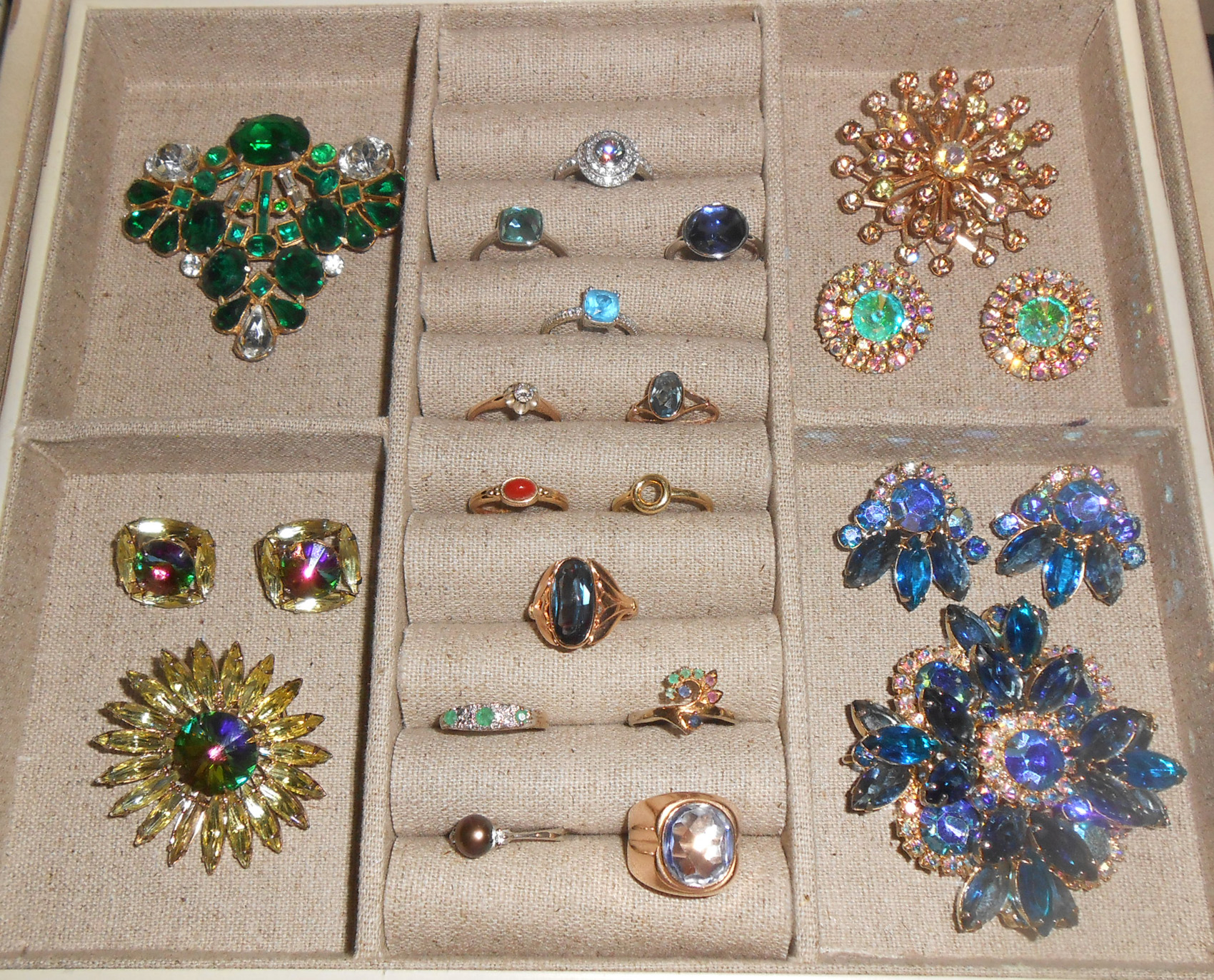 The second tray holds some heavier necklaces.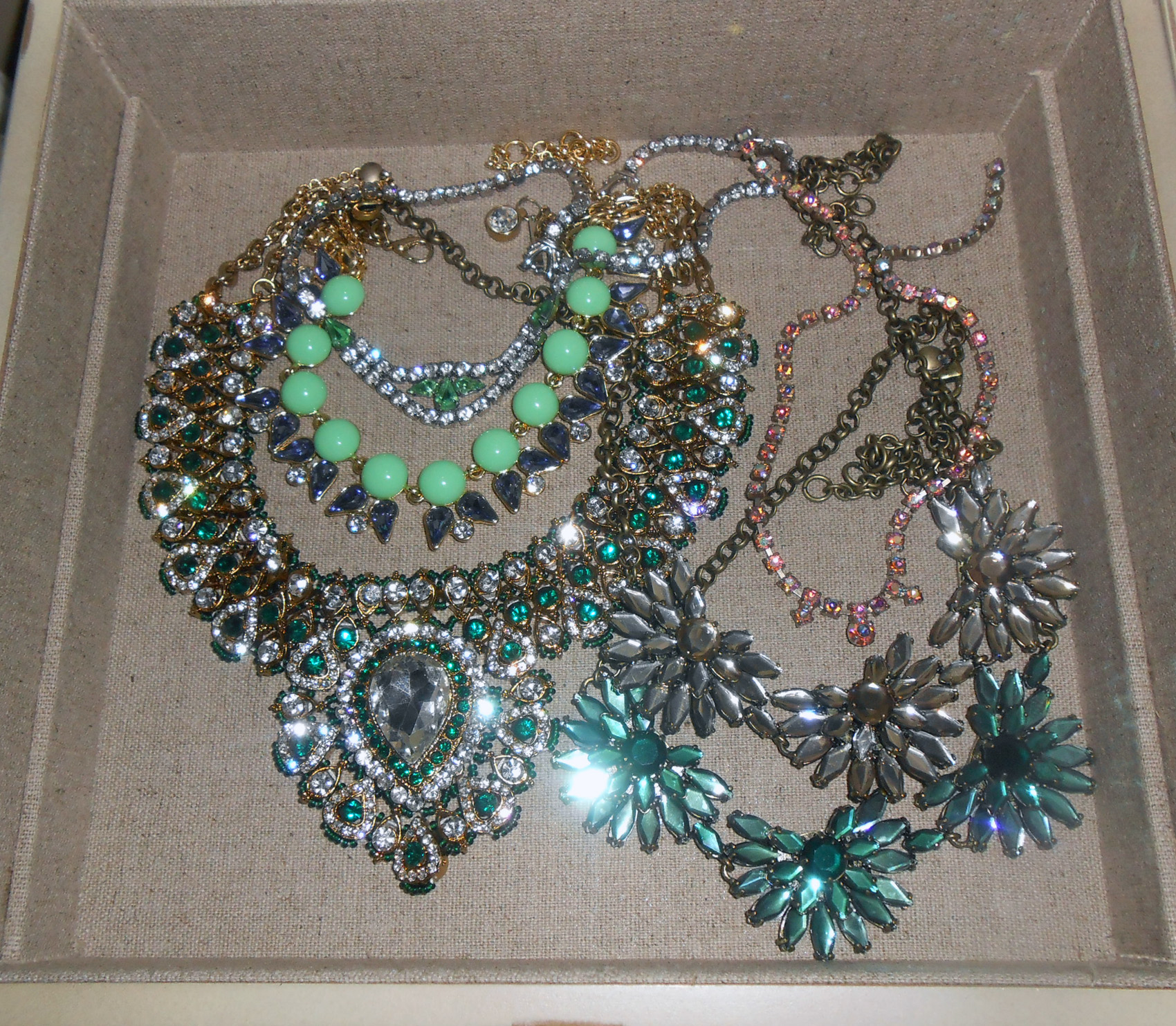 And that, dear readers, is how I managed to cram a few pounds of jewelry into a very narrow space!
What do you think of my jewelry storage (and display) solutions? How do you organize your jewelry? Share tips in the comments!