As I previously wrote, one of my New Year's resolutions was to shop exclusively second-hand for clothes (minus accessories) in 2013. I have not done a great job of sticking to it, although the majority of my purchases have been second-hand, and most of the new items I purchased were under $40 a piece. After hearing about the factory disaster in Bangladesh (and being reminded of all the things I have read about current manufacturing practices and work standards in developing countries), I also started to keep a closer eye on the country of manufacture for my clothes, with the intent of slowly minimizing my intake of products made in developing countries. My intent is not to start a personal crusade; I just want to be a more conscious shopper, both from an ethical and a financial perspective.
Lately, I've been too busy to go shopping the old-fashioned way, so most of my recent purchases were the result of online sprees. Online shopping certainly has its attractions – you can focus your search to specific items, everything is delivered to your house, and you never have to get out of your pyjamas – especially when you're buying accessories rather than clothes, and sizing/fit is less of a concern. Staying out of stores (and malls especially) has also helped me stay on track with my clothes spending (the month of May notwithstanding). I have fairly good impulse control, but frequent mall exposure wears me down after a while. I also find it skews my perception of what is a reasonable amount of money to spend on various items. If I visit only occasionally, I never fail to be amazed at how expensive things are, and that cuts down on the whole impulse-buy thing. Because I have been buying a lot of vintage pieces lately, I have also cut down on the "fast fashion" items I've been "consuming". All in all, I am making some progress towards my goals.
With that preamble out of the way, let's finally get to the post. After a bit of a hiatus, I recently had an opportunity to indulge in both some mall and some thrift shopping, and I thought it would be fun to compare the two experiences in light of my goals.
My mall adventures took place in Calgary, over a long weekend visit that included pit stops at both Chinook Mall and Cross Iron Mills Outlet Mall. Since the money for this spree came out of our "vacation fund" (and we ended up skimping on our actual travel plans), I was prepared to give my impulses a bit more rein than usual. Nonetheless, I was surprised by the relatively high prices I encountered and the dearth of truly outstanding pieces. Perhaps my expectations – primed by long absence and wishful thinking – were too high. I did end up finding a few items I really like (and some I simply adore), but I didn't find myself as overwhelmed by temptation as I thought I would.
At Winners, I found this super-soft T-shirt maxi dress, very familiar to anyway who's been following the Remix Challenge.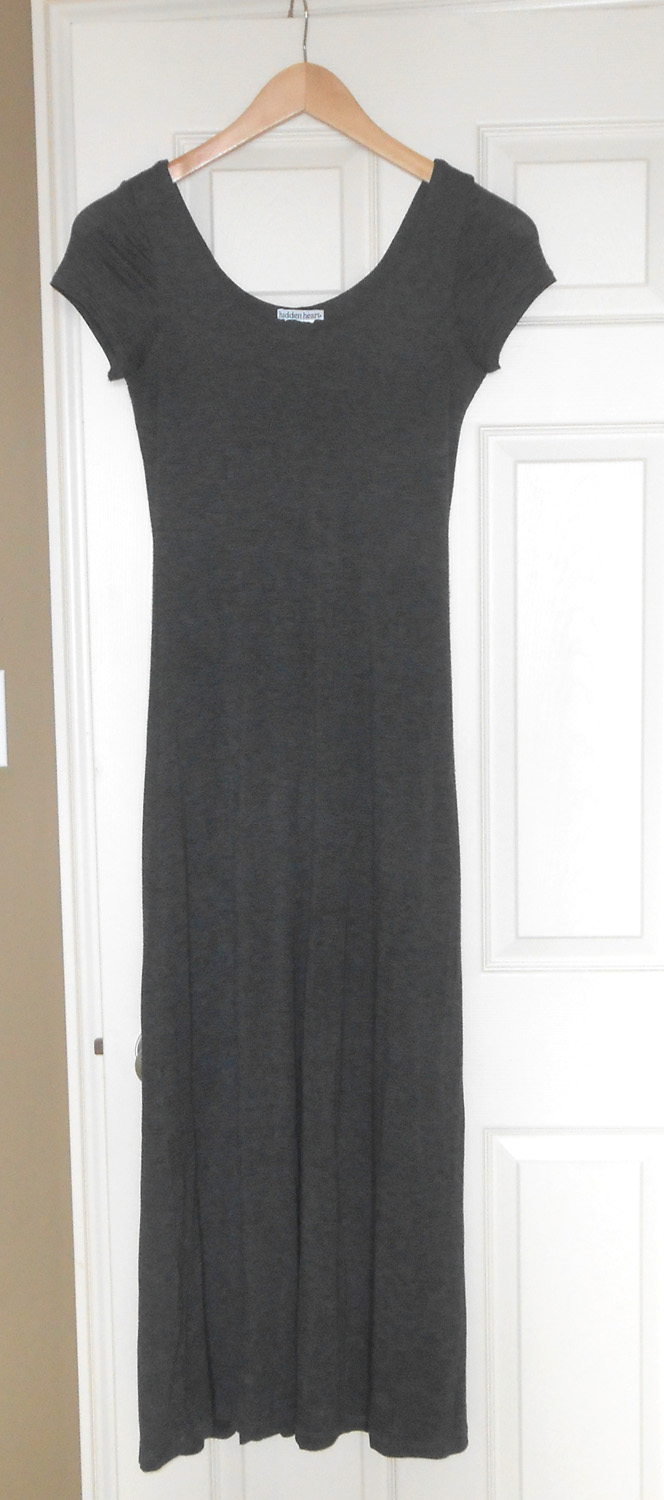 It literally feels like wearing a full-body T-shirt, so it's perfect maternity wear. It was only $20, and after lounging it for a whole afternoon, I went back and bought a second (in an aqua colour). I rarely buy multiples, but this was an item I could easily foresee wearing a lot in the next few months, and I was not confident that the quality could stand up to intense wear; better to get a back-up while I could, and not have to scramble later.
At Target, I was happy to see some Liz Lange maternity wear, of which I'd heard good things. I got a pair of work pants (not pictured) and a T-shirt. The latter is a polyester blend, which I'm not crazy about (wish it was cotton), but the print is super cute. Also on the plus side, I found the prices on this line to be more reasonable than those in regular maternity stores. I'm not sure the quality is better, but at least I'm not left feeling like I'm hugely over-paying for the privilege of a few extra inches of fabric.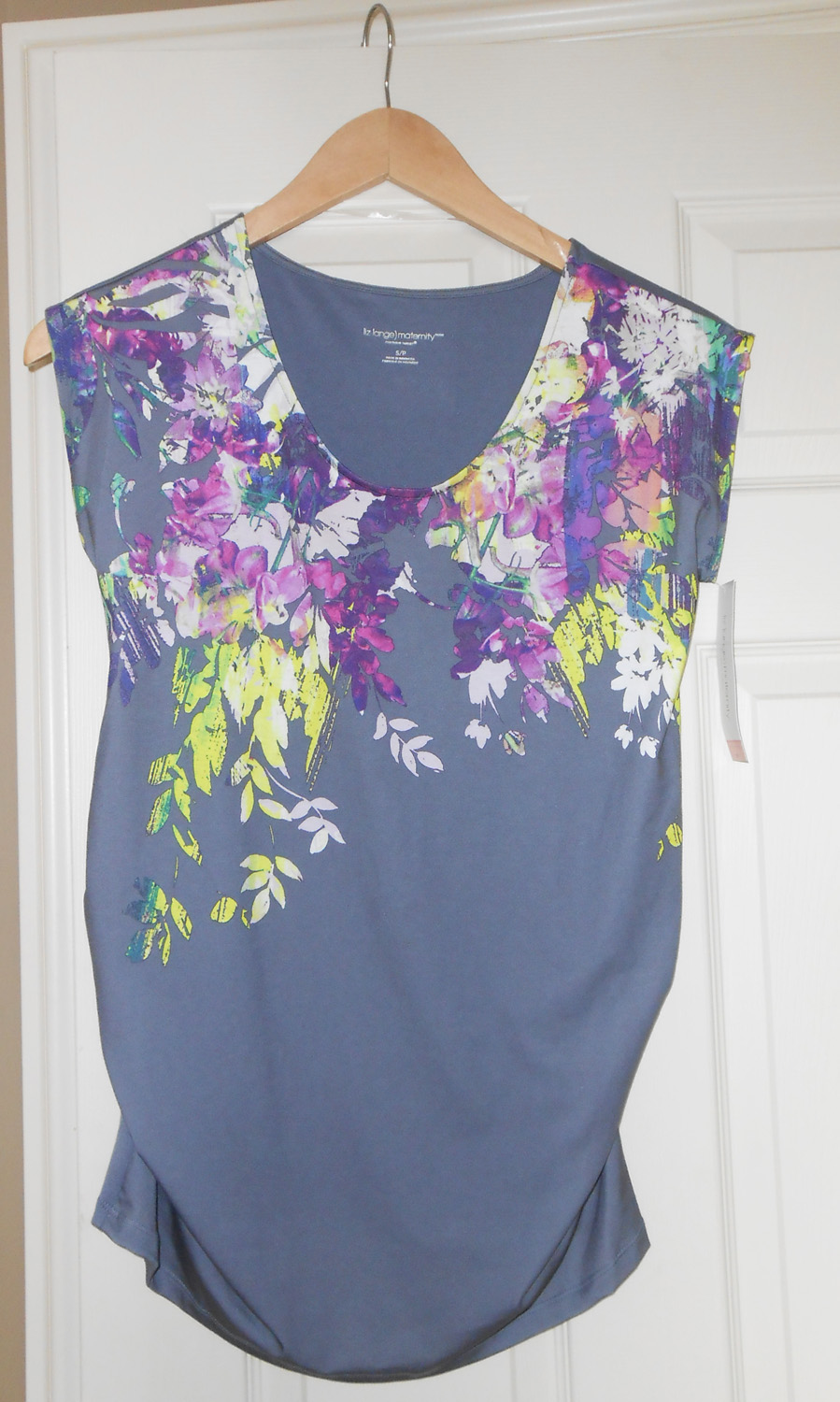 At the Tommy Hilfiger outlet I found one of my long-time "holy grail" pieces: a jean jacket. It's a summer wardrobe staple, but I've always found it impossible to find one that fit well and didn't look like a relic from the 80s. I've scoured countless thrift and consignment stores, with no luck. It's one of those classic pieces that's always in style, and somehow never there in the store when I'm specifically looking for it. When I saw this version, I immediately grabbed it even though the price made me wince. I am thrilled I did, though, because it has become my favourite jacket this season.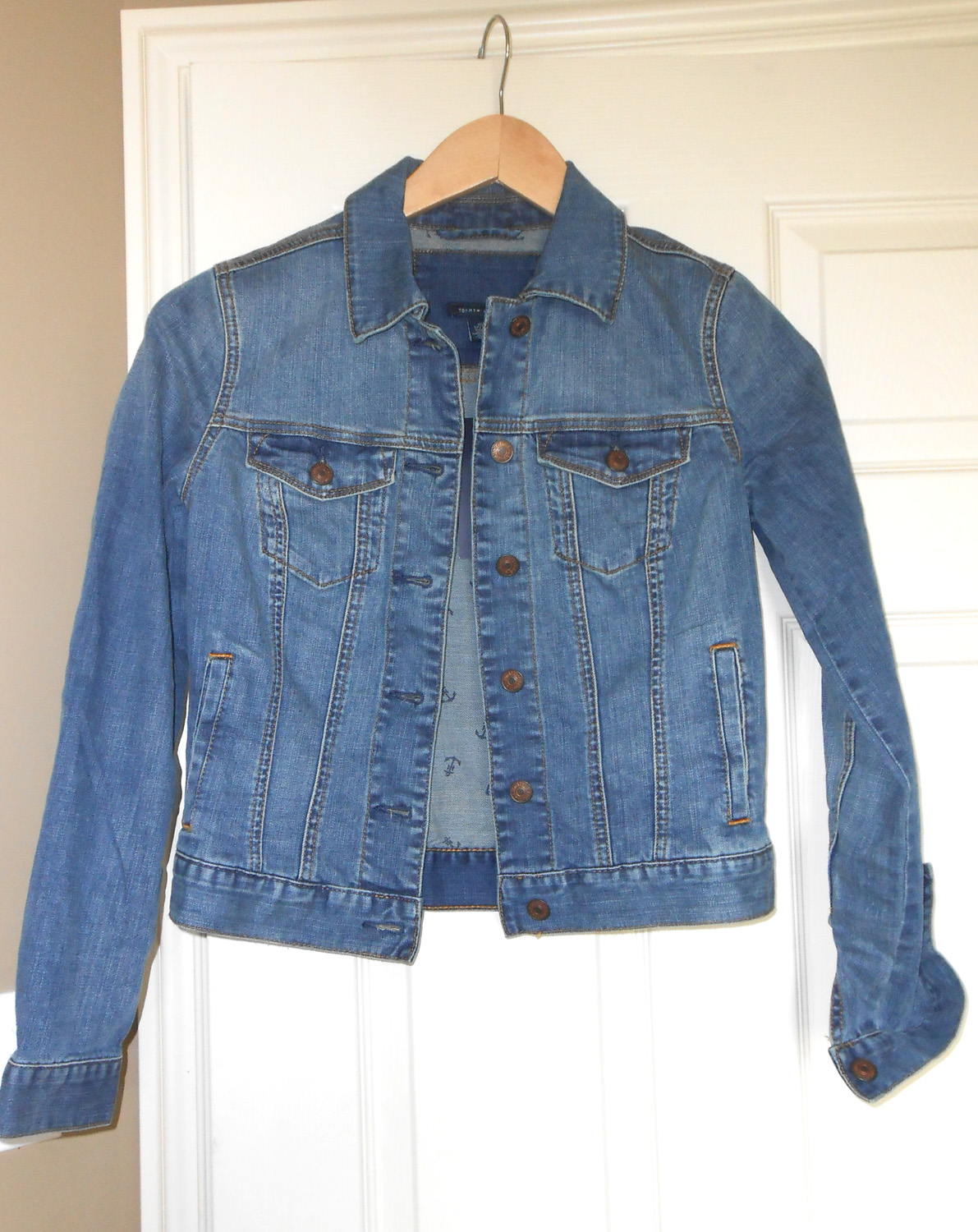 One of the stores I was most excited about was Swarovski. This won't come as a surprise to regular readers, but I am kind of obsessed with Swarovski jewelry. I love their designs, and have always been impressed with the quality. Unfortunately, most of their pieces seem to be made in China now; definitely a downside, but one I feel is almost unavoidable in today's accessories market. It's one of the reasons why I tend to stick to vintage jewelry. With that said, I have never had any issues with Swarovski pieces, and they hold up really well (both the metal and crystals).
Anyway, at the regular store I bought the Rare infinity ring, which is perfect for stacking – something I've been doing a lot with my rings recently. But it was at the outlet store that I struck gold (so to speak): I finally found the Marie ring I've been hunting since last year (it's discontinued). It was only $20! And I also picked up the Maeva ring – another great stackable piece.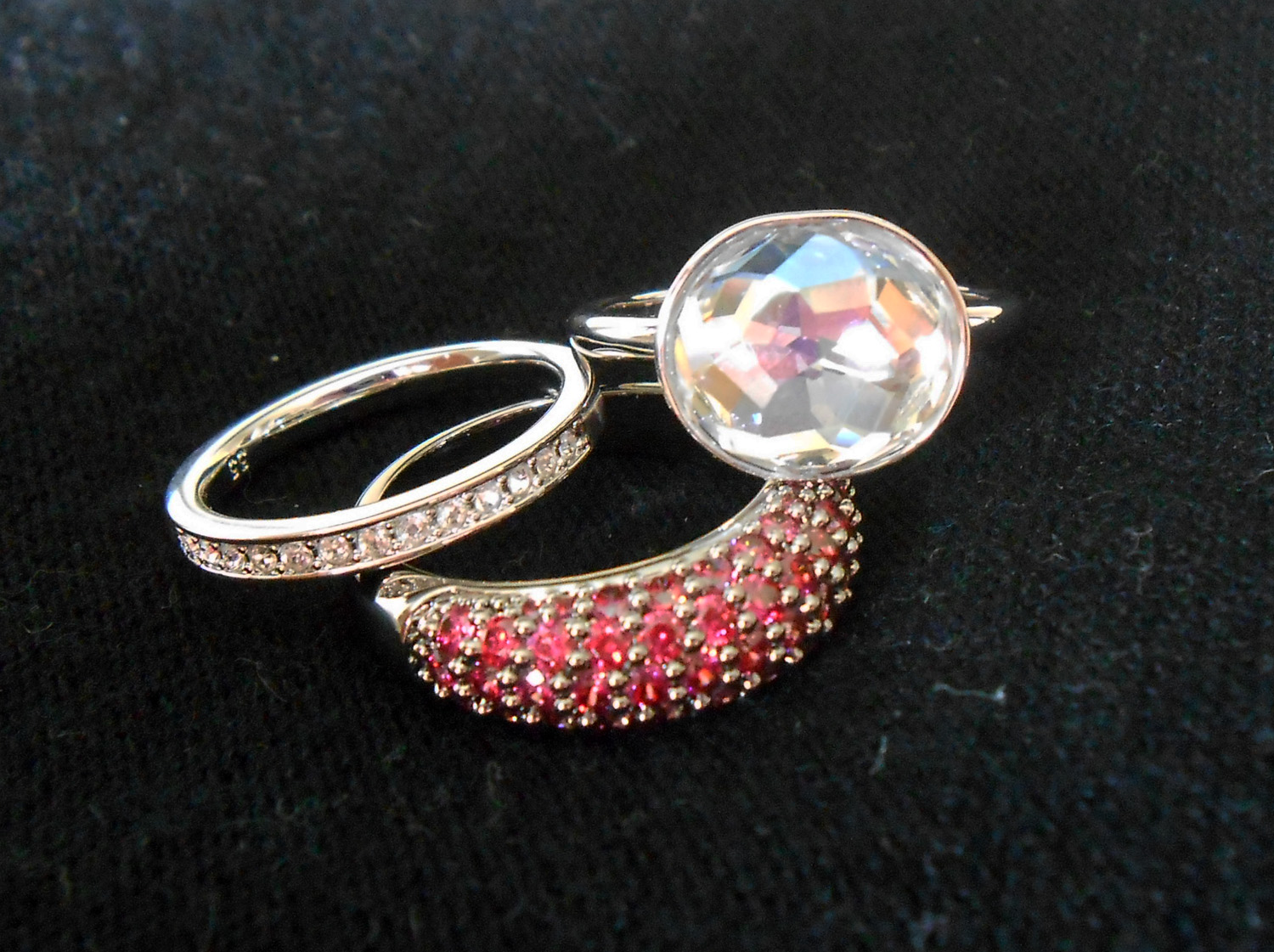 My overall thoughts on the mall/outlet mall experience: things tend to cost more than on the secondary market (duh!), the quality is hit-and-miss, and almost everything has that "disposable fashion" feel to it. All of the items I bought were made in either China, Cambodia or Indonesia. With that said, the mall is a good place to find nice, staple pieces if you can invest the time to look around, and have the patience to be really selective, without getting distracted by all.the.shiny.new.things. I actually found the experience rather exhausting after having been away from it for so long: the crowds, the over-abundance of stores and products vying for my attention, the noise. I also found it harder to remind myself of what I really want/need for my wardrobe, and to talk myself out of (impulse) buying cute, trendy clothes that wouldn't really fit my personal style. I managed to do it, but it was an effort at times, for sure.
On to the thrift shopping part. I have to admit that I hit a thrifting slump at the end of last year. After a couple of super lucky finds (hello, $8 Jimmy Choo pumps! and hi there, amazing Sweet Chemise dress!), my winning streak seemed to die down. All I seemed able to find were uninspiring mall clothes; slowly but surely, I started to lose interest and patience, and the frequency of my visits decreased and eventually petered out. This month, however, under the impetus of a new, tighter budget, I decided it was time to check in on my local Value Village.
Absence doesn't only make the heart grow fonder, it also seemed to help VV's selection. This particular store has one of the best shoe sections in town (it's where I found my Choos), and this time, it lived up to its reputation; I spotted a beautiful pair of Ferragamo low-heeled pumps ($5), and two pairs or almost new Stuart Weitzman sandals (both under $20). Sadly, none of them were in my size. Nonetheless, I didn't come up empty-handed.
I have a thing for quirky prints, so this tunic caught my eye immediately. It's a little bit 80s Versace, a little bit "crazy grandma", and all fabulous. What really sold me was the inside tag: made in the U.S.A. I was intrigued, particularly as the label had been cut out (hence no brand name), and thought it was worth a shot at $17 (even though it's made out of polyester).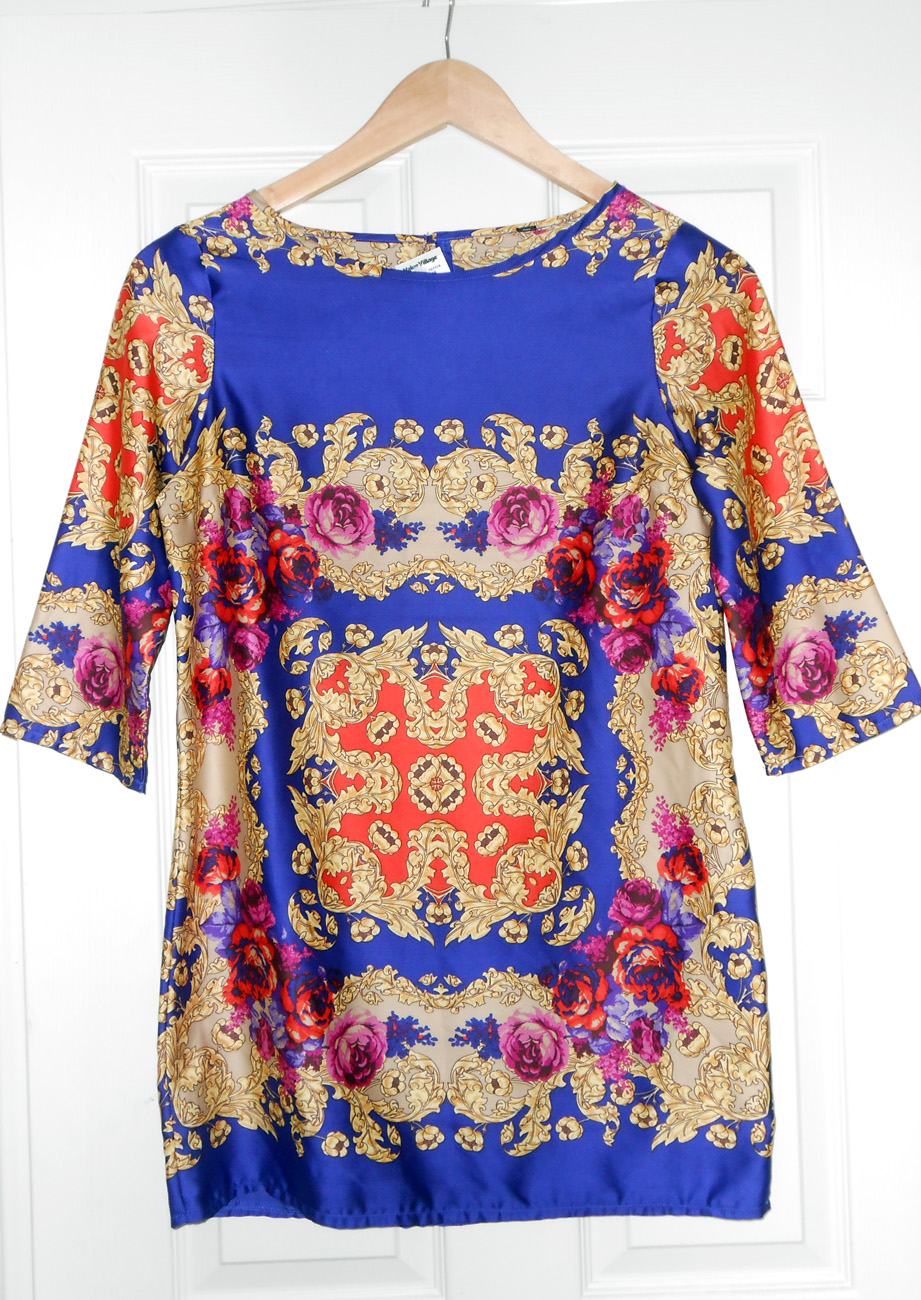 After some online sleuthing at home, I'm pretty sure that the dress is from Simons. The CA number on the inside label comes up in the (Canadian) Competition Bureau database as "La Maison Simons". This is definitely not something I can wear now (it barely covers my bump or my butt), but I think it will be perfect after the baby is born; add a pair of leggings, and I'll be set.
Next, I picked up this Mexx maxi dress. I've been living in my Winners maxi dresses for weeks (see above), and jumped at the chance to get a black version. I wish that the neckline was not embellished, to make it easier to accessorize to my own taste, but it's a minor quibble – particularly given its $12 price tag.
I was also drawn in by the pattern of this skirt, and pleasantly surprised to find out that (a) it's by Milly; and (b) it's made in the U.S.A. from fabric imported from Italy. The colour actually leans more chartreuse than yellow, and will be an interesting piece to mix into my wardrobe. It is a size 12, which means I can actually slide it over my bump now; I may need to get it altered next year, depending on how it sits sans bump. It only cost $7, so I have some leeway in terms of alteration costs, if need be, as well as dry-cleaning. [All the other thrifted pieces can be hand- or machine-washed.]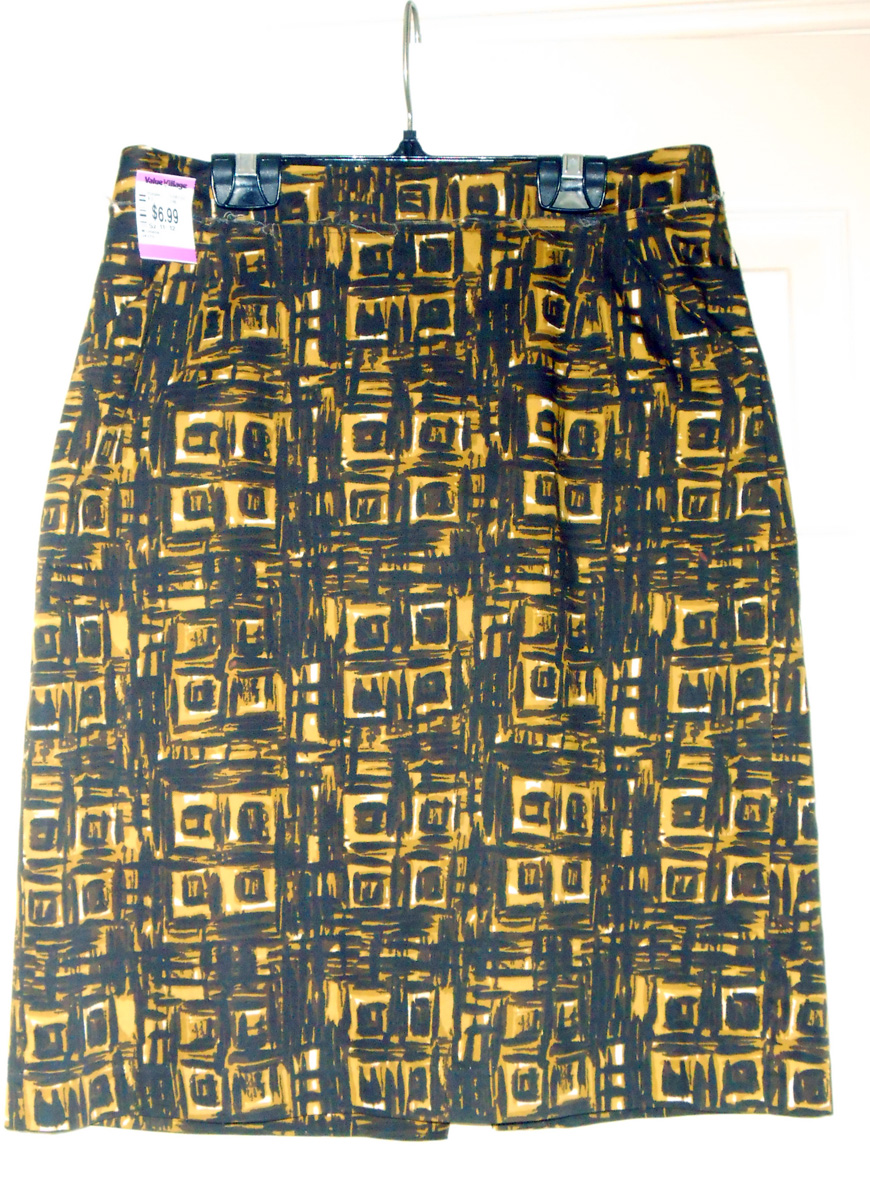 Last, but not least, I nearly did a double-take when I saw this Eva Franco for Anthropologie skirt; I sold the same skirt last year. I actually really love this skirt – so much so that I originally bought the last size on the Anthro clearance rack … about 4 sizes too big. After trying for a couple of years to find ways to wear it, I gave up and sold it. And now, it has come back to me – in a smaller size! And this one still had its original tag (with the $158 retail price!). Clearly, fate meant us to be together.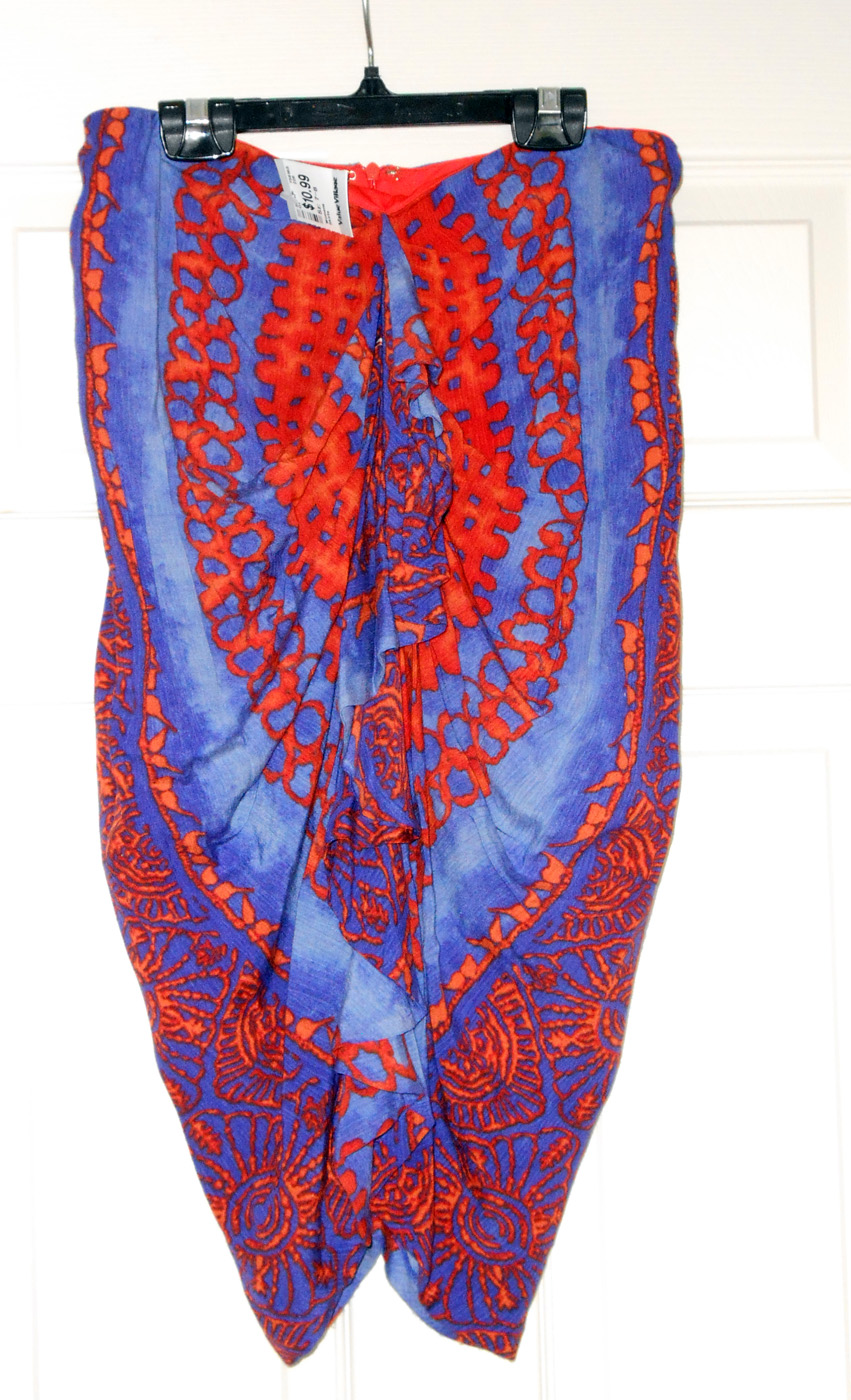 Here is a pic of the only time I ever ended up wearing my previous version (on my honeymoon in Mexico exactly 3 years ago):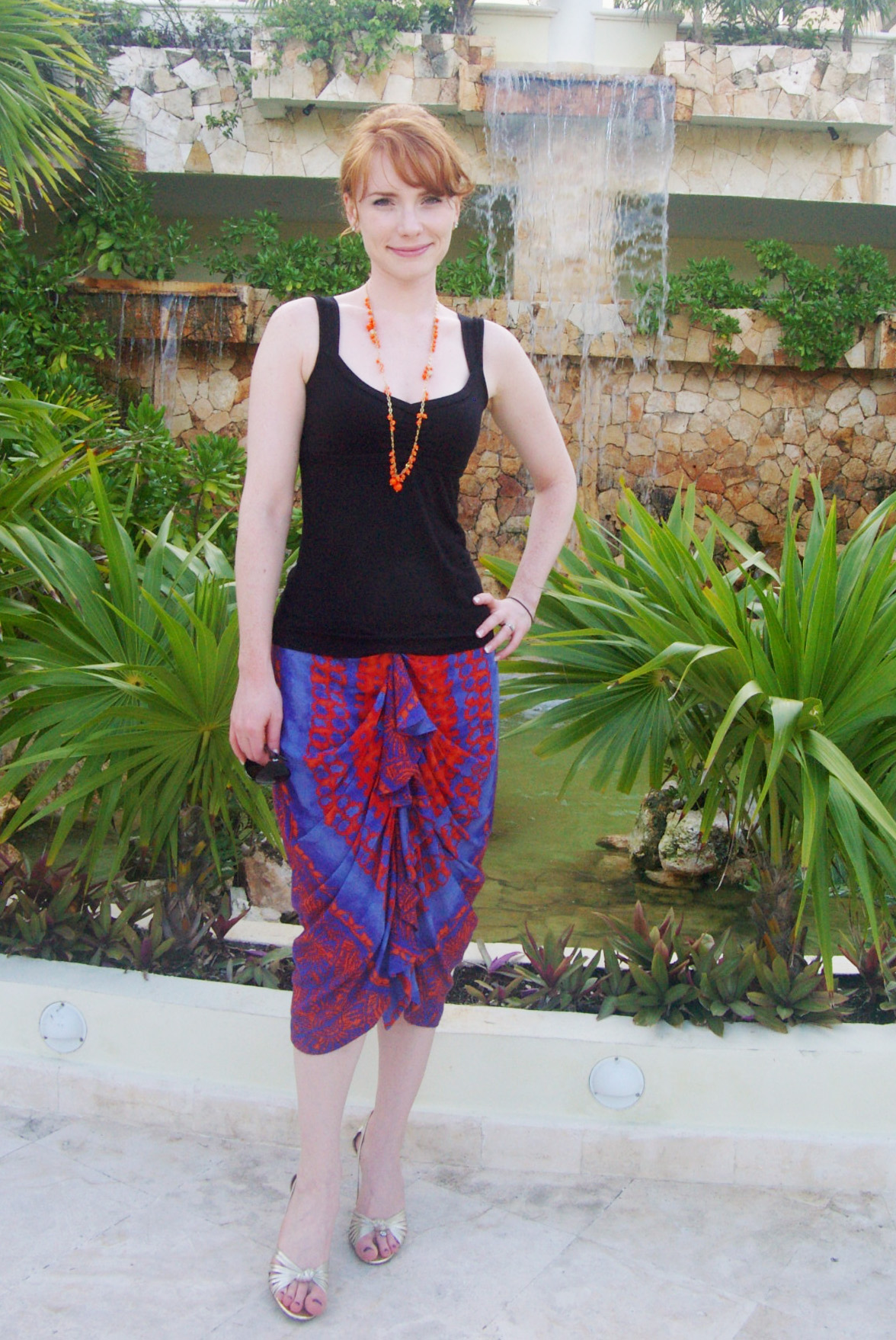 My overall thoughts on thrifting vs. mall shopping: the deals are better (duh!), and the selection is more eclectic. As a result, you can find pieces from all kinds of different brands, many of them not found in malls. I'm not sure if it was pure luck or what, but I also had a much easier time finding pieces that were made in the U.S. or Europe. One of my favourite things about thrift shopping is the chance to find a rare gem – something that might not be available locally, or something from a long-ago collection that you missed out on the first time around. For one thing, it means that you are less likely to bump into someone the next day wearing the same clothes as you. For another, it might mean a fated reunion with a wardrobe "true love".