As my near and dear ones can attest, I've had a rough couple of weeks. I blame it on hormones, and the lack of a proper summer vacation, and too much stress at work … but mostly the hormones. As it happens, though, despite feeling frumpy and dumpy all week, I actually really liked how some of the outfits turned out. I'm still sad to be missing out on a lot of the fun summer clothes out in stores right now, but … sigh … it's probably for the best, as far as my wallet goes. So no cute shorts for this woman.
Saturday, July 6: family outing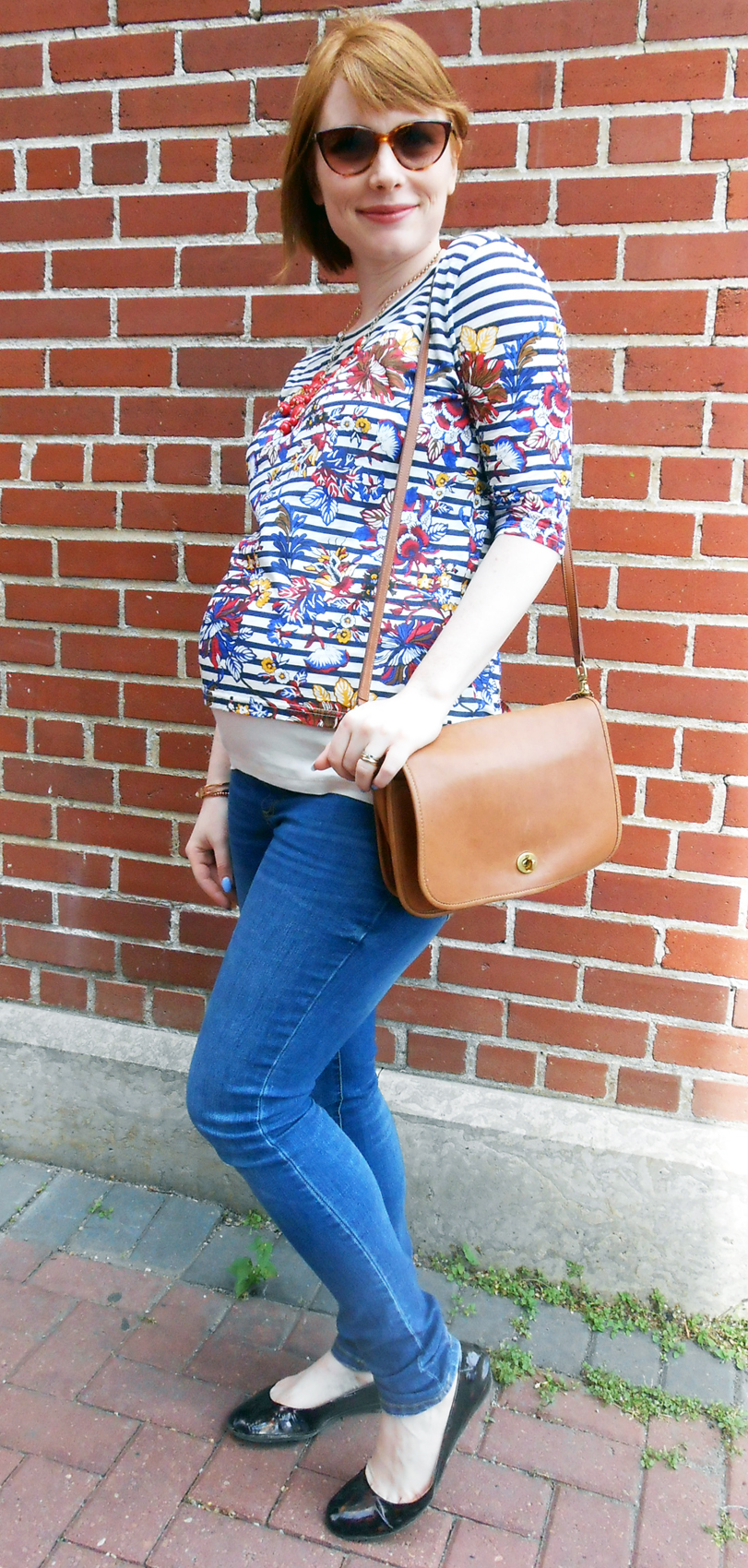 We made it to Whyte Ave two weekends in a row, which is a record for us. It really helps that Luka is now willing to sit in a stroller for longer stretches of time, which means less mad dashes after a toddler-on-the-loose, and more relaxed strolling. Even – gasp – a little store browsing here and there. Speaking of which, I finally made it to the Eye Care Group shop, where I got to try those Ray-Bans I've been eyeing online. What do you think?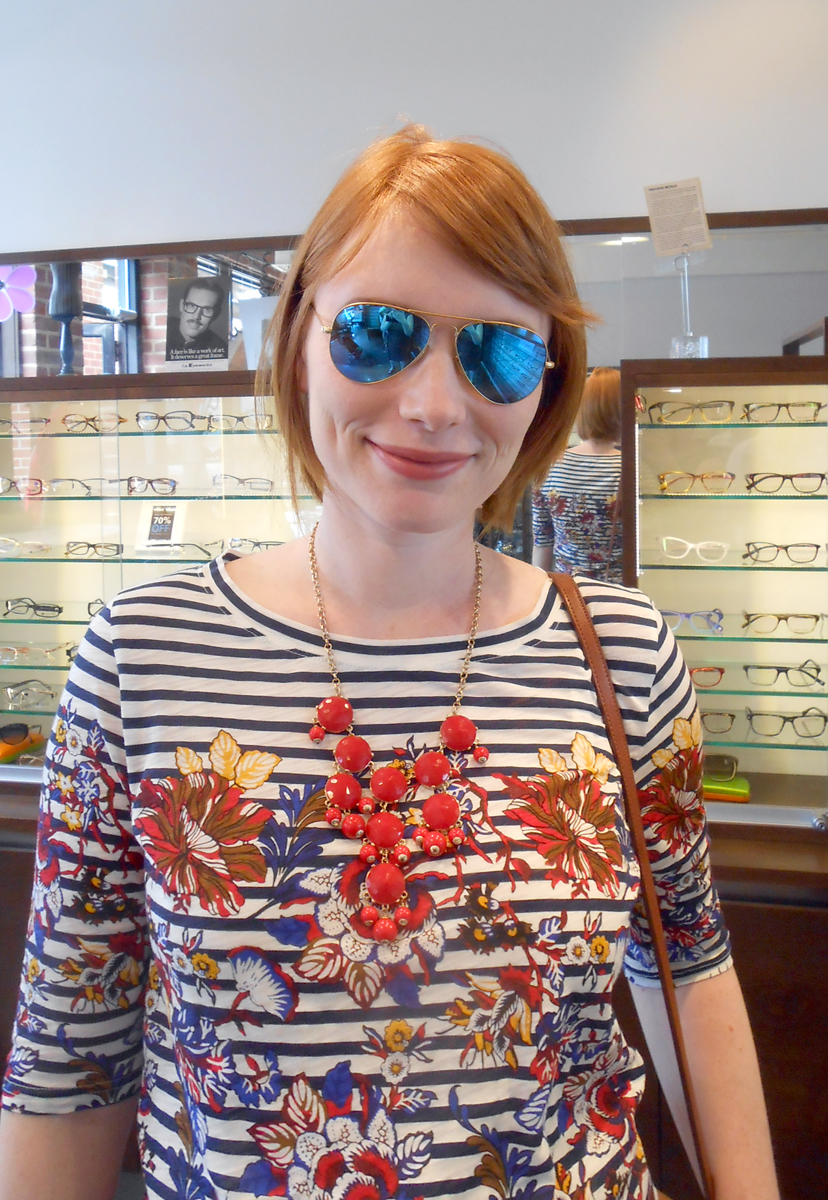 The general consensus was that this pair is a little too narrow for my face; the lovely Jenni will order a different size (I didn't know they came in different sizes!) for me to try. They're loud and kind of obnoxious, but I love these! Jenni also talked me into trying a pair of sparkly cat's-eye glasses. Surprise, surprise – I love these too! I don't think my poor, abused budget can stretch that far – for now, anyway – but I'm definitely keeping them in mind for later.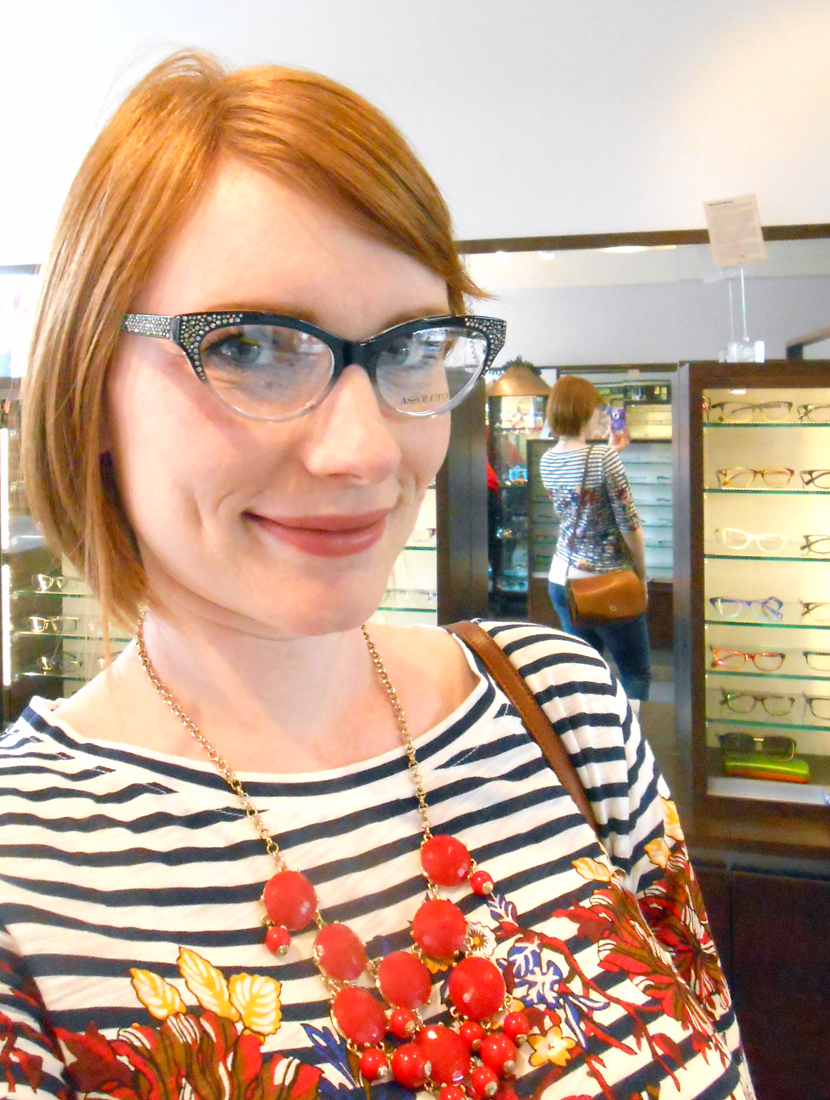 This outfit was one of the ones I really enjoyed this week, even though the skinny maternity jeans aren't working for me anymore. Quick pregnant lady rant: what is it with maternity pants that have that weird little elastic band as opposed to a full belly panel? As someone who has the (mis)fortune of carrying super low, these types of pants are a wardrobe nightmare – they dig in exactly where extra room is most needed. Ugh! Rant over.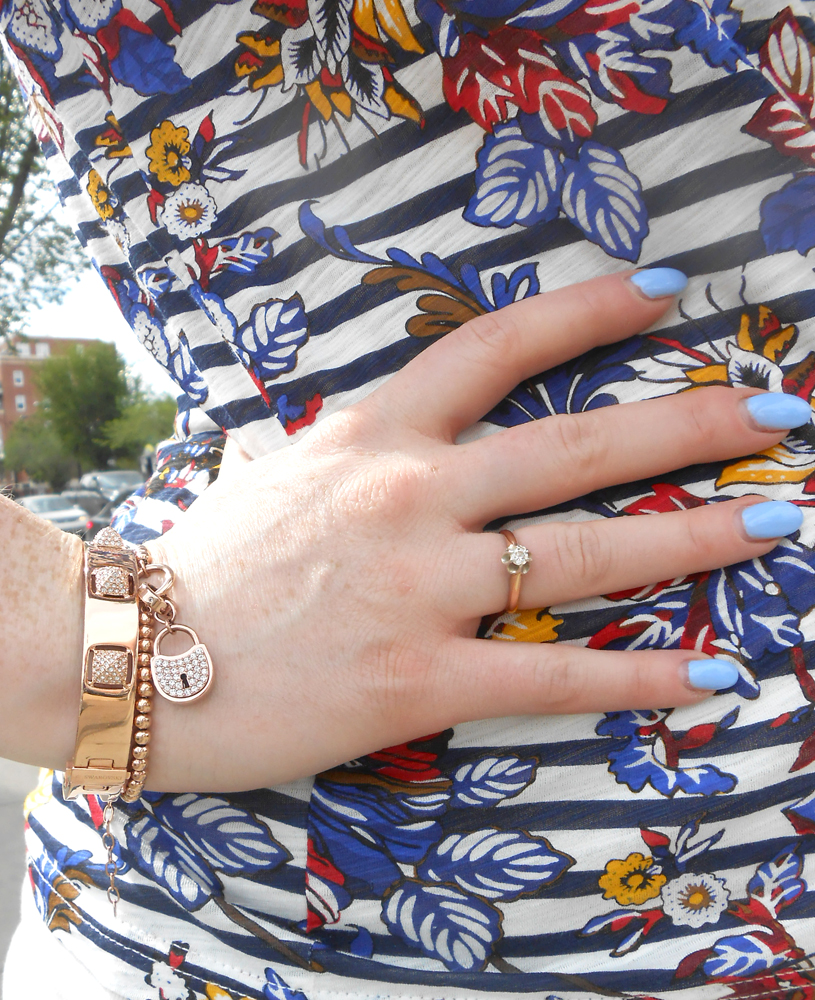 I especially loved the pop of red of the necklace against the awesome floral print of the top – it felt so summery and happy.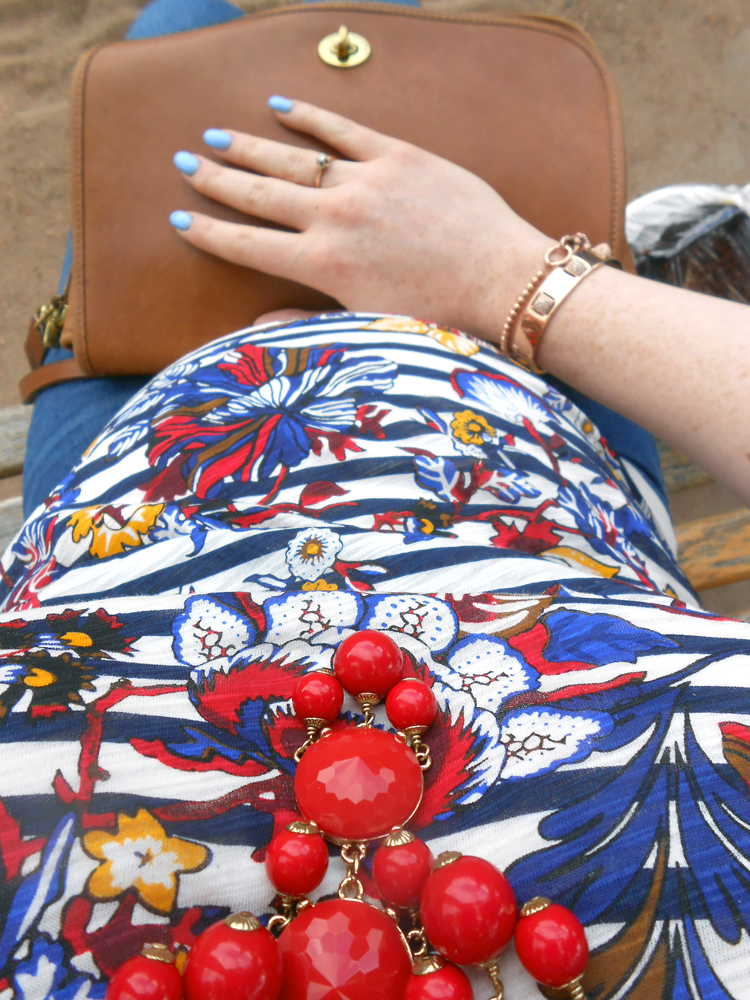 Monday, July 8, 2013: work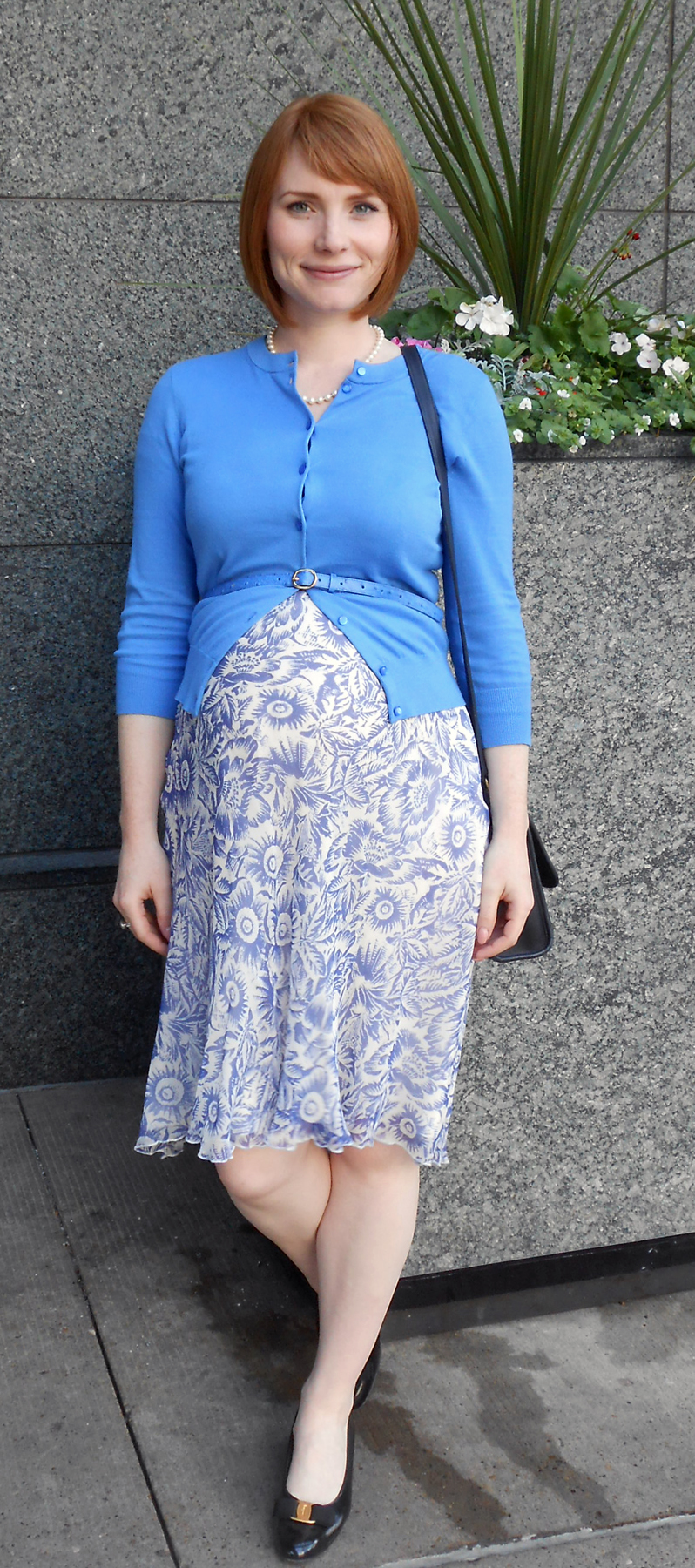 This outfit looked cuter in my head, but I think I'm still in denial about the size of my belly. It kind of throws off all of my proportions. Oh well. I'm still enjoying accessorizing this dress in different ways – not to mention wearing it on hotter days.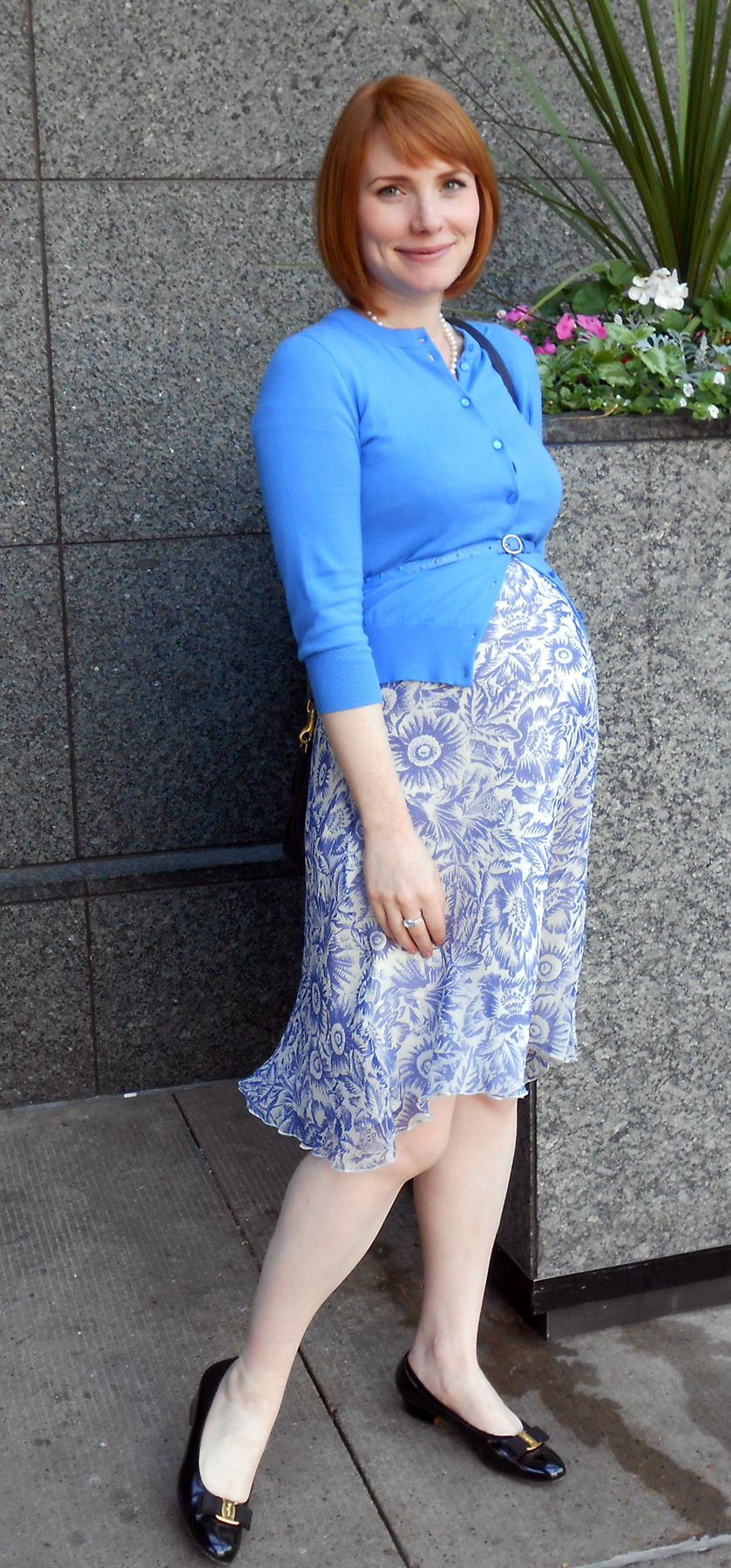 Tuesday, July 9, 2013: work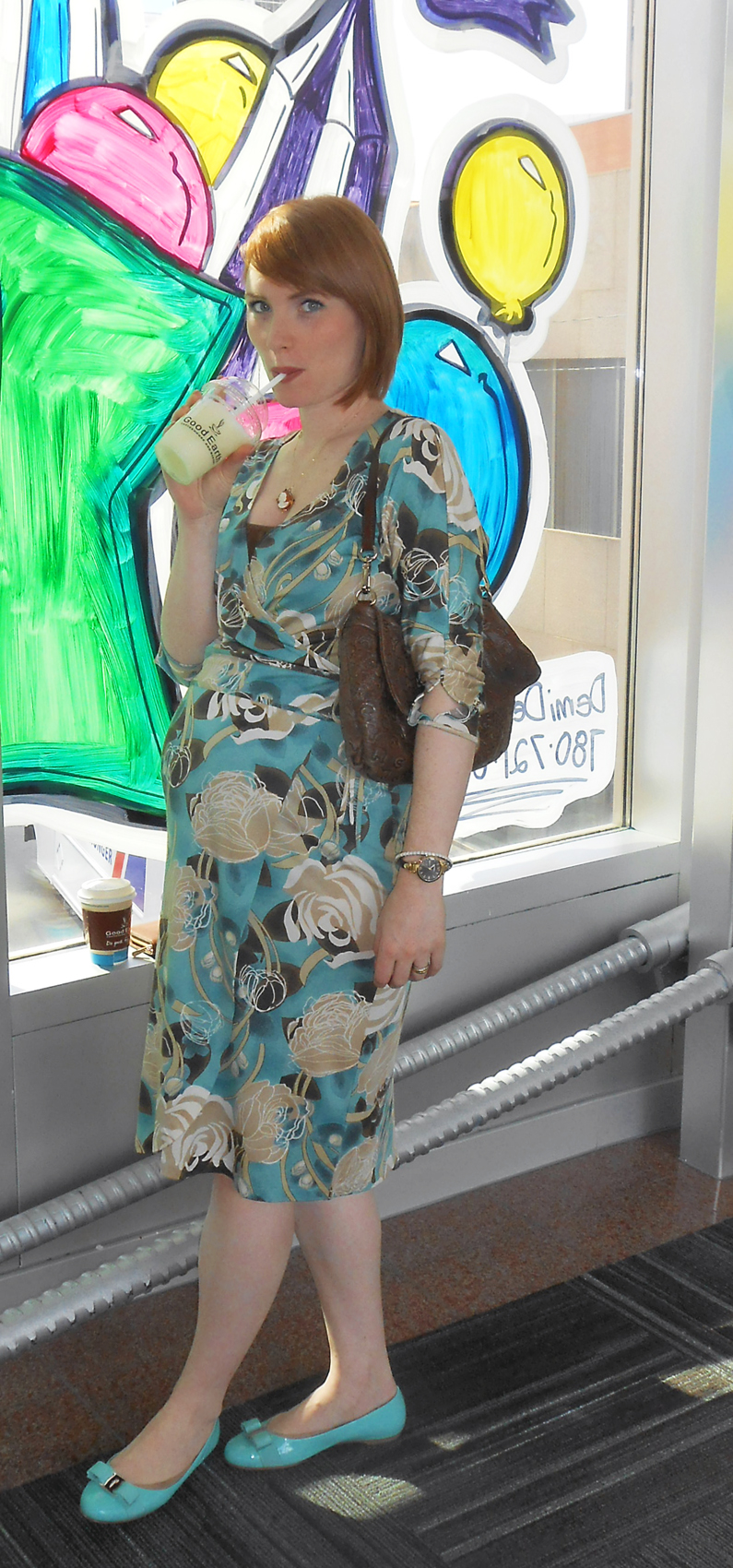 I love the colours of this dress, but I always end up feeling rather frumpy wearing it – something about the fit of it on me. On the plus side, I love all of my accessories, especially my new Fossil watch. The mix of yellow gold and tortoiseshell is fun; not to mention, it may help prevent visible wear and tear (I have heard mixed reviews for the quality of plating on Fossil watches). Behold: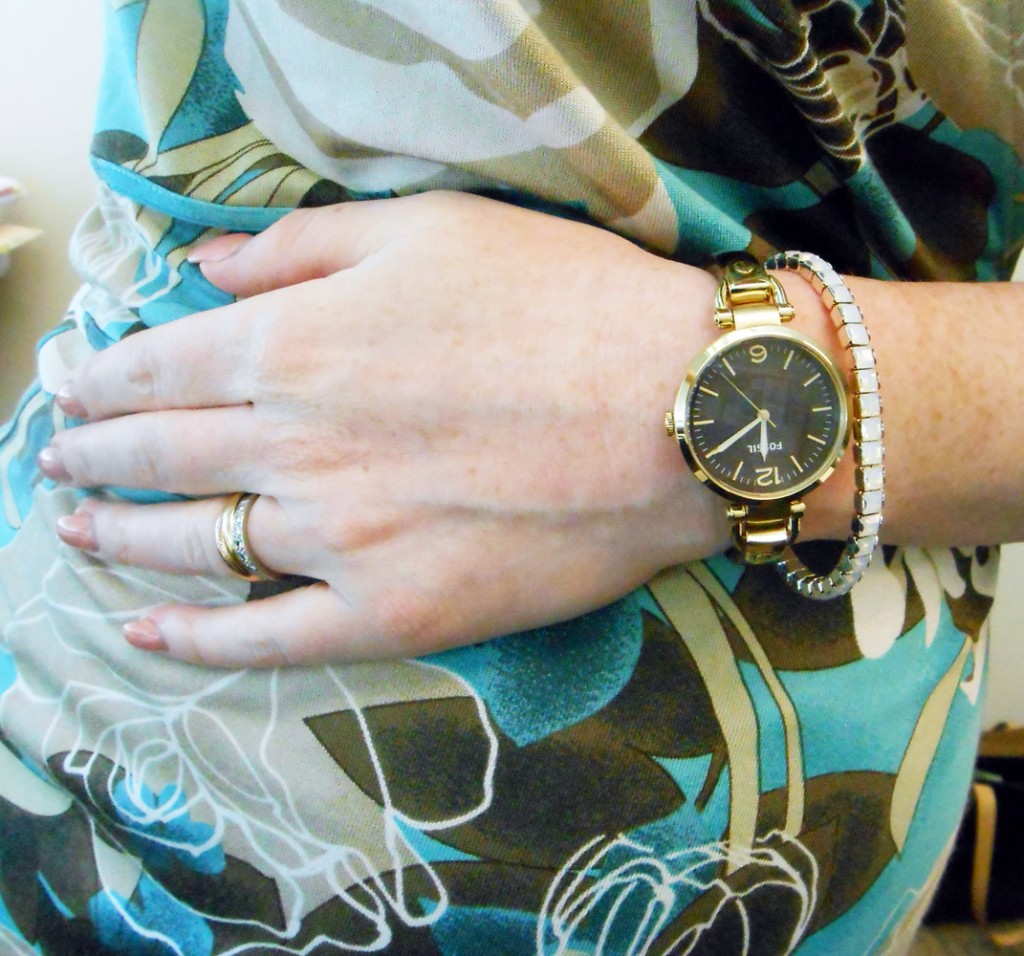 Wednesday, July 10, 2013: work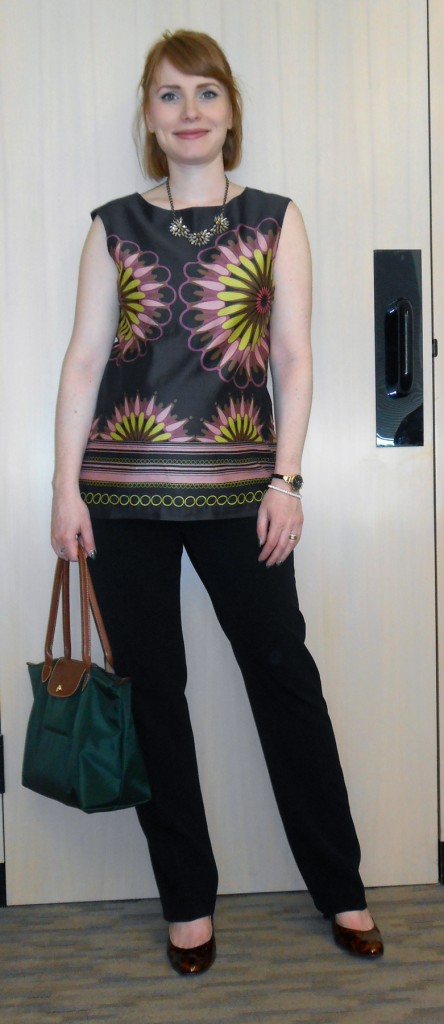 Ignore my constipated facial expression – I was having an epically bad morning, and looked about as grumpy as I felt – because I actually loved this outfit. Yep, I loved a "pants day" outfit! After getting fed up with my skinny jeans on the weekend, I decided it was time to bite the bullet and buy some new maternity jeans. Naturally, I didn't find any I liked … but I did find this pair of pants. Granted, they are still polyester, but a softer, nicer-feeling polyester; more importantly, the cut is really quite decent – a straight leg that falls nicely and makes me look almost, well, chic.
I am actually excited to wear these pants again. Pants day might go from "yawn" to "yay" very soon!

Now, if only I could magically transform Wednesdays from "woe" to "wow", I'd be set.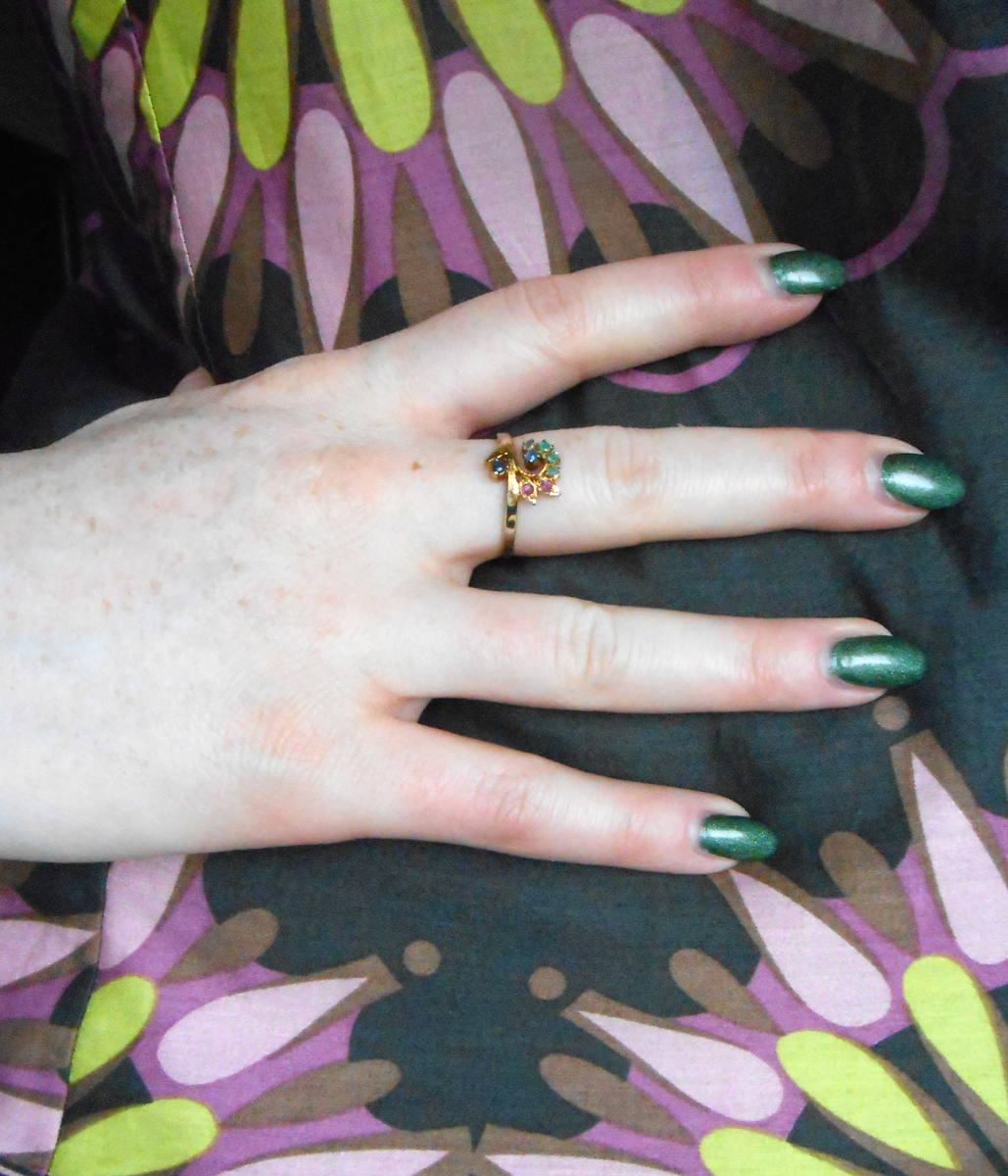 Thursday, July 11, 2013: work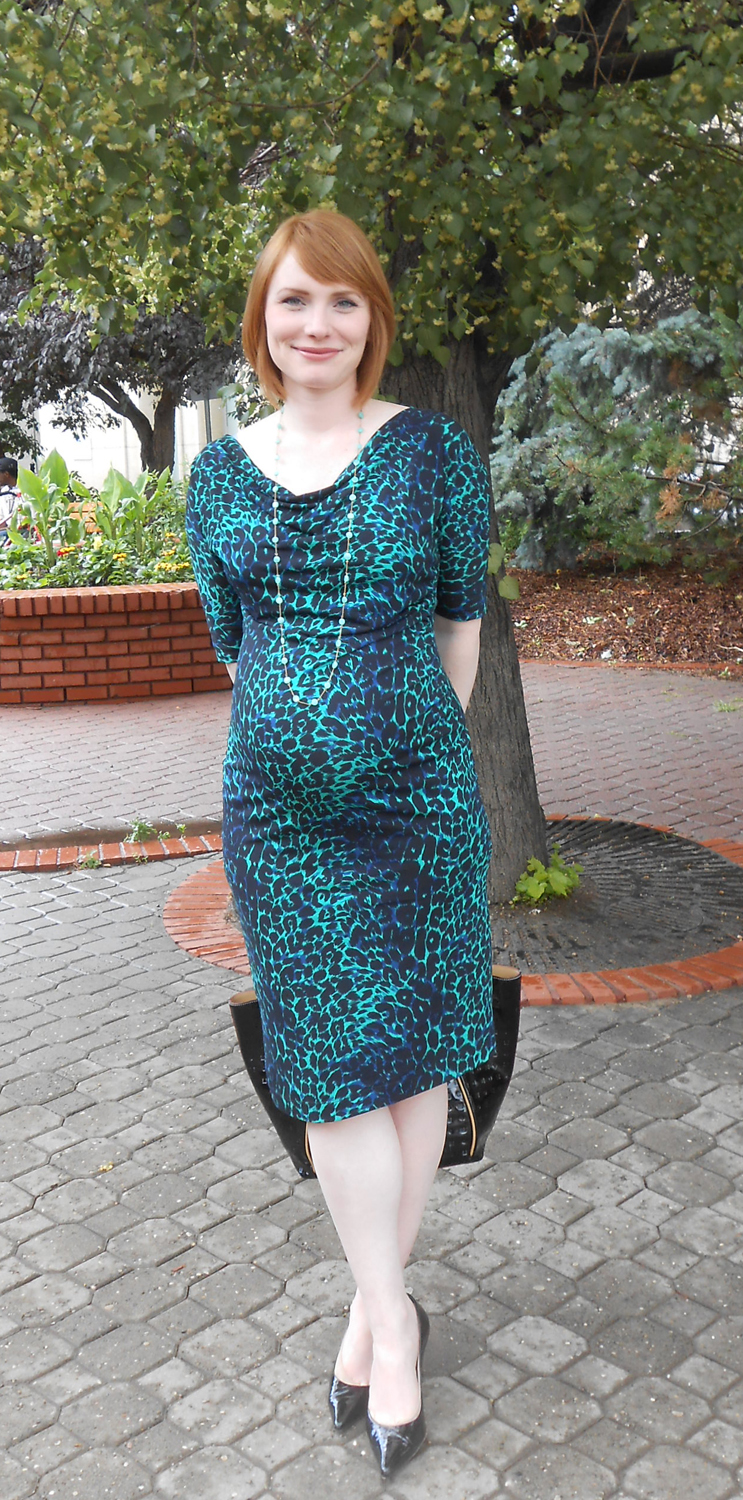 I was meeting a friend for lunch, so I got a chance to actually see daylight for a change. Naturally, it rained. But that didn't stop me from admiring the linden trees, which are now in bloom. They remind me of my childhood back in Romania.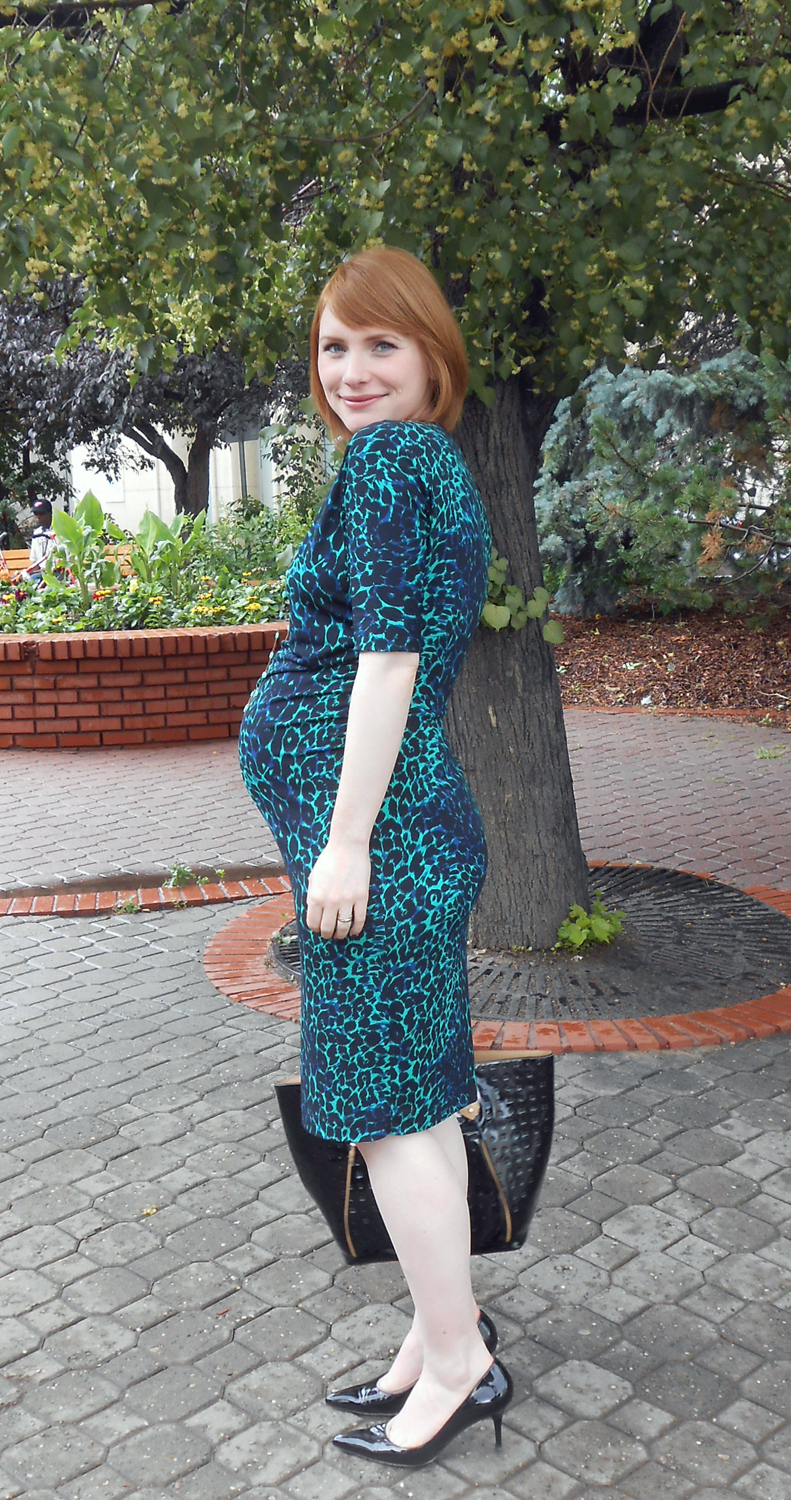 Friday, July 12, 2013: work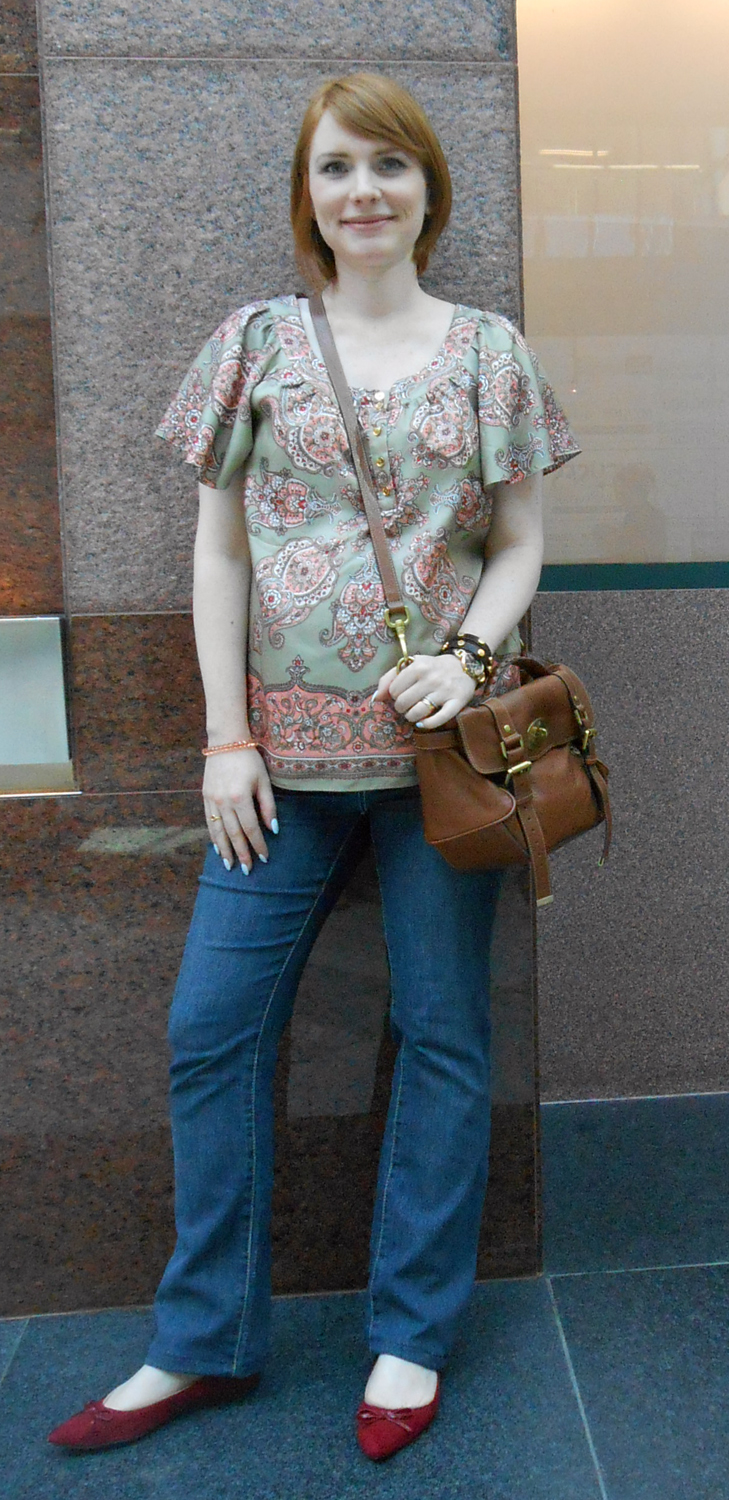 My biggest challenge these days is finding (non-maternity) tops that are long enough. This one still is … just barely. I'm down to one pair of jeans (not my favourite either), which will mean that being creative on Fridays will be that much harder from now on. Only 8 more weeks to go, though!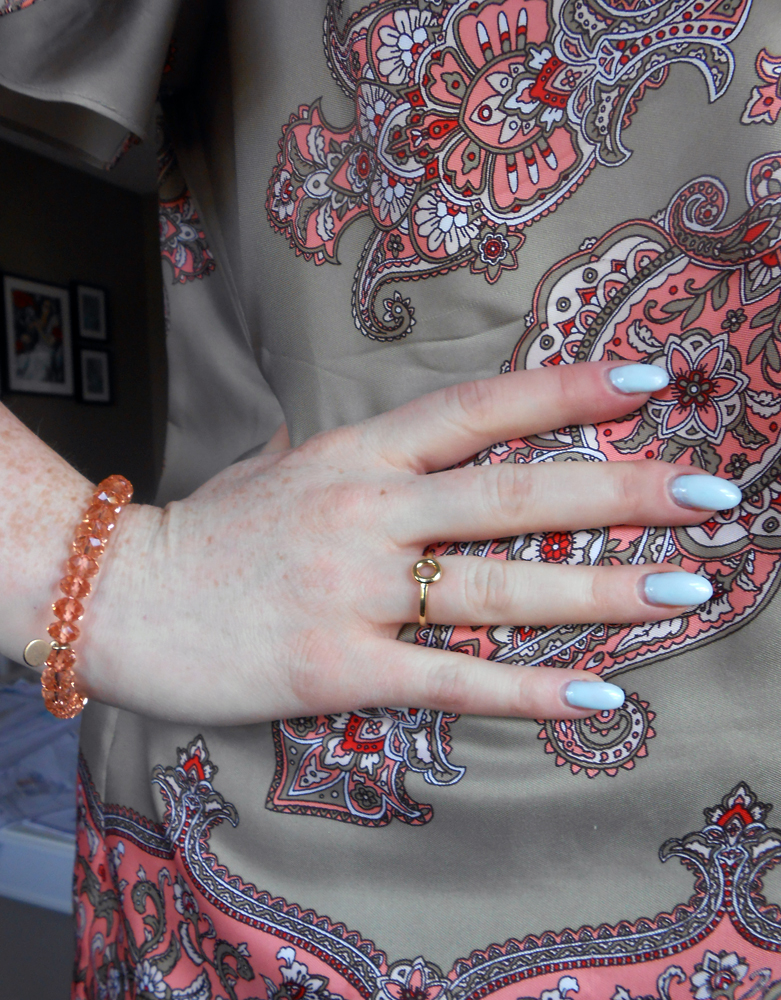 Comments are still down, but feel free to connect on Twitter or Facebook!