Friday, June 28, 2013: dinner a deux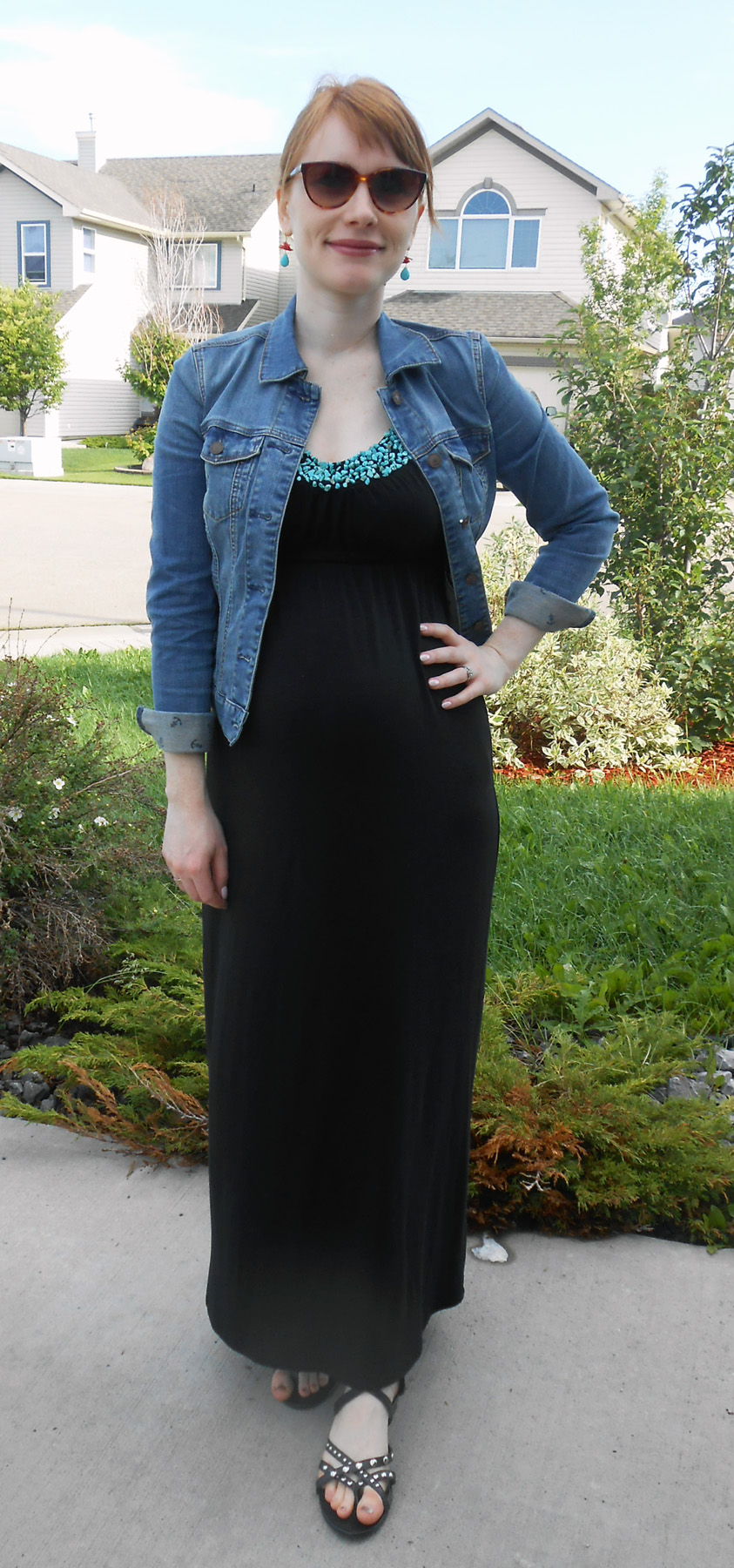 Ok, I'll admit, this was kind of a lazy outfit. In my defence, we were looking for a relaxing evening not necessarily a romantic one. With temperatures already climbing in the high 20s, comfort definitely trumped romance this time.

Saturday, June 29, 2013: family outing on Whyte Ave + dinner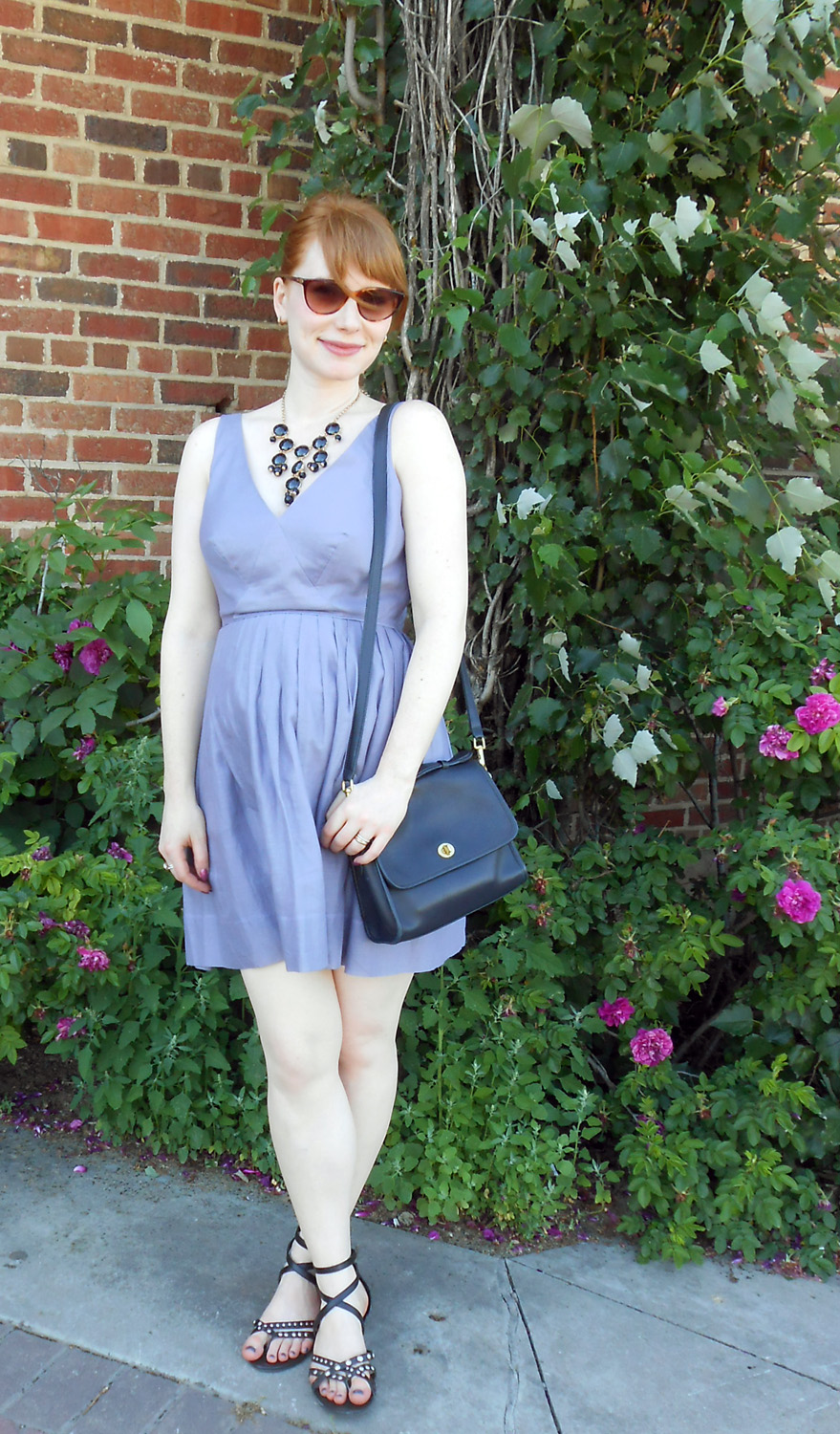 I made a little bit more of an effort on Saturday, when the whole family spent the afternoon on Whyte Avenue. Naturally, the excursion involved a pit stop at Block 1912 for a much-needed gelato break. I also paid a visit to Red Pony, one of my regular consignment haunts. If you haven't checked it out yet, you must – they often get some real gems, always very reasonably priced. The back room contains all the clearance stuff, 50% off. I also stopped in to C'Est Cera, who is having its 50-60-70% off sale; if you're looking for Sweet Chemise dresses (and you should definitely check them out), this is a good place to start.
I may have dallied a little too long, because I just missed out on a visit to my friend Jenni, who works at The Eye Care Group (alas, only open till 5 on Saturdays). Since I've been pondering updating my sunglasses collection – currently consisting of one pair of Guccis I found for $12 at Winners – with a new pair of Ray-Bans, it's probably for the better that I didn't make it to the store on time … temptation averted for now. Sadly, we also missed out on dinner at The Upper Crust, which was inexplicably closed. Tired and hungry, we retreated to the south side and a Boston Pizza dinner. Win some, lose some.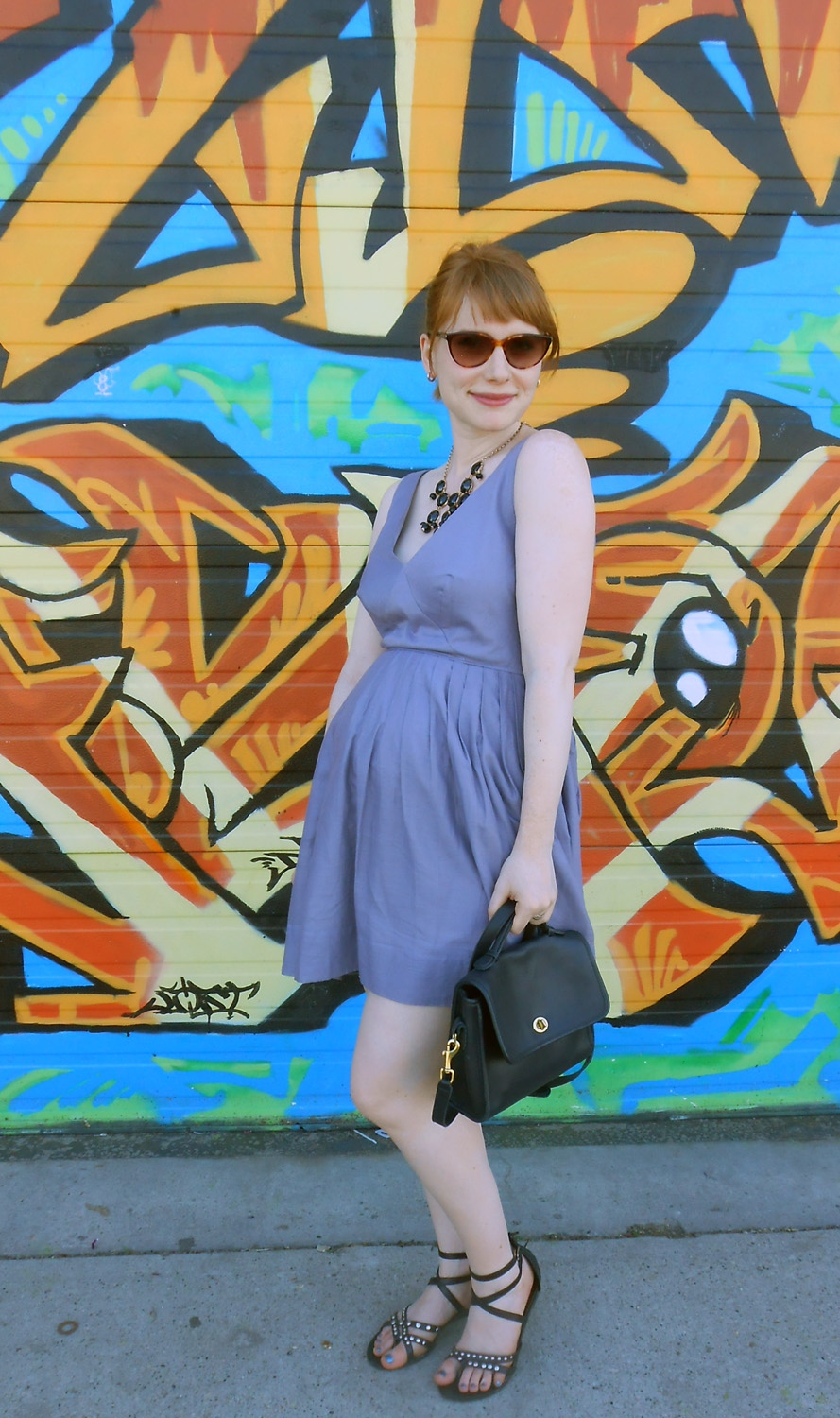 Tuesday, July 2, 2013: work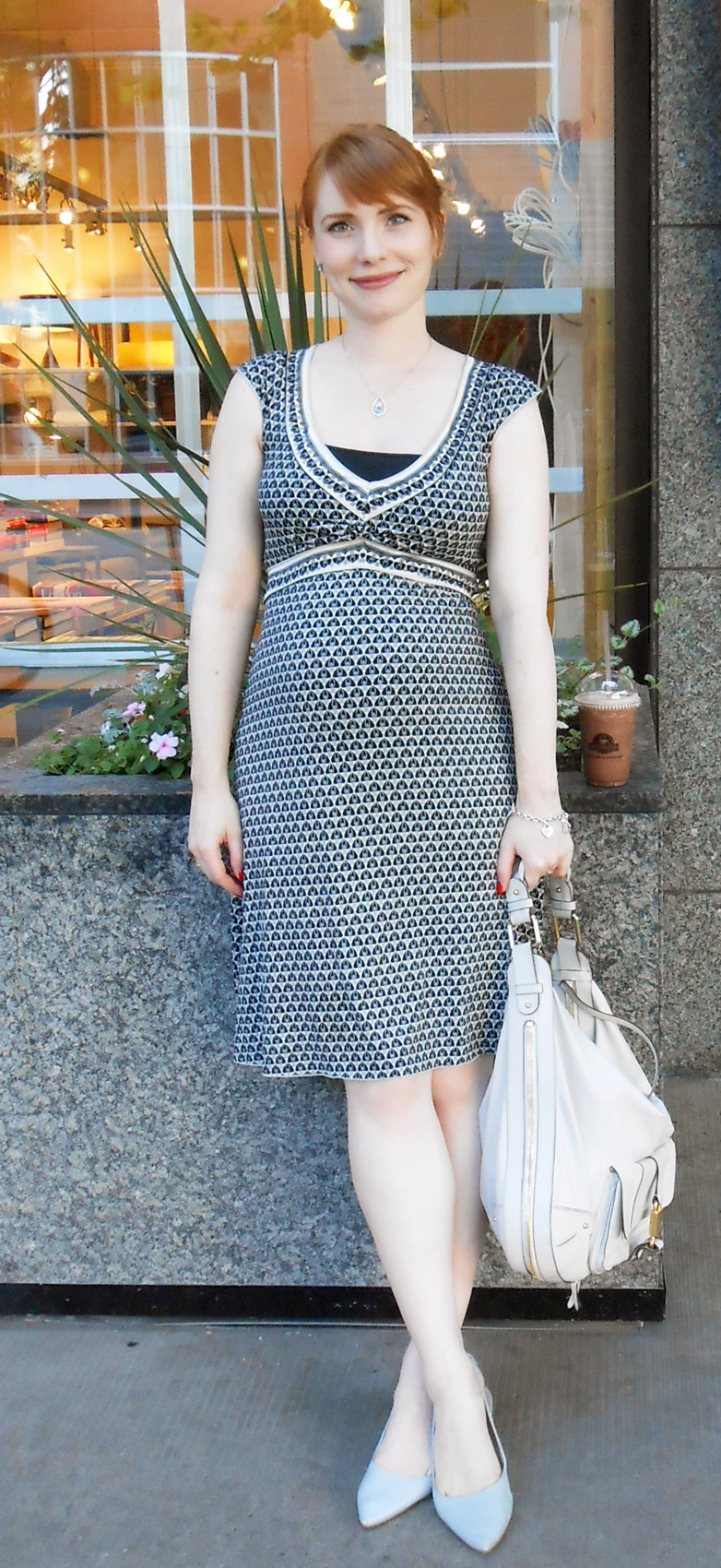 I've had this dress forever, and it's been sitting in my "purge" pile for the better part of 2 years; it's too large (normally) and doesn't do much for my (usual) figure. It's great maternity wear, though, which is why it's stuck around. I'll admit it, I had bigger plans for this outfit, but the heatwave put an end to them. Even in an air-conditioned office, there was no way I could bear wearing anything else (like a jacket).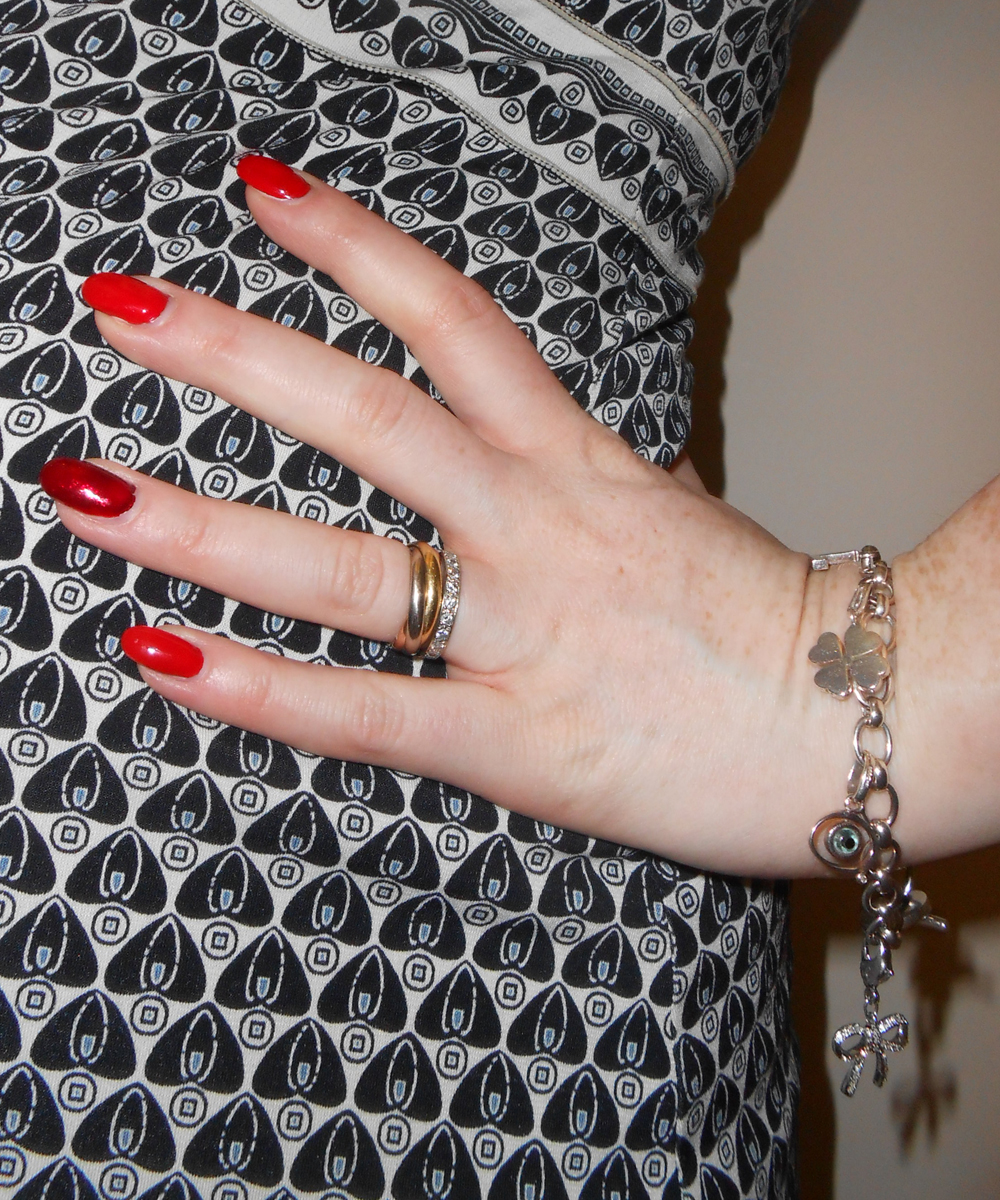 Wednesday, July 3, 2013: work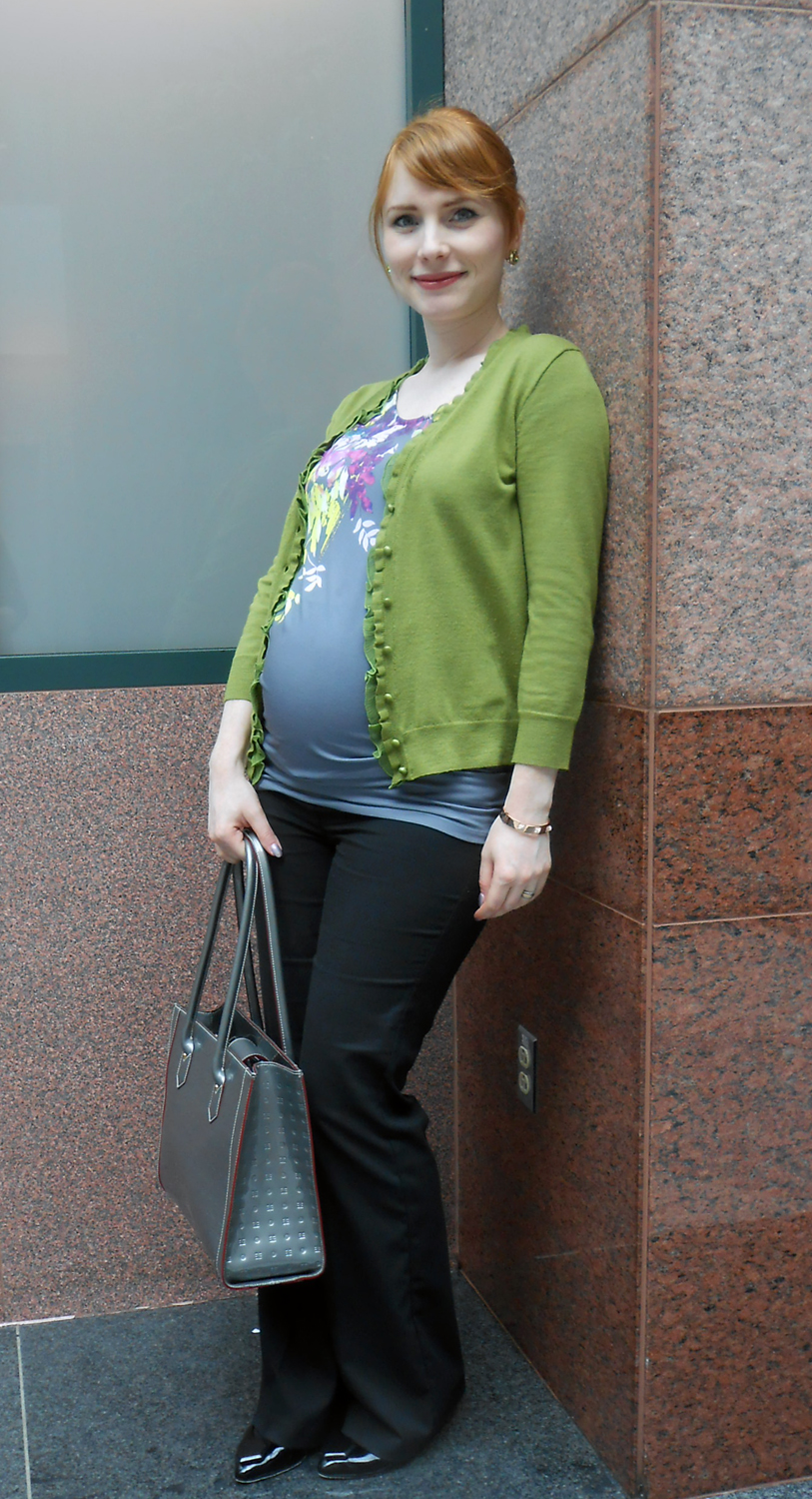 Pants, maternity; t-shirt, Liz Lange for Target maternity; cardigan, J. Crew (consignment); shoes, Kenneth Cole (thrift); bag, Arcadia
It was pants day at the office … yawn. But it was also my husband's and my 3rd wedding anniversary, and I got something very pretty and shiny to play with: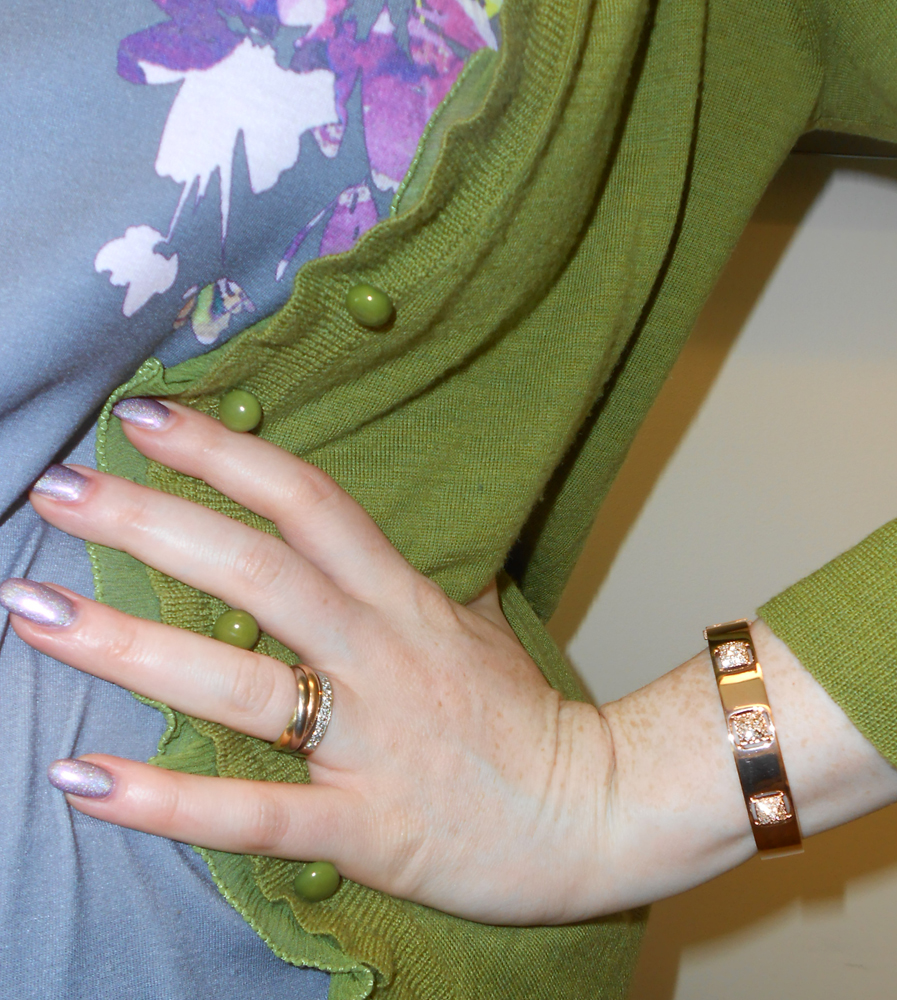 I added an extra bit of sparkle with my vintage watermelon rhinestone earrings.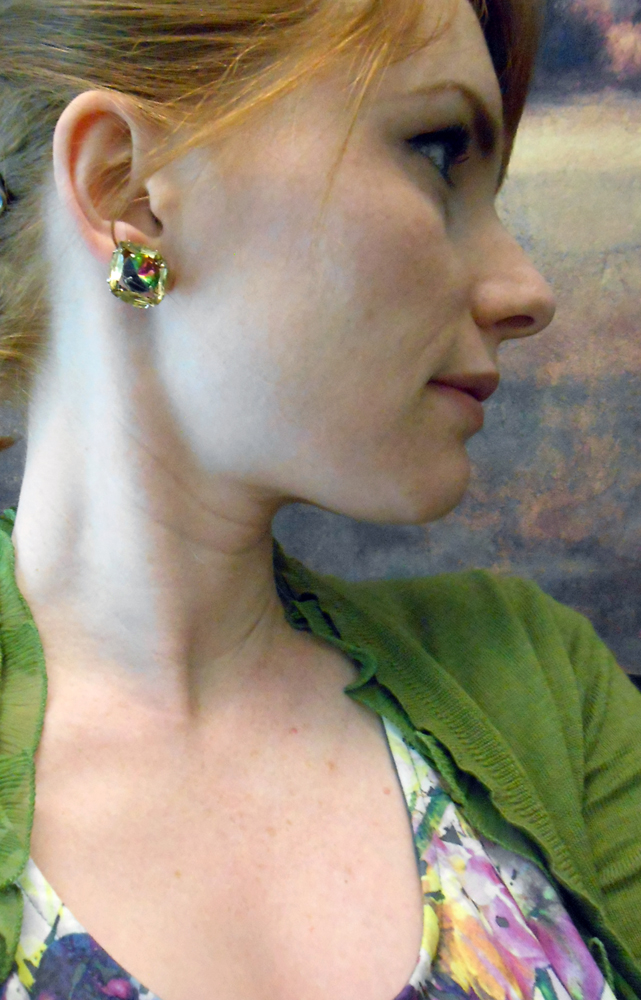 Thursday, July 4, 2013: work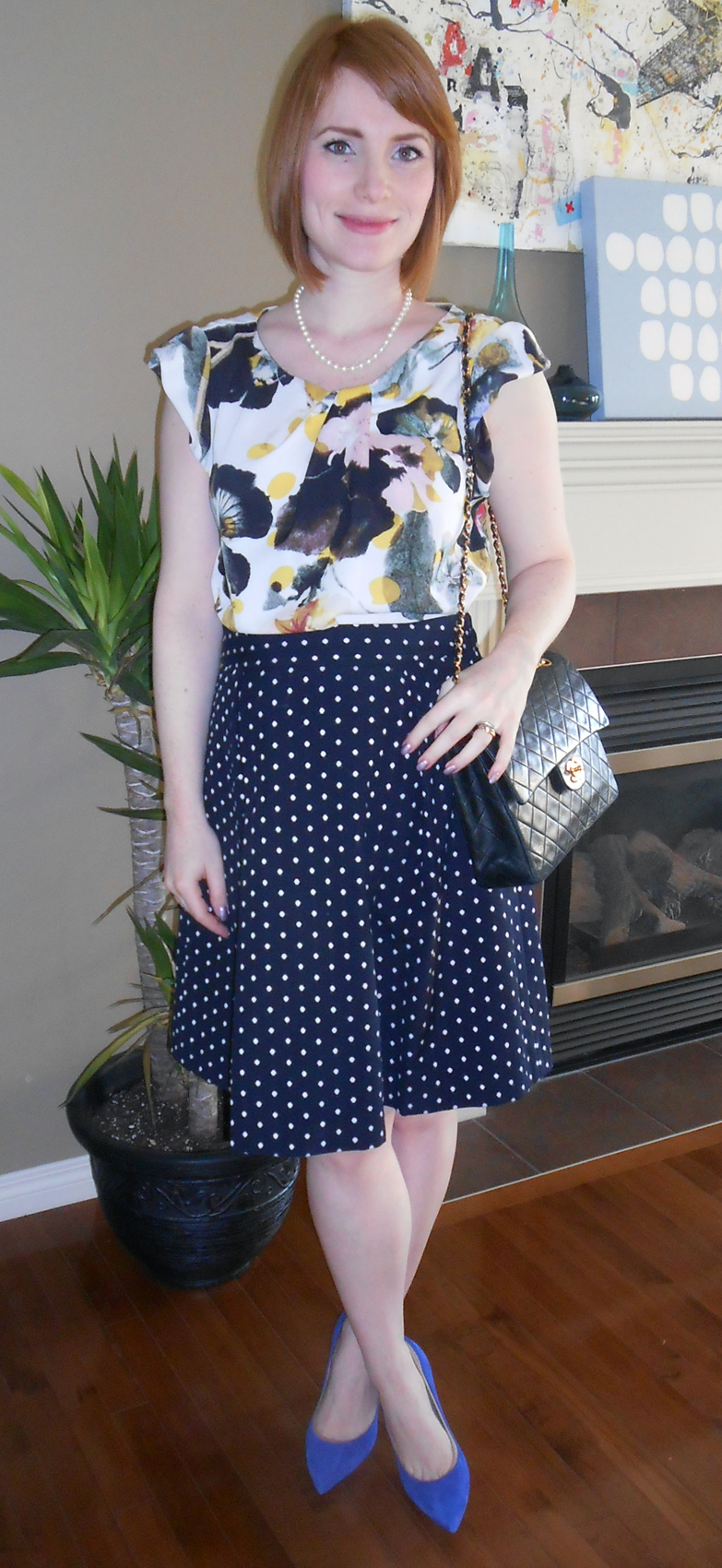 One more time, with feeling! I think this polka dot skirt has done its tour of duty in the maternity wardrobe, and it's time to retire it. But not before I pair it with my favourite colour of the moment – cobalt/lapis blue. This was my personal favourite outfit of the last few weeks.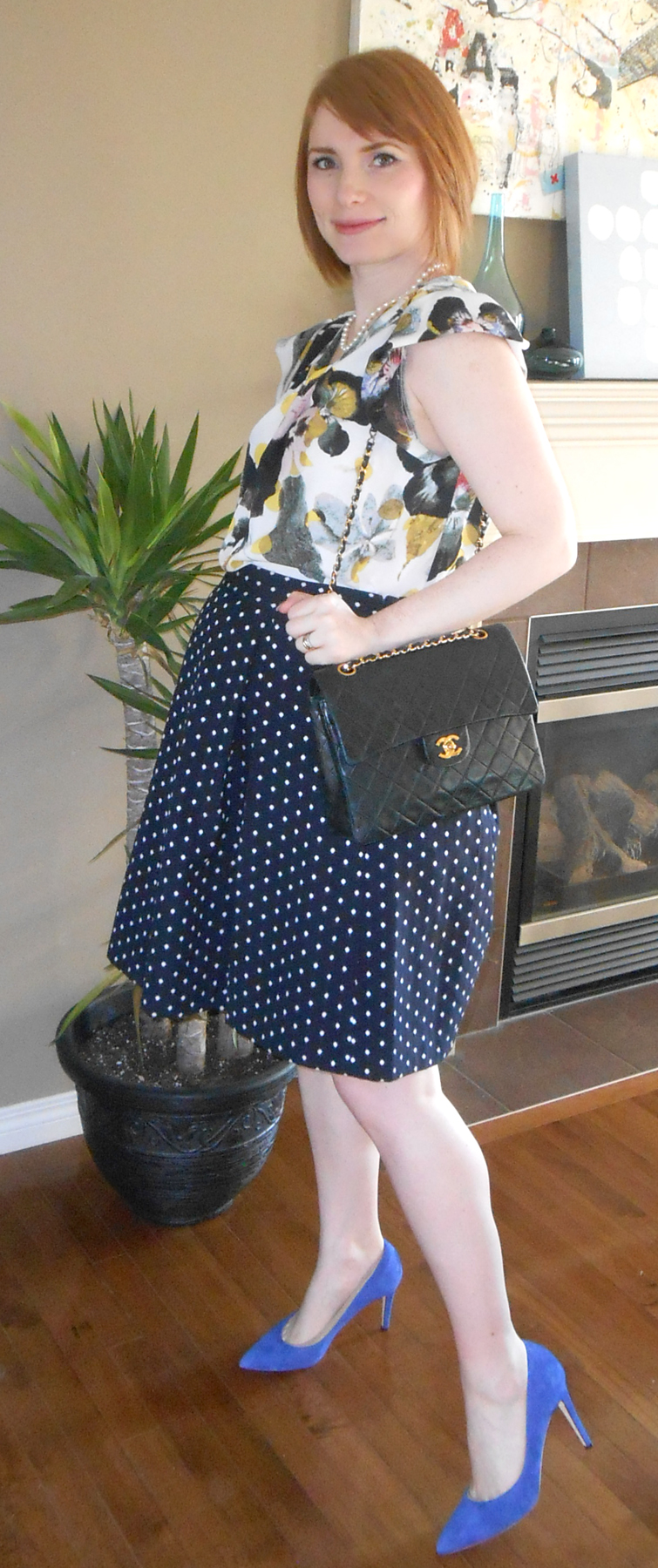 Friday, July 5, 2013: work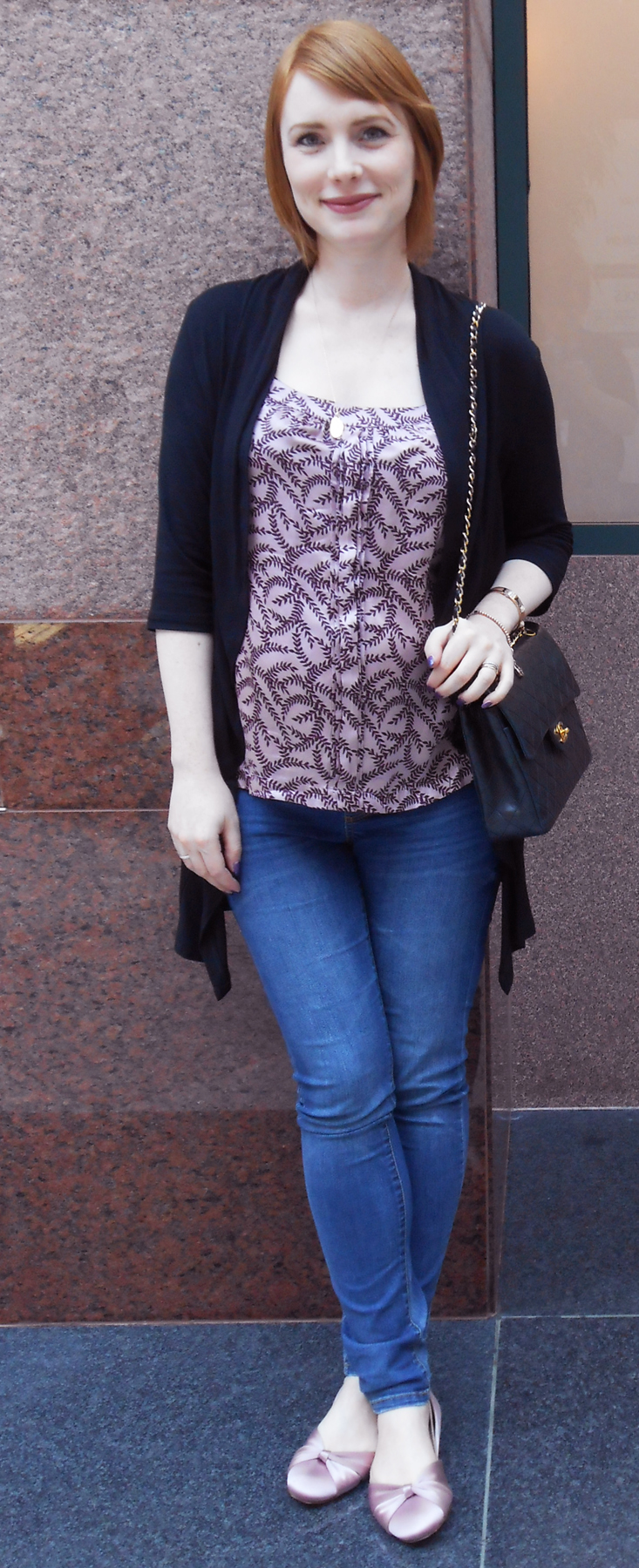 Skinny jeans + a long cardigan are such an easy, breezy, comfortable combo. This is especially true in the summer, when I can't stand wearing blazers (too hot and constricting). A long necklace matches the casual vibe, while still dressing up the outfit.
Note: For the time being, I disabled comments due to the large amount of spam that recently starting showing up in my comment inbox, which is now completely disproportionate to the number of actual comments. To those who are regular readers/commenters, as always I appreciate your feedback and thoughts, and I hope to hear from you soon – and feel free to send me a shout on Twitter or Facebook.