I love making lists. In fact, I have several notebooks devoted to different kinds of lists – and if that's wrong, I don't wanna be right. One of the most fun kinds is the shopping "dream list".
The shopping dream list is part fantasy, part pragmatism. I like to keep track of things I want and could feasibly buy because it helps to keep me focused on what's most important to me; kind of a big deal when you're as easily distracted by pretty things as I am. If a purchase involves a significant chunk of change – say, over $100 – it had better be on my dream list for at least the previous month or two. Otherwise, there is a strong possibility that it will end up being merely an impulse buy to be regretted down the line. [So, you could say that my dream list is my version of "sleeping on it".]
I also like to keep track of things I want and probably will never buy because, well … you never know. A once-in-a-lifetime deal might come up, and it will be doubly sweet for affording me the chance to cross a big ticket item off my shopping dream list. If they're not too fantastical, some of my dream list items also make for great "special occasion" presents (anniversaries, birthdays, special milestones, etc.).
I periodically review my shopping dream list to keep it up to date, not only adding new items but, more importantly, deleting things I've re-considered in the meantime. To give you a sense of the process, over the last year or so, I have deleted almost as many things off my shopping dream list as items bought off of it. I typically only add things that are likely to cost a fair bit (as I mentioned, $100 is generally a good benchmark), or are likely to be hard to find. I add the latter mostly so I don't forget about wardrobe "gaps" that need to be addressed.
Here's a peek at my current shopping dream list:
Green bag
I had a green Kate Spade bag, but gave it to my mom last year; I wasn't crazy about the shape, and didn't seem to get a lot of wear out of it as a result. Since then, I have become somewhat obsessed with green (as an accessory colour, in particular), and miss having a bag in that colour. I don't have a specific type/brand in mind, which makes my search more difficult; this is one of those "I'll know it when I see it" situations. Lately, I have been thinking about "borrowing" back the Kate Spade from my mom, who never seems to use it, at least as a short-term solution.
Plaid pleated skirt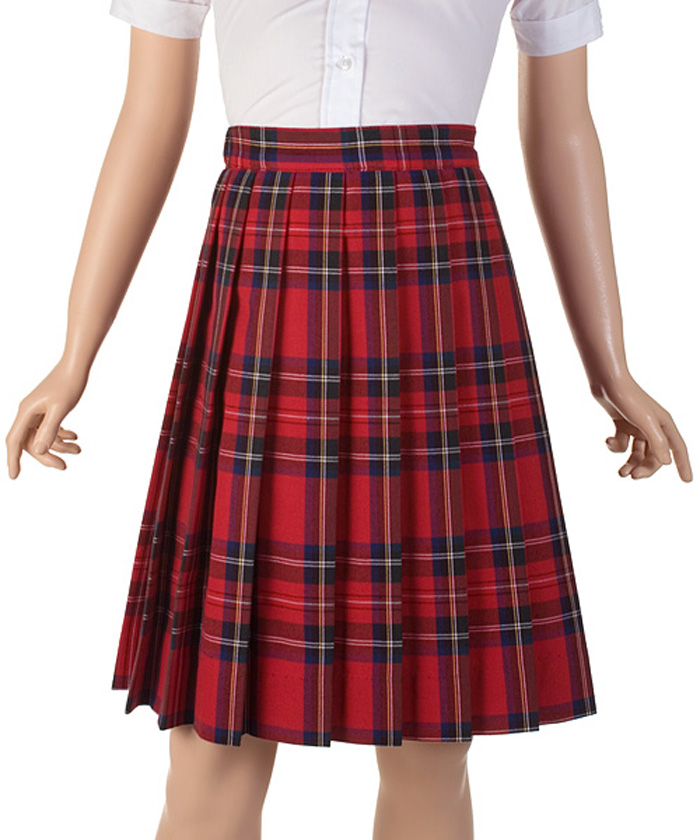 This is on the list because I love all things preppy, and this is about as old-school (literally) as it gets. I even have a vintage YSL Rive Gauche skirt picked out on Etsy, though I am holding off on buying it (or anything else in this category) until I am able to figure out what my post-baby figure will look like.
Crewneck sweaters (in yellow, green, cream, purple)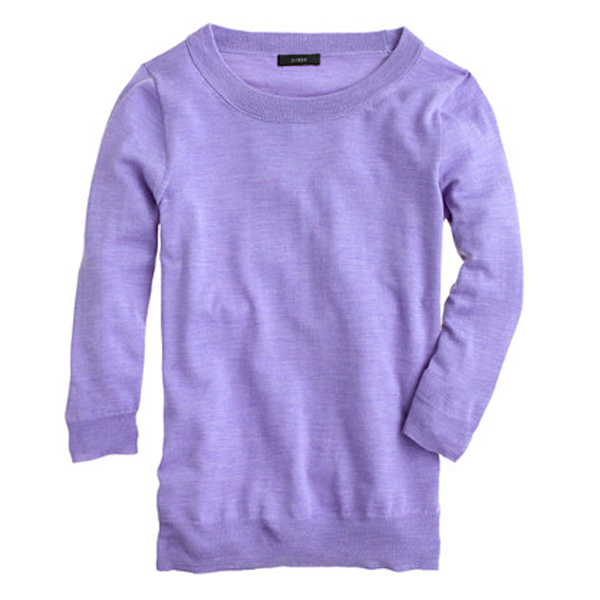 I love crew-neck sweaters for layering over collared shirts and blouses. Good quality, flattering crew-neck sweaters (ideally in lightweight knits) have been surprising hard to find for me, at least at a price I am willing to pay. I did pick up a black version I love at the J. Crew Factory store during a big clearance sale, but they didn't have other colours I wanted (based on my wardrobe needs). I'm basically hoping to find more of the same, either second-hand or on huge clearance.

Crewneck cardigans (cream, navy, leopard print)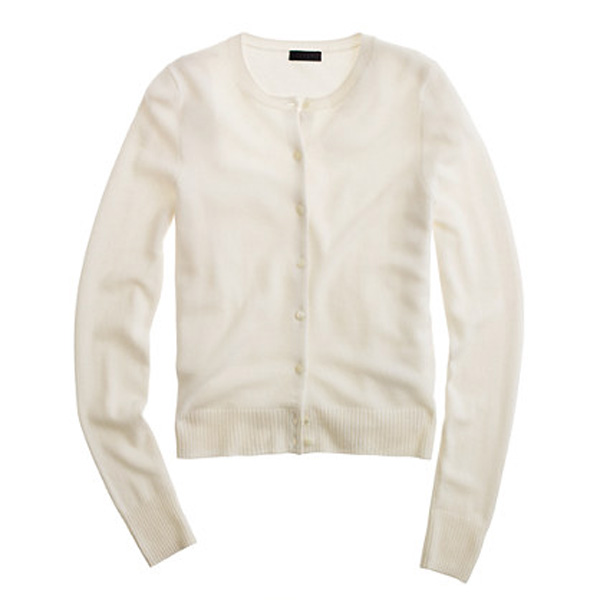 Same dealio as with the sweaters – wardrobe staples that are hard to find. You might think that after my recent cardigan-buying extravaganza, I have enough – but not so. I wear cardigans at work in preference over jackets or blazers, and they come in awfully handy all year round (but especially winter). So, basically, I can never have enough. As far as crew-neck versions go, I have exhaustive specifications for what I need, which would be too boring to detail here, but they basically add up to the cardigan equivalent of a unicorn.
Cartier Love bracelet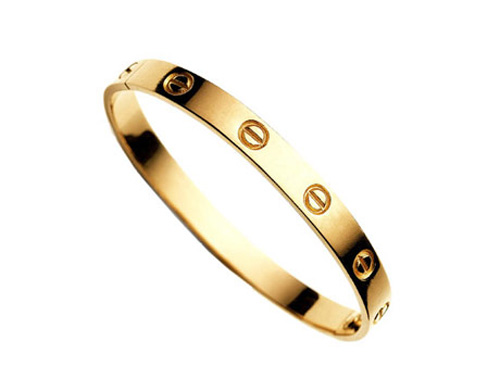 You can probably guess which category this falls under. I have loved this bracelet (from afar, naturally) for a long time, and even the fact that all the Kardashian-level celebs out there seem to wear it has not diminished its attraction. If it's still on my list when I turn 40, it may be something I actually consider getting.
Ferragamo Vara/Lillaz flats (nude/beige, cognac, oxblood)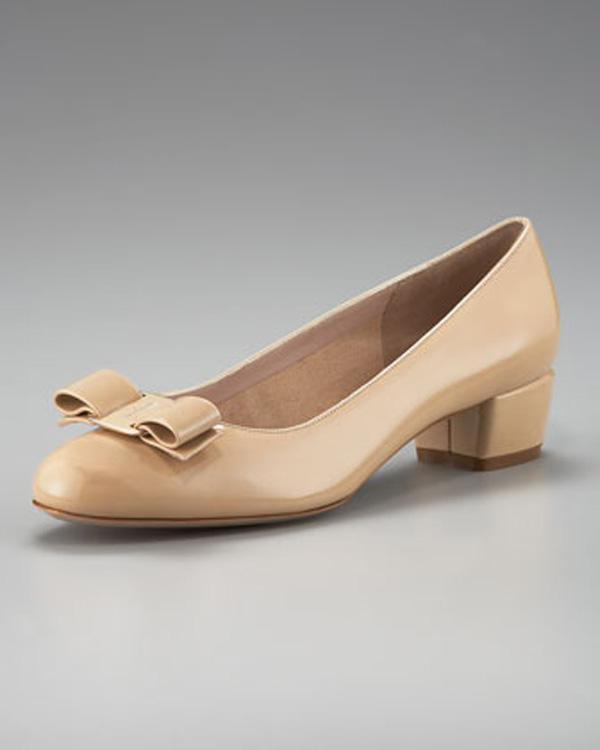 Yes, I have 3 pairs of the same shoes on my shopping dream list (and already own 2 other pairs). Yes, this is entirely necessary. At this point, I would be completely happy if I wore no other flats but Ferragamos, ever again. In fact, I might adopt that as an actual wardrobe objective. If I stalk eBay/Etsy patiently enough, I expect that it could be an objective that wouldn't cost an obscene amount of money to accomplish.
Vintage needlepoint embroidered bag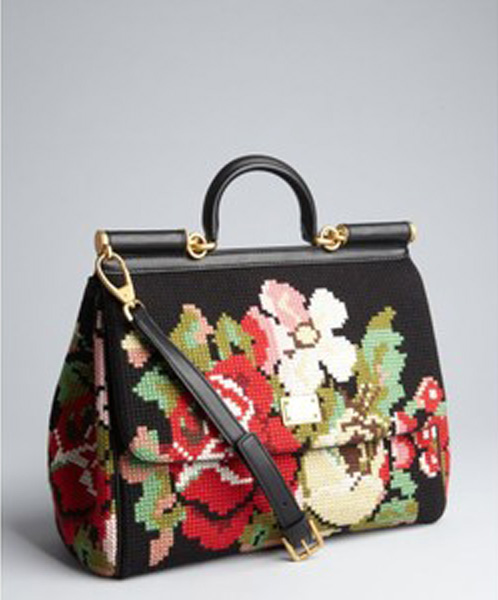 I am a little bit obsessed with all things that look like grandma's old couch, so it should be no surprise that I adore the Dolce & Gabbana Miss Sicily embroidered handbags that were released a few years ago. With that said, even my obsession does not blind me to the fact that these bags don't exactly scream "everyday use", and cost $2K+. So, instead, I'm looking to go with the original inspiration: a vintage, old-lady, embroidered bag.

Valentino Rockstud pumps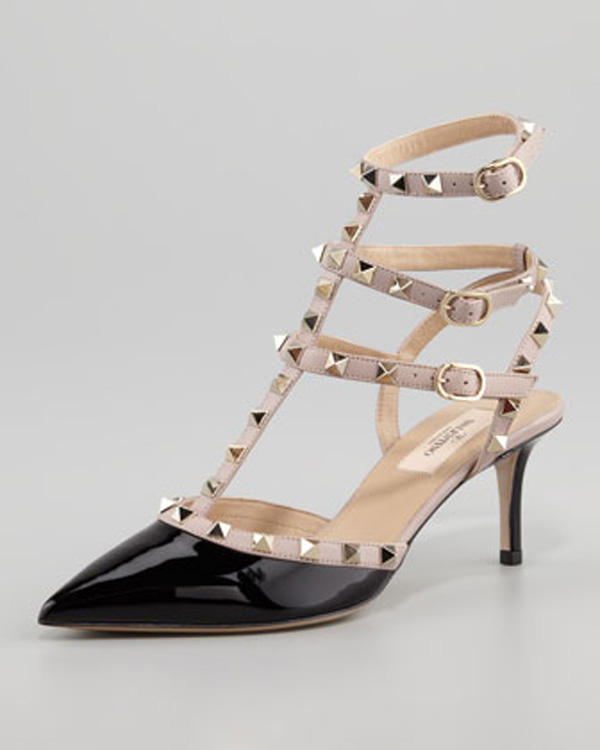 I know … another style blogger cliche. These shoes are ubiquitous if you're a regular blog reader, but I don't care – they are bee's knees in my book. Considering they retail for around $900, you can be sure that they will never be one of my casual purchases. In fact, I'm pretty certain that – possible lottery jackpot win aside – I will never consider $900 shoes to be a reasonable purchase. I have these on my dream list in the hope that I will one day find them second-hand at a deep (deep) discount.
Vintage Schiaparelli earrings/necklace set
As I've mentioned before, I love watermelon rhinestones. Some of the most stunning examples I've seen are Schiaparelli pieces, which have the added bonus of representing a little piece of fashion history. I just haven't convinced myself yet that spending $100+ on some costume earrings is a good idea.
J. Crew Edie bag in red (or similar style)
I have the Edie in light blue, and love the structured shape. I haven't had a red bag in a while, and kind of miss having one. Since the Edie represents one of my favourite bag styles, I think it would be a great addition in red. For some reason, red Edie bags sell for ridiculous amounts on eBay, and are not currently available in stores, so I will have to bide my time. Alternately, I may go with a similar style in another brand – time will tell.

And there you have it – my current shopping dream list. Have you ever thought about putting one together and, if so, what would be on it? The comments are open again, so share away!