Don't forget to enter the Birthday Celebration Giveaway (click here for details)!
This was a week of highs and lows, and I'm feeling mostly relieved now that it's over – even if it means I have to wait a whole year for another birthday (and the excuse for a birthday extravaganza).
Saturday, July 26, 2013: garage sale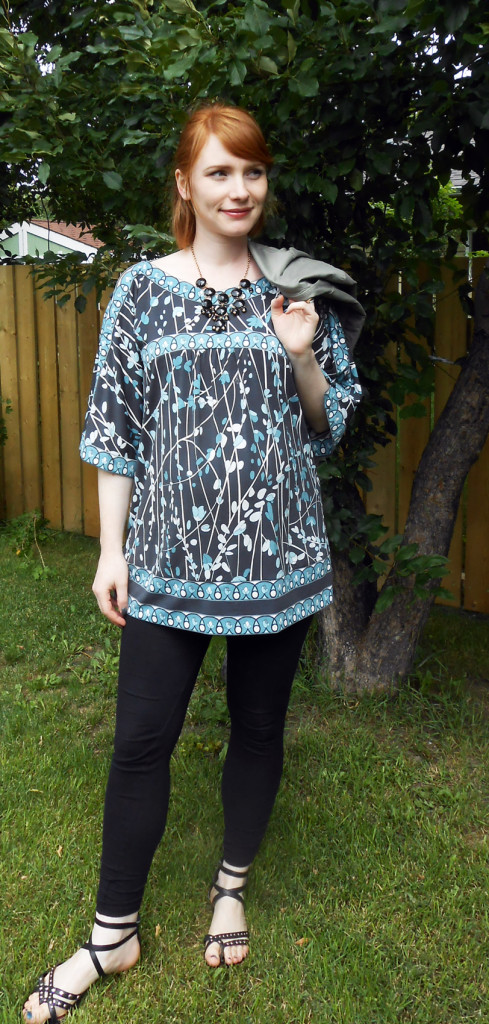 I love garage sales – bargain-hunting gets my adrenaline going. Hosting one is also fun if you have a partner-in-crime to chat away the slow periods; you're sitting around outside on a warm day with a cool drinking, technically "working" but basically just chilling – what's not to like? Except, of course, when the weather doesn't cooperate. Not long after I snapped the obligatory post pic, it started to rain. You can bet that I was wearing socks (with Crocs, quelle horreur!) and a fleecy jacket in no time flat! My fear of summer colds outweighs style considerations any day of the week.
Hey, at least I had a cute mani: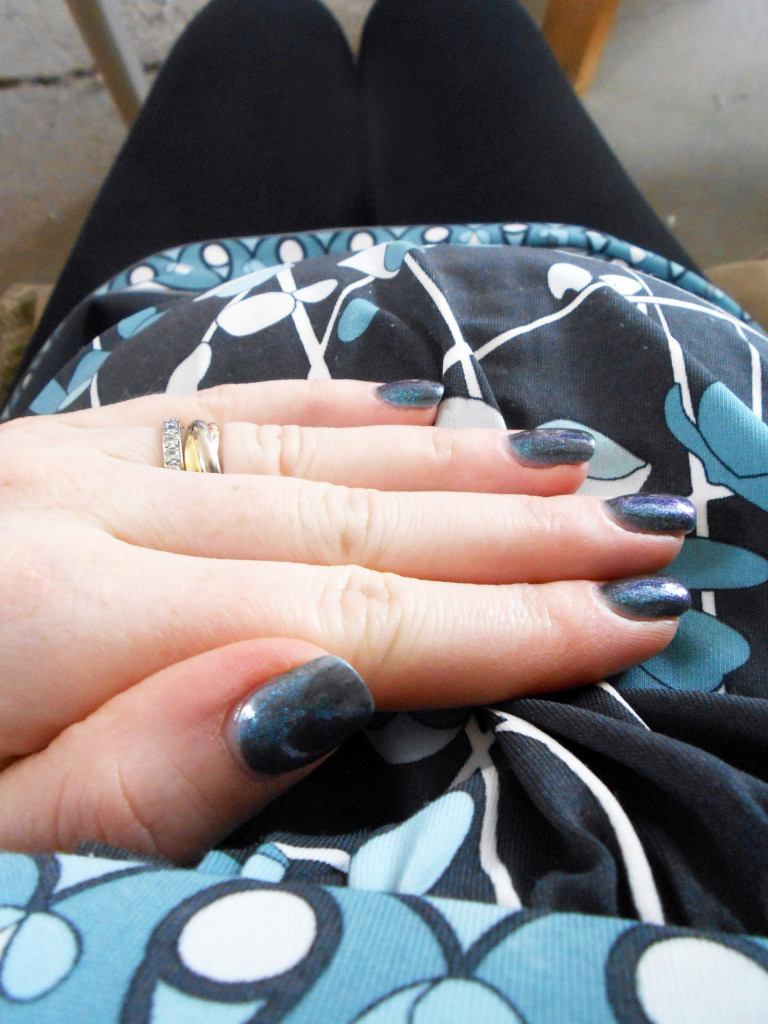 Monday, July 29, 2013: work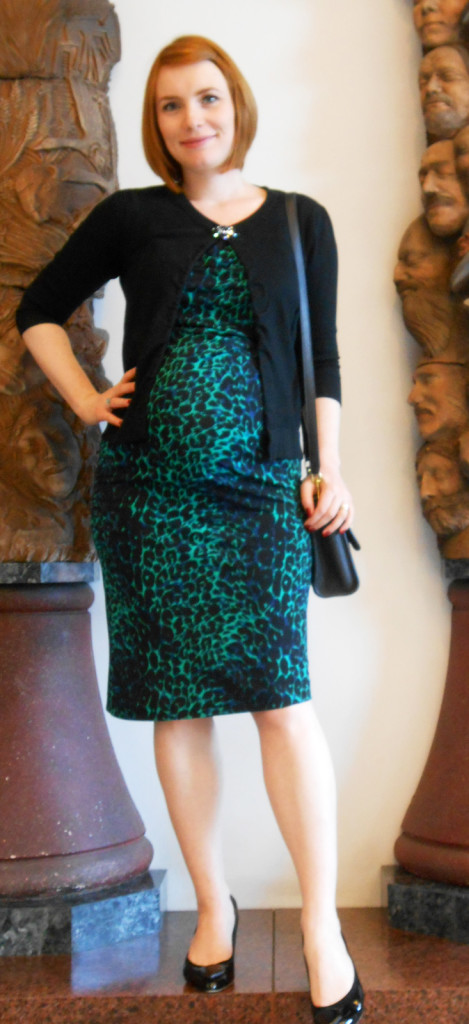 I managed to squeeze into this dress one more time – three cheers for stretchy fabric! One drawback of such a bold print is that it automatically becomes the focus of the entire outfit; great if you want to make a big statement, not so great if you want a different statement every time. Accessories can only go so far in transforming an outfit this loud. For this go-around, I threw a cardigan on top to drown out some of the print, and added a big piece of bling because – if you're already looking like a psychedelic leopard who swallowed a baby giraffe, why not top it all off with a bit of sparkle?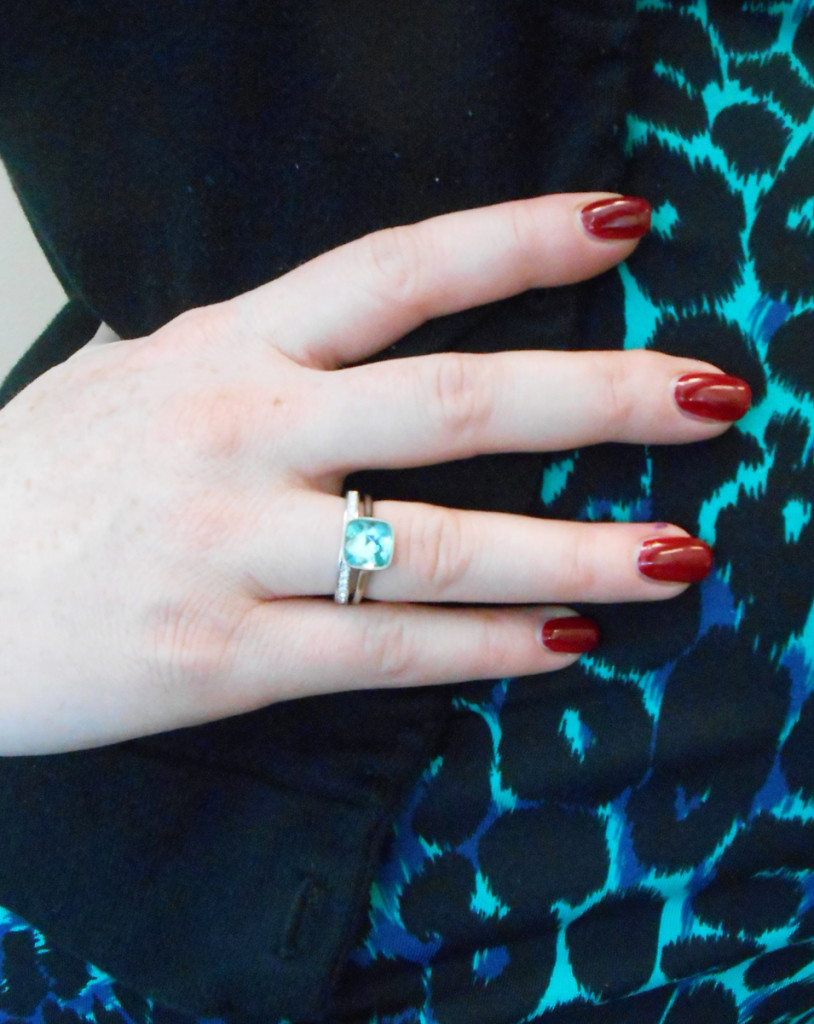 Tuesday, July 30, 2013: work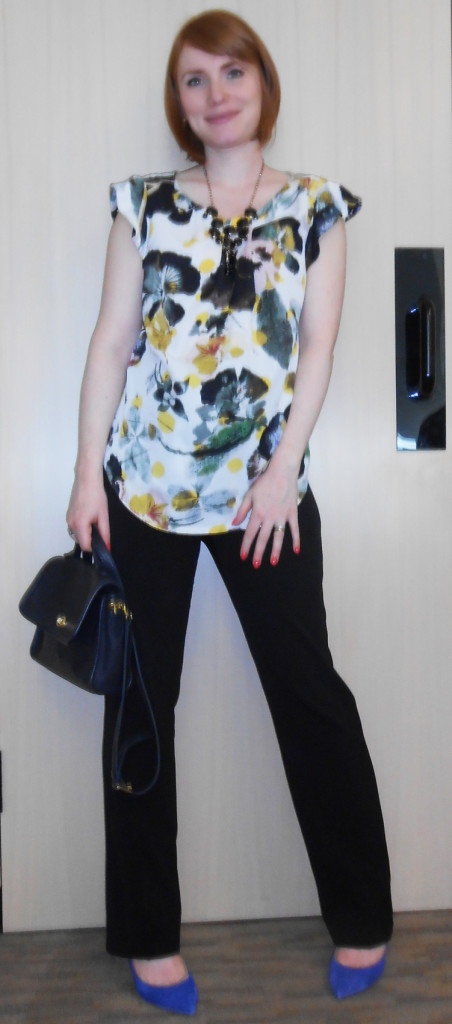 [Holy Batman, blurry picture! I really need to stop procrastinating and get a new camera.]
Here I'm wearing two of my current favourite maternity pieces (pants and top), which makes this an outfit I don't outright hate. At this stage of pregnancy (34 weeks in), it's more or less the best I can hope for. As much as I'm about ready to throw in the towel and buy an entirely new (maternity) wardrobe, the pragmatist in me is determined not to yield to that temptation – even if it means wearing the same dozen pieces over and over … and over … and over.
Pretty much the only aspect of my daily outfits I still have fun playing with is my nail polish. Thank goodness for pretty colours!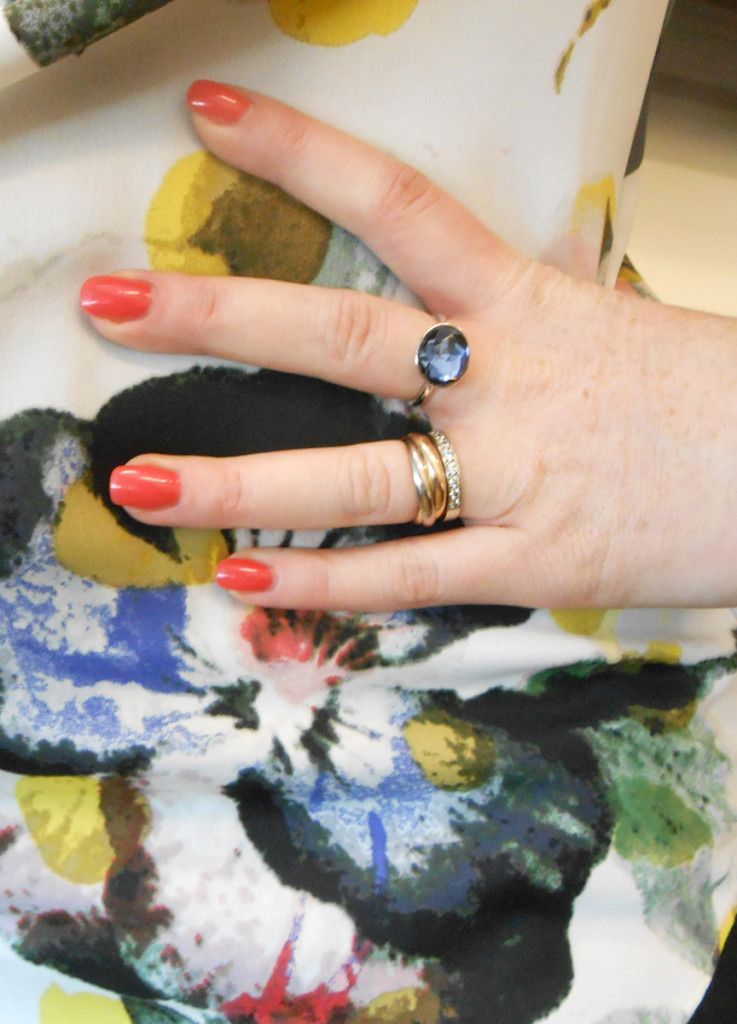 Thursday, August 1, 2013: work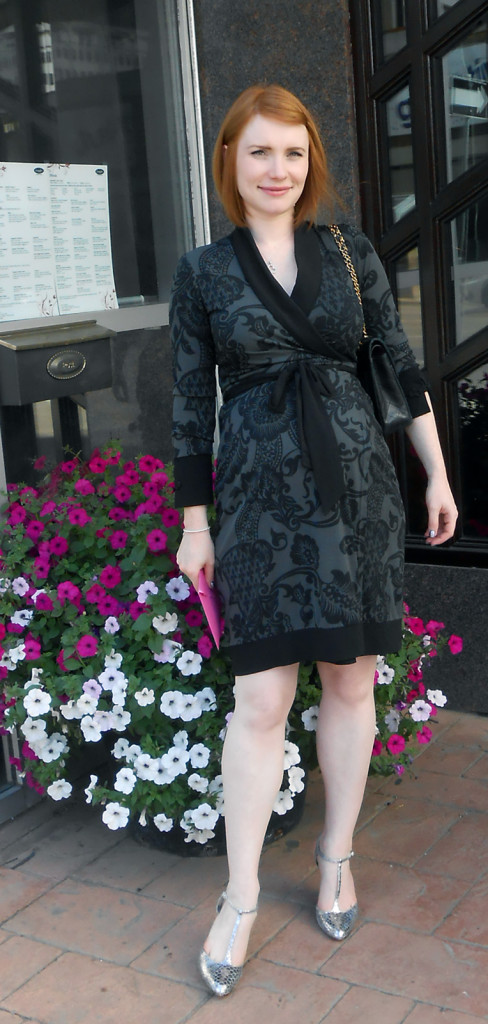 This is one of my all-time favourite dresses, not least of all right now, and again not least of all because it still fits (though it's getting mighty short). Hallelujah! I almost wore pants on my birthday, before I remembered this dress. [My closet is a wee bit over-crowded at the moment, with the extra maternity clothes as well as out-of-season stuff destined for consignment/donation. The out-of-sight-out-of-mind syndrome strikes again!] I do think it's a bit somber for summer, but hey – it still fits!! Add some bright and shiny accessories (hello, silver T-strap pumps), and I'm good to go.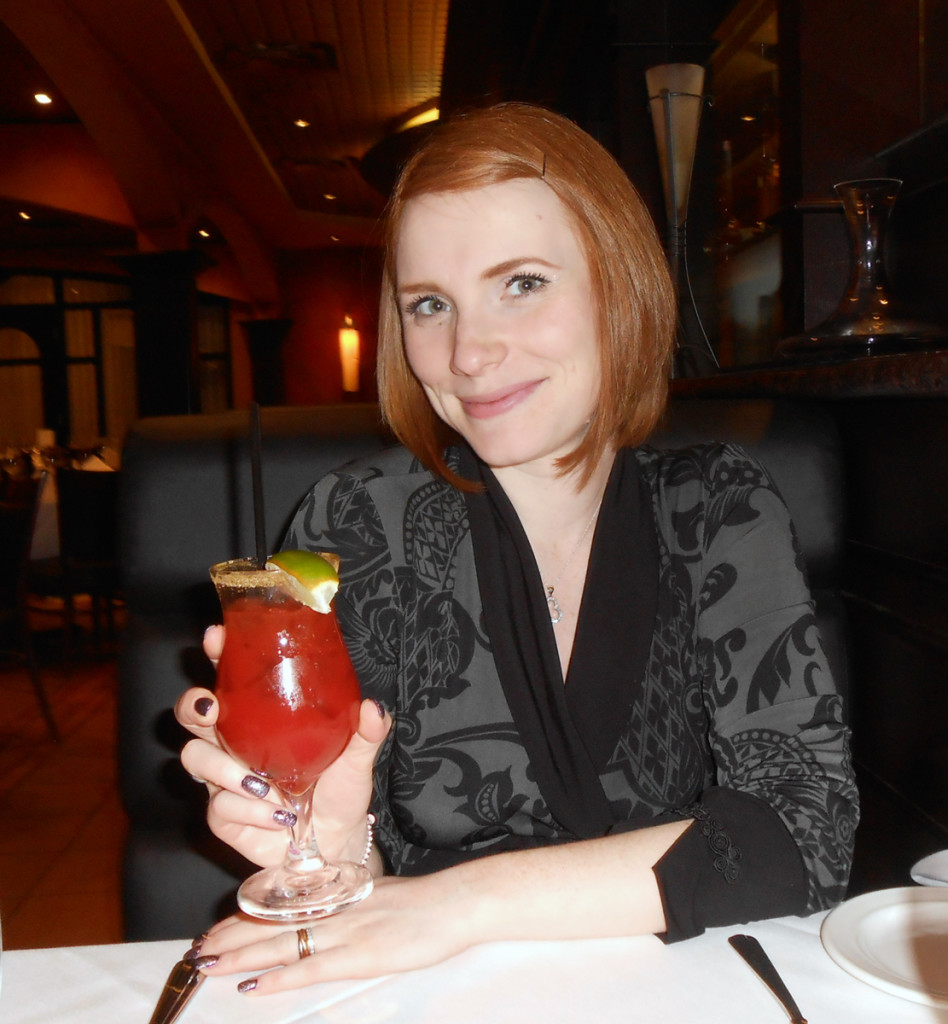 Speaking of shiny things, check out my birthday manicure. It looks like a 3 year-old's art project threw up glitter on my nails – and I don't care. I consider it a birthday prerogative, office-appropriateness be damned!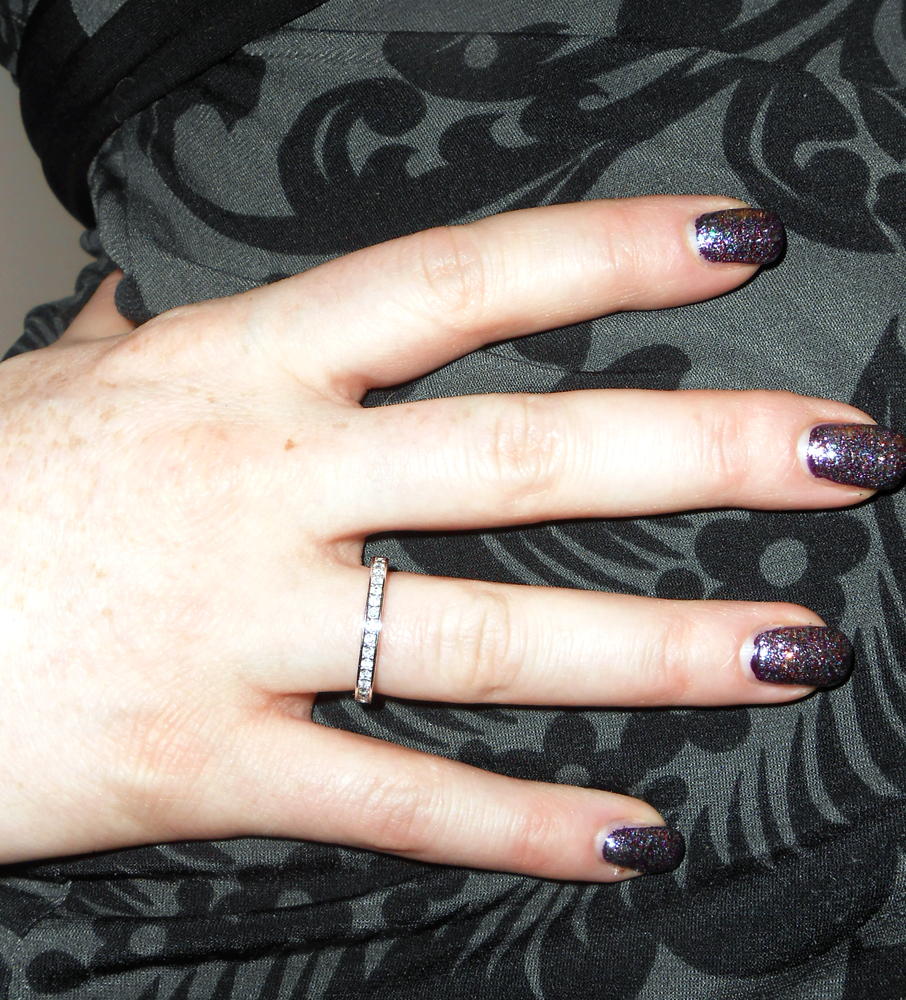 Friday, August 2, 2013: work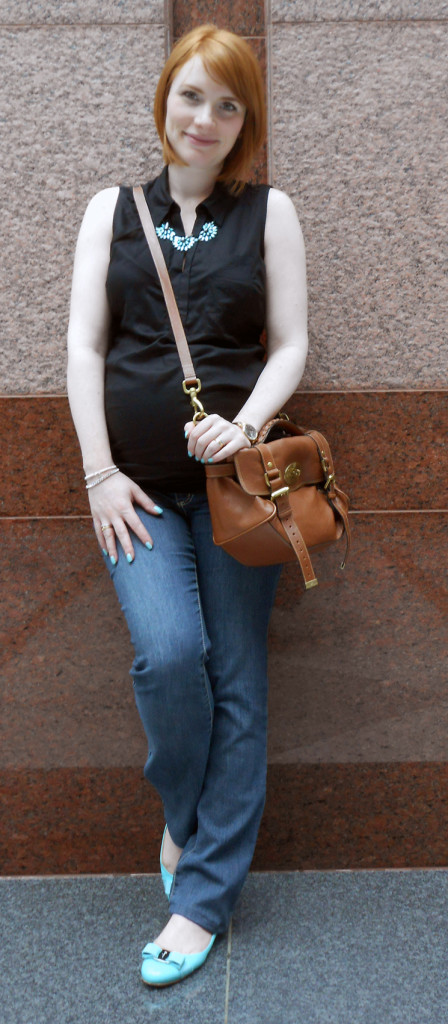 This turned out to be a much more fun outfit than I had anticipated. Chalk it up to the turquoise accessories; the colour always cheers me up. And speaking of turquoise, as luck would have it, a long-time polish dream came true on my birthday: I finally got my hands on a bottle of Chanel Nouvelle Vague (the perfect Tiffany blue). Of course, I couldn't not put it on immediately, even though it required a half hour's vigorous scrubbing of the previous day's glitter-bomb manicure. So worth the wait (and the polish remover)!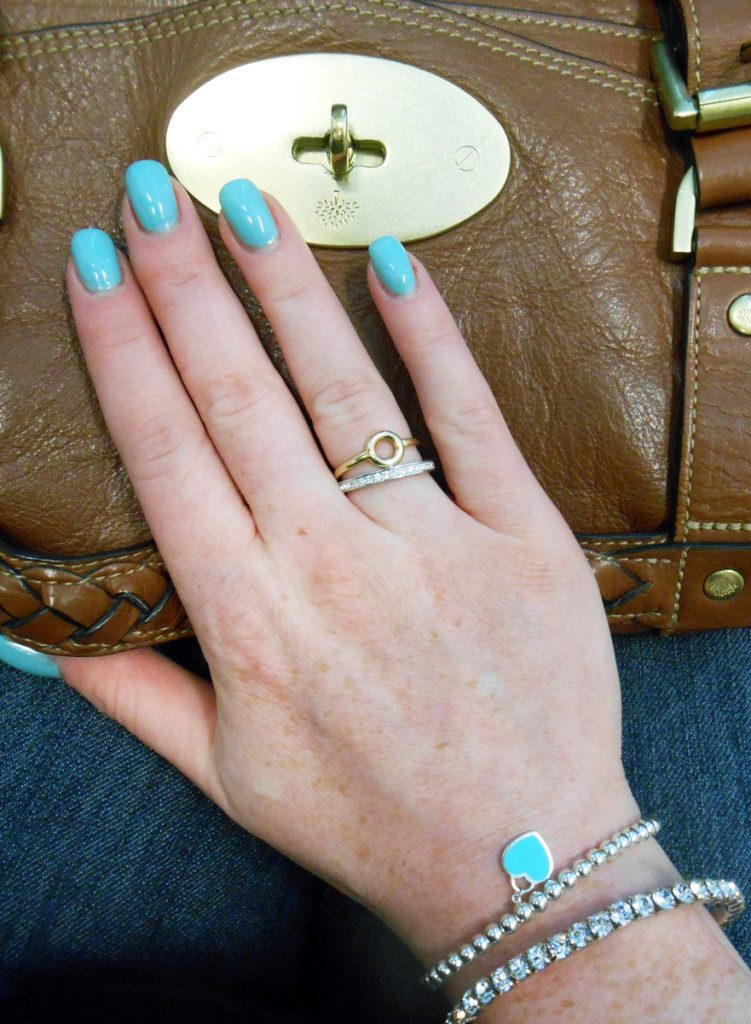 Check back on Thursday for my July shopping wrap-up!