This month, I continued splitting my shopping primarily between local second-hand stores and eBay. As September draws near, I find myself buying less for now and more for later. Of course, some guessing is involved in that regard, but I am hoping that my body will find its happy equilibrium again sooner or later. My big regret this month was that I somehow ended up buying a lot of so-called "disposable fashion" – I write "so-called" because I am hoping that these pieces will actually be a part of my wardrobe for years to come. On the plus side, everything almost everything was second-hand.
J. Crew cotton sun-dress ($13, consignment)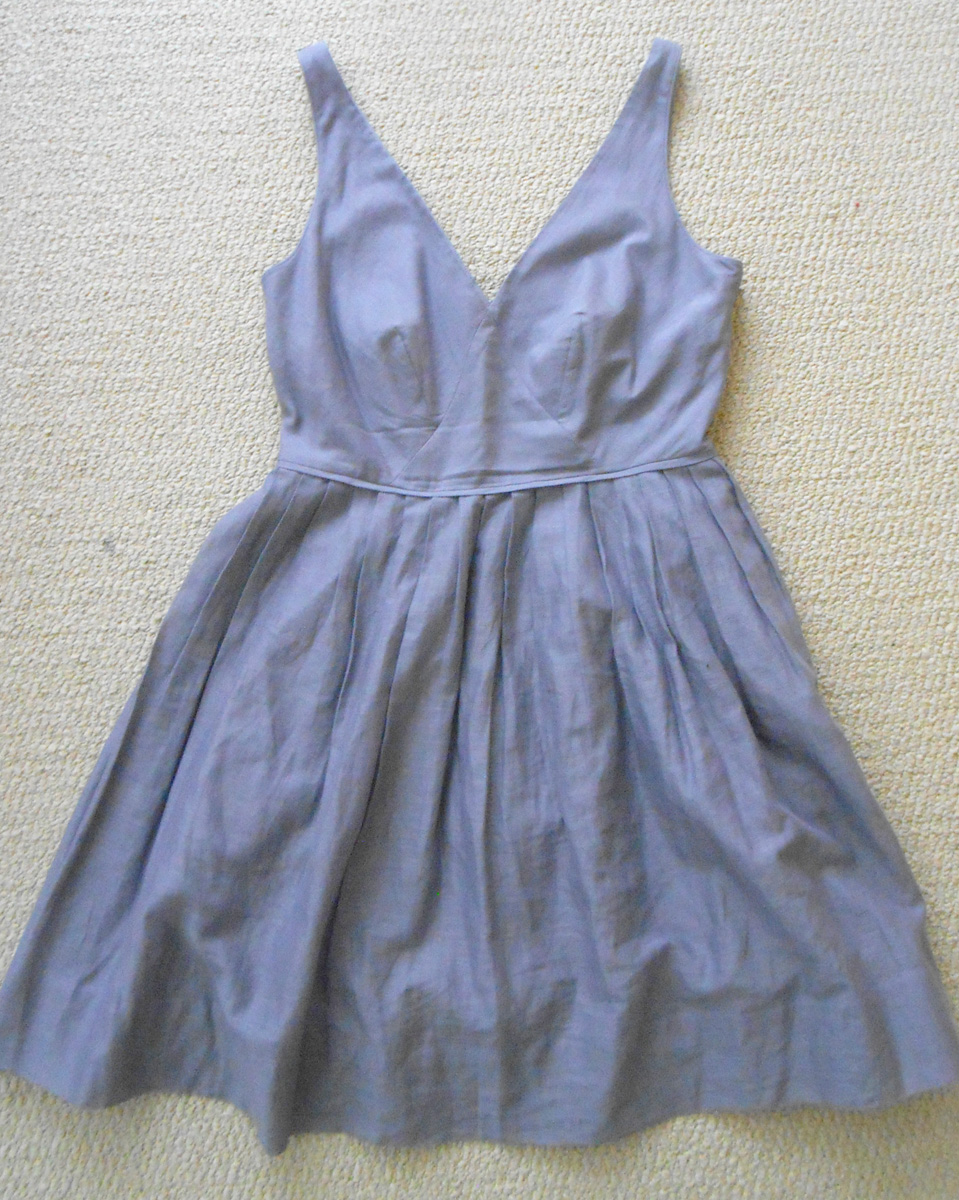 I actually bought this at the very tail end of June, but forgot to include it in last month's wrap-up. I first came across it a few months back, when it was priced at $39; it was cute (I especially like the faded cornflower blue colour) and perfect for summer (lightweight cotton), but it didn't fit quite right in the bust – all in all, not worth the money. Fast forward weeks later, and I came across it again … this time on the clearance rack. This time, it fit much better (hey, pregnancy has its upsides), although it's on the short side because of my bump. Better yet, it was $25 plus an extra 50% off. At that price, I could justify buying – even if I just wear the heck out of it this summer. For now, I'm considering it part of my weekend maternity wardrobe, but it may not be a total write-off afterwards. Time will tell.
Isaac Mizrahi for Target LBD ($45 including shipping, eBay)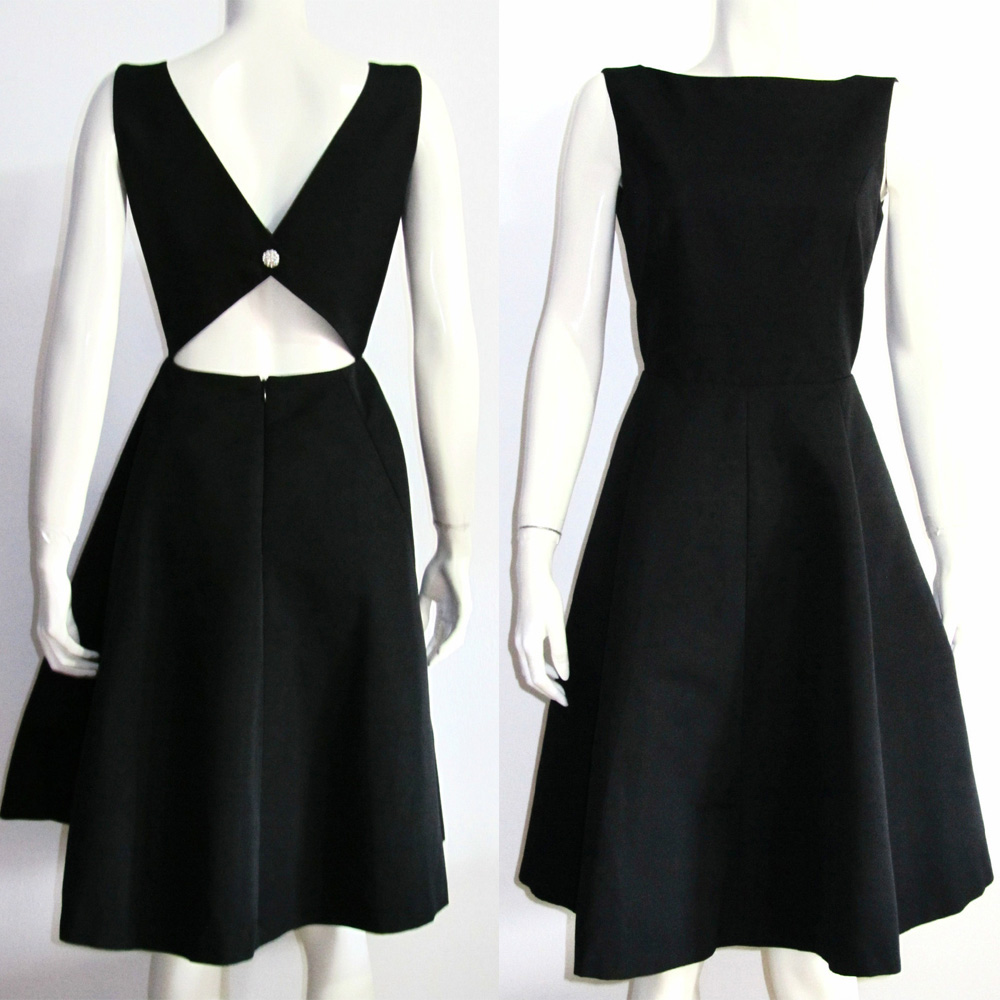 One of my favourite recent thrift store finds was a Mizrahi for Target dress – I love its tailoring and slightly retro vibe. I was browsing eBay when I came across this style, and immediately fell for its neckline and back. Very Audrey Hepburn, no? Like my other dress, this one is also 100% polyester, but it has a good weight to it and is lined, so I think it will wear well. It may be too early to call, but this is a definite Christmas party contender this year.
J. Crew ruffle cardigans (eBay & consignment)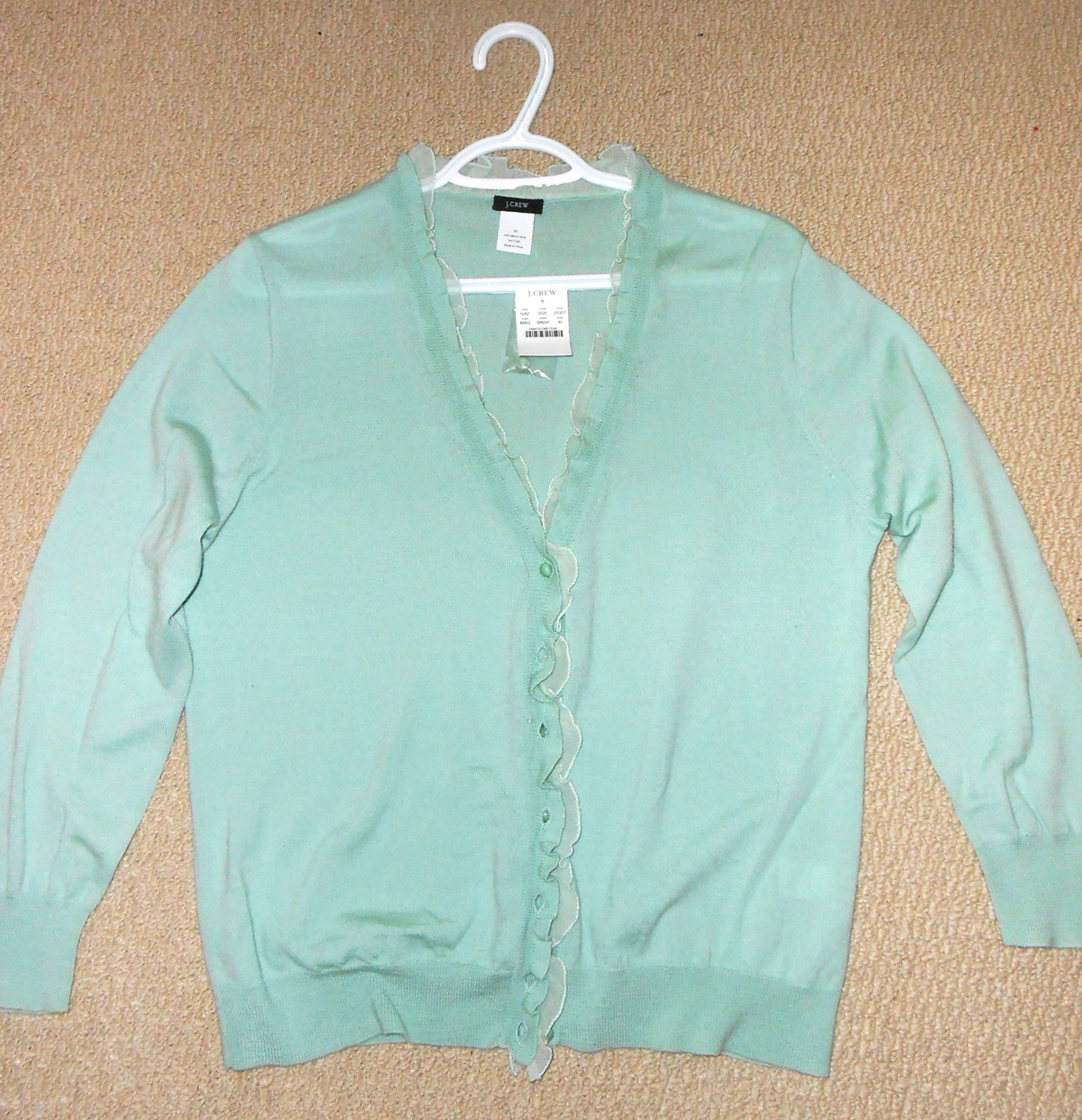 Yep, same cardigan two months running. I just couldn't resist the light aqua colour, which will work really well with the colours in my closet. As I wrote before, I love the cut of this cardigan; since it's a closet staple, rather than a statement piece, I don't mind having doubles … or quadruples.
I'm not a huge fan of yellow on me (too many shades clash with my complexion), but I do love me some mustard yellow. I know, it doesn't sound like the most stylish colour, but it's a great accent for some of my favourite wardrobe pieces. Like this one: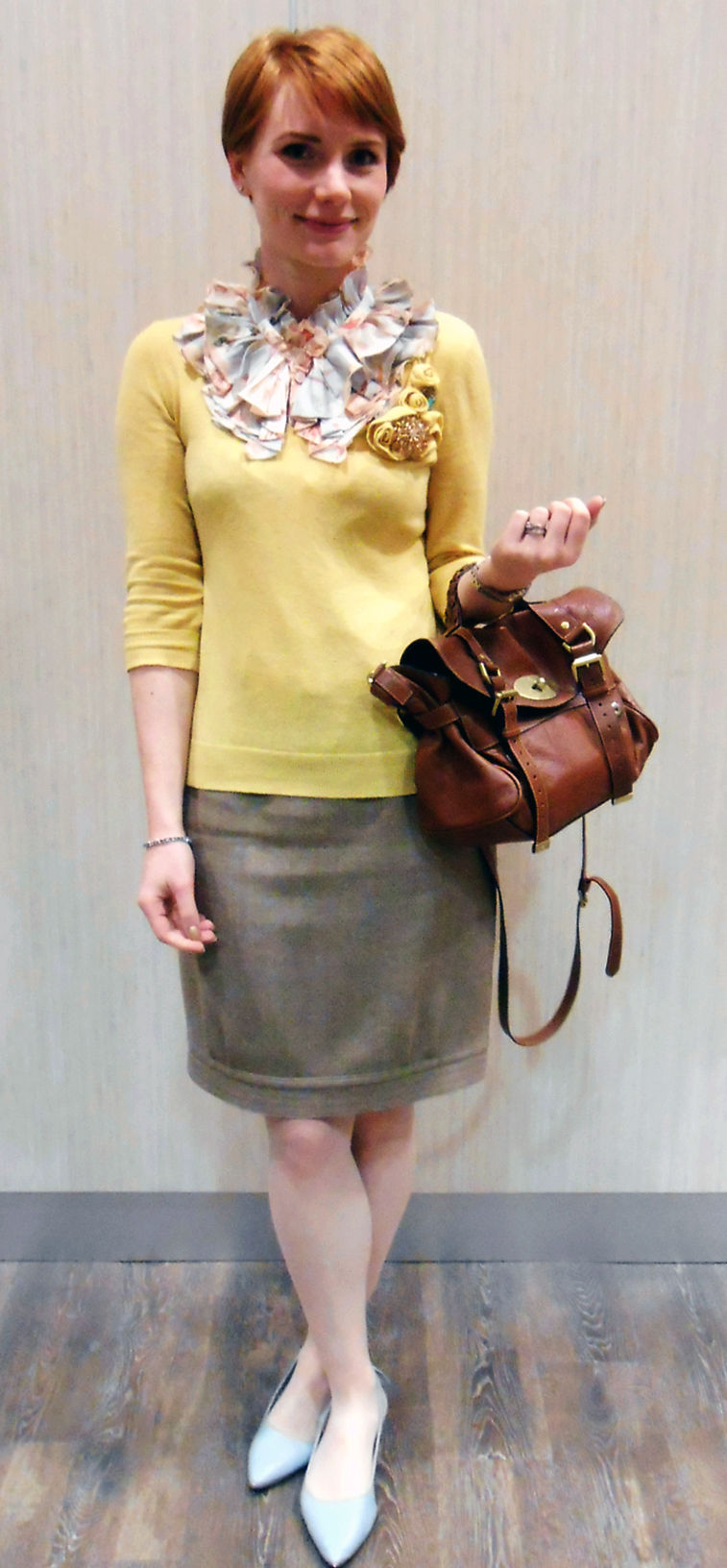 My Joe Fresh yellow sweater (which kick-started my love for the colour) is almost kaput – not the greatest quality, sadly – so I've been looking for a replacement for some time. A cardigan can work double-duty as a sweater in a pinch, so I figured this J. Crew version would be a good bet.
Last but not least, I couldn't resist getting yet another (J. Crew) cardigan I found at consignment. In for a penny, in for a pound, right? This one was only $18, and I figured the peach colour would be an interesting addition to my closet – I don't have anything like it.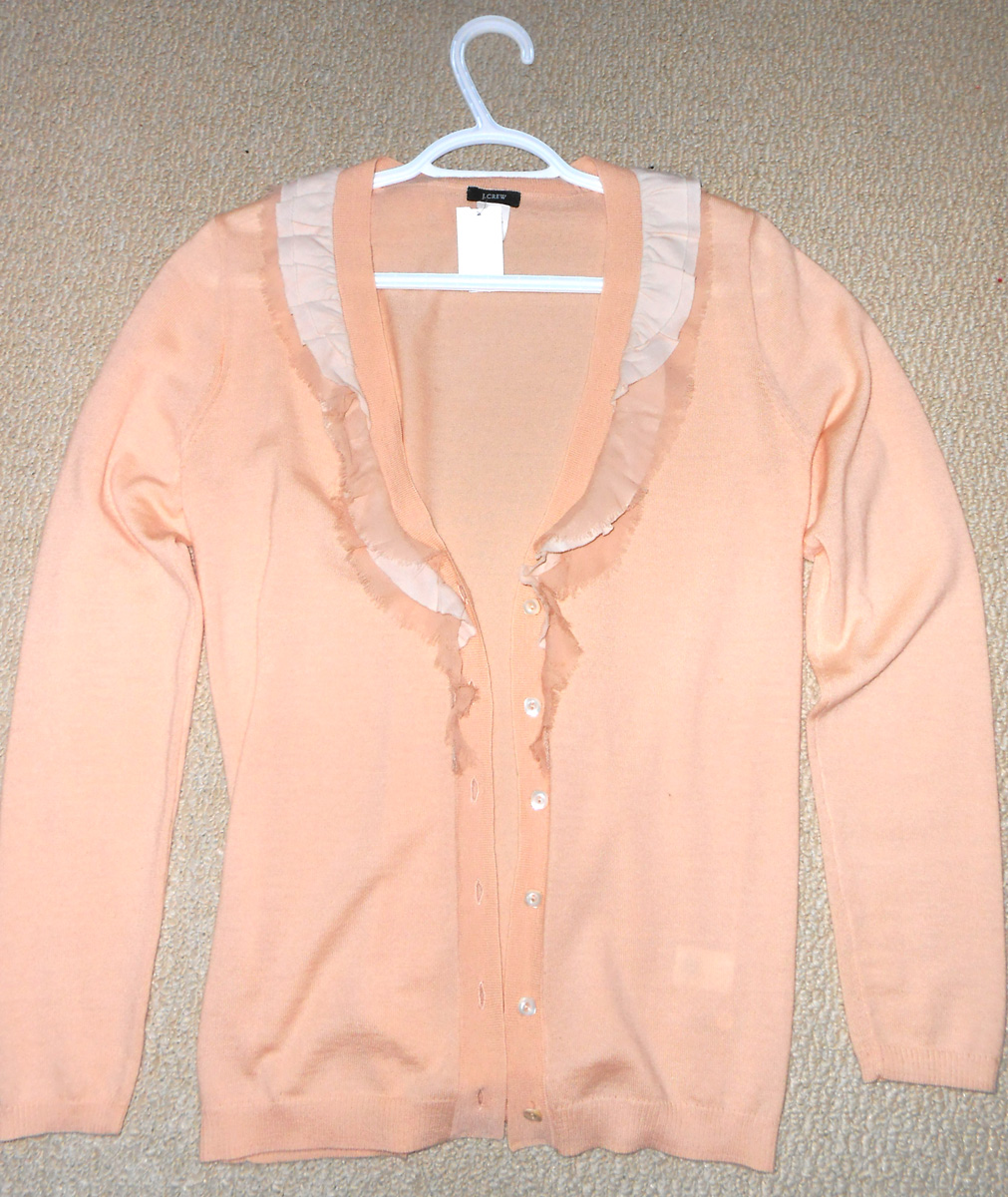 Lela Rose for Target dress ($48 including shipping, eBay)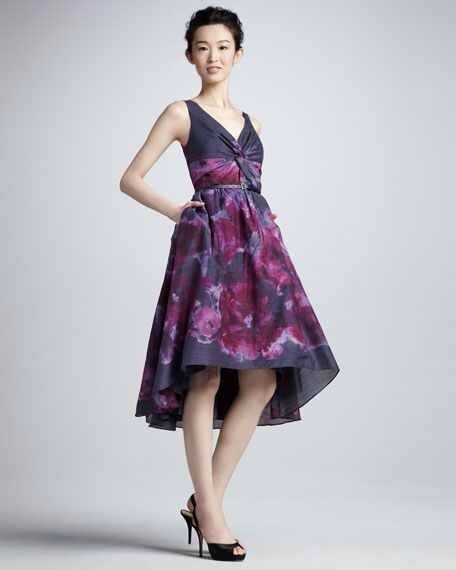 I've been craving florals lately, and this dress was the impulse-buy result. On the plus side, it's made out of silk (not including the lining), and still had its tags on. The colour is actually more vibrant in real life: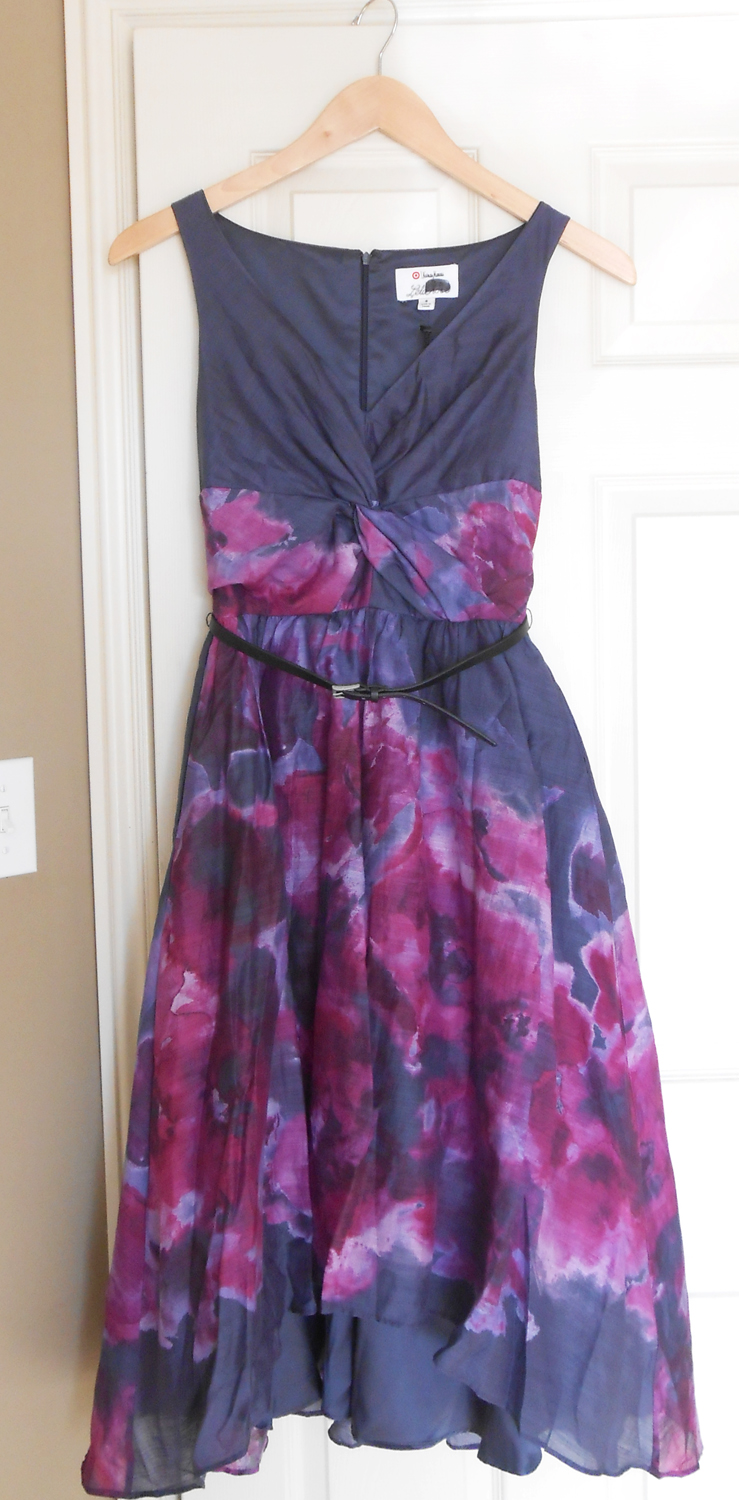 Liz Claiborne tortoise-shell pumps ($14, Value Village)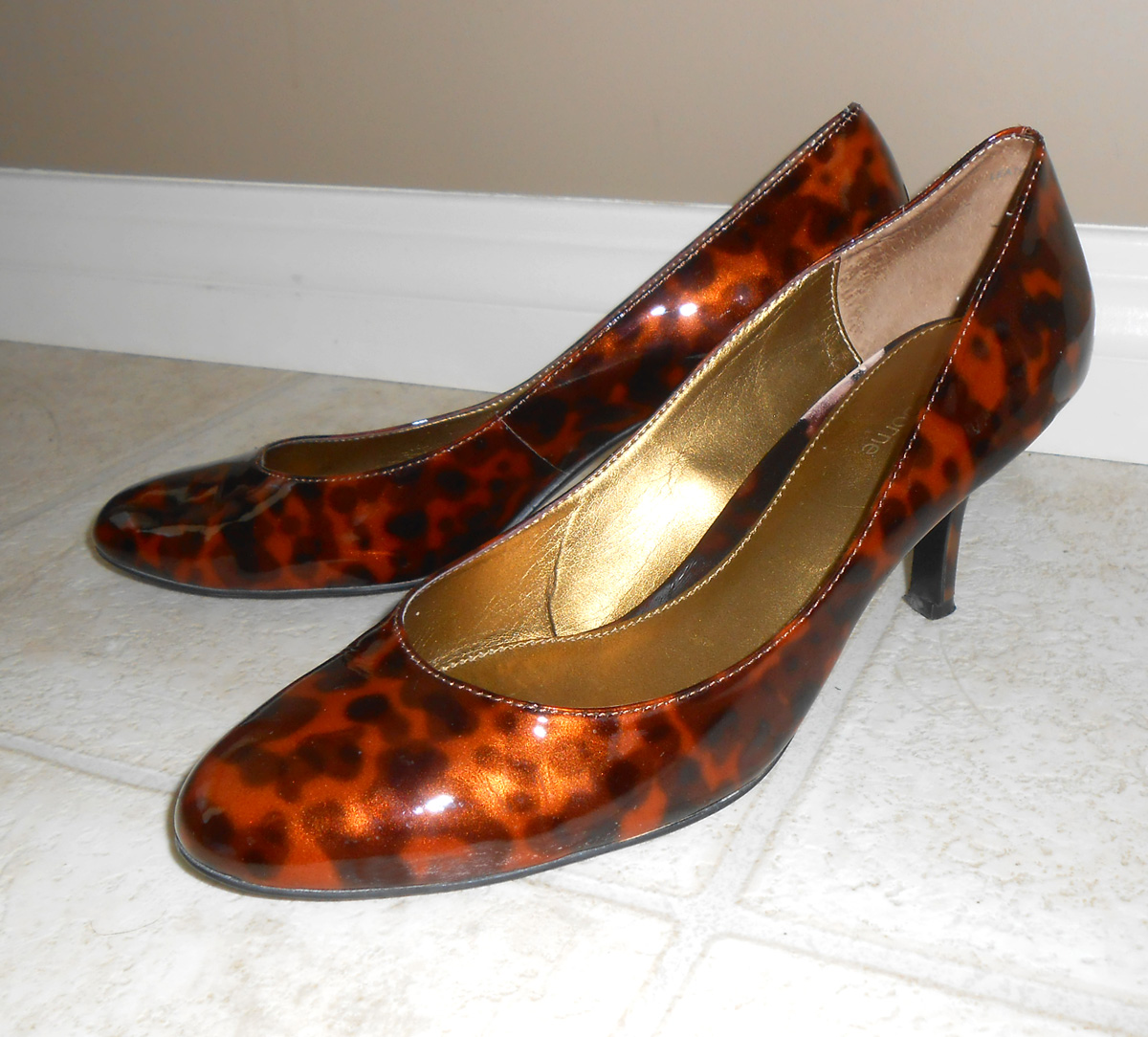 It's been a while since I found a good pair of shoes – in MY size – at VV, but these ones I had to snap up. Not only are they almost brand new, but the patent tortoise-shell leather was right up my alley. It reminds me of my much-beloved (and worn) Taryn Rose flats.
I've been looking for a pair of leopard print pumps to replace the Steve Maddens I recently sold; I haven't had much luck, though I came close with this pair of Sam Edelman d'orsay pumps.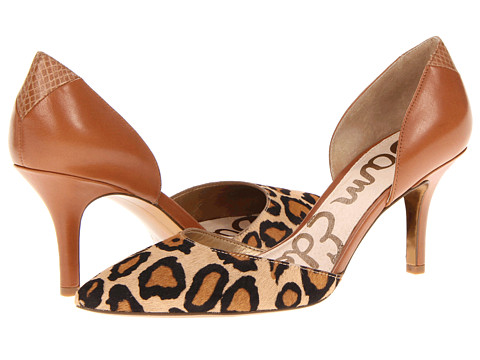 The downside was the price; at $90 on sale (at Townshoes), they were too pricey for me. I'm thinking that the tortoise-shell pair will serve me as a substitute in the meantime.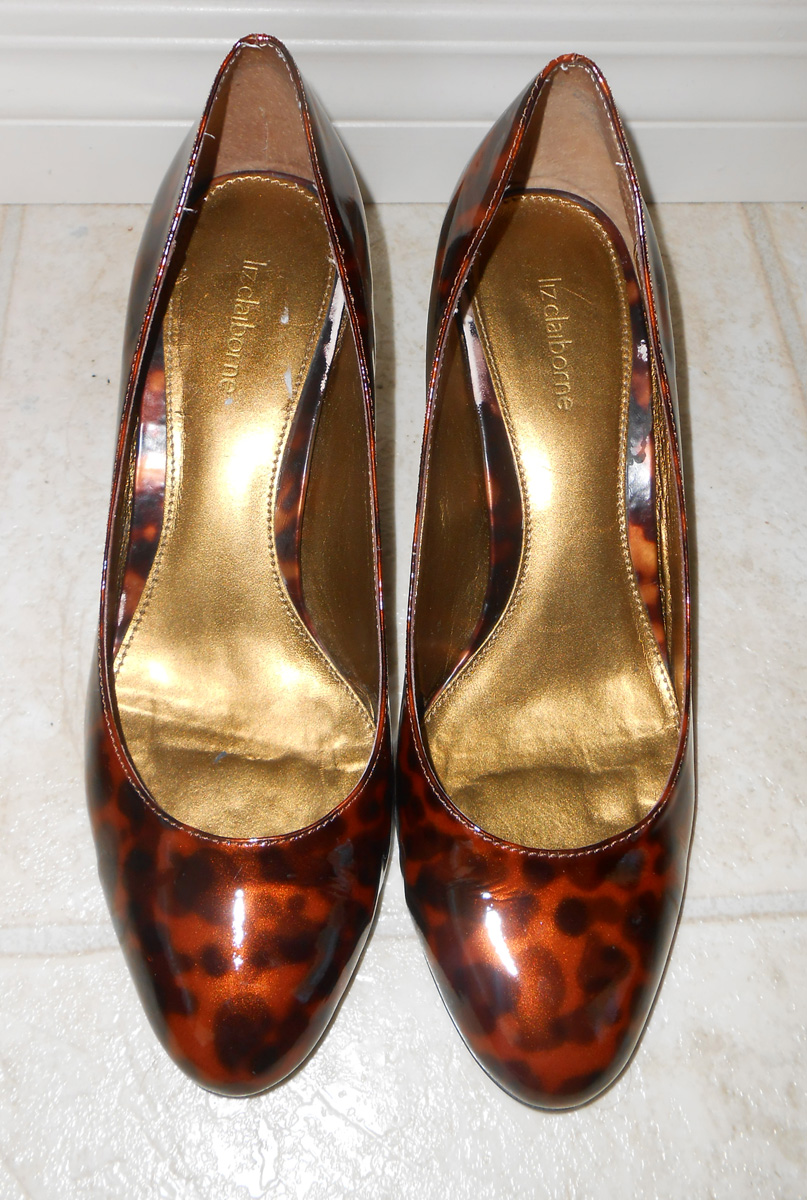 Gossip rhinestone studded ballet flats ($25, Townshoes)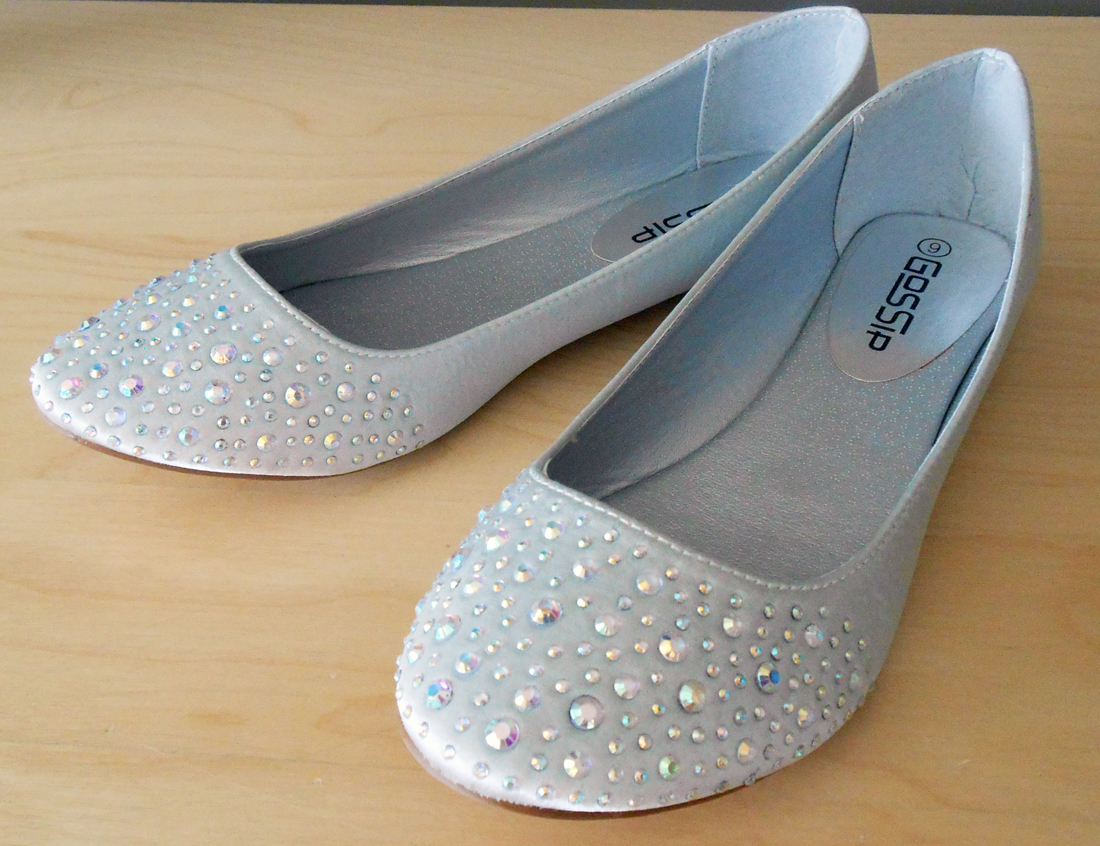 True story:  a couple of months ago, I spotted a pair of adorable embellished ballet flats during my work commute. [Obviously, a girl was wearing them, but I only had eyes for these shoes.] They looked almost ethereal, sparkling under the LRT station lights. I was in love. I wanted to ask their wearer where she bought them, but lacked the courage. I started keeping an eye out for them in all the places I thought this girl would be likely to shop (total style profiling, I know), but never saw them. A few weeks ago, I did see them again – on the LRT. Again, I chickened out of asking about them. And then, totally randomly, I walked into a Townshoes store (for the second time in a month, and probably ever) – and there they were! On sale for $25, no less. If that's not serendipity, I don't know what is.
The quality looks to be terrible; I'm sure the satin fabric will get dirty as soon as I step foot out of the house, and the rhinestones will come unglued sooner or later. Not to mention, they are hardly appropriate footwear for someone who left pre-adolescence behind 20 years ago. But … I don't care! I'm going to enjoy the heck out of my "Tinkerbell" flats while they last.
Fossil Georgia watch (Fossil, $134)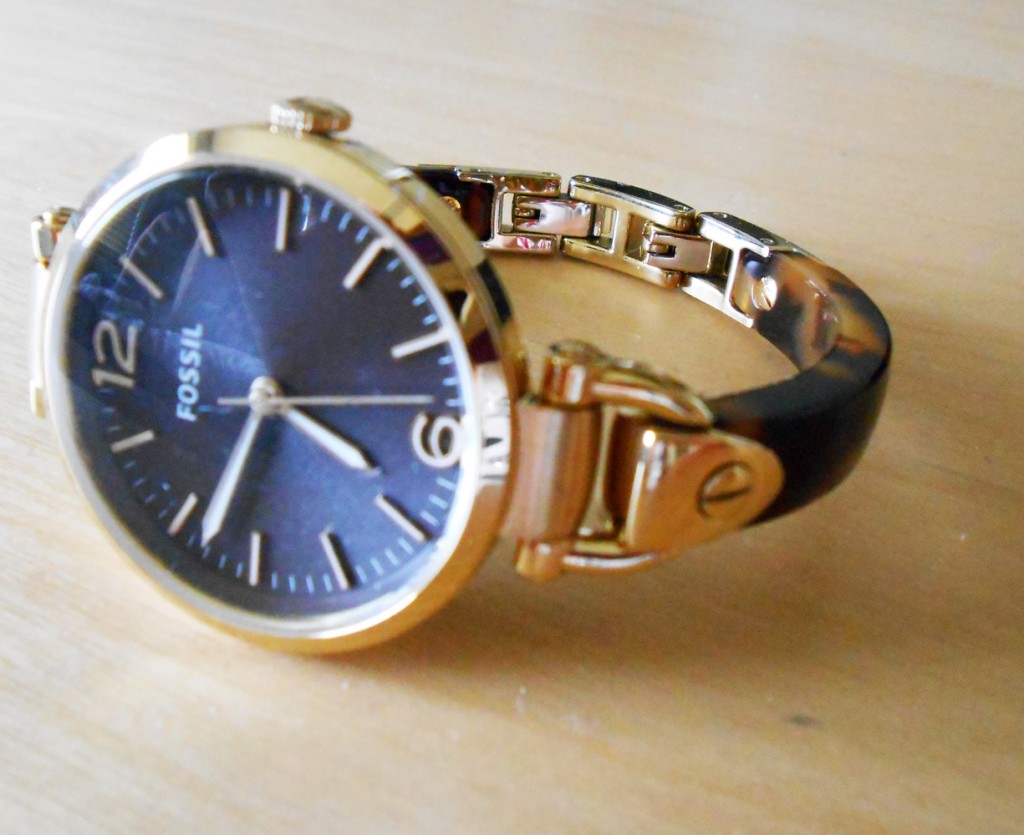 Truthfully, I didn't need a new watch. I don't even wear a watch every day. But I am obsessed with bracelets right now, and this particular watch struck me as being a good match for layering with some of my pieces. I am also a sucker for tortoiseshell (obviously). I had to dip into my personal slush fund for this purchase, and justified it as an early birthday present to myself. Was it worth it? I'm a little bit apprehensive about the quality (I've heard mixed reviews on Fossil), but so far … loving it.
Fossil rose gold bracelet and charm ($28 each)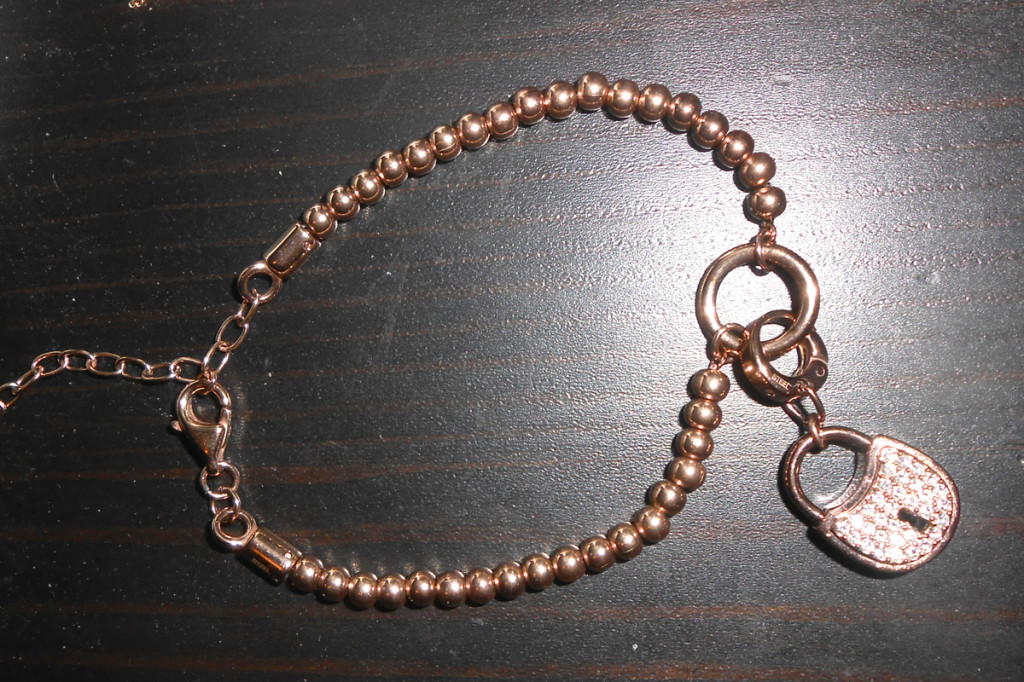 See above re my current bracelet obsession. Also loving rose gold right now (it reminds me of my grandmother's old, Russian gold jewelry which has a rose tint to it), which basically explains this particular impulse buy.
Ann Taylor Loft camisole ($25 including shipping, eBay)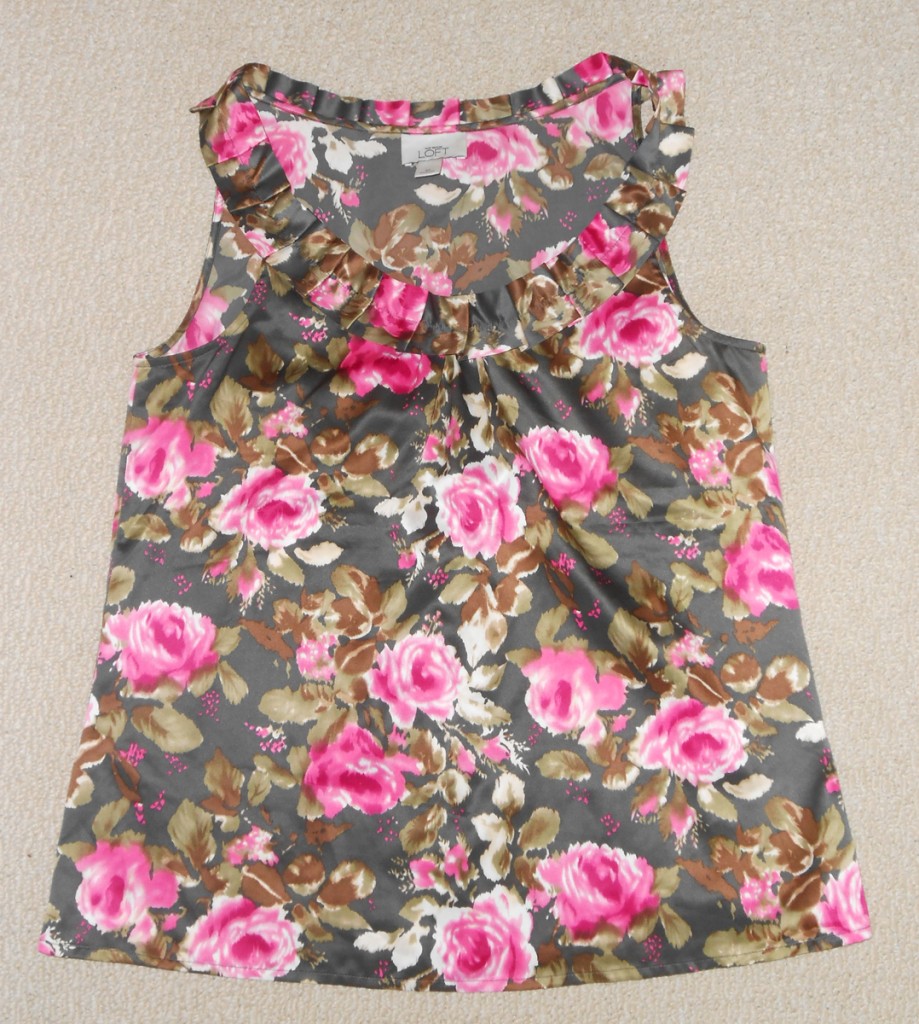 This print was like catnip to my florals-loving self, so I stalked it until I could get a decent deal. It's always the shipping that makes otherwise great eBay deals only so-so. The thing that really bugs is how arbitrary the costs set by sellers seem to be; I've paid anywhere from $5 to $25+ for shipping one clothing item, and there was generally little difference in transit time. Anyway, this is another addition to my 2014 office wardrobe – I can't wait to accessorize it!

And there you have it – my ginormous July shopping bag (11 items, $444). Were you naughty or nice this month?