If you didn't think that last month could be topped in terms of wanton self-indulgence, you're in for a surprise. [Cue maniacal laughter.] As my due date approached, in fact, I was gripped with a bad case of shopping FOMO (fear of missing out), and starting buying ALL.OF.THE.THINGS. All of them. Or, at least, it felt that way. Luckily, I still had a fair bit of freelance income coming in from August, plus a large chunk of change from selling things on Kijiji and consignment (over $775). It may seem irrational to sell things only to buy more (new) things, but there is method to my madness, I assure you. Check out my Wardrobe Overhaul manifesto post if you want to read more on said method.
For obvious reasons, my shopping this month was very much front-loaded and online-focused; in fact, some of the items were things I'd ordered in August but didn't receive right away. I wish I could say that decreased volume also meant less money spent but … well, not so much. I ended up buying fewer items than last month (8), but spending more, to the tune of … deep breath … $638 (original retail cost over $1,780). Still with me? Let's get to the pretties.
Kate Spade Skinny Bow Bracelet ($62 including shipping and customs, Nordstrom)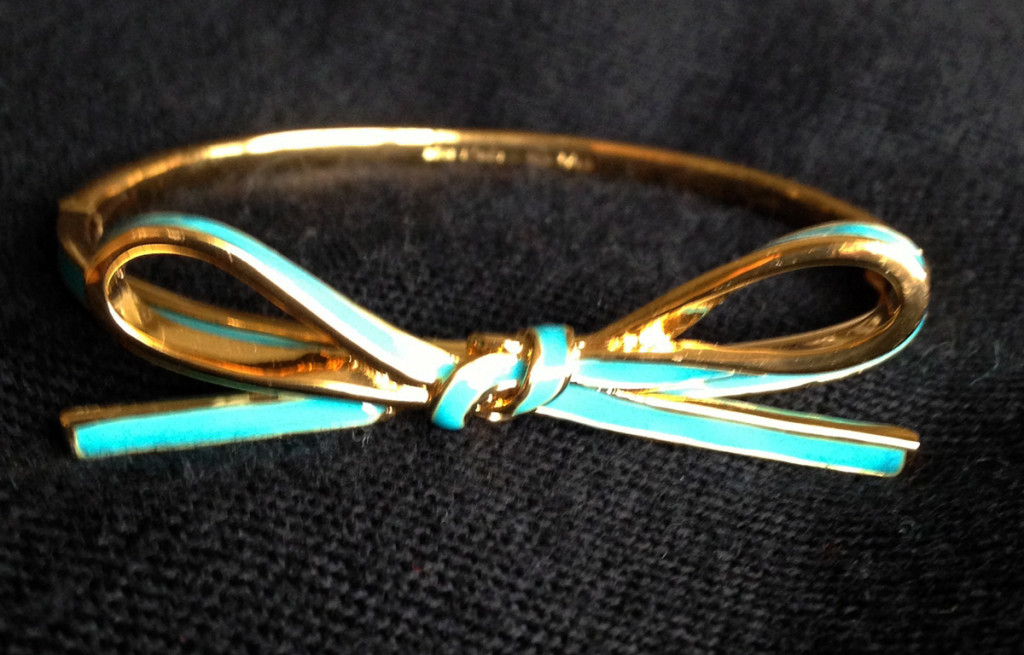 This was a bit of a splurge, but between my current obsession with bracelets and my love of bows, I couldn't resist this adorable Kate Spade bangle. I was tempted to buy it on eBay originally, but I actually ended up finding a better price on the Nordstrom website. [I recommend checking their "Accessories under $50" for good deals on fashion jewelry from brands like Kate Spade, Marc by Marc Jacobs, and Vince Camuto.] Shipping is a flat $20 rate, which is on the expensive side unless you combine multiple items.
True story time: I was super pumped when this particular package arrived in my mailbox, only to experience disappointment immediately thereafter. Despite being shipped in a jewelry box inside of a second, positively enormous box, the bracelet was badly mangled. One half of its bow was bent up, and the bangle itself was warped.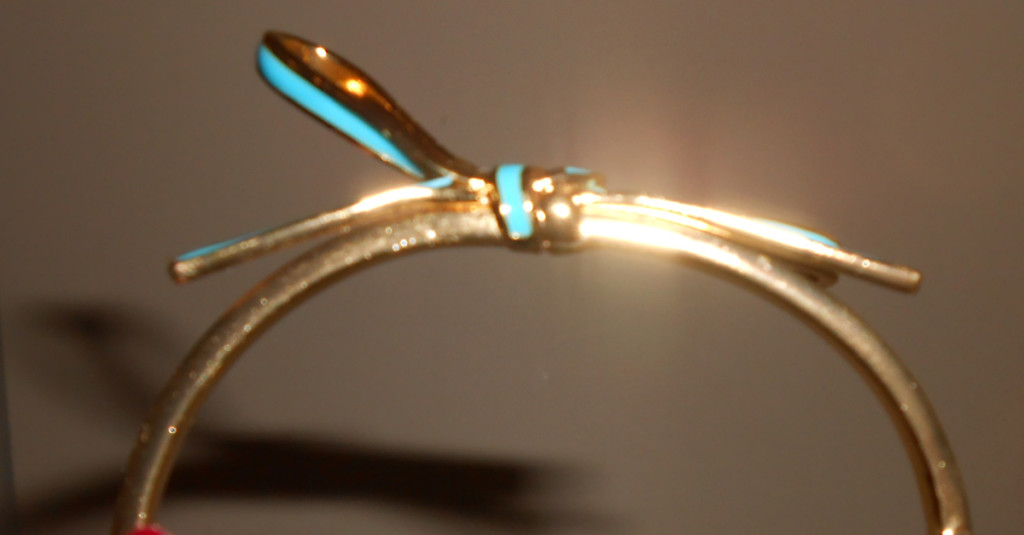 I've never had any issues before with items bought online (*knock on wood*), so this was an unpleasant surprise to say the least. I hate dealing with customer service, so I was not enthused at the prospect. As it turns out, though, Nordstrom has terrific customer service (and it's available after regular business hours till 1AM ET!); the reps were very nice and helpful, and made the whole return process hassle (and cost) free. As disappointing as it was to not receive a quality product right off the bat, my subsequent experience has redeemed Nordstrom in my eyes.
[Edited: I don't normally do product reviews, because I buy a lot of things second-hand, and the odds of someone finding my reviews useful are slim. I'm making an exception in this case. In one word, if you're thinking of buying this bracelet: don't. I am normally a fan of the Kate Spade brand (love their bags!), but the quality of this bracelet – especially given the price – is atrocious. The first time I wore it, it fell off my wrist 3 times in less than 2 hours. The clasp closure is terrible, and the catch doesn't do much to mitigate the problem. I don't see any easy solution to fix the seemingly inherent design defect, and don't consider it worth any extra cost in any event. All in all, a big disappointment. To be clear: this is not a Nordstrom issue; the second bracelet I received was in factory/new condition.]
Marc by Marc Jacobs Love Edge Earrings ($55 including shipping and customs, Nordstrom)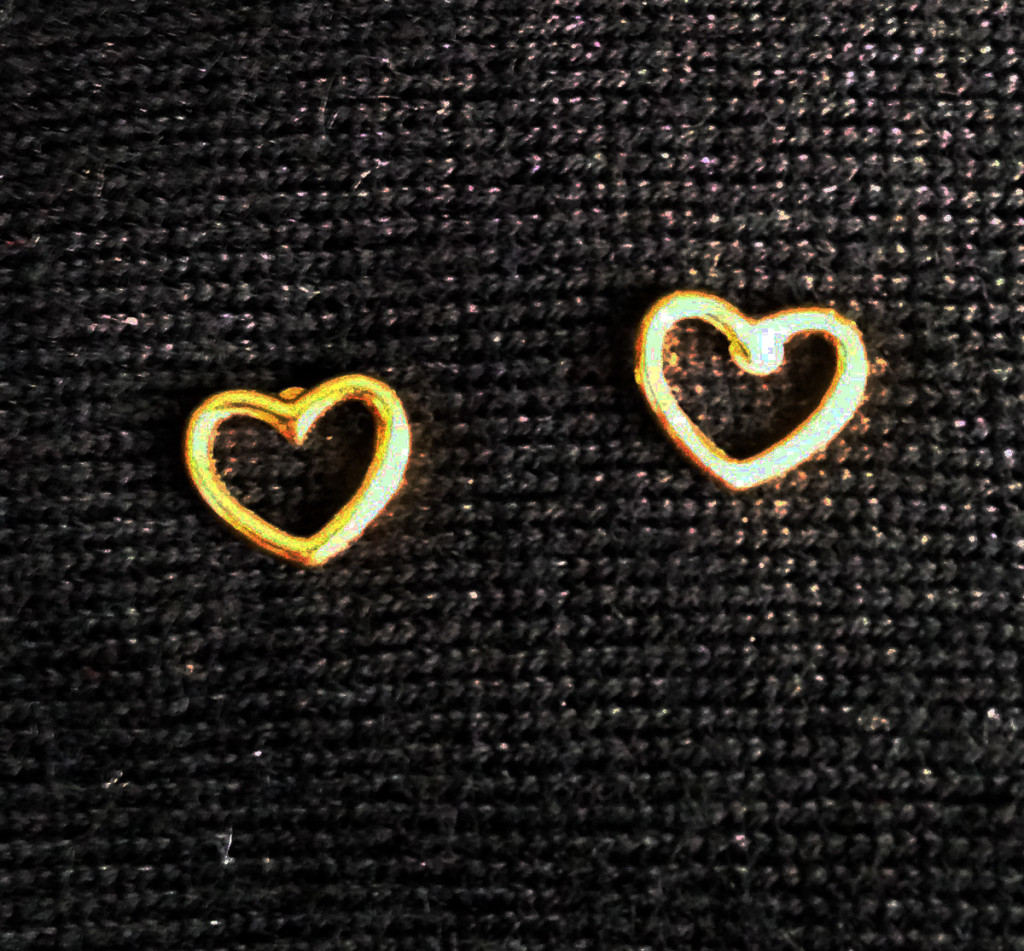 I love the cut-out style of these earrings, and thought they would be great for everyday wear. I've been wearing them practically every time I go out, which might not be a lot at the moment but it bodes well for the whole cost-per-wear ration. Still a bit pricey for gold-plated metal, but I guess style won out over substance this time. I do wish I had seen them at Holt's first, though, because I could have saved the shipping/customs costs. But … love, love, love them!
Talbots Floral Pencil Skirt ($26 including shipping, eBay)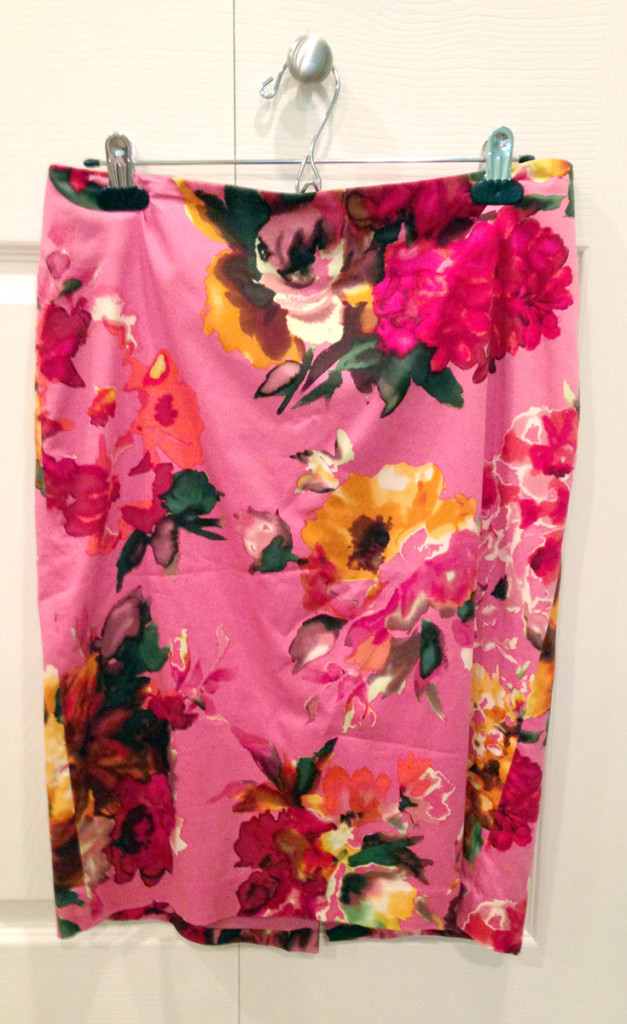 I stalked this skirt on eBay for months after falling in love with the print on a blog. Every time a listing came up, it was always in the wrong size – grr! Eventually, when a size 8 popped up, I caved. I may have to have it taken in a bit next year (or maybe not), but I am so excited to have a bright pop of pink in my wardrobe come next spring!
3.1 Phillip Lim for Target bag ($35)
I can't tell you how excited I was to check out Target's first designer collaboration since the chain opened its doors here in Canada. I don't own any Lim pieces, but I do like his design aesthetic, and was intrigued by the look-book released in advance of the Target launch. So, bright and early on the appointed Sunday morning, I went to my local Target store with two kids and a patient husband in tow. Long story short: I was in for a big disappointment. The look of the pieces (clothes and accessories) was nice – minimalist, grown-up style – but the quality was pretty awful. For me, the "hand feel" of the clothes in particular was poor. I have a couple of pieces from previous Target designer collections, and their quality is far better, in my opinion. The Lim clothes felt very cheap to the touch; I wasn't surprised to see a lot of polyester, given the price point, but this was really cheap-feeling polyester. Needless to say, I passed on the clothes.
When it came to the bags, I really liked the look of two of them: the black tote and a smaller yellow cross-body bag.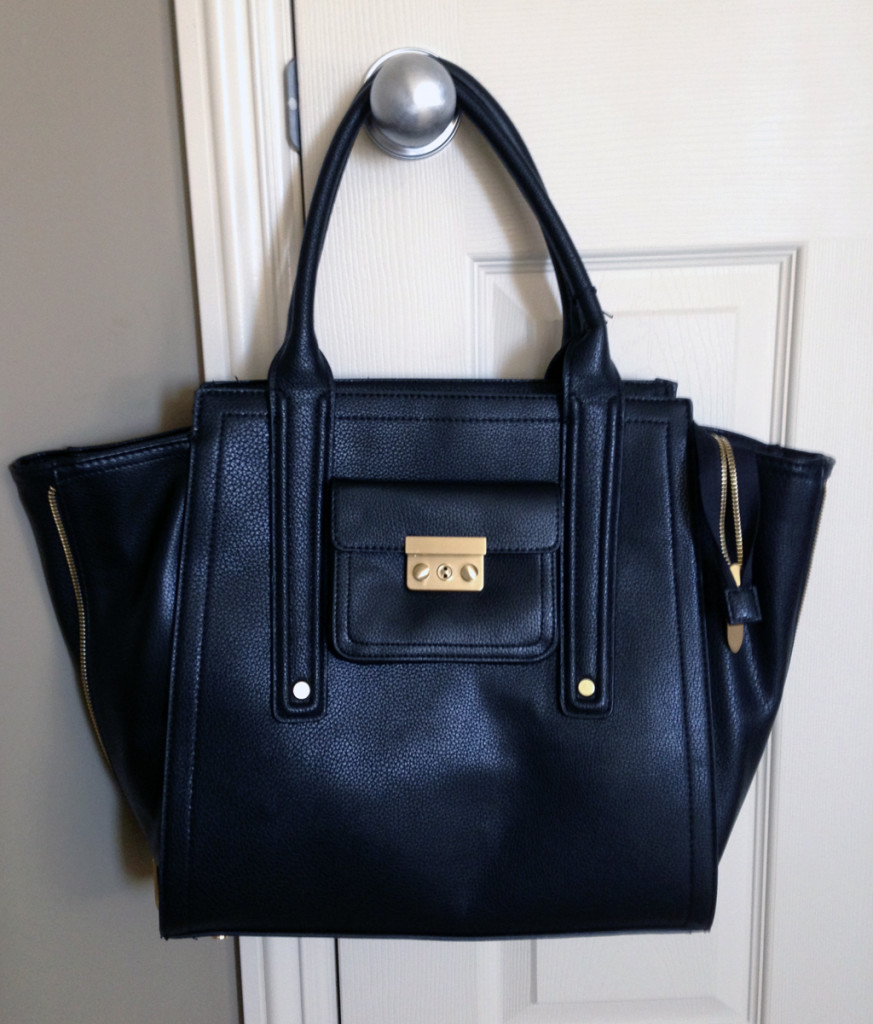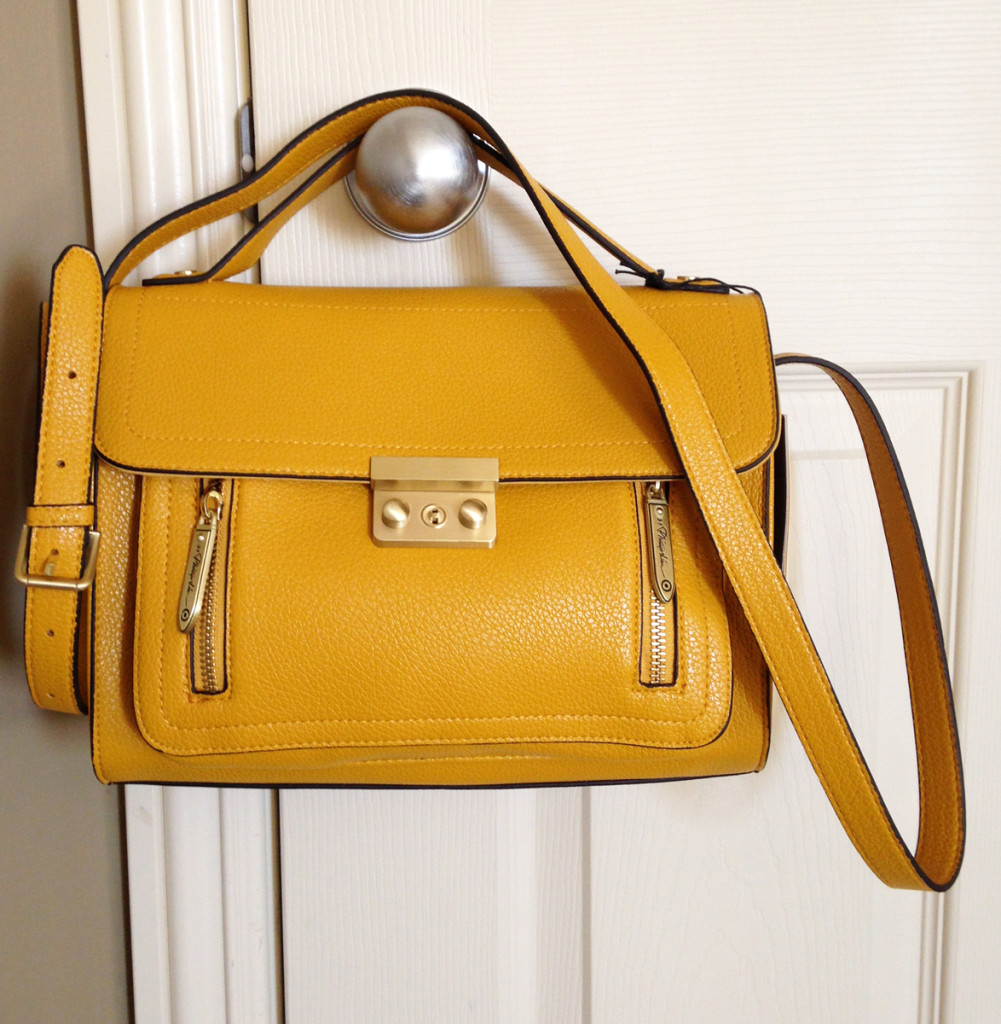 I bought both to take home and ponder further. The thing that ultimately turned me off of the larger bag was, again, the quality. I haven't bought a faux leather bag in a long time, and I'm not a fan. Some of the bags I saw in store already had small patches of peeling, in addition to loose threads and other similar imperfections. All in all, not a good sign in terms of durability. The larger tote, at $55, was too expensive for me given these issues; I could see it falling apart on me in a few months. On the smaller bag, the quality issues were not as evident (likely because of the size), and I think the colour would be great for accessorizing my wardrobe. At $35, I was willing to indulge my inner fashion blogger and buy a hot "it item" despite quality issues.
J. Crew ruffle cardigan ($32, Red Pony – consignment)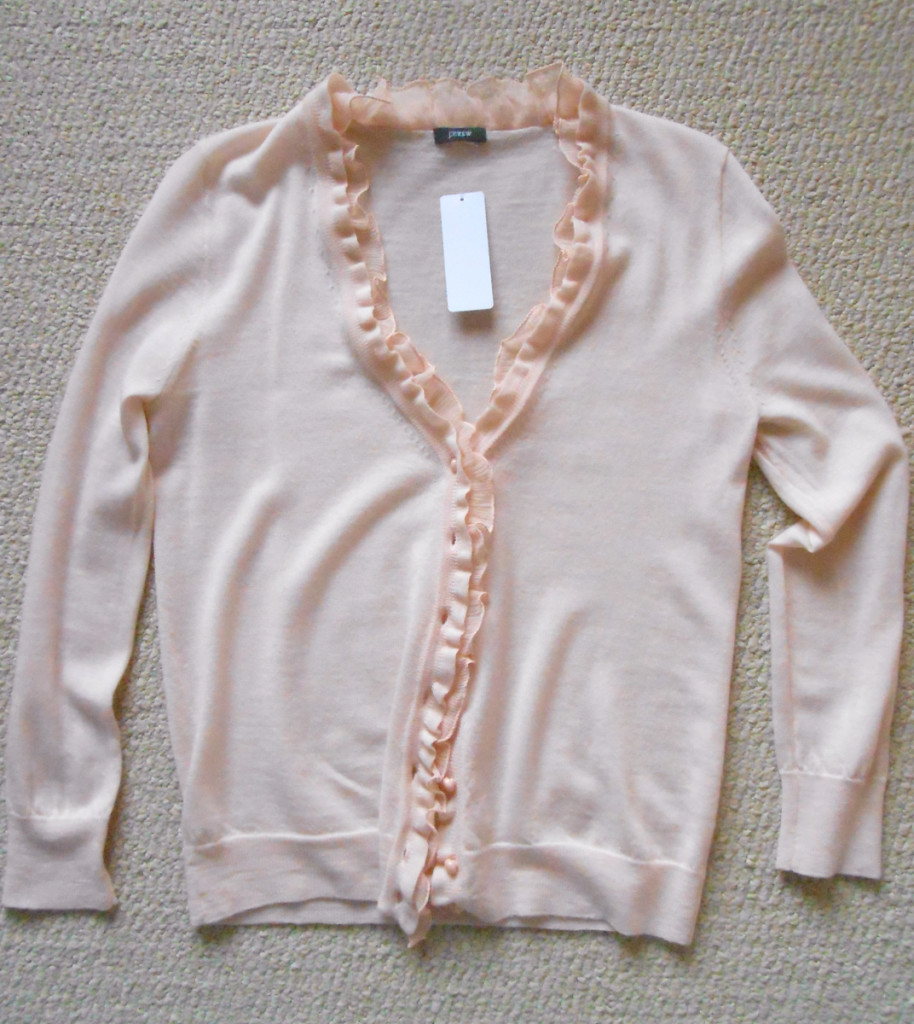 At this point, you can say that I am collecting these cardigans. I have 4 in this exact style, and one very close dupe. I was excited to see this colour version – the soft pink is so delicate, it could almost pass for cream (and I need a new cream cardigan). I think it's going to fit in very well in my closet.
Tiffany bead bracelet ($80, Kijiji)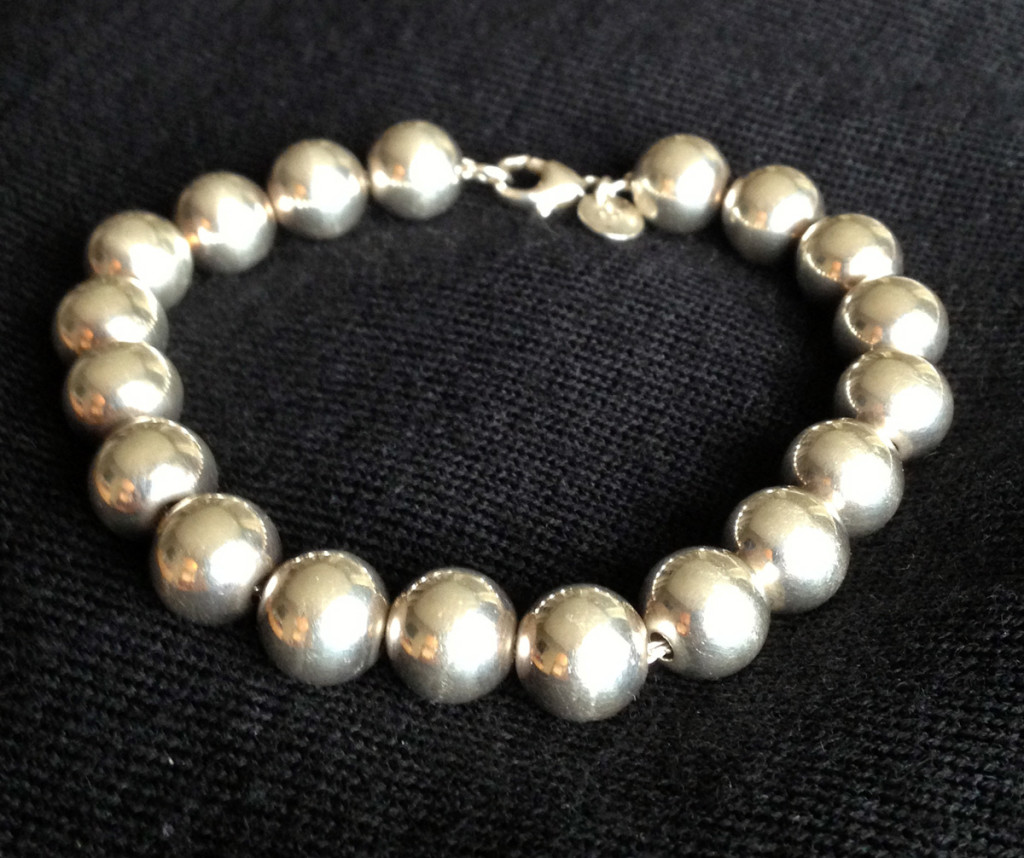 After getting the mini version of this bracelet (with Tiffany-blue enamelled heart charm) for my birthday, I found myself lusting after the regular size (10 mm beads). I've seen the two versions layered on a few style blogs, and love the look. What can I say, I'm a bracelet junkie! Still, mindful of my already bloated budget (hah!), I resisted the urge to splurge immediately. Instead, I provisionally added the larger bead bracelet to my list of potential Christmas presents. It wasn't meant to be – a Christmas present, that is. I was idly wasting time on Kijiji one day when I came across a listing for the very same bracelet, for more than 50% less than retail. Well, you know I can't resist a good deal. I was able to knock another $20 off the asking price (always worth floating a lower offer), and I got my bracelet … 4 months early.
Tory Burch Large Norah Satchel ($220, Kijiji)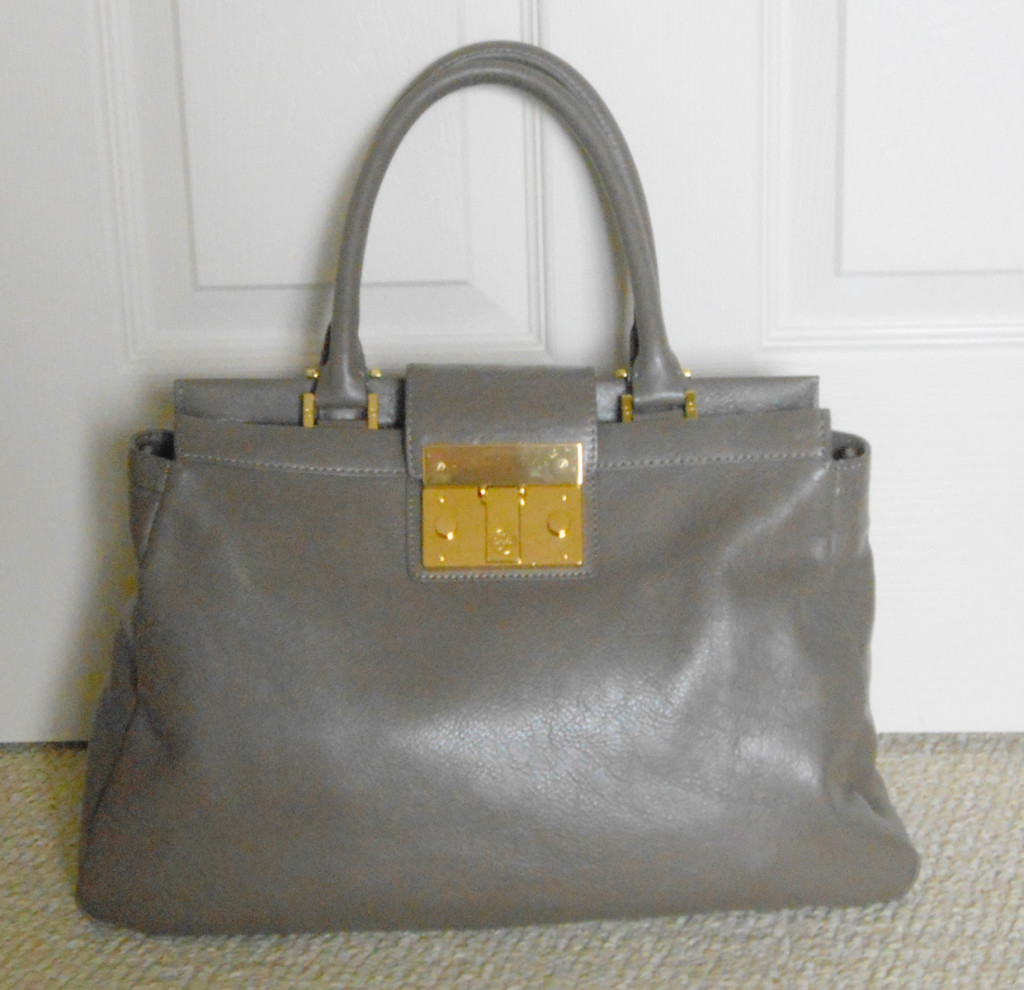 Turns out, Kijiji can be just as addictive as eBay! I haven't looked at it much in the past year, after getting tired of wading through a multitude of Coach, Kors, and fake Louis Vuitton listings, not to mention the increasingly ridiculous prices. While not much has changed, good deals are still popping up from time to time for anyone patient enough to look regularly. This Tory Burch purse is a good example; it's sold out on Nordstrom's website, and listed for $400+ on eBay, and I was able to pick up for about half that price, and in excellent condition.
Truthfully, it was something of an impulse buy, but I've learned to jump on a good deal even if it's not something I'm in immediate need of. This will be an amazing work bag next year; the colour (greyish taupe) is a fantastic neutral, the shape is structured without being too stiff, and the size is ideal for lugging around my daily work stuff without being too big. I love the classic look of it; it's stylish without screaming "designer" (the TB logo is very discreet). To make up for buying it, I decided to sell the other grey purse in my collection – my vernis leather Arcadia tote. Applying the "one in, one out" rule makes me feel a little less guilty about splurging on yet another designer bag, for the second month in a row.
Jimmy Choo pumps ($128 including shipping, eBay)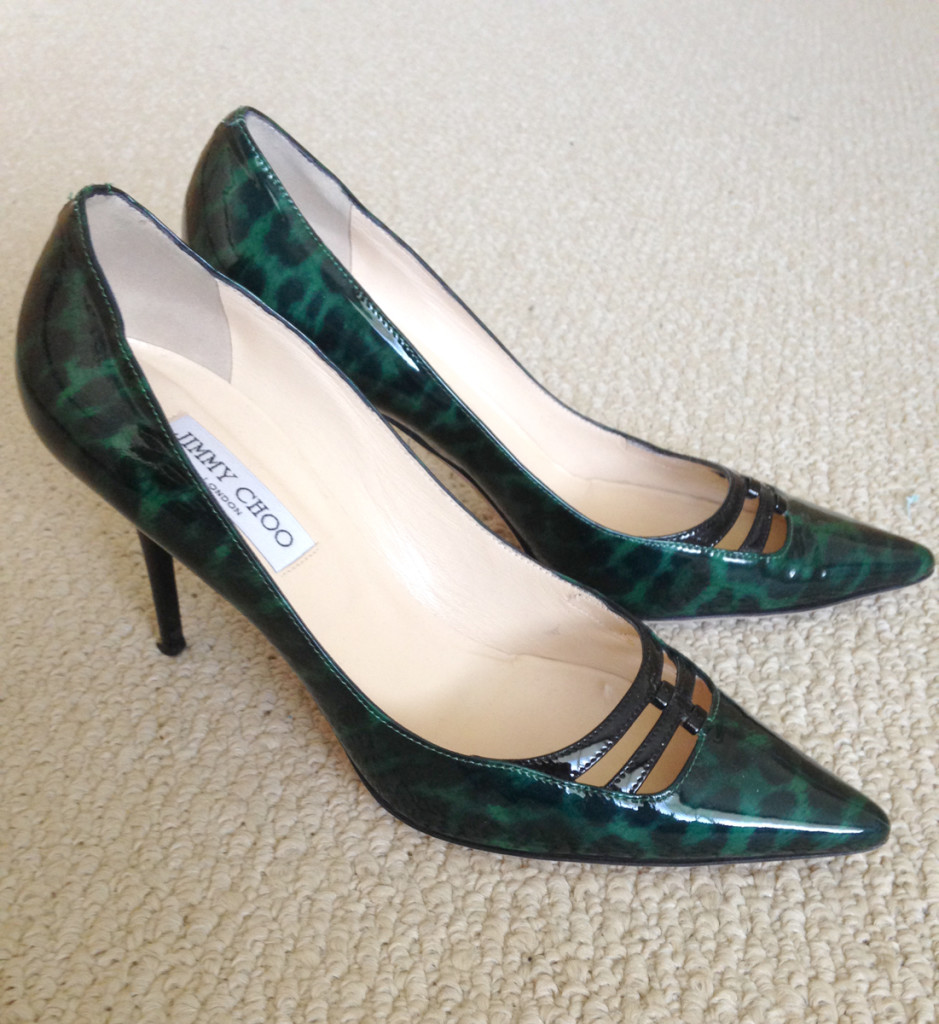 Speaking of sort-of impulse buys, here is another one. "Green pumps" have been an item on my general to-get list for a while, but I had no specific criteria in mind, nor did I initially plan to buy a designer pair. In fact, I was originally going to look for a Nine West pair – my old go-to brand for reasonably priced footwear. However, I've started to become disenchanted with NW quality recently (based on experiences with a couple of pairs I own), and the style I'd had my eye on never seemed to go on sale. Of course, I adore my thrifted Choos, so I occasionally look up the brand on eBay to see what kind of prices pop up. Well, you can probably start to see how this all happened. Granted, $128 is nowhere close to $8 (which is what I paid for my thrifted pair), but it's not a bad deal considering that (a) that Nine West pair I had looked at was retailing for around $120; and (b) this Jimmy Choo pair originally retailed for something like $750. And that's my defence in a nutshell.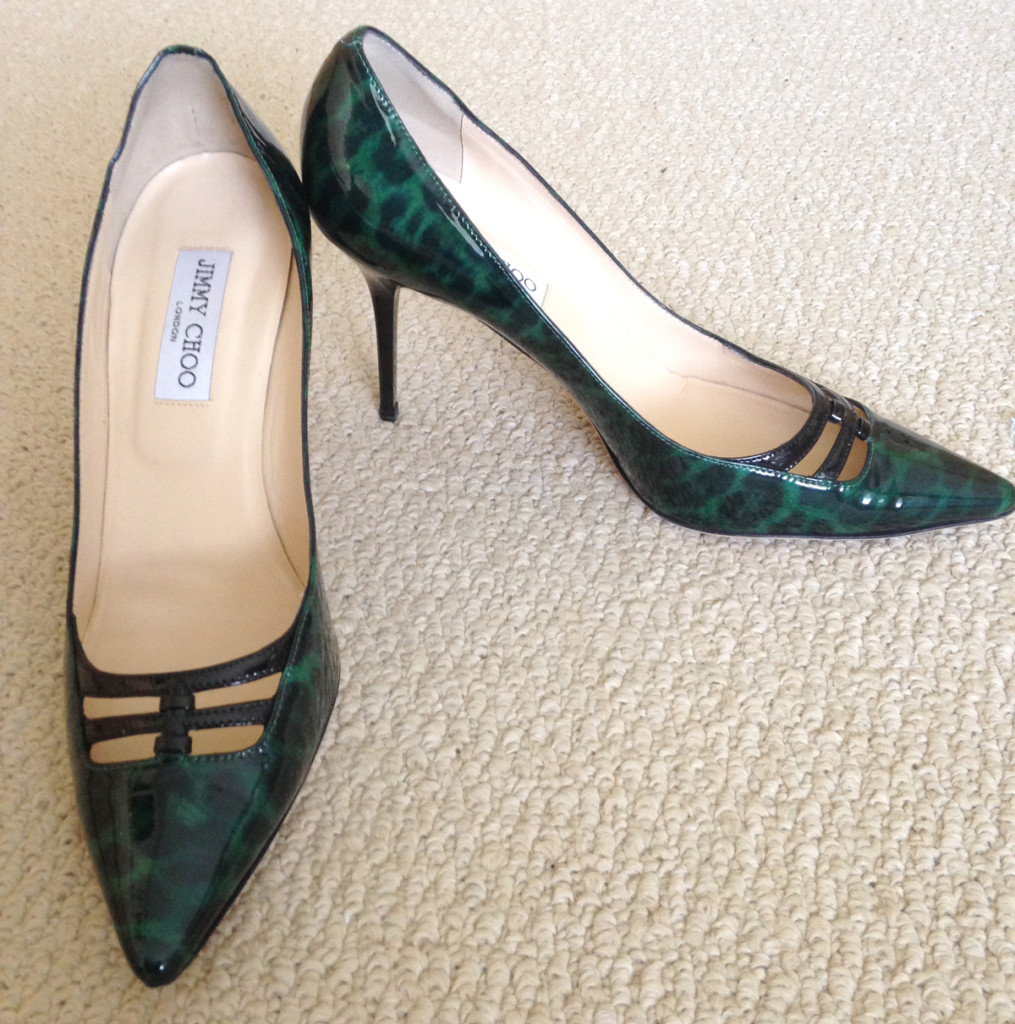 What was in your shopping bag this month?