When we were expecting our first child, my husband and I had a lot of fun shopping for baby stuff; it was all unfamiliar but adorably cute territory for two adults who had never spent much time around babies since, well, being in that category themselves. We marveled at the sheer number of things that babies seemed to require, and ooh-ed and aah-ed over the cuteness of it all. My only complaint at the time was that the cutest stuff of all was intended for girls … and we were having a boy. [Not that this stopped me from buying some of those very things; my son had an adorable mobile be-decked with pink giraffes and green elephants – traditional gender colours be damned!]
When we found out that we were having a girl the second time, my husband and I both expected that I would go wild buying all the pink and frilly things I could get my hands on. Something strange happened, though. There just didn't seem to be as much cute stuff for girls this time around … and a ton of it for boys. Sigh – "grass is greener" syndrome struck again!
Luckily, when it came to decorating the nursery at least, we didn't have a lot of things to buy, so our search didn't have to be too exhaustive. We planned to keep the same neutral wall paint, as well as all of the furniture we had previously bought for our son. The only things I wanted to change were the decorating touches – crib bedding, wall decals, a few toys and knick-knacks. In this regard, I gave my inner girly-girl free rein thinking it might be my only chance to do so; it's entirely possible (and indeed likely, if the universe has a sense of humour) that my daughter will be a total tomboy. Here is a look at the result: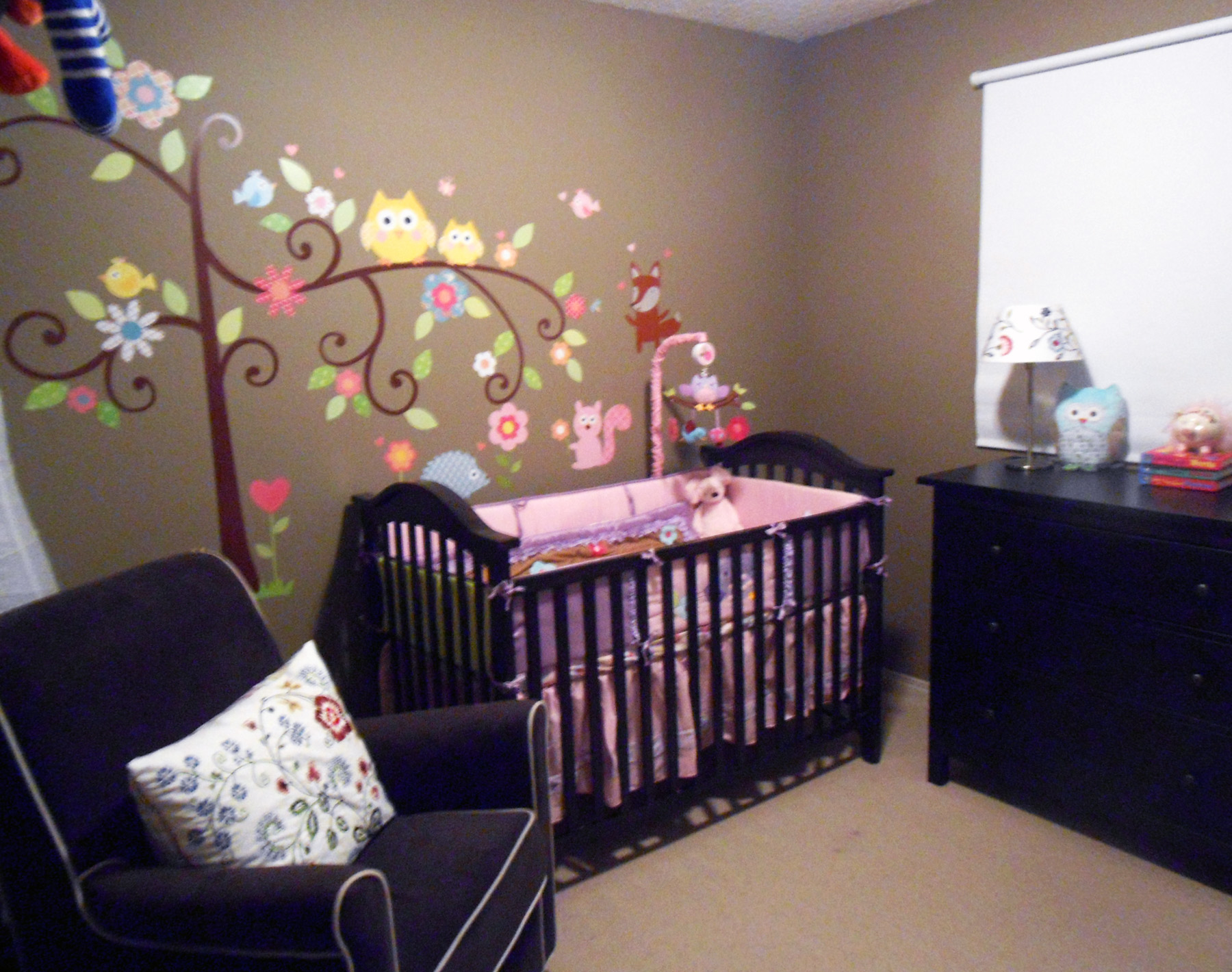 The bedding, mobile and main wall decal are from Westcoast Kids, a store you should only step into at your own risk – you will fall in love with everything, and you will spend more money than you planned. I also bought a smaller, matching decal at Target to add a bit more colour to the walls. The chair pillow and matching lamp are from IKEA, and re-purposed here from our former spare bedroom. The rest of the furniture is also not new, having been passed down (along with the nursery itself) from our son to his baby sister. The chair, crib and matching change table were also originally from Westcoast Kids, and the dresser was from IKEA.
[A word on the bedding: we chose to get the matching bumper set for the crib because our son ended up using his when he was a bit older (7 months +) and never had any issues with it. I put up the bumpers for these photos, but we are not using them at the moment.]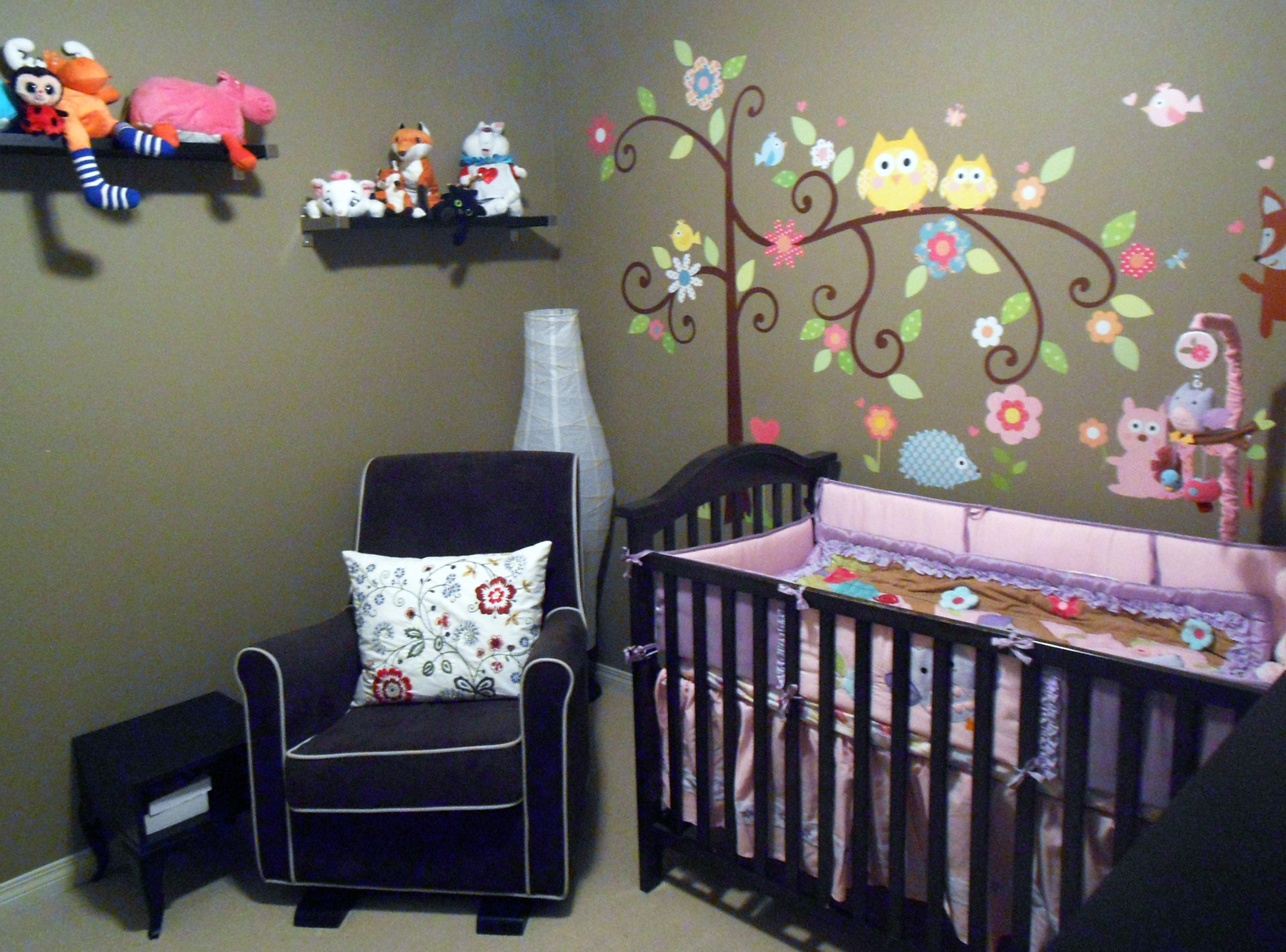 The one thing I'm absolutely crazy about is the wall decal. I wanted something cute and girly, but not princess-related; the owls and flowers motif was perfect, along with the pastel colour scheme. The fox decal was a leftover from Luka's old nursery decor, but fits in nicely, I think. As it turned out, I am not the only one who loved the wall decal; after seeing it in his sister's room, Luka liked it so much, he simply had to have his own. He ended up picking a similar version (in pink and green) from Target, and directed its placement around his bed. It totally clashes with his bedroom's car theme, but hey – who am I to argue?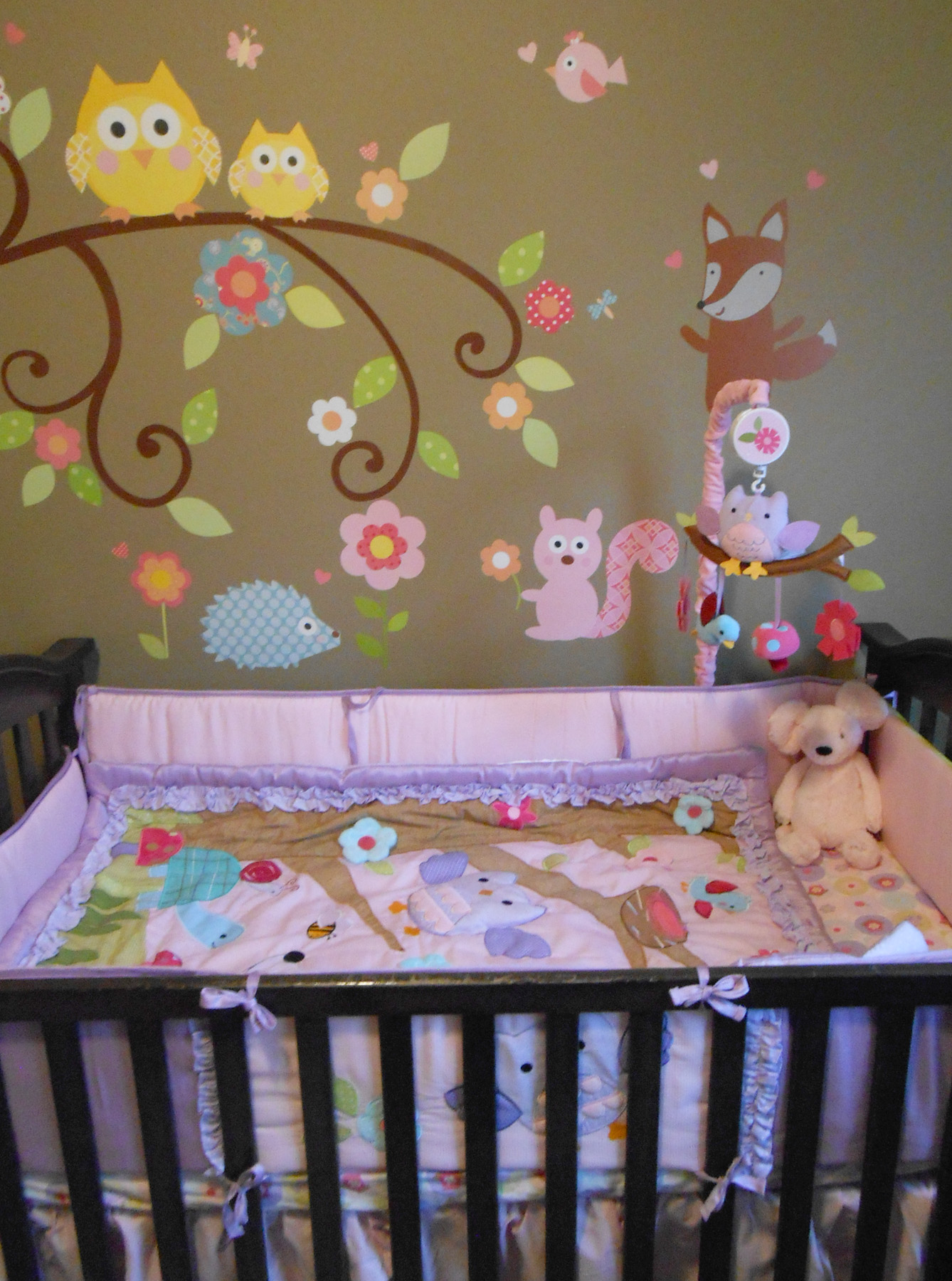 The wall decal also works nicely, without being too matchy-matchy, with the IKEA lampshade and pillow we already had. Continuing the owl-centric theme, I picked up this cute decorative pillow/toy at Winners.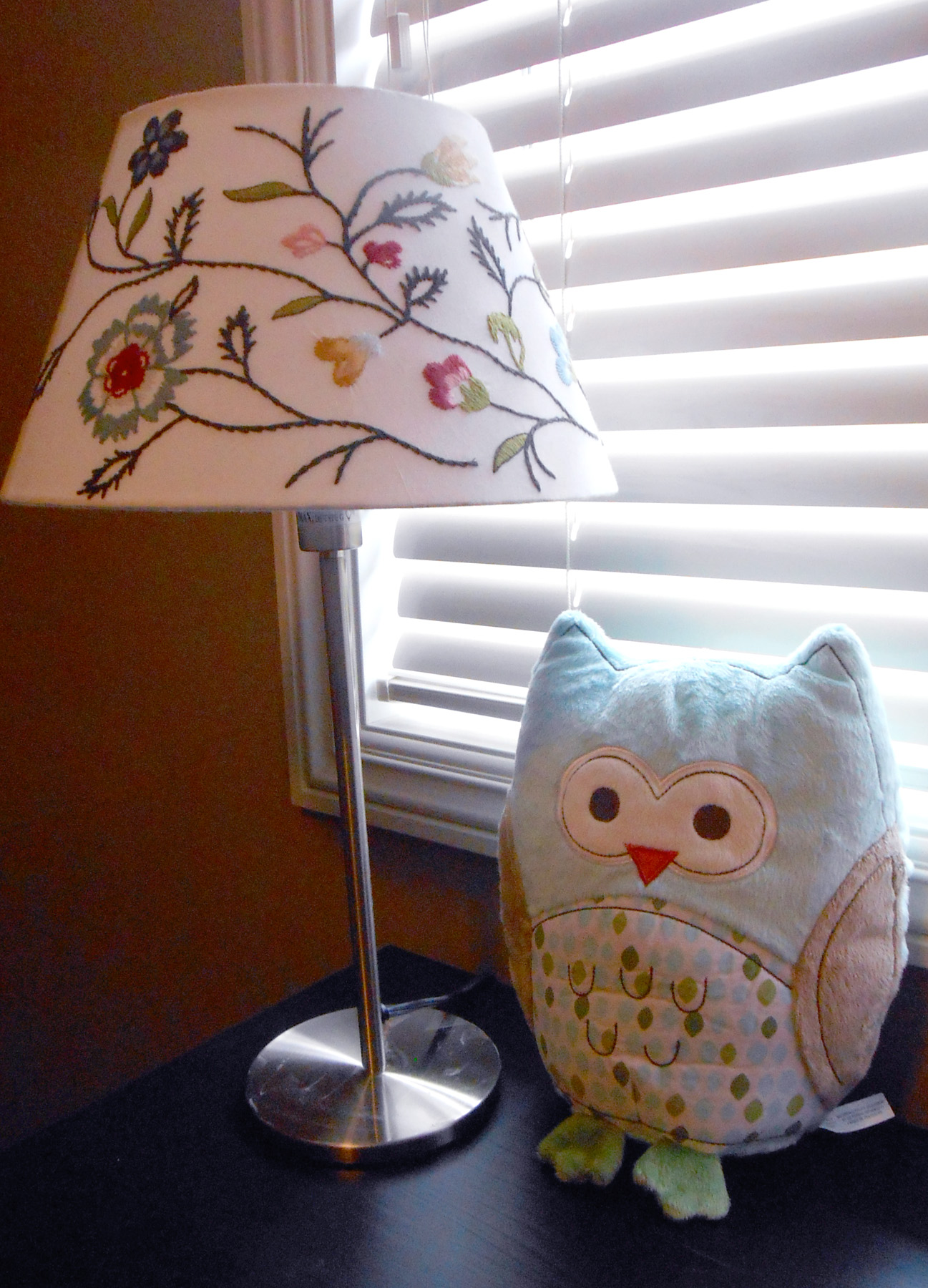 The ballerina piggy bank was actually something I couldn't resist buying during my first pregnancy (also from Westcoast Kids).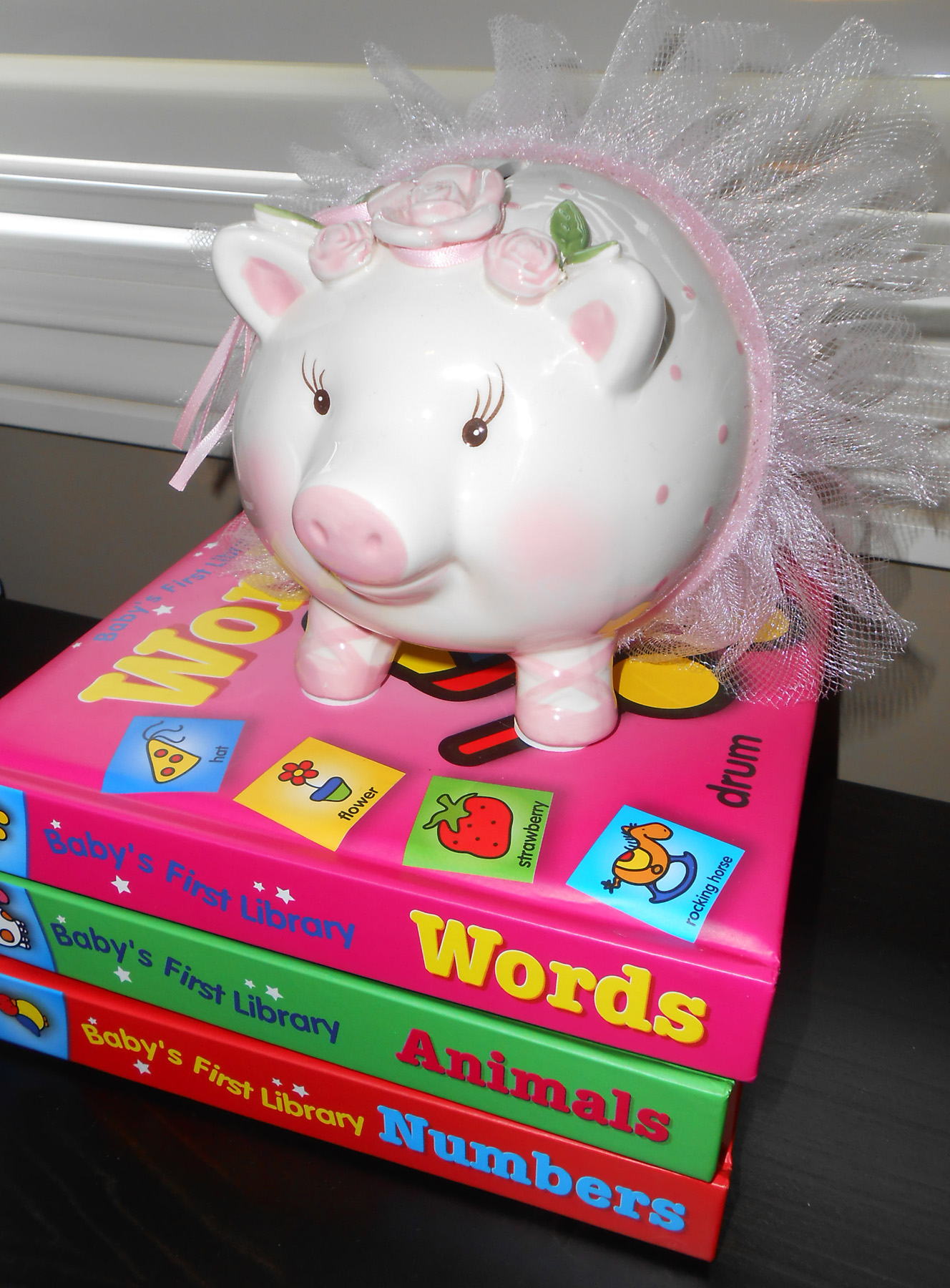 Here is a look at the smaller wall decal over the change table.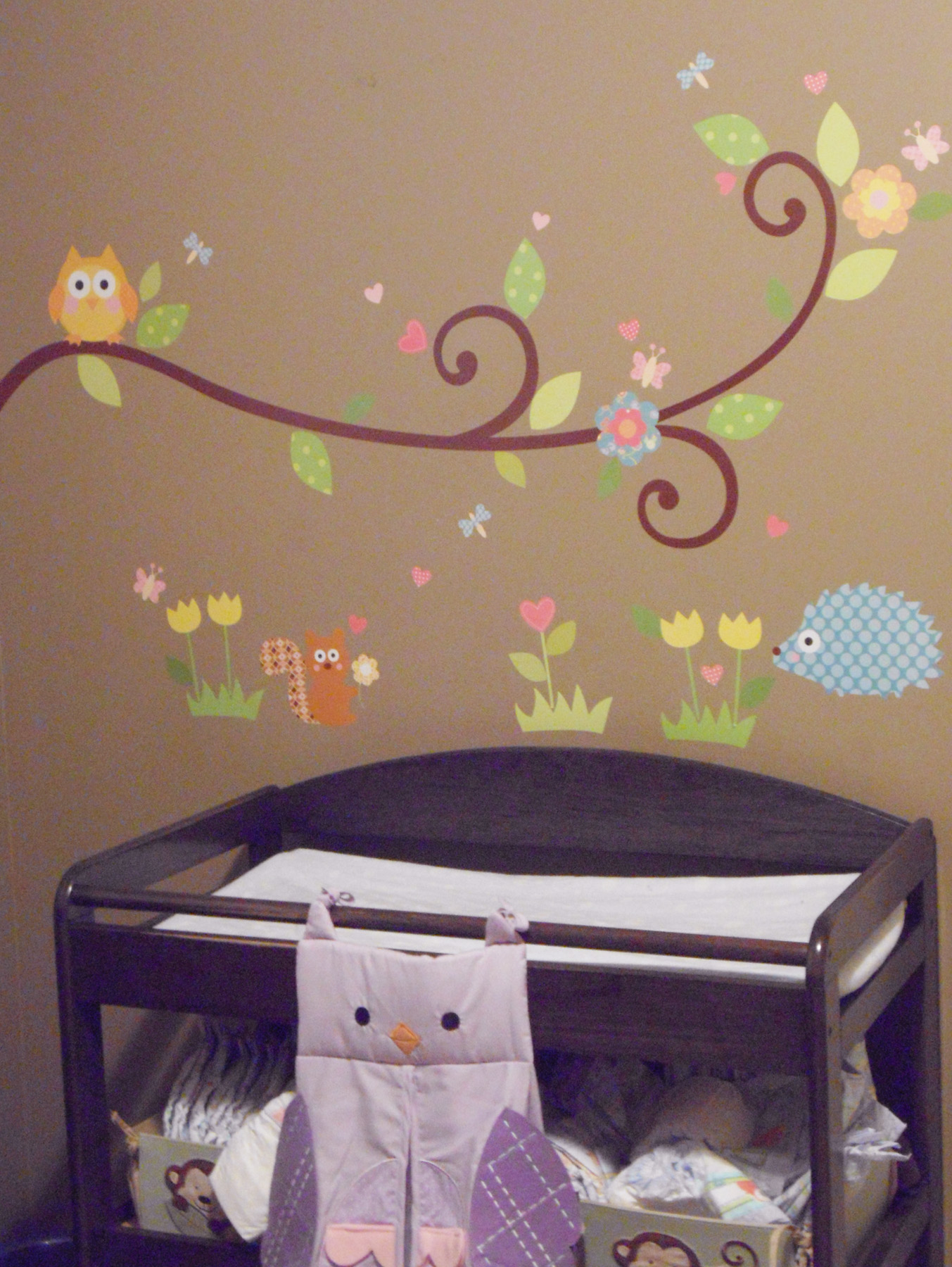 All in all, nursery decorating the second time around was much easier – no furniture assembly required, for one thing. We stuck with the lessons we learned the first time, though. Keep superfluous knick-knacks to a minimum, because they'll just be in the way in the middle of all those sleep-deprived nights. Keep things simple, tidy, and well-organized, the better to find everything you need in a pinch. Be prepared to have everything you buy be spit, peed, barfed, and pooped on – and I do mean everything. Expect that the baby may be supremely uninterested in all of the cute, expensive things you bought for her … and fall in love with a $3 toy you bought as a joke one time (my son still sleeps with his "lovie", a crochet monkey I bought for my husband at Shoppers Drugmart for Valentine's day 4 years ago).
Above all, accept that the nursery will never again look as it did the day before you brought baby home.