Although I haven't featured it in a while, my nail polish collection continues to grow – albeit at a much more leisurely pace than last year. And it doesn't consist of Chanel polishes exclusively, either.Today, I want to show you one of my other favourite brands, A England.
A England started as an indie brand, in that it's not owned by a big cosmetics manufacturer. However, with the explosion of the indie market (which now includes everyone and her sister concocting nail polishes in their kitchen and selling them on Etsy), A England has become something of a grande dame of the indie contingent. It's now sold on Nail Polish Canada, among other big e-retailers. Its creator, Adina Bodana lives in the UK and draws the inspiration for her collections from the canons of English literary history. Her first collection, entitled The Mythicals, was inspired by Arthurian stories; the follow-up collection was inspired by the legend of St. George and the dragon (aptly entitled The Legend). She has done subsequent smaller collections based on famous literary heroines, and most recently the fairy tale of Briar Rose.
Interesting back-stories aside, the true mark of great polish brand is the formula and the colour palette. On both grounds, A England does not disappoint. For my personal stash, I have gravitated towards A England's scattered holo polishes, so I can't speak as authoritatively for its other offerings, though I assume the quality is the same. A England holos are superb – almost all of them are one-coaters that apply incredibly smoothly. The colours are rich and saturated (so much so that some occasionally do stain a little bit on removal), and absolutely gorgeous. Don't take my word for it – take a look:

Up first from the left in the above picture, we have Princess Sabra from The Legend collection. I can best describe it as a mossy, golden yellow; it definitely leans towards green, very reminiscent of yellow-green cats' eyes. For good reason, then, this polish is also known as Tristam's Eyes (Tristam being Adina's cat).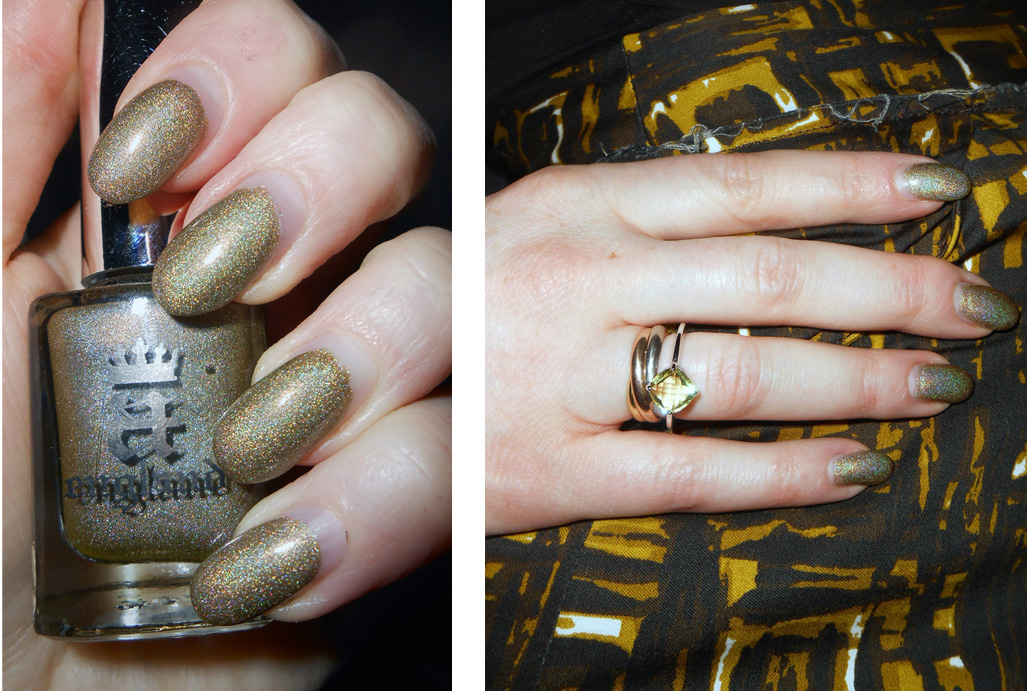 Although all A England holos look quite sparkly under artificial lights, they are far more mellow in natural light and some, like Princess Sabra, are positively demure. The holo is, as I mentioned, of the scattered type which results in a rainbow-aura effect, rather than a linear-rainbow one. A bit more subtle, but still so gorgeous.
St. George, also from The Legend collection, is a stunning teal blue. If you look at it very, very closely, you can see the mix of green and blue shimmering particles that are mixed in. St. George is one of the most pigmented A England polishes I have tried, so it requires careful (and thorough) removal. On the plus side, it's a one-coater for sure.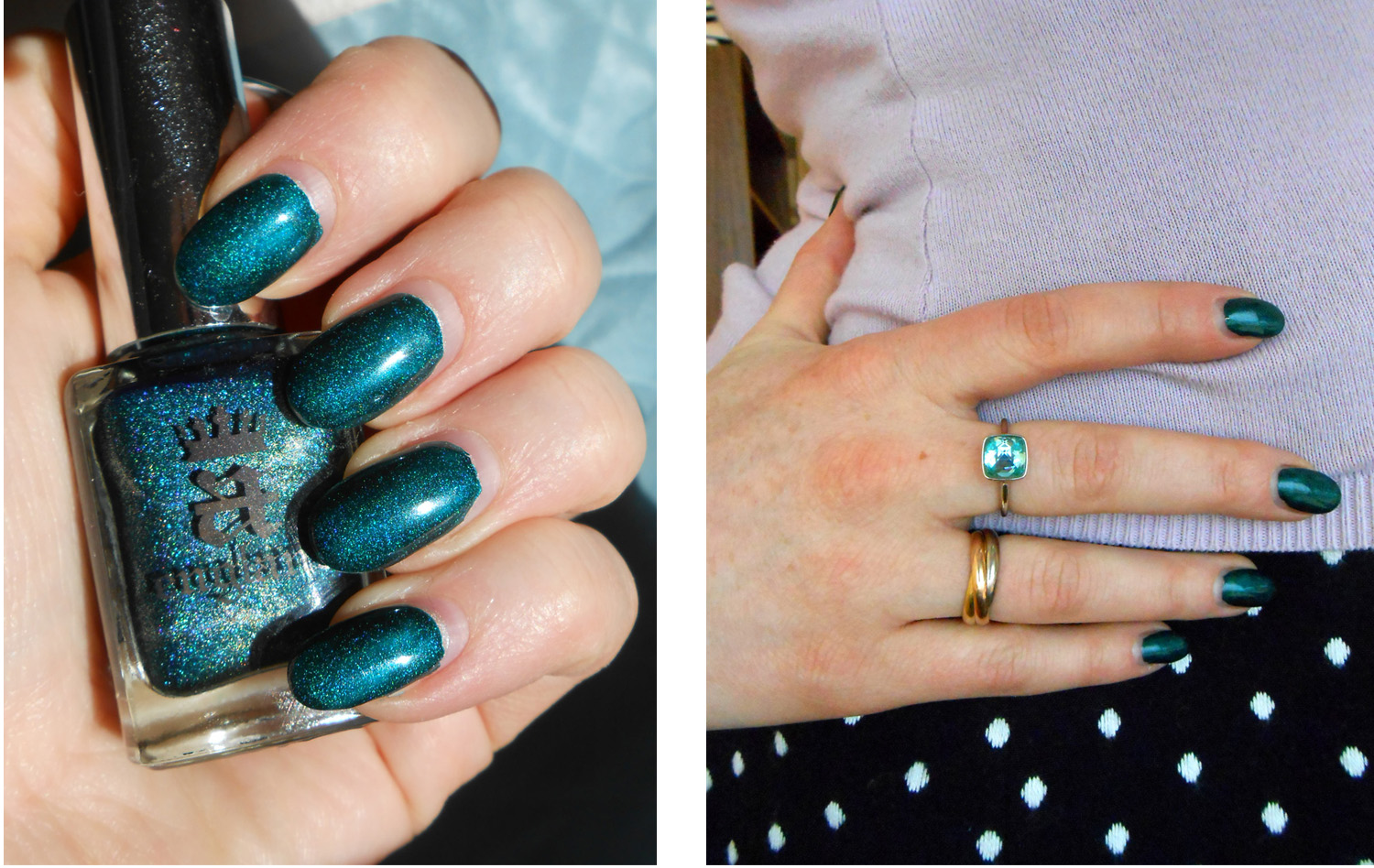 As an aside, I have found that top coat does nothing to diminish the holo-ness of A England holos (probably because they are of the scattered variety), so don't be afraid to add a layer to your A England manicure for some extra shine.
Tristam, from The Mythicals, is a beautiful navy blue with slight purple leanings. The second shot below (on the right) gives a slightly more accurate idea of its colour, though it does look brighter and more blue in the sunlight (picture on the left).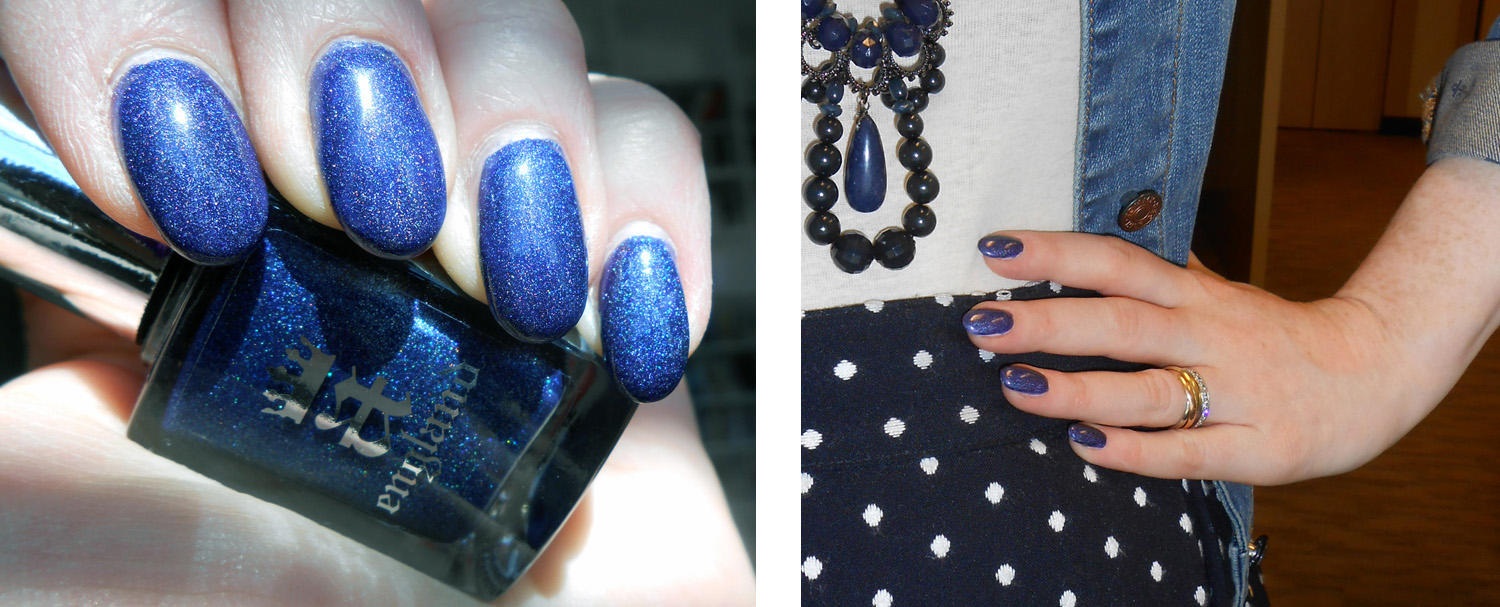 Briar Rose, from the Burne-Jones Dream collection, is an intense, cool crimson. As with most red holographic polishes, it is not a strong holo as compared to the others; this doesn't really matter, because it is such a gorgeous colour. You know how much I love my Chanel reds, so you can appreciate what it means for me to say that Briar Rose is up there with them as one of my favourite red polishes of all time.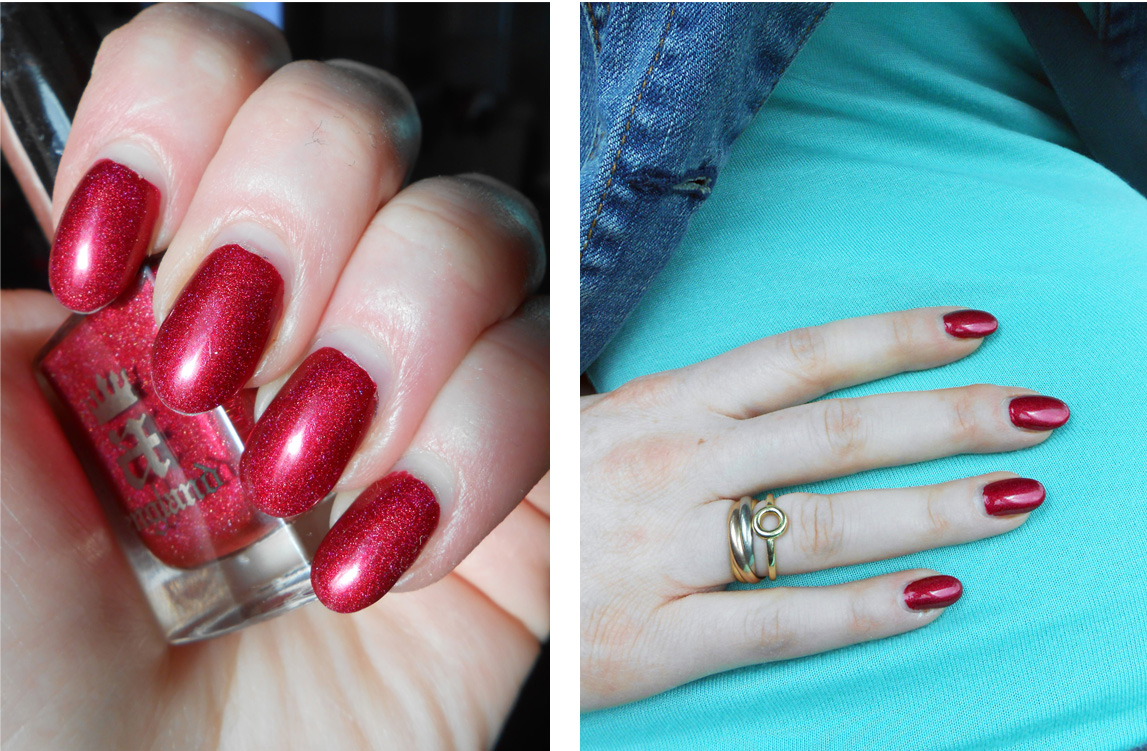 Rose Bower, also from the same collection, is a beautiful, deep rose-mauve. There is a slight smokiness to it that makes it quite unusual. Although it's hard for me to pick an A England overall favourite, this would definitely be one of the contenders. And I'm not even a fan of pink-leaning polishes usually!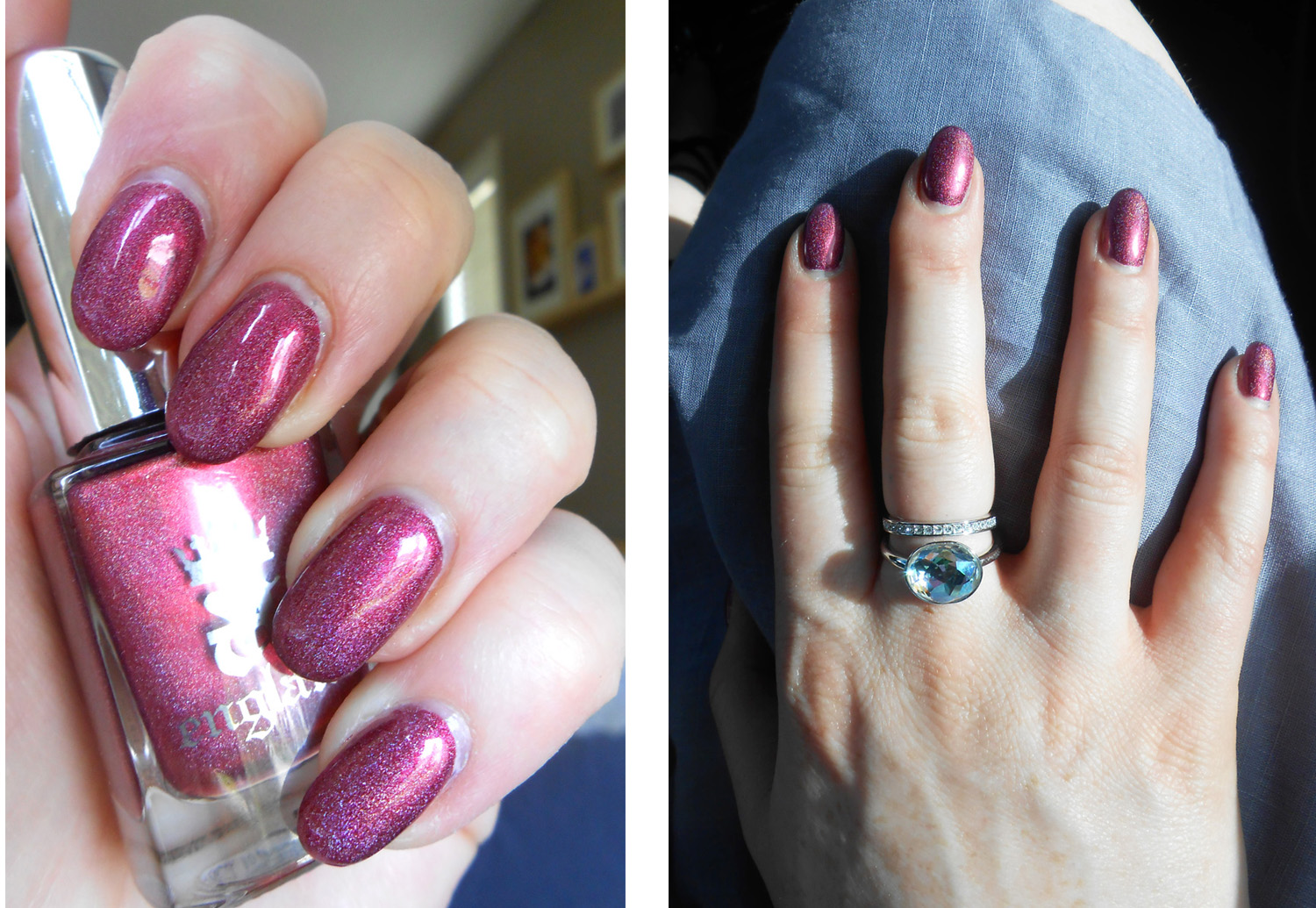 I should mention that, as compared to earlier collections, the Burne-Jones Dream polishes have a slightly thicker formula. Whereas the other polishes can be one-coaters (I usually end up doing two coats anyway), these ones are definitely one-coaters-and-no-more. The coverage is incredible – no bald spots, no brush strokes, just beautiful, rich colour.
Ascalon, from The Legend collection (named after the sword of St. George), is a silvery grey that leans towards lavender. It's almost a duochrome, and looks quite sophisticated, especially on shorter nails.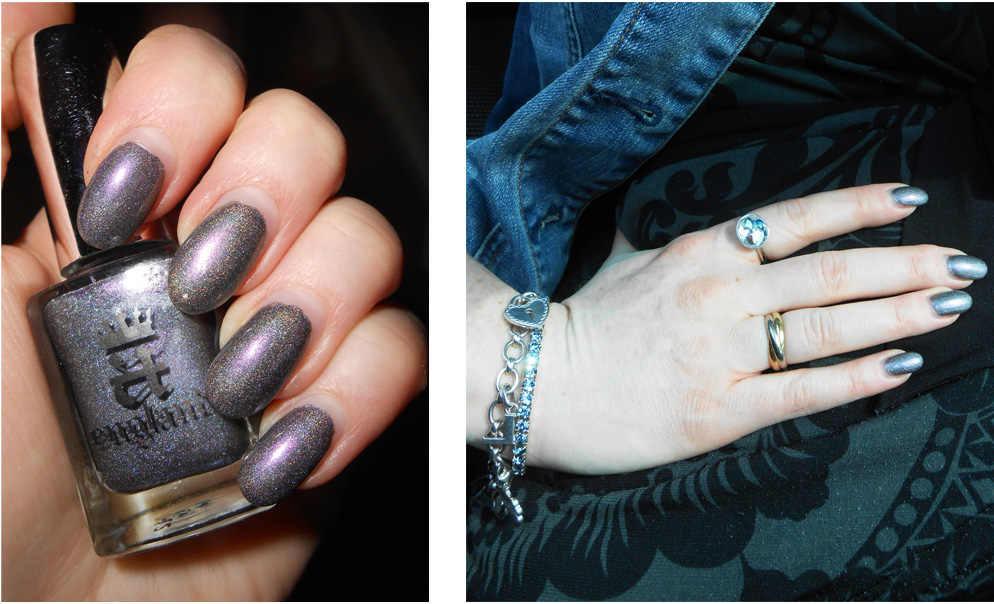 Princess Tears, also from The Legend, is something of a companion to Ascalon – an ethereal silvery lavender. The colour reminds me a lot of one of my favourite OPI Designer Series polishes, Diamond. It is incredibly flattering on my skin tone, and perfect for a "lady-like" manicure – lovely to look at it, but not in-your-face.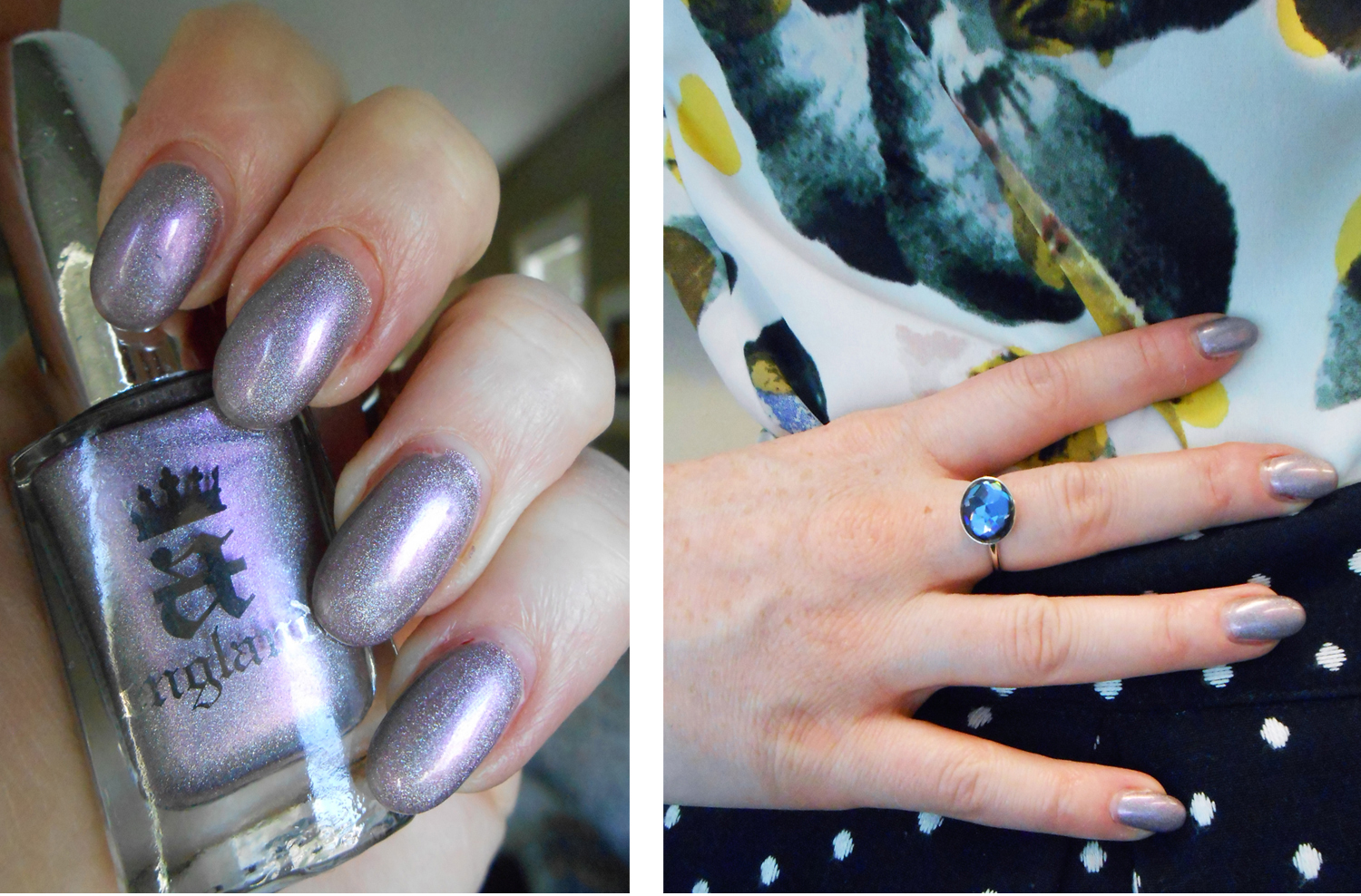 Dragon, again from The Legend collection, is a very much in-your-face polish, living up to its name perfectly. It's a true green, and leans neither too blue nor too yellow. It's not my favourite A England, simply because I find that my wardrobe needs a more emerald shade of green to complement it. With that said, Dragon is gorgeous nonetheless.
Lady of the Lake, from The Mythicals collection, is a medium, subdued purple. I find it has an almost faded quality to it; it's definitely not as intense of a colour as some of the other A England holos, though the formula itself is no less superb. I think the reason why this is probably the only "meh" shade for me is that it doesn't really do much for my skin tone.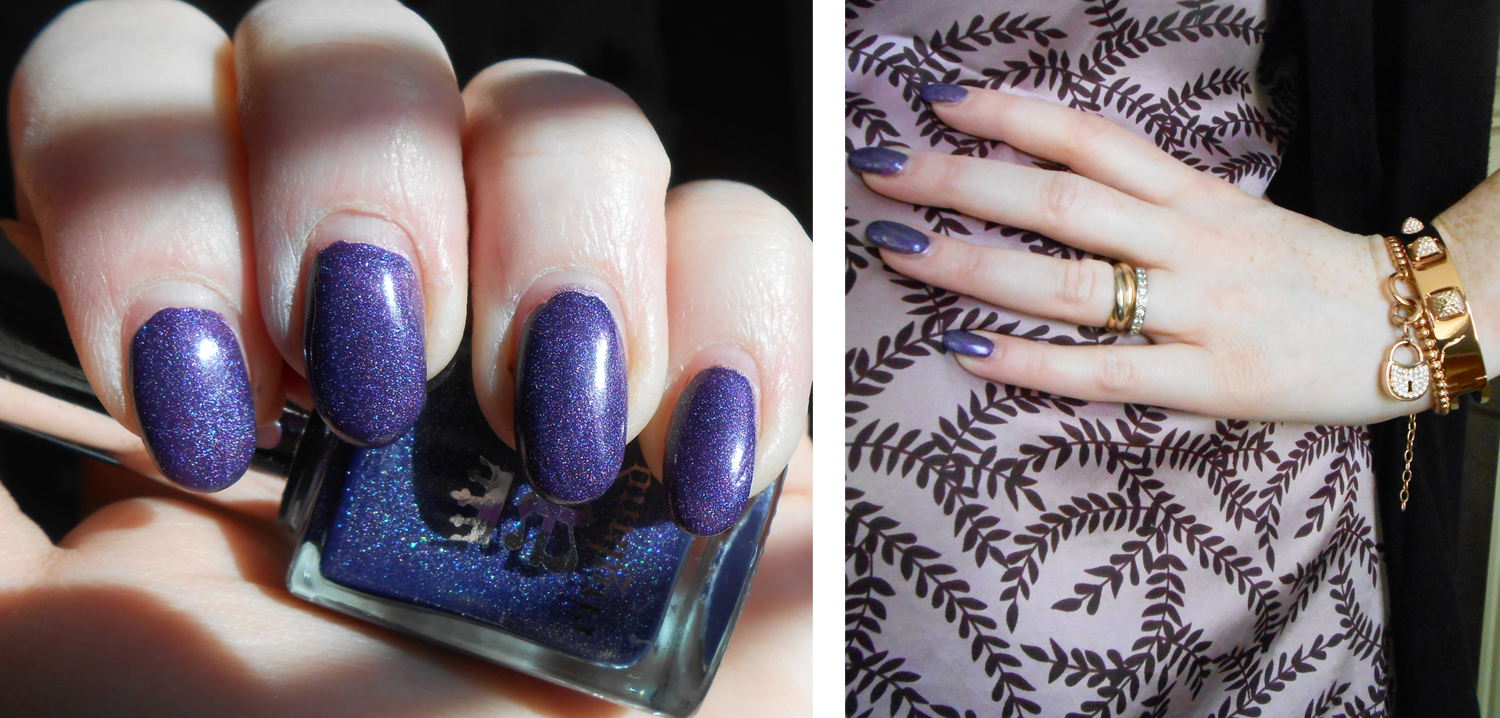 Sleeping Palace, from the Burne-Jones Dream collection, is the opposite – a purple I love. It's a vampy, smoky, greyed-out purple that's quite stunning on the nail.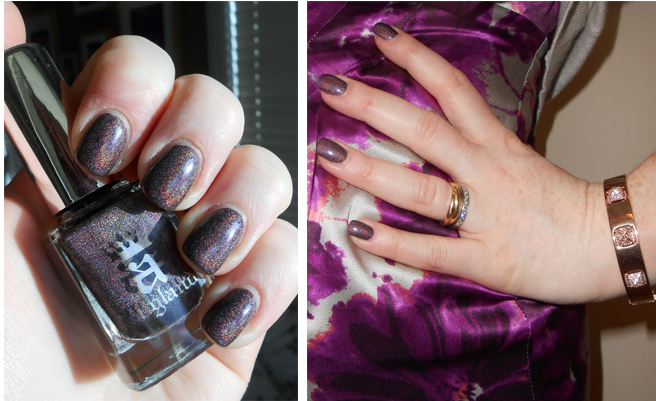 Last, but definitely not least, Briarwood is another contender for my personal A England favourite spot. A lit-from-within, darkened coppery russet, it reminds me of a holo version of OPI's Germanicure (another favourite of mine). It's another vampier shade that still manages to positively glow on the nail.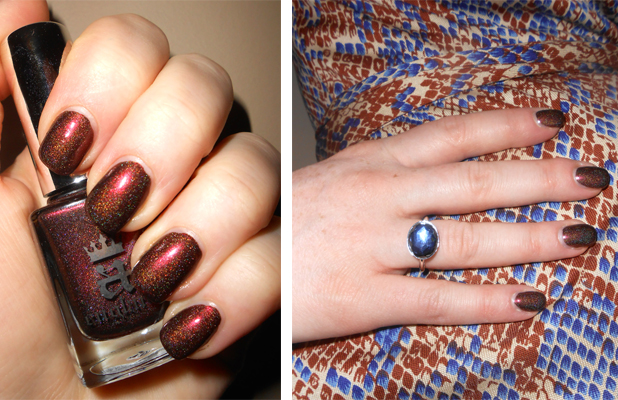 A England polishes are available online at Nail Polish Canada for $13.50, as well as other e-retailers. What do you think of my little stash, and do you have any favourites?