August was quite the fun month, and not only because it was my birthday month. In the words of Britney, oops … I did it again. I got all spendy, that is. First of all, with the J. Crew again. I honestly don't know how it happened … I didn't intentionally set out to buy so many J. Crew items; although I do tend to like their aesthetic a lot, I hate having an entire wardrobe from any one store or brand (especially since this one still manufactures most of its clothes in China). But somehow, here we are. I also bought quite a few things retail, though on sale, so this month's shopping was a bit of a "fail" on several levels. On the plus side, I had one major (consignment) score. Just wait till you see what I'm talking about!
As per my initial warning: this was another very expensive month (9 items, $530). Looking on the bright side, my purchases would have been over $1,500 at retail, so it could have been worse. I did make $93 from selling a bunch of stuff on consignment, another $60 from a garage sale, plus a bit more from freelance work. My "out-of-pocket" cost was actually minimal, but I know I'm going to have to start setting a stricter budget once I'm on mat leave. Sigh! I guess I better enjoy my last few weeks of unfettered consumerism while they last.
On to the clothes!
J. Crew Tippi yellow crew-neck sweater ($26, J. Crew)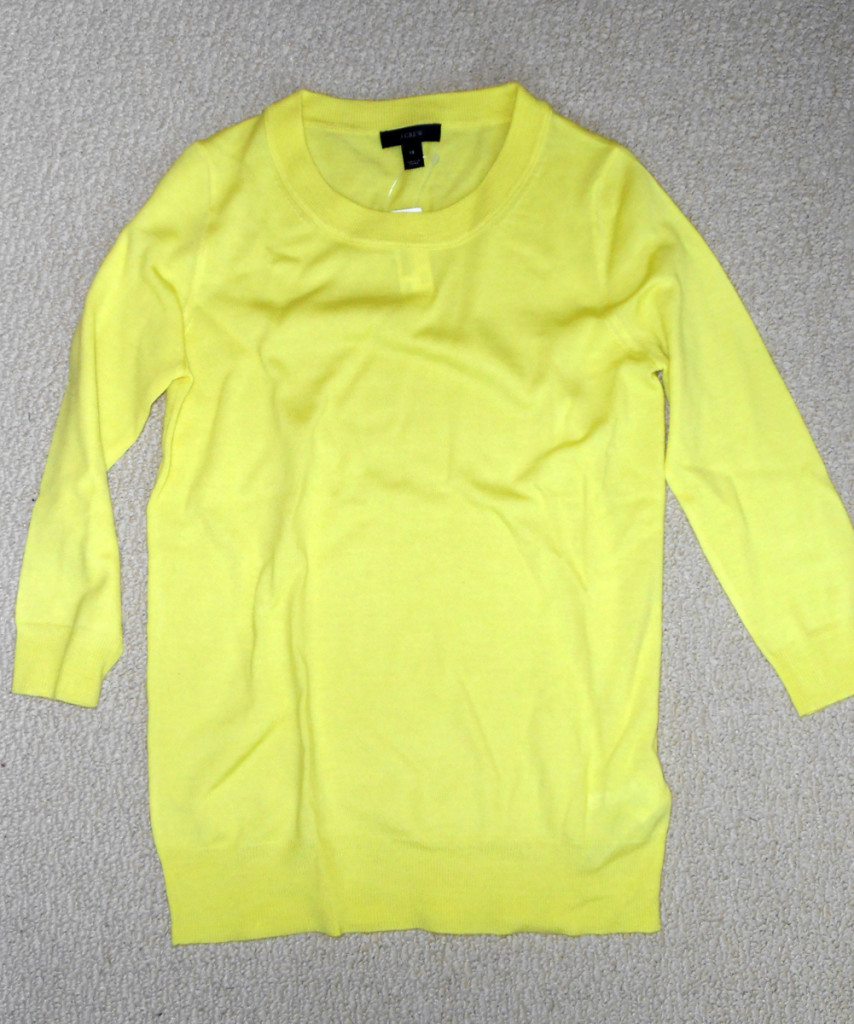 As my dream shopping list attests, crew-neck sweaters have been on my radar for a while now. This version is similar to the black sweater I found at the Factory Store, and went for about the same price. The colour leans towards neon, which will take some adjustment on my part, but I think it will work for my style if paired with more somber neutrals. It will be a great pick-me-up colour in the middle of winter, for one.
J. Crew bracelet ($38, J. Crew)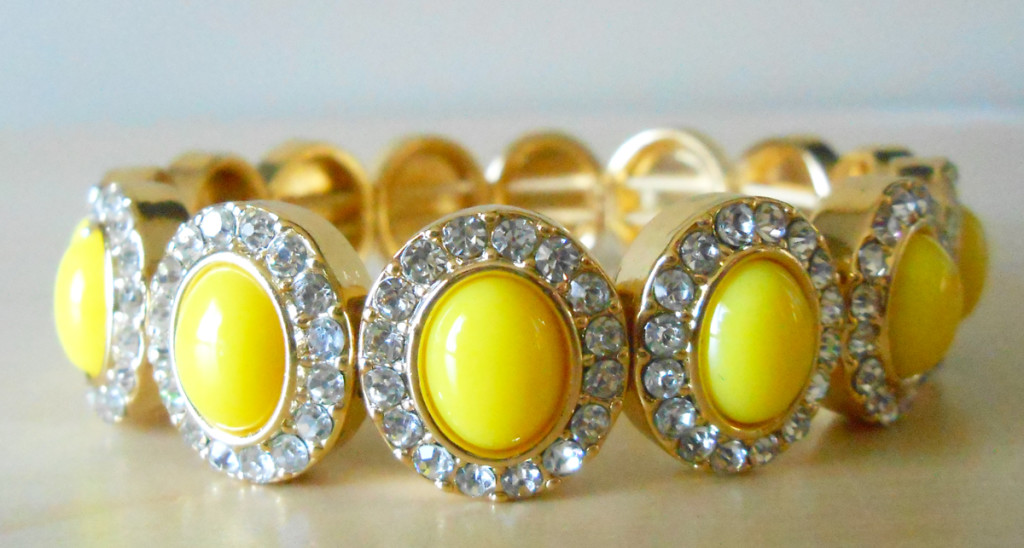 Still obsessed with bracelets! In retrospect, I overpaid for this one; I should have waited for a sale, or looked for something similar at a lower price point. You could say that I was blinded by the bling.
J. Crew Tippi butterfly sweater ($45 including shipping, eBay)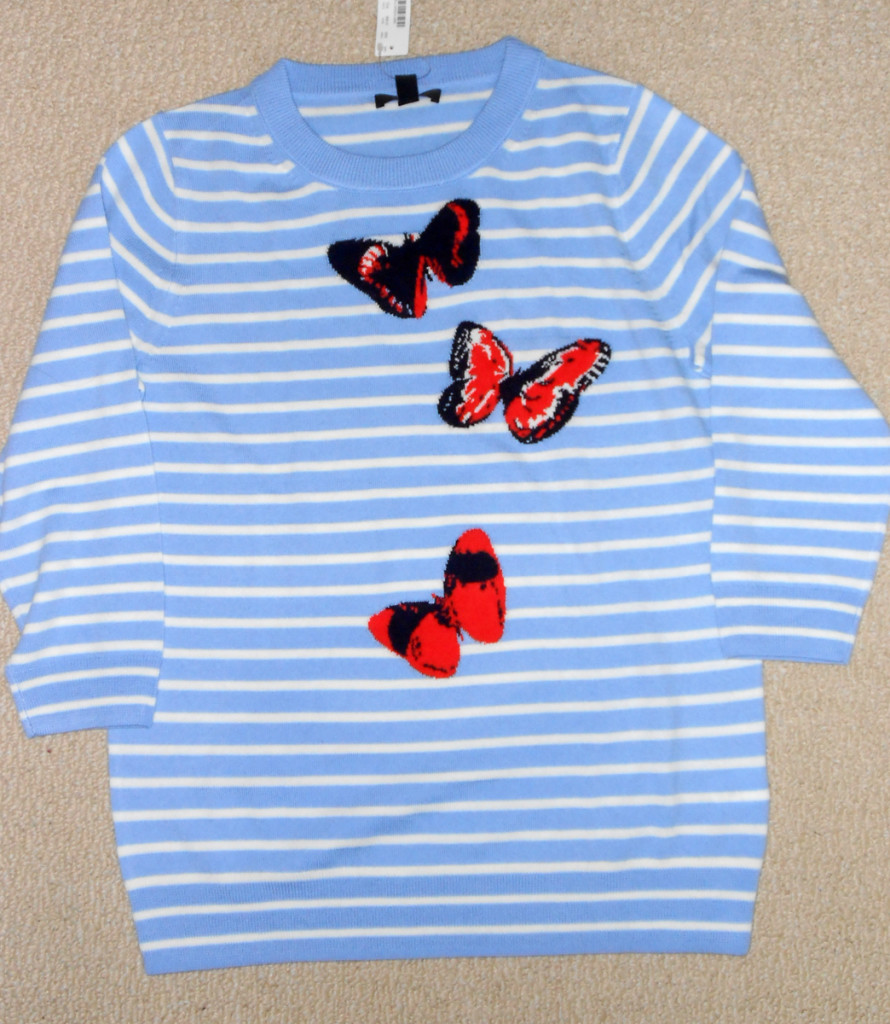 I initially saw this sweater in the store, but it was still around $60 on sale. I loved its whimsicality, though, so when I saw it listed for cheaper on eBay (new with tags), I caved in to the impulse and bought it. It's a little bit preppy, and a little bit twee, so of course, it's right up my alley!
Diane von Furstenberg Kye wrap dress ($68, Vespucci – consignment)
I can never resist a DvF dress when it's on sale for under $100. I don't have another dress in this particular style (only slong-sleeved ones), and the print is really cool – two additional reasons to pick up this beauty. I can't wait to wear it, post-baby.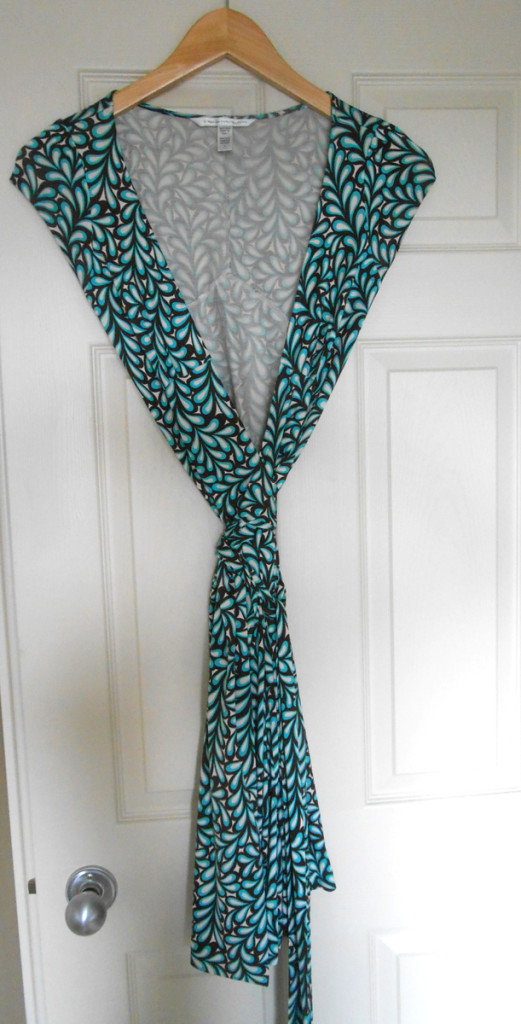 Kate Spade Irving Place Little Nadine bag ($170 including taxes & shipping, eBay)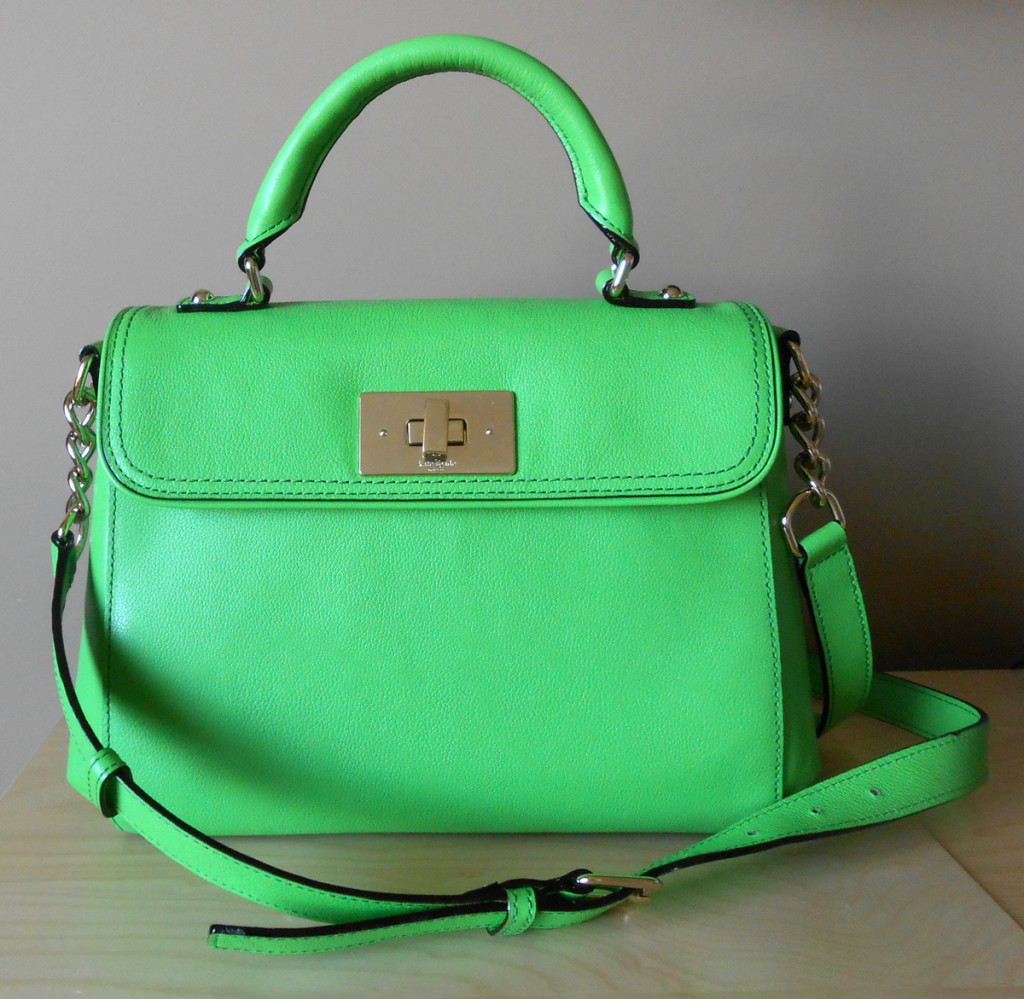 Remember my dream shopping list? Consider another item scratched off – I found my green bag! This was a bit of serendipity at play; I happened to see a banner ad on eBay for a Kate Spade New York flash sale, and ended up finding this bag listed for $149 (over 60% off). Individual sellers had it listed for far more, so this looked like a pretty good deal on a new bag that's still currently in stores. The downside: Kate Spade no longer seems to ship to Canada. I managed to get around the problem by asking a (US-based) family member for help; she was very sweet and agreed, and the bag was on its way to me in no time. I know others get around this type of problem by having an American credit card and PO box address (from which they can re-route packages to their Canadian addresses); those closer to the border have it even easier, of course. Any other suggestions?
[Edited: Kate Spade is now shipping to Canada … again. On the bright side, this bag is no longer available, so all the hoops I had to jump through to get it were sort of worth it after all.]
Gold-toned ring ($12, Red Pony – consignment)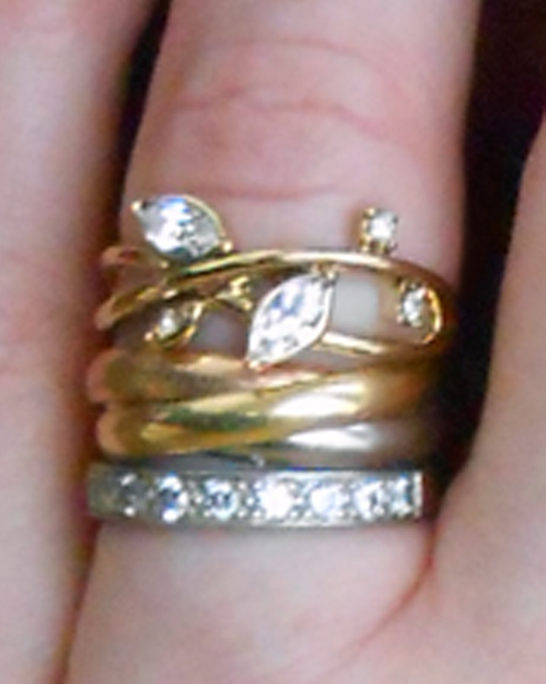 I love, love, love this ring – it's perfect for stacking, and the design looks classic but modern at the same time. There are no markings on it, so I'm sure it's not gold-plated, which makes me worry about its likely longevity. Time will tell … but for the price, the risk is worth it.
Cameo brooch/pendant ($6, thrift)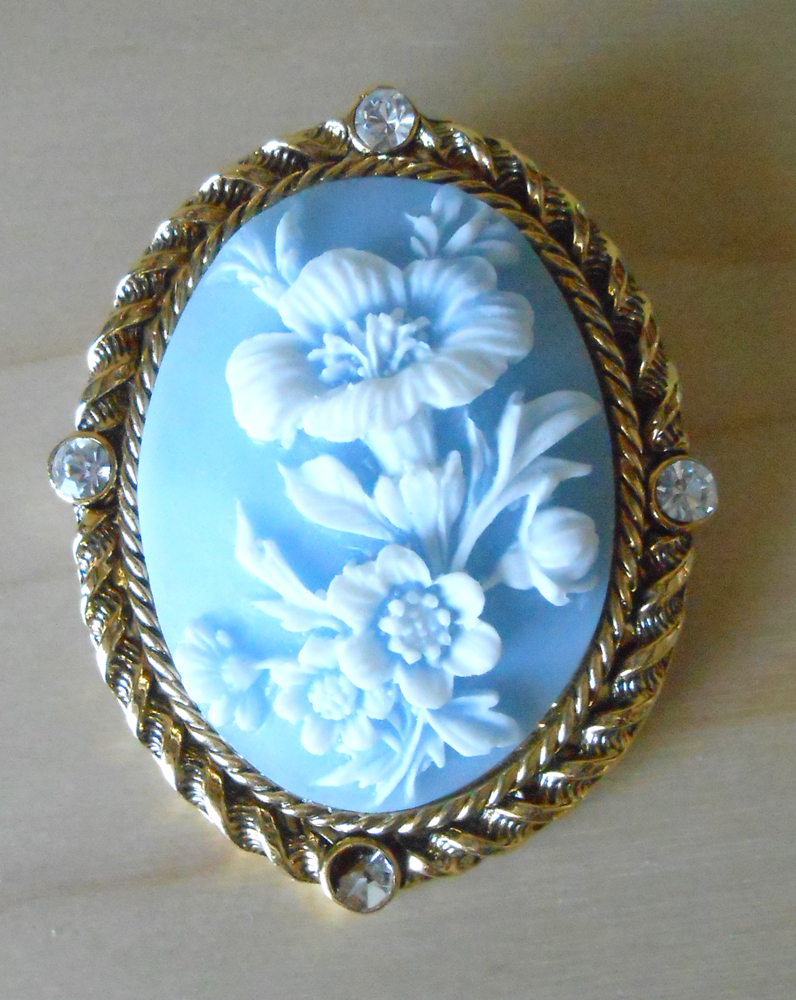 This was too cute to pass up, even with a missing rhinestone (easy fix). I love cameos and have been looking for a blue version for a while. The Value Village price beats anything on Etsy, even after accounting for repairs.
Vintage Coach Compact Pouch bag ($40, Kijiji)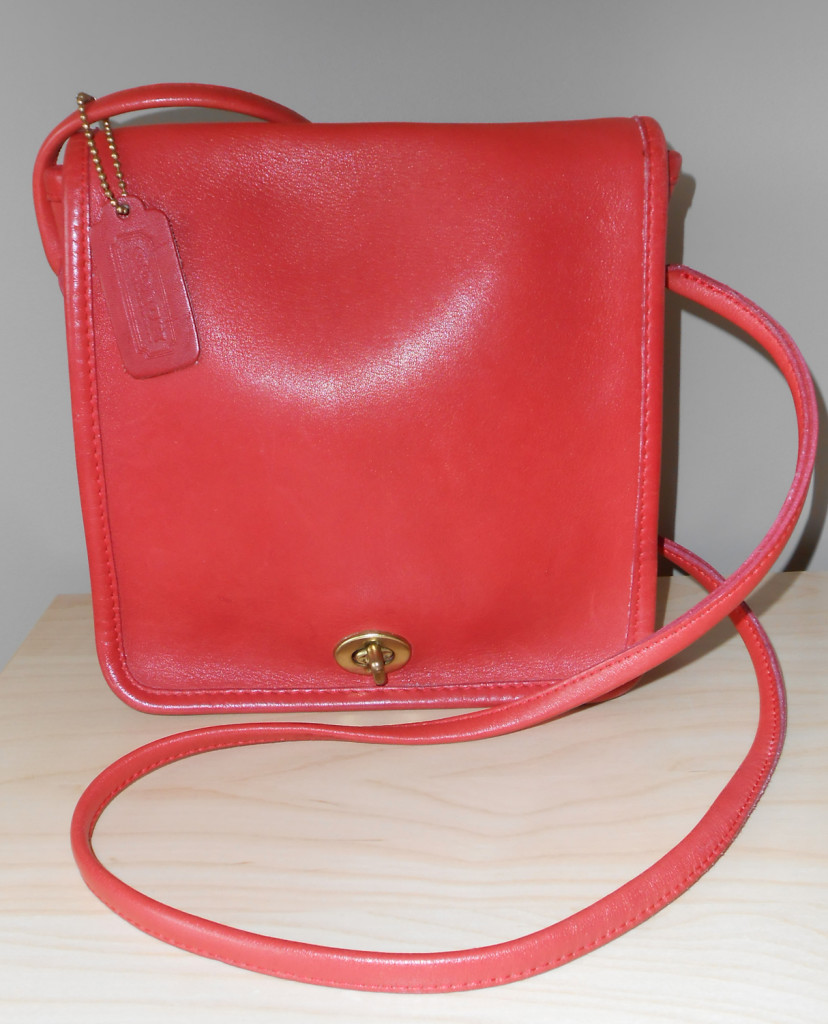 Impulse buy time. Here's my justification: I love the look and quality of vintage Coach bags. For the price, it wasn't the worst impulse I've heeded. I've also been looking to add a red bag to my collection, and although this one is slightly too small for everyday wear (at least when I'm working), it will be a nice stop-gap. Bonus points for being a cross-body bag, which will be very handy when I have my hands full with the baby.
Ferragamo Flavia Slingback Pumps ($125, consignment)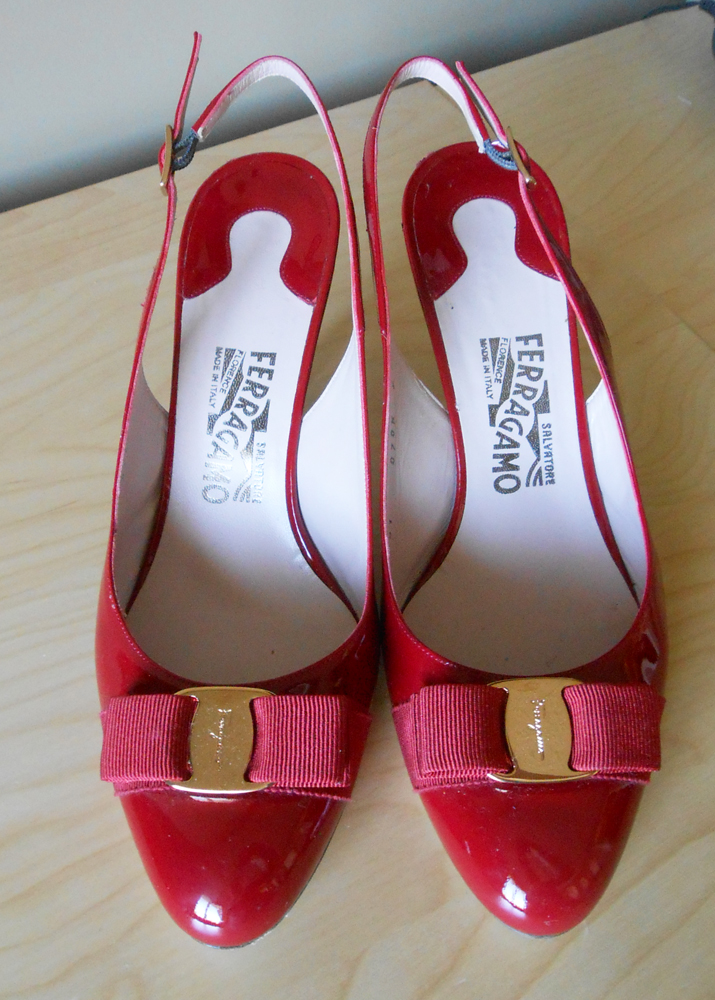 I saved the best for last. Consignment shopping is so unpredictable. I tend to visit the same store regularly – at least once a month. I probably buy something every second visit, but the true finds are fewer and farther between. But, oh boy – are they ever worth the extra trips in between! As soon as I clapped eyes on this pair of lipstick-red Ferragamo Flavia pumps, my heart skipped a beat. The consignment gods smiled on me, and they turned out to be the right size. [This made up for the fact that not one but two gorgeous pairs of Stuart Weitzman shoes – including one on the clearance rack at $13 – were not my size.] Judging by the sole, they were probably worn once, or at most twice. I got them for more than 75% off retail – and they are still selling in stores.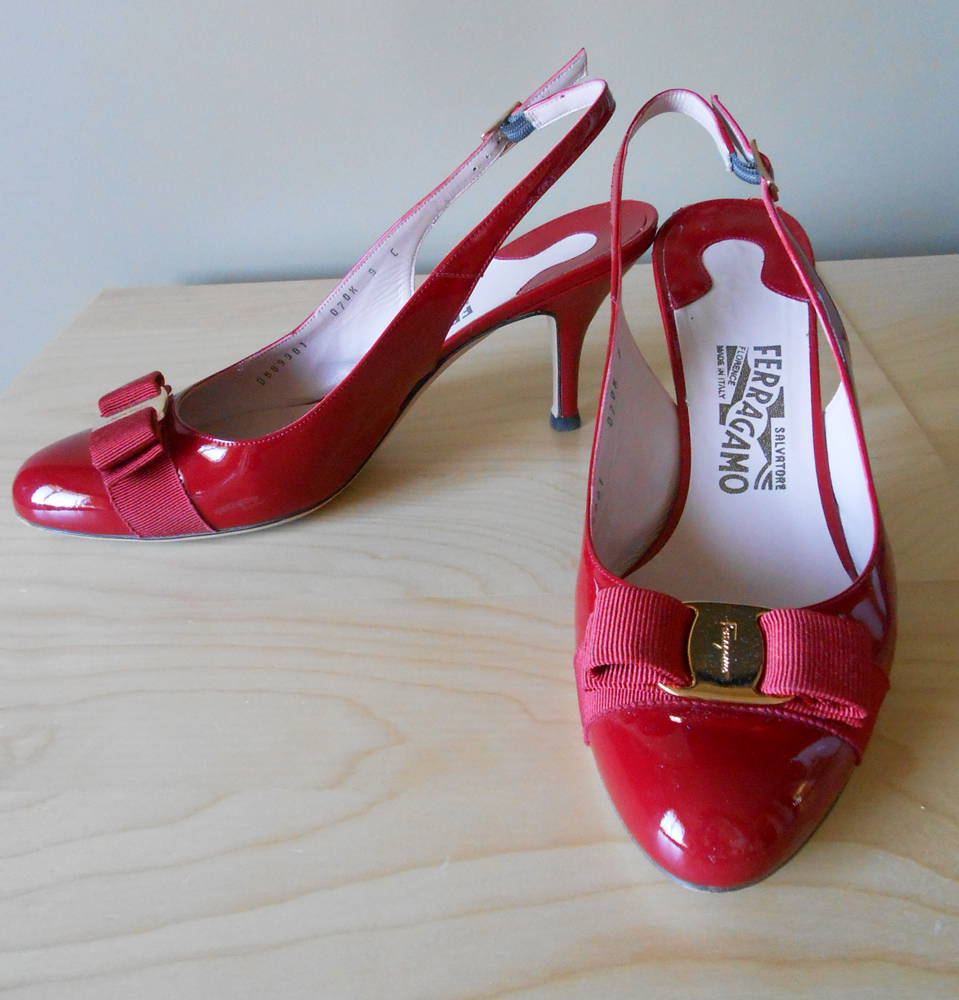 You guys know my love of red shoes, and these ones have become my pride and joy. I can now replace my slightly-too-small Liz Claiborne round-toe red slingbacks with a newer, better (made in Italy) version. Happy birthday to me, indeed!