This past summer was full of big milestones for our son. He not only turned two (that most tumultuous age of toddlerhood), but also got ready to become a big brother. Part of the preparations involved moving into a new, "big boy" bedroom – which required that we wrap our heads around the idea that our son is a "big boy" now, and not the little munchkin we brought home from the hospital two years ago. Once we got over our disbelief, we got down to work.
The hardest part was dismantling what was once our spare bedroom, but had morphed in recent years into a dump pile of clothes, unused furniture, and random odds and ends. I never thought I'd see the carpet in that room again, but a couple of weekends' worth of purging and cleaning was all it ultimately took. With the room back to its original, pristine condition, it was time to tackle the decor. When it comes to kids' bedrooms, one of my pet peeves is over-thinking. Think of the typical celebrity baby room, or the kinds of bedrooms you see all over Pinterest; those rooms are generally decorated to please the parents' style aesthetic, rather than the kids' tastes or interests. I wanted Luka to feel comfortable in his room, and to love spending time in it, which meant filling it with his favourite things and making it easily navigable to him. Another pet peeve is clutter; granted, this is almost unavoidable in a kid's bedroom, but the judicious use of storage solutions can make a big difference. Ultimately, I wanted a room that was functional, fun, and (mostly) tidy; style would have to take a back seat.
Here is the end result: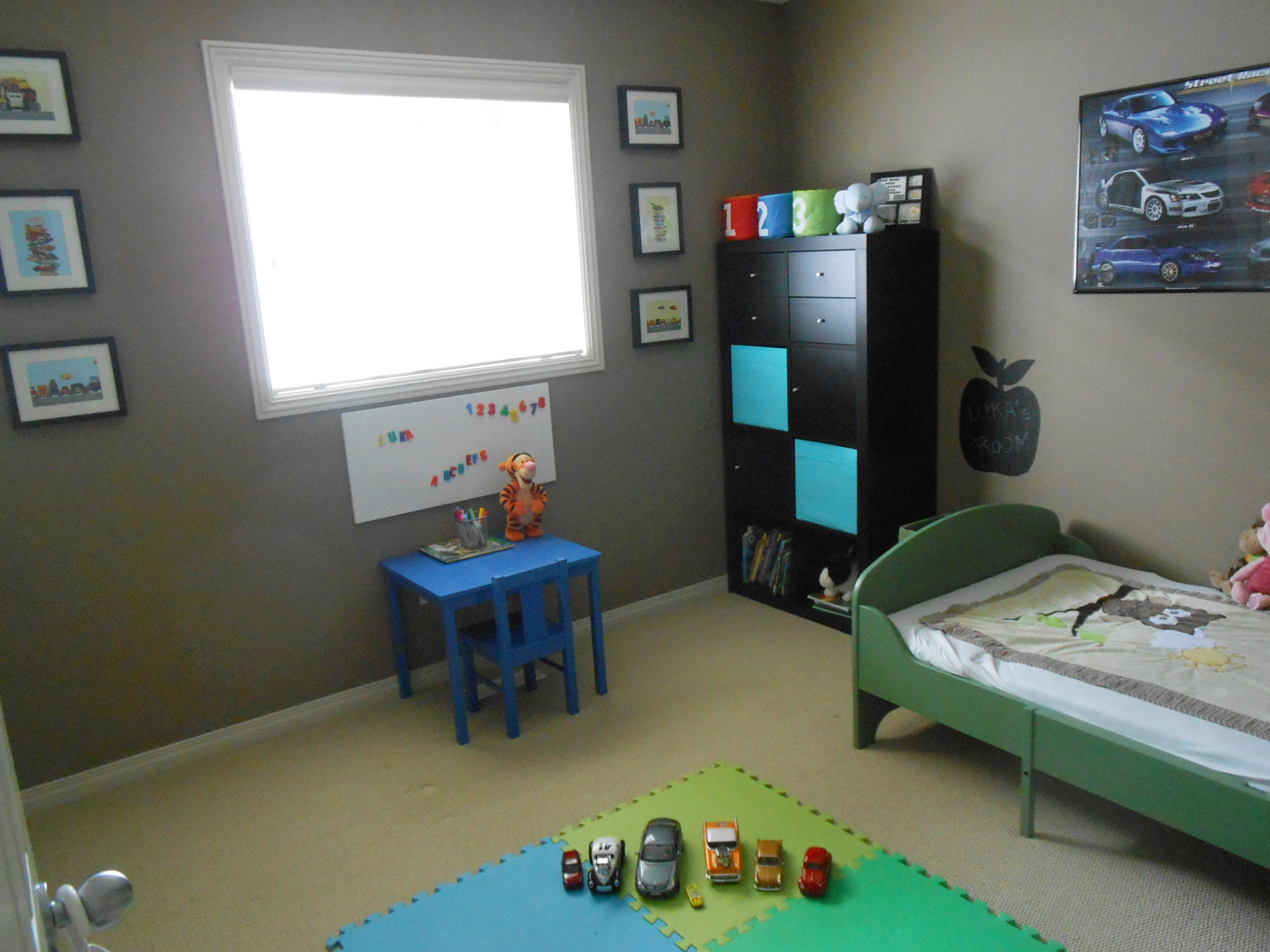 Granted, most of Luka's toys remain in the family-slash-play-room, which allowed us to keep his actual bedroom pretty simple. The furniture is a combination of new IKEA pieces (the bed and storage unit), and items we already had in the house (the table and chair, floor mats, mini sofa).  For decorations, we went with a car theme because that is one of Luka's current obsessions. Most of the framing came courtesy of IKEA as well.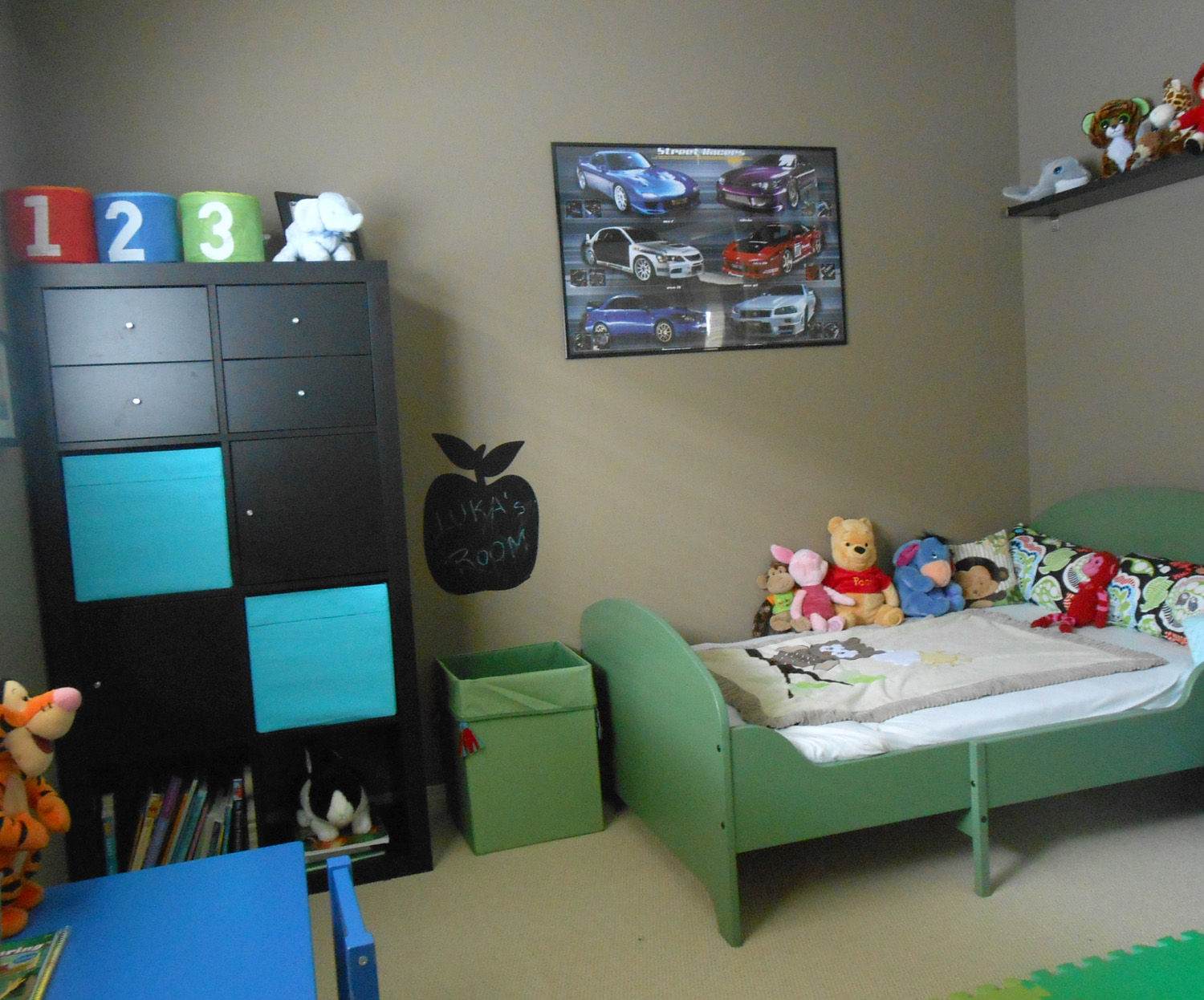 We chose to go with an extendable bed, which would give us several options; Luka can use it until he's at least 6-8 years old, or he can pass it along to his sister in a few years if he ends up wanting something different (like a bunk bed). If necessary, the green bed-frame can work just as well with the current nursery wall decor, or else be painted a different colour to suit our daughter's future preference.
Apart from the bed, the second most expensive aspect of the decor was the storage unit, particularly the various drawer units (sold separately). I customized those to be both kid- and mommy-friendly. The lowest tier is reserved for books and toys that Luka can easily grab any time. The lower of the two blue bins is filled with stuffed toys; Luka can reach it and pull it out, but won't get hurt if anything falls out. The higher blue bin is filled with plastic toys; Luka can't quite reach it yet, which helps prevent accidental spills. [Once he's taller, I will probably reverse the order of the bins to avoid having any accidents with heavier items falling on his head.] The top 4 drawers are for miscellaneous items, like socks, baby creams and bandaids, which I want to have at hand but not in Luka's hands. The remainder two sections are for extra clothes, like T-shirts and sweaters, but could easily be re-purposed for any items that we want kept out of sight.
One of Luka's favourite things to do is to colour, so we put together a little "colouring station". I decided to add a magnetic board with numbers and letters, because he loves having us spell things out for him and counting. The little magnetic pieces are technically for kids 3+, so we only let him play with them under direct supervision; however, it's a fun way for him to learn the alphabet – he can already recognize most of it.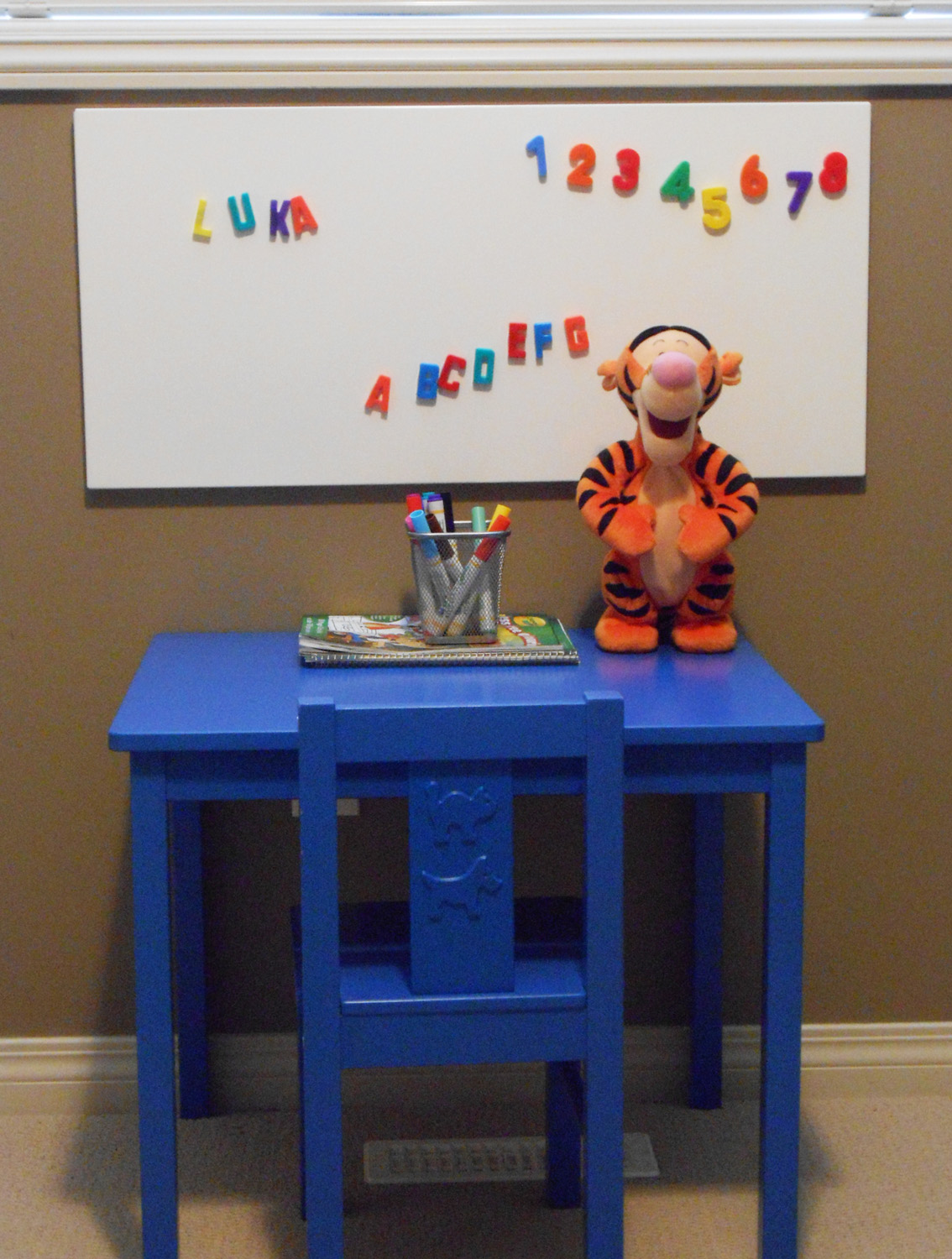 Our efforts paid off – Luka loves his bedroom, and took to it right away. Since he moved in, he's added a few of his own decorating touches. Like a birds-and-flowers decal on the wall and … More cars. Of course.