For Fashion's Night Out 2013, Chanel again released a couple of limited edition polishes: Cosmic and Magic. Thanks to my awesome Chanel sales associate at Holt Renfrew, I was able to get my hands on both, even though they were only available in Toronto. As a Chanel polish collector, I'm glad I did. As polish fan … I'm a little more "meh".
First of all, Magic is very, very similar to Chanel Blue Rebel, released in conjunction with FNO 2011. I'm very disappointed that Chanel would, essentially, copy itself – especially a colour that is still available in Canada. I'm still trying to decide whether I want to keep Magic or not. Moving on, Cosmic seemed a lot more promising in the bottle: an inky black creme sparkling with silver micro-glitter.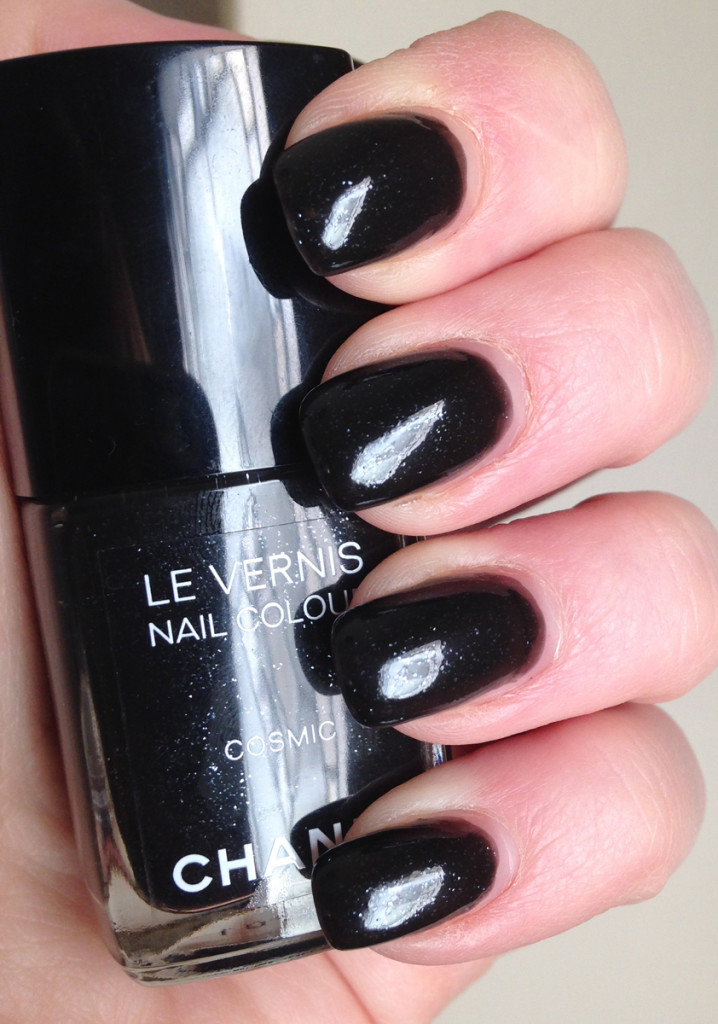 It turns out that Cosmic is actually more of a creme-jelly hybrid and, on the nail, the glitter is far less apparent than in the bottle. This is a complaint I have with a lot of similar dark polishes – the glitter seems to "sink" and disappear once applied on the nail.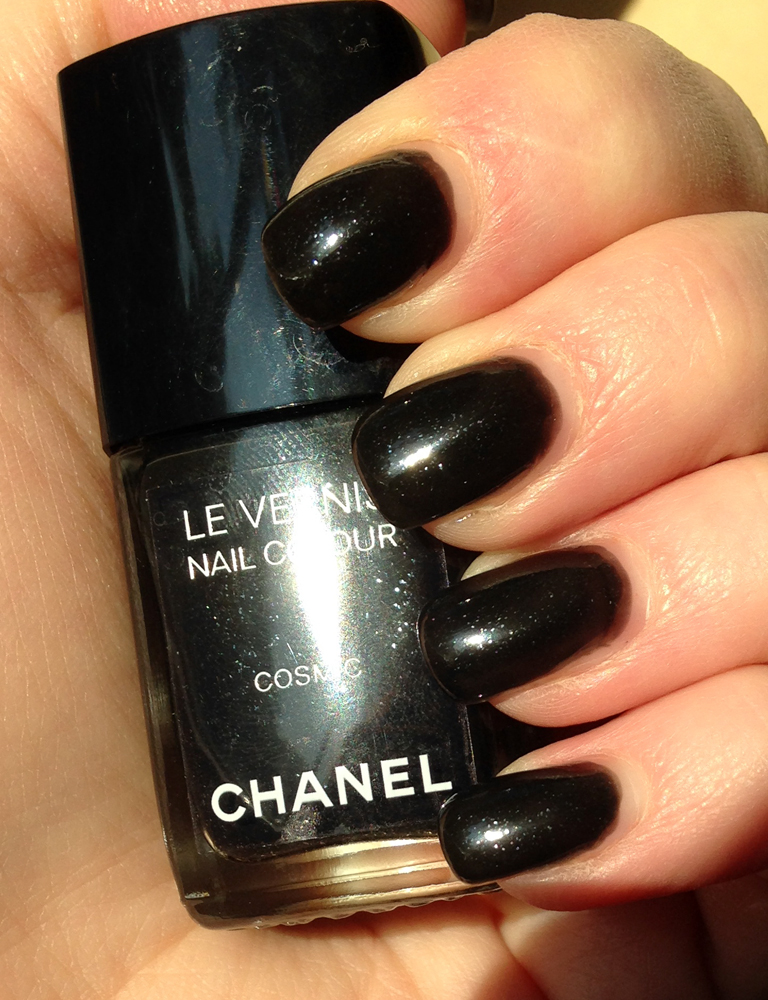 Application is fine; two coats offer good coverage. I'm not sure if three coats would up the sparkliness, but it may be worth a try. Since I don't own another Chanel black polish (like Black Satin or Noir Ceramic), I'm happy that I got to add Cosmic to my collection. With that said, I wouldn't call it a "must have" for non-collectors. If you're in the market for a good black creme polish (no glitter), I highly recommend A England Camelot or Gosh Nero.
For my inspired outfit, I decided to go the literal route: all black with a hint of sparkle.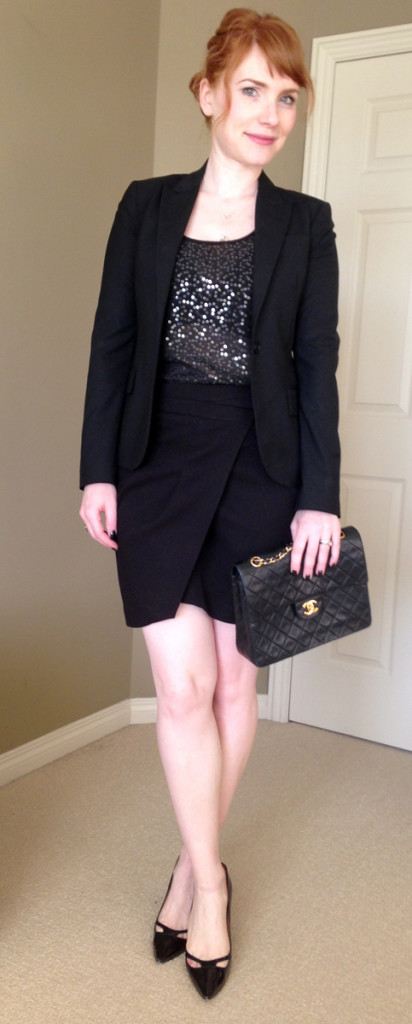 As much as I'm still getting used to my post-baby body, showing off a bit of leg is an easy way to feel more confident.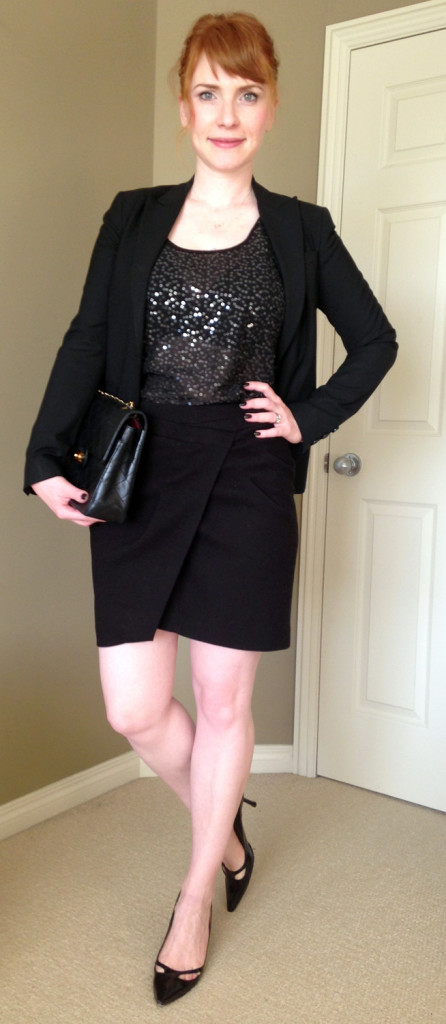 With a knee-length hemline, this would be a great outfit for an after-hours work function. The sequin tank adds a little bit of glam without being over-the-top. Since it's ever so slightly sheer, I would add a black tank top underneath if I were to wear it in a work-related setting.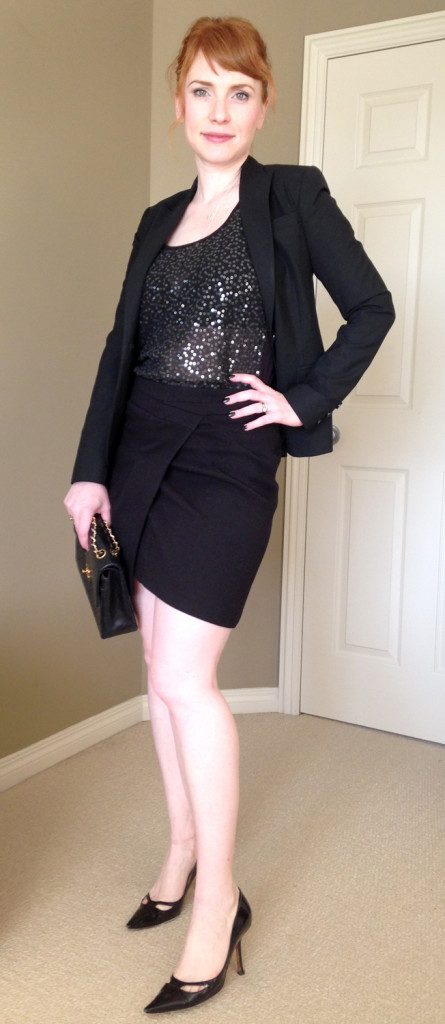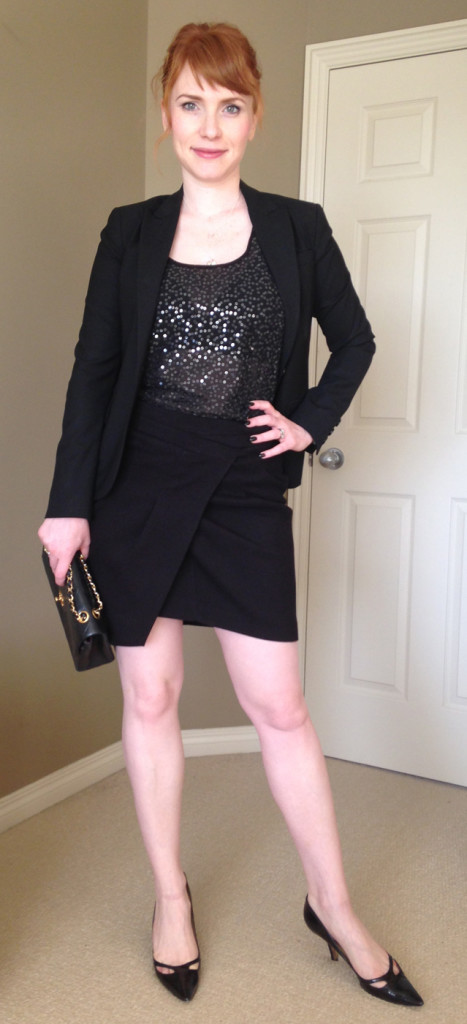 What do you think of Chanel Cosmic?