Happy Friday, everyone! This weekend shortlist is all about some fall/winter wardrobe staples for which I'm currently hunting. The items I picked below are not necessarily the specific iteration I must have, just examples. If you have suggestions for alternatives I should be checking out, please share in the comments.
Black straight-cut cropped pants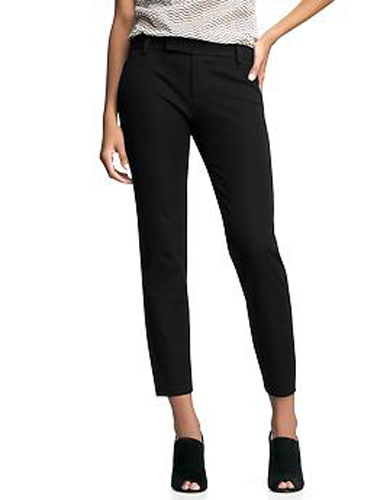 Basically, I am looking for the kind of pants that Audrey Hepburn used to wear ("cigarette pants") – slim and straight-cut (but not quite skinny), and cropped at the ankle. I used to have a pair that I loved (as well as a back-up), but – alas! – they don't fit anymore and aren't likely to do so again. Initially, I was planning to wait a few more months before investing in any new pants, to give my body a bit of time to adjust post-baby. However, I've gotten tired of having nothing but jeans (and not my favourite pair either) and dresses to wear; especially with winter on its way, I need pants. This particular style is great because I can tuck it into boots, or wear with flats or booties.
Since my current size may still change, I don't want to spend a lot of money on this pair. Shopping for pants second-hand is very hit-and-miss, so I've resigned myself to looking at mall brands and hoping for a good sale. I've checked out the Gap, where I got my last pair of black cropped pants, but the ultra slim fit (above) didn't look great on me. It was rather baggy around the back of the knees, which made me look dumpier than necessary. I don't recall this being a problem before; have they changed their pant styles? If that wasn't bad enough, the price ($70) was definitely a deal-breaker. The search continues!
Booties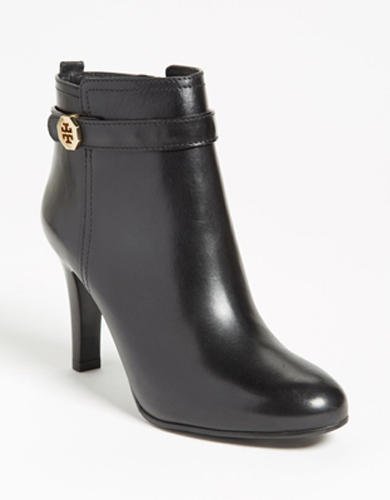 I'm not a huge fan of booties, but I also want an alternative to my regular boots and this seems to be it. Finding a style I like has proven next to impossible. I want something that is practical (i.e. no huge heels or platforms, good grips on the sole) yet still stylish. Preferably warm, too. Oh, and under $100. Basically, mission impossible. But hope springs eternal. The Tory Burch pair above falls more on the stylish than practical side, but I like the plain design. I think it would look nice with pants and skirts, and wouldn't be too hard on the ankles come snow.
Infinity scarf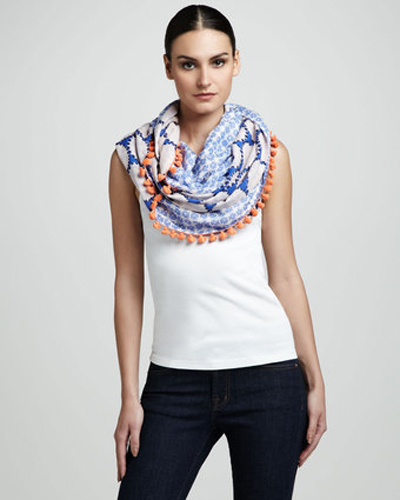 I always struggle with tying my scarves to look even remotely stylish; infinity scarves take that hassle out of the equation. Considering how ubiquitous they are these days, you would think that finding one to buy would be relatively easy, no? Chalk it up to being super picky (about fabric and print), but I haven't had any luck yet. I do love the contrasting patterns of this DVF version (minus the little pom-poms), and would love to find something similar for a fraction of the price.
Ann Taylor Topper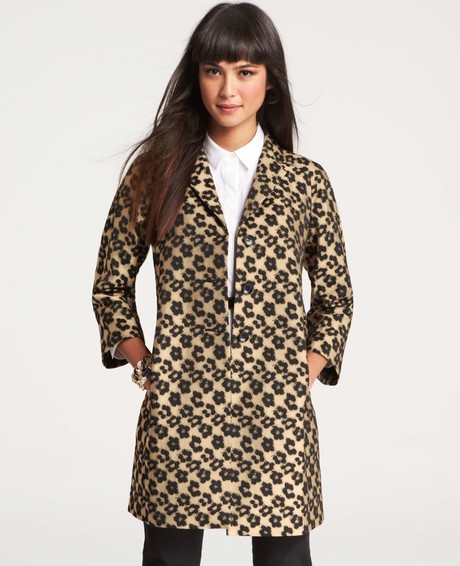 So, here's the thing: other than my trench, I don't really have any fall/early winter coats. It's a bit early in the season to bring out my puffy parka, but on windier days, I'm definitely left feeling the chill. Bottom line: I need a new fall coat. This Ann Taylor topper is not it. For one thing, it doesn't look nearly warm enough, and it's more of a statement piece than a wardrobe staple. I just really like it, so I thought I would include it in this week's shortlist. It's a piece I've actually debated buying, though ultimately I've decided (I think) to pass. My reasons are twofold. One, I'm not sure where and how often I would end up wearing it. I think it's better suited to a warmer climate, where fall is more temperate than here.  Two, this print is very distinctive, and the coat has already turned up on many, many fashion blogs; it's one of those pieces that will be very much of its time (i.e. "that coat is so fall 2013"), and I don't like that about it. When it comes to clothes, especially, I tend to prefer my stuff to be a little more … anonymous, shall we say.
As for my (future) fall coat, I don't really know what I want. Not exactly. I do know I want something with clean, simple lines and a classic style, and in a neutral colour. As always, I'm mindful of the price and the quality, so I will be looking at my options on the second-hand market. Because I'm not looking for a specific brand or style, it may be easier to find something I like.
What's on your fall/winter must-have list?
Have a great weekend!