If you've missed the weekly Remix Challenge updates, then this new blog feature is for you.
Although I had a lot of fun working on the Remix Challenge for the better part of a year, it's no longer a feasible prospect. My current life as a stay-at-home mom doesn't require as much "dressing up" as my work life used to demand. If I were to continue with the Remix Challenge, at this point, 4 out of 5 weekly outfits would involve some ungodly combination of leggings, nursing T-shirts, and my big ol' sweater-coat, with a puffy parka on top for extra "appeal". Shuttling between play-dates and baby-related errands is just not that glam, and the weather doesn't help – bundling up for warmth usually leaves me looking less than fashion blog-ready.
So, instead, I've decided to do a bi-monthly post featuring the pick of the best outfits – the one that actually reflect some iota of style.
These are some of my first post-partum attempts, as worn in the first few weeks after Teodora's birth. Bear in mind that, at that point, I still didn't fit into most of my non-maternity clothes (pants especially), so my outfit options were fairly limited. Still, to regain a semblance of my former self, I wanted to make the occasional effort in dressing for outings.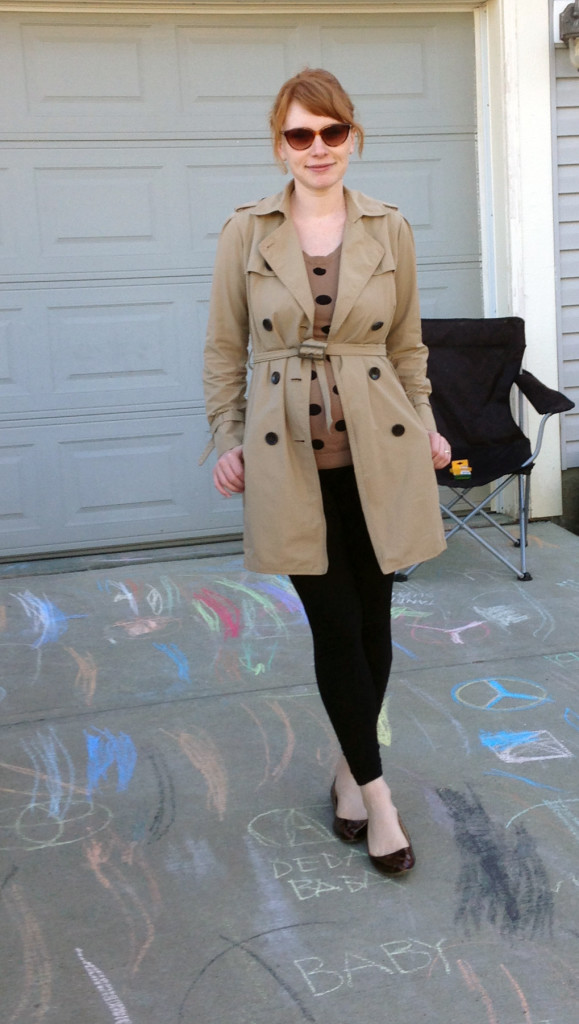 This was one of my first trips out of the house, a couple of days after we came home from the hospital. We took Teodora out for a short walk in the neighbourhood, and this was my attempt to dress up my at-home "uniform" – leggings and nursing tank. A cute sweater and trench seemed like an easy option … although, in retrospect, I realize it meant that I actually wore leggings as pants, contrary to my frequent screeds. Oh dear! I would like to say that this was the only time it ever happened but … it wasn't.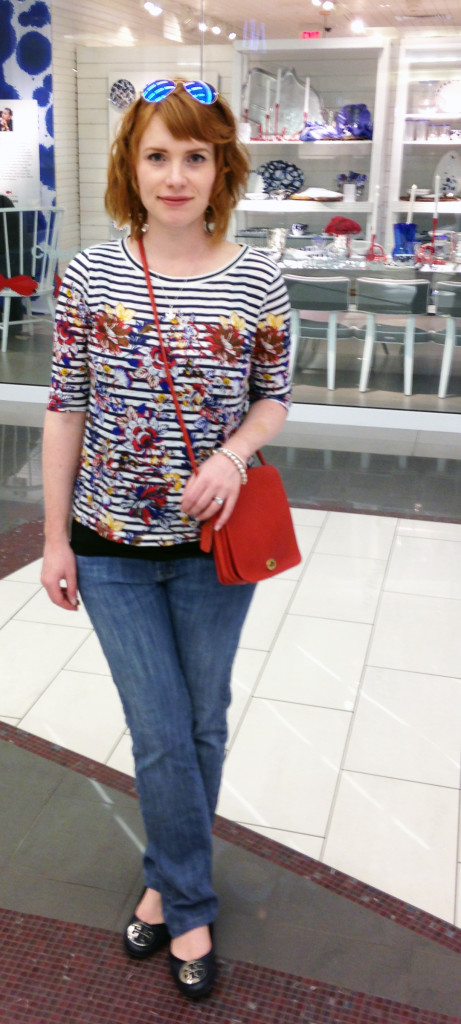 This was our first family outing to the mall, fresh from surviving that nerve-wracking first week with baby. If I don't look too thrilled, the sleep deprivation wasn't the only thing to blame; after trying on every pair of non-maternity jeans in my closet, I quickly realized that the only ones to fit were my "scrubby" pair – the one my husband calls "mom jeans". Perhaps appropriate in the circumstances, but somewhat depressing nonetheless.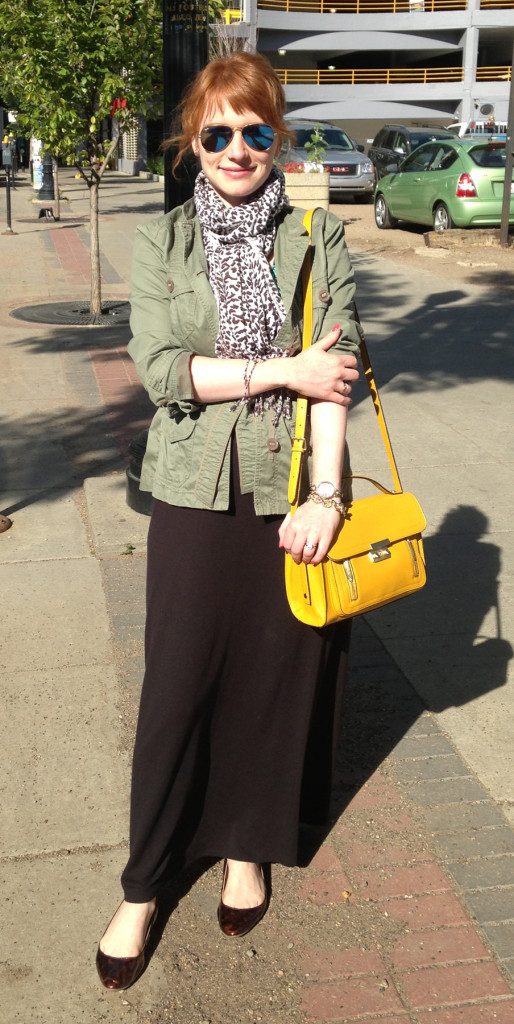 For Teodora's first check-up, I decided to avoid unnecessary heartache and stick with something tried-and-true: one of my maternity maxi dresses.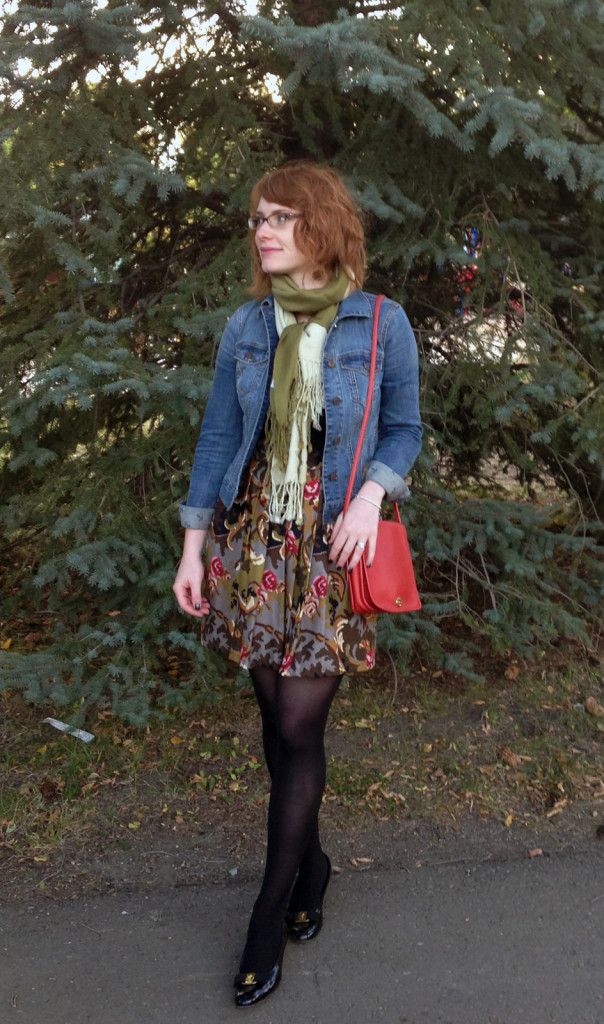 Taking another cue from my pregnancy wardrobe, I also decided to pick skirts over pants. This high-waisted version not only fit, but also seemed fitting for the season given its autumnal colours.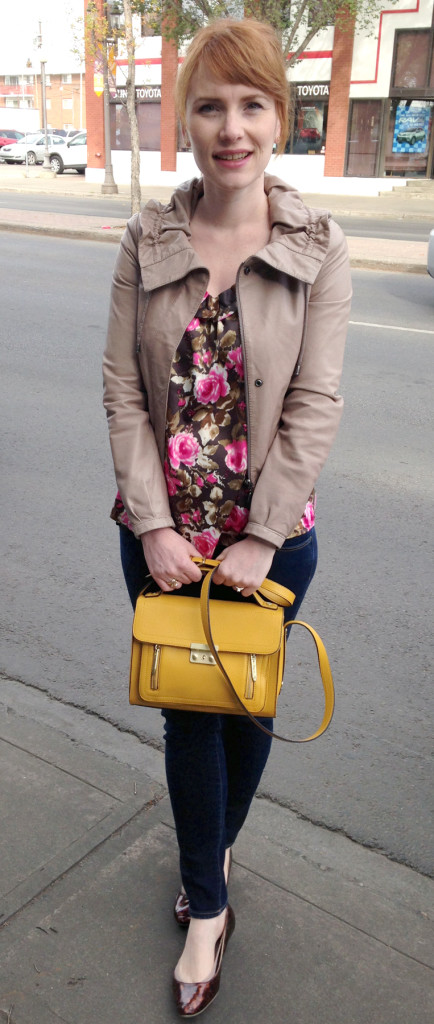 A few weeks later, progress: I was finally able to fit into my stretchiest pair of jeans. Not comfortably, mind you, but enough for a quick visit to one of my fave consignment stores – to look for some new pants.