It's an Alanis-ironical fact that, in my new world, the perfect pants are "mom jeans". Let me back up.
With most of my pre-pregnancy pants still out of commission (possibly permanently), I've been searching everywhere for a pair of slim straight-cut pants to get me through the next few months. My luck was abysmal at first. My first go-to store, The Gap, proved disappointing; their slim fit pants are too baggy around the knees, and I don't have the time or inclination to get alterations done. I moved on to the other usual suspects (J. Crew Factory, Banana Republic, Old Navy, H&M) and met with similar success. [As an aside, I started to miss the days when my biggest fit issue was my waist-hip ratio. It seems like clothing manufacturers have finally figured out how curves work. Now, it seems my bigger problem is my hip-knee-calf ratio. Are abnormally thin knees a thing?! Or is it just a lazy tailoring thing? I could get a real complex about this, you guys.] Anyway, long story short, I was slowly resigning myself to living in leggings until next spring.
As a die-hard consignment junkie, I of course also checked in at my local shop. It was mostly an exercise in due diligence, because finding well-fitting pants second-hand is even harder than finding them at the mall. Probably because everyone has trouble finding good pants, and when they do, no one gets rid of them until they're ready for the trashcan. So. My expectations were extremely low. It worked like a charm.
On a whim, I decided to try on a pair of coloured denim skinny pants with the unappealing label of "Not Your Daughter's Jeans". Seriously, whoever came up with that name needs to find a new career outside of marketing. Way to limit your potential customer base! Now, admittedly, I have a daughter myself now, so some might say that I shouldn't be one to baulk at a label that implies a certain maturity; frankly, I'm just not ready to admit to myself that I am now in the same category as, say, my mom. My mom is an adult, for starters. I'm, obviously, her kid … so, I can't possibly be an adult, right? Anyway, questionable label aside, trying on these pants was a revelation.
They fit.
Perfectly.
The fit was just right: slim-but-not-quite-skinny, straight cut, and cropped at just the right length. No baggy knees. As a bonus, they're a mid-rise, and offer extra coverage (and control) in the tummy area.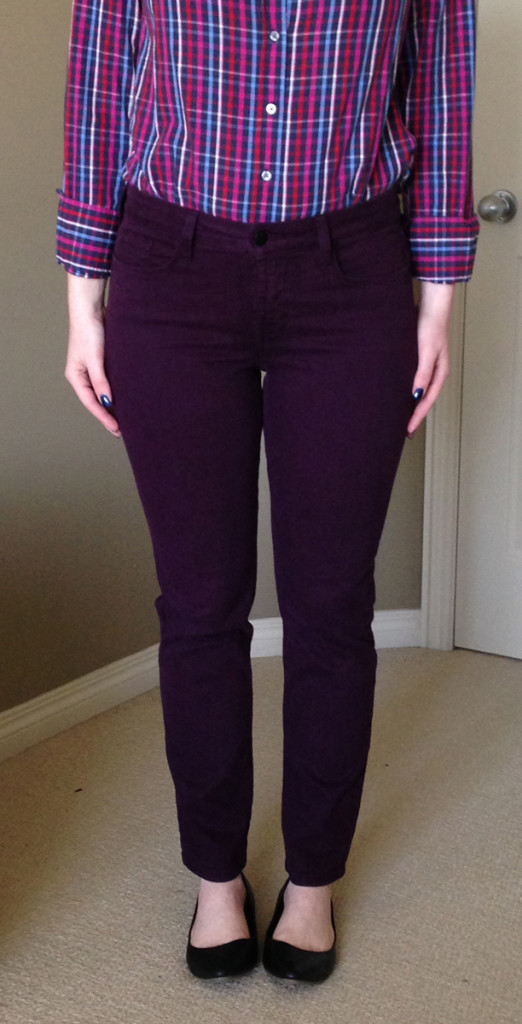 [Please note that in these pictures, I tucked in my shirt to show you the fit properly. Because of the slightly higher rise, I probably wouldn't wear my tops like this without a belt or another layer on top. Otherwise, it looks a little Steve Urkel-ish to me.]
Since I didn't buy these new, I'm not 100% sure of the style but I believe that this is the Sheri Skinny. The size is 8P (petite) and the inseam is the perfect length for an ankle-cropped style on me (I am 5 feet 7 inches).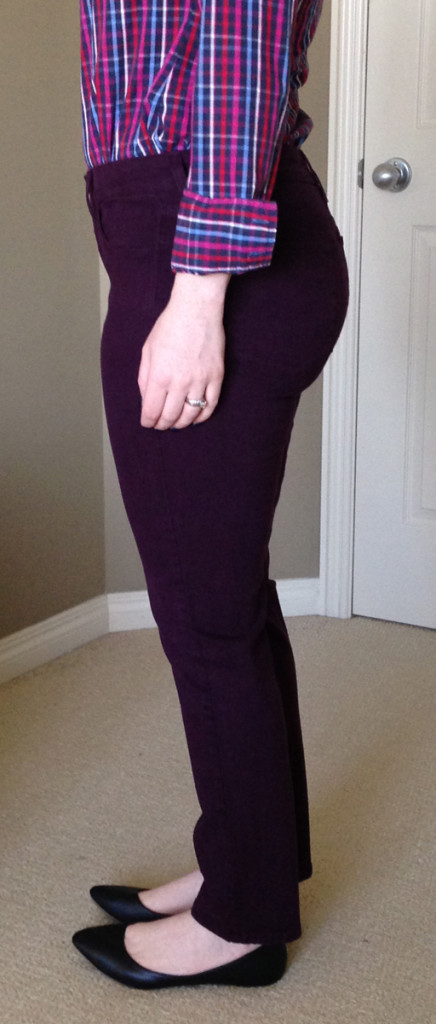 These pants are super comfortable, even with the extra strength Spandex built in for control. Since I just bought them, I can't speak to this personally, but the reviews I've read online say that they hold up to wear really well and that the colour doesn't fade with repeated washes. Additional bonus: they are made in the U.S.A.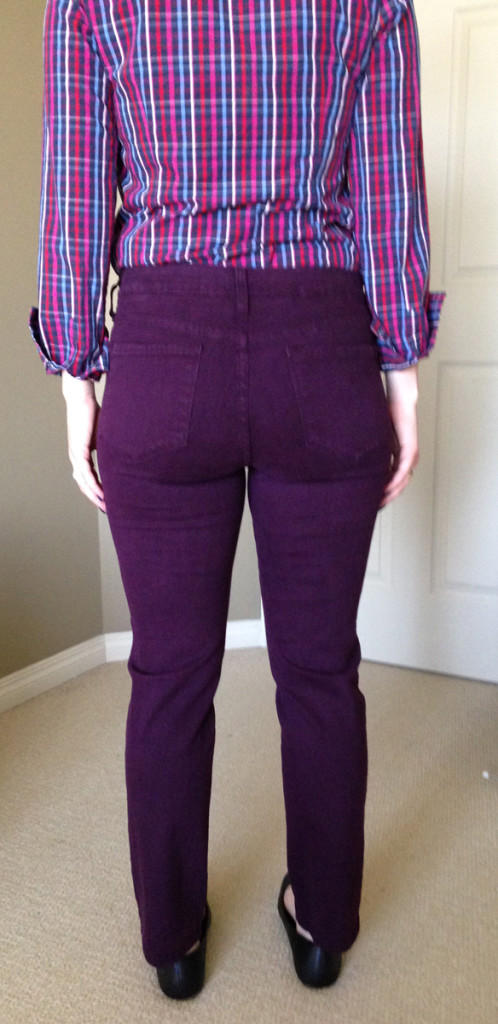 The only downside I can is that these pants are made from denim material, so they are definitely more on the casual side. They are regularly $150-175, which is steep, but may be worth the investment for anyone who, like me, has trouble finding good quality, well-fitting pants. I bought these for $39, and am currently hunting for my next pair (hopefully black) on eBay, where they can be found for under $100. Hudson's Bay also recently has select styles on sale for $99.
Would you wear pants called Not Your Daughter's Jeans?