Fellow Edmonton-area bag lovers, get ready for a treat. L Squared Style is bringing an exclusive line of leather bags, Mutsaers, all the way from the Netherlands to Coup Boutique, for a pop-up store on December 6-8. If you are interested in checking out some unique, hand-crafted bags, mark this in your calendar. The Mutsaers company has been in the leather crafting business since the 1960s, and continues to make all of its products in-house at its factory in the De Langstraat region of the Netherlands.
The story of how Lazina Mckenzie, the woman behind L Squared Style, decided to bring Mutsaers bags to Edmonton started with a trip to Europe this past spring. In her own words:
My husband and I were in Croatia and Budapest in May.  On our way home, we spent three glorious days in Amsterdam.  I, of course, wanted a "souvenir" that was unique and Dutch.  This is when I found this lovely leather bag shop that carried various Dutch designers.  This is what I was looking for! After some time perusing their collection of bags, I settled on a briefcase carry-all that could be worn as a backpack.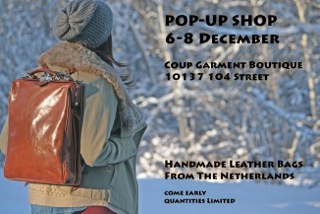 When I got home, I immediately started using this bag for work.  I sometimes ride my bike downtown to meetings and would have my briefcase with me… as a backpack of course.  I felt very Amsterdam-esque! After many months of getting compliments and inquiries about where this bag could be purchased, I decided it might be a good time to bring these lovely Dutch bags (including other styles too) to Edmonton. How does this tie into my personal philosophy on style? As a style consultant, I always coach people to focus on quality over quantity.  I'd prefer people to not be super-consumers but rather invest in quality basics so you don't have to buy them for years.
There you have it, peeps: if you want to get a peek, and maybe your hands, on a unique, beautifully made bag – the kind you're not likely to see anywhere else in Edmonton – Coup Boutique is the place to be next weekend. Bags start at $200 and up, but quantities are limited. For more info, check out
L Squared Style
.
Disclosure: This is not a sponsored post.