I thought it would be fun to bring back the 1 x 3 feature to show you some of the new items I'm adding to my closet as part of my wardrobe overhaul, as well as some of the ways I plan to style them. Think of each of these posts as a capsule Remix Challenge.
Today's piece is an emerald green blouse I found on the clearance rack at Winners. The brand is Joseph A., and has the tag line "qu'est-ce que c'est silk?". The fabric is a synthetic mix (predominantly rayon), which does indeed have the feel and weight of a silk jersey. Not bad for $20. The colour is lovely – a true emerald green – but does pose a bit of a styling problem for yours truly. I rarely wear green, especially a rich jewel tone like this, so my first instinct is to pair it with black. Not a terrible combination, for sure, but one that does seem to dampen some of the green's vibrancy. So, for this 1x 3 post, I tried to think (and colour match) outside the box.
Take One: charcoal + pink


Remember that Nadri initial signet ring I put on my Weekend Shortlist a while back? Well, as luck would have it, I stumbled onto a cheapie version (sans rhinestones) at, of all places, Old Navy. I love how delicate it is – perfect for stacking.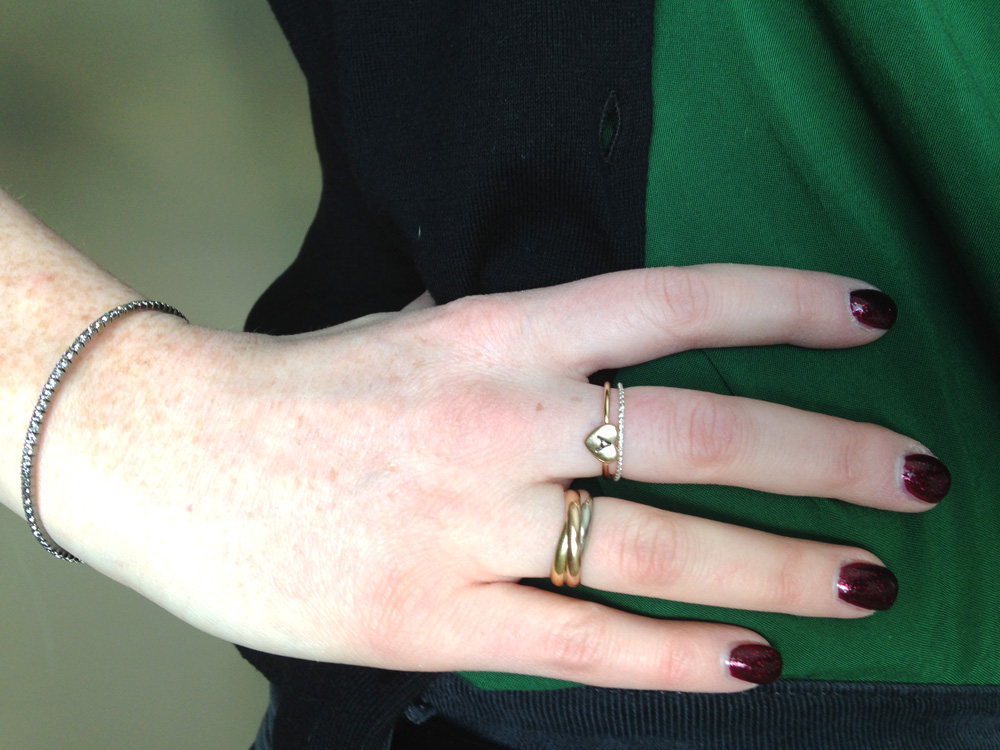 Take Two: plum + leopard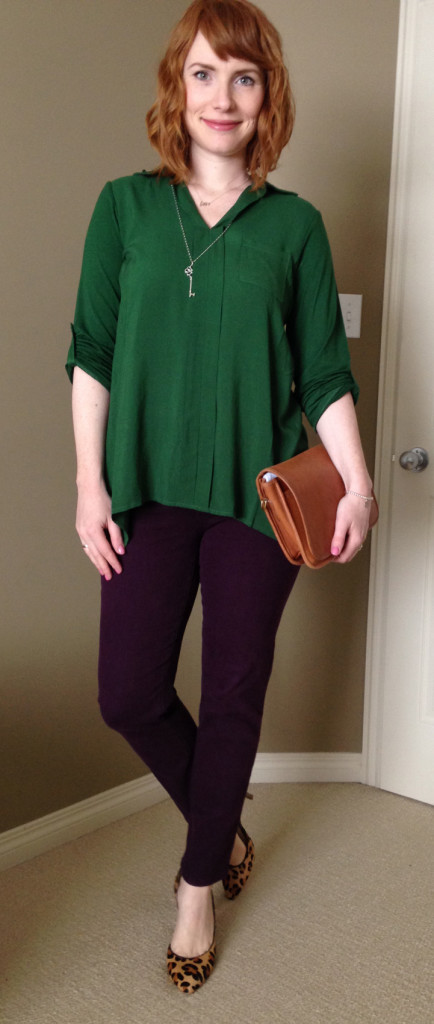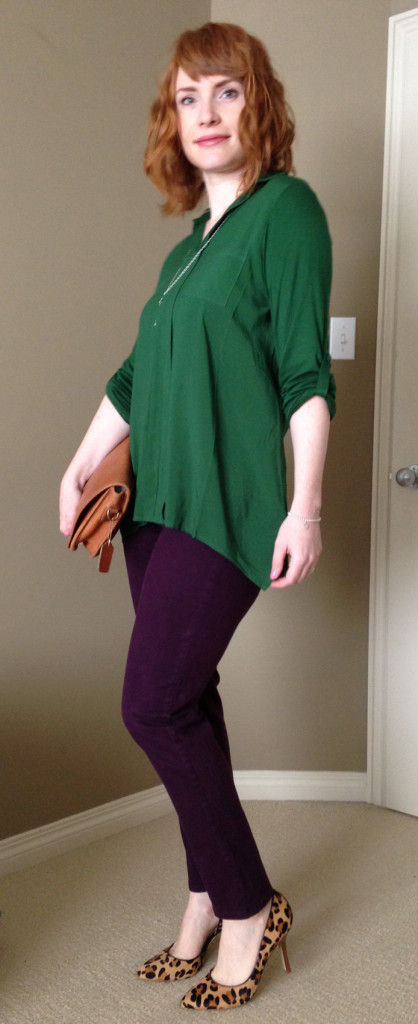 Here is my take-away from this outfit: leopard goes with everything.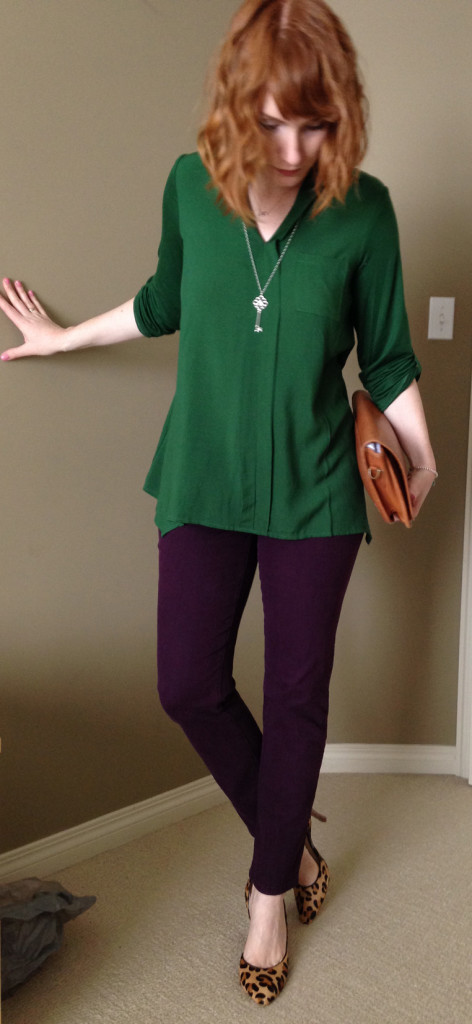 Take Three: burgundy + plaid

I'll be honest: I've had and loved this plaid pencil skirt for many years now, but I'm no longer loving how it looks on me. The almost-midi length went better with my old hips, lets just say. Alas, those are now gone the way of the dodo, and I think that I had best embrace knee-length pencil skirts along with my new curves. Thanks for the memories, plaid skirt!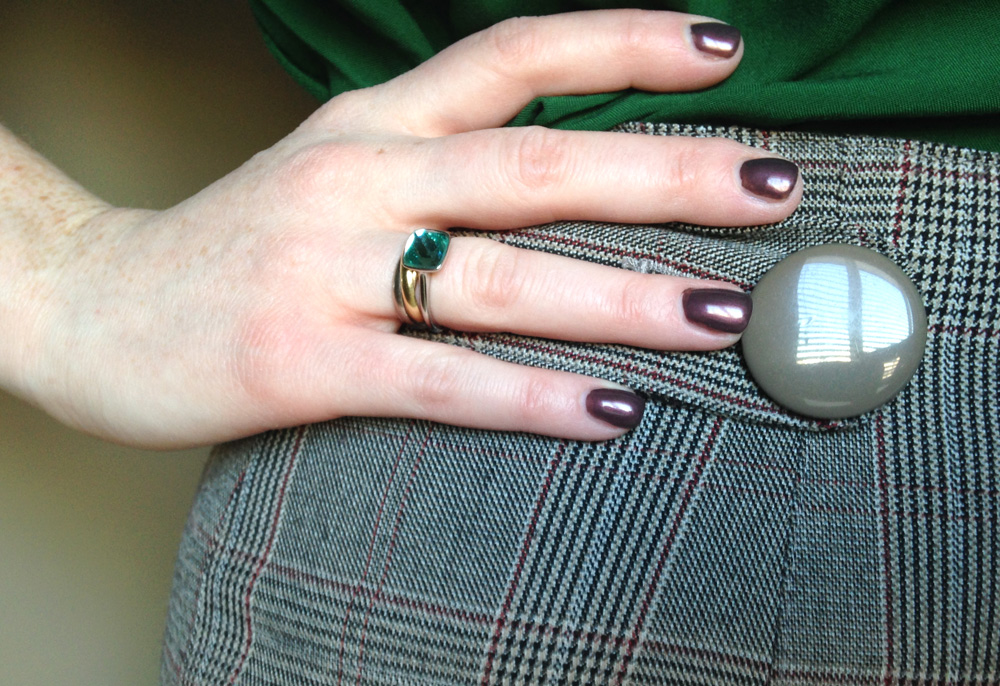 In happier news, burgundy continues to be one of my favourite accent colours. Considering how much of it I've added to my closet lately (like these gorgeous J. Crew Factory wedges), that's a good thing – a really good thing.