Last week, my mom and I took the kids to the library, which – whaddya know – is located in the same mall as Target. My son is currently super intrigued by mannequins (no, really), so we made a pit stop. I didn't require a lot of convincing, obviously. While he was off making the rounds (supervised, of course), I snuck a look at the clearance racks. I'm trying to save my dollars for the end of year sales later this month, but I can't help myself when it comes to browsing. Also, apparently, taking changing room selfies. Ready for round 2?
Mossimo Ponte Dress ($9)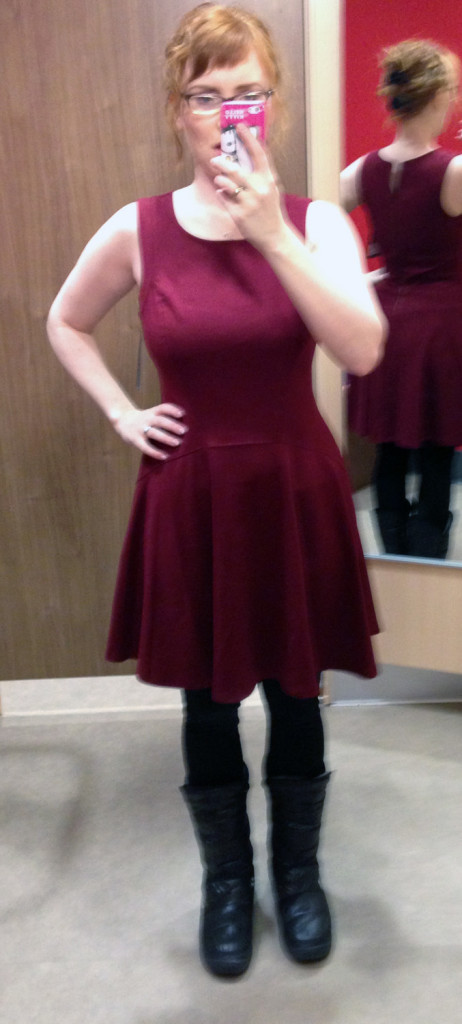 I think this style is called a "skater dress"; it's the same one as the colorblock dress I tried last time. [Whoa -sorry about the blurry photo!] I like it better in this solid burgundy colour. I tried the Medium this time, and it was loose everywhere.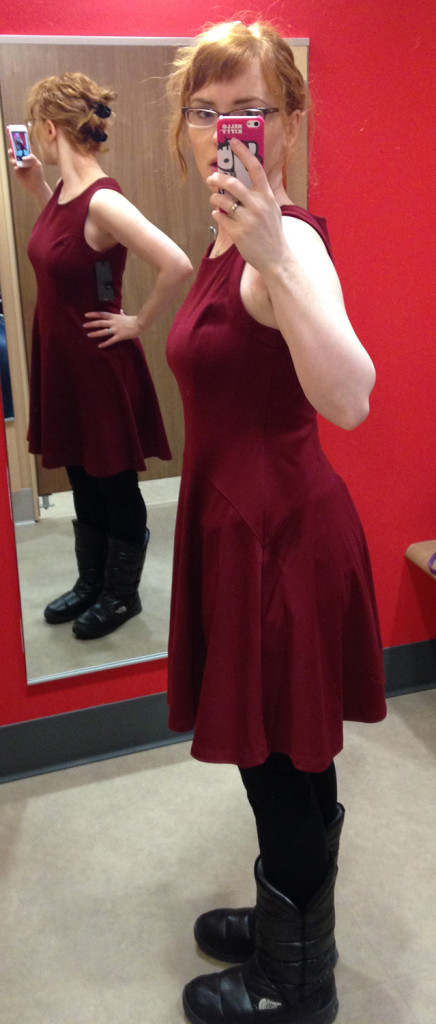 Size aside, I think it's a flattering cut. The above-the-knee length, combined with the full skirt, made it look a bit young, however. The Ponte material felt a bit on the cheap, plasticky side but for $9, one can't quibble too much. This was a Pass for me, but I can see it working for someone looking for an inexpensive casual dress in a fun colour.
Striped Ponte Dress ($25)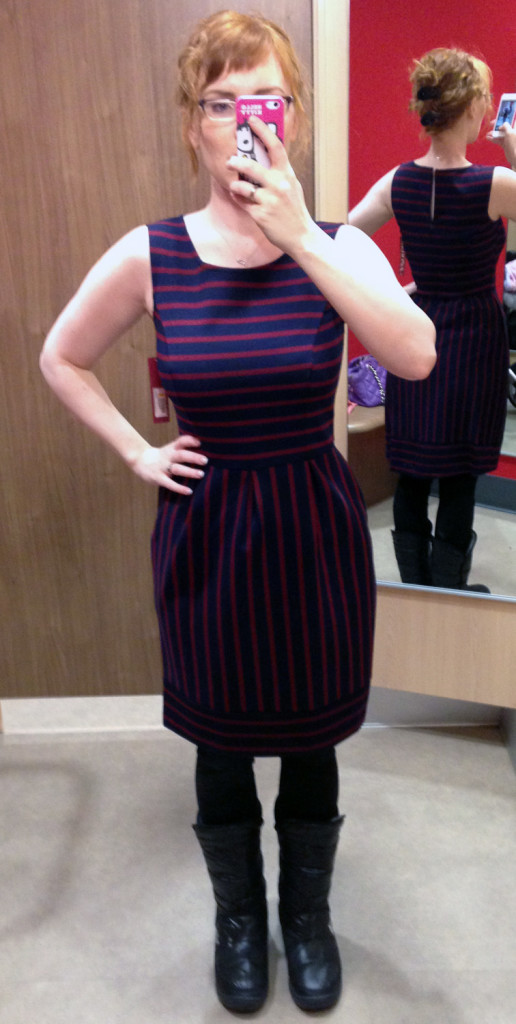 This dress was not on sale, but it looked promising so I tried it anyway. Head-on, I loved the look and fit. The dress was super cute, but not so twee looking that a 30 something couldn't wear it. I've been looking for a style like this for a while, because I think it would look great layered over a button down shirt (I'm going through a shirt phase right now, what can I say). But. There were problems as soon as I turned sideways.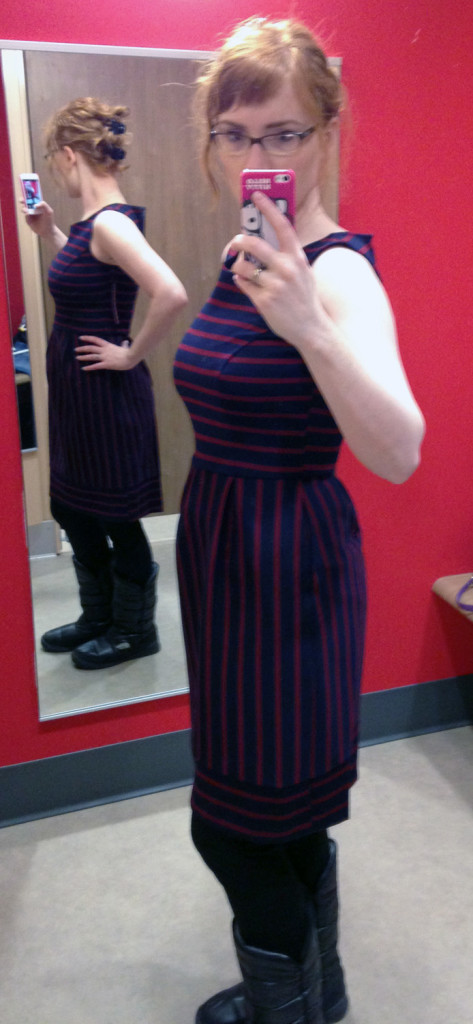 This dress causes an unfortunate 3-months-pregnant effect in the tummy area, which is just about the last thing I need right now. Pass (sigh).
Embellished Sweatshirt ($14)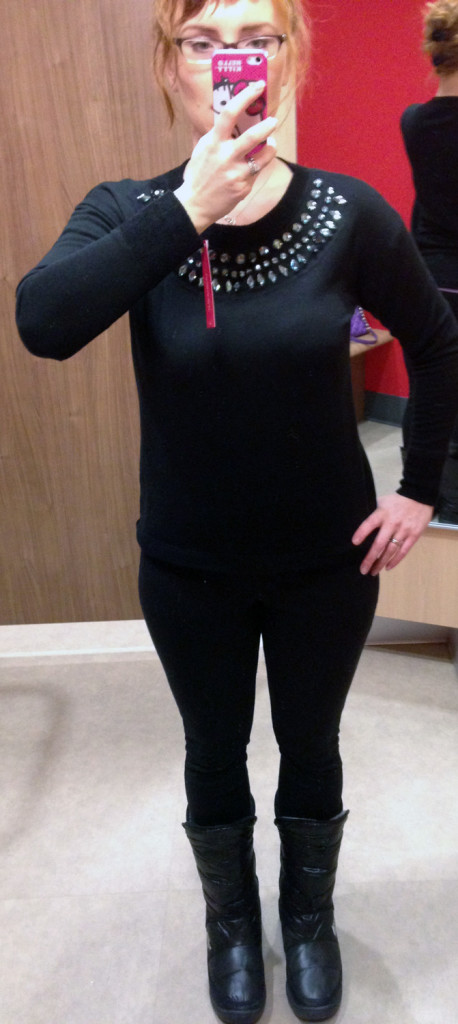 I spotted this on the 30% off rack and thought it was worth a try. The material is nice and soft, and the Medium size fit well. The embellishments looked nice from a distance, but cheapish closer up. They were also sown on in such a way that they seemed prone to twisting out of place. Altogether, I wasn't feeling the quality; I liked the idea if this top, but not the execution.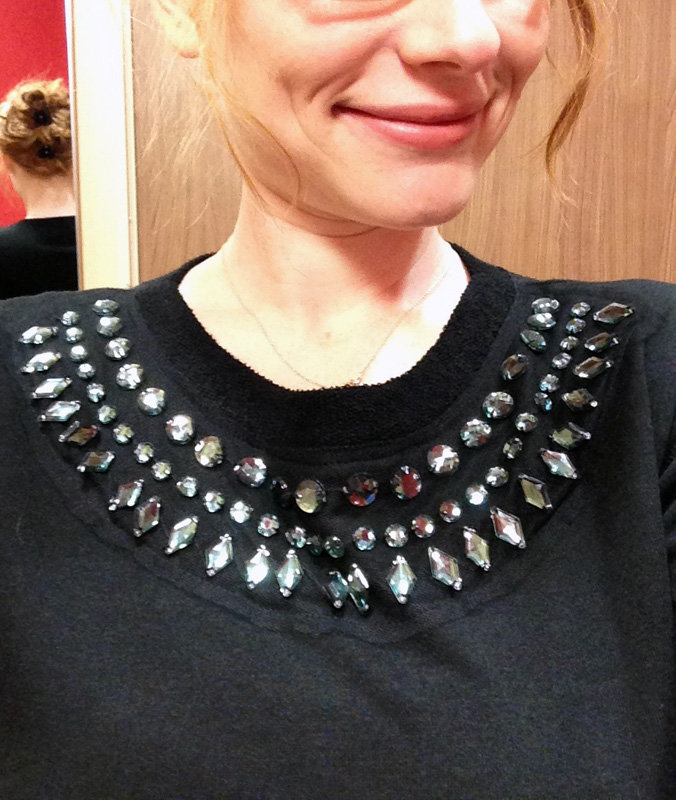 Merona Polka Dot Skinny Jeans ($9)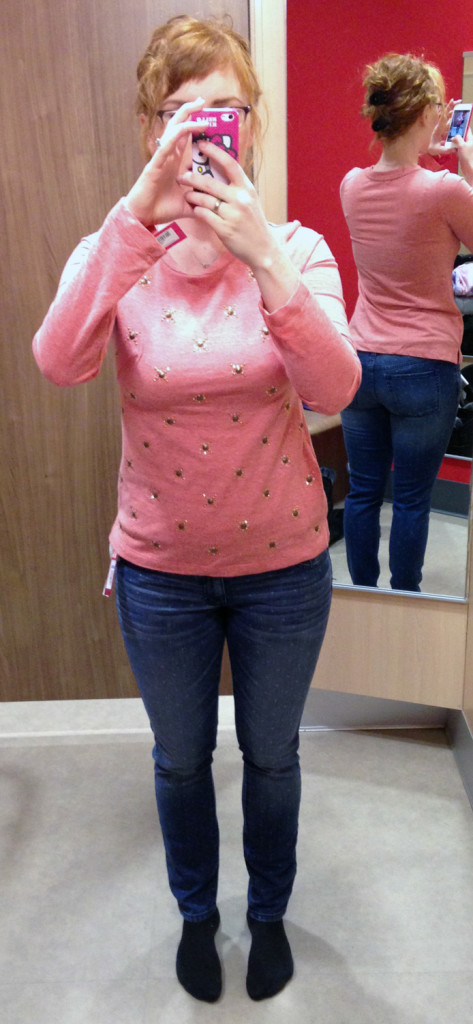 I liked the cut of these, and thought the polka dots were a cute touch. Again, maybe a bit "young" but … what the heck. I need a new pair of skinnies, and these are only $9! The size 8 gave me a slight muffin-top situation, but the 10 left me with a gaping waistband, so I went with the former hoping they would stretch out a bit.

After trying them on again at home, however, I ultimately decided to return them. I couldn't be sure of how much they would stretch, and I didn't feel like adding to my collection of jeans that make me feel out of shape. To be honest, having tried on 2 sizes, I think these jeans are cut for women with less junk in the trunk, if you know what I mean.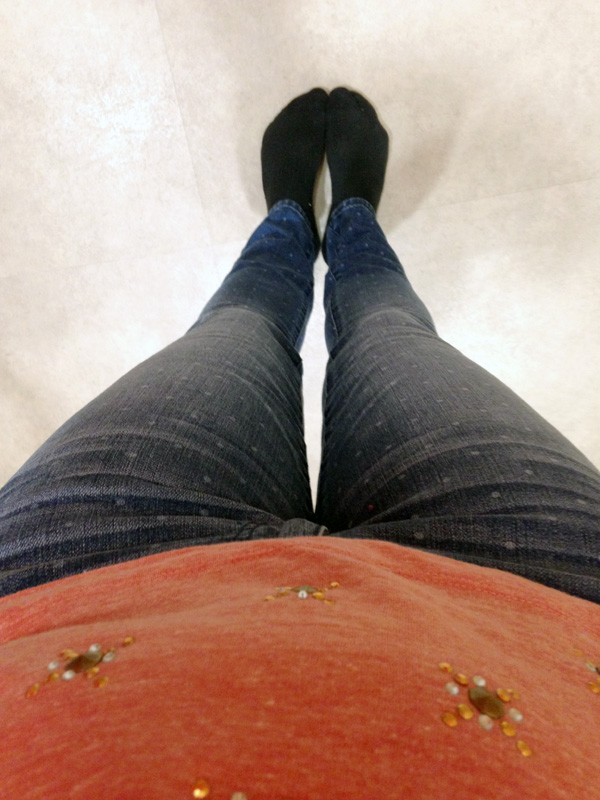 (Do you recognize the top in these photos? Yep, tried on the pink sweatshirt again, after spotting it on the sales rack. And I passed on it, again. This time, I realized that the arms were too tight to allow for layering, which is how I was planning to wear this top. But it was marked down to $14, for anyone interested.)
Mossimo Paisley Shirt ($25)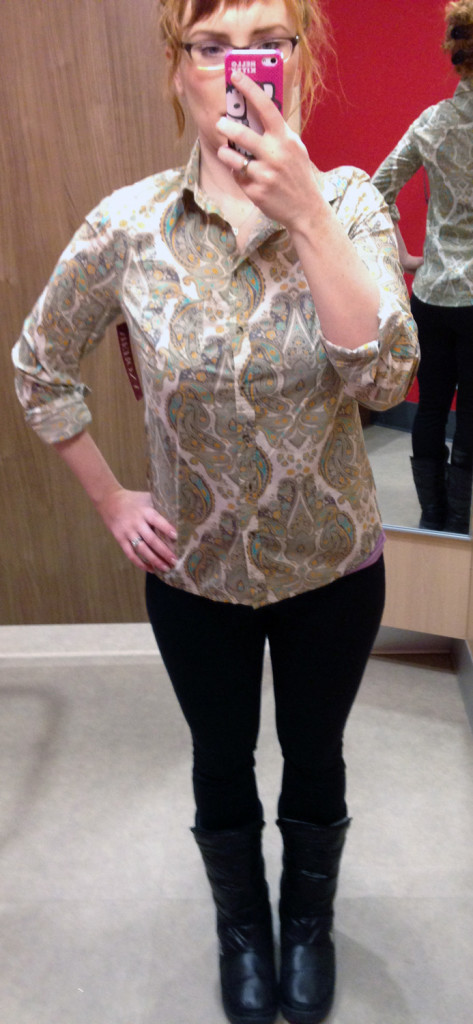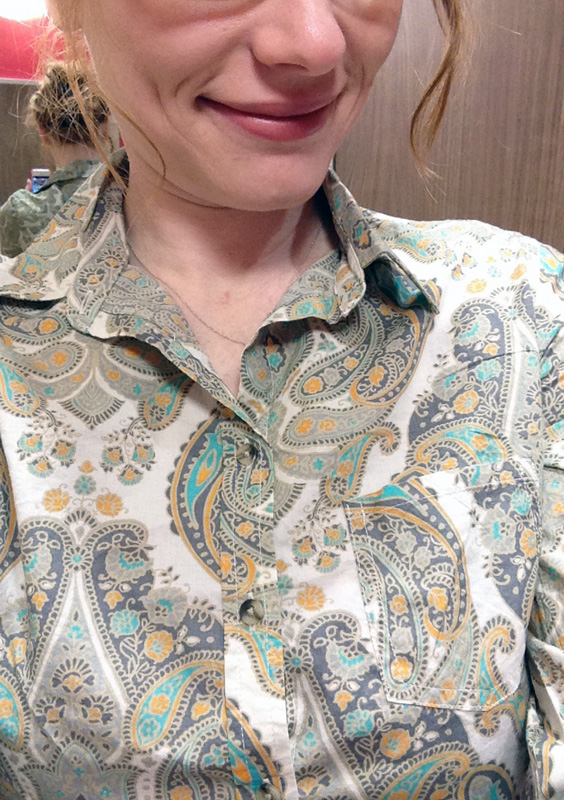 I LOVED this shirt! The grandma in me is a sucker for paisley prints, I guess, and particularly liked the faded color scheme on this one. It's also 100% cotton, so yay! But I didn't buy it (insert sad face). I haven't spent $25 on a shirt at J. Crew, so I'm definitely not spending it at Target. Totally waiting for this to hit the clearance rack. To be continued …