As you may have noticed from my previous shopping recaps, I rarely shop at regular retail stores these days. A combination of factors is responsible; my goal to reduce the amount of fast fashion I "consume", and my increasing reliance on eBay and consignment stores for new-to-me pieces, are two of the big ones. With that said, I've experienced the following on more than one occasion: spot a cute item on a fashion blog, scroll to see where it's from, discover it's from Target. Hmmm. There is a Target store conveniently located a 15 minute drive from my house. Hmmm.
Eventually, I figured this was worth investigating further. I tend to think of Target clothes as being the same quality as H&M, which I normally now avoid after embracing a no-more-polyester shopping philosophy. But you never know until you try, right? And that's what I decided to do a few weeks ago.
While it may not be on par with Forever 21, Target stocks a LOT of clothes. I didn't have the time to take a thorough look through all the racks, so I just picked a few things that stood out to try on. Ready for some terrible changing room selfies?
Mossimo waffle knit open cardigan ($20)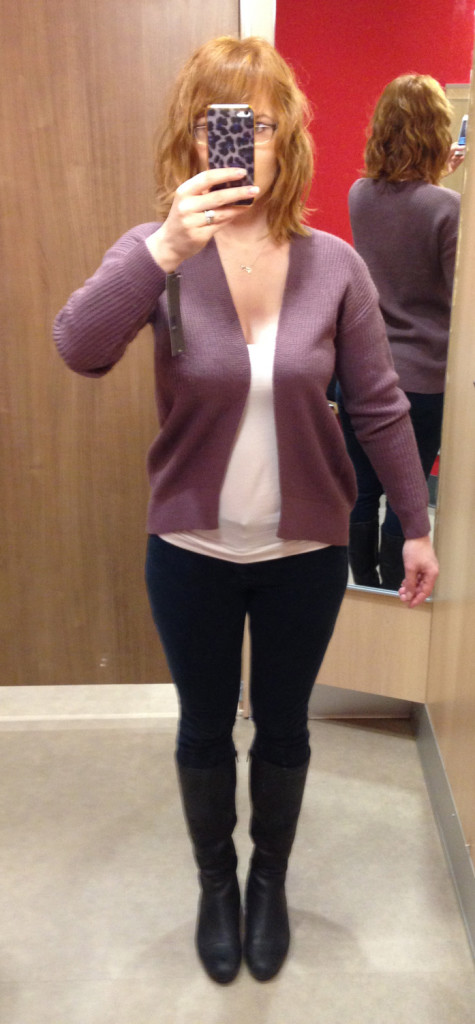 I loved the colour and look of this cardigan, but the fit proved to be a big disappointment. I hate how it bulges out right around my love handle area. Um, I don't need extra help in that department, thanks. I tried on a Small, but I don't think that sizing up would have made a difference. Pass!
Mossimo Long Sleeve Open Cardigan ($25)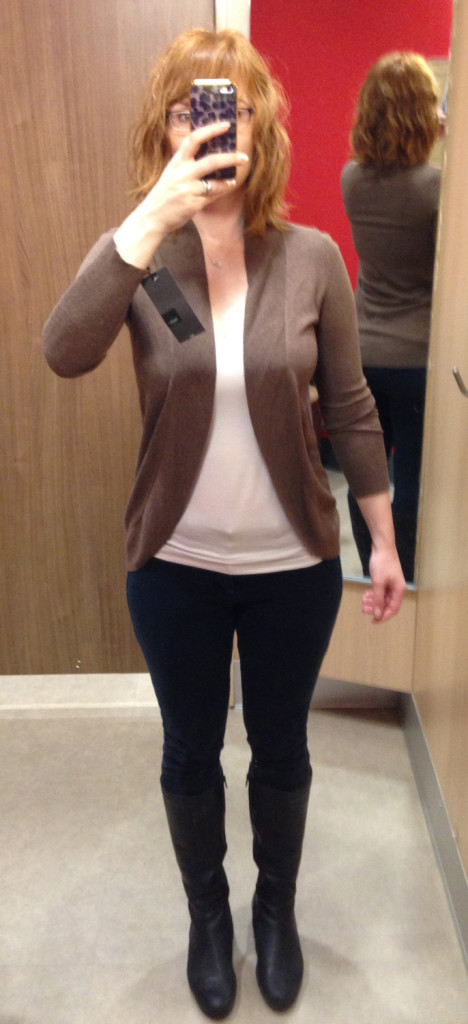 Unlike the previous cardigan, this one fit great. Like, really, truly, awesomely well. I dithered for a while trying to decide whether to get it, but ultimately passed because of the colour. While lovely, this mocha brown doesn't really mesh well with other colours in my wardrobe. The other available colours also didn't work for me for various reasons. The grey was blah, the bright colours (electric blue, orange, and bright green) didn't wow me; I already have a longish black cardigan, so the black was out too. But I would definitely recommend checking this one out if you're looking for a cardigan in this style. I think it could easily work dressed up or down, and the material has a good hand-feel to it (not scratchy). For reference, I'm wearing a Small in the photo; it fit pretty well everywhere except the chest area. If i were to buy it, i would debate sizing up, but I'm not sure how permanent my current cleavage will be.
Edited to add: I ended up going back and buying this cardigan in black. I took a close look at my old cardigan, and decided it was time to retire it to home use only. This was its replacement, and I'm pretty happy with it. I ended up going with the Small size, by the way. I'm sure it will pop up in an outfit post sooner rather than later.
Mossimo Faux Leather Jacket ($25)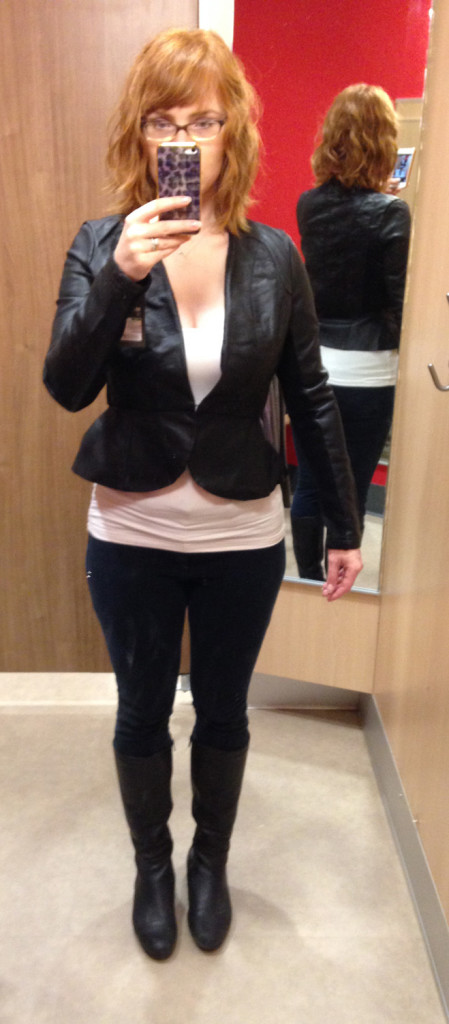 This looked like a really cool silhouette, and the faux leather didn't feel too cheap to the touch. On me, though, it was a disaster. The peplum hits me at the worst spot, and foofs out in a weird way. No bueno. This one definitely looks better on the hanger than on me, so that is where it best remain.
Mossimo Colourblock Ponte Dress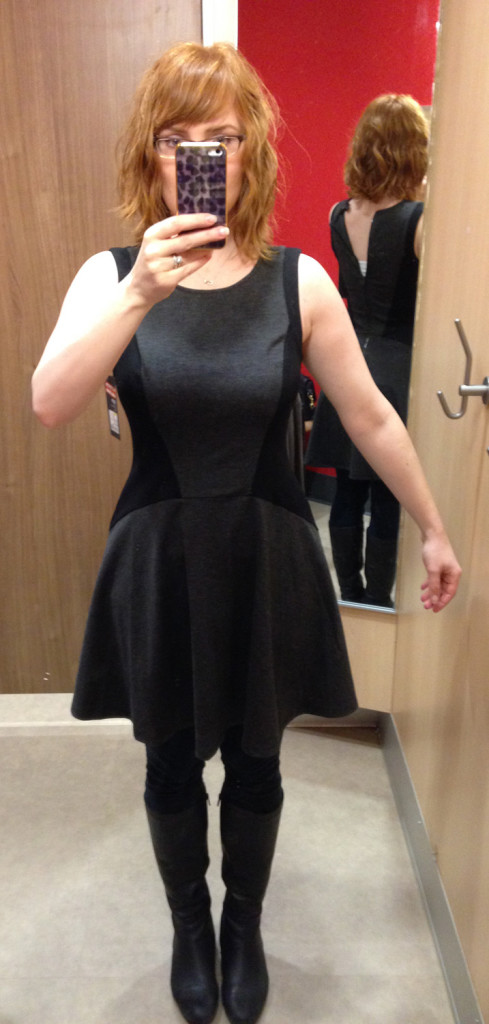 I've wanted to try this style for ages, and have also been looking for a plain, casual black dress to fill a closet hole – why not kill two birds with one stone. This dress is actually (primarily) dark grey but, eh, close enough. The Small fit well for the most part (please ignore the open zipper in the back, I'm just lazy). I had only two quibbles. One, the waist sat high – around my natural waist, and I am short-waisted – and threw my proportions off. Two, the shape of the side panels seemed to deliberately point to and emphasize my hips. I'm carrying more weight in this area than before, and don't exactly appreciate the extra attention there. But otherwise the dress was pretty cute, and comfortable too; the ponte material is perfect for a body-skimming but relaxed fit.
Xhilaration Floral Dress ($18)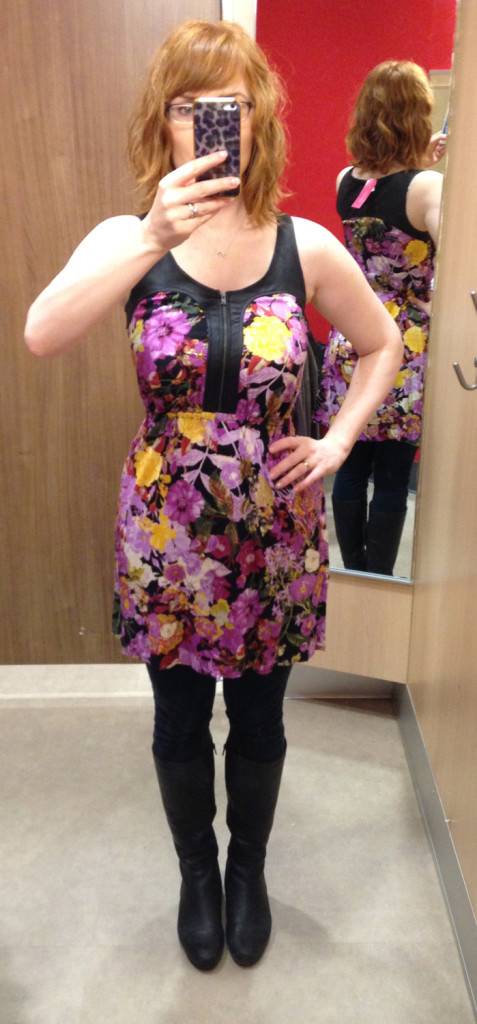 I ask you: How could I resist this print? I think Xhilaration is Target's younger line, so I probably should have known better than to try this dress on but … Oh well. As you can see, I did get the Small on – but the fit was problematic. To say the least. I'm actually wearing my nursing tank (and my skinny cords – laziness, again), and the bodice barely fit. With an actual bra on, I would have definitely had to size up. The waist sat very high, even though the dress is not meant to be empire-waisted (I think?!) And the hemline was super short. The faux leather and zipper detail on the front were cute, but nothing could save this dress for me. Pass.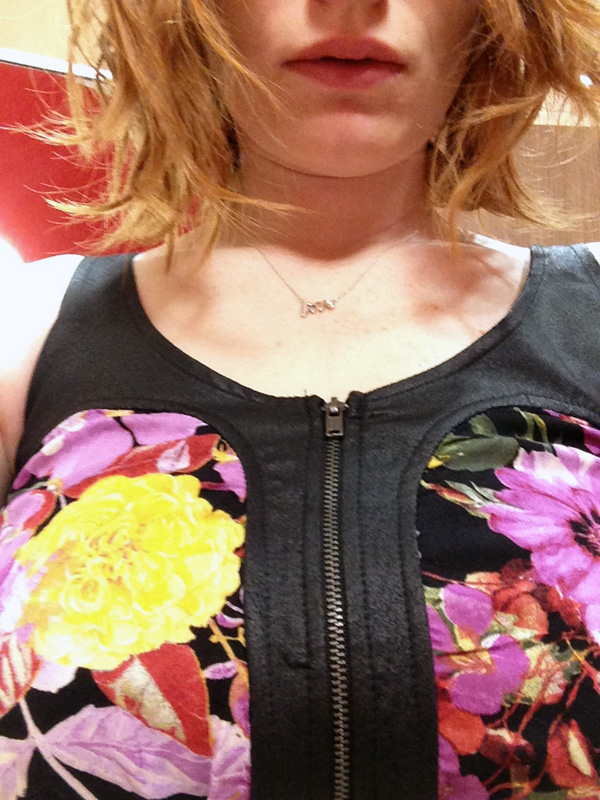 Black Label Bow Blouse ($25)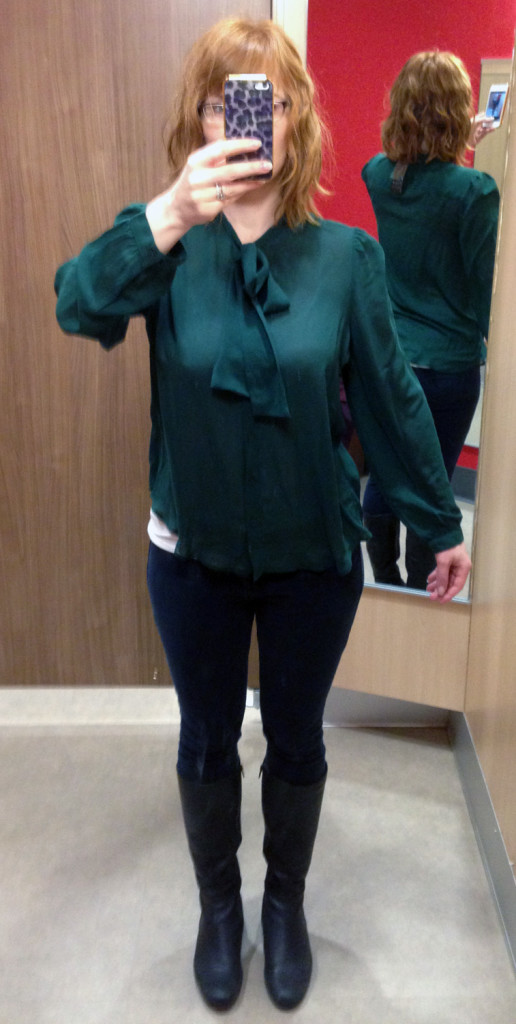 I was drawn to the deep emerald colour of this blouse, but almost put it back on the rack after feeling the material – polyester-ville. Nevertheless, I decided to try it on just for the fit. It was okay. The fabric was (no surprise) very staticky. I tried the Small and it fit fine. It's definitely on the sheer side, so it would need a camisole for office wear. This was another pass for me.
Mossimo Floral Tunic Blouse ($20)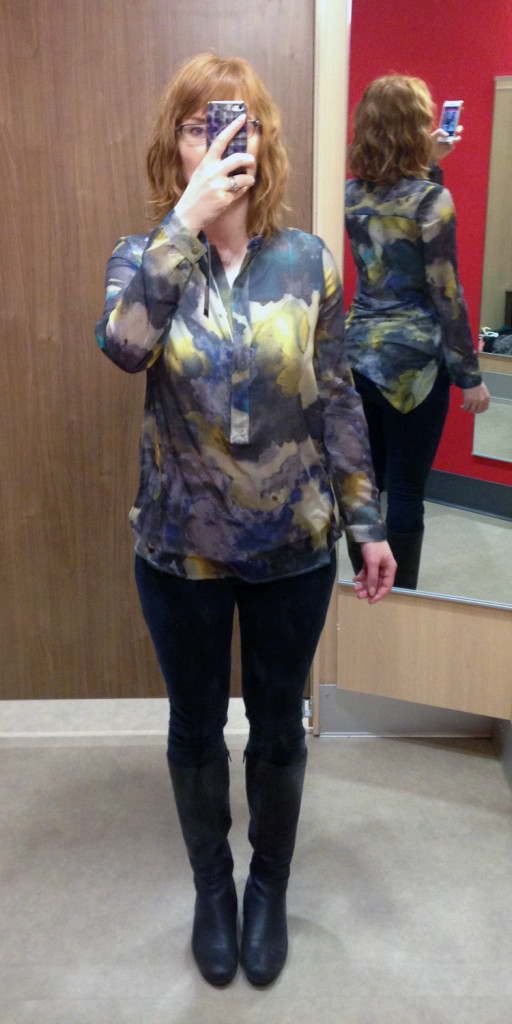 I liked the print on this blouse, and the front zipper detail was interesting. The main drawback was the fabric, again. For reference, I tried on the Small; it was a loose fit, so it was fairly roomy.
Mossimo Long Sleeve Fancy Sweatshirt ($20)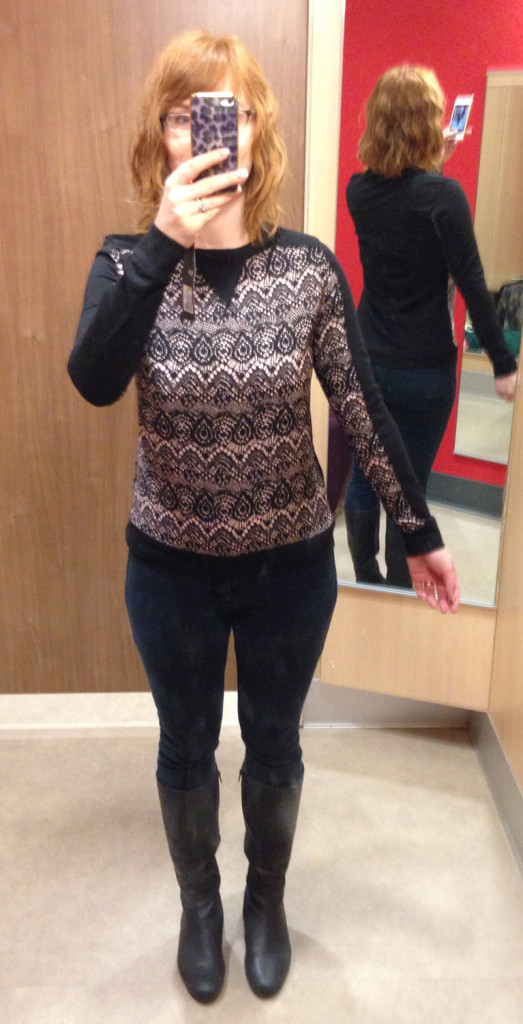 I love lace accents, so my eye was immediately drawn to this top. The arms and back are made from a sweatshirt-like material (I didn't check but likely a cotton-synthetic blend), and the front is thin poly. The fit, on me, was problematic. The Small fit everywhere but the shoulders, which seems like an odd place to have issues. On the plus side, it made my decision easier. Pass.
Xhilaration Embellished Sweatshirt ($20)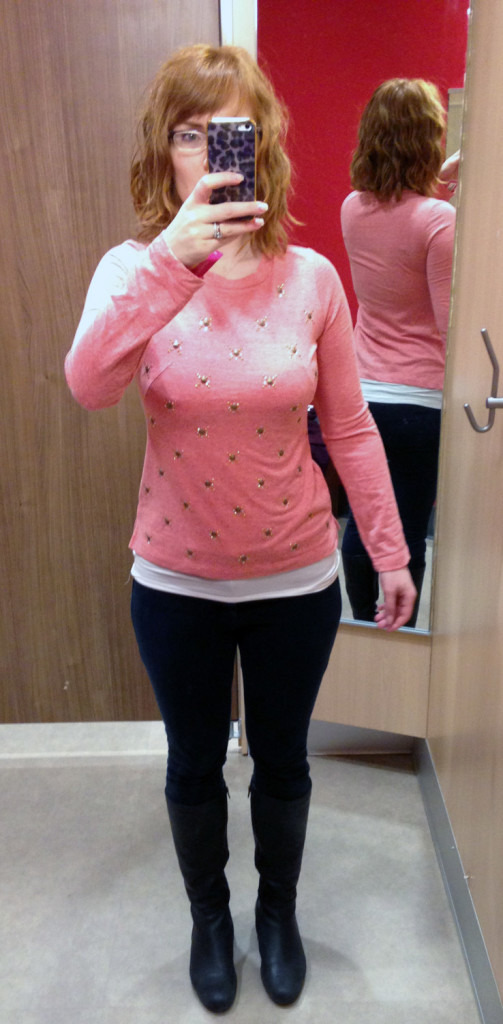 Embellished sweaters and sweatshirts have been trendy for a while, and I must confess that I've eyed a few j. Crew versions (too pricey, alas!). This top is a very cute budget-friendly alternative, and it looks and feels more expensive than it is. It does run small (I'm wearing a Small, and would size up to be able to layer this over, say, a chambray shirt), so be forewarned. It also comes in grey, but I found this pale peachy-pink to be a more interesting colour. I was actually thiiiiiis close to buying it (as in, I had it in my hands in the check-out line), but ultimately decided to pass only because I didn't think the colour was very flattering on me. I think it would look great on a brunette, though.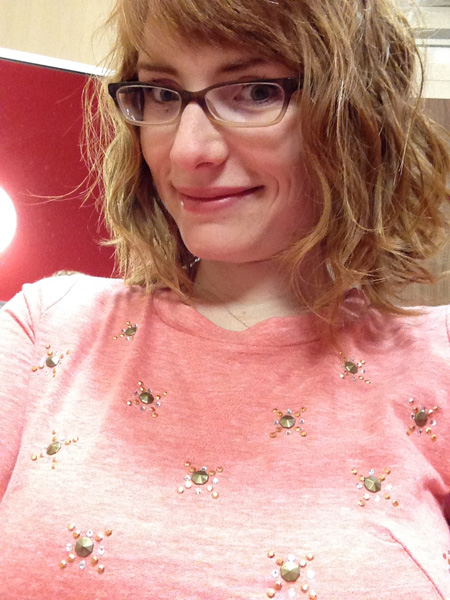 Grey Denim Leggings ($30)
I wanted to try these on in the burgundy colour, but they were sold out of my size (8), so I checked these out instead. I've already stocked up on a few pairs of new pants to replace the old pairs that no longer fit, but if I hadn't these would have been a viable option. The denim fabric was pretty soft, but I wouldn't call these a true "jegging" style – they're basically skinny jeans. The quality seemed good for the price, so they're worth investigating if you're in the market for new skinnies.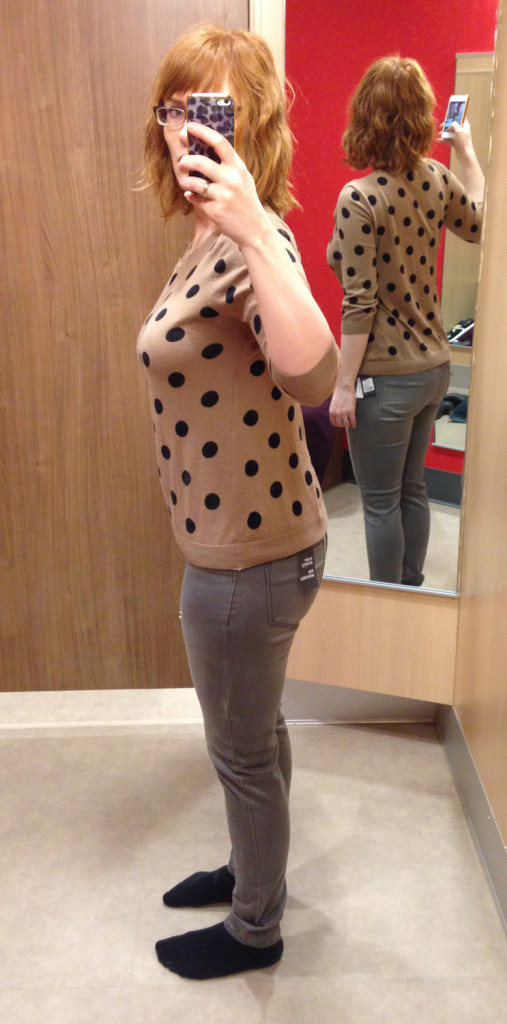 Ankle-cropped Pants ($18)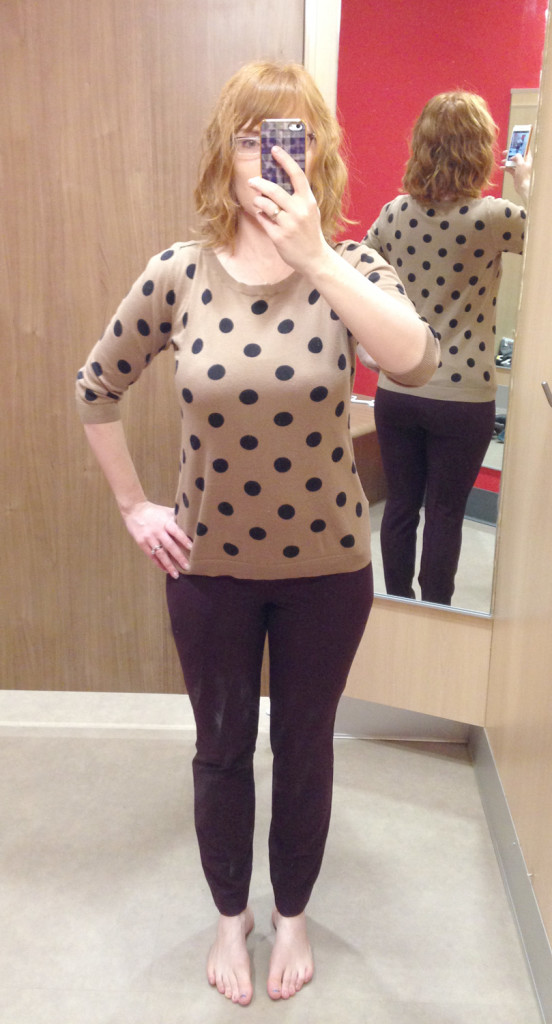 Burgundy pants (burgundy anything, really) have been on my radar since the beginning of fall, so I had to try on this pair. Once I figured out how to put them on (literally – they zip in the back not the front), I ended up liking the fit a lot. I didn't check the care label, but the material definitely felt synthetic – a major drawback for me. With that said, had I not recently lucked into finding a brand new pair of J. Crew bi-stretch wool Minnie pants at consignment (for $40 and burgundy coloured no less!), I would have been tempted by this pair. The clearance price is definitely hard to beat!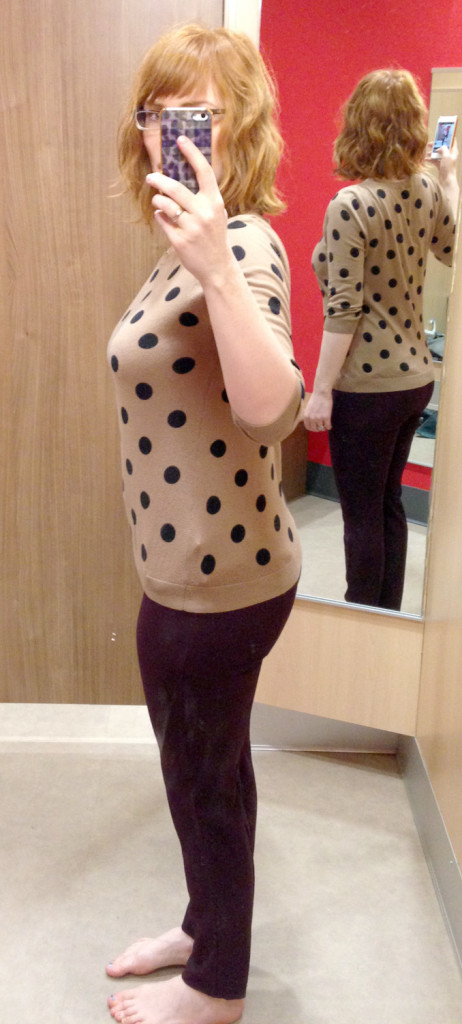 All in all, my first real Target experience has confirmed what I had suspected. There is a whole lot of polyester involved, plenty if trendy items a well as good wardrobe basics, all attractively priced – and there is some quality to be found as well if you look closely.
Have you shopped the Target clothes racks? What has your experience been like?