Every year, on December 26, I trek to some place of commerce in search of promised bargains. Every year, a little later on December 26, I vow never to fall for the whole Boxing Day marketing hype. This is proof either that hope springs eternal, or that I suffer from recurring, eggnog-induced amnesia.
So, this year. Same deal. I vowed not to go anywhere near a mall, but I couldn't just not go anywhere at all. Based on my experiences with Black Friday this year, I decided to only hit up the J. Crew Factory store. It's a 5 minute drive from my house, and there were a few things I had been eyeing, waiting for a good sale. And if anyone is good for a decent sale, it's J. Crew. I know. I've hit you over the head with my Crew love enough already. But their shopping math. It is amazing!
Take this jewel collar Oxford shell.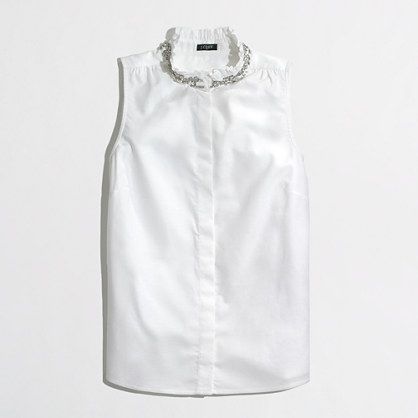 I bought the blue version during the Black Friday sale, and love it so much that I decided I needed the white one as well. They are fantastic for layering under cardigans and sweaters, with the bonuses of a) being sleeveless (less bulk in the arms); and b) not requiring any accessorizing. Regular price on these is $90. That's … a lot. And I say that as someone who, well, loves these shirts so much she bought two. But! I only paid $36! Shopping math, you guys – amahzing!
Of course, I also spotted a couple of other wardrobe staples on clearance so I had to buy those as well. My fave Charley sweater in camel (regularly $80, paid $16) and the Jackie cardigan in orchid pink (regularly $60, paid $14).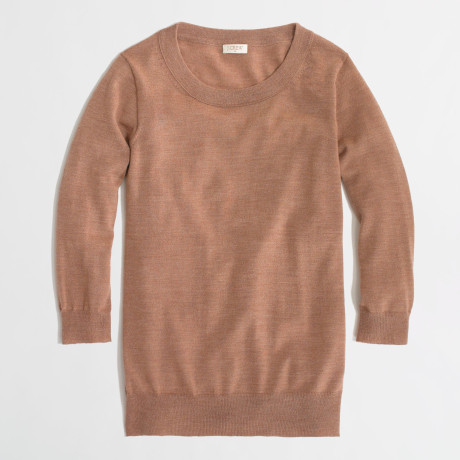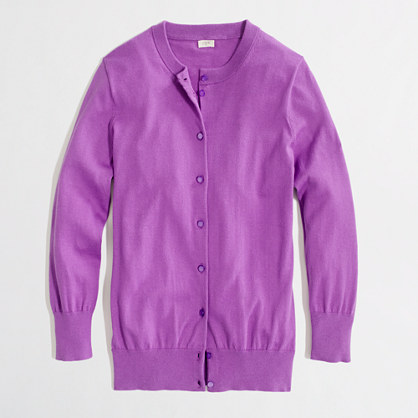 Oh yeah, and then I saw these Anya flats.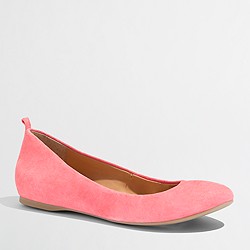 Tried them on just on a whim. Couldn't believe how incredibly comfortable they are. I need a new pair of shoes like a fish needs a bicycle, but I couldn't pass these up for the comfort factor alone. I'm curious to see if they're as amazing over the long haul. Pity they are suede, though. Again, the regular retail price is steep: $104. I paid $26, which makes these a great deal based on the quality. [The colour I bought is Chrome Green, not the pink pictured above]
Here's 3 out of my 4 Boxing Day picks: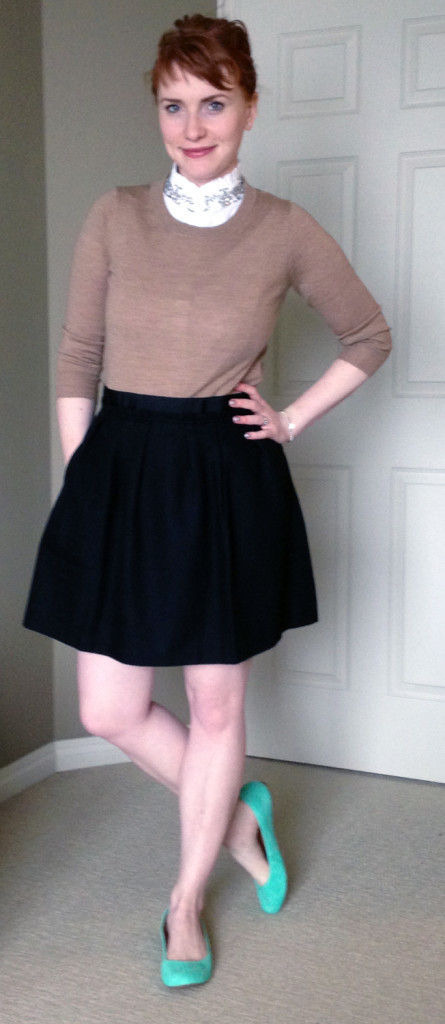 How were your Boxing Day shopping adventures?
Don't forget to follow BCRL (BCRLadinaj) on Instagram!!