So, you probably haven't been up at night wondering about this, but I haven't done a WIW post in a while. It's cold. Like, bone-crushingly cold. That's my excuse. I have the winter blues, and I don't feel like dressing up, and I don't have to dress up, so … Yeah. I'd much rather browse-shop for pretty things and daydream about the spring when I am going to wear them all. Possibly all at once, because I will be that excited to see a snow-free day.
Anyway.
I did make some efforts over the holidays, so I finally have some outfits to show you.
For a friend's one-year old's birthday party, I wore this:
You may remember that I bought this dress after I gave birth to my son, and wore the heck out of it for a while. Then it fell out of favour, around the time I went back to work. It's not really office material, and it started to feel a bit frumpy. No more. I found it again recently and remembered why I bought it in the first place; it's comfy, it's figure-forgiving, it's machine washable. Added bonus: it's very stretchy, so it can easily accommodate breastfeeding.
I switched out the fabric belt for a leather one. Can I pause for a moment and show you my gorgeous new polish? Well, I will anyway:
 It's from A England's new Margot Fonteyn-inspired Ballerina collection, and it's called Dancing with Nureyev. You guys need to see the close-up:
Oh and hey – looky here: a bonus pic.
For brunch with a friend (and the family in tow), I wore this:
Key word here: comfortable. It's how I roll these days.
The top is an old Gap blouse I thrifted last year, and was about to donate because of its stupid elasticized hem. I was a little sad to part with it, because the pattern is so up my alley … and then I had a light bulb moment. I have been chopping bits of my clothes right and left lately, why not do it again? It worked.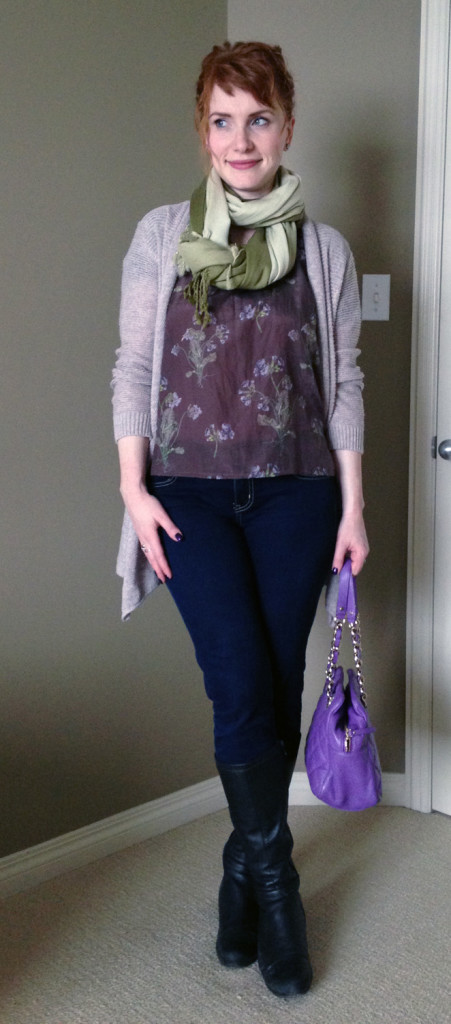 On Christmas Eve, we went to visit my in-laws, and this is what I wore.

Basically, because I have so few opportunities these days to dress up, every time I do I just throw together things I really, really love. Whether they actually work together or not is something of a crapshoot, but I take my chances. If I look terrible, I can always blame it on the kids. They have their uses. And if I look less than stellar in these photos, it's because I was following a family tradition of being sick over the Christmas holidays.
My son, on the other hand, looks cute no matter what.
No, for reals: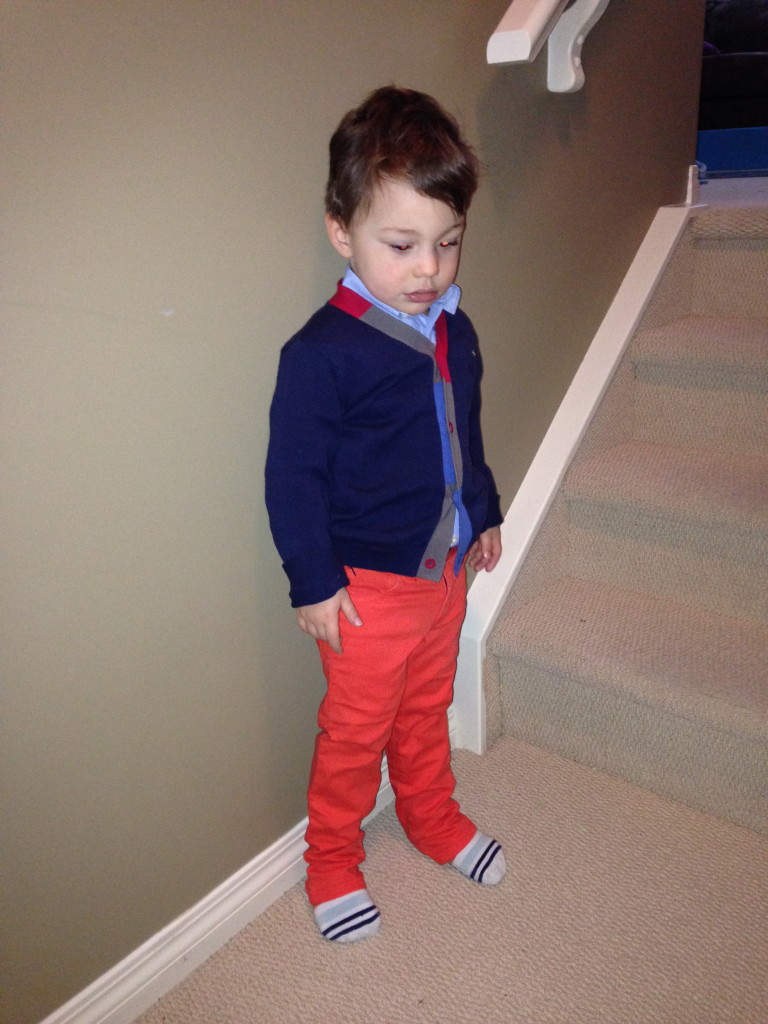 For Christmas Day dinner with my parents, I wore this:
I missed this skirt a lot during my third trimester. Our reunion was a tad bitter sweet; she doesn't fit as well as she used to. I'm really starting to think that the real issue with my post-baby body is not so much extra pounds, as it is extra width. I think my hipbones might have stretched out, possibly permanently. Can that happen? So, yeah, the skirt. It's a one-sided love these days.
Last but not least, I wore this on a date night with my husband – our first movie date in 2+ years! We saw American Hustle (brilliant!), and enjoyed a non-rushed dinner out afterwards, courtesy of my parents who generously offered to babysit both kids.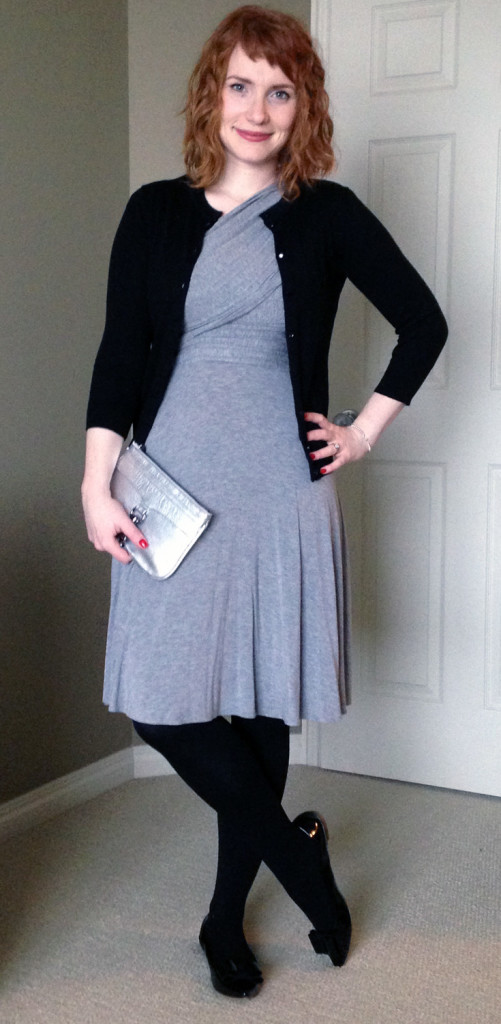 I simply adore this dress. It doesn't look particularly impressive in photographs (and I had to add a cardigan for practical purposes, aka warmth), but it is a gorgeously constructed dress, not to mention incredibly comfortable and flattering. I wish it came in a more interesting colour but, ah, it's almost perfect. It's an older style I first saw on Looks Good From The Back, and was lucky to find for a great deal on eBay. I would highly recommend it for … well, pretty much anybody.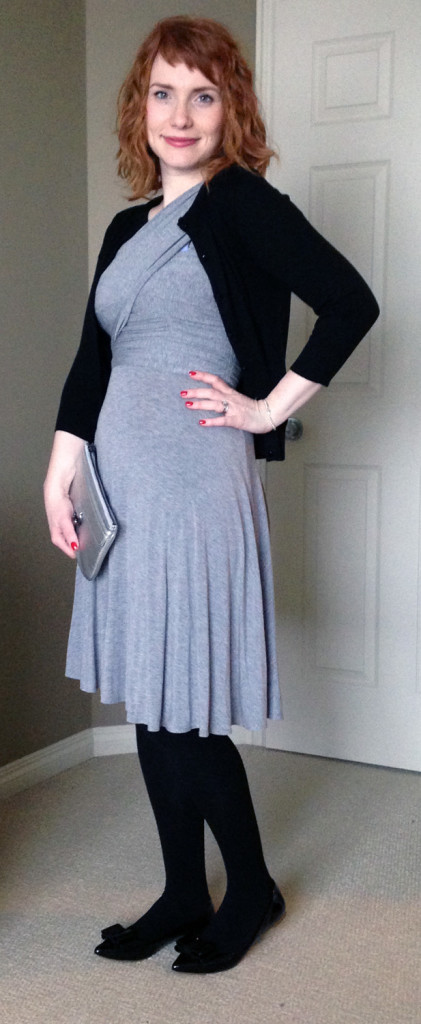 Here is the dress on its own. The front sash-thingie is adjustable, and there is a thinner strap on the left shoulder which provides support on that side. Honestly, it is such a well-constructed dress!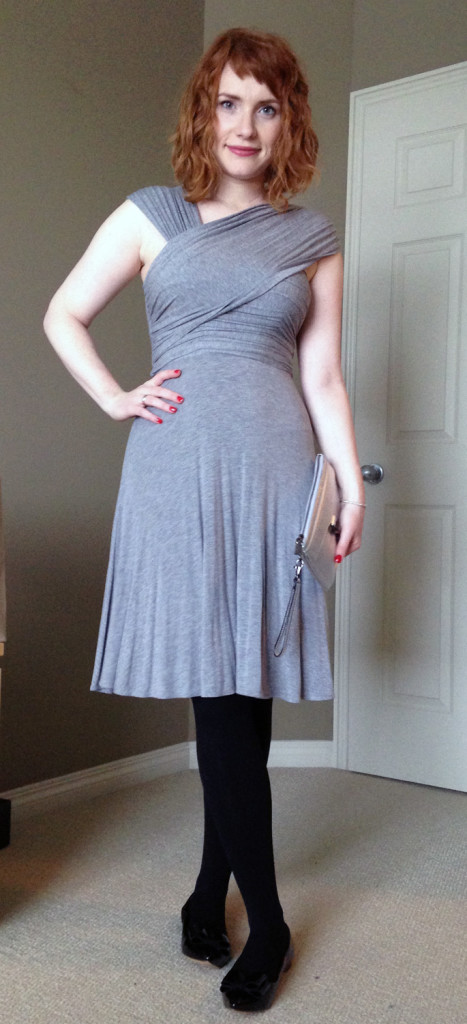 And here is a closer peek at my beautiful clutch (a Christmas gift from a dear, dear friend who knows all my weaknesses) via Instagram: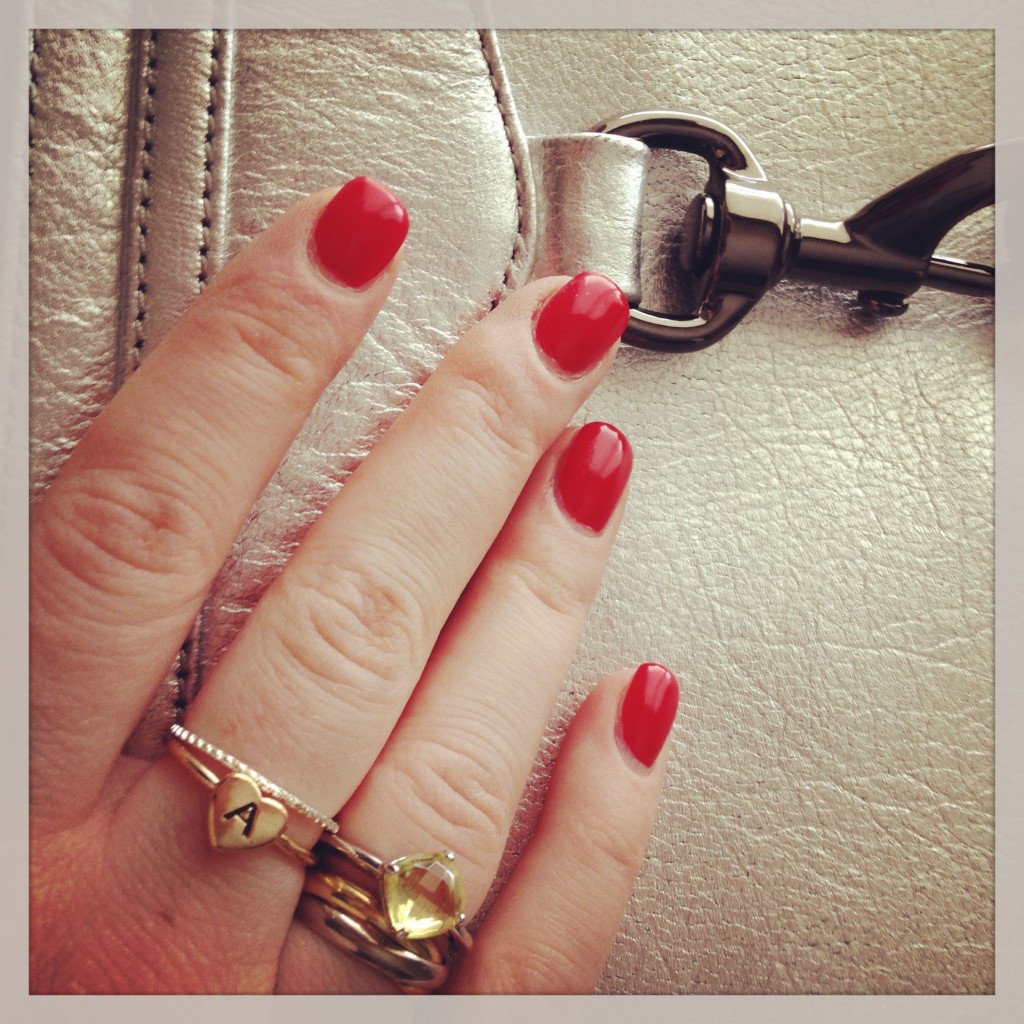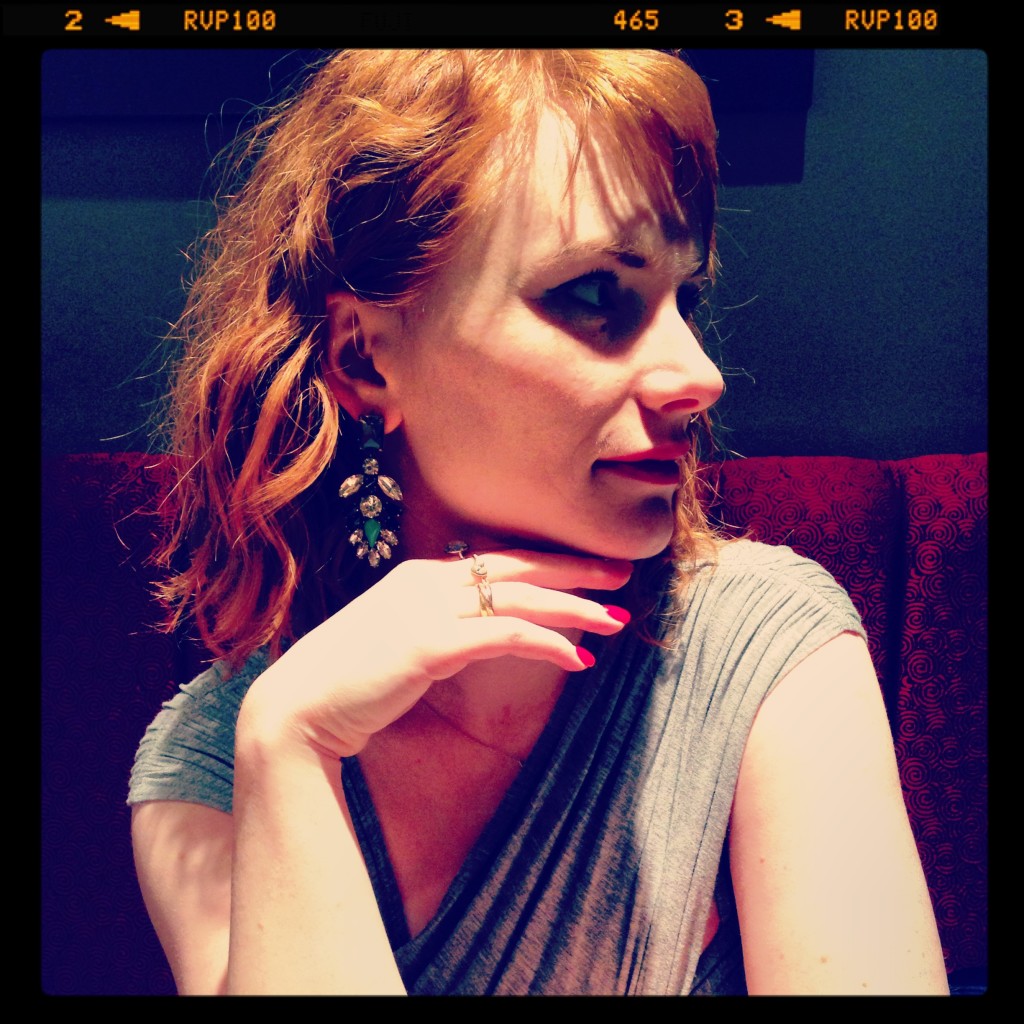 Are you following BCRL (BCRLadinaJ) on Instagram yet?