What I Wore: Easter Sunday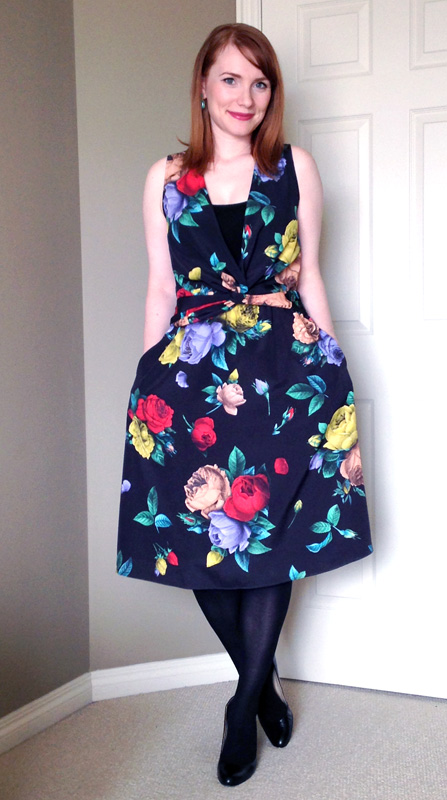 My posts usually run 2 weeks behind, but I love this dress so much I just had to share. Right. Away. Totally normal blogger behaviour, guys.
So, the dress. Best Winners find in a long, long time – possibly ever. That is a Love Moschino dress, and I will tell you how much I paid for it at the end (because I cannot resist a cliffhanger). It has a lovely floral print, and a forgiving cut, and a very revealing neckline that nevertheless does not look, um, inappropriate. (I'm wearing a tank top underneath to help with that.) And all that adds up to pretty darn near "perfect" in my books. It is 100% polyester, which … lets look at the bright side. It is machine-washable (yay!). It is "made in Italy" polyester, which surely is less polyester-ly than the regular stuff. (I kid. Maybe?) It is not the rough, staticky kind of polyester, so it has a nice hand-feel. Also, it's lined. It's, like, practically not even polyester. Hurrah!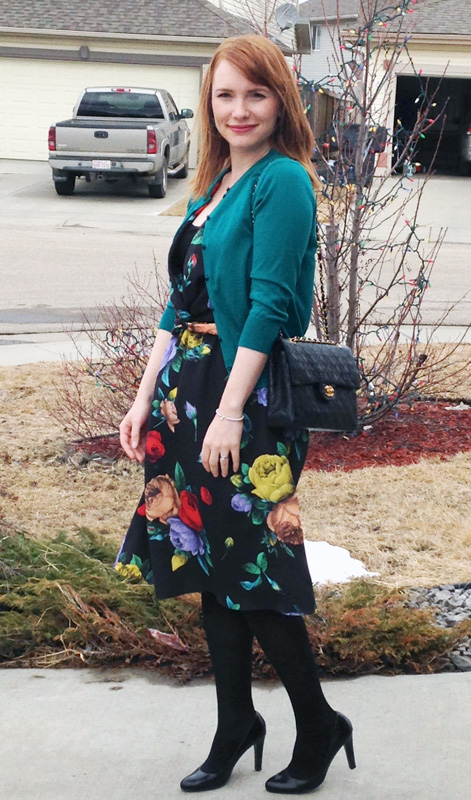 Of course, it snowed the entire week leading up to Easter, so I had to throw on a cardigan. But it's still cute! I actually restrained myself for once, and went easy with the accessories; I just added some gumdrop-like earrings:
Oh, I almost forgot. The dress cost $60, marked down from $200 (original retail $400). That's always nice, isn't it?