What, ANOTHER thrifting post? I know, I know. I've been doing a LOT of thrifting lately, you guys. Not in terms of time — most of my stop-ins are only 15-20 minutes long — so much as in terms of frequency. I've started going at least once or twice a week, and it's become one of my fave ways to relax after a stressful day. Kinda like reading a fashion mag, and admiring the pretty clothes … except that I get to take my favourite finds home with me, and play dress-up. That never gets old for some reason. My closet is bursting at the seams, but that's a problem for another day. It's why garage sales exist, right?
So, hey, you wanna see what I've been finding lately?
(Side note: there are tons of cool things I find but don't buy for various reasons — wrong size, wrong style,etc. — but I've stopped taking photos because I don't have time. I gotta use my 15 minutes efficiently, if you know what I mean.)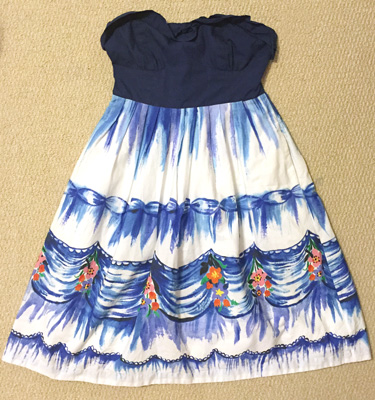 Technically, this wasn't thrifted, but for the price it might as well have been. A Plato's Closet opened here a while back, and I ended up taking a friend there recently to check it out. Most of their stuff is not age-appropriate/lifestyle-appropriate for me, but I couldn't resist this dress. I have a couple of other Nathalie Lete pieces, and I adore her whimsical prints. This dress fit perfectly, even though it's a strapless dress, so I thought it would make a nice "date night" outfit this summer.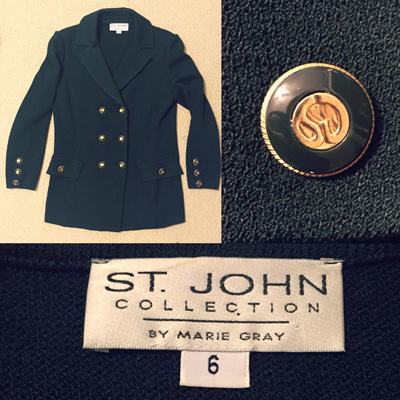 I know St. John is a big hit with dedicated thrifters, but I have rarely come across pieces here in town. I was drawn to the peacoat-like styling of this knit blazer (a size 6, but it's large enough to be a coat), and it was in such amazing condition, I had to buy it. Once I performed shoulder pad "surgery" on it, it looked a million times better. I'm curious to see if I can pull this one off IRL. To be continued.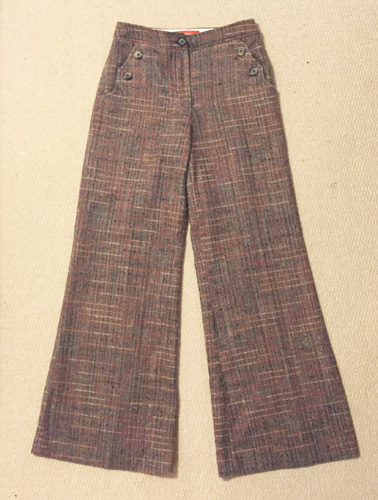 These Anthro brand pants were another style gamble. I am not comfortable with the whole wide leg silhouette, but I liked the fit of the high waist, and the quality was excellent (wool, lined), so I decided it was worth trying for $6 (plus another $20 for hemming). I've already worn them once, and liked how they looked, so I think I could get used to them in time.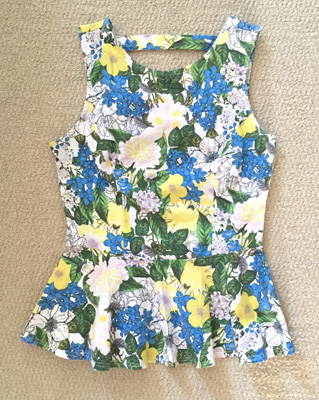 I rarely thrift for tops (there are too many racks, and I don't have the time), but this pretty floral peplum jumped out at me. I think it will be cute in the summer. It's floral, what could go wrong?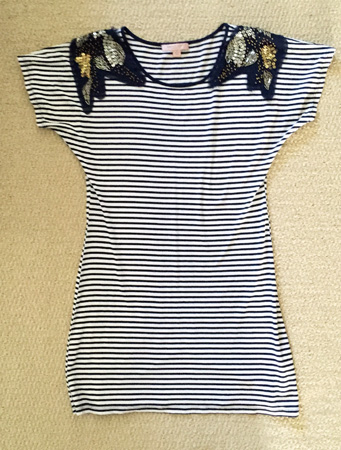 I'm less sure about this striped top, but for $5 I wasn't going to overthink it. Until recently, I had no striped tops in my closet (save for my Gap tee that's showing its constant wear from my last mat leave). Hard to believe, right? Bloggers love striped shirts. I love them, too, but I've had trouble finding the right kind of stripe. (Long story short, they have to be the right thickness and distance apart, otherwise they give me a headache). Anyway, this top looked promising, stripe-wise, even with the extra shoulder doodads. On the downside, it is rather longer than I need it to be, so we will see what happens. If I can't live with the length, I'll either try to DYI a hem, or I'll give it to a taller friend.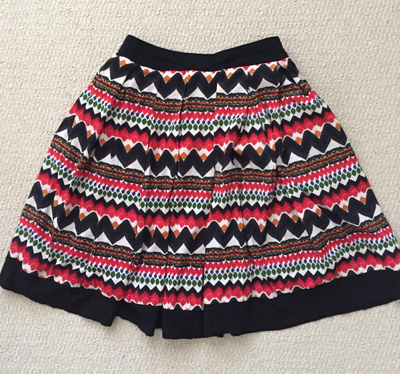 I never pass up Anthro brand skirts — especially when they're under $10.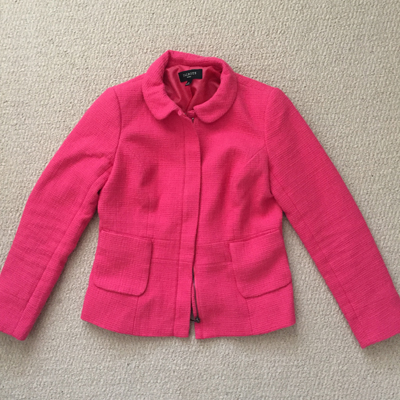 I don't wear pink so I don't know what possessed me to buy this, except that the silhouette is cute, and apparently I have a blazer hoarding problem. You'll see what I mean in a minute.
More stripes. Not sure if a candy cane striped blazer is the most versatile thing, but this one is comfortable as heck, and it was only $8.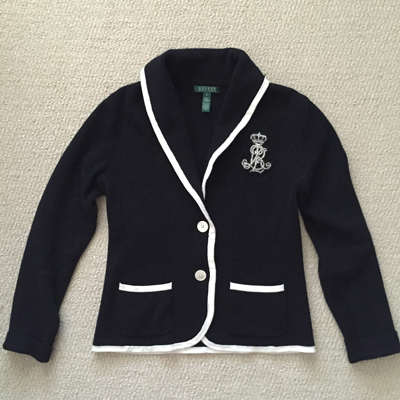 My friend made me buy this, and my inner prep ain't mad about it.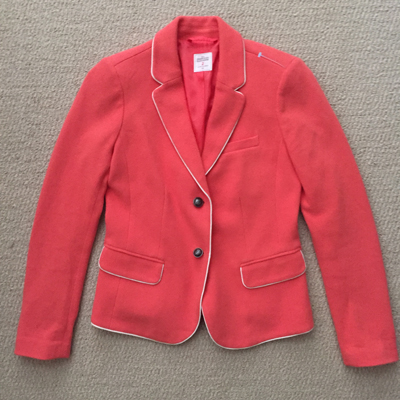 Again, I'm not sure if coral is really my colour (it's not), but it IS a cute colour for summer. The fit was perfect, and my inner blazer hoarder was all, like, "do it — do it now!"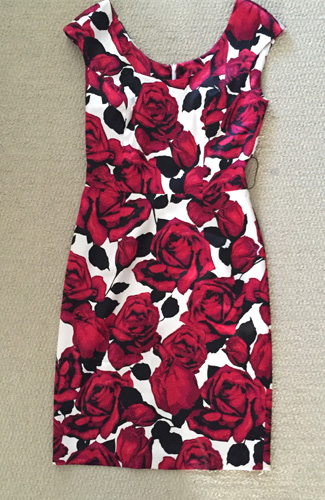 I actually bought this for a friend, then realized it was too small for her. Coincidentally, it fits me very well. Hmm.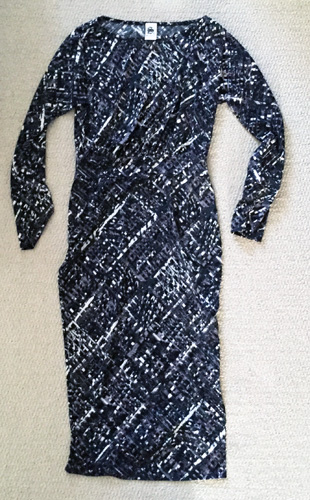 The print of this dress may be a little ho-hum, but two things made me buy it. One, it has a really cool, retro silhouette — blousy top, pencil skirt bottom, midi length. Two, the label (which I don't recognize) indicates it was made in the USA, which is always a nice find.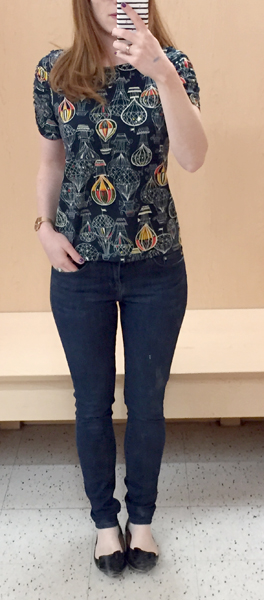 Instant outfit, am I right? Found both these pieces at the Sherwood Park VV, and they were too good (and the price too low) to pass them up even though (a) I don't really need another pair of jeans, and (b) balloon print tops are probably way out of my age range. Whatevs.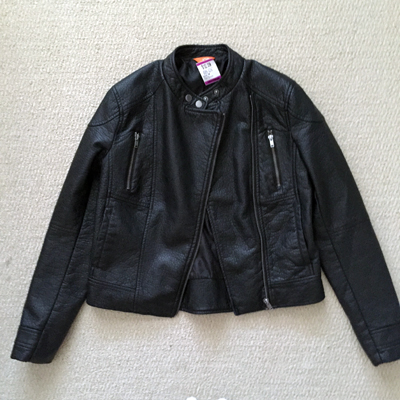 I've actually been casually looking for a leather moto jacket for ages, but never found one I liked in terms of both style and price. Especially price. Since I didn't expect a moto jacket to become a staple in my wardrobe, I didn't want to pay a lot for one. This Joe Fresh version is not real leather, but feels really darn nice, and the design is classic and simple. For $10, it was a no brainer.
Aaaand, I'm done. Phew. As warned, that was a bit of thrifting overload. Let me know what you think of my finds, and ask me any thrifting-related questions on your mind.