As promised yesterday, here's a peek at my thrift loot from the past few weeks. The post title says it all, by the way: I bought All The Things. But! But! I have also been diligent about cleaning out my closet, so there are some new things listed in my Shop My Closet page for anyone interested.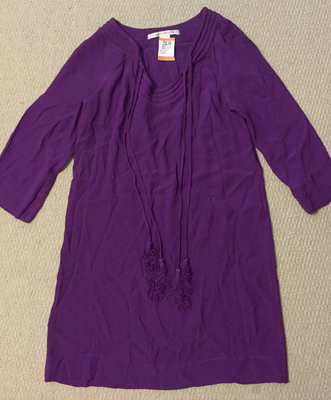 I loved the beautiful rich purple colour, and this seemed like the sort of easy breezy dress perfect for a hot weekend.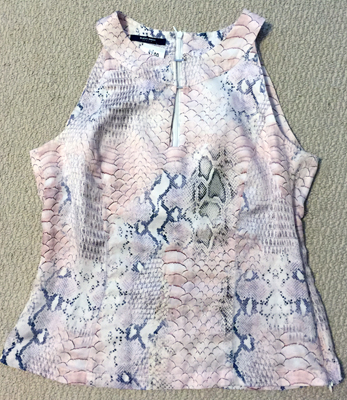 The name of this brand vaguely rang a bell, and upon Googling, turned out to be a German label. The material, though not silk, has a lovely hand-feel, and I liked the soft snakeskin print. I think I can work with this, but we'll see.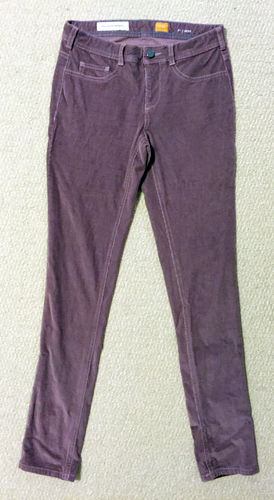 Cord leggings are a preposterous invention, and all the softest things ever.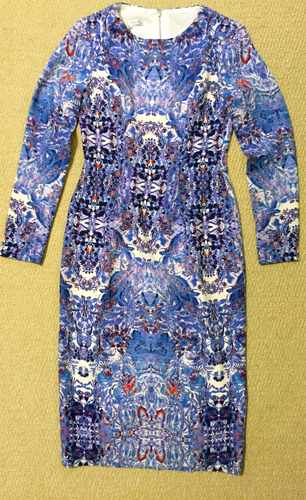 Maggy London is not normally a brand I'd single out, but I'm a sucker for a midi dress, and I liked the print of this one a lot. Those colours are right up my alley too. As a side note: it turned out that this dress was still listed on Nordstrom's website (on sale) for $70 when I bought my version. That's pretty impressive turnover.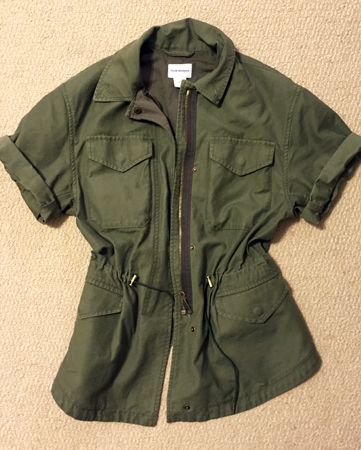 I've already talked about how much I love this jacket so I won't repeat myself. Awesome khaki jacket is awesome.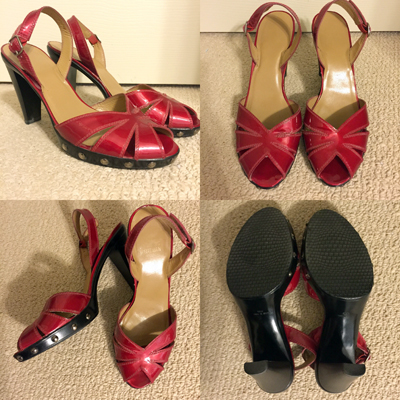 Stuart Weitzman shoes for under $15? Yes, please. Brand new, *red* Stuart Weitzman shoes for under $15? YES, PLEASE!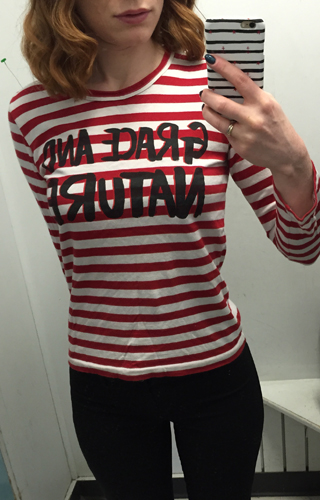 Ugh, this top. This top made me so mad. I'm still mad about it! It's cute, right? So cute. I was so excited to wear it (and the brand, Comme des Garçons, was another thriftspotting first for me). Well, I washed it — by hand, in cold water — and watched in horror as the red dye bled all over. It was a blood bath in my sink, you guys. I almost started crying, and then I got really mad. Who makes a COTTON t-shirt dry clean only? That is insanity.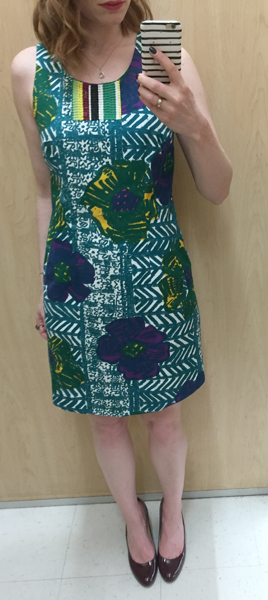 Hey remember this dress? So, funny story. I saw it again, after a few weeks, and decided to give it a try, just because. Well, it was still there, and that had to be a sign, right? Anyway, it turned out that the likely reason for its failure to sell was the fact that, while marked a size 10, this dress fit more like a 6-8. It's a little bit large in the armpit area on me (not unusual because I'm smaller on the top half than on the bottom) but fits pretty well otherwise. Score!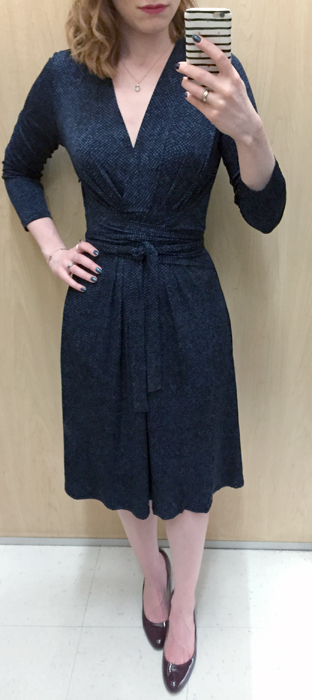 I normally don't bother with Michael Kors (I think the quality is over-rated/over-priced), but this dress was a total Issa lookalike, and since Issa is a brand I've been hunting unsuccessfully for years, I couldn't resist getting it. It's a faux wrap style very similar to dress most famously worn by Kate Middleton at the announcement of her engagement to Prince William. It's a very flattering style and I think it's going to be work appropriate too once I add a snap at the front.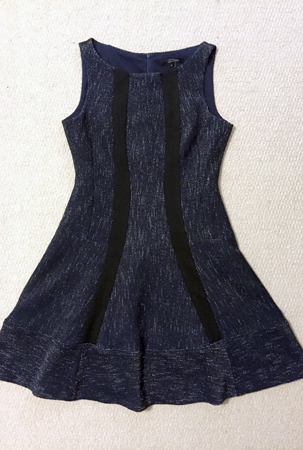 This tweedy Nanette Lepore dress was a no-brainer as well. The original retail price was $400, which is cray-cray. It will be a cute office dress, for sure.
And that's a (real, not faux) wrap, you guys. Tell me all about your thrift finds in the comments.