Ah, my coat game! For most of my adult life, my coat game was the very picture of "weak". I've mentioned it before, but I have an unexplained reluctance to spend a lot of money on things that are more functional than pretty. And, let's face it, no matter how beautiful a coat might be, it's true raison d'etre is functionality – at least in my neck of the (cold, wintery) woods. As a result of my weird quirk, I spent years looking vaguely disheveled on my commute to work, and elsewhere when exposed to the elements. Back in those days, I had 2 or 3 coats in total (at least one of which was always non-fashionable heavy-duty parka) and gave them little thought at all.
The situation started to change after I bought my MaxMara wool coat (long story you can read here), which proved to be a little like Diderot's dressing gown; it invited – nay, begged – me to up my coat game. With my thrifting turned up a few notches in the past year, it became a very easy (and inexpensive) proposition. I was organizing my downstairs coat closet the other day, and realized that I have managed to accumulate a pretty sweet (and extensive) collection of outerwear. Naturally, my thoughts immediately turned to cataloguing it, because what else is a collector to do?
Let's take a look, shall we?
MaxMara Camel Wool Coat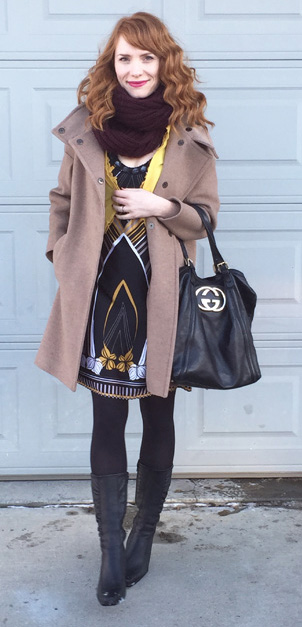 The one that started it all. I have worn this coat well over 200 times in the almost-2 years I've owned it, which tells you everything you need to know about it. I'm loath to tell people what they need to buy, but I would strongly urge you to consider adding a camel coat (or trench) to your wardrobe. It really does go with (almost) everything.
Purchased: 2014
Cost: $270 (after sale + gift card; retail $800)
Cost-per-wear: $1.20
J. Crew Lady Day Coat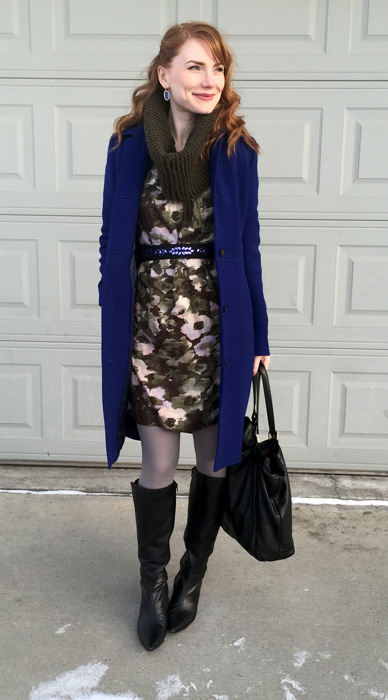 I love the style and colour of this coat, but the fit is a bit off for me. It was a bit snug when I bought, and now it's a little loose, but the bigger problem is the sleeves – they're too long for my stumpy arms. It's a vicious circle: I don't wear the coat enough to justify (likely costly) alterations, but without alterations I probably won't wear it any more often than I do. Still, it's a nice alternative to have, especially for special (wintertime) occasions when I'm wearing a dress.
Purchased: 2013
Cost: $100 (via Kijiji; retail $350)
Cost-per-wear: $4.00
Soia & Kyo Coat
This was a consignment find – great price for a good, made-in-Canada brand – and I thought a black wool coat would always come in handy. I don't wear it as often as my MaxMara coat, but it's nice to have an alternative.
Purchased: 2016
Cost: $25 (via consignment; retail $350)
Cost-per-wear: $1.80
Amaryllis Pink Coat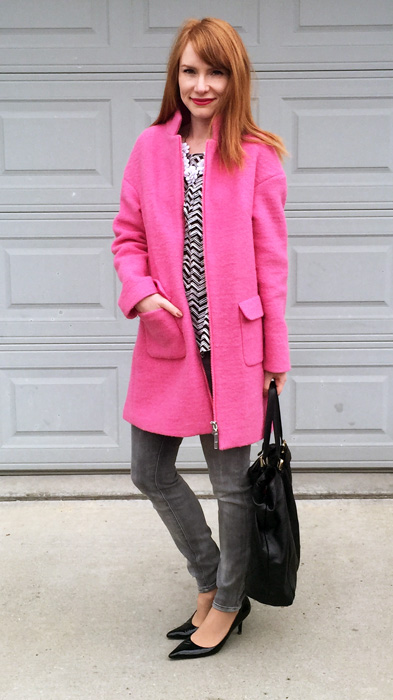 Impulse buy! I actually admired this coat on a friend, then found it at Winners on the clearance rack. I like the cocoon-like shape, and the Pepto pink colour seemed fun. It's now a little bit big on me, but I'm keeping for the sheer fun value. It will probably fit again at some point.
Purchased: 2015
Cost: $36 (retail $100+)
Cost-per-wear: $1.50
Ben Sherman Pea Coat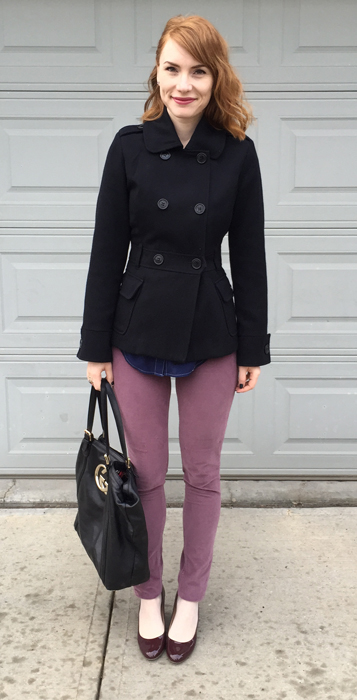 The cut of this coat is impeccable, and it's a great transitional piece for spring/fall. Or (occasionally) summer, if you live in Edmonton. It can be dressed up (pants) or down (jeans).
Purchased: 2016
Cost: $8 (thrifted; retail $250+)
Cost-per-wear: $1.60
Burberry Trench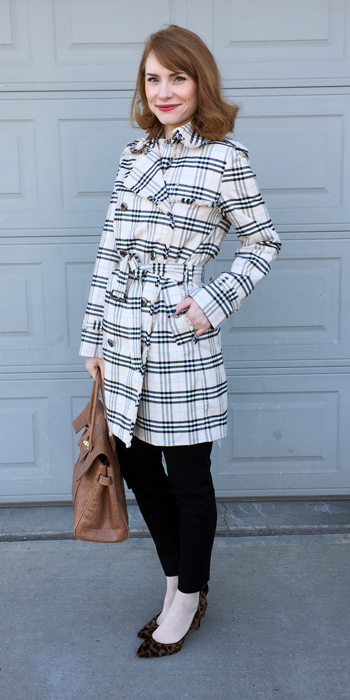 The unicorn! I spent YEARS looking for a replacement trench after my cheapie Gap one bit the dust, and I am so glad I waited until the perfect one found me. I love the style and fit, even though a small part of me wishes it was a plain, solid colour not a pattern. Such a small quibble, all things considered.
Purchased: 2016
Cost: $8 (thrifted; retail $1,800+)
Cost-per-wear: $0.80
Elie Tahari Trench
So, after not having a trench for years, I now have two. Like I said, it's good to have alternatives, and a plain black trench is a good one for the Burberry.
Purchased: 2016
Cost: $20 (thrifted; retail $300+)
Cost-per-wear: $10
Club Monaco Wool Cape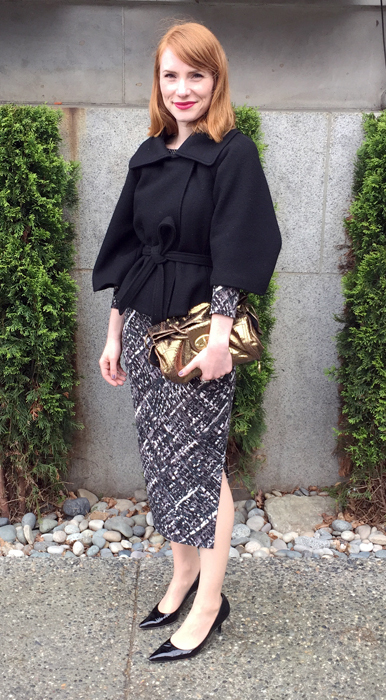 I actually "borrowed" this from my mom a couple of years ago, and never returned it. In my defence, I was the one who convinced her to buy it in the first place. Wait, is that a defence, or a further indictment? Anywhoodle, it's a nice dressy option for transitional weather, with the bonus that it can become a part of the outfit if needed. Pin a brooch on it, and call 'er done.
Purchased: 2009-ish
Cost: Free to me but originally $25 (via consignment; retail $150+)
Cost-per-wear: $0
Joe Fresh Wool Cape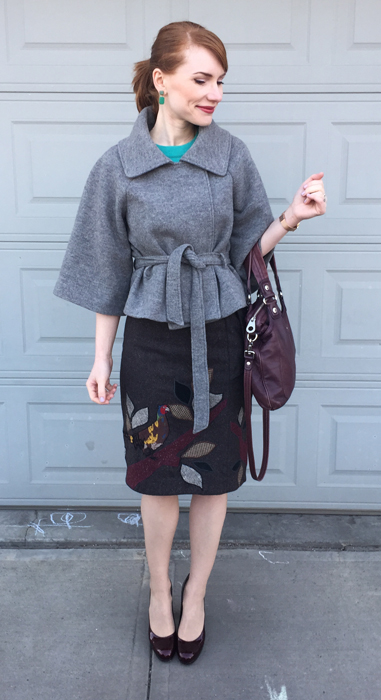 Yes, you are seeing double; that is basically the same coat, with a different label on it. I can only assume that one of these copied the other. I believe that, at one point, the chief designer for Joe Fresh used to design for Club Monaco. I don't know which was the chicken and which the egg, but I enjoy having both options available.
Purchased: 2009-ish
Cost: $20 (via consignment; retail $150+)
Cost-per-wear: $***
Tommy Hilfiger Denim Jacket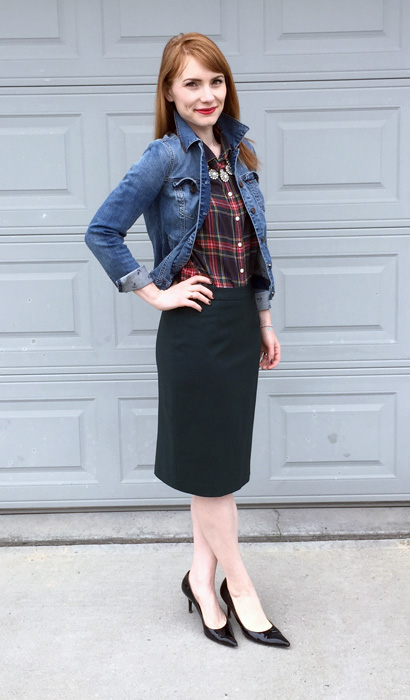 This is one of the few coats I've bought at retail – and I don't just mean at the mall, but at full price to boot. Denim jackets are just too hard to find secondhand, you guys. Nine out of every ten will look awful on me, so having found the magical one a few years ago, I didn't hesitate and splurged. No regrets, I still wear this regularly in the summer.
Purchased: 2013
Cost: $80 (retail $80)
Cost-per-wear: $2.70
J. Crew (Factory?) Grey Field Jacket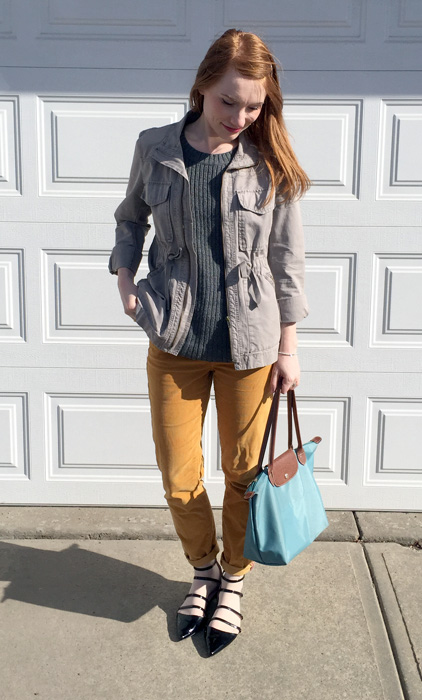 I bought this to replace my old Old Navy khaki field jacket, and figured that the grey colour would be equally versatile. I wasn't wrong, but I still found that I missed my khaki version. (Though not for long – see below). This is a nice option for spring/fall casual wear.
Purchased: 2016
Cost: $20 (via consignment; retail $100+)
Cost-per-wear: $2.90
Club Monaco Khaki Field Jacket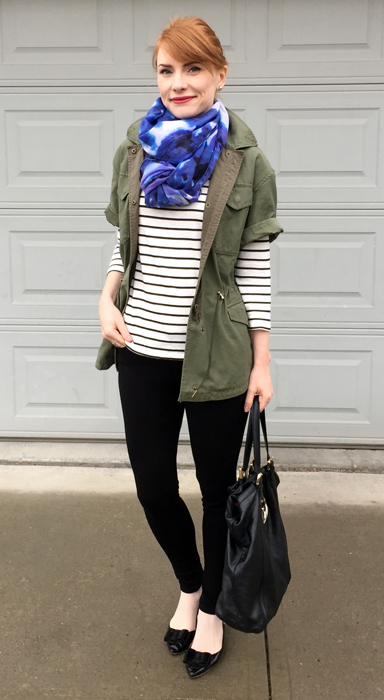 I couldn't resist getting this, even though it's sleeveless, because of the style and colour. The sleeveless aspect makes it a little less functional (or, rather, restricts the amount of time I can wear it) but does add some additional flair (hah!). I'm not generally a huge fan of green, but I love khaki/olive, and find it very versatile.
Purchased: 2016
Cost: $8 (thrifted; retail $200+)
Cost-per-wear: $2.70
BCBG Faux Suede Jacket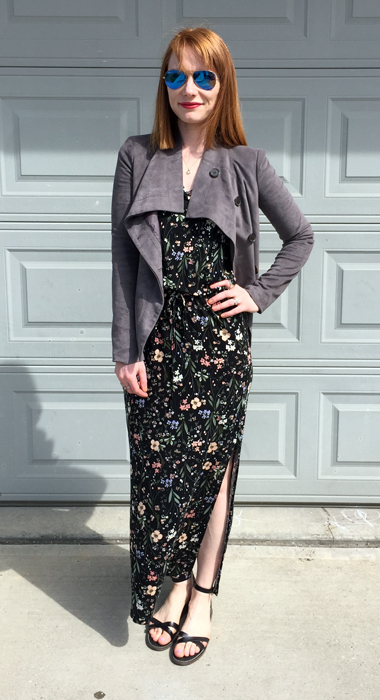 This is definitely a flair-only piece, since it won't do much to protect me from the elements, but I like it. When you've got your bases already covered, it's nice to add a little fun to your wardrobe, right? Right.
Purchased: 2016
Cost: $13 (thrifted; retail $200+)
Cost-per-wear: $6.50
Joe Fresh Faux Leather Moto Jacket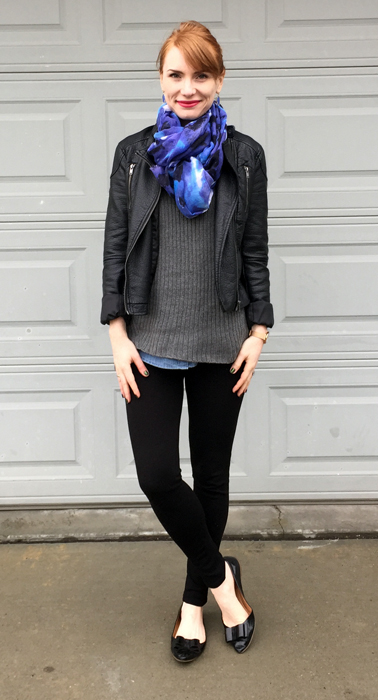 How did I survive for 35 years without a leather moto jacket? Who knows. I'm so happy to have found this version to fill the hole in my life. All joking aside, a moto leather jacket? Surprisingly versatile, you guys. Jeans, pants, dresses, skirts – it goes with everything.
Purchased: 2016
Cost: $10 (thrifted; retail $60)
Cost-per-wear: $0.80
Let's summarize: For a little over $600, I have acquired 14 jackets & coats (not including my non-fashionable heavy duty parka, which of course I still have). The total retail cost would have been somewhere close to $5,000, but of course ain't nobody paying that when we're talking secondhand shopping. (Only 3 of my coats were bought new.) It's sustainability that helps the environment, your closet and your wallet. Win, win, win. Achievement level "coat game on fleek" unlocked.