In addition to my Tuesday Night Thrift adventures with Nicole, I did manage to squeeze in some solo thrifting time this month. Not a lot … but not that you can tell from the results. What can I say? The Edmonton thrift scene is just too good, you guys. Too good not to take advantage of, at any rate.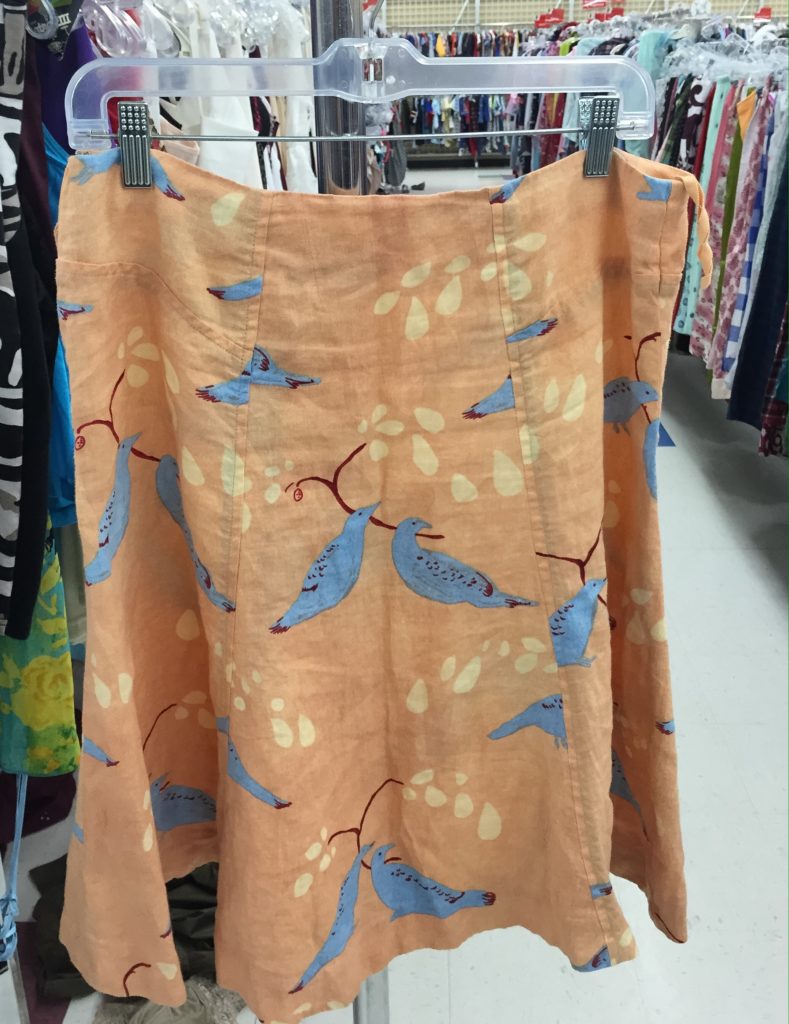 Now, I did exercise some restraint — not a lot, but some. This orange, linen Anthro skirt did NOT come home with me, for example.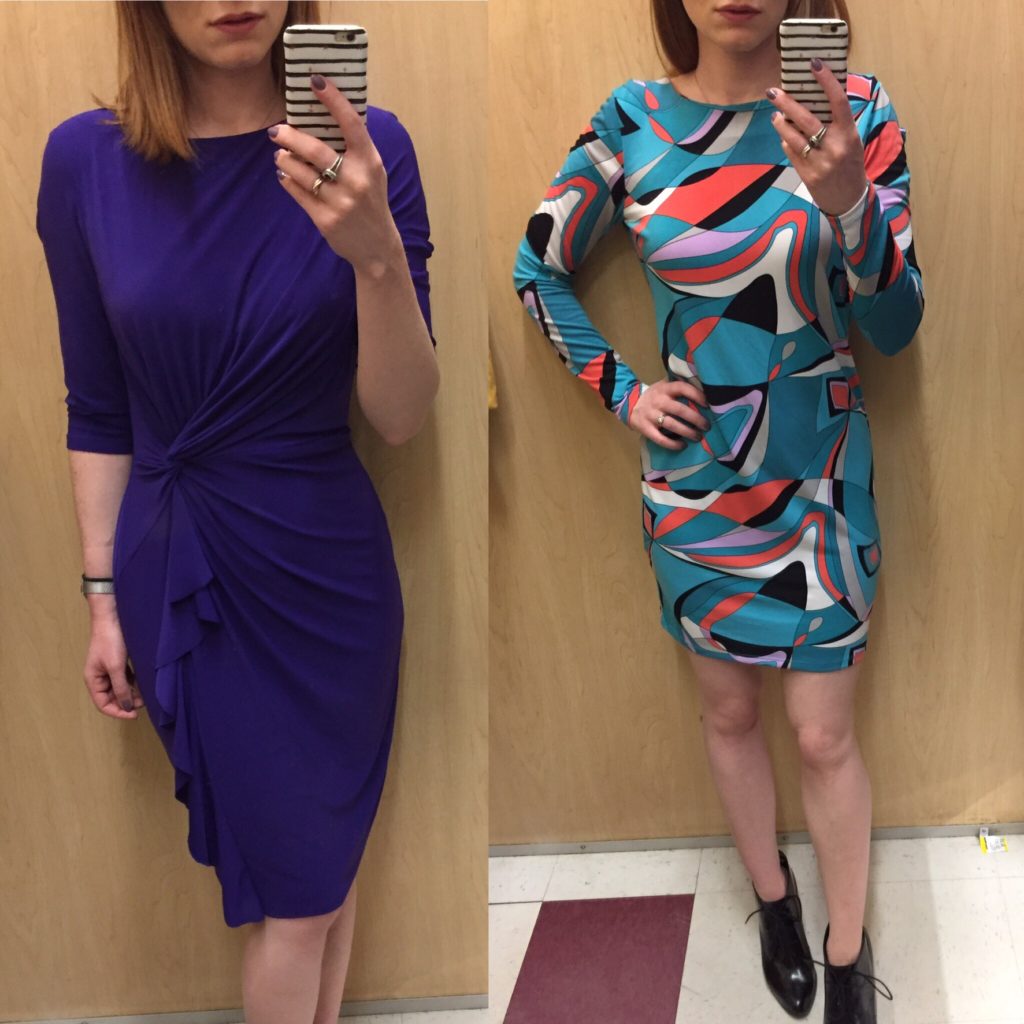 Neither did these dresses.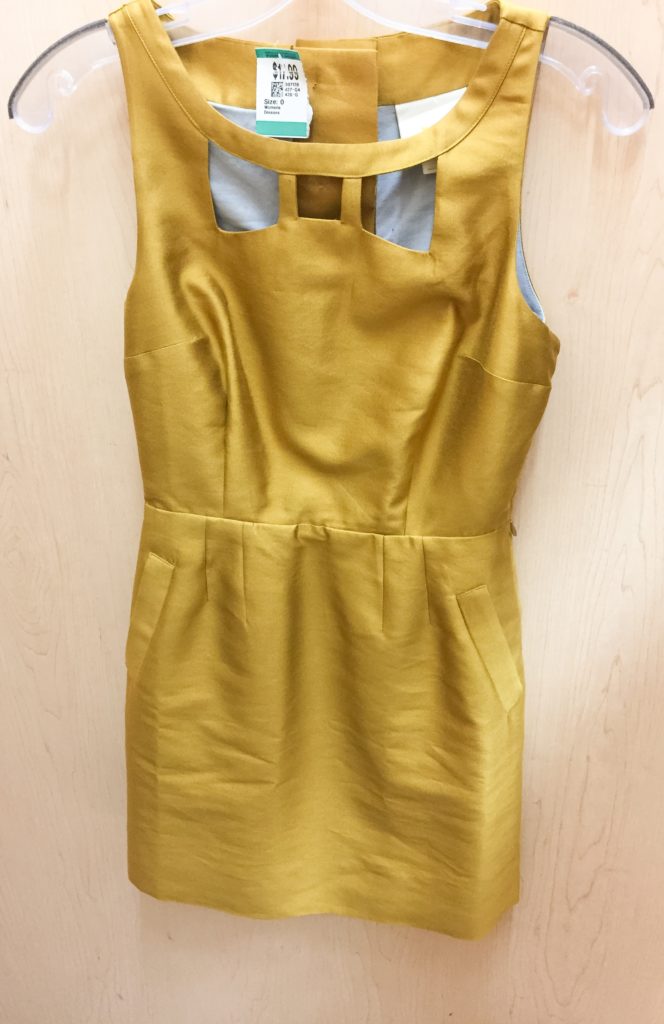 This dress was a huge disappointment — so beautiful, so terribly small.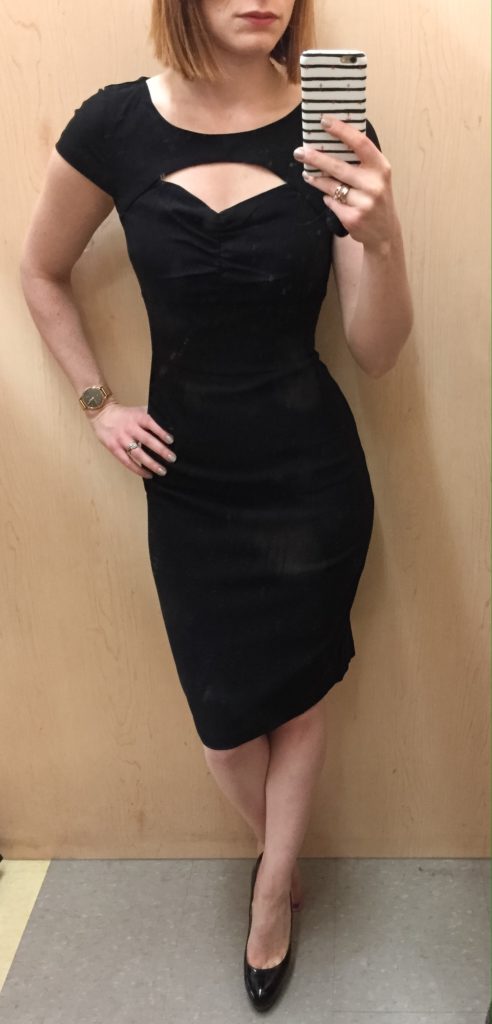 This was also cute, but too body-con for my taste. First time I've seen ModCloth in a thrift store here.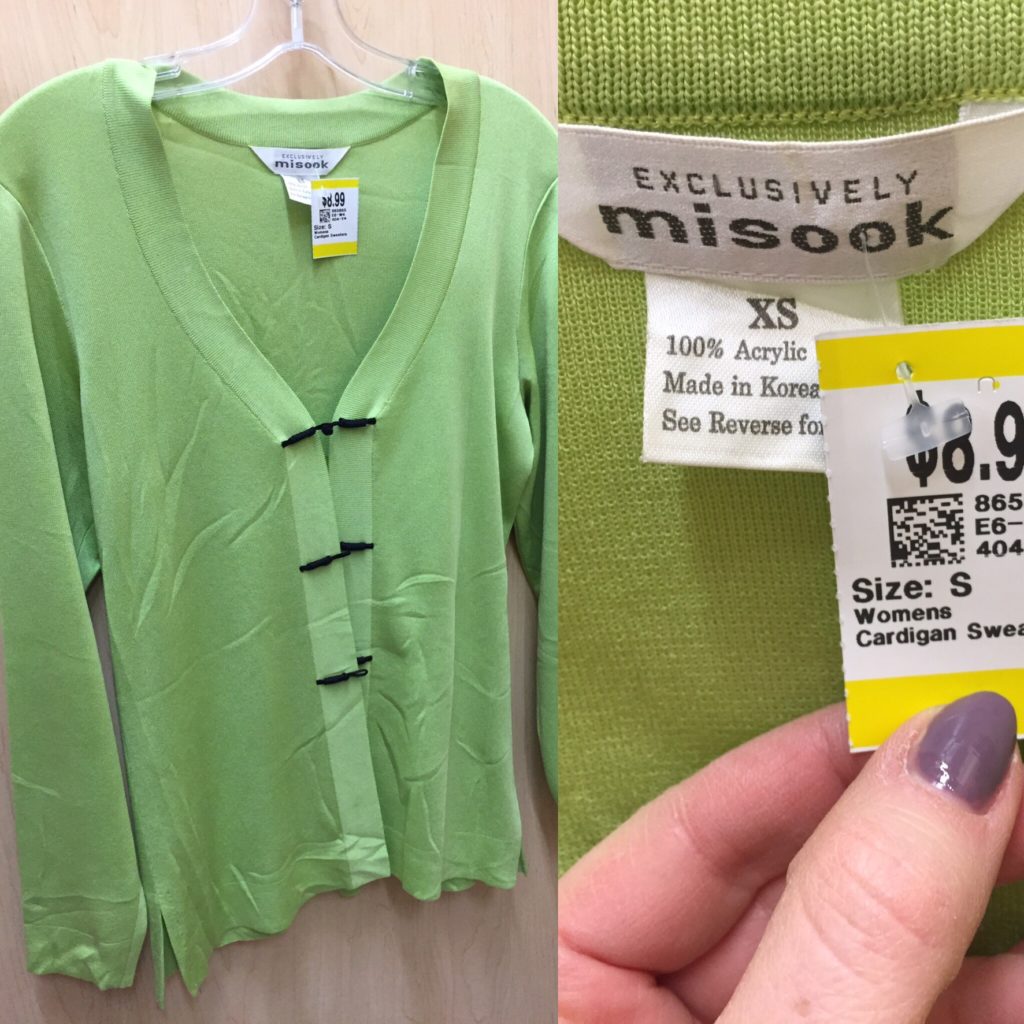 Misook is a brand I know of only through the thrift re-seller community. Apparently, it's a good seller on eBay? I can't imagine anyone lusting over this pistachio confection, but I've been a Jon Snow on more than one occasion.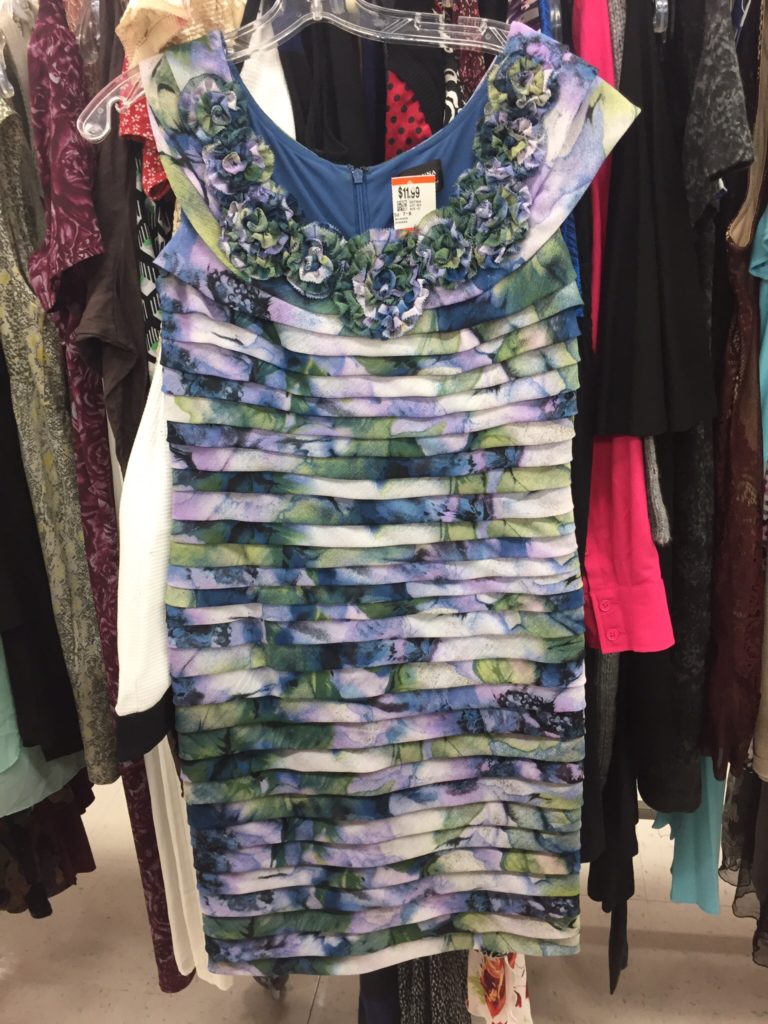 I loved the colours of this dress, and I might have been able to live with the horizontal ruffle action, but the florettes around the neckline are absolutely too, too much. Pity.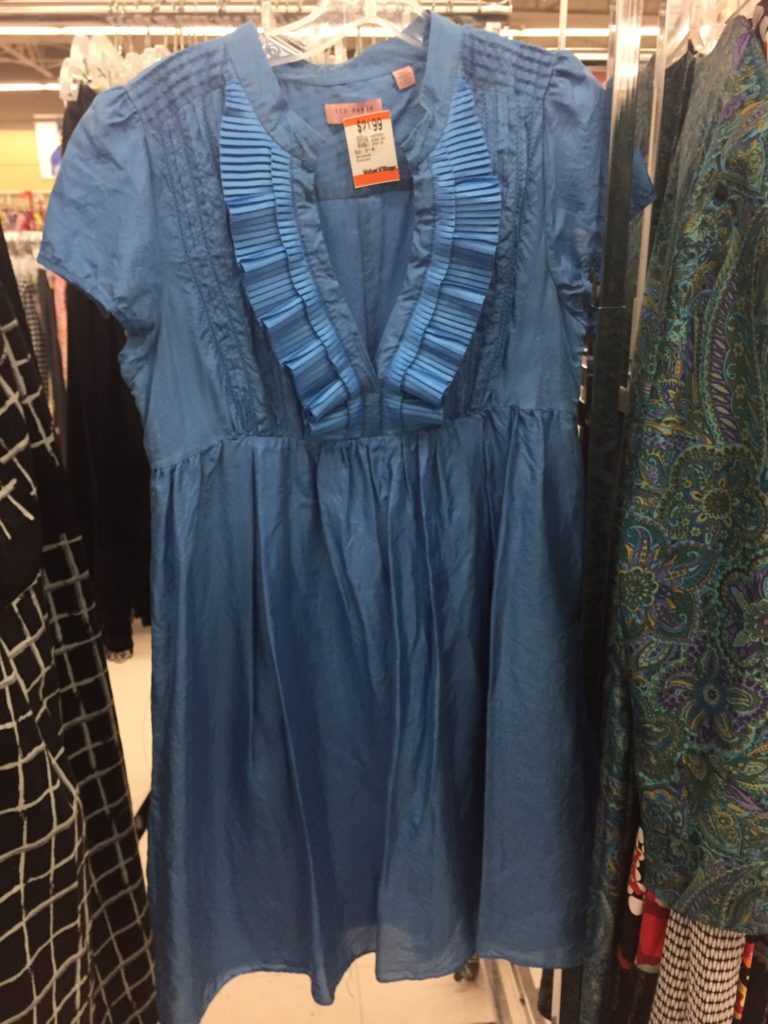 Another cute Ted Baker dress that was a style miss for me. Gorgeous colour though.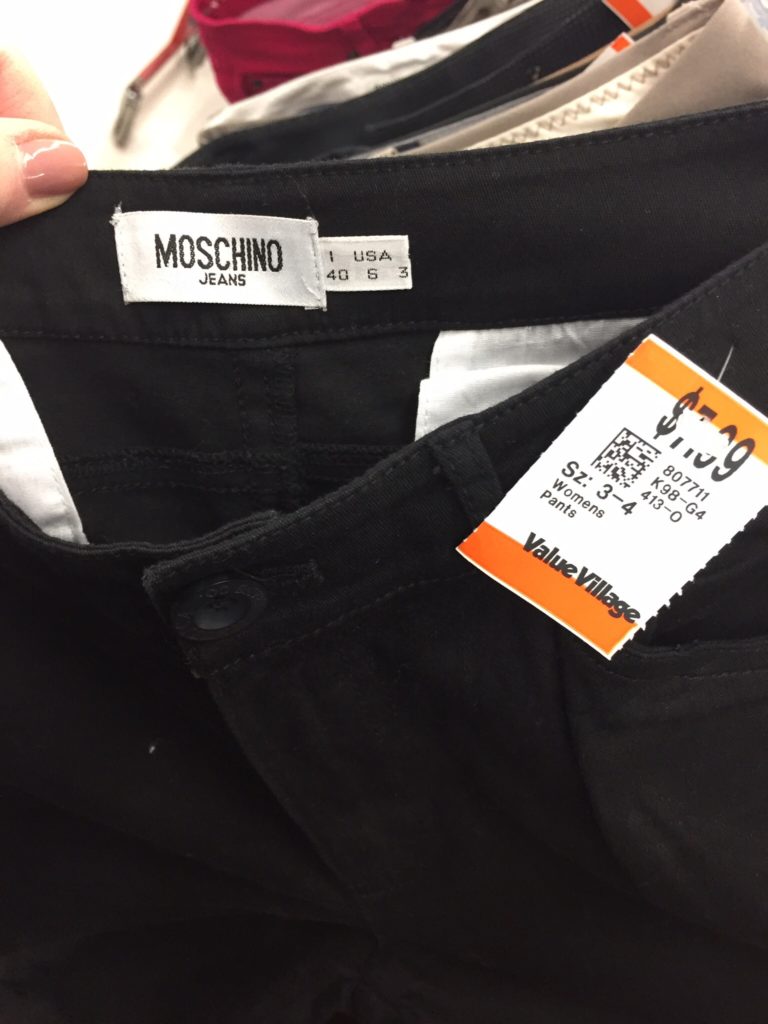 Moschino jeans … with buttons (snaps? shudder) going down the pant legs. No.
I had the chance to go thrifting with a friend this month — and it was her first time! Luckily, the starts aligned, and she found some great pieces …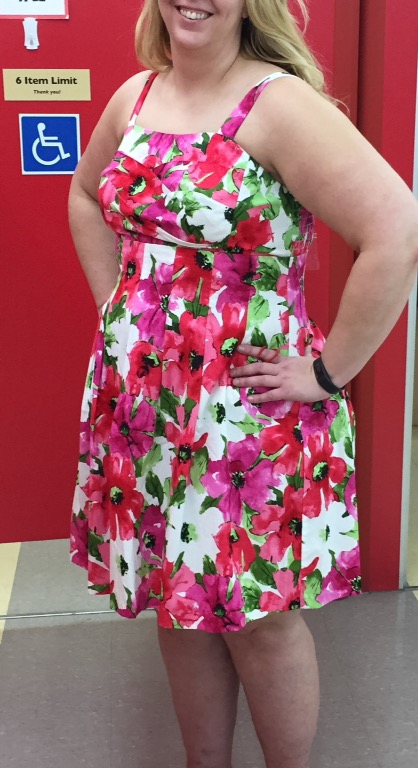 … like this adorable summer dress from Lane Bryant.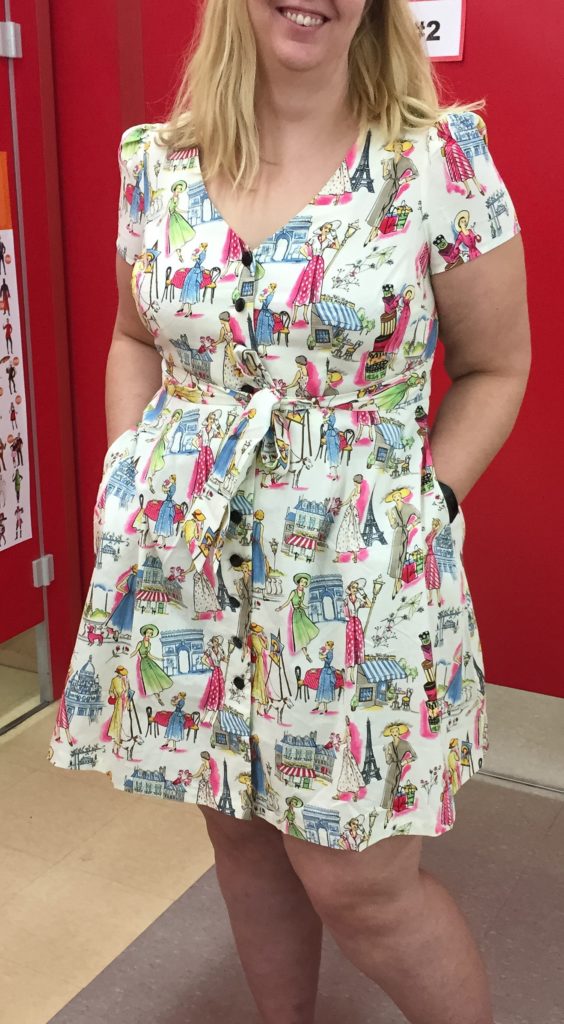 And there were more cutre dresses (with pockets!) to be found. We both loved the kooky print of this ModCloth dress. My friend loves the brand, and was thrilled to see the price tag on this dress: under $10 (before our 30% off coupon). Score.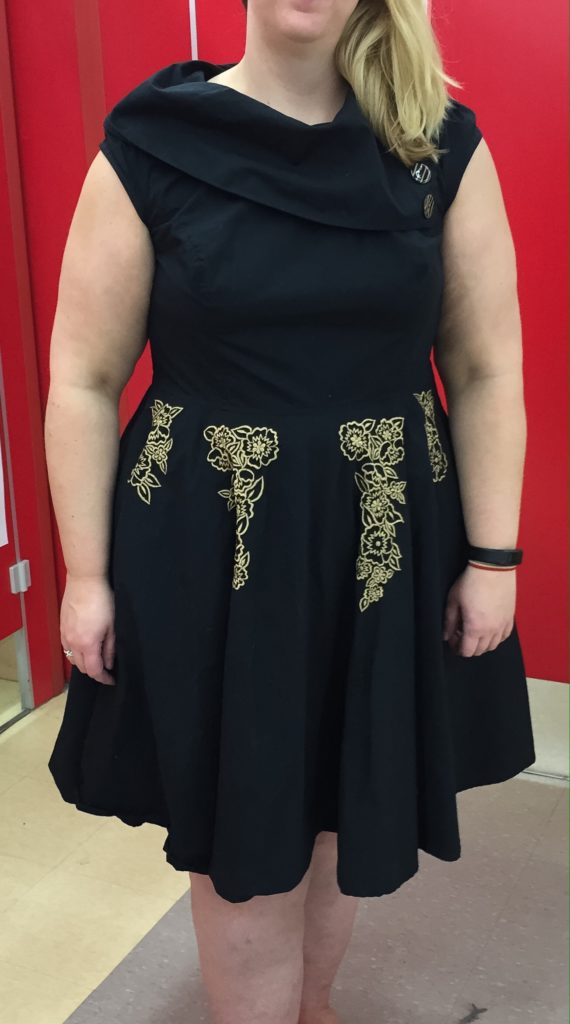 I introduced her to eShakti, and she loved the way this dress fit (she must have a twin out there somewhere) and the cool details. Made to measure is even better at thrift prices.
I also managed to, ahem, do okay for myself.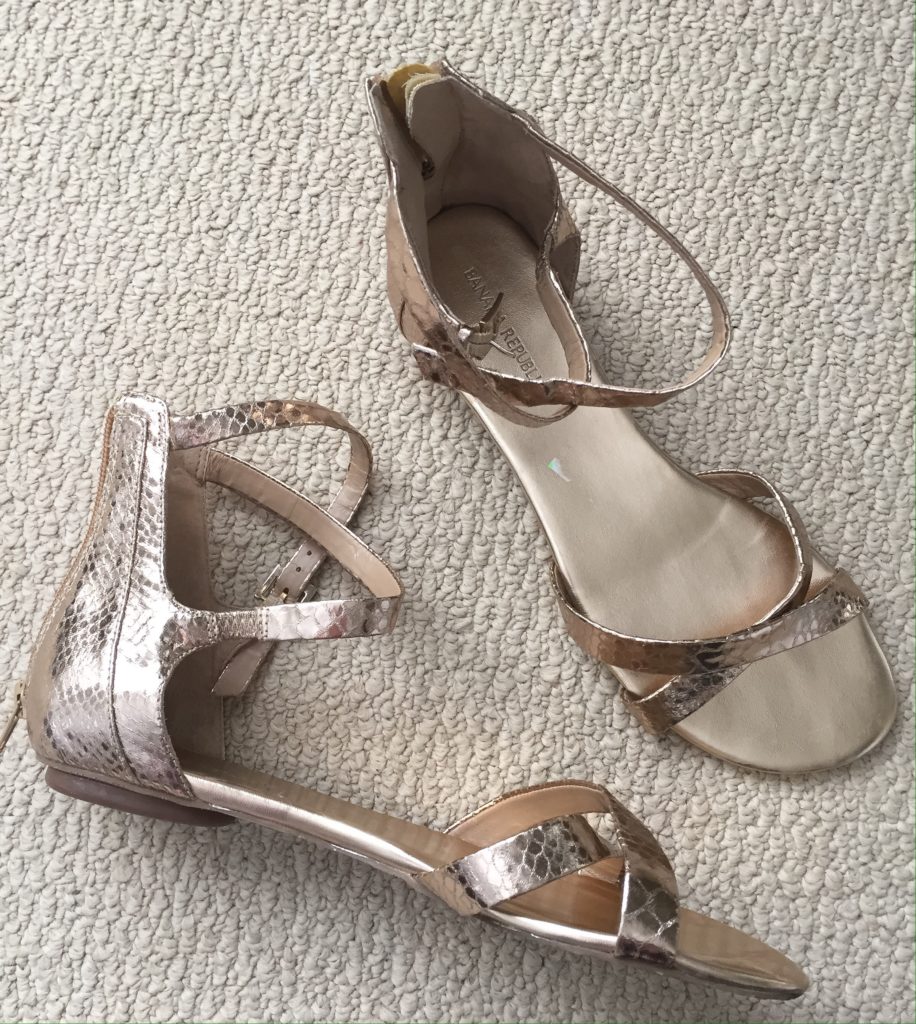 These BR metallic gladiator sandals are brand new, and will be hella cute next summer. Made in China, leather upper.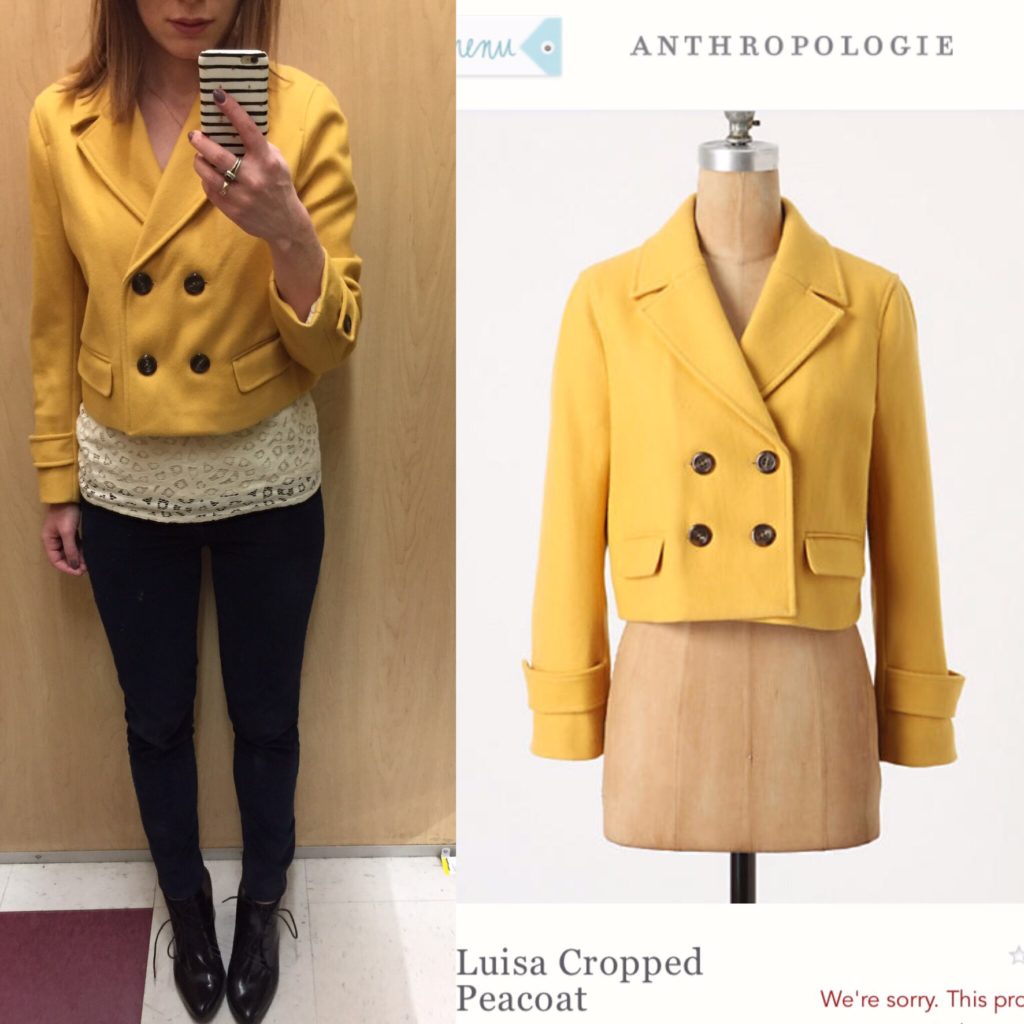 Do I need another jacket? No, but this was (a) Cartonnier, and (b) mustard yellow. So, basically a "must buy".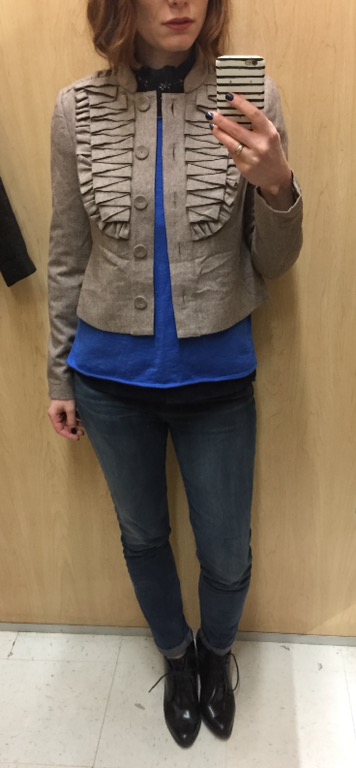 I was less sure of this Tabitha jacket, but I thought the neutral colour and cropped length might have potential. Made in China, 49% wool, 35% viscose, 16% poly (100% acetate lining).
Mustard yellow? Check. Stretchy, skinny leg? Check. Made in the USA? Done and done.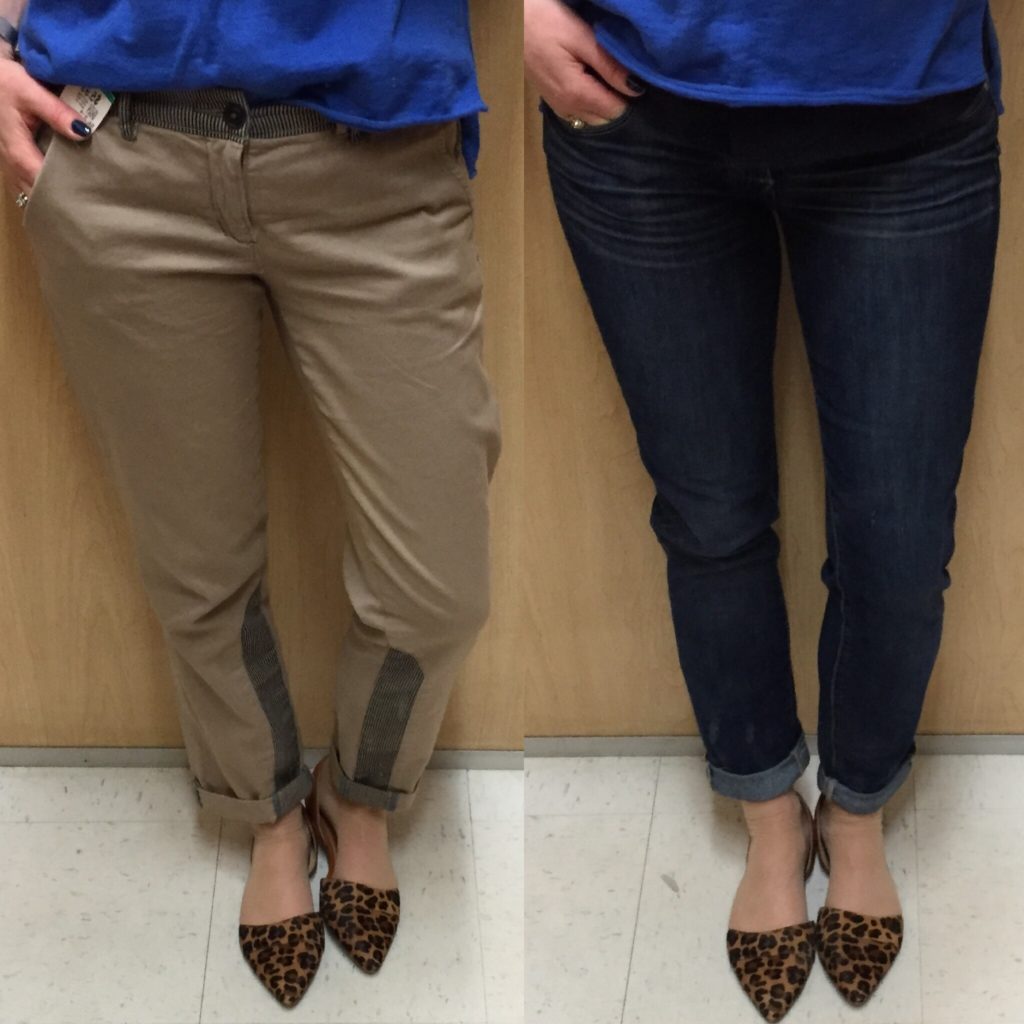 When it comes to casual pants, my cup (closet) overfloweth … but that never stops me from buying more great pairs. The tan Pilcro chinos on the left are beyond comfy — I can't wait to wear them on slouchy weekends all next summer. The contrast waistband and panels are a cute touch. Made in China, 99% cotton, 1% spandex.
The Paige jeans on the right are cute, but I might have left them behind, to be honest, if I didn't see that they were still selling on The Bay website for three hundred freaking dollars! Fancy pants alert! I paid $9 for mine, and will find a way to get a few wears out of them, I'm sure. .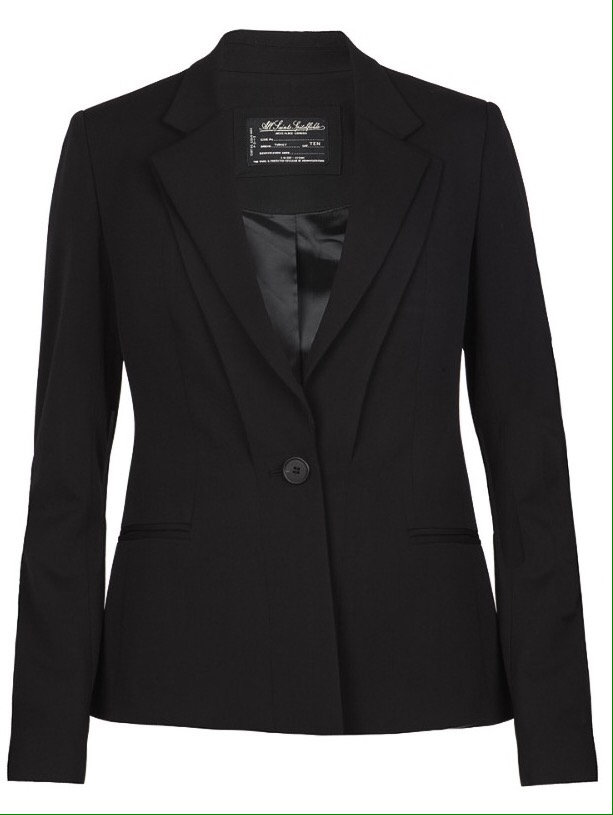 I needed a black blazer to replace my worn out (thrifted) J. Crew one. This AllSaints version looked promising, and was hella cheap. It might be a looser fit than I prefer for dresses, but I think it will work with pants. Made in Turkey, 89% wool, 9% polyamide, 2% elastane (100% viscose lining).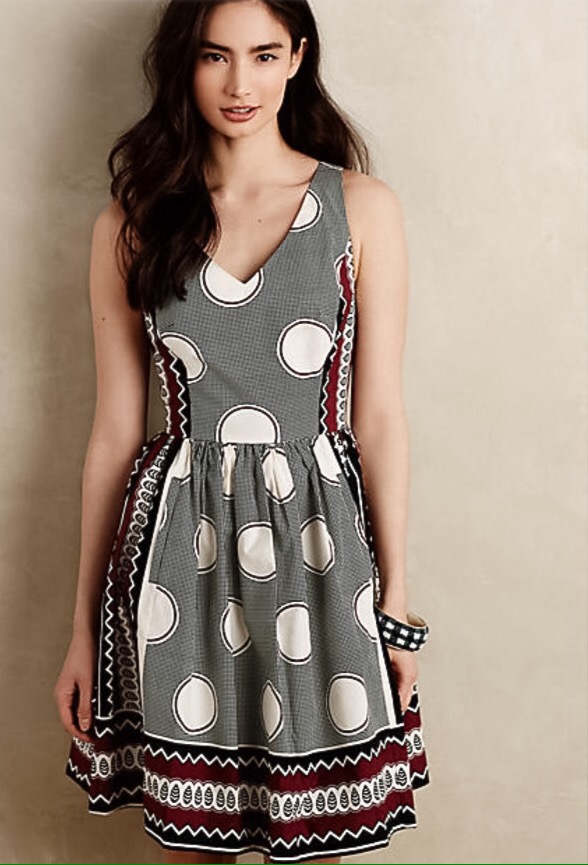 I know this is a skater dress, which is a style no-no for me, but it was far too cute to resist — and the colour palette is right up my alley. I have no doubt I can re-sell it if/when I get tired of it. Made in China, 100% cotton (100% poly lining).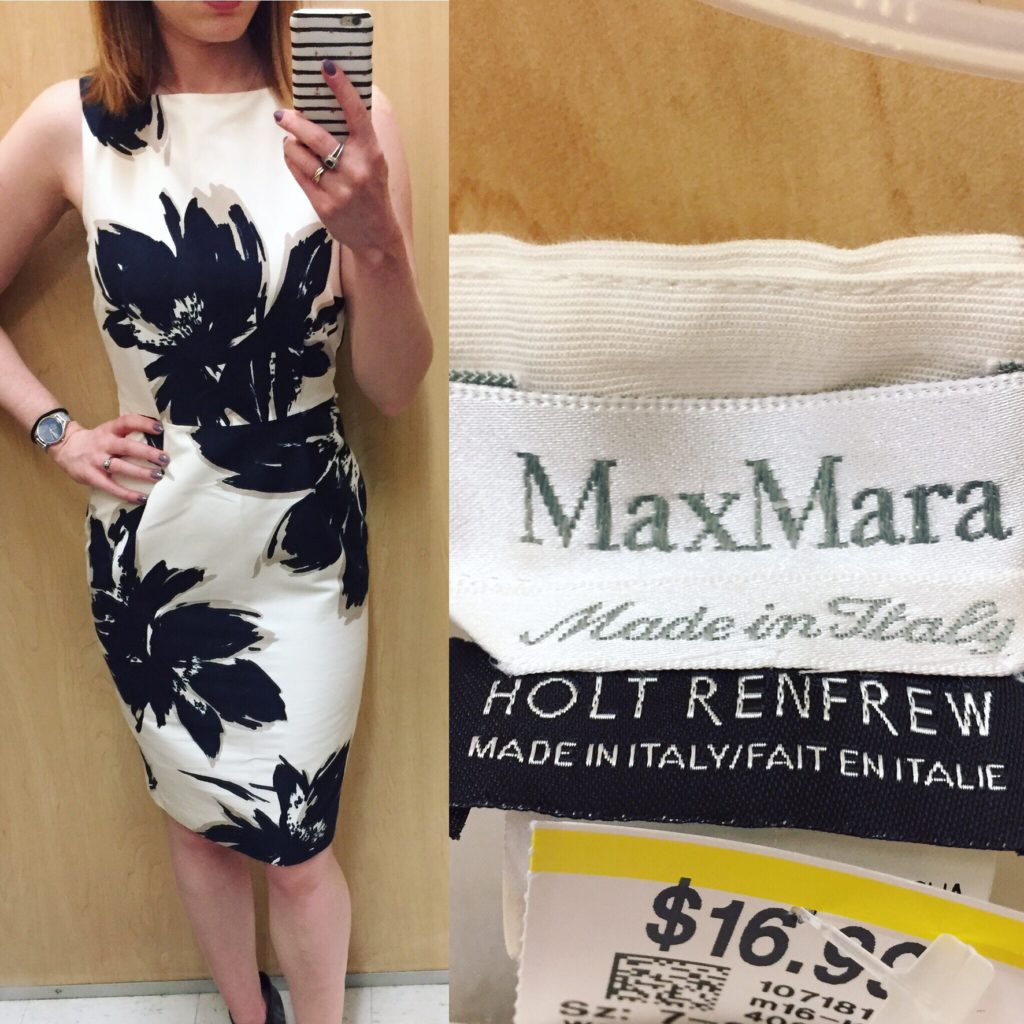 Impulse buy, because I'm a label snob … but also because it's made in Italy and classy as hell. (75% cotton, 25% silk; 100% poly lining).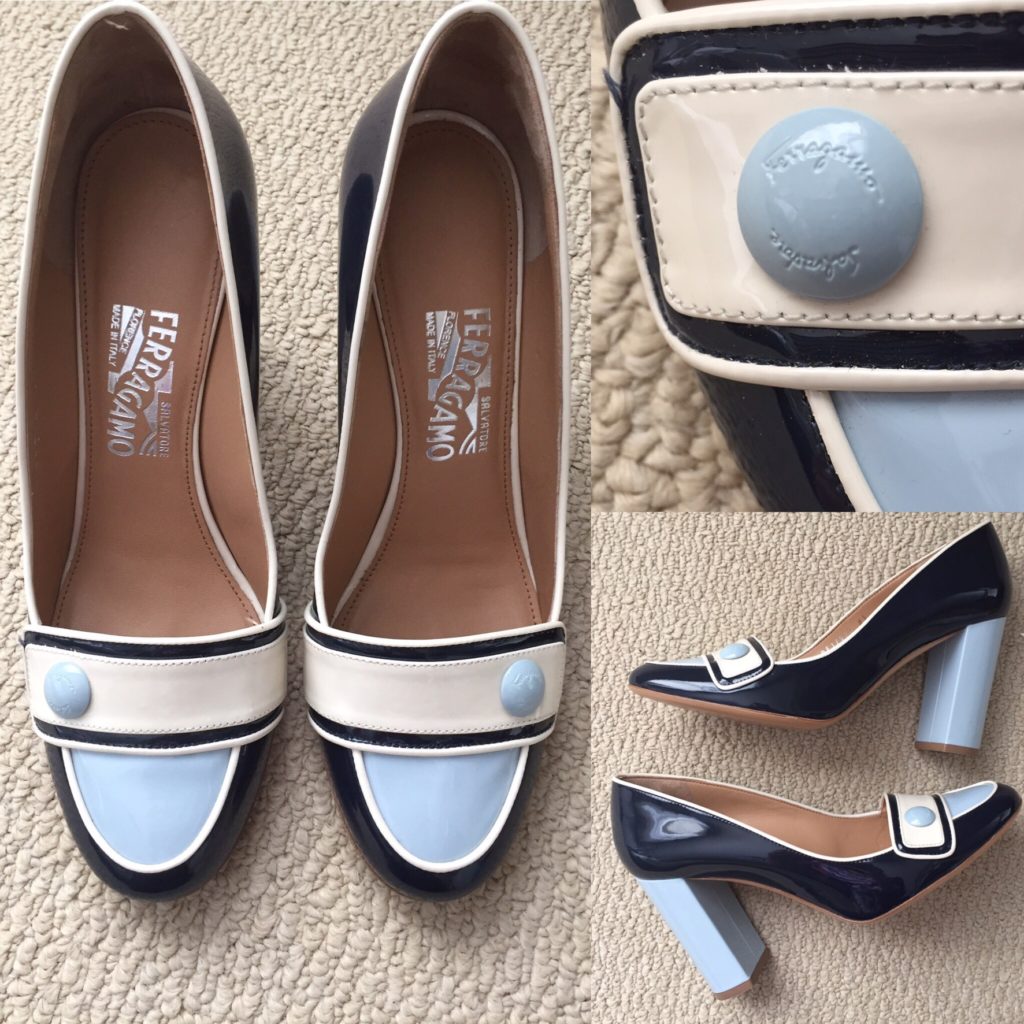 These beauties need no explanation. They are simply perfection, in shoe form.
Happy thrifting, everyone!
NOTE: Chapter 11 of A Temporary Engagement is up on the blog — read it here.