Yes, friends, it has come to this: I now have to dedicate an *entire* post to things I did NOT thrift. Never fear, there's a separate post coming up detailing my actual scores.
What, did you think I hadn't bought anything? Come now, you know me better than that.
I've also started to do a bit of thrifting for friends, and I have to say I'm enjoying it tremendously. It's really fun to try to spot things other people (with different tastes and needs than mine) might like. It's a whole new kind of challenge … and you know I love me a good thrift challenge.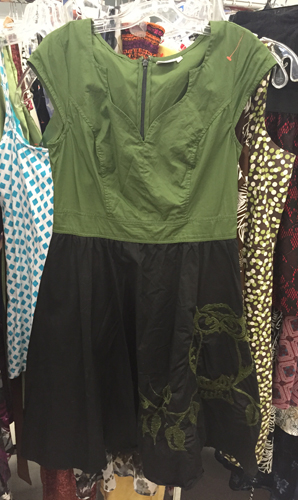 Speaking of which, I now kinda regret not getting this eShakti dress for a friend — I just found out she loves owls. This was the first time I'd ever run into this brand locally. I call that "thriftspotting". There's always a first time for everything, as they say.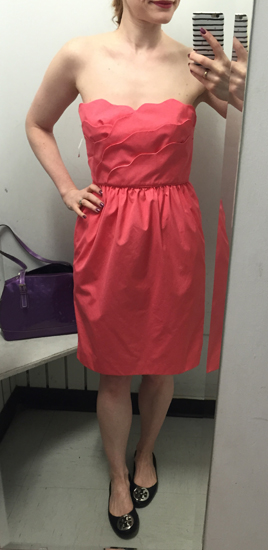 This J. Crew Collection was cute, but two sizes too big and also strapless. I don't do strapless. I have no idea why Goodwill priced it individually as a "special" piece, since far better brands have ended up on the regular rack. Maybe because this looks vaguely bridesmaid-y, and those sorts of dresses tend to get marked up at GW.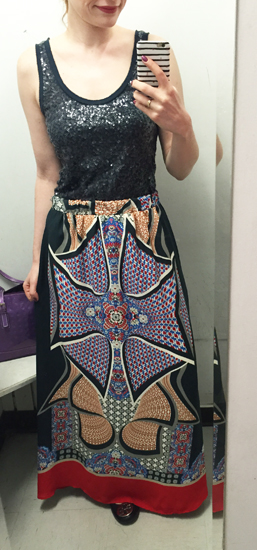 Cute separates (that kinda go together!) but not really my style.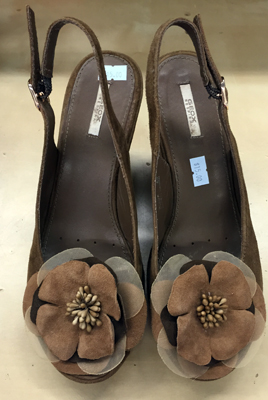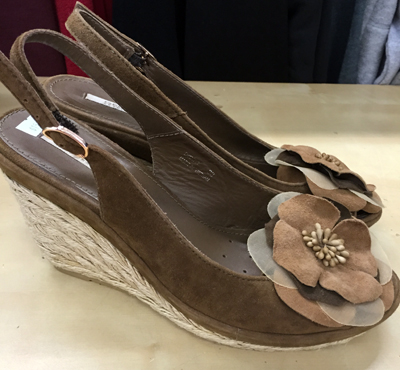 Brand new Geox sandals — very cute, but a little too girly for me.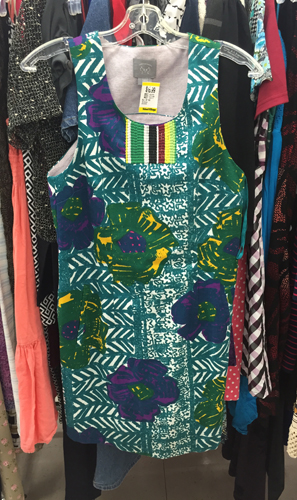 I have a funny story about this dress, but you'll have to wait until tomorrow to hear all about it. For now, I will say that I was sad to see that this dress was a size 10, because I'm not.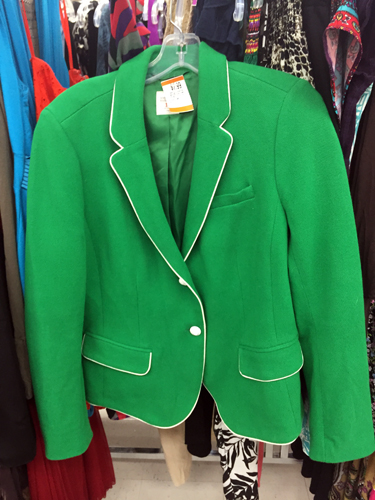 I have this blazer in the coral version, and the green would have been tempting but, alas, wrong size again.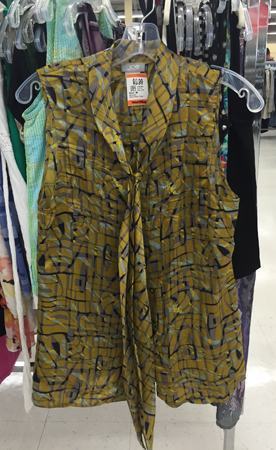 This was super cute (and 100% silk), but I'm generally not big on pussy bows, so I passed.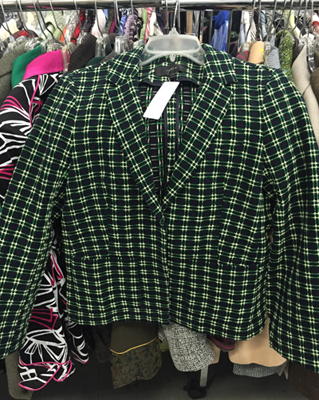 Wrong sizeitis strikes again … but I talked Nicole into buying it.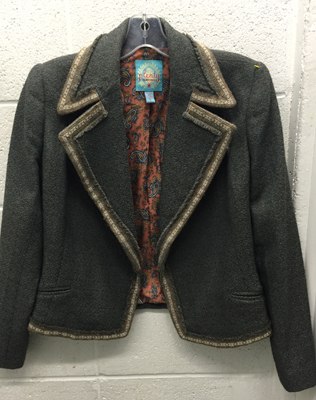 … but I was not able to talk her into this Plenty by Tracy Reese blazer. I'm sure it found another good home.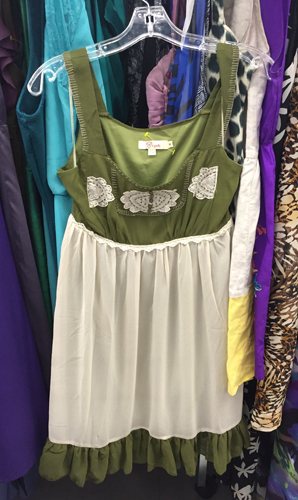 I think Aryeh is an Anthro brand — correct me if I'm wrong, peeps — but this dress was definitely not my style. I'm proud of myself for resisting the Anthro lure.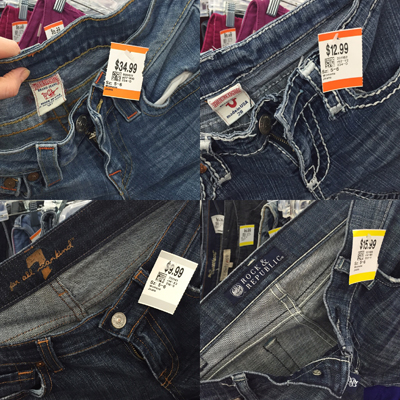 VV's denim-pricing strategy eludes me. I've bought Paige, J Brand and AG denim for under $8 (without discounts), so I have no idea why old True Religions would be going for over $30. Boggles the mind.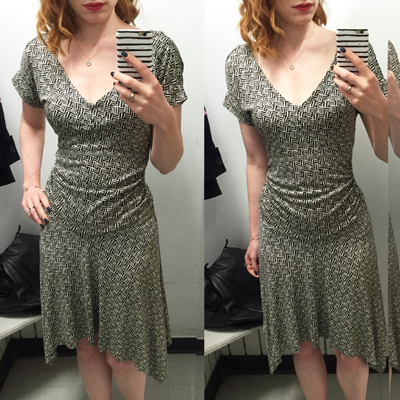 You know what else boggles the mind? The cut of this DVF dress. That was … very unfortunate. I like to think I have a reasonably good figure, but this dress did it zero favours. I would never have thought I'd pass up DVF for $3.50, but I couldn't think of a single person who would look flattering in this dress.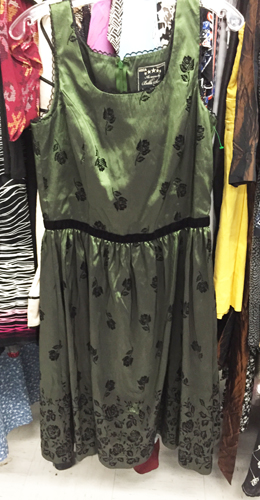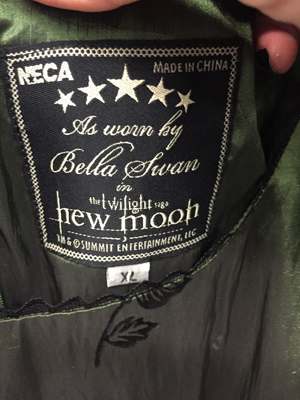 This dress might look like something your toddler would wear (reluctantly, after ample bribing if she's like MY toddler), but it's in fact a Very Special Dress. The label is legit — I googled it and it does appear that a version of this dress was worn by one Bella Swann in some Twilight movies. By which I surmise that Bella Swann has terrible fashion sense.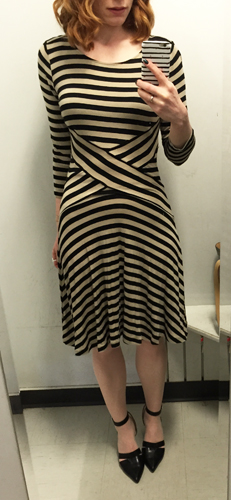 Another dress that fit weirdly around the middle. Not as egregious as the DVF dress, but not great either. I can see this being cute on someone else though.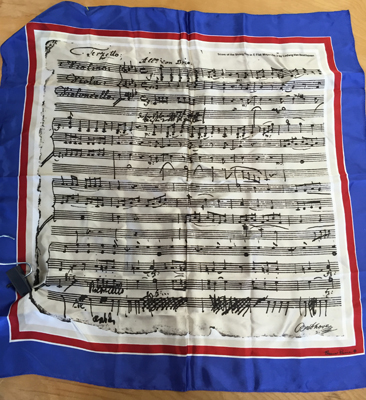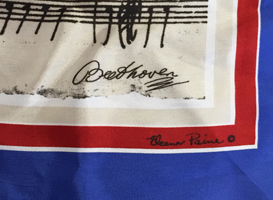 This scarf caught my eye because of the print, and I googled the signature just for fun. (I always look for signatures on scarves — you never know what treasure you might find.) It turns out this is a Canadian designer, whose vintage scarves sell on Etsy for $25-30 a pop. If I was in the re-sale business, I might have been tempted.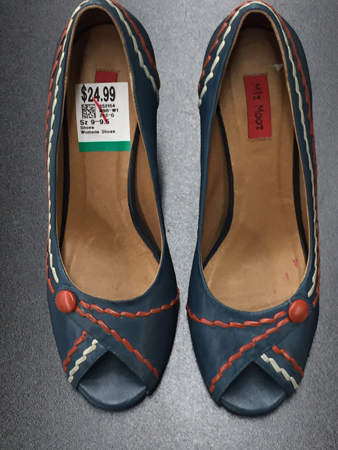 I've been waiting to find a pair of Miz Mooz shoes in my size for ages … so it figures that when one finally turned up, it would be a pair of peep toes. Sigh. I have sworn off peep toes for good, so I couldn't let myself buy these, but they were very cute.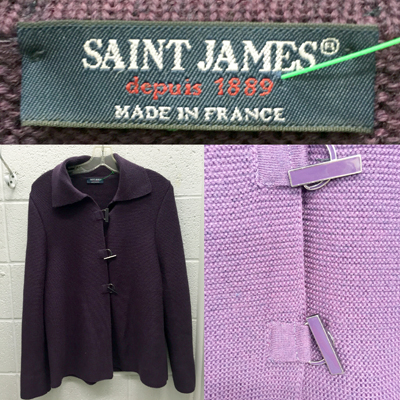 Another thriftspotting first — Saint James!! I was pumped to find this cozy cardi-jacket, and even more excited to buy it for my mom.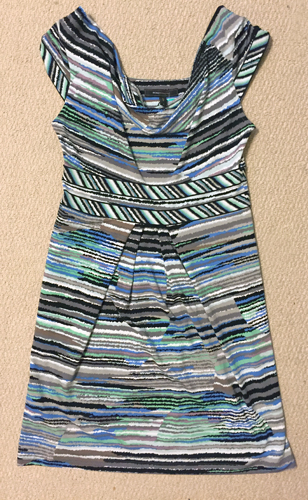 I ended up buying this without trying it; I was in a rush, it was new-with-tags, and I remembered it from eBay (having been tempted to buy it before). Sadly, when I got home, I realized that I was not crazy about the fit on me — too straight up-and-down. It's a nice dress (BCBG knows how to do an interesting print), but it's better off in someone else's closet. I returned it.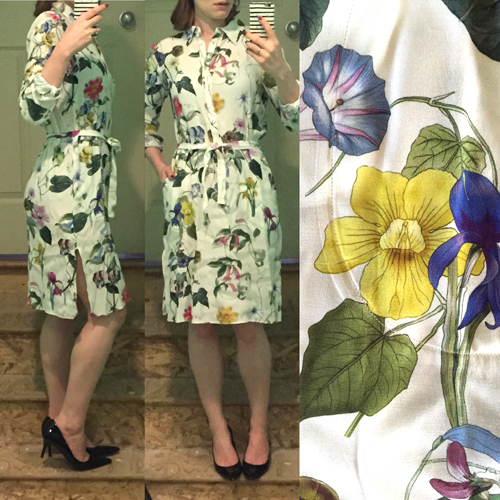 This was wasn't a thrift find, but I figured I'd add it here. I impulse ordered this floral tunic from Zara, and then hemmed and hawed for a week over whether to keep it or not. I loved the print (it reminds me of the Gucci Flora print I'm obsessed with) and the fit of the dress, but I hated the side slits and the slight sheerness of the material. Not to mention that it was 100% polyester fast fashion. Oh, and $70 to boot. Do you know how many dresses I can thrift for that amount? Needless to say, this dress went back. It's Gucci or bust, baby!
If you're not experiencing thrift overload, check in tomorrow to see what things did end up finding a home in my closet. Spoiler: it's gonna be another long post.