Let's talk things I actually thrifted, shall we? The list is — surprise, surprise — not short. All of you guys who were ready to congratulate me on my willpower and discernment on Monday: I'll understand if you start to have second thoughts on both counts, hah! Impulse thrifting gets the best of all of us at some point, ya know?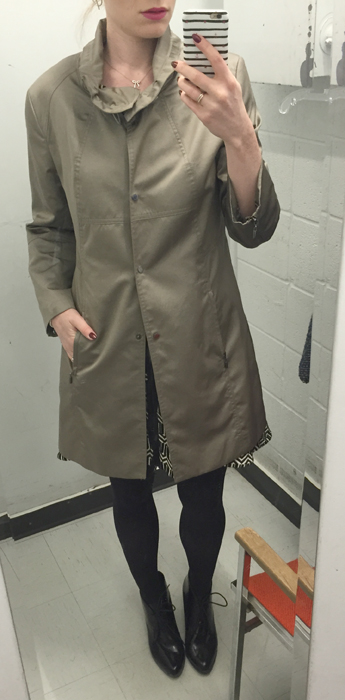 The Goodwill coat section, you guys — it's the best, I'm telling you. This St. John raincoat was too large on me, but perfect for my mom. She's so not into designer labels, but it amuses me to find her stuff like this.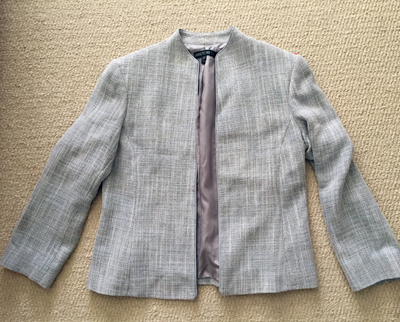 I also bought this Lafayette 148 blazer for her, because it was too beautiful to pass up.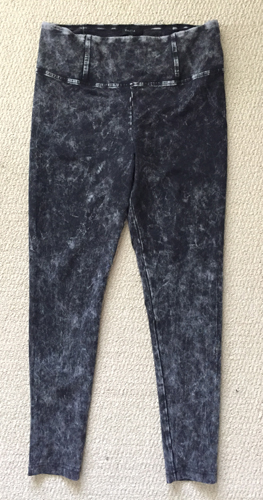 I can't say that I've ever bought leisurewear at the thrift store before, but these leggings were $3, and I do enough lounging at home to justify them. Made in China, 95% cotton, 5% spandex.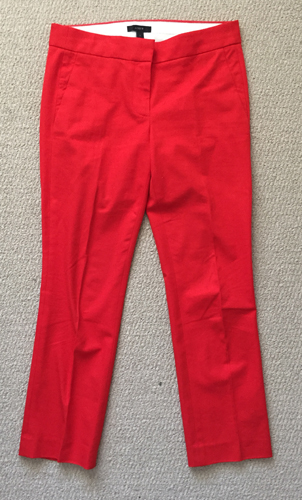 I probably don't need bright orange-red pants, but these were 50% off at Goodwill, so why not. Made in China, 58% cotton, 38% viscose, 4% spandex.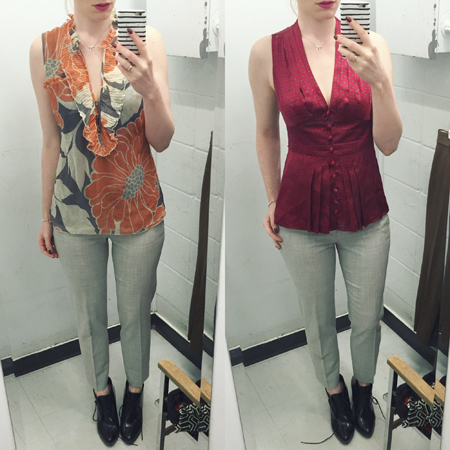 The grey pants? Also on sale at Goodwill. I think the colour has a lot of potential — more than red, at any rate. I exercised restraint and did NOT buy the Anthro top on the left (old Adina would have), but decided to get the Nanette Lepore one because (a) it's made in the US, and 100% silk, and (b) I'm hoping I'll have a reason (hot date, ahem) to wear it soon. Ooh la la!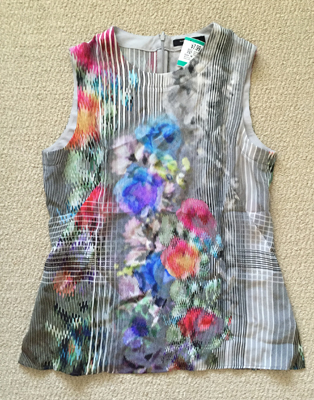 Another Nanette Lepore top, and this one is going to be a staple, I can just feel it. I love the pattern mix! Made in the US, 100% silk.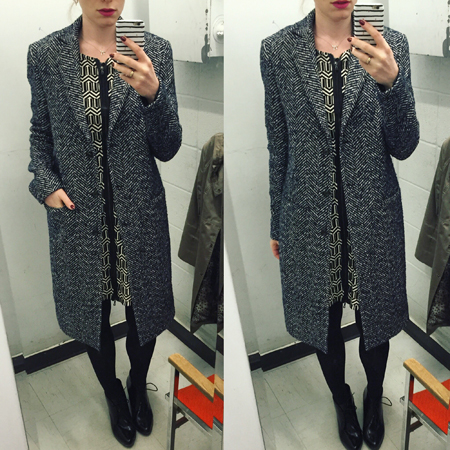 Another Goodwill find, bought because I liked the menswear vibe. I don't know much about the brand but a little Googling tells me it's from the UK. The quality seems so-so, but for $8, the overall aesthetic was a good enough reason to buy it. Made in China, I think.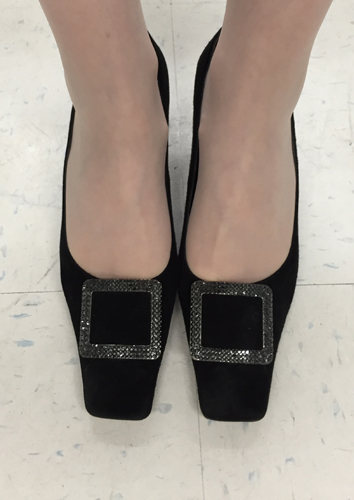 These SW pumps reminded me of Roger Vivier flats, which I can only dream of thrifting at this point. They're definitely more eye-catching than your typical black pumps, but sometimes you want your feet to make a statement, no? Made in Spain, 100% leather.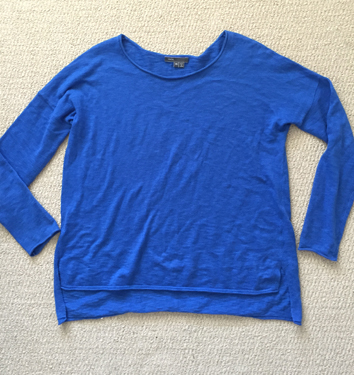 This Vince sweater is marked XS, which makes me wonder if it was a men's size. The style would suggest not … but it's very loose, to say the least. I can't say that the quality blew me out of the water (disappointing, but I've been underwhelmed by both Vince pieces I've found) but I loved the colour, and for $4, I figured I could get enough wear out of it, even just around the house. Made in China (also disappointing, considering the likely original retail price), 100% cotton.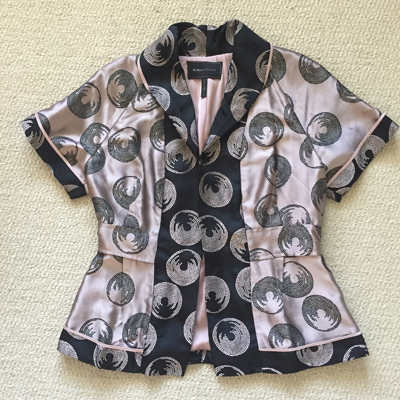 I spotted this jacket randomly jammed into the cardigan rack, and swooped in like a vulture. I adore it. It's not particularly versatile but I love the style and pattern – a very "me" piece. Made in China, 100% silk (100% poly lining).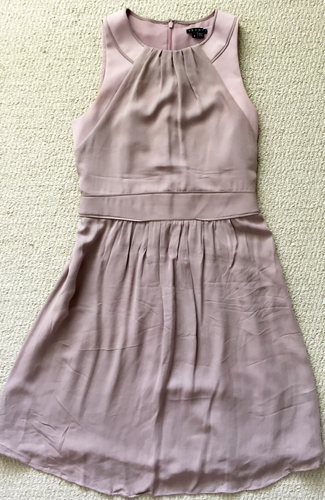 This dress turned into such a disappointment. I loved the fit (especially around the bodice) and tripled checked to make sure it didn't have any flaws. Well, sometime between the time I bought it and the time I pressed it (after dry-cleaning it at home), it developed a small, faint stain on the front part of the skirt. It's not super noticeable, but I know it's there and it bugs me. Not all is lost, however. I plan on taking it to the tailor and having it cut to a (peplum) top if the price is reasonable. Stay tuned. Made in China, 100% silk.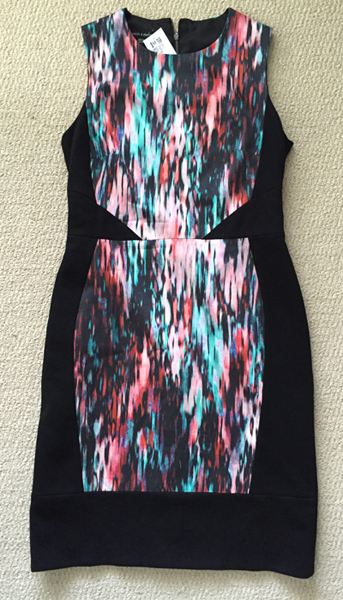 This is quickly becoming one of my fave work dresses. Made in Canada, 96% cotton, 4% elastane.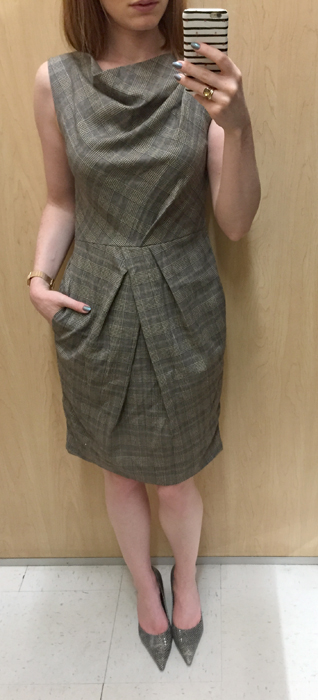 I have similar hopes for this Lida Baday dress. The fit is great, and I'm a sucker for that type of print (Glen check?). Made in Canada, 98% wool, 2% elastane (poly-viscose lining).
In case you were wondering, I did manage to acquire a few Anthro pieces as well. It wouldn't be a thrift recap otherwise, would it?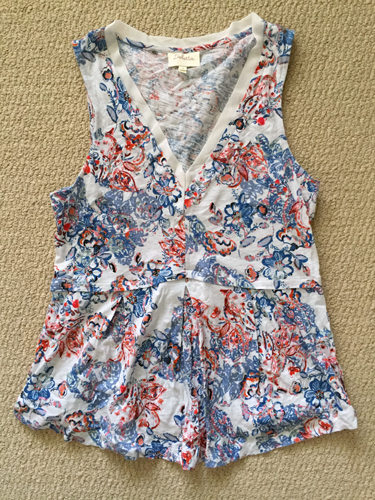 No Anthro Left Behind rule in full effect here. Do I need this top? No, but it's hella cute, and hella cheap. Made in China, 100% cotton.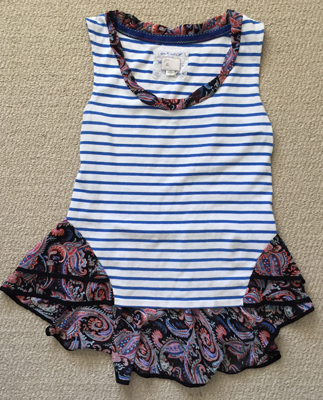 Sigh. You know the deal. Made in China, 95% cotton, 5% spandex (100% poly trim).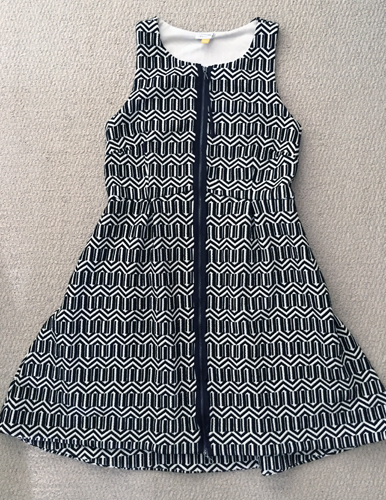 I thought this would be a good weekend dress, summer and winter. It would be very simple — and roomy enough — to layer when the time comes. I will say that this is one of the (more recent?) Anthro pieces for which I found the quality to be less than impressive. Don't get me wrong, it's a cute dress … but it lacks that Anthro touch. Made in China, 87% polyester, 11% rayon, 2% elastane.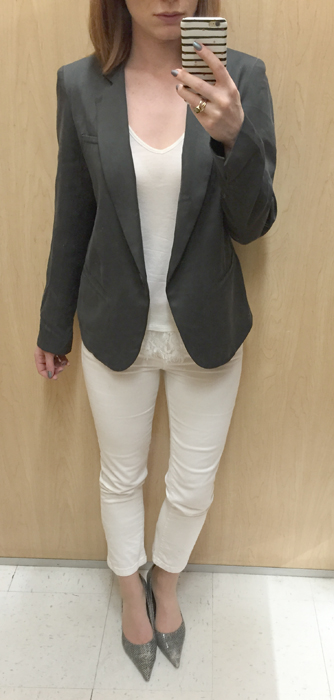 Cartonnier blazers on the other hand, are quickly becoming a weakness of mine. With one or two exceptions, these are dependably good work wardrobe pieces. They tend to be softer/less structured, which makes them more comfortable over a long day at the office. I have high hopes that this one will prove its versatility over the long run. Made in China, 100% tencel (100% poly lining).
This time around, I did much better with finding pieces made in North America, but I am continually disappointed by how few garments (at least those that end up in thrift stores) seem to be made here, comparatively speaking. Even higher end designers seem to have off-shored most of their manufacturing, though you wouldn't be able to tell from the retail prices. I was re-reading Overdressed: The Shockingly High Cost of Cheap Fashion recently, and was struck by some numbers that Elizabeth Cline mentioned. She wrote that a dress that cost $633 in materials and labour to produce (in the US), would likely retail for almost $2,900. Think about that: the dress would have to be discounted by 80% before you hit its real value. Obviously, designers, manufacturers and retailers need to make a profit, but it puts all those flashy sales into perspective, doesn't it? It also makes me think that the real moneymakers are the mid-level designer brands; there is no way that, say, the Vince sweater above (cotton, made in China) cost anywhere near its likely $200+ price tag to manufacture — more like $20 or less. But it carries a certain cachet, and it's not so outrageously priced to be out of reach of all but the uber wealthy. A lucrative alternative to the F21 business model?
OK, that's enough rambling for now. Tell, what did the thrift gods bestow on you this month?