I know it's been a hot minute since my last thrifting post, but I have news I wanted to share with fellow Edmonton-area thriftanistas: there is a new Value Village opening in Spruce Grove today! I know, because I ended up snagging an invite to a sneak peak at the new store (thanks to the lovely Nicole) and a $50 gift card to spend there, to boot.* Since Nicole and I are card-carrying #thriftingsisterhood members, we made plans to go together … and enjoy a little friendly competition while we were at it. Our self-imposed contest had 4 categories: which one of us could (i) score the best/biggest find of the night, (ii) get the most retail value for our bucks, (iii) score the lowest cost-per-item, and (iv) find the most Anthropologie pieces (but of course). The prize: bragging rights for ever. Or until our next thrifting adventure.
So, how did we do? Read on, friends.
Spruce Grove is a 30-40 minute drive from the south side of Edmonton (taking the Henday and then the Highway heading west to Jasper). It might sound like a long drive, but it's not when you're chatting about ethical fashion and planning your future as YouTube mavens (stay tuned!). Nicole and I arrived at the store a few minutes after it opened, and found it already packed. [The event was open to all Super Savers Club members, and if you aren't one already — get on that. The membership card is free, and it gets you early access to sales (like VV's periodic 50% off sales) and new store openings.] The store is quite large, but the racks were fairly tightly packed, which made it difficult to maneuver around other (many) shoppers. I dislike shopping on sale days for this very reason (big crowds overwhelm me), but it was worth it — there were some real treasures to be found. More on that in a minute. From what I saw, there was an extensive selection of women's clothing, and a smaller section of shoes and bags. To be honest, I did not really get a chance to look at the rest of the store (house wares, kids' stuff, men's, etc.) but the glimpses I got looked promising. Someone ahead of me in the cashier line scooped a beautiful, mint condition Hudson's Bay striped blanket, for example; it was priced at $80, which is not cheap, but significantly lower than retail. Prices in general were pretty typical for Value Village — not as low as Goodwill, but not unreasonable on the whole. I was particularly impressed with the prices for dresses, which were under $15 for the most part. In contrast, VVs closer to home will nowadays price most of their dresses at $16+.
I ended up finding quite a few cute things, including 5 Anthro pieces (the 4 below plus a Sparrow knit skirt which I did not photograph) … which won me the Anthro-spotting category. Hurrah! I bought one of the pieces (the olive Deletta top) and Nicole bought another (the multi-print Fei top).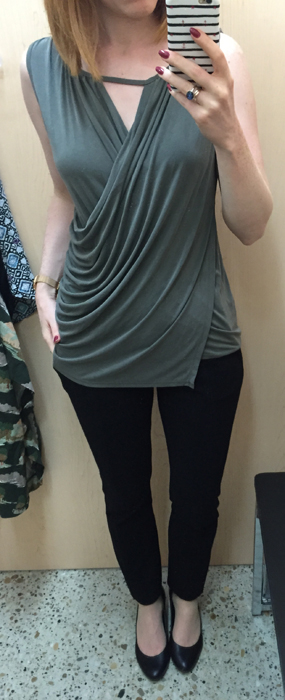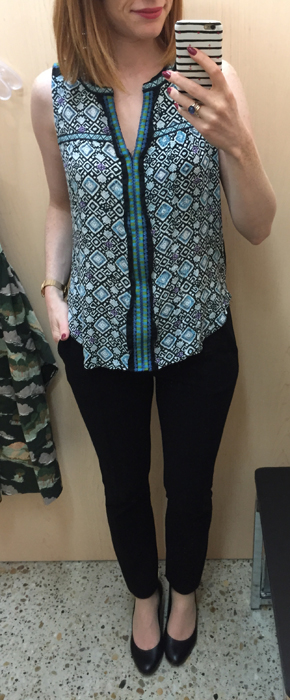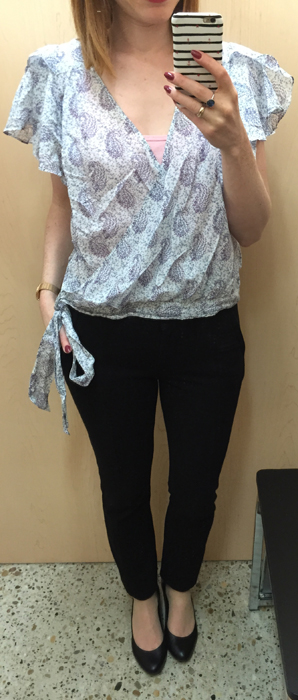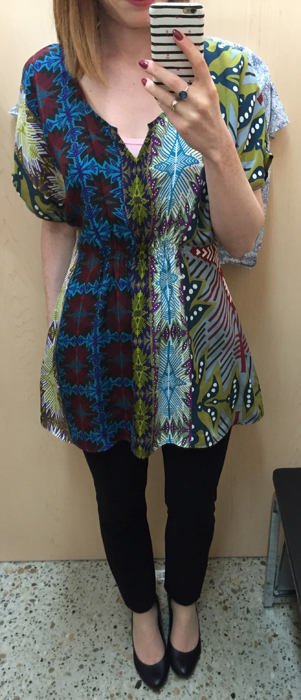 The best score of the night belonged to Nicole, however. She found a gorgeous J. Crew Lady Day coat and some brand-new Marc by Marc Jacobs flats: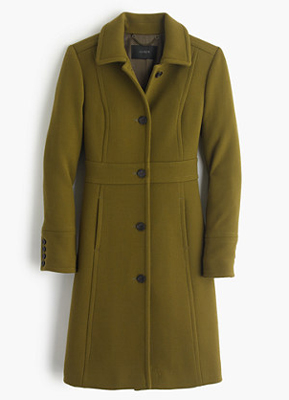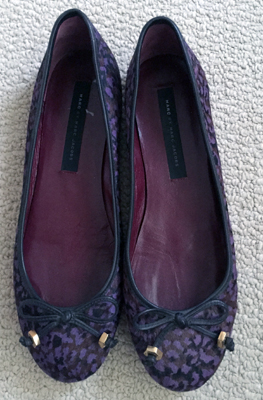 Although she won that category, I came out the real winner because I got to take both of those things home with me. Score!
To round out my purchases, I also got a pair of Nine West pumps (my favourite style — so, so comfortable), a mulberry-coloured, leather Fossil bag, a made-in-the-UK dress, and a Vince sweater.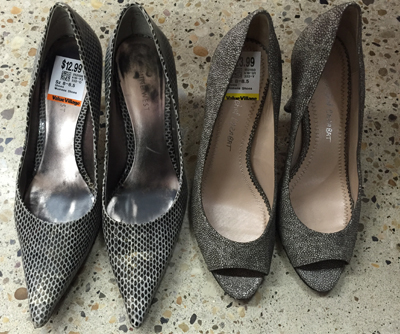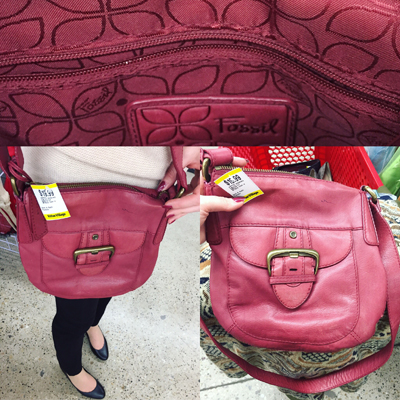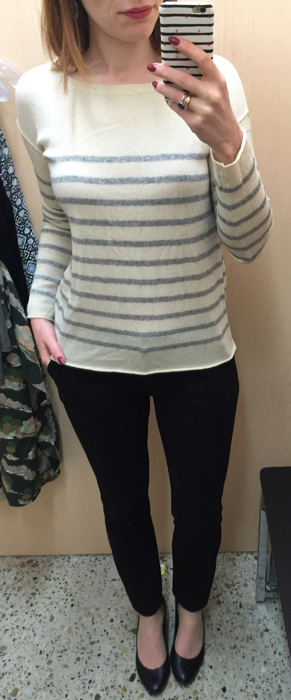 My total damage for the night was $120.68, including tax (or $70.68 out of pocket, after applying my gift card). The estimated MRRP for the stuff I bought was $1436, which means that I paid about 8.4% of the original retail value. That came to $17.24/item, which is a little high but not bad, considering that I bought some typically higher ticket items like a coat, bag, and two pairs of shoes. For those keeping score at home, Nicole beat me on the cost-per-item side of things, but I eked out ahead in the other category. Which means … we're tied. Now, we had a lot of fun and found some great bargains to boot, but a contest is a contest and someone has to be the winner.
So, here's the deal: head on over to Nicole's blog tonight, check out her Spruce Grove VV haul, and then tell us — who should get to claim the bragging rights as bestest thrifter of the night?
*Value Village did not ask me to write a post in exchange for the gift card, or otherwise sponsor this post. I'm writing this because y'all know I love thrifting, and I want to encourage everyone to at least consider it. It's cheap, good, environmentally-friendly fun!