Merry Christmas! I hope everyone enjoyed a festive and happy weekend with their family, friends, or loved ones. I am ready to hibernate for a month now in my post-turkey-and-cabbage-roll* haze, but two of my best friends are visiting from out of town and about to descend upon my house for a girls' mini staycation (with bonus kids and husband, haha!), so I actually have some cleaning to do. Bah-humbug! (Just kidding! Can't wait to see you, ladies — and Chris Pratt!**) Since thrifting has pretty much "ruined" Boxing Day/Week for me, I'm not missing out on anything. But speaking of which, let's take a look at what thrifting had in store for me over the last month or so.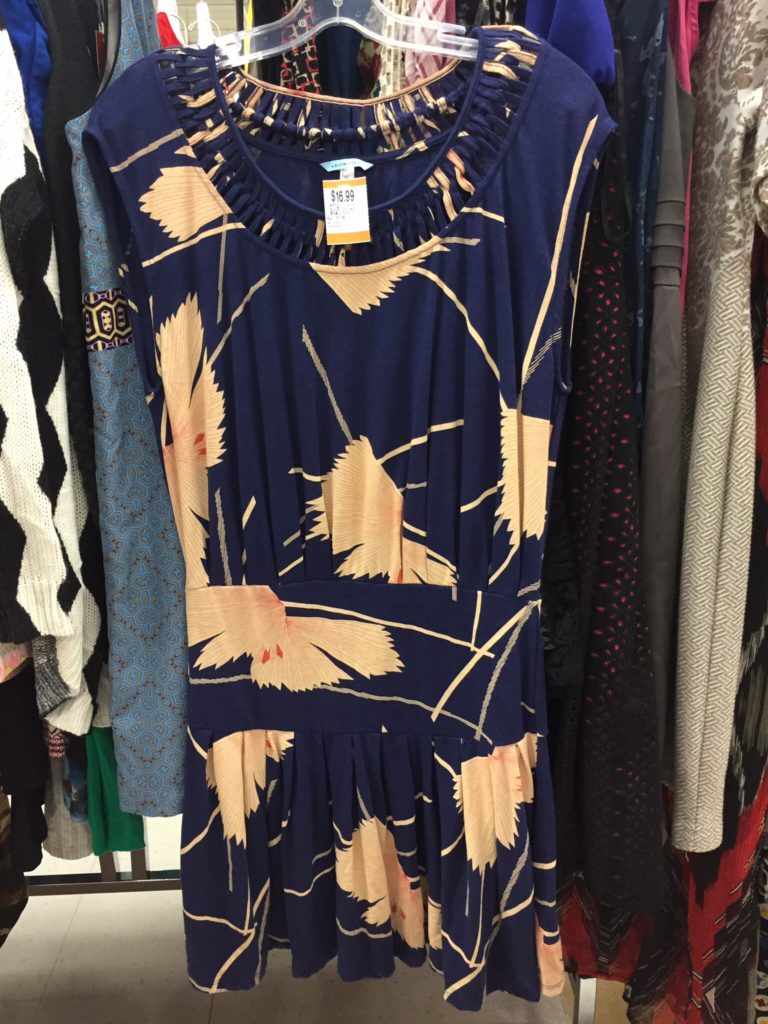 Y'all know I love me some Anthro, but this was a hard pass. Not a huge fan of this silhouette.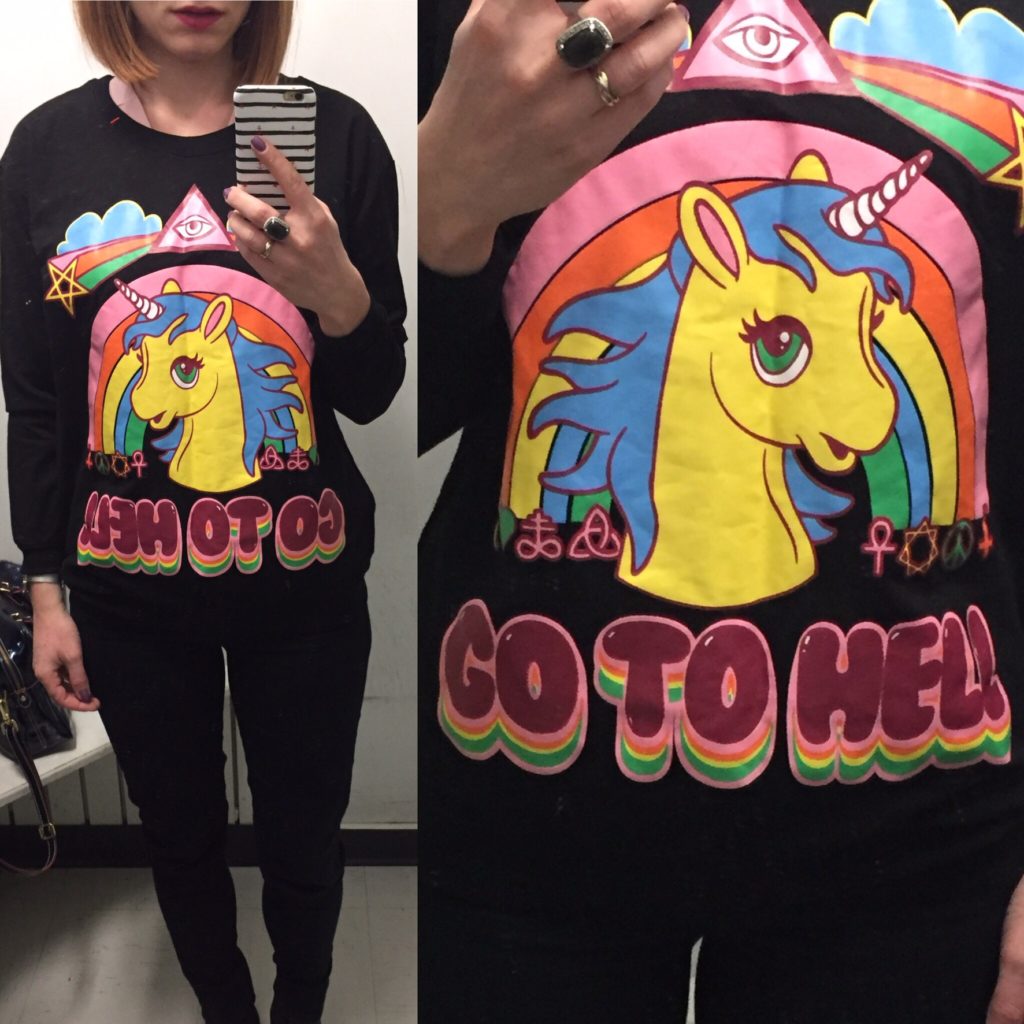 Some days, amirite? In retrospect, I kinda wish I had bought this, because there are days when the message would have been so "on point", as the kids say. The kids still say that, right?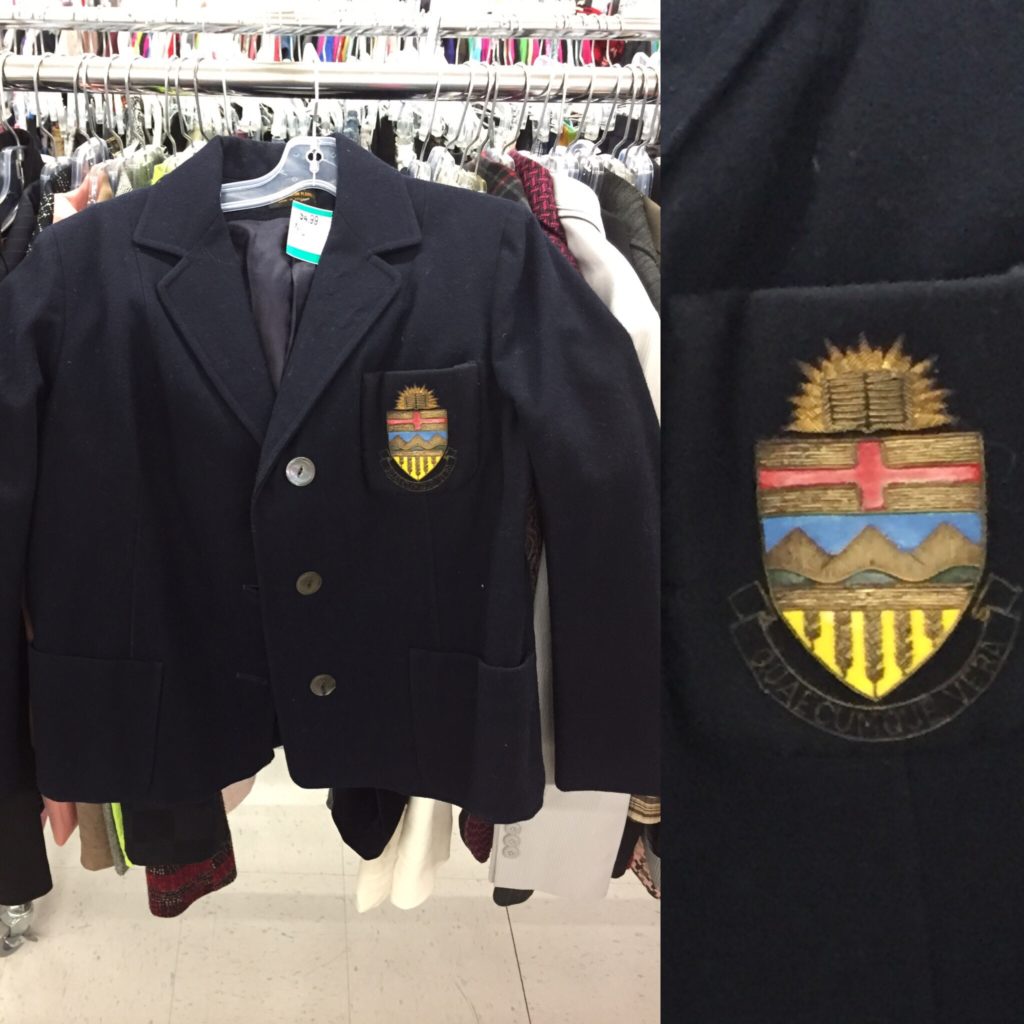 The U of A is my alma mater, so I was stoked to see its crest on this blazer. No idea who would have worn this, but it's cool. Quaecumque Vera!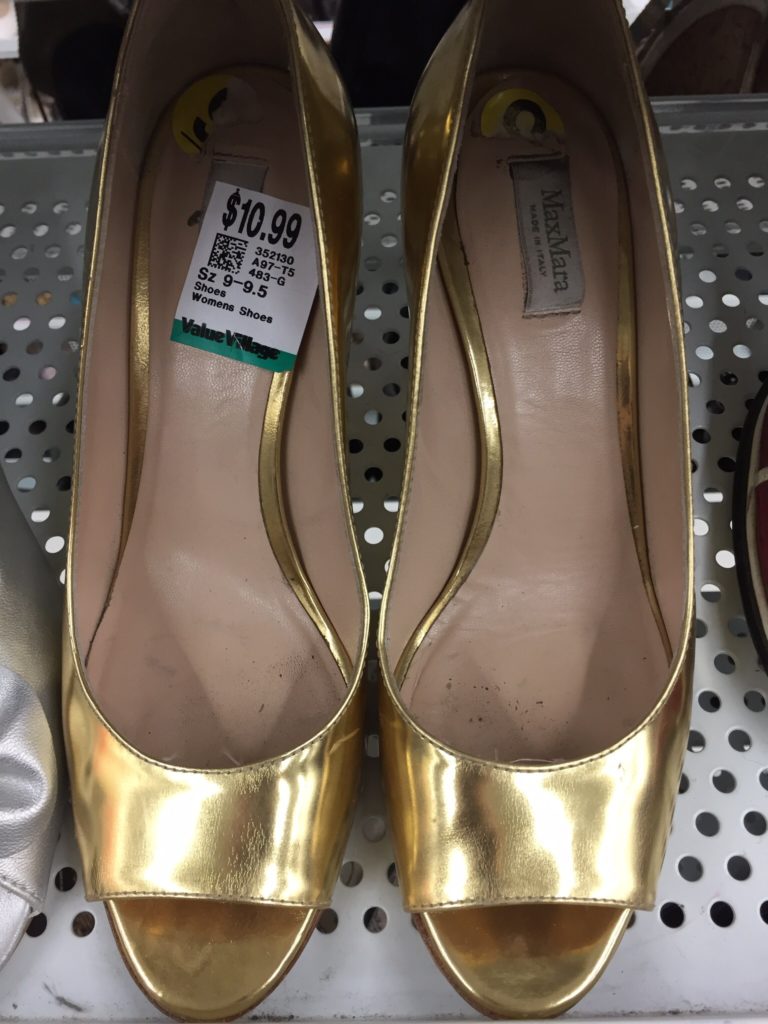 Gold pumps are cool, but peep toes are not. I didn't even try these on, but they were probably too small anyway. Also, missing a heel tip. Funnily enough, I spotted them in TWO different VVs over the course of a month. I wonder why the person ended up returning them. Ahh, thrifting mysteries.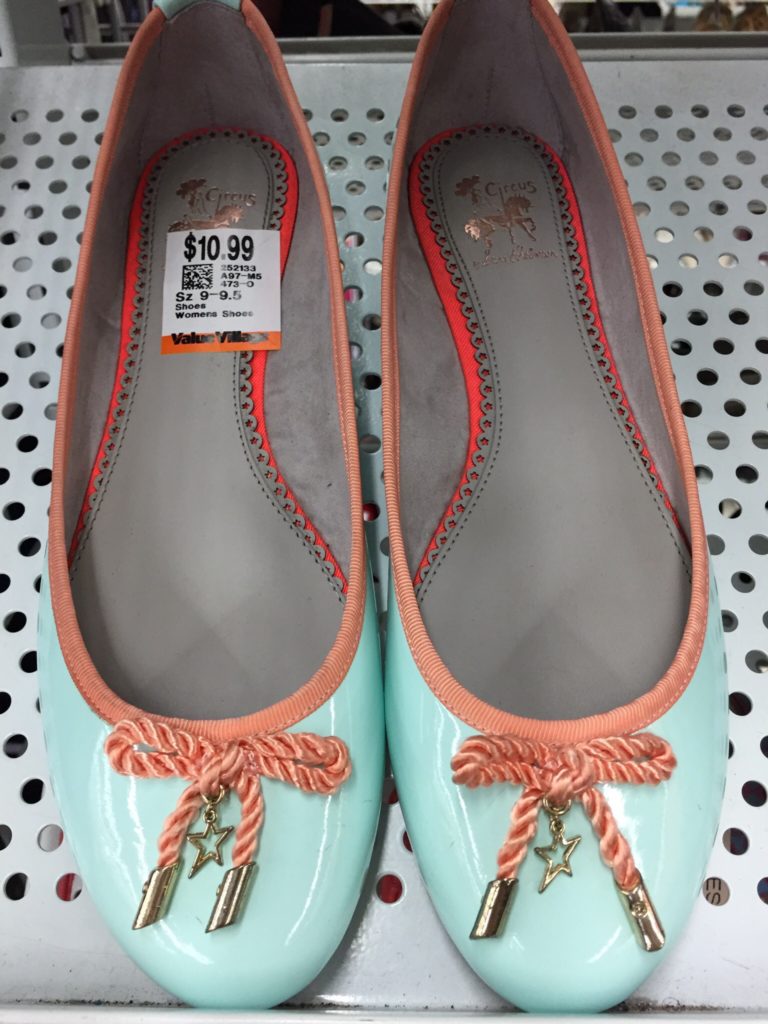 These were hella cute, but I try to stay away from colourful round-toe flats, no matter how cute, because they don't mesh with my style. I also love this aqua shade, but find it hard to wear.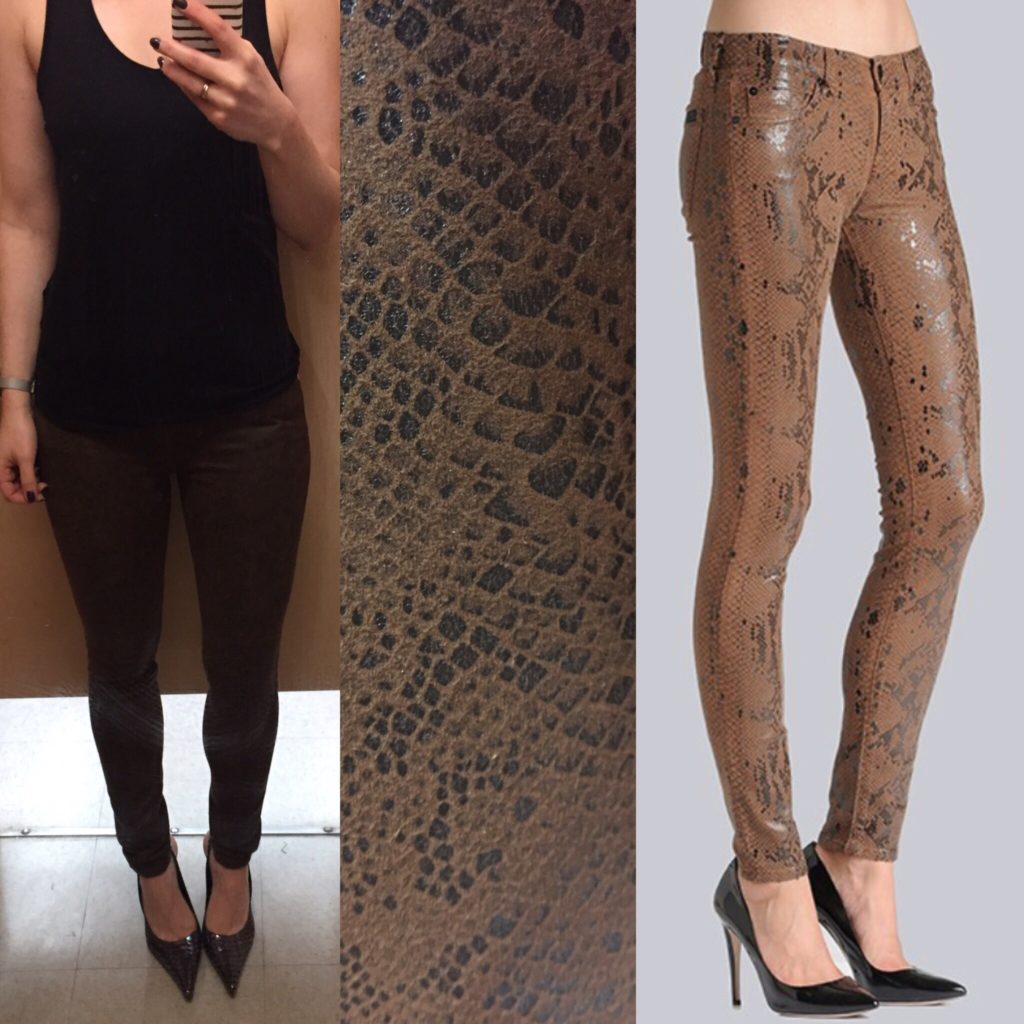 I did end up buying these snakeskin-printed coated jeans by 7 For All Mankind, and probably shouldn't have. They were only $7, so the regret doesn't run too deep, but I'll probably purge them at some point soon. They're a bit too edgy for me, and the colour is definitely not in my palette. Sigh.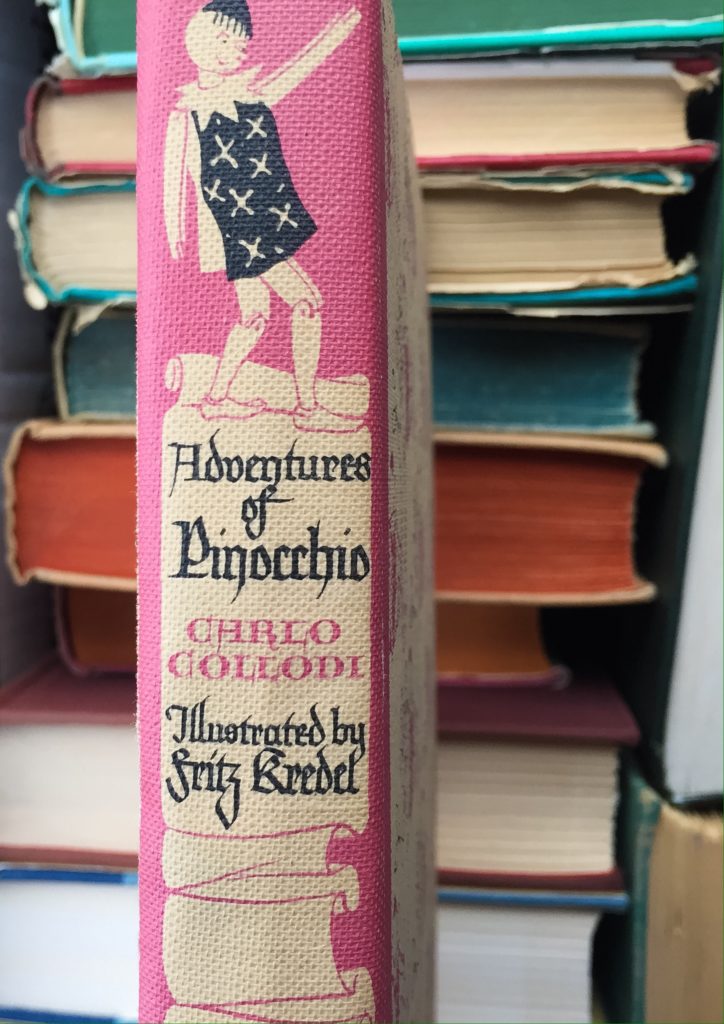 Hey, look! Sometimes I thrift really cool stuff … like this vintage edition of the kids' classic, Pinocchio. I was actually on the hunt for old hardcover books to use as props for my office Christmas party when I spotted this gem.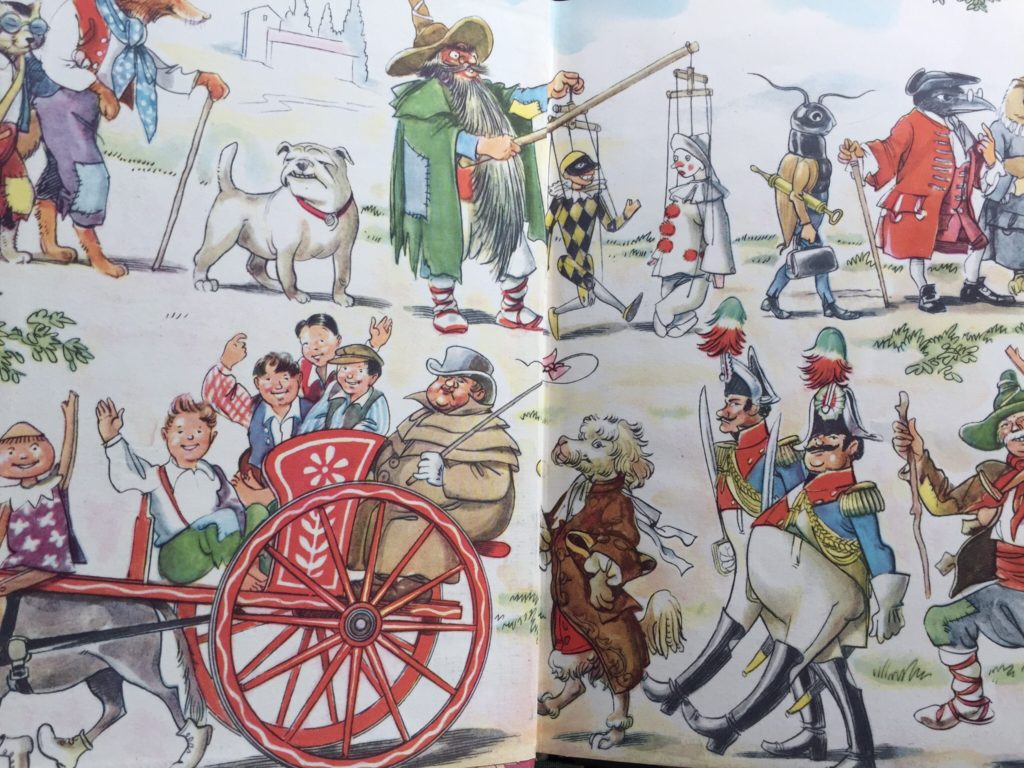 Look at these colour illustrations! Amazing. Of course, I had to have this for myself. That's right; this one isn't for the kids — it's for me. (Until they're old enough to appreciate it, anyway.)
Oh, and I found something vintage and sparkly too. I'm also keeping this for myself … for now. My daughter is exhibiting early signs of magpie-itis, which leaves me feeling equal parts proud and worried. Dress-up time is going to take on a very different meaning in a few years.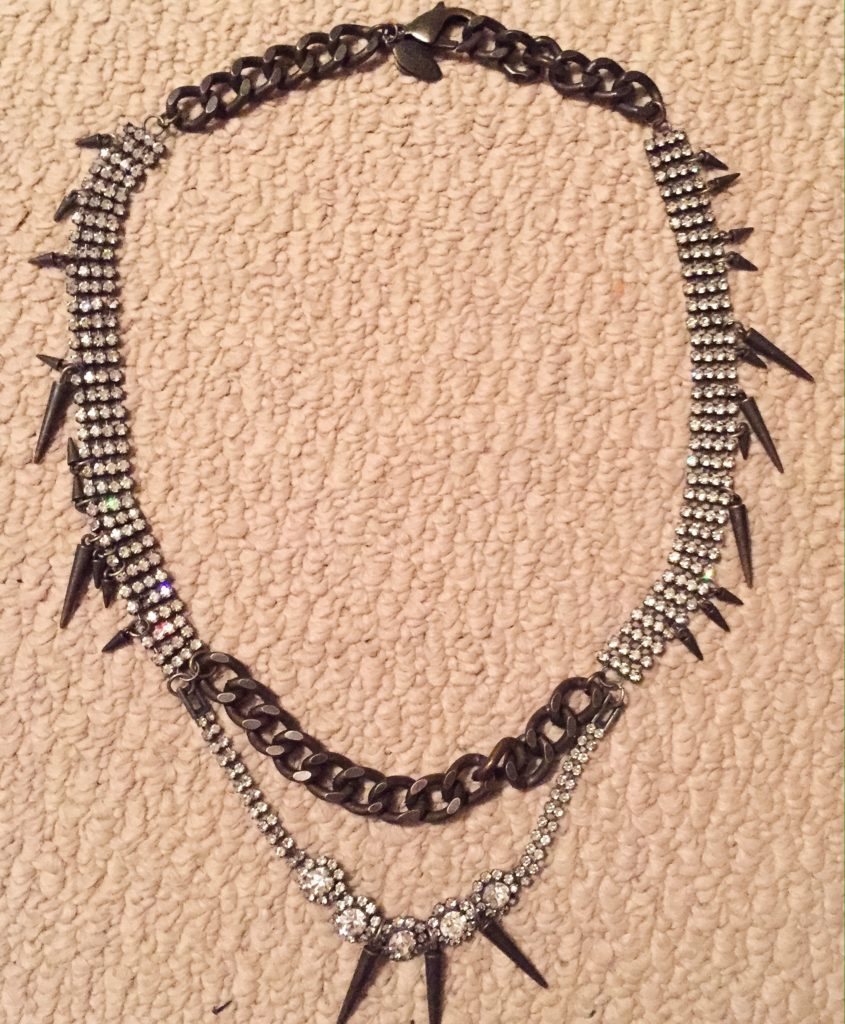 Speaking of jewelry, I've been on a buying kick lately. I rarely thrift jewelry, vintage brooches excepted, because I rarely see good quality stuff. But after finding that awesome Stella & Dot necklace last month, I've been paying closer attention to the jewelry racks — and it's been paying off. Here, I'm talking about the non-showcase stuff, which is usually hung in one giant tangled mess. Dig through it, peeps; treasures can sometimes hide in there. Case in point: this Felton/Fallon for J. Crew necklace. Granted it was missing one small rhinestone and one of the spikes on the bottom string, but I paid $3 for it. Both defects were relatively easy fixes. Michaels sells rhinestones in all kinds of sizes, and with a bit of tinkering, I glued one in place. (It's not the same quality as the others, but it's hard to tell unless you're looking very very closely.) As for the missing spike, I just removed one of the remaining 3, to balance things out. Afterwards, I decided to remove the last 2 as well, as I preferred the way the necklace looked without them.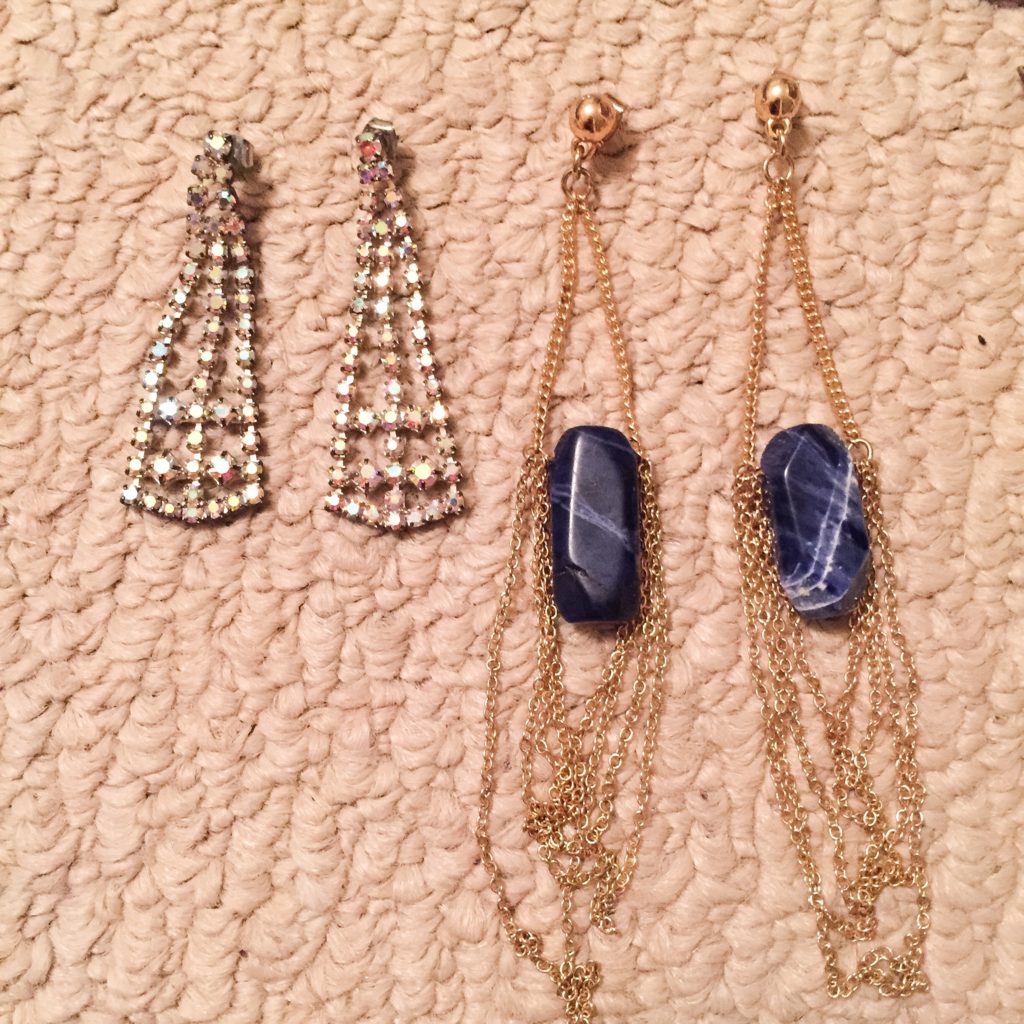 I also found some cool earrings, one modern and one vintage-looking, both very inexpensive. I used rubbing alcohol on the posts to sanitize them.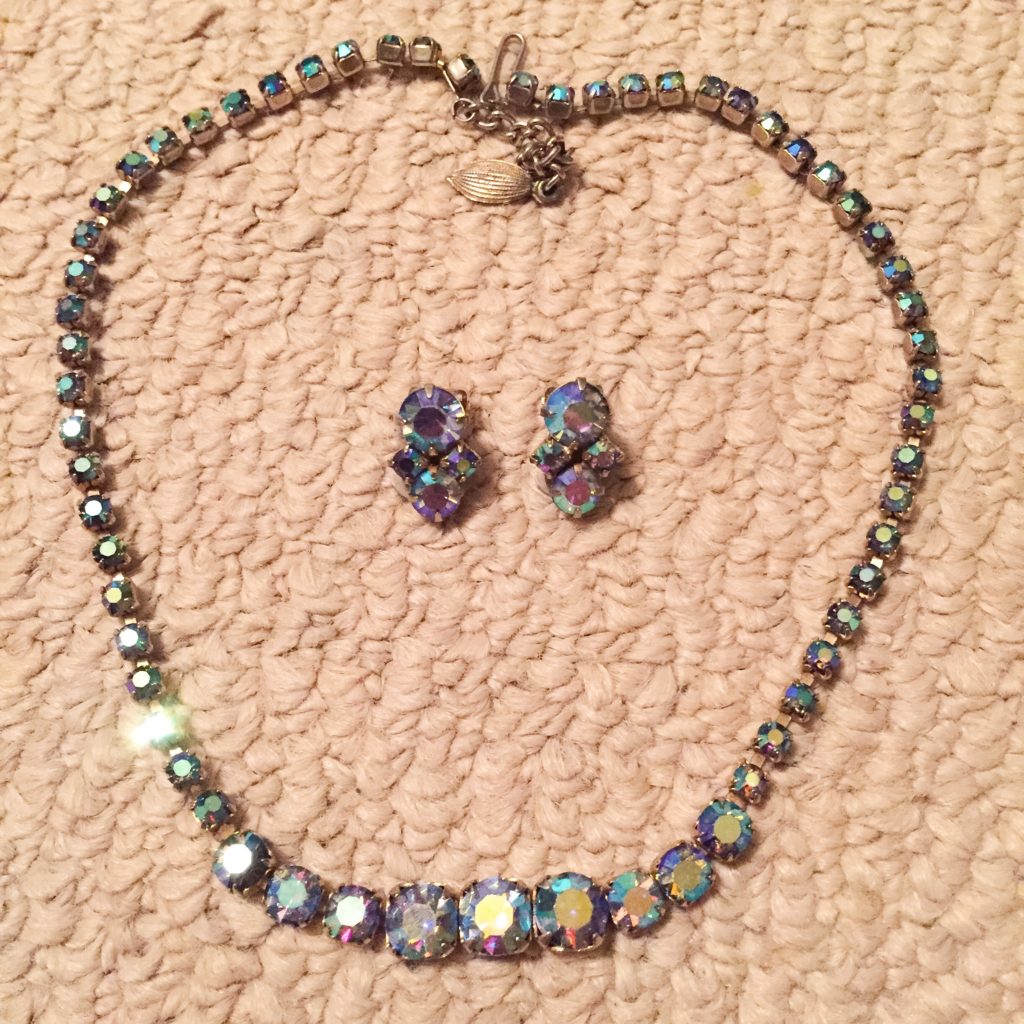 I love aurora borealis rhinestones, and was thrilled to find what looked to be a matching set (although they were sold separately) for $6 altogether. This set would run at least $40-$50 at the antique mall.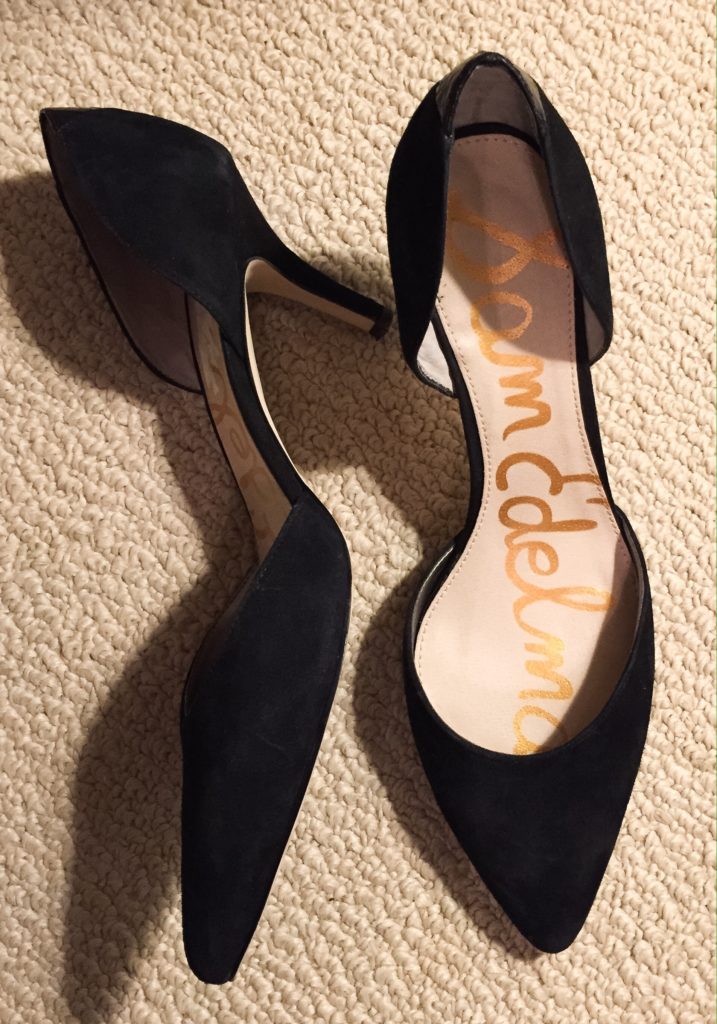 I really, really need to replace my much-loved and much-worn black Stuart Weitzman pumps, even though I'm having a hard time parting with them. (We've been through a lot in 6 years *sniff*) I thought these like-new Sam Edelman d'orsay pumps would be a good alternative, at least until I can find another SW pair. They have a 3 inch heel, and are quite comfortable. I do wish they were not suede, because black suede tends to show dirt and wear much more than patent or natural leather. However, for $8 I am not complaining.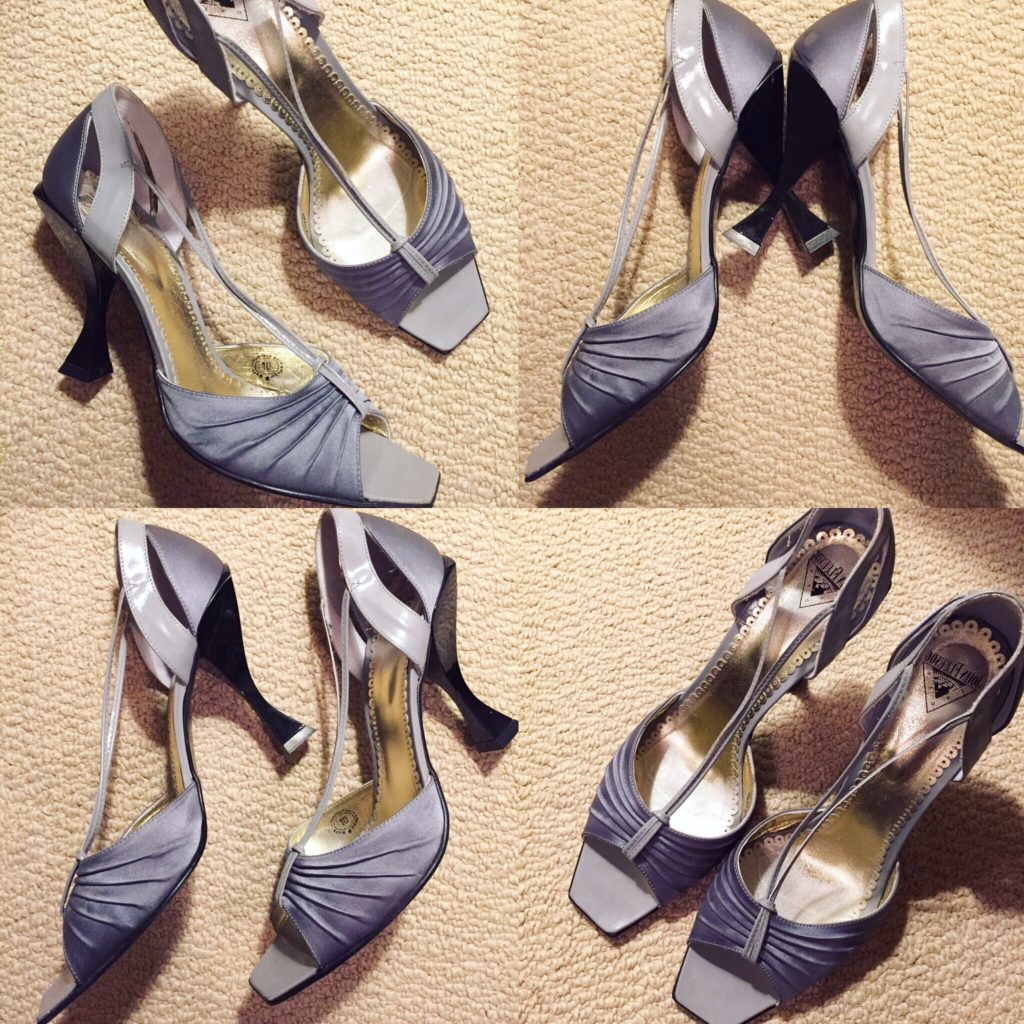 Yup, my second Fluevog pair in as many months. I liked the retro vibe here, and the colour was interesting. Some lovely peeps on IG helped me identify the style; I always like to know the history of the things I thrift. These shoes are from the Spring 2009 collection, apparently. They are in pristine condition, except for some very light scuffing on the bottom sole. I can't wait to wear them next summer … wedding, anyone?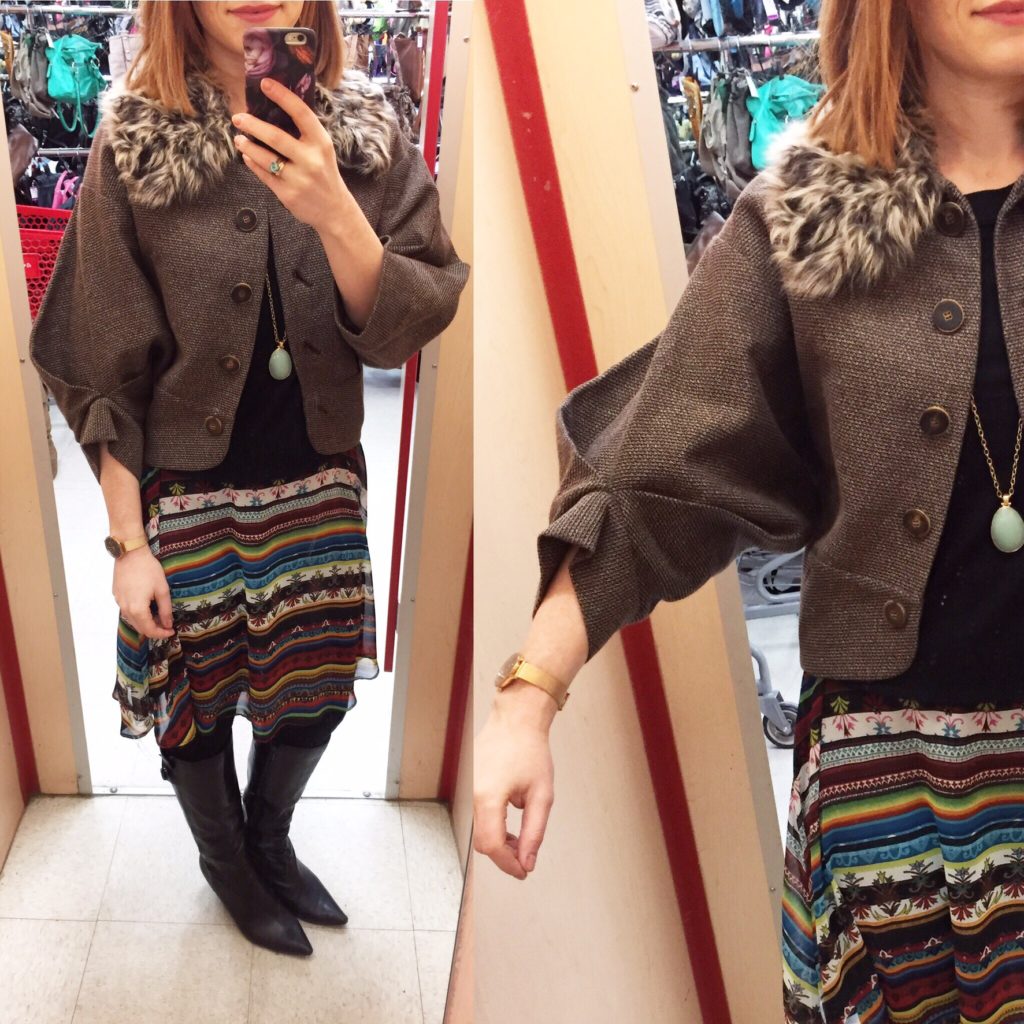 This Max Azria jacket was a dubious buy, admittedly, but I decided to take the fashion risk. We'll see how I feel about those origami-like folded sleeves next month.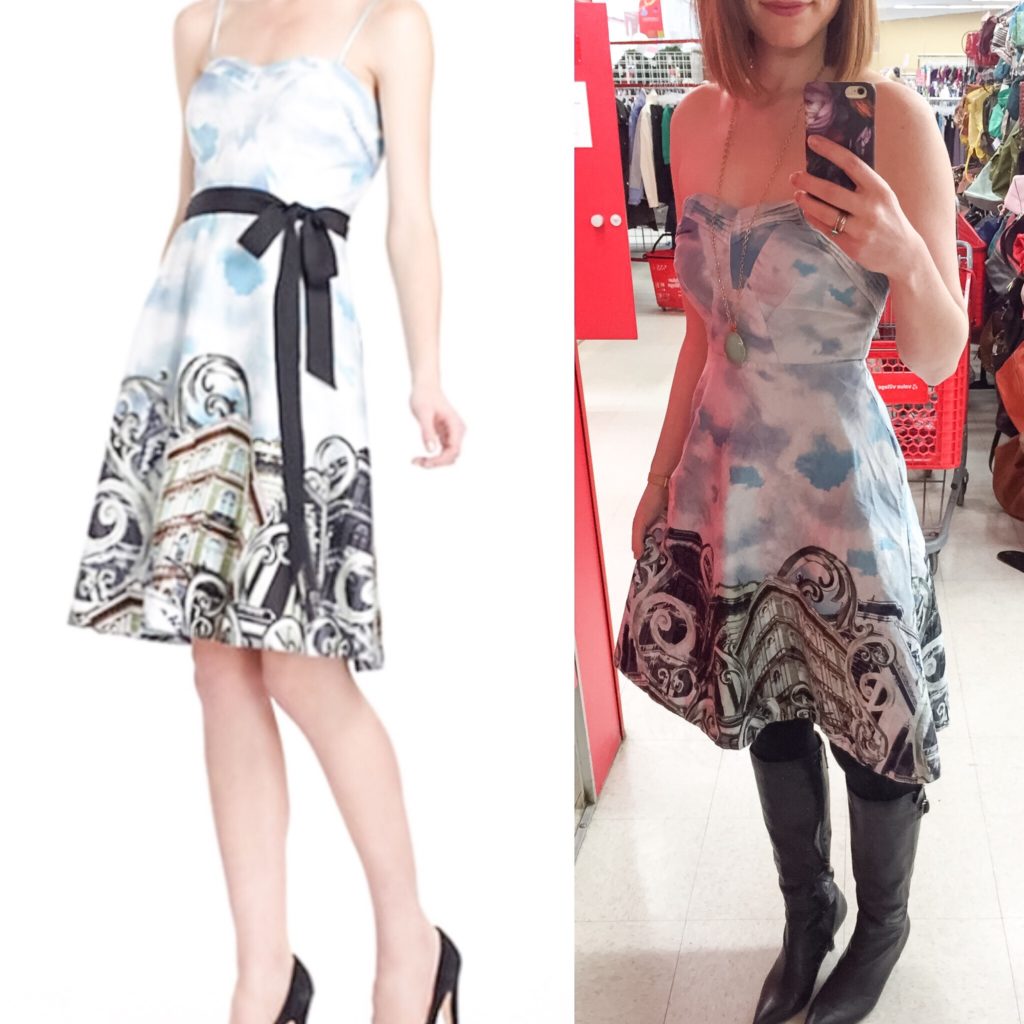 My husband has a background in architecture, so I thought he would appreciate the print of this Anthro-brand dress. He was … not as enthused as I thought he would be. This dress is no match for Houzz when it comes to holding his attention. Few things are. Maybe if Mike Holmes was wearing it, it would be a different story …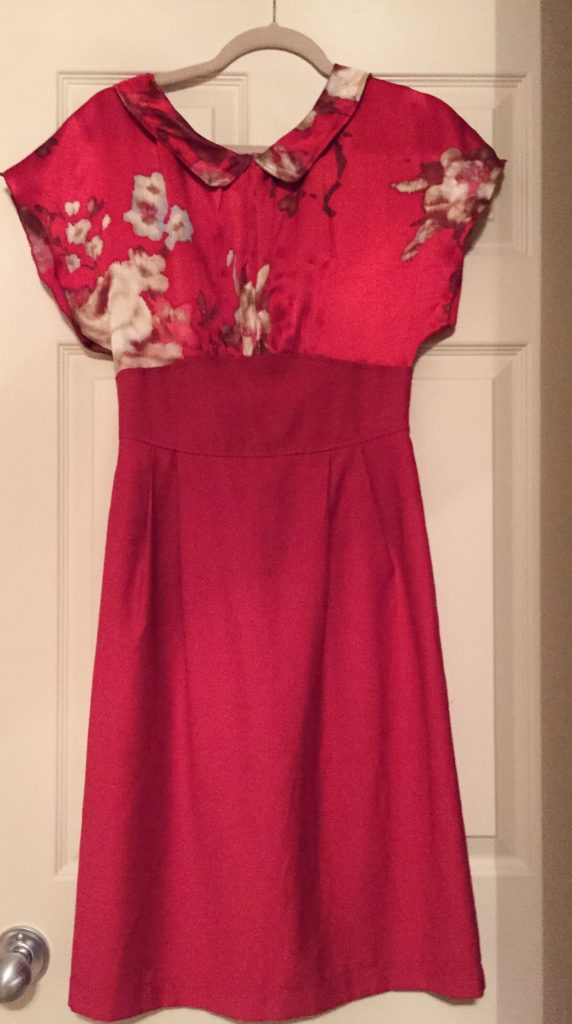 Last but certainly not least, one of my favourite thrift finds ever. I gushed about this dress when I wore it, and you can read all about it here.
And that's it for now. I hope the thrift gods have been generous with you this month, and if so — I want to hear all about it. And if not, tell me what you're still hoping to find before the year is out.
* Cabbage rolls are a Christmas tradition in the Old Country. They would be sufficient to tranquilize an average person into a couch-potatoing stupor, but my family likes to embrace new traditions as well, hence the turkey. Double whammy.

** This is an inside joke. Sadly, Chris Pratt is not coming to my house. My friends and I had a very spirited debate over text for the last month about which movie we are going to see together. I am happy to report that, thanks to the crushing fist of democracy (and a 2-to-1 vote), Chris Pratt won. We are going to see Passengers.***
*** Edited to add: apparently, we are not. Reviews for this movie have been no bueno, you guys. The alternate choice, by unanimous vote: La La Land.