It's been pretty quiet on the thrifting front lately. I don't know why that is, but after a long hot streak last year, it feels sort of anti-climactic. While there were still some good pieces to be found, they definitely did not pop up in quantities previously seen on the blog … which is probably a good thing. My goal is to have less turnover in my closet this year, and less temptation does make that a more attainable goal. Not gonna lie, though: I do miss the thrill of a killer score. I did score some amazing pieces recently, but most of them have been consignment finds.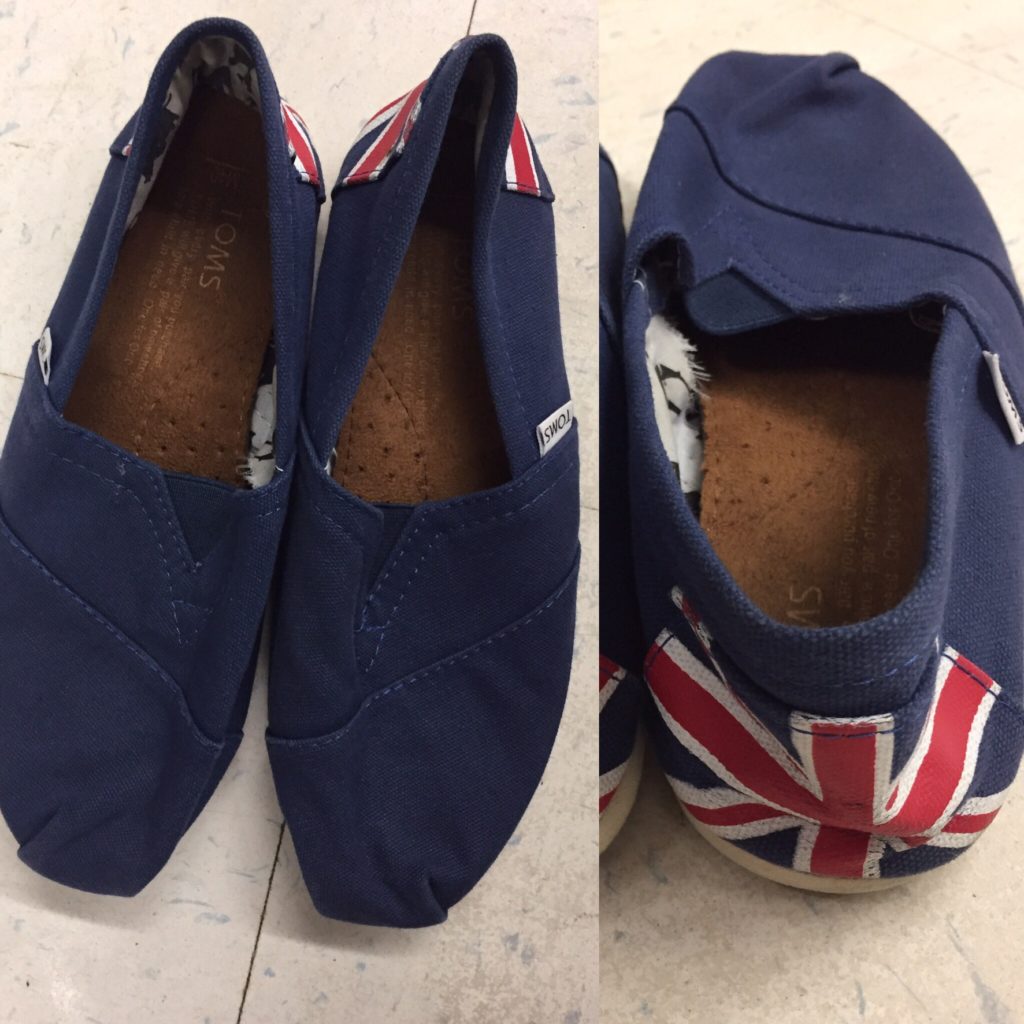 Toms are not my thing, but I thought this Union Jack pair was kinda cute. They were a bit beat up though, and priced high for the condition.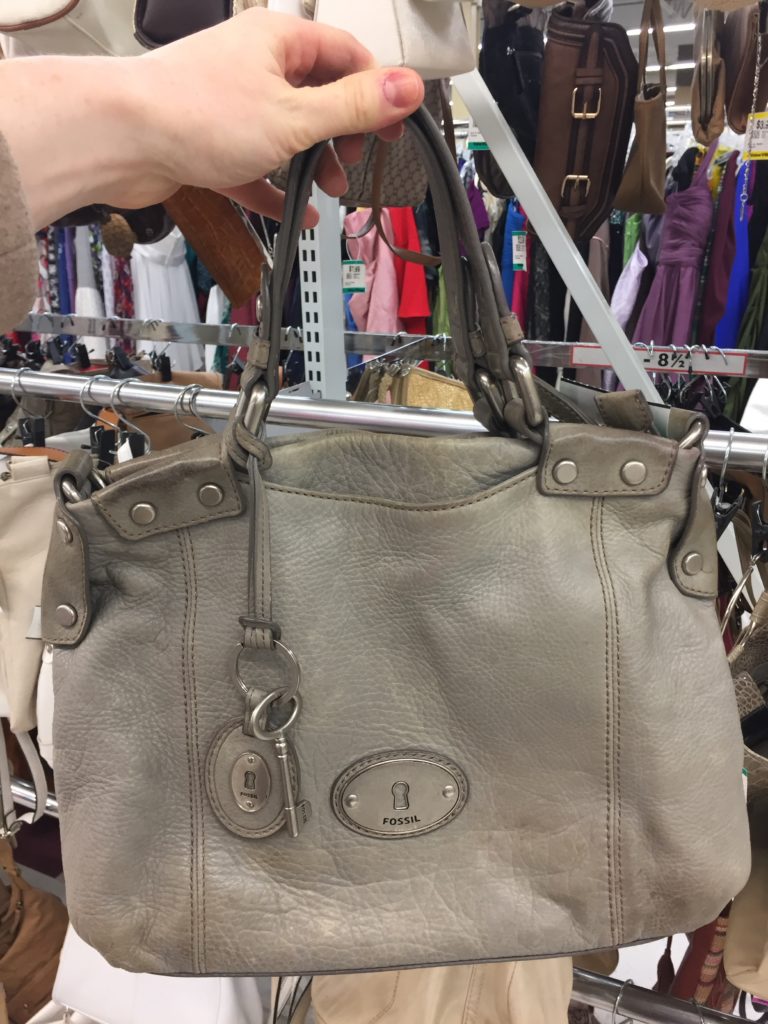 Speaking of which, VV wanted $40 for this Fossil bag. The leather was buttery soft, but it had seen better days. I might have taken a chance with it if it had been cheaper, and if I felt more confident in my restoration skills. The other big drawback was the lack of shoulder/cross-body straps. With that said, I am becoming more and more of a Fossil fan, and I always keep an eye out for the brand at the thrift store.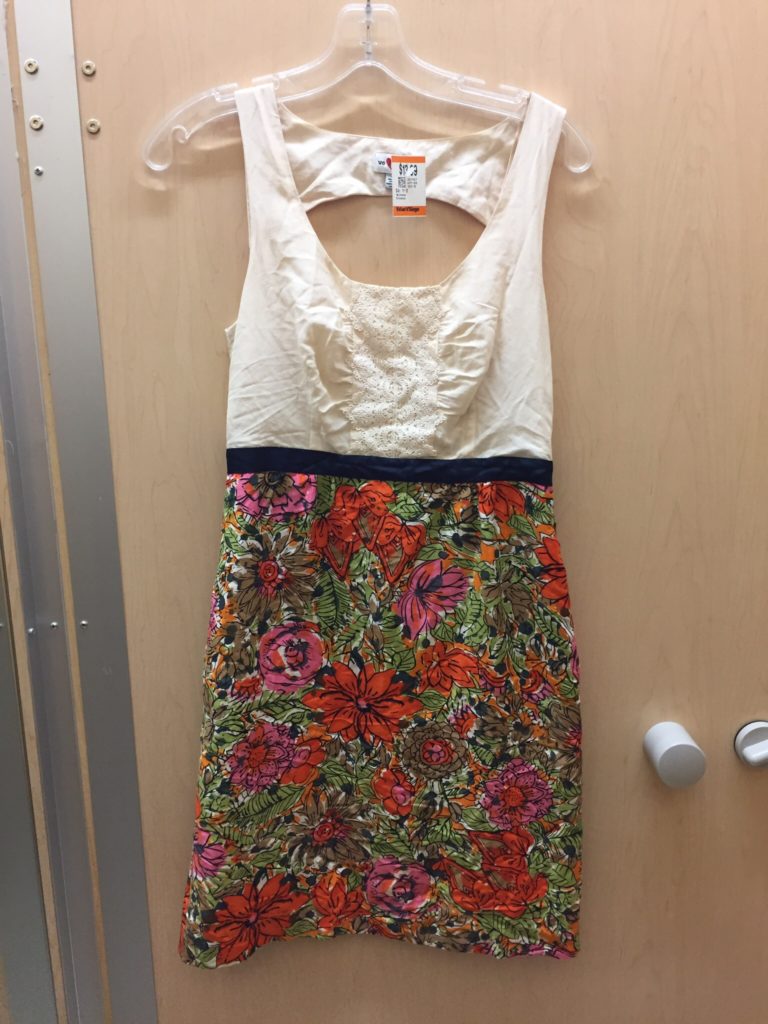 Cute dress, but not for me.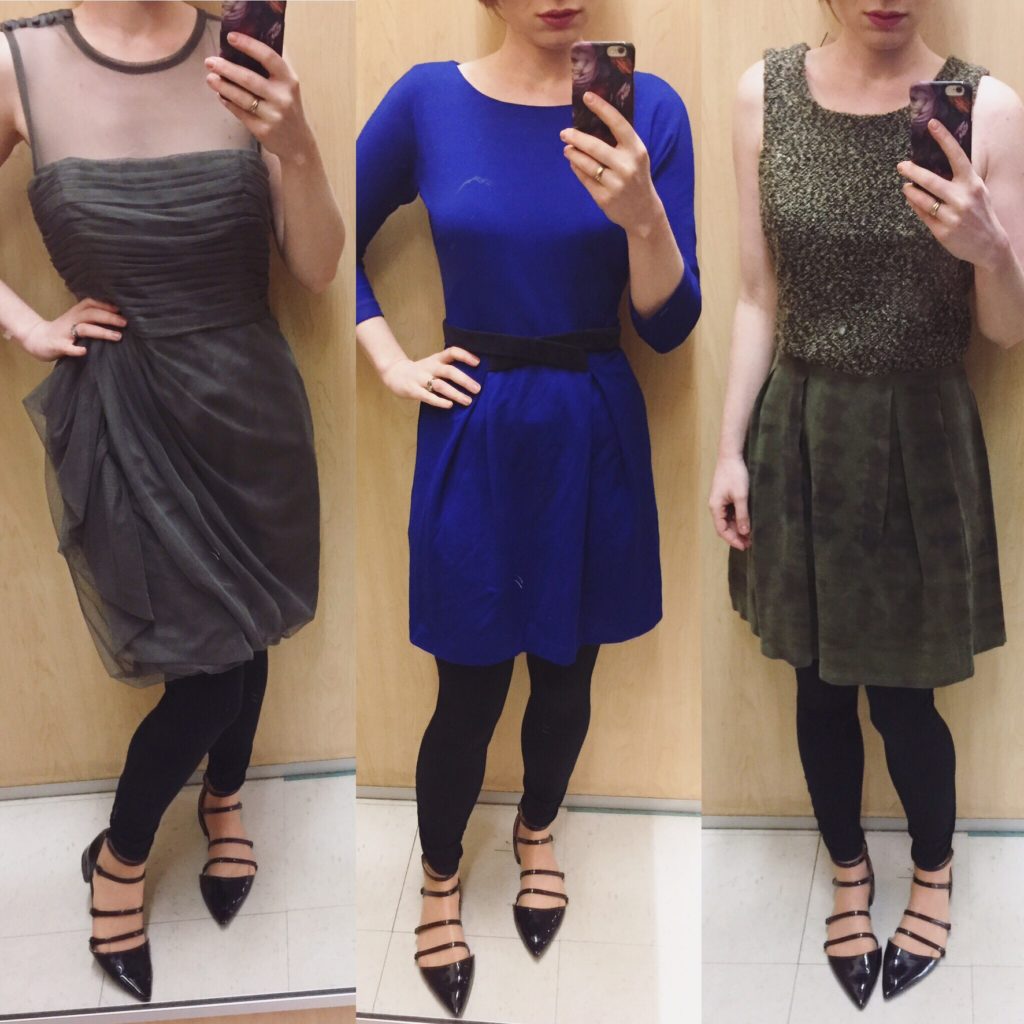 More cute dresses that were not for me. Left to right: Vera Wang (pretty sure this was a bridesmaid's dress); Girls from Savoy; Gypsy05. Of the bunch, I really liked the olive green dress on the right, but it was about 2 sizes too big.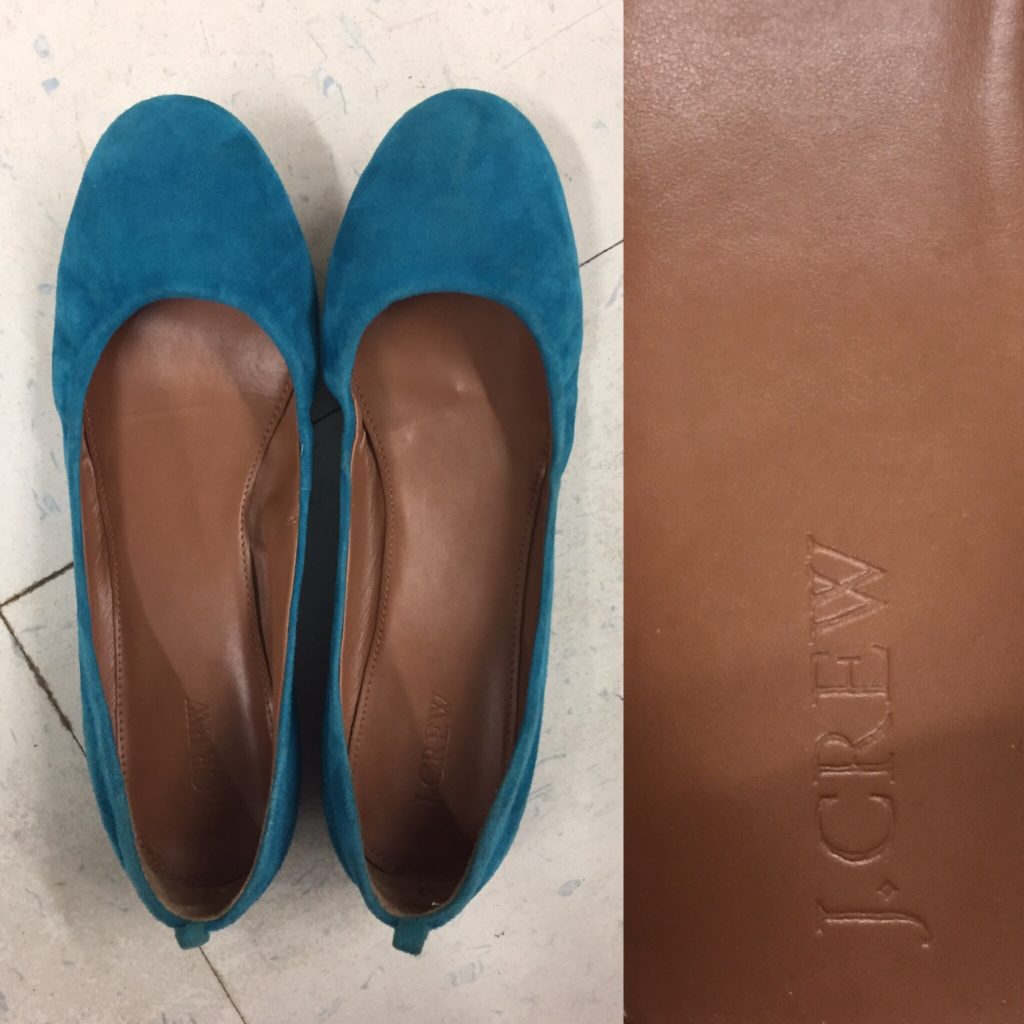 These J. Crew flats are hella comfortable, and these were in decent condition for being suede; why didn't I get them? Round-toe flats, especially colourful ones, are on my no-buy list. They don't mesh well with my current style, which leans more towards classic than ingenue. To me, round-toe has a definite ingénue vibe; almond- or pointy-toe, a more grown-up elegance.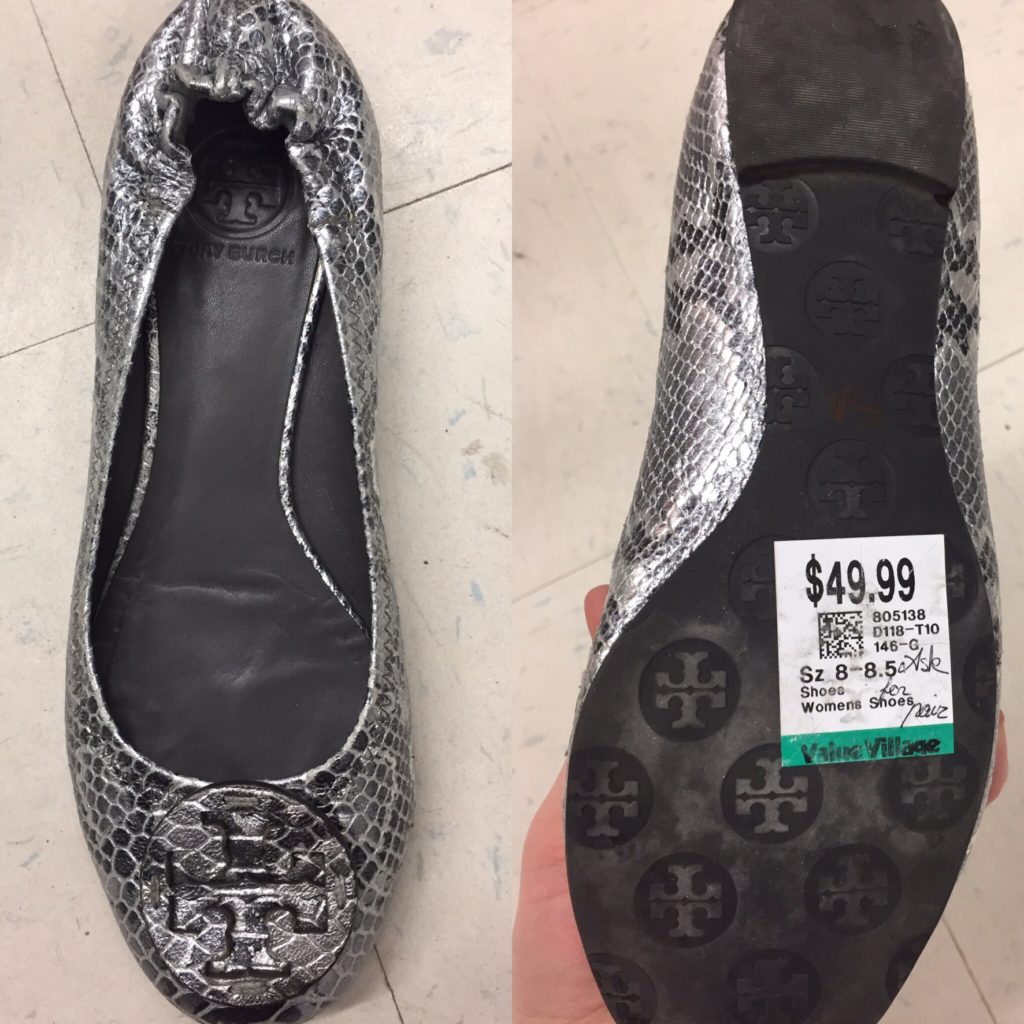 Even if round toe flats were not on my no-buy list, I still wouldn't pay $50 for these Revas.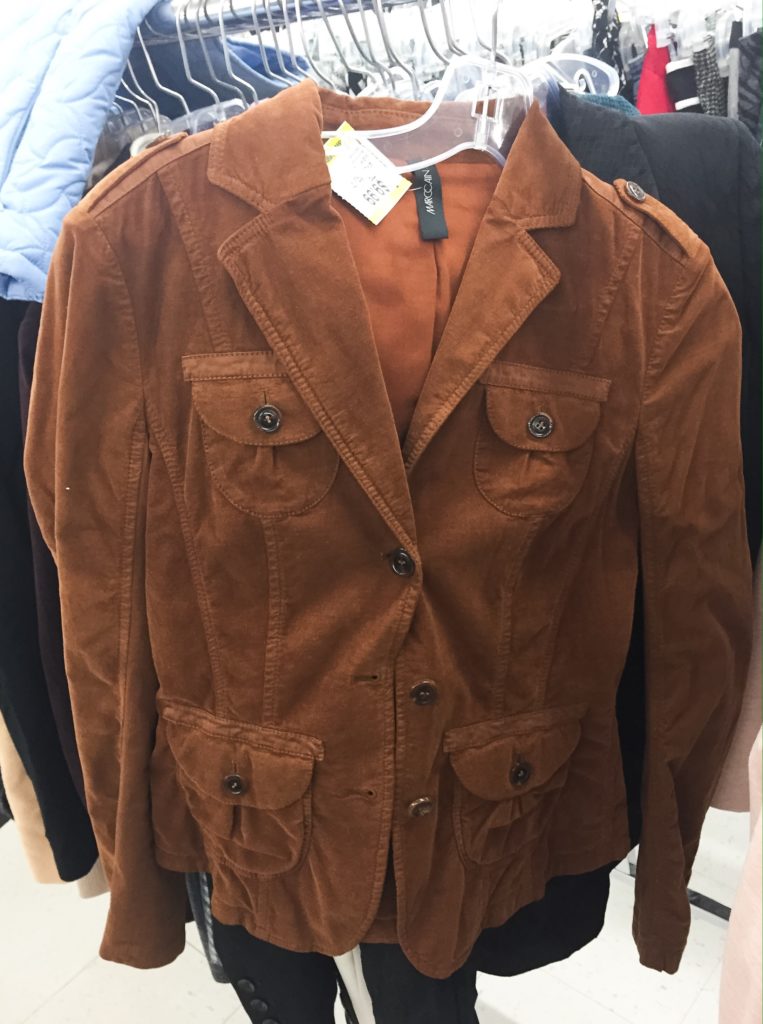 Marc Cain is a European (?) designer brand sold at Blu's, where pieces run in the hundreds. The style of this blazer appears dated to me, but it's encouraging to see the brand at the thrift store for the first time; some of the pieces I've spied at Blu's are definitely lust-worthy, so I can only hope to see them pop up at VV in the future.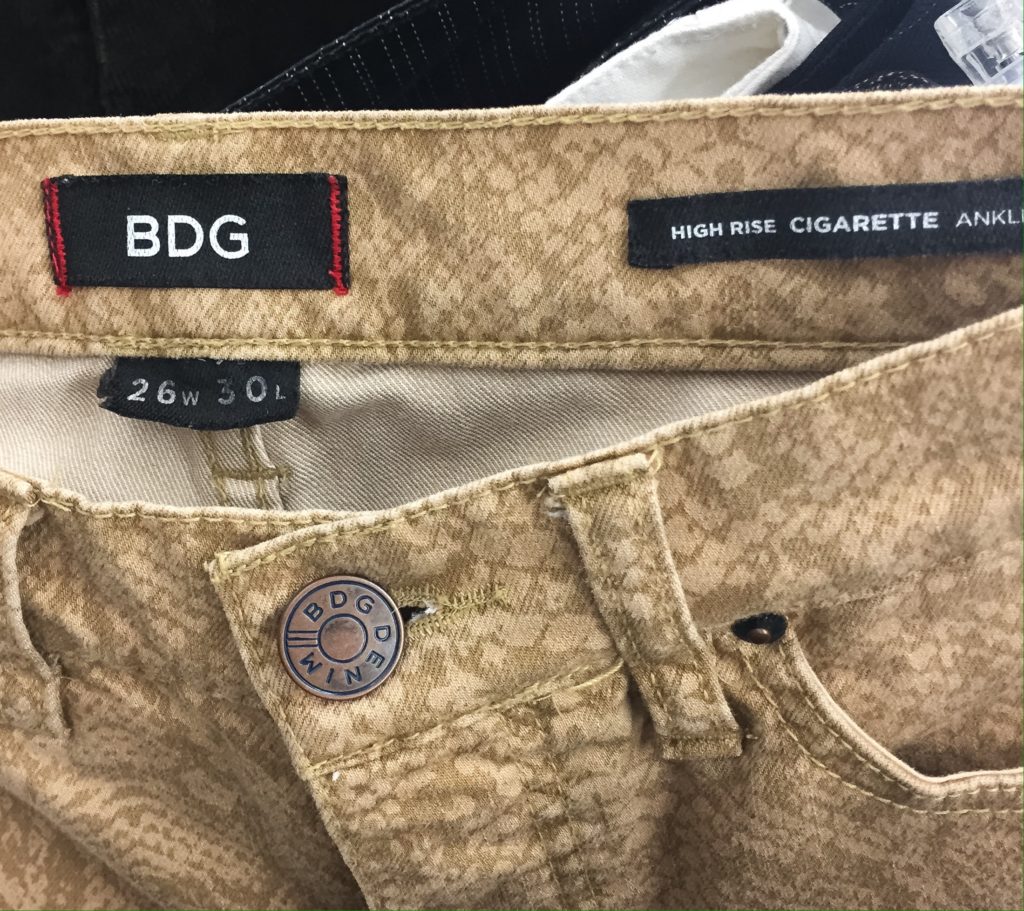 More BDG jeans, but another pass. I still intend to give this brand a try someday, but I've decided that snakeskin print is not for me.
This was a lovely coat, that I am starting to really regret not getting. It looked too big … but I really should have tried it on. Sigh.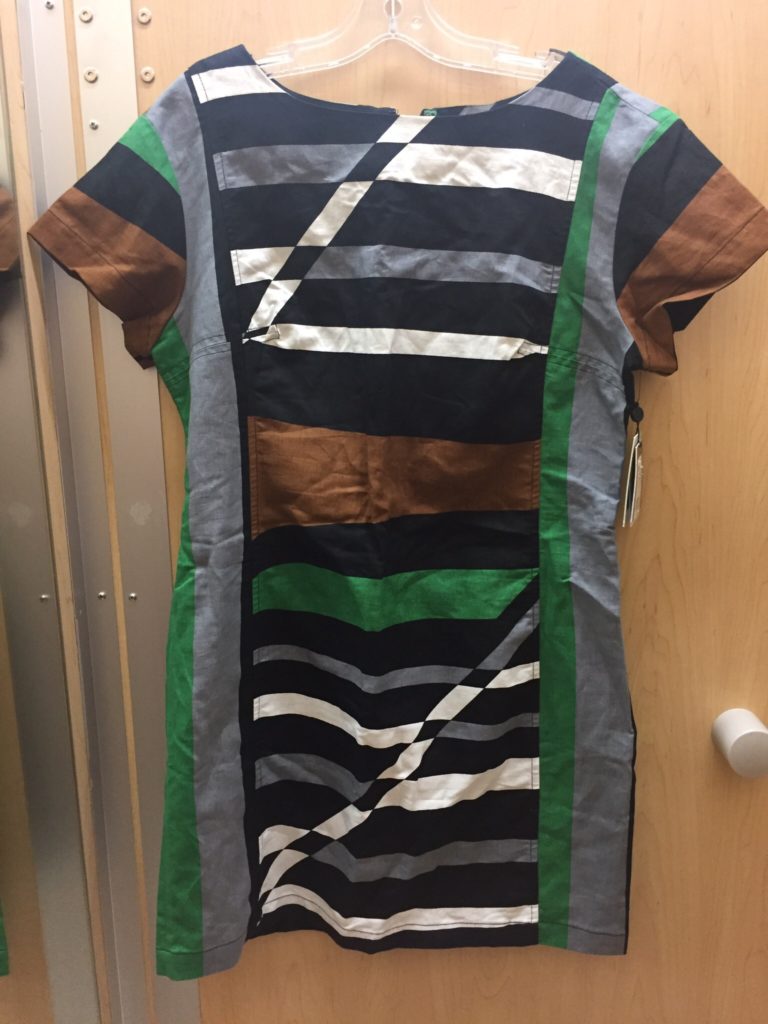 I would definitely be interested in trying a Derek Lam dress, but this collab piece was not quite up my alley. I've been spotting a ton of designer collab pieces (mostly from Target) lately, including stuff from older collections which were never available in Canada. It always makes me wonder how clothes end up in the local thrift store.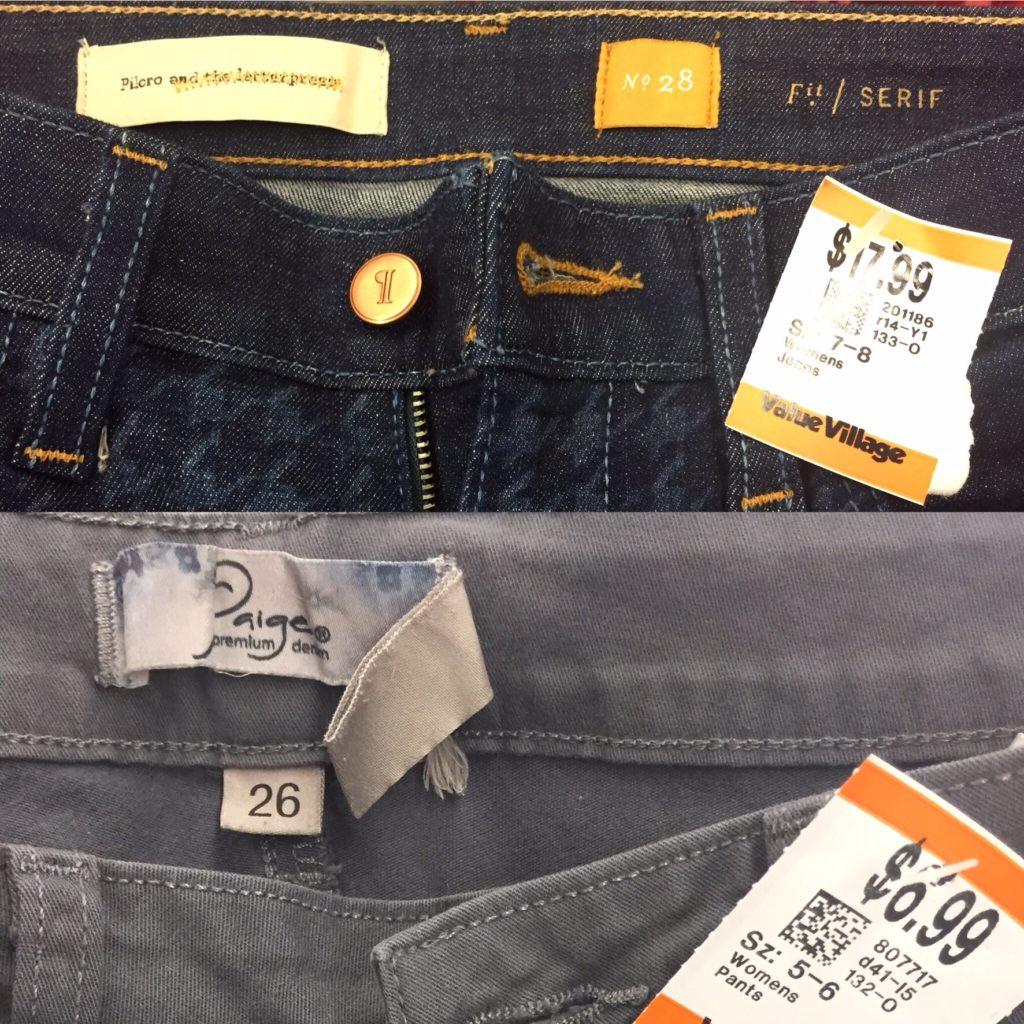 VV pricing for denim is *so* inconsistent, you guys. I have never seen Pilcro's priced this high before either; it was sufficiently egregious than I passed on this pair, even though it was my size, and the print was intriguing. You guys know I never pass on Pilcro. Luckily, VV is inconsistent enough that I was able to find a second pair of Pilcros for under $10, and that came home with me as a consolation prize.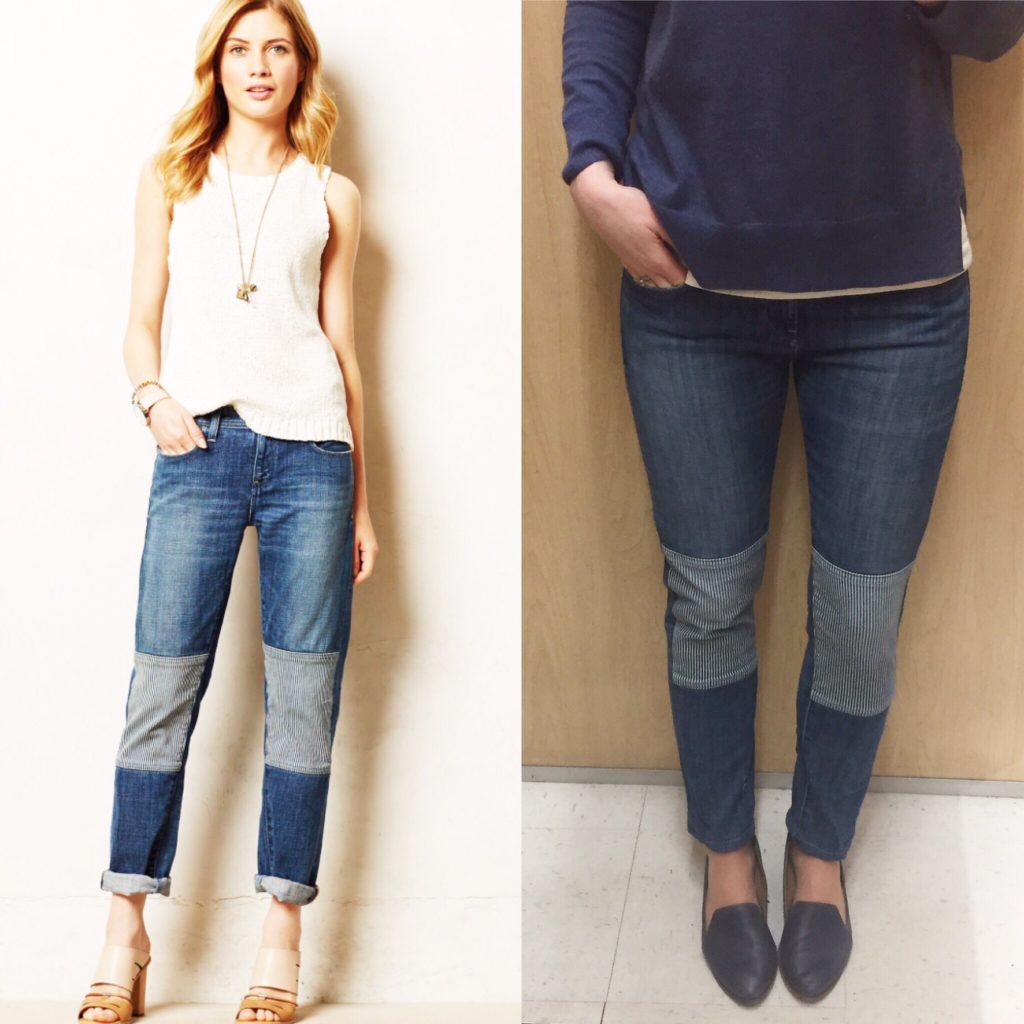 Cute, right? Even though they certainly don't look the same on as on the model. So bizarre.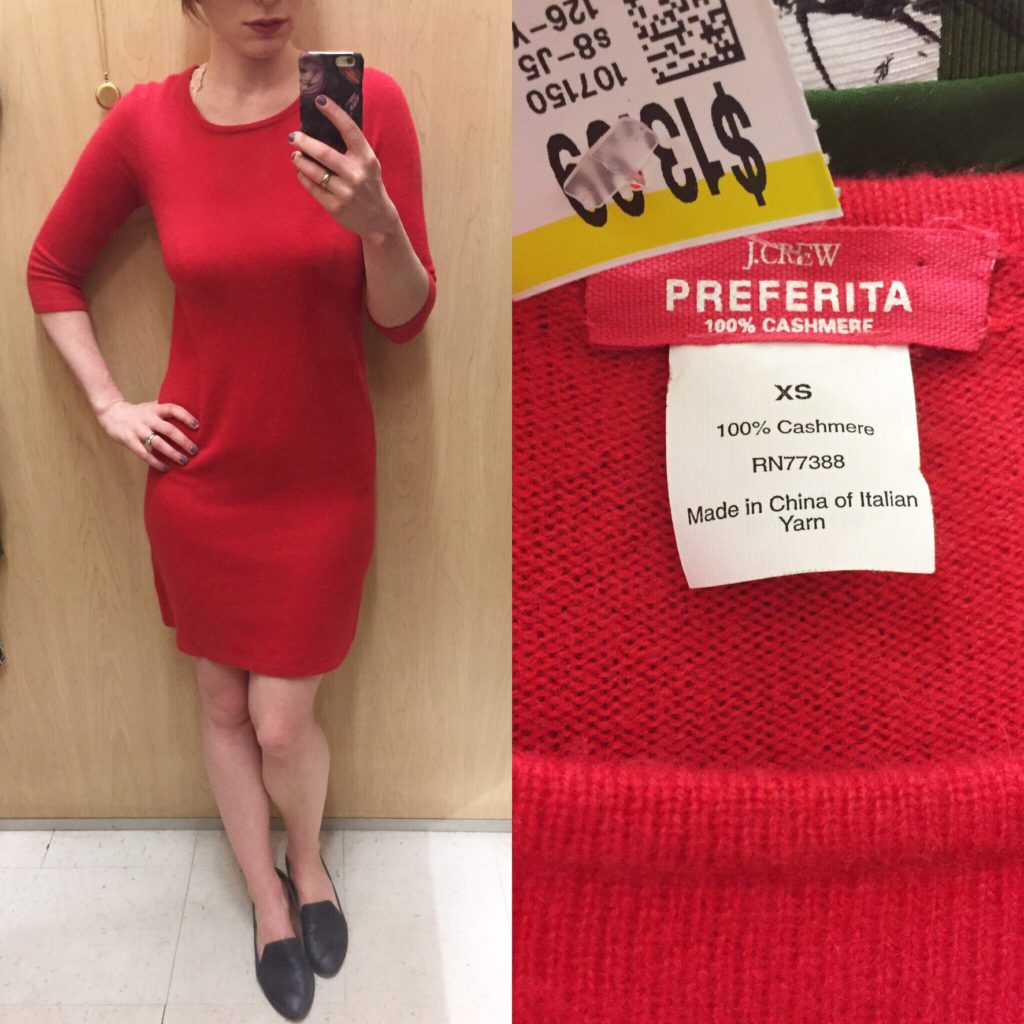 This sweater dress is all kinds of wrong — too short, too body-con — but I could not resist that soft cashmere. The dress is, shockingly, in perfect condition (good condition cashmere is very rare in thrift stores) and for the price ($13 plus 30% off), I decided to get it. Worse case scenario, I will be perfectly cozy lounging at home. [Update: I've worn it out-of-doors twice. It makes a great foundation layer when you feel like wearing a dress on cold days.]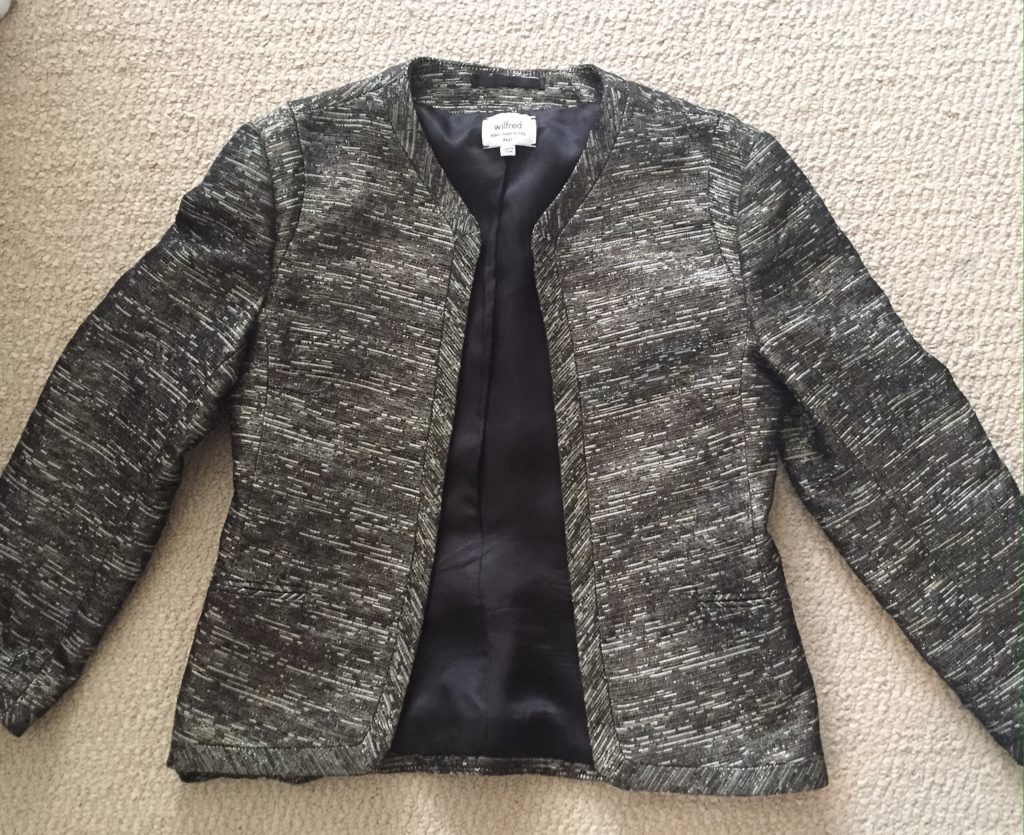 This is a different colorway of one of my fave blazers. For $8, it was a no brainer. I think the dark metallic is going to be a fab addition.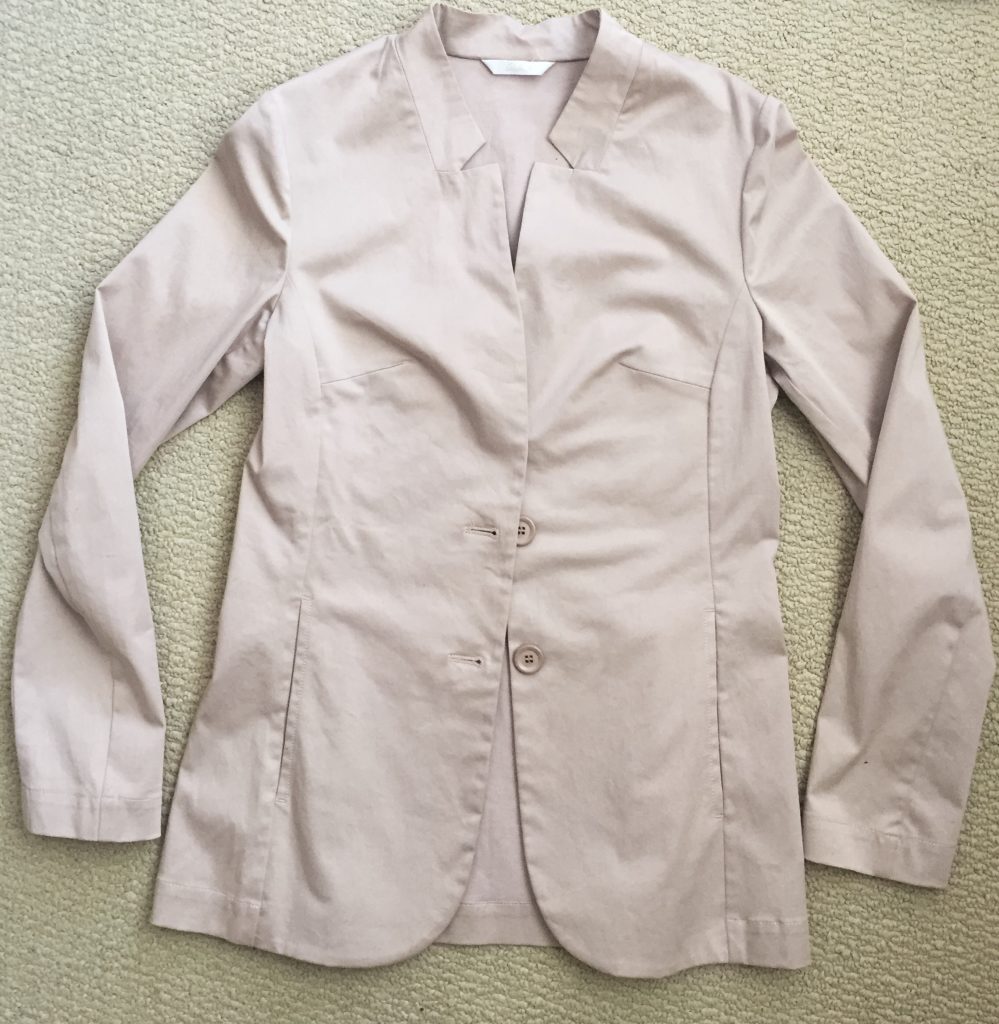 Another blazer, Adina? Well … yes. In my defence, it has a truly phenomenal fit and the colour is part of my wardrobe palette to boot. Last year, I purged my old blush blazer because I wasn't fond of the quality. I have high hopes that this will be a great replacement. I am not familiar with the brand (CarlaG) but the label says "made in Italy" and judging from the fit, I am willing to believe it.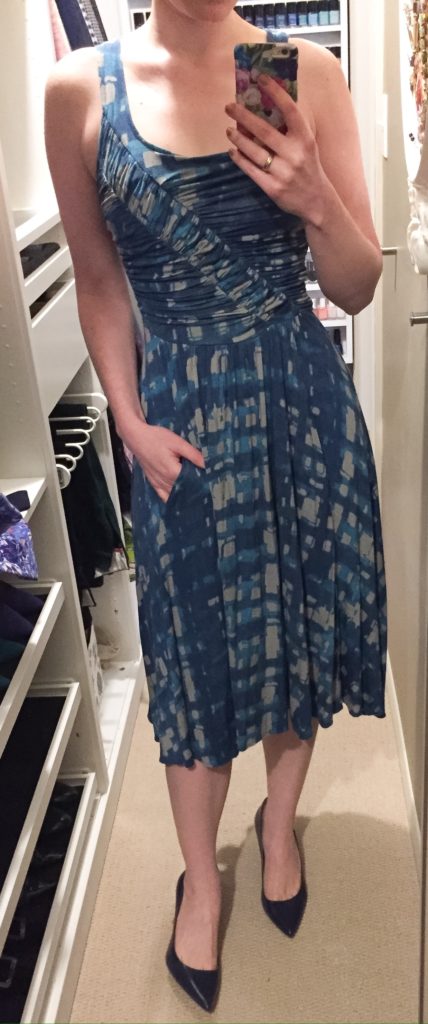 For someone who has spent as much time as I have stalking Anthro dresses on eBay, this one was a familiar sight. It's always fun to find them IRL, for a fraction of the price. This Plenty number is fun, super soft, and very much in my colour wheelhouse. I think it's going to be a cute dress for summer weekends. IF summer ever gets here, that is.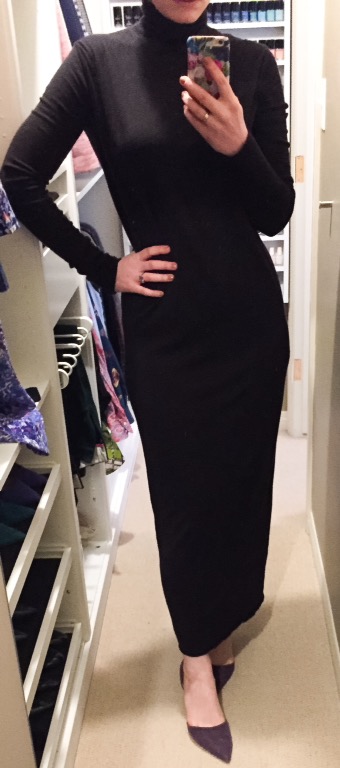 After you're been thrifting for a while, you start to develop a feel for special pieces; certain materials really do stand out to the touch more than others. This simple black knit dress looked pretty unassuming on the hanger, and the label was hidden inside the turtleneck. Still, based on hand-feel alone, I stopped and decided to have a closer look. The dress turned out to be Rick Owens Lilies. I don't know much about the brand, other than that it has a devoted fan base — so there must be something to it, right? This particular dress feels nice and non-scratchy, and the style holds a lot of possibilities as weekend wear. I can already imagine it with my fave leather jacket …
Alright, over to you: what were your favourite recent thrift finds?