I have to thank again the readers who reminded me of Barbara Vine recently. One of the best thrillers I read decades ago was actually Vine's A Dark Adapted Eye, and I'm not sure how the name fell off my radar in the meantime. I ordered ADAE from Amazon (it's definitely due for a re-read), but it hasn't arrived yet, so I have been making do with another Vine novel I found at the thrift store, The Minotaur. This is my thriller catnip: large mansion full of secrets, weird family full of secrets, innocent outsider trying to figure out all of the secrets, and, finally, murder. I loved The Minotaur up until the last 10% or so, when it became apparent that the payoff — answers to all of those tantalizing secrets — wasn't going to be there. I was actually quite cross because, as much as I enjoyed the reading up to that point (Rendell/Vine is a master of atmosphere), I felt robbed.
In a similar vein to The Minotaur, I read The Lake House by Kate Morton. This was another thrift store purchase; I've been "burned" by Kate Morton in the past, so I wouldn't have bought this otherwise. [I read The Secret Hours when it first came out to great fanfare, and I didn't think it lived up to what the hype had promised me.] It was fine. Not amazing, but ok for a summer/beach read. There were strong shades of Atonement in this book, but I wasn't nearly invested enough in the characters to be devastated by their personal tragedies. The book as a whole had the opposite issues as The Minotaur; the sense of atmosphere was weaker (also, Morton occasionally makes weird word choices that threw me off) and the plot was too neatly wrapped up. As pleasing as that kind of ending can be, it's also, well, too pat. It's like dim sum; great to eat, but you feel hungry again after a couple of hours.
Last but definitely not least, I devoured Unmentionable: The Victorian Lady's Guide to Sex, Marriage and Manners by Therese O'Neill. I loved it, and would highly recommend it. The "narration" takes a bit of getting used to, but I ended up liking it for the most part; it's like getting a history lesson from a sassy girlfriend. The tone was consistent throughout, and didn't verge into "annoying schtick" territory for the most part. There was one weird phrase, which made me laugh; O'Neill writes: "… people tended to die more often, and younger…" I'm sure it wasn't the intent, but I read that as people dying more than once, and I can't un-read it now.
Otherwise, O'Neill does a solid job in going over all aspects of a (middle to upper class) woman's personal life in the 19th century in England/America, with lots of fascinating tidbits thrown in. The main takeaway: life was, literally, stinky and far, far less romantic than BBC period dramas would have you believe. This is not news to anyone who has even a passing interest in (real, not fictional) history, but it doesn't detract from the book, which is all about the nitty gritty, frequently too-weird-to-be-believed details. One thing to note: O'Neill quotes from a lot of advice books and articles from the time period (almost all written by men), and the suggestion seems to be that these sources reflect the Victorian Zeitgeist. I found myself questioning this as I went along. Can we really judge how regular people of a particular era lived based, not on their own recollections, but on, say, the Dear Abby columns of the day? I mean, certainly, there are lots of insights to be gleaned from that (and from things like advertisements) but how clear a picture are we getting? Victorians are fascinating because we know so much and so little about them at the same time. I think more reading on the topic is in order for me.
On to articles … here is another take on where J. Crew went wrong. I used to buy a lot of Factory stuff when the store first opened in Edmonton, but I've been buying less and less now that I shop primarily at thrift stores. I still spot J. Crew whenever I check out consignment stores, but rarely in thrift stores. I wonder why that is. But I digress. In my opinion, the issue comes down to price. A lot of stores are offering similar things for similar quality at much lower prices. I don't know how J. Crew can "unwind" the clock at this point, or if it's even possible. As the author of the article points out, there are some industry-wide seismic shifts happening, and J. Crew will probably not be the only victim.
This Racked article about the current plague of Ugly Shirts is quite funny. I love the idea of a well-executed "architectural" shirt, but this trend has been taken to grotesque extremes, as this article illustrates. And the prices — OMG! I did try on a more sedate version of Peak Shirt last weekend at Zara, and though I ultimately passed on it, I have to admit it was cute (if terribly impractical):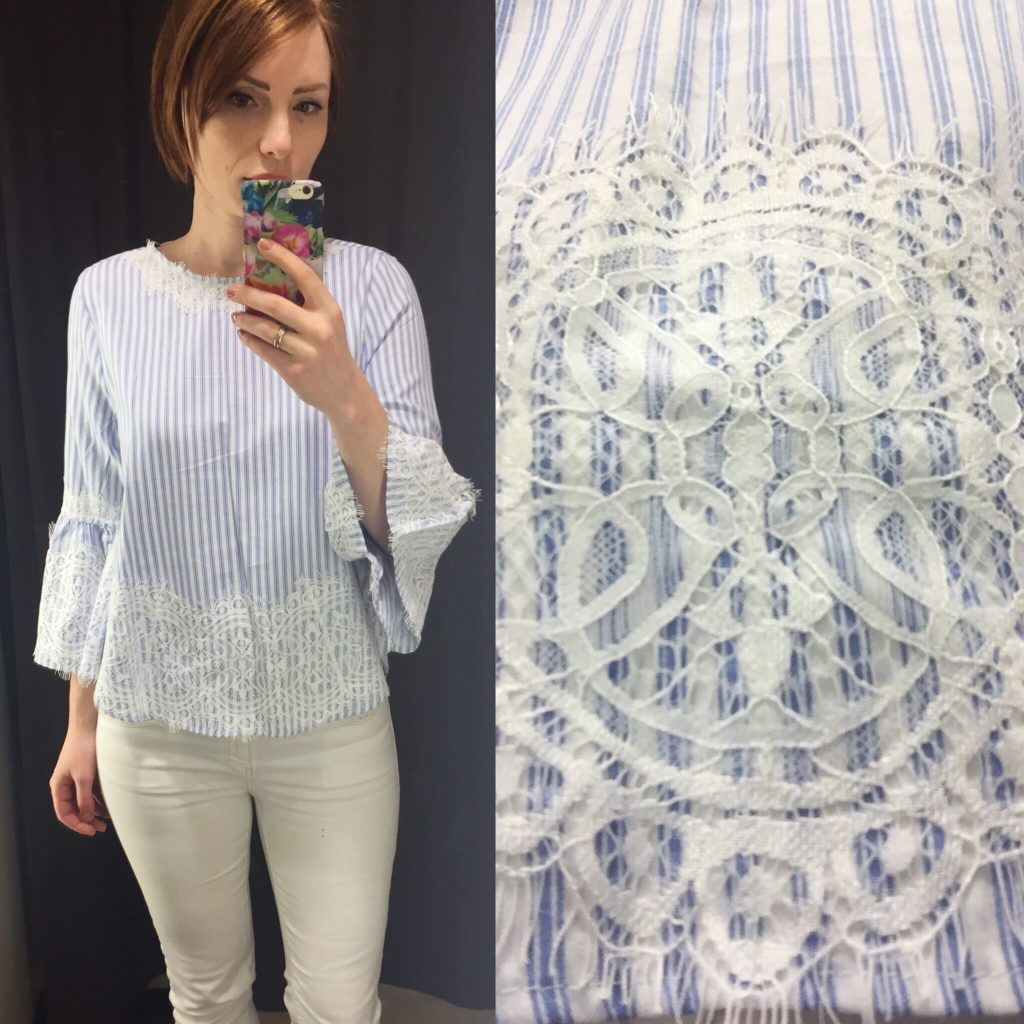 This oral history of "My Heart Will Go On" is amazing. Celine Dion is a national treasure.
Happy Friday!!