As the title suggests, this month's thrifting did not start off strong. I've been put off lately by Value Village's increasingly aggressive pricing and gravitating towards consignment instead, which probably doesn't help. You know the deal: the more often you thrift, the more stuff you find. My visits have dwindled and I'm finding I have less patience for sorting through racks thoroughly. I'm not sure why, except that I'm pretty happy with my current closet, and Netflix is my new "therapy". Anyway, all of this probably explains why I didn't find (or buy) much this month. It's all fine and good. If I have learned one thing from the past 2 years of thrifting is that there is always an amazing score just around the corner.
For now, let's look at what I spotted recently.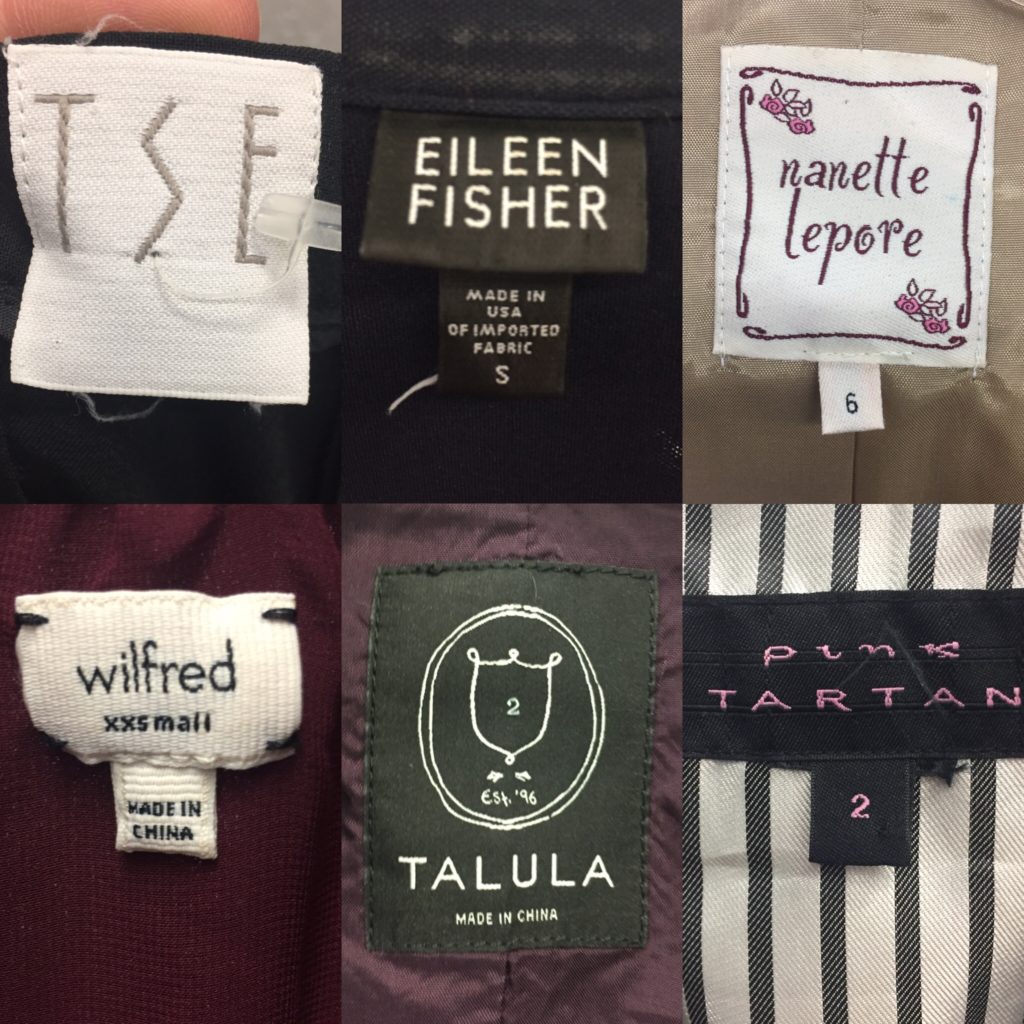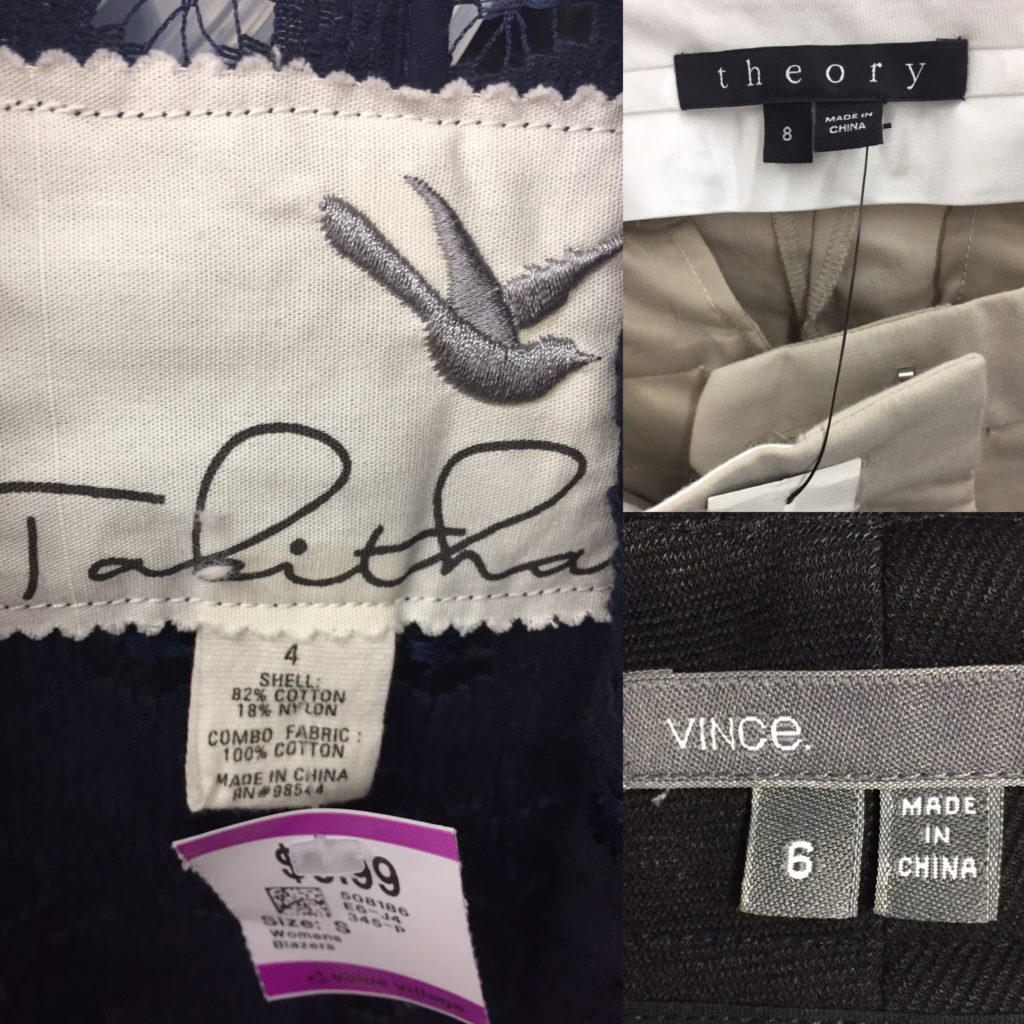 Lots of good brands out there, but I'm getting more and more picky about style; much is left behind — treasures for another thriftanista to discover.
I haven't been buying Anthro with quite the same frequency as before, but I still spot it here and there. This Weston top looked quite comfy, but the whimsical print was, well, too whimsical for me.
Pretty dress, but I loathe that shade of blue-green.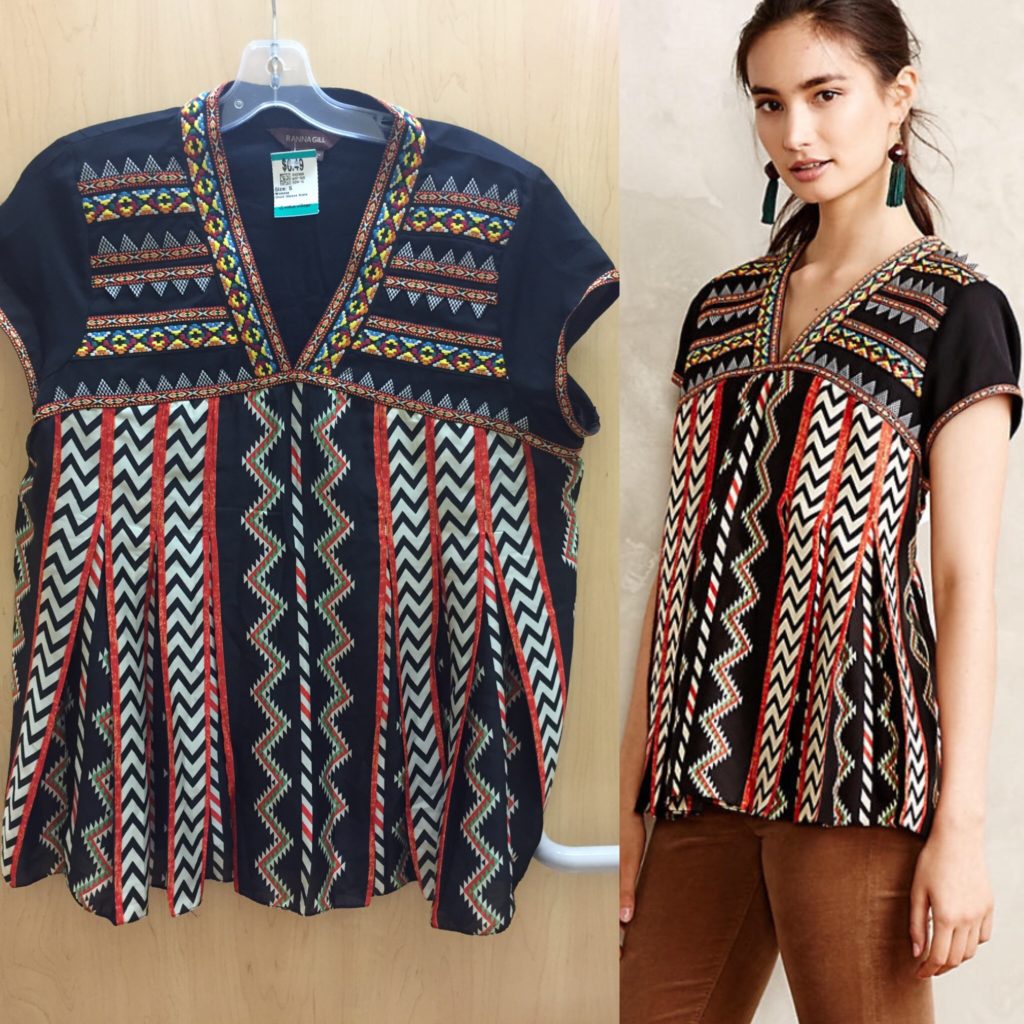 Another very cute Anthro top, this one too boho for my taste.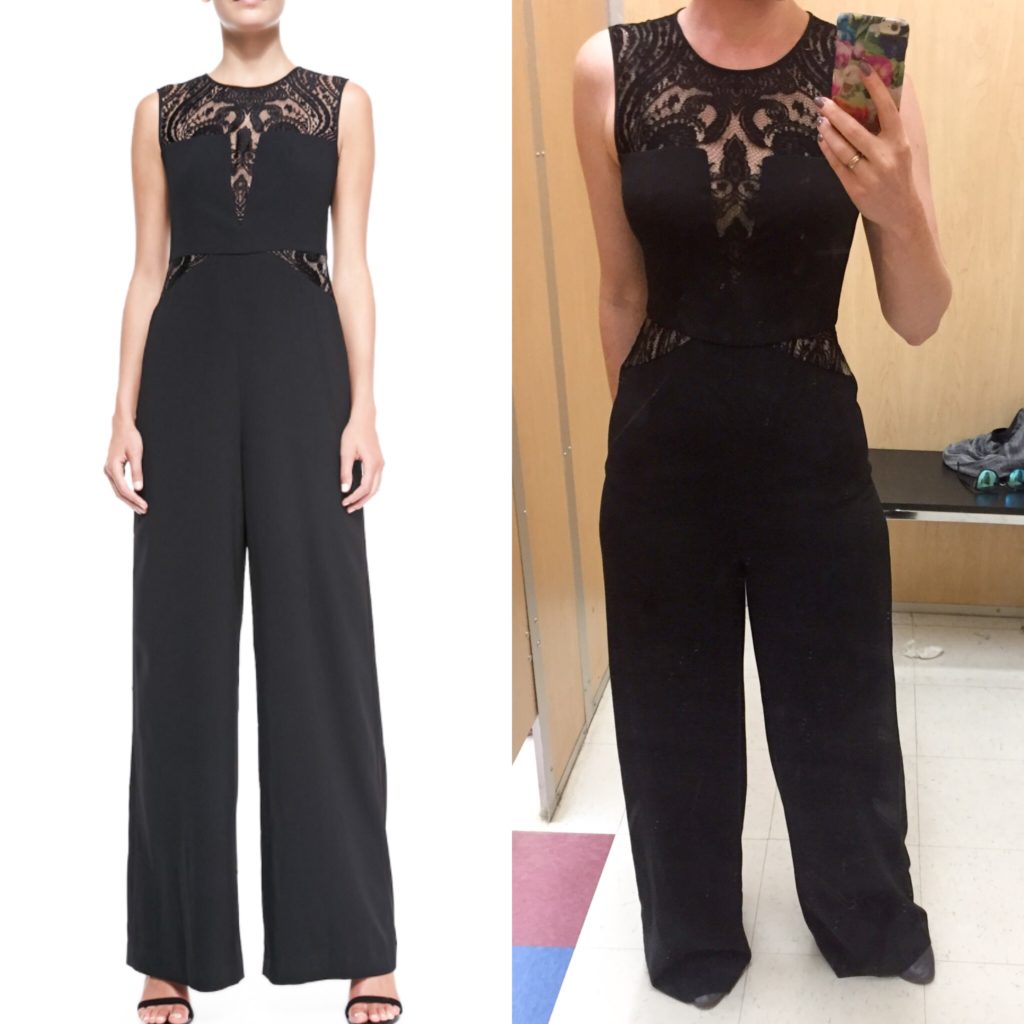 I love the idea of this jumpsuit, but its proportions were ALL WRONG for my extra long torso. I contorted to get this photo so it would not look half bad, but I assure you the whole thing was tragic (and painful) in real life.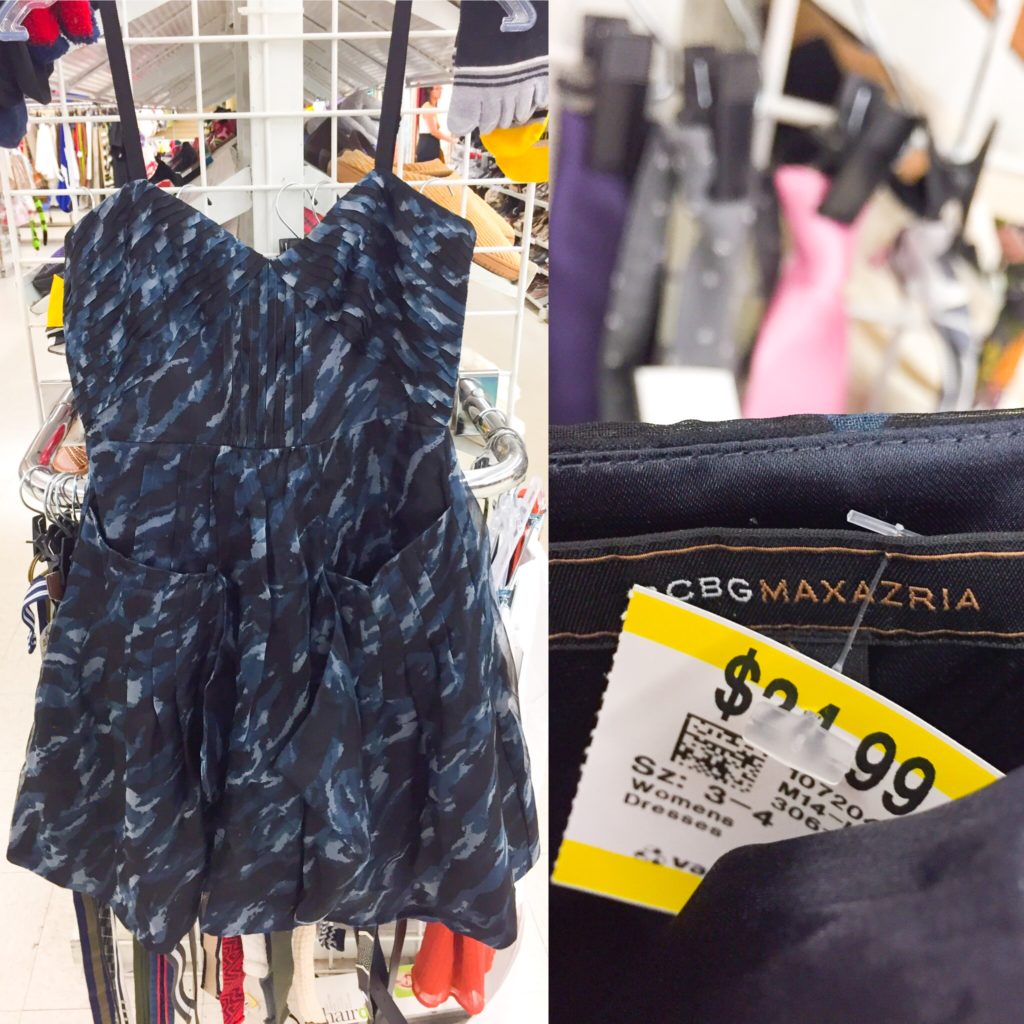 More BCBG; cute dress, but again not my style. Also, the ridiculous VV pricing. Practically every dress is $17 and up. Ugh.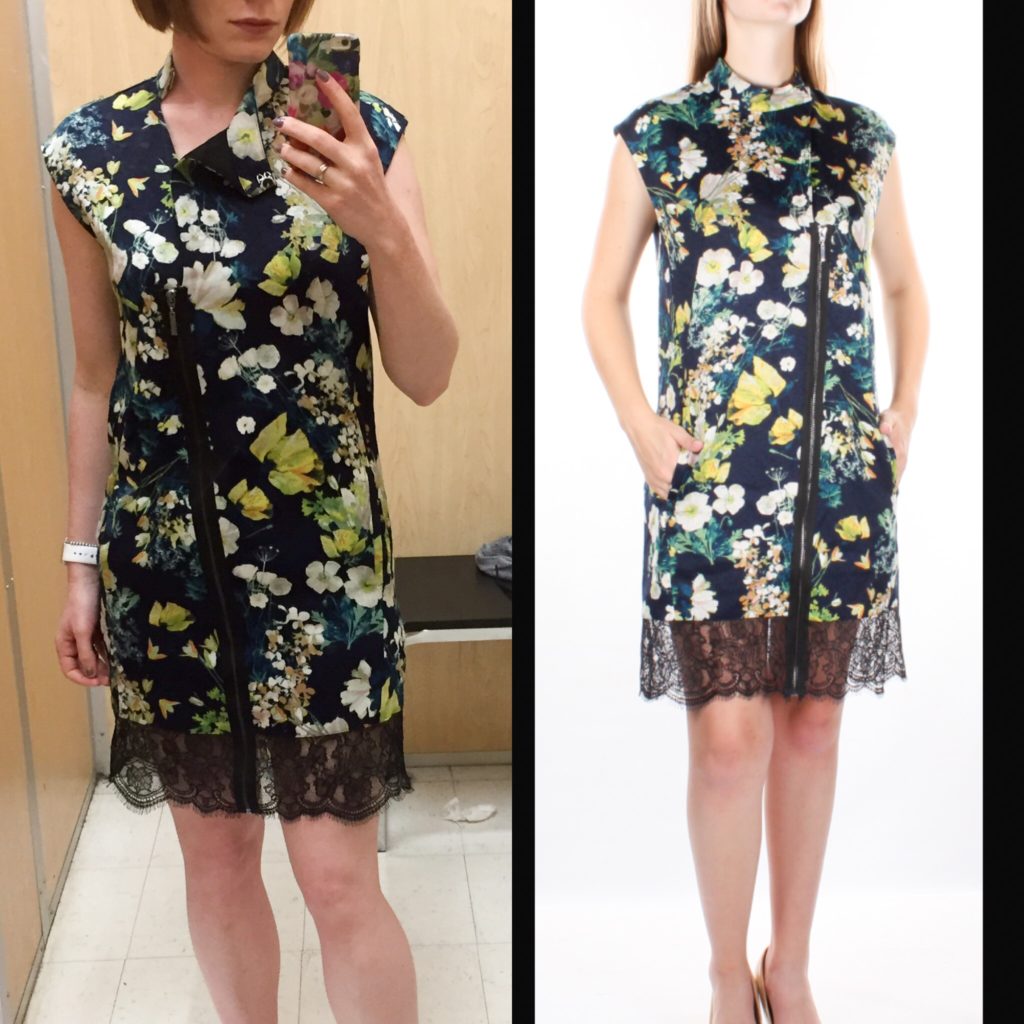 I was tempted by this; a year ago, I would have bought it for sure. But I didn't love the poly fabric, and I didn't see myself wearing this enough to justify getting it.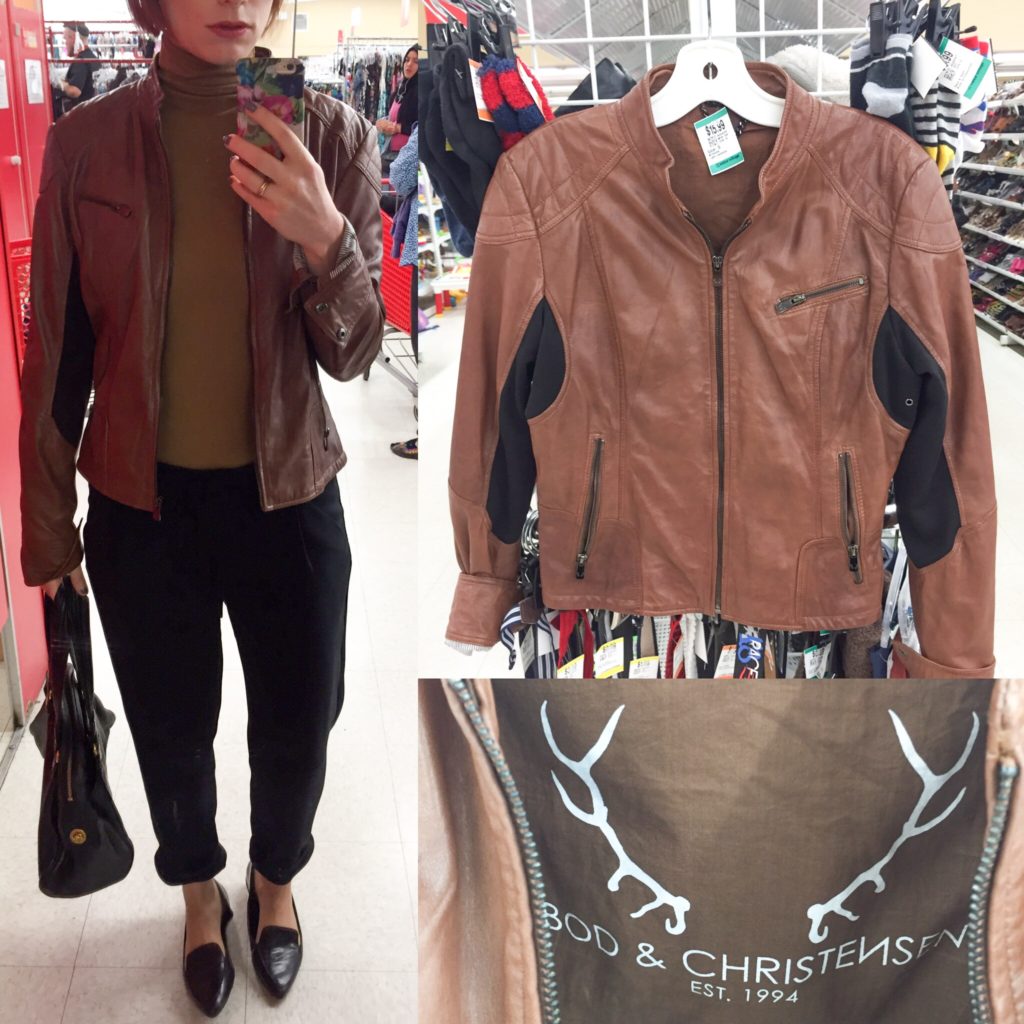 I was very, very tempted by this jacket, and I will probably regret not buying it. It was real leather for about $20. My rationale came down to wanting to split my wears. I love my current black moto leather jacket, and it fills that particular hole in my closet. I rarely wear my Mackage jacket. A third leather jacket would be de trop, especially since I don't wear a lot of brown.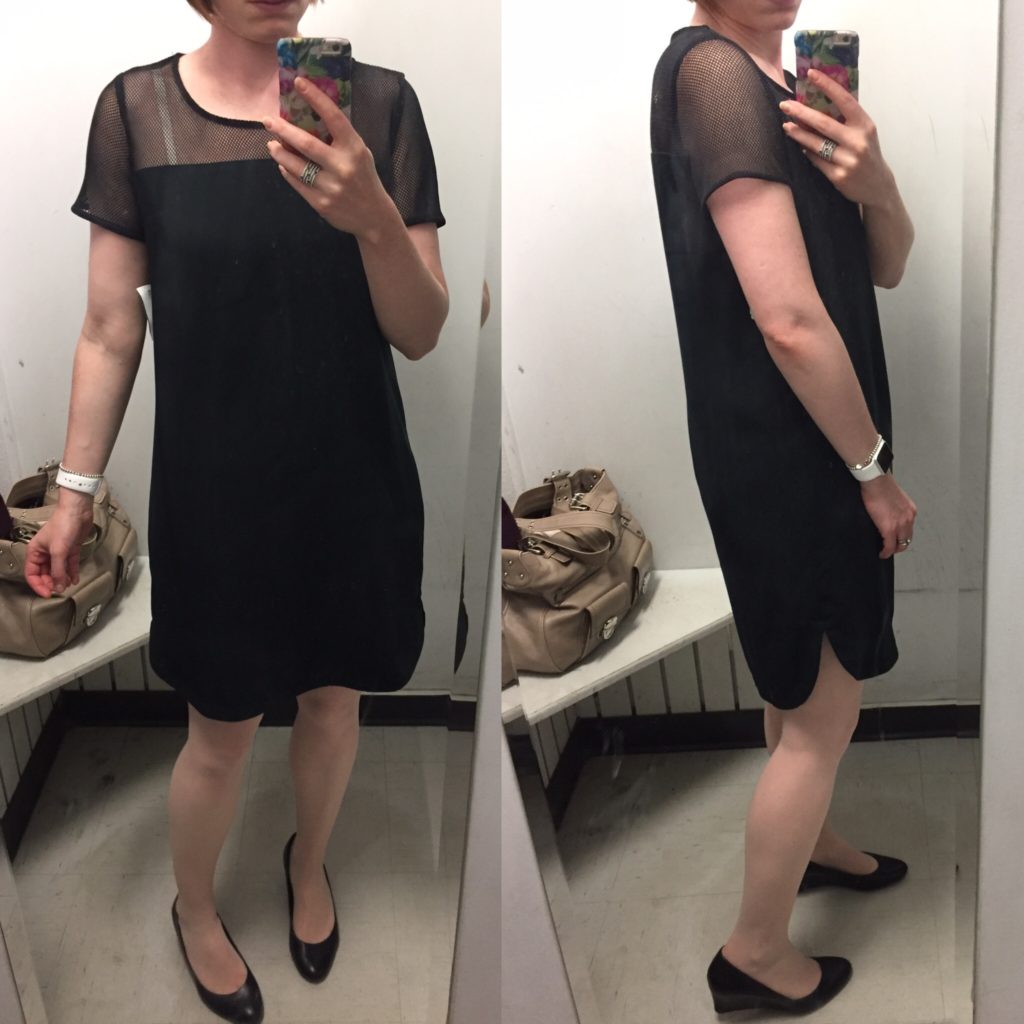 I've been pondering LBDs, but I couldn't get myself to pull the trigger on this one either. I love wearing black, but black dresses are, for me, somehow better in theory than real life.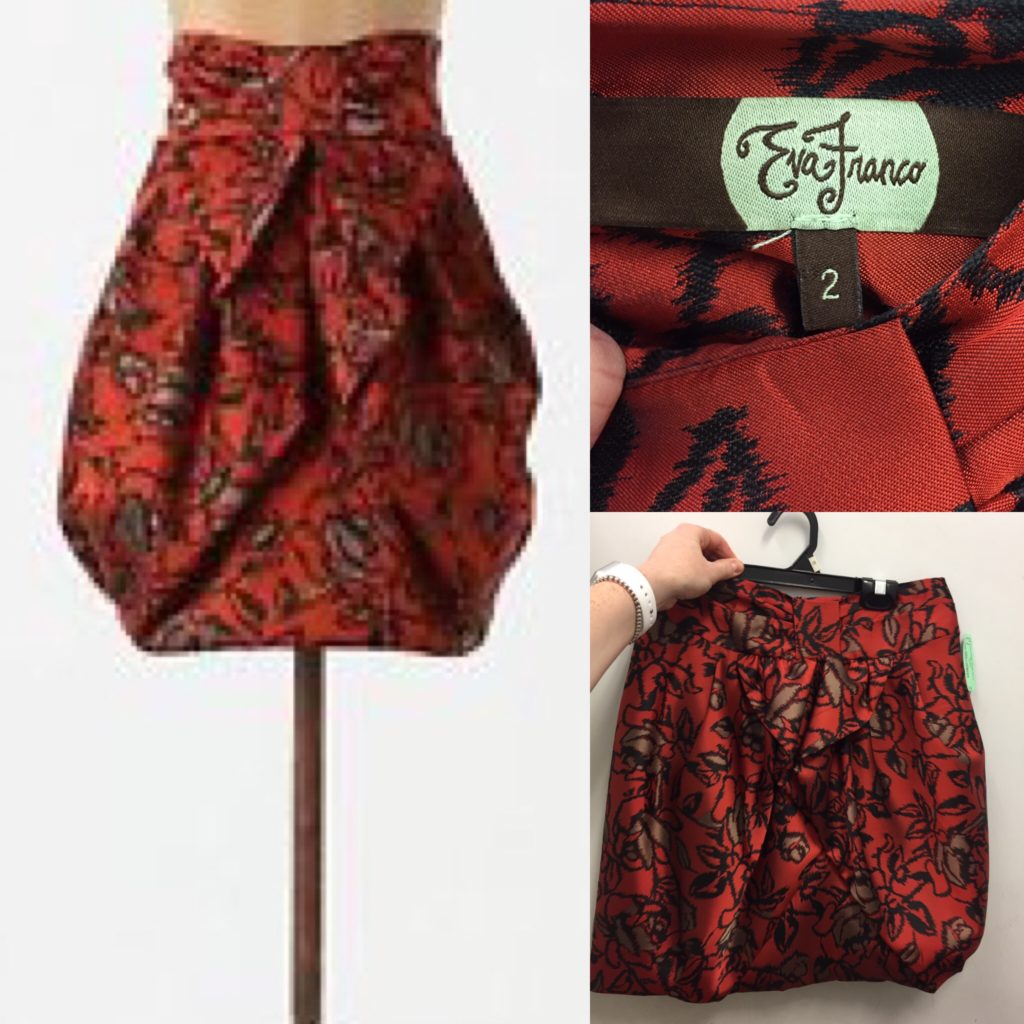 Cute (and tiny!!) bubble skirt. The silhouette looks dated now, but it will probably be back in style in a few years.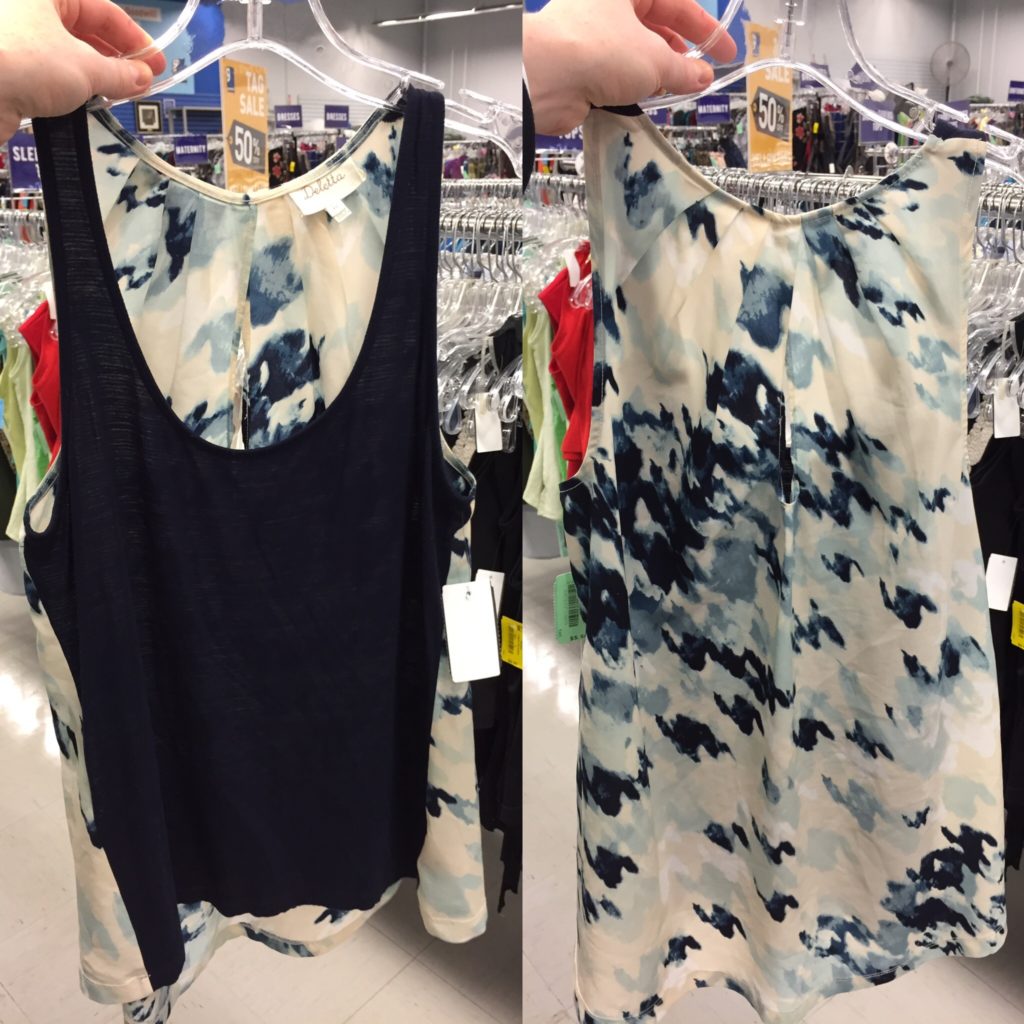 I was tempted by this top, but the front was too low-cut and the fabric too thin. Pass.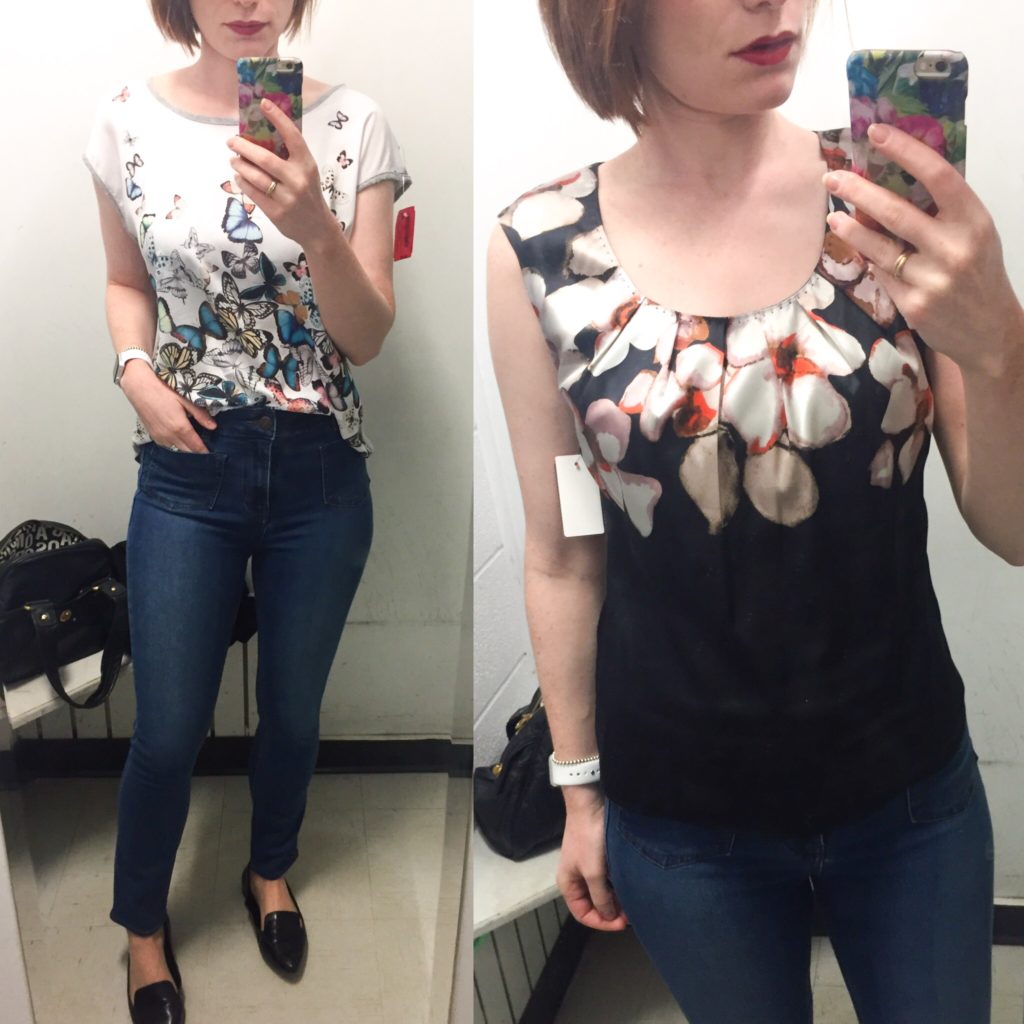 I almost bought the butterfly top on the left because … butterflies! But in the end I decided the print was a bit too "juniors section". The Tahari top on the right was a bit too ladylike for my current aesthetic.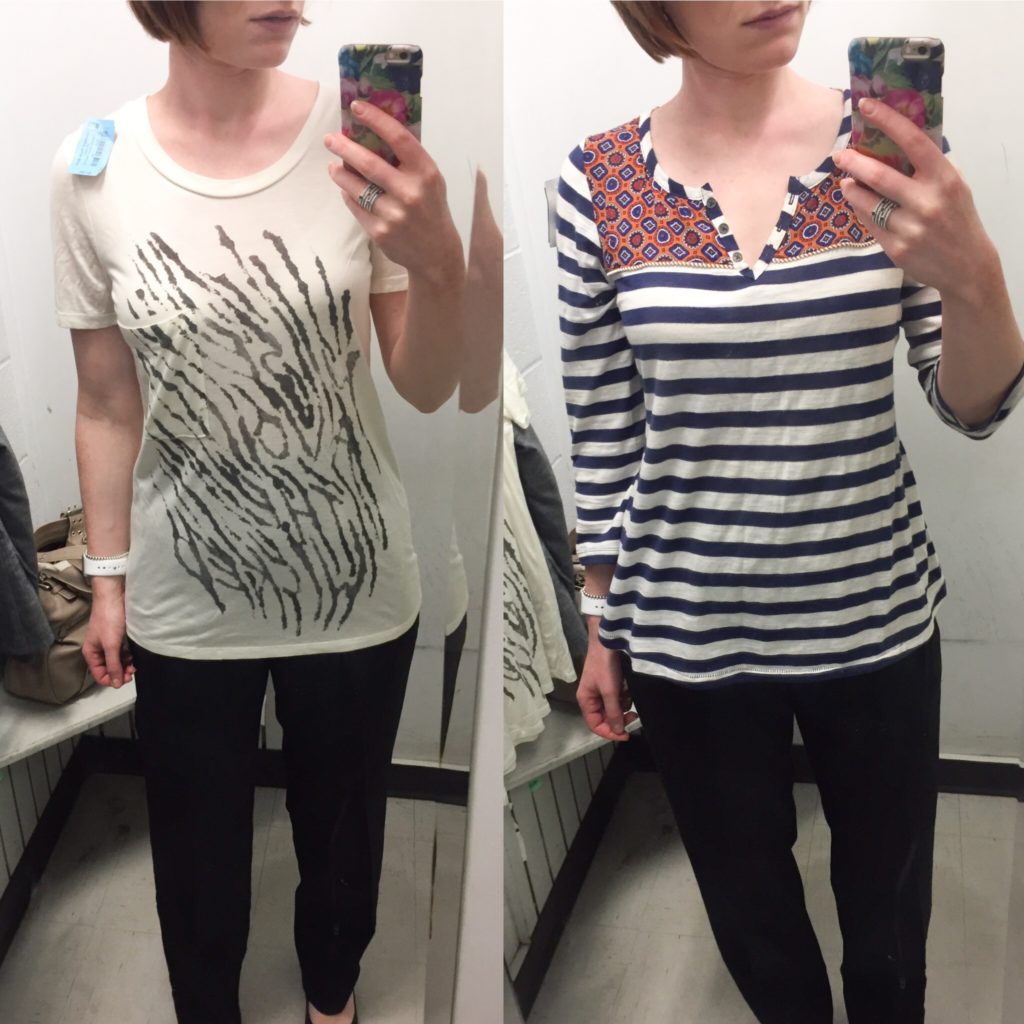 More "misses". I think this was my first time spotting Haute Hippie. I think it's one of those surprisingly pricey brands that gets features in magazines like InStyle.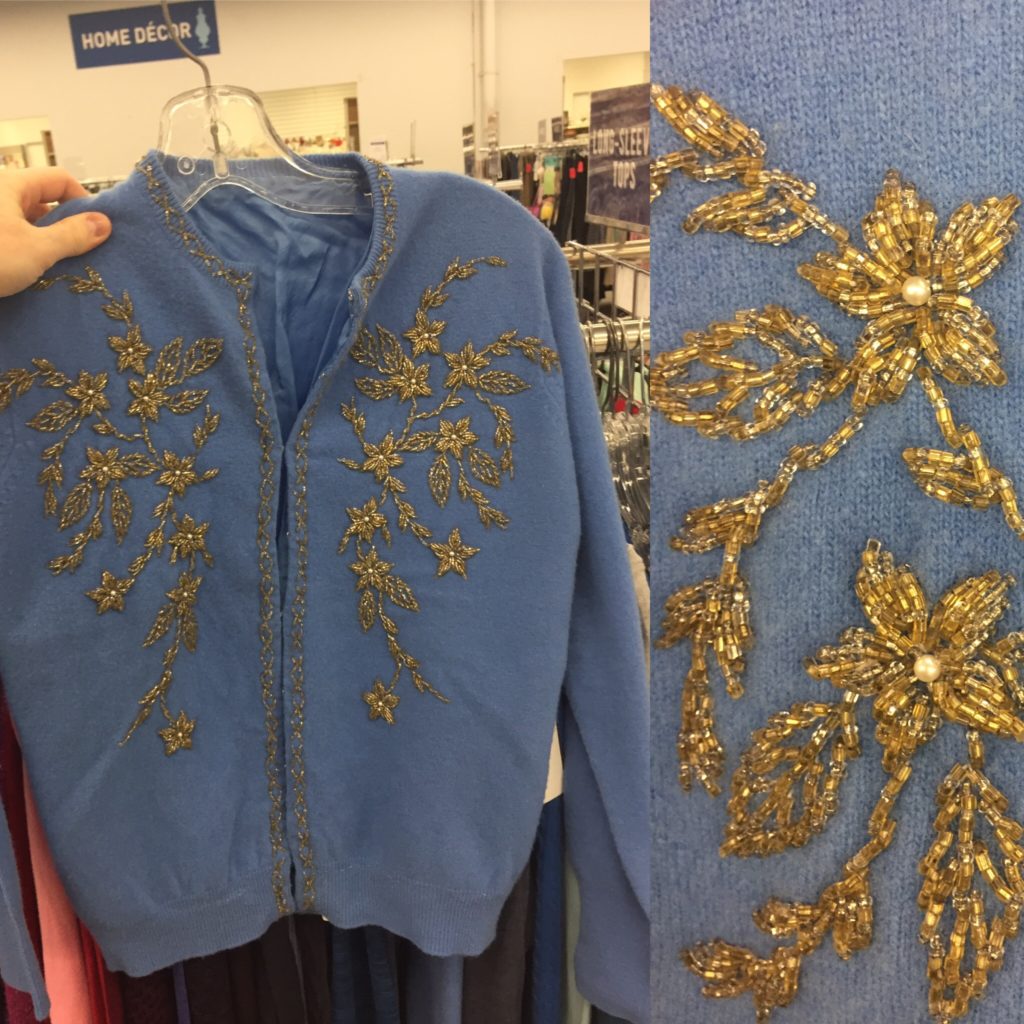 How gorgeous is the embroidery on this vintage (?) cardigan. I rarely wear cardigans, especially such ladylike ones, but I admire the handiwork.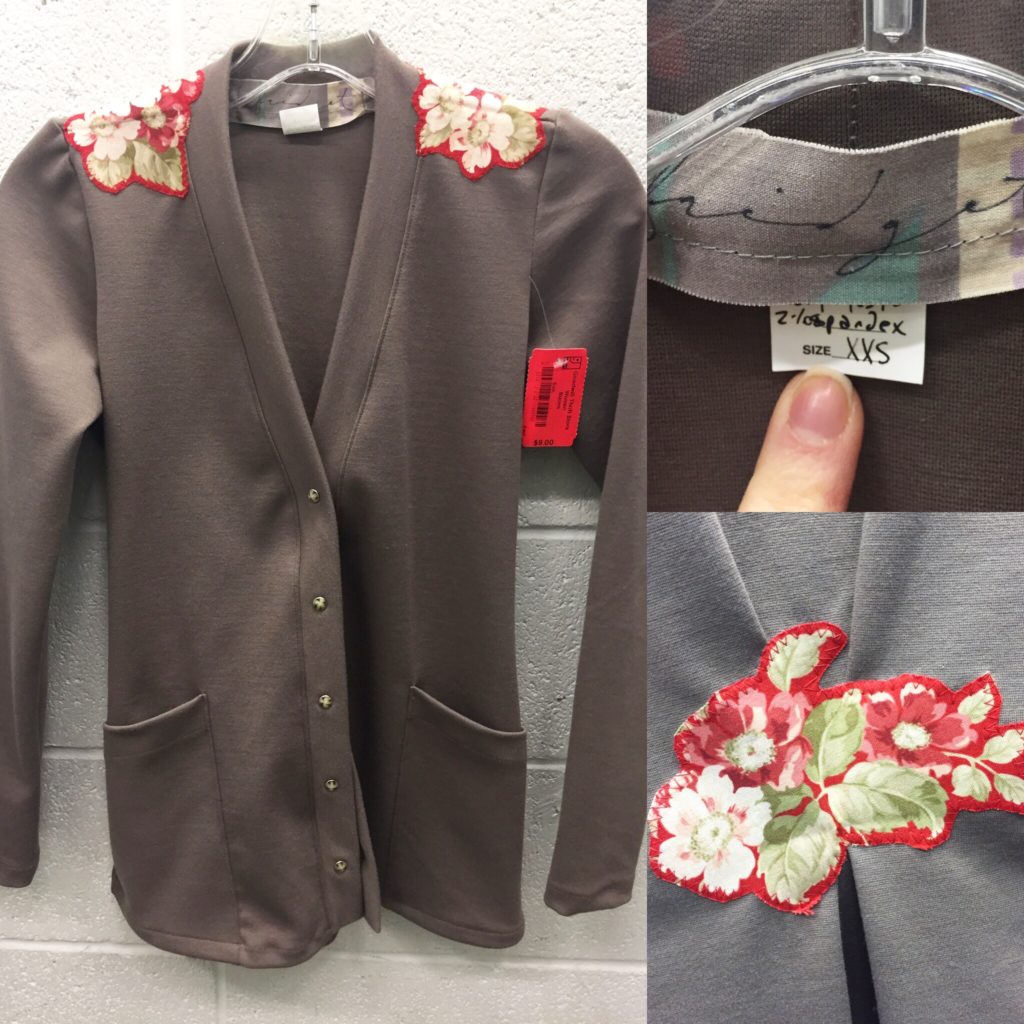 Fridget is a local designer, and it's always fun to find one of their pieces. It's not usually my aesthetic, but I liked this cardigan/jacket. It was a XXS, so I couldn't make it work, sadly.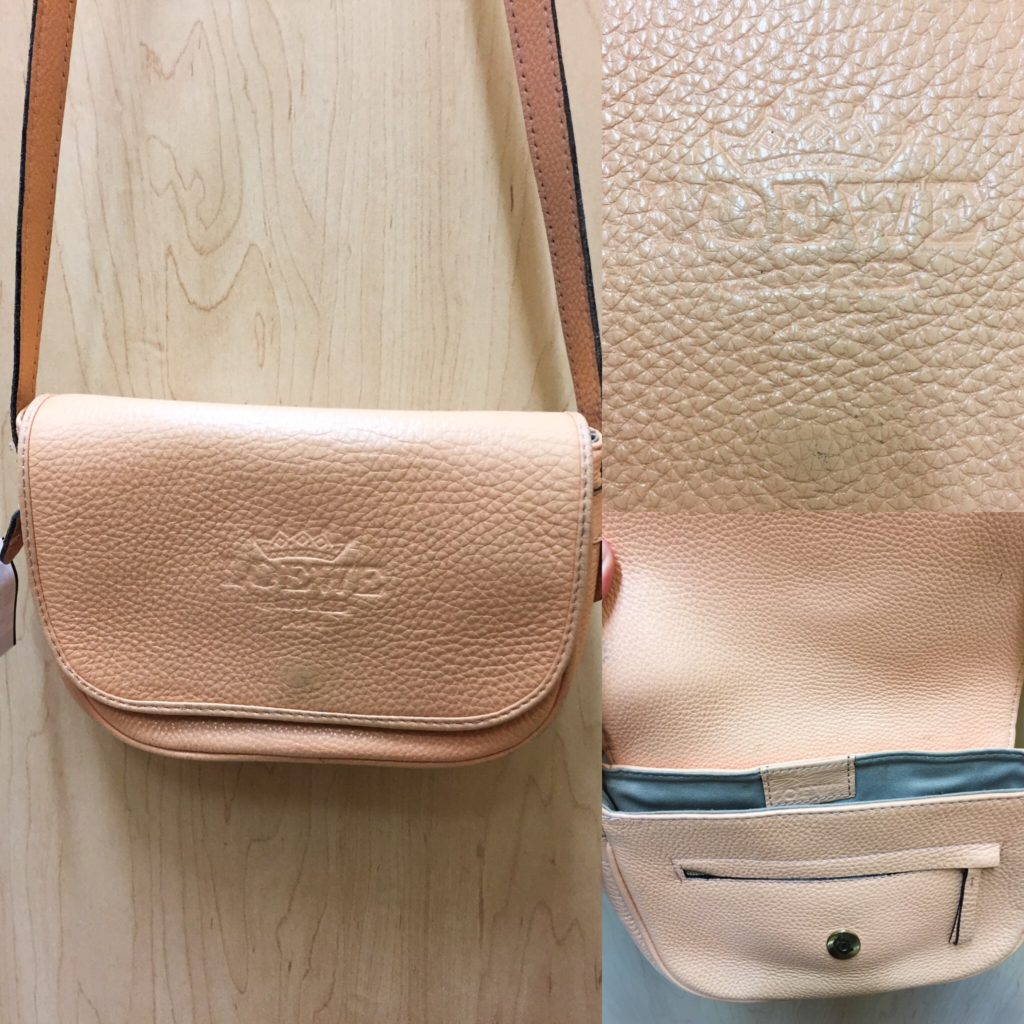 I don't know if this was an authetic Loewe bag. There were some red flags for sure, but on the other hand … is Loewe a brand that gets knocked off these days? Though cute, I didn't love this little cross-body enough to research properly.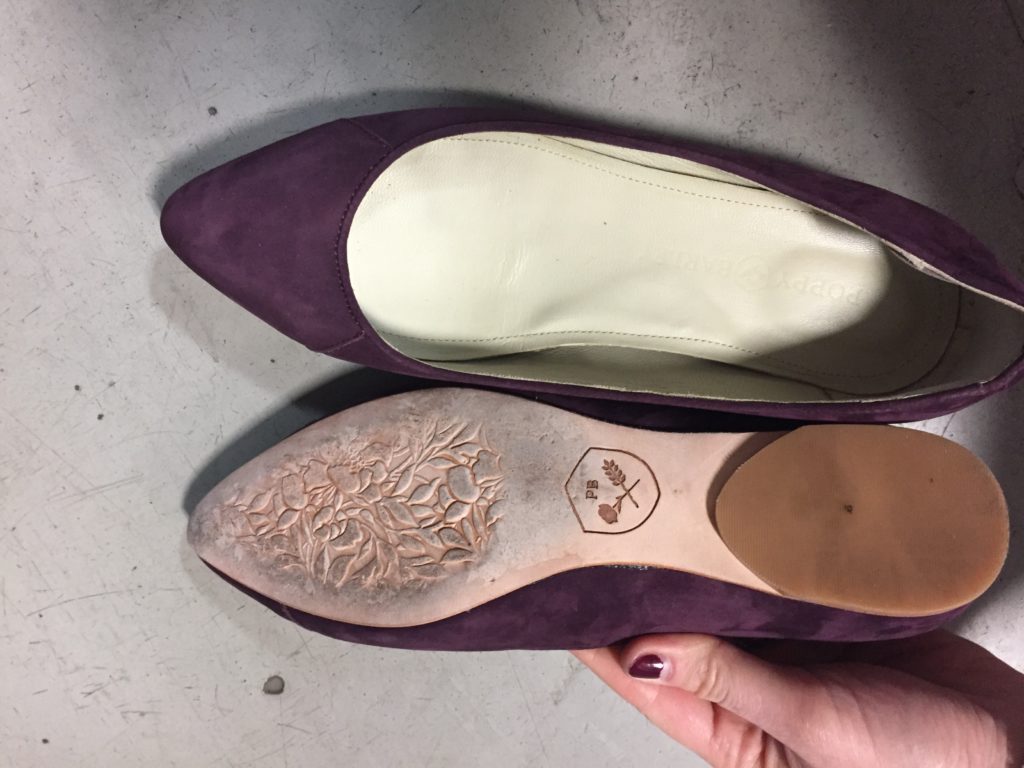 My first time spotting Poppy Barley! Another local designer who is getting bigger and bigger every year. They just opened a new flagship store at Southgate Mall. These flats were cute but way too small.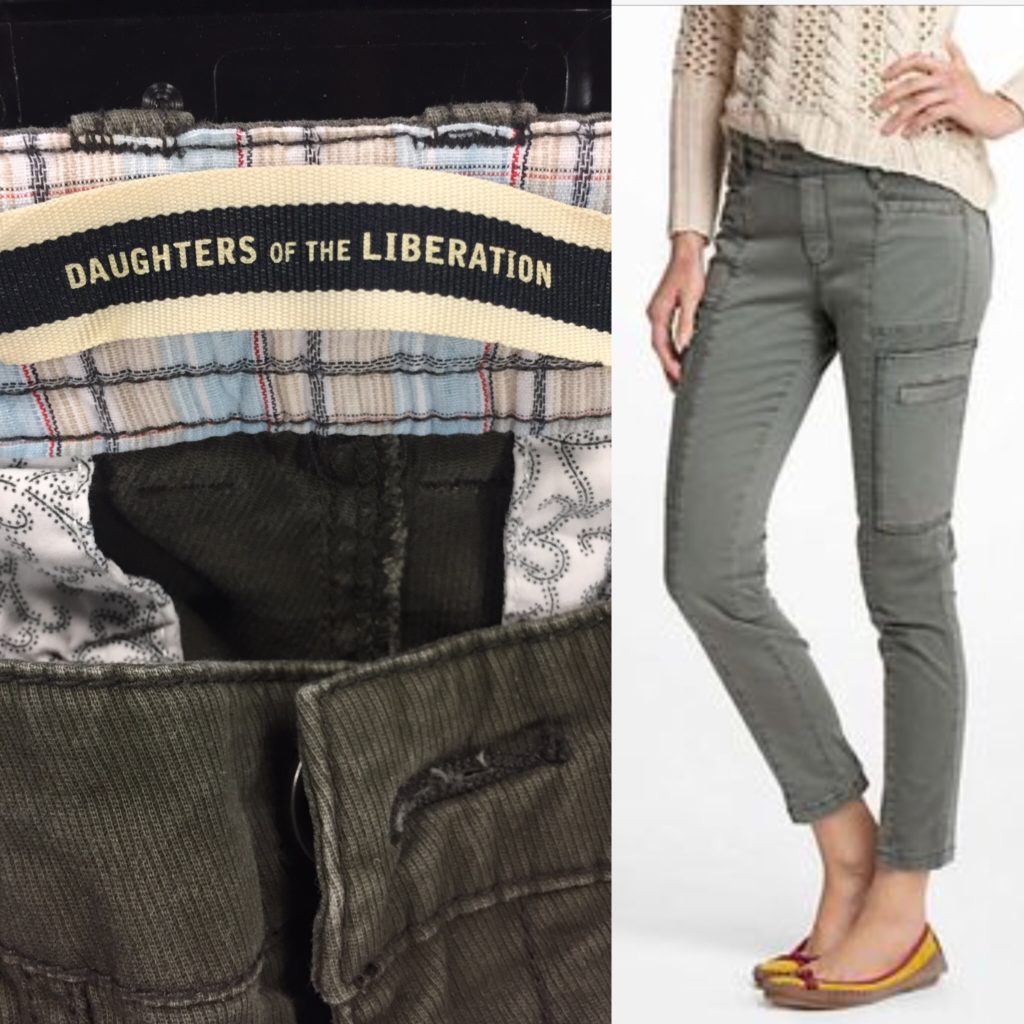 A cute pair of cargo pants that were sadly also too small for me.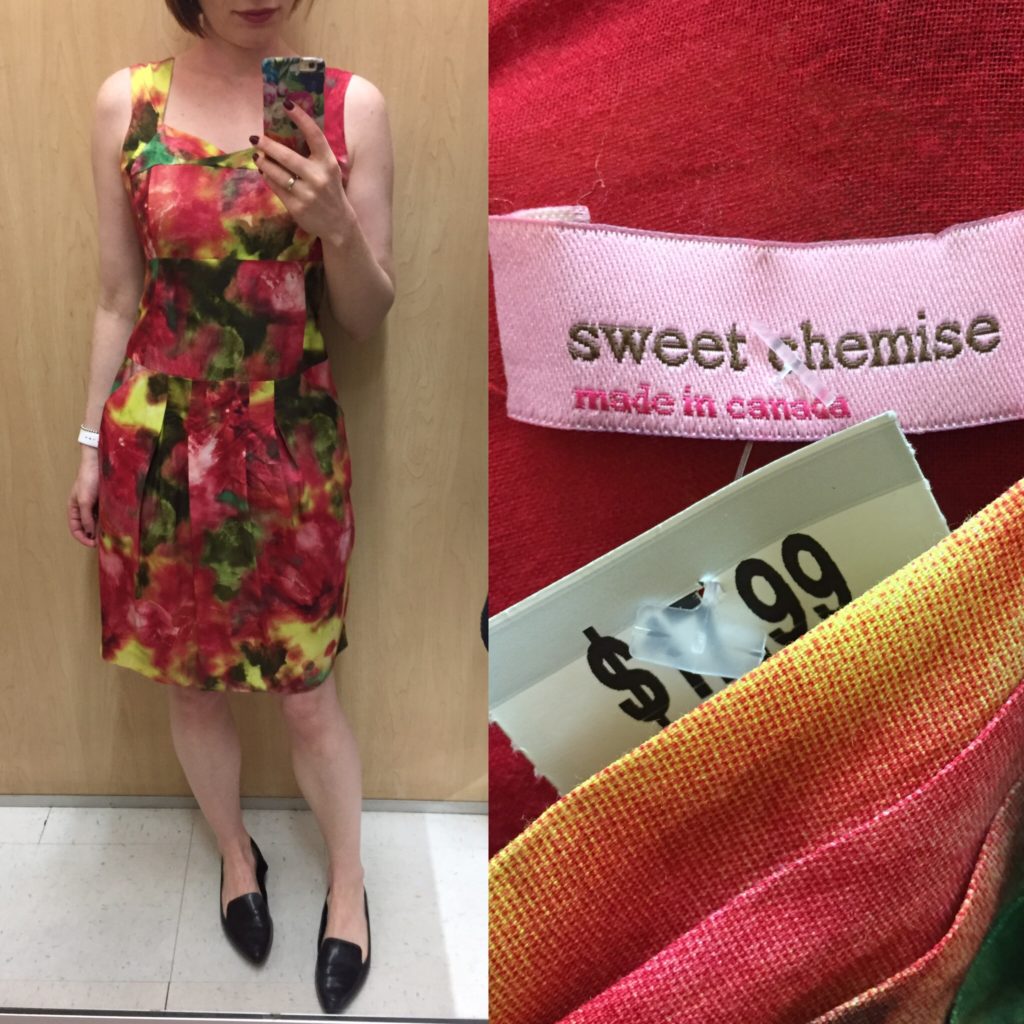 Sweet Chemise is a Canadian brand I used to love. Their clothes are always very nicely tailored; as my style has changed, their aesthetic doesn't work for me as well as it used to, but I would recommend them for quality.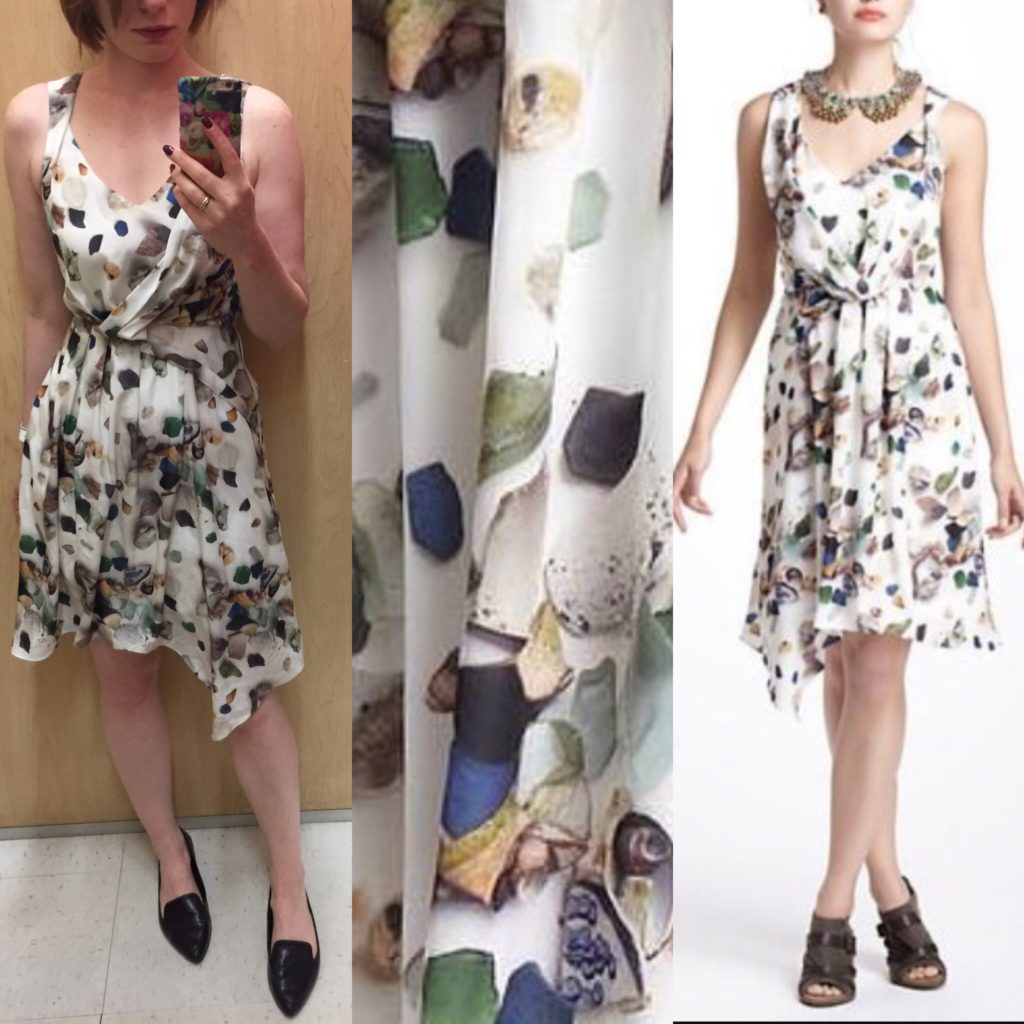 This dress was so, so terrible. Terrible fabric, weird and terrible fit.
Readers, I bought this. Yes, it is big and chunky and mostly unflattering, but it's also comfortable and … did I mention big and chunky? Because that's my jam.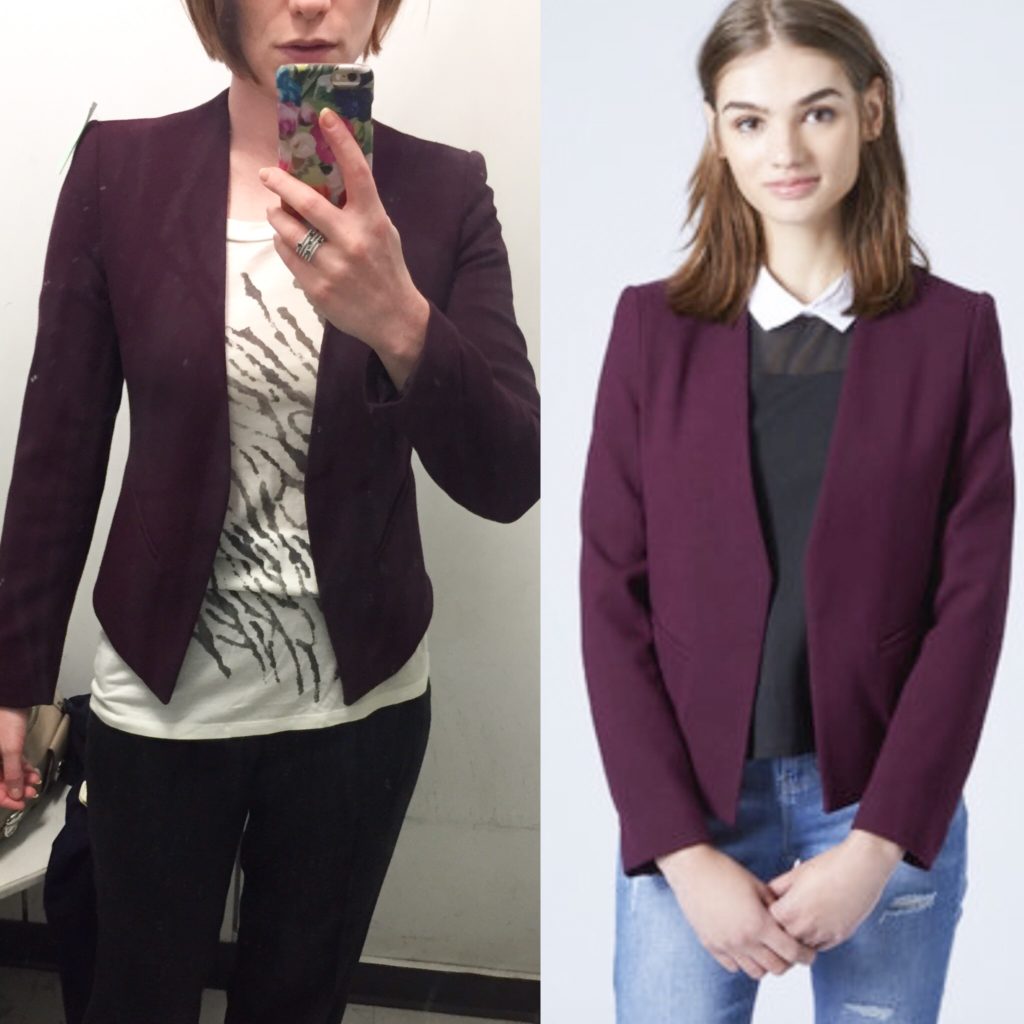 I bought this blazer because I love the shape of it, not to mention the colour. I thought it would be better quality than my old H&M (burgundy) blazer, which I'd been looking to replace. Well, it looks good. The quality on the other hand? Not much better than H&M. Oh well, at least it was only $8.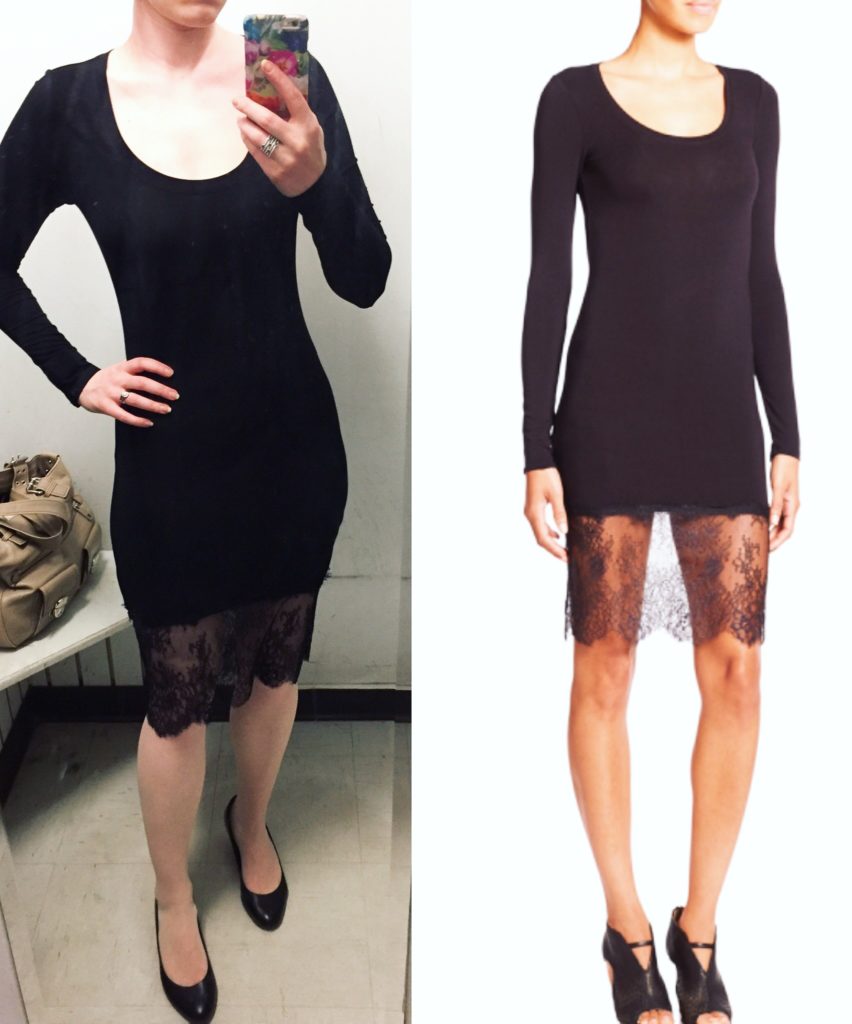 I bought this as a layering piece, and it's borderline scandalous — which is too bad, because I would have loved a similar but less risque option for the office.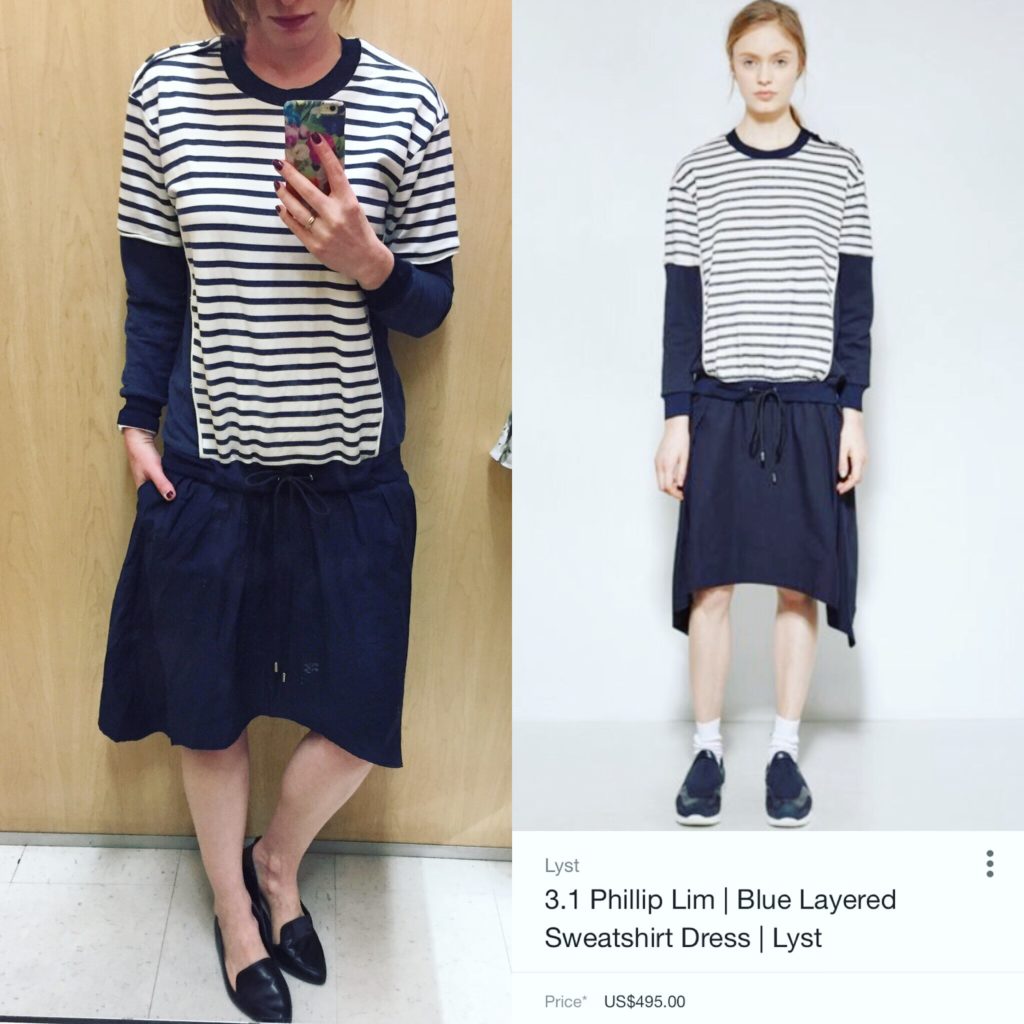 This was my one big "score", designer-wise. I love Phillip Lim's aesthetic generally, though this skews more athleisure than my usual style. I like how it looks, but I am not 100% sure if I'm keeping it.
Stay tuned for more thrifting adventures next week, and don't forget to share your recent scores in the comments.