What I Wore: Shopping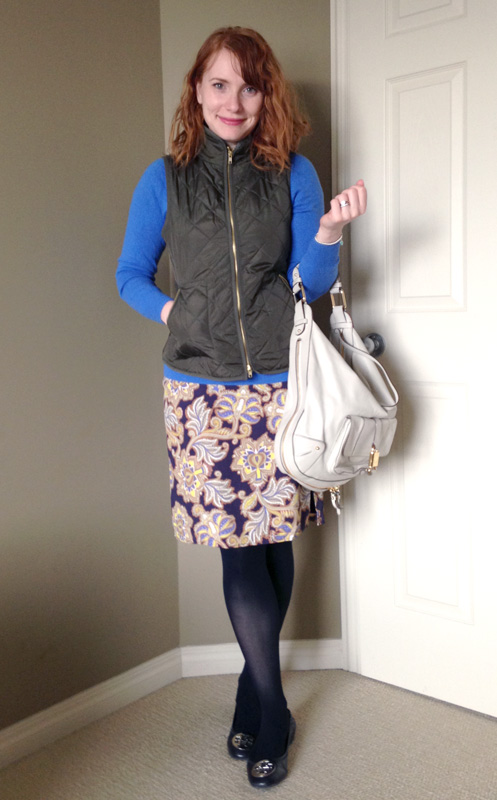 After a lot of neutral and monochromatic outfits, this one felt a bit … loud. The funny thing is, this is something my, say, 2012 self would have loved to have worn. Crazy print, lots of colour, bam. But now it feels … loud. And I'm not crazy about how it looks in the photo, either. Change is a funny thing. As is personal style, apparently.
(Aside: I don't know why my leg is moulting in this photo, but one thing's clear: I need to find better opaque tights.)
But, you guys, what I really really want to talk about is: Game of Thrones. What?! Let me back up.
I wore this outfit on the day I stopped in at Value Village, and scored one of my biggest thrifting successes to date. More on that in another post. The other thing I picked up at VV that day was the first book in the A Song of Fire and Ice series. I'm one of those people who pays for HBO only to watch Disney Junior on endless loop, but I don't actually live under a rock so I am fairly well-acquainted with the Game of Thrones universe. I'm not a big fan of the whole fantasy genre, though, so I've never felt any particular interest in catching the show … though I would by no means be averse to having Kit Harington try to persuade me otherwise. Or Nikolaj Coster Waldau. Ahem, I digress. I'm not sure why I finally felt the need to pick up the book; I think all the chatter about the Red Wedding being the shockiest shock that ever shocked the nation may have done it. ( Do NOT tell me anything about it, or I will never, ever, ever forgive you, okay? Even if you are Kit Harington, and you are not wearing a shirt.) On the other hand, you know what's not shocking? That I'm totally hooked. Of course, I am one of 5 people in this entire universe who has only read one of the books, and I'm married to one of the 3 people who has not read any of them. Which is to say: woe is me. All I want to do is talk about GoT, and I don't have anyone to do it with.