Join me on a tour of my book closet … erm … library. Every week – or other week, or whenever I remember to write one of these posts – we'll take a look at another whack of books I may (or may not) have read.
Hey, so, we're gonna talk about books this time. Imagine that. The books over … here: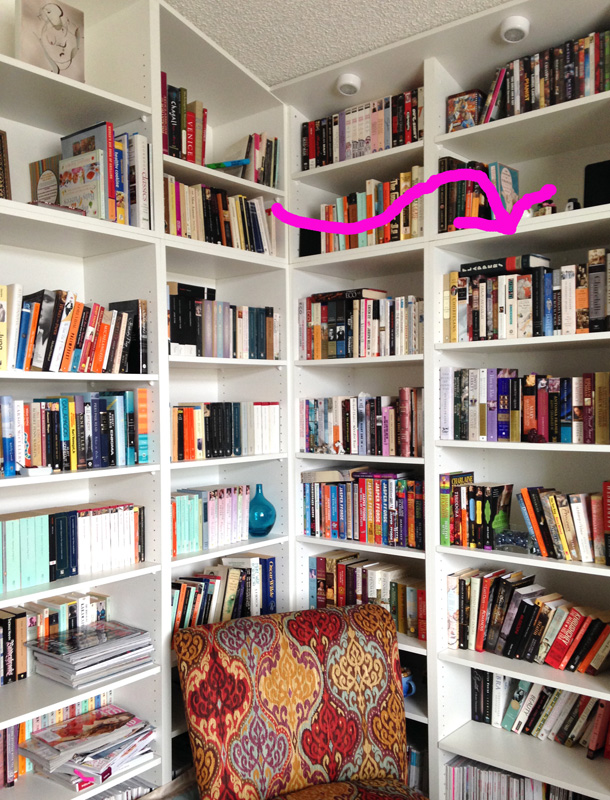 Closer look at the left side: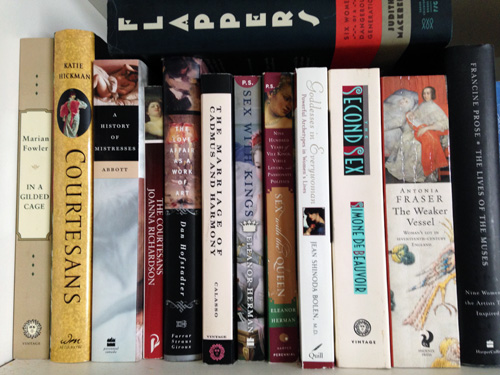 I call this my "chick non-lit" section. History with a chick flavour. Let's start at the top. Flappers: Six Women of a Dangerous Generation is the kind of history book I get really excited about. I love reading about the Jazz Age, and its famous women were a very interesting bunch. My favourite part about this book is that, apart from the ubiquitous Zelda Fitzgerald, it tackles some of the Jazz Age's (now) lesser known stars: Josephine Baker, Tallulah Bankhead, Diana Cooper, Nancy Cunard, and (last but never least) Tamara de Lempicka. de Lempicka is one of my favourite painters, and lived a life worthy of a dozen biographies – which makes it doubly frustrating that it is almost impossible to find even one. Flappers does a good job of covering the highlights (she shares the spotlight with 5 other equally fascinating women), but I hope a full-length biography will be coming out one of these days.
I briefly mentioned In A Gilded Cage last time, and I'll recommend it again. Think of it as a study of real-life Cinderella stories … after the "happily ever after". It's not much of a spoiler if I tell you that there wasn't much "happily" or "ever after" for most of the American heiresses who married into the highest echelons of British aristocracy.
One of my favourite authors as a teenager was Emile Zola, and one of my favourite Zola novels was Nana – to which I attribute my subsequent, abiding fascination with courtesans. In an age when non-aristocratic women had very little chance of improving their lot in life, save by marriage, courtesans were an exception. They earned unimaginable amounts of money, lived in palaces, met the creme-de-la-creme of (male) society, and set fashion trends. Many but not all faded into obscurity after their heydays passed. Some became legends. Courtesans: Money, Sex, and Fame in the 19th Century is a good primer on 5 of the most renowned English courtesans. I haven't yet read The Courtesans, but it promises a look at 12 of the most famous French grandes horizontales (some of whom were among the aforementioned legends), so it should be good.
I was a bit of a Francophile growing up (if the Zola love wasn't a giveaway), not only in relation to literature but also history. If you spend any time reading about French kings, something you'll run into again and again is … the French king's mistress. They all had them, sometimes by the dozen. So you could say that I've been interested in mistresses – in a purely philosophical way, of course – for a while. Mistresses: A History of the Other Woman is a fun read, while at the same time a well-researched study of some of history's most infamous women, from antiquity on. There are many paths to mistressdom, and this books explores them all. Truly, a fascinating read.
And if you like the smutty bits of history (like me), then Sex with Kings and Sex with the Queen looks at more (royal) adulterous liaisons, with plenty of politicking and wars thrown in for good measure.
More love affairs of the famous are discussed in The Love Affair as a Work of Art, which looks at the affairs of famous European duos (mostly French), like George Sand and Alfred de Musset. As I said, I'm a Francophile at heart, and am fairly familiar with the world of 19th century French art & letters; if you are not, this book may not be as interesting.
The Marriage of Cadmus and Harmony is … I have no idea. I think I picked it up in college, probably from some discount bin, possibly because it appears to cover aspects of Greco-Roman mythology, which used to be a topic I was once very much interested in. Haven't read it. Yet.
Ditto for Goddesses in Everywoman. Amazon tells me the author is a renowned Jungian analyst, and that this book was a huge hit back in the 80s. I'm not sure whether that makes me more or less inclined to want to read it (finally), but perhaps it might help you decide.
The Second Sex was one of those revelatory books you read in your early twenties. You know, the kind of book that changes the way you think about stuff? I've never really considered myself a capital-F-feminist, but this book opened my eyes about the historical meaning and reality of being a woman. It might not be as topical today as it was when it was first written – I've lost track of which wave of feminism we're currently riding – but it's a classic regardless. Aspects of it are now outdated, and reflect some of the biases of its era, but it's justly considered a groundbreaking work in its genre. Read it if you haven't already.
The Weaker Vessel: Woman's Lot in Seventeenth Century is another must-read for me. I generally enjoy Antonia Fraser's history books, and this is one of her best. It covers all aspects of women's lives in 17th century Britain, from childhood to marriage (or spinsterhood) to childbirth to widowhood to death. Unlike other similar books (Aristocrats by Stella Tillyard comes to mind, which I also love), this one considers women from all social castes, not just the upper crust. A fascinating read.
Finally, we have The Lives of the Muses: Nine Women and the Artists They Inspired. Another really, really enjoyable read. Some of the women discussed were artists in their own rights; others' names are forever linked to the men whose work they inspired. The book covers a lot of ground – from Alice Lidell (of Alice in Wonderland fame), to Elizabeth Siddal, to Gala Dali, and Lee Miller. Also highly recommended.
Your turn: tell me what you've been reading lately.