Join me on a tour of my book closet … erm … library. Every week – or other week, or whenever I remember to write one of these posts – we'll take a look at another whack of books I may (or may not) have read.
Last time, we talked about the left side of this shelf: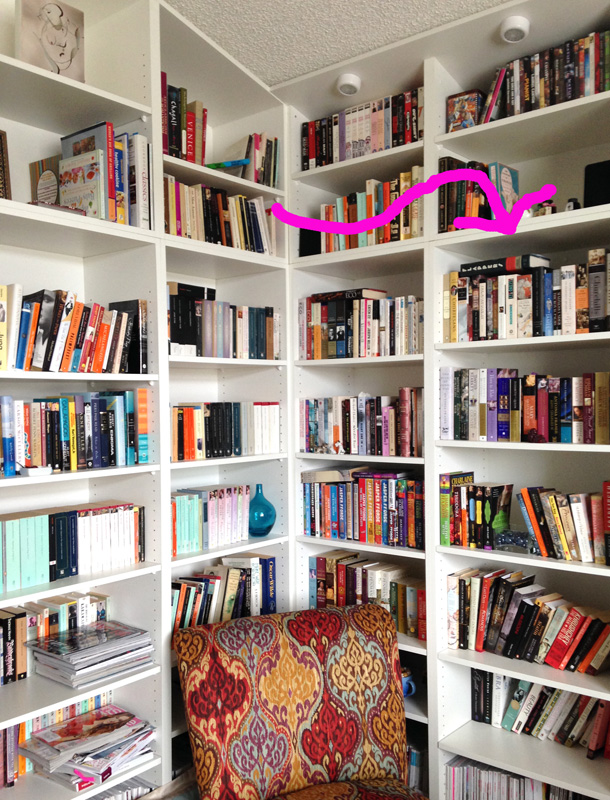 It's about time I got around to the right side – and there are some good (non-fiction) books to explore there.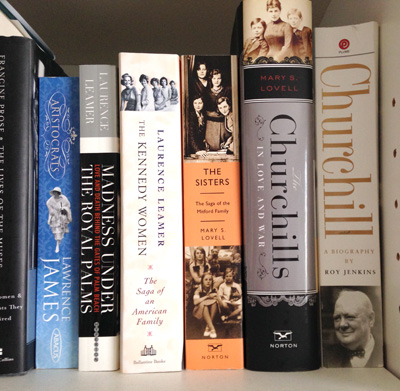 I call this my "high society" section. Belonging firmly to the hoi polloi, I love gossipy biographies of rich and/or aristocratic people. The gossipier, the better. (That's hoi polloi speak for smutty, by the way.) In that regard, the first book on the left, Aristocrats (by Lawrence James, not to be confused with the book of the same title by Stella Tillyard) is a bit of a letdown. It's pretty dry. And kind of superficial, in terms of the depth and comprehensiveness of its analysis. It's a pretty high-level look at the British aristocracy as a whole, rather than any notable individuals or lineages. Honestly, it's a bit boring.
Madness Under the Royal Palms takes us to a different continent, and specifically to the "royal" enclave of Palm Beach, playground of America's richest folks, and home of plenty of interesting characters. I love books like this. It's a sort of cross between The Great Gatsby and the works of Dominick Dunne. Privilege creates its own ecosystem, but there is always a dark underbelly hiding beneath the gilded facade – and this is the kind of book that likes to prod it. It's definitely a guilty pleasure of a read, but well-written and researched at the same time.
In a similar vein, we have The Kennedy Women. Like Taylor Swift, I'm not immune to the allure of the Kennedy family. I've read plenty of books about the Kennedy men, but I actually find the women's perspectives more intriguing – and they are vastly different perspectives at that. The book covers 5 generations, including the lives of Rose, Jackie, Ethel, Eunice, and Joan. It's gossipy without being salacious, but generally pretty engrossing.
As much as I'm fascinated by the Kennedys, they don't really hold a candle to the Mitfords. Sisters: The Saga of the Mitford Family is the story of one of Britain's most notorious families, and its five famous, very different daughters. In a nutshell: Nancy was one of the best-selling novelists of her day; Diana was, in turn, one of England's most admired socialites and then a social pariah; Jessica was a life-long Communist and social activist; Deborah became the Duchess of Devonshire; and Unity Valkyrie, born in Swastika, Alaska, became an Hitler groupie. You couldn't write a story like this … and it's all true. This is one of my favourite non-fiction books.
The author of Sisters also wrote The Churchills: In Love and War, the history of one of England's greatest families. Although, understandably, the book spends a lot of time on Winston's life and career, it does take a close look at entire lineage going back to the first Duke of Malborough, a military genius (hero of Waterloo), and his no less interesting wife, Sarah Churchill (long-term confidante of Queen Anne). Other generations of the Churchill family were also peppered with fascinating personalities, like Jennie Jerome (Winston's mother) and Consuelo Vanderbilt (Winston's cousin's wife). This is another well-researched, well-written, very fascinating book – well worth the time investment (fair warning, it's long).
Lastly, we have Churchill, which … I haven't read. But! I did recently watch a bit of the HBO movie The Gathering Storm, which was quite good. It had a strong supporting cast (which makes for a fun game of spot-the-famous-actor), featuring everyone from Lena Headey (Queen Cersei!) to Linus Roache (who will forever be, to me, the son of Ken Barlow from Coronation Street) to Tom Hiddleston. I am not a Hiddle-loonie or whatever, but I know what the internet likes, and I'm not above exploiting it for click-bait traffic. So: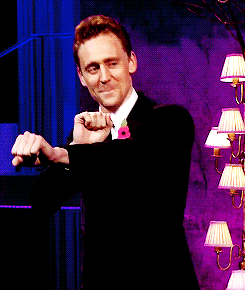 Alright, guys, I promise: next time, we'll talk fiction – finally. In the meantime, tell me: what are you reading?