November can easily turn into shopping extravaganza, thanks to the phenomenon known as Black Friday. In recent years, Canadian retailers have jumped on the bandwagon, so this has now become a sort of second Boxing Day. For the most part, I find the hype unwaranted in both cases. That is not to say that great deals can't be found on Black Friday; it's just not the end-all and be-all of bargain shopping, at least in my books. Equally impressive deals can be found any time of year … if you're willing to shop secondhand. And you know where I stand on that.
This month's shopping recap illustrates my point. In total, I bought 7 items for $210 (original retail approximately $1,910). Six of these items were bought secondhand, although most of them are either new or almost-new; the last one was purchased new at retail. Overall, I paid 11% of retail cost. The bulk of those savings comes, not surprisingly, from the pieces purchased secondhand.
[Quick wardrobe analytics: for the secondhand pieces, I paid, on average, 12% of retail prices. One of the pieces was discounted by 94%!]
It will be interesting to see how these numbers compare to any Black Friday shopping I end up doing. (I'll be away in Ottawa at that time, so this post was prepped in advance.) I'll review those purchases in my December wrap-up.
Alright, on to the details: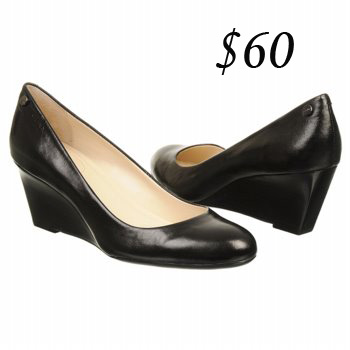 I have 3 pairs of black pumps, but only one that (a) is an almond-toe style, and (b) not patent leather. That pair has seen better days; I bought it in 2010 and have worn it frequently since then. Now, the 4 inch heel feels a little less stable than I remember it, pre-baby #2. I am a recent convert to the wedge heel, so when I spotted this CK pair at Winners, I decided that an upgrade was in order. These pumps were not on sale, and were a little more expensive than I like to pay for this type of brand, but I figured that I could probably get a decent Cost-per-Wear out of them over the next 3-4 years nonetheless.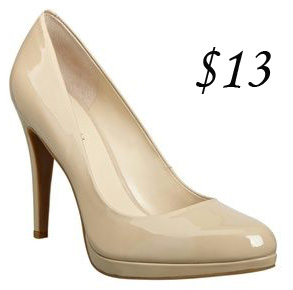 My last pair of nude heels also "developed" issues after my last pregnancy. The heel felt too high, and the shoe felt a half size too big. Random. In the past, I would have looked past these issues, and suffered accordingly, but I'm over uncomfortable shoes at this point. I put my old pair in the consign/donate pile, and added "nude heels" to my to-buy list. Not long thereafter, I lucked into finding a barely worn (non-patent) pair of nude heels  on my local consignment store's clearance rack. (The heel of my actual pair may be a bit lower than shown in the picture; actual inches aside, they are quite comfortable.)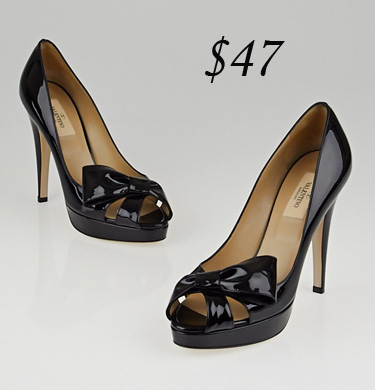 I know, you guys. I did a double-take too. I found these at another local consignment store (Red Pony), also barely worn, and couldn't quite believe the price sticker. The owner told me that the consignor had not specifically indicated whether the shoes were authentic or not, so she priced them accordingly. A close inspection + some Google-fu action convinced me that they are, indeed, the real deal. So I bought them, even though they are only "extra special occasion" shoes (think weddings, Christmas parties, and the like). I'm not generally a fan of peep-toe pumps, but these ones look terribly pretty on my feet. And they make me almost 6′ tall, which is a nice bonus (I have a lack-of-height complex).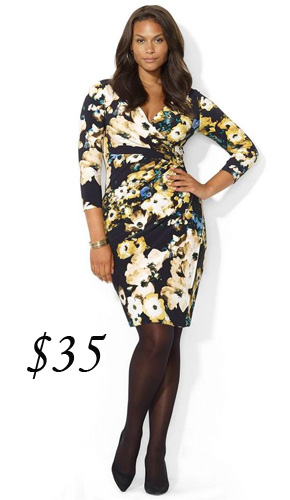 I have been thinking about this dress for a long time. My work bestie bought it some time last year, and makes it look phenomenal. (We share a love of florals, in case you were wondering.) She swears it's not only comfortable, but also machine washable and durable. Me wanty. But I figured that the logistics of "sharing" the same distinctive dress in our small department would be too complicated. Sadly, last month, my work bestie left to pursue another opportunity; although I am thrilled for her, I was pretty gutted to hear she was leaving … so I decided to make my own silver lining. This dress won't make up for the loss of a wonderful colleague, but it will make me feel like a million bucks on a dreary Monday morning. (Side note: eBay is wonderful for locating NWT pieces from 2-3 seasons ago at highly discounted prices.)
Speaking of RL dresses, I also found this one at Value Village; with a 30% off coupon, it came to $12. On the same trip, I also found a Marc by Marc Jacobs dress, which was only $6. (My score paled in comparison to Cassie's … I mean, just look at this.)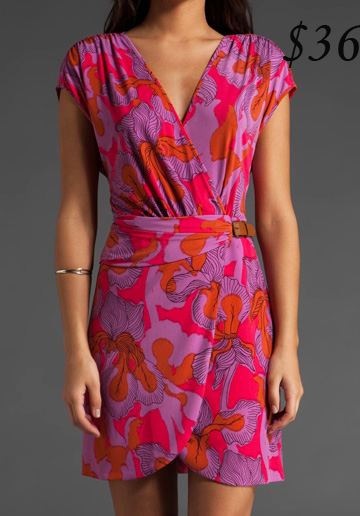 This is what happens when I'm bored and find myself on eBay. A dozen random searches later, impulse buy. My version is blue and brown (not red and pink as pictured), but won me over with the iris print. The buckle detail at the waist is also interesting. Did I need a new dress? Do you even need to ask?
As always, I'm linking up with Fran and the other budgeting bloggers, so head on over there for more budgeting fun. And then tell me: what did you buy this month?